---
Home Page: Altrincham Football Club News Archive, 30 December, 2001 to 10 January 2002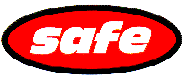 ---
8 January, 2002
UNIBOND PREMIER
There was one UniBond Premier League fixture tonight.

Vauxhall Motors 3 Runcorn FC Halton 2. Click League Table button above for updated positions.
WRIGHT GETS JOB
Our Cheshire neighbours Chester City have appointed Mark Wright, the former Oxford and Southport boss, to their managerial vacancy. Former Alty player and a former Chester boss, Graham Barrow, was reportedly the runner-up.
GRAHAM FEATURED
This month's Non-League Magazine has a full-page feature on Graham Heathcote, in the light of his 30 years connection with Altrincham. The article describes Graham as "the bloke with the fog horn voice that makes games against the Robins unforgettable". Graham explains that "shouting never hurt anyone". Pictured above the article alongside Bernard Taylor, Graham explains that their partnership works with the players because "most combinations have the one who puts their arm around them and one who is a bit louder". Of the present Alty side, Graham says "they have only been together for four months. They've probably beaten everyone's expectations". The article then goes on to recall Graham's playing career.
THE "MOUTH" RETURNS
Gary Warrington's popular Alty fanzine, The Moss Lane Mouth will be published again shortly- hopefully in time for the next home game. The fanzine depends on contributions from supporters, whether of Altrincham or of other clubs, so please send your offerings, large or small, to Gary as soon as possible. Gary also operates an excellent Fans' Forum which can be accessed here.
UNIBOND NEWS
There is one UniBond Premier League fixture tonight.

Vauxhall Motors v Runcorn FC Halton.

Altrincham currently lie 7th in the UniBond Fair Play table, with 27 yellows and 3 reds in UniBond League and Cup matches. Joint top of the table are Burton Albion and our next league opponents Whitby Town whilst bottom are Burscough, but the number of games played by each side varies widely. Lancaster City chairman Ian Sharp has confirmed that the Club's winding-up order from the Inland Revenue (see below) "is going to be sorted out. There is no problem". He went on to assert that "We are going to win the league". Kirk Jackson, the UniBond Premier leading goalscorer last season whilst at Worksop Town, and who played against Alty for Darlington in the FA Cup in December, has now joined Stevenage Borough on loan. He has played 17 times for Darlo, whom he joined for £40,000 last season.
---
7 January, 2002
NEXT GAME
Altrincham travel to Humberside on Saturday in the FA Trophy 3rd Round to play North Ferriby United in their third consecutive away draw in this competition. United currently lie ninth in the UniBond 1st Division, to which they were promoted for 2000-01 season. This is only their second FA Trophy campaign, having previously been in the FA Vase. Indeed, 1997 was their most celebrated year as they reached the FA Vase final, but they lost to Whitby Town at Wembley. In the Trophy in 2001-02 they have so far beaten Shepshed Dynamo 4-1 and Spennymoor United 4-2, both at home. In fact, they have yet to play an away game in the Trophy, having lost 2-3 at home to Gresley Rovers in the 1st Round at home last season. The club was formed in 1934 in a small town which lies near the north end of the Humber Bridge, eight miles west of Hull. Their ground is at Grange Lane and has a capacity of 3,000 including cover for 1,000 and seats for 250. (Click for a link to a map of North Ferriby ground area). It has a good club house, open every day, and a club shop. Their most famous ex-player is Dean Windass, the Hull and Bradford City striker. United play in white and green shirts.
Altrincham, who won the Trophy in 1978 and 1986, will be hoping to break their sequence of five consecutive drawn games in the Trophy dating back to 1999-2000 season, against Southport. Last season there were replays against Ilkeston Town and Bishop Auckland. This season's campaign saw a replay win over Spalding United and then a penalty shoot-out victory in the replay against Accrington Stanley. Details of the supporters' coach to this match can be found here.
Altrincham's record in the F.A. Trophy since 1969 can be found through the following links:
1990/91 onwards
Click the the Through the Years button for Howard Watts's details of past games on this date.
---
6 January, 2002
BERNARD SPEAKS
In the Pink Bernard Taylor speaks of the lack of games over Christmas. "This break has done us no good at all", he says, "it was always going to be difficult for us to catch them (Burton and Lancaster), but now it's going to be harder than ever".
LANCASTER WOES
According to the Non-League Paper, a winding-up order is to be heard in London on 16 January for Lancaster City but the club is hurriedly arranging to forestall it by paying the Inland Revenue. More problems for the Dolly Blues have come with the news that manager Tony Hesketh is to have a hip operation which will mean an absence of a month from mid-January. On the field yesterday it was also a difficult day for Lancaster. After going 2-0 up inside 11 minutes, Lancaster were fortunate that fog caused abandonment of their game with Bishop Auckland with just 12 minutes remaining and the Bishops leading 3-2 through an own goal. To compound their woes, City's striker Brian Welsh was sent off.
OLD BOYS
Ged Kielty played for Leigh who lost 5-0 at Southport. 'Port played with only 10 men in the second half. Lance Key was also on the receiving end of five goals for Kingstonian who lost 1-5 to Purfleet. Chris Timons was only a sub for Ilkeston in a game of four dismissals against Welling. Dean Greygoose was also a sub for Stevenage, who are to feature in a Channel 4 "fly-on-the-wall" documentary. Danny Adams is quoted in he Pink as preferring to mark Don Hutchison to Paolo di Canio in today's Macclesfield game against West Ham because "I'd prefer to play against someone who is a battler than someone who is quick". Jamie Hoyland, who made a brief appearance for the Robins in 1999-2000, is now running Rochdale's youth system.
---
5 January, 2002
CHRISTMAS DRAW
The S.A.F.E. Christmas Draw has had to be cancelled again following today's postponement of the game against Emley. It has now been decided to defer the draw once again as a large number of tickets are still to be returned by supporters who can only bring them in on matchdays. It is now pencilled in to take place after our next Saturday home game, on 2 February, against Colwyn Bay. However, if we get through to the fourth round of the Trophy, the Bay fixture will be postponed but if we get a home game in that round, the prize draw will still take place on 2 February. If anyone has any further prizes for the draw, would they please bring these to ground before the draw? There are still some tickets available, which can be obtained by contacting the Club on 928-1045. If anyone has unsold tickets, they are asked to return them as soon as possible.
SATURDAY 5th JANUARY GAMES
Today's Altrincham match against Emley was postponed. This was Altrincham's tenth postponement of the season. Only the Lancaster game was not postponed today but it was then abandoned due to fog! The Pools' Panel gave Altrincham a home win.

Accrington v Gateshead POSTPONED
ALTRINCHAM v Emley POSTPONED
Bamber B. v Whitby T. POSTPONED
Blyth S. v Marine POSTPONED
Bradford P.A. v Hucknall T. POSTPONED
Burton A. v Barrow POSTPONED
Droylsden v Worksop T. POSTPONED
Frickley A. v Burscough POSTPONED
Lancaster C. v Bishop Auckland ABANDONED AFTER 78 MINS DUE TO FOG, WITH BISHOP LEADING 3-2
Runcorn F.C. Halton v Hyde Utd POSTPONED
Vauxhall M. v Gainsborough T. POSTPONED
DANNY POSTER
The Macclesfield Express has printed posters in its recent issues for Macclesfield fans to stick in their windows in advance of the Cup match against West Ham. They feature ex-Alty left-back Danny Adams and for the one shown, (left), the caption is "Don't let Danny down!" An accompanying article says "Danny wants everybody to get behind him and his team-mates...and if Danny says that's what he wants, we'd all better do as he says". Macc chairman Eddie Furlong adds, "Having a poster of Danny in your window is sure to deter burglars"! Danny is mentioned in today's Daily Telegraph: "18 months ago, Danny Adams, our record signing for £15,000, was a postman playing for Altrincham. Now he is playing against Sinclair or Don Hutchison", said Macclesfield's Kevin Keen.




CUP RECORD
Alty's complete record in the FA Cup has now been added to this site. It can be reached by clicking the following links for games before 1946 and from 1946. I am grateful to Howard Watts for assistance with this. Last night's BBC1 programme Walking with Giantkillers, a programme about FA Cup giantkillers, made no reference at all to Altrincham's exploits despite the BBC having approached the Club in the making of the programme. The BBC's concept of a giantkilling was Bournemouth beating Man. Utd at home rather than Altrincham defeating a "Premiership" (i.e. old Division One) side, Birmingham City, away from home.
JAMES OFF LIST
Accrington's Lutel James has apparently settled his differences with the club and has now been taken off the transfer list. <
INJURIES
Alty's Jason Gallagher is out for four weeks more, according to SAM, following his groin operation. Ex-Robin Neill Hardy is out for the same period at Stockport following an operation to remove loose bone in his ankle.
---
4 January, 2002
LEROY GOES FULL CIRCLE
After joining Bradford P.A. in early December, from Hucknall Town, ex-Robins' striker Leroy Chambers made his last appearance for the Yorkshire side on Boxing Day. It now emerges that he has returned to Frickley Athletic, for whom he played last season, after leaving Altrincham.
ALTRINCHAM'S LEAGUE EXPLOITS
A listing of Altrincham's end of season league record from 1911 to date has now been added to this site. The data for 1911-1940 is here and for 1946 to date, here.
GAINSBOROUGH IN TROUBLE
Our President's Cup opponents, Gainsborough Trinity, have become the latest UniBond team to hit financial problems. Having brought in six seasoned ex-Conference or League players at the start of the season in the hope of achieving league success, the Lincolnshire side has been forced by financial problems to release three senior players. These are Paul Raynor, who was the team's captain, striker Paul Watts and midfielder Steve Circuit. Watts, formerly at Boston, hit 17 goals last season in a partnership with ex-Robin, Lee Ellington, and has scored 11 already in this campaign.
UNIBOND NEWS
More details have emerged of the surprise transfer-listing of Accrington's Lutel James. He has been listed and fined two week's wages for his non-appearance at Stanley's game at Bamber Bridge on Boxing Day. On a happier note, Stanley have been named UniBond Club of the Month for December, retaining the title they also won for November. Stalybridge Celtic have signed 20 year-old goalkeeper Leigh Walker from Emley. Walker was previously at Barnsley.
---
3 January, 2002
REARRANGED GAMES
Six of Altrincham's nine postponed league games have now been arranged and the full, revised fixtures can now be seen by clicking the League Matches button above. Still to be arranged are Hyde (H and A) and Bamber Bridge (A). The new dates are:
HOME:Marine (16/2) Worksop (26/2), Gainsborough (16/3)
AWAY:Runcorn (23/1), Marine (29/1), Bishop Auckland (13/3)
Also rearranged are the Bamber Bridge (H) game which is now on 12 February and the Cheshire Senior Cup match against Macclesfield, which will now be on 15 January.
UNITED RESERVES AT MOSS LANE
Manchester United Reserves will now play the following Manchester Senior Cup games at Moss Lane:
v. Oldham Athletic Res. on 24 January (7pm)
v. Manchester City Res. on 31 January (7pm)
v. Bury Res. on 7 March (7pm)
PRIZE DRAW
It is hoped to hold the S.A.F.E. (supporters' association) prize draw after the Emley game on Saturday (5th Jan.), so please make sure that all stubs and monies have been handed in by then.
ALLIANCE TO CONFERENCE
If you are looking for a football book to while away the winter evenings, then Alliance to Conference: the first 22 years, 1979-2001 is well worth a read. The 128-page book provides a full league table and fixture grid for every season of the Alliance/Conference as well as a summary of each season's major events and two pages per year detailing each side's FA Cup, FA Trophy and League Cup results. Only Kettering, Northwich Vics and Telford United have played more games at this level than Altrincham but the Robins retain the record for the most wins against league sides in the FA Cup by any side playing in the Alliance/Conference at the time- twelve. (For Alty's full giant-killing record, click here). Altrincham also figure as hosts of the first ever live television transmisson of a non-league game- Alty v Barnet in March 1991. Amongst the odder features of the book is a list of Alliance/Conference players who had more famous relatives and, for Altrincham, these include Danny Donachie, Mike Fagan, Simon Kendall and Darren Royle. The book, which costs £9.95, is published by Yore Publications of Harefield, Middlesex and its ISBN is 1-874427-93-3.
GAMES OFF
All of last night's UniBond Cup games were postponed so the qualifiers for the three UniBond trophies' quarter-finals still remain unclear. However, one of the quarter-final ties which is certain is between Altrincham and Gainsborough at Moss Lane on 26th January in the President's Cup.
HYDE SIGNING
Hyde United have signed Stalybridge Celtic defender Dominic Crookes. Crookes, aged 27, joins former team-mate Martin Filson at Ewen Fields. Elsewhere in the UniBond, Runcorn goalkeeper, Tony McMillan, has moved on loan to Bamber Bridge.
---
2 January, 2002
BACKLOG
Altrincham now have nine postponed league matches to re-schedule in 2002, with Tuesday 8 January an early candidate for a revised fixture. The games to re-arrange are: Marine, Gainsborough Trinity, Worksop Town and Hyde United at home and Runcorn, Bamber Bridge, Marine, Bishop Auckland and Hyde United away. We have a blank Saturday in March caused by the uneven number of teams in the League and both Saturdays 12th and 26th January are allocated to cup matches (Trophy and President's Cup). There are 17 weeks after this one till the end of the season and already four mid-week periods have fixtures (if Easter Monday is included). So, if the Emley game is postponed on Saturday, and/or we draw or progress in the Trophy, Presidents' or Cheshire Senior cups, we will be heading towards playing three games a week at some point between now and the end of the campaign.
---
1 January, 2002
LEROY MOVES AGAIN
After being substituted in the Boxing Day match between Bradford PA and Burton, Leroy Chambers has been released by the Yorkshire side. This is the third club he has left since he was at Altrincham (i.e. Frickley, Hucknall and Bradford).
TODAY'S GAMES
Both of today's UniBond Premier games have now been postponed.
Hyde U. v Altrincham
Lancaster C. v Barrow
Altrincham now have nine league matches to rearrange during 2002.
S.A.F.E. MEETING
Notes of the S.A.F.E meeting held on 22 December 2001 are now here.
---
31 December, 2001
MATCH OFF
Altrincham's blank Christmas season continues as tomorrow's game at Hyde has already been postponed due to snow and ice. So, as well as the match, we are also deprived of seeing the almost complete new stand at the leisure-pool end of Ewen Fields. Hyde have also just signed Nathan Townsend, a striker, who was formerly at Hednesford and Kidderminster.
GRAHAM "BOOKED"
The UniBond Press Release reports that Alty coach Graham Heathcote was involved in a road traffic accident over Christmas and the policeman called to the scene turned out to be former UniBond and Football League referee, Michael Pike. According to Pike, Graham said "this won't be the first time you've had my name in your book".
JAMES LISTED & BOMBER MOVES PERMANENTLY
Accrington have surprisingly transfer-listed their leading striker Lutel James. Other UniBond transfers include:
Ricky Harris (Leigh RMI to Rossendale U. - "The Bomber" has been on loan till now)
Brian Linighan (Gainsborough T. to Worksop T.)
Andy Banks (Lancaster C. to Chorley)
Gavin Bassinder (Gainsborough T. to Farsley C.)
ALTRINCHAM F.C.'s RECORD IN THE YEAR 2001
2001 was an eventful year. January witnessed the resignation of Gerry Berman as Chairman as the Club was almost wound-up. In mid-March, came the sacking of Mark Ward as Manager. Since then a new Board has been installed under Mark Harris's chairmanship and Bernard Taylor and Graham Heathcote have reassumed the managerial positions. On the pitch the highlight was the FA Cup "run" this winter and, as 2002 starts, we still remain in the Trophy (3rd Round), Cheshire Senior Cup (Semi-Finals) and the UniBond President's Cup (Quarter Finals). The FA Cup income helped to stabilise the Club's finances.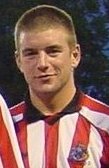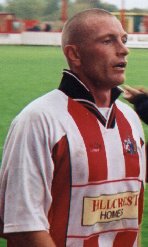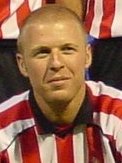 L to R: Three newcomers in 2001- Dave Swannick, Kevin Hulme, Chris Adams.
2001/02 LEAGUE AND CUP RECORD TO DATE
| | | | | | | | | | | | | | |
| --- | --- | --- | --- | --- | --- | --- | --- | --- | --- | --- | --- | --- | --- |
| 2001/02 season | P | W | D | L | F | A | W | D | L | F | A | GD | PTS |
| League | 17 | 7 | 1 | 1 | 16 | 8 | 3 | 3 | 2 | 13 | 10 | 11 | 34 |
| Cups | 17 | 8 | 1 | 2 | 24 | 12 | 3 | 2 | 1 | 15 | 6 | 21 | [36] |
| Total | 34 | 15 | 2 | 3 | 40 | 20 | 6 | 5 | 3 | 28 | 16 | 32 | [70] |
2001 CALENDAR YEAR RECORD
In the calendar year 2001 Altrincham played 38 league games, this compares with 2000 when we played 45 league games. Below, is the League record in both the Conference and Unibond over the calendar years 2000 and 2001. Curiously we amassed 63 points in each of the two calendar years, but from seven fewer league games played in 2001:

| | | | | | | | | | | | | | |
| --- | --- | --- | --- | --- | --- | --- | --- | --- | --- | --- | --- | --- | --- |
| - | P | W | D | L | F | A | W | D | L | F | A | GD | PTS |
| CONFERENCE 2000 | 22 | 3 | 4 | 4 | 16 | 15 | 1 | 6 | 4 | 10 | 18 | -7 | 22 |
| UNIBOND 2000 | 23 | 7 | 2 | 2 | 24 | 11 | 5 | 3 | 4 | 22 | 16 | 19 | 41 |
| LEAGUE TOTAL 2000 | 45 | 10 | 6 | 6 | 40 | 26 | 6 | 9 | 8 | 32 | 34 | 12 | 63 |
| LEAGUE TOTAL 2001 | 38 | 13 | 3 | 4 | 37 | 21 | 5 | 6 | 7 | 26 | 28 | 14 | 63 |

L to R: Jeremy Illingworth (now at Stocksbridge PS), Carl Furlong, Danny Murphy, Terry Bowker (now at Bamber Bridge), Ian Craney.
2001 RECORDS
Longest Runs of Games in All Competitions in 2001
Without defeat: 7 (6 wins and 1 draw, 15/9/01 to 7/10/01)
Without a win: 2
Longest League Runs in 2001

Without defeat: 6 (5 wins and 1 draw, 15/9/01 to 30/10/01)
Without a win: 3 (2 draws 1 defeat, 24/11/01 to 31/12/01)


L to R: Rod Thornley's penalty against Nuneaton in the FA Cup 4th Qualifying Round.
Highest League Scorer in 2001
Rod Thornley - 19
Ian Craney and Kevin Hulme - 8
Danny Murphy - 7
Steve Finney - 6
Highest Overall Scorer in 2001

Rod Thornley - 32 (19 league, 13 cup). These 32 goals have come in 37(+1) appearances.
Danny Murphy - 12 (7 league, 5 cup)
Lee Poland - 9 (all cup)
Four Goals in a Game in 2001

Lee Poland 13/11/01 v Woodley Sports (A)
Hat Tricks in 2001

Rod Thornley 25/3/01 v Accrington S. (H)
Rod Thornley 25/8/01 v Colwyn Bay (A)
Rod Thornley 29/9/01 v Frickley A. (H)
Lee Poland 27/11/01 v Lancaster C. (A)
Clean Sheets in 2001

8 in league games and 4 in cup games.
Bookings in 2001/02

19 yellow and 2 reds have been picked up on the pitch so far this season in 17 league games. However, UniBond statistics show a third red which relates to the touchline "altercation" between the Alty management and the referee at Frickley which is subject to the appeal process. In the 2000-01 season of 44 league games we received 64 yellows and 1 red card. In this season's 17 cup games, we have received 18 yellow cards. This season's leading offenders are:
Carl Furlong 5Y and 1R in 13(+6 sub) games.
Steve Hawes 5Y (in 32 starts)
Kevin Hulme 4Y in 25(+1) games, Danny Murphy in 28(+4) games.
Alty's red cards were received by Carl Furlong (at Lancaster) and Chris Adams (at Accrington). Chris has not received a single other caution this season in 27 starts! The player who remains completely unbooked in the most games is:
Jason Gallagher in 14(+5) league and cup games. In league games only, both Mark Sertori and Ian Craney have played in all 17 games this season without a booking, but Craney has two cup bookings and Sertori one.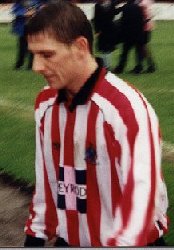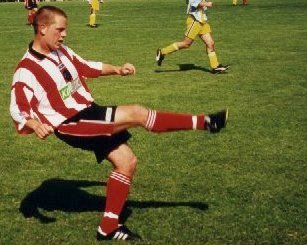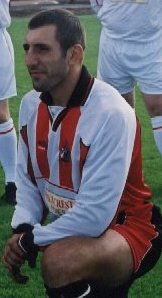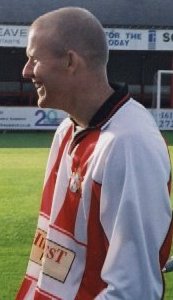 L to R: Gary Scott, Stuart Coburn, Steve Hawes, Mark Sertori, Mark Maddox
Highest and lowest home League gates in 2001
1,018 for the visit of Burton Albion, 27/8/01.
438 for the visit of Hucknall Town 20/2/01.
Highest and lowest home Cup gates in 2001

3,302 for the visit of Darlington in FA Cup, 8/12/01
114 for the visit of Vauxhall Motors in the UniBond Cup, 11/12/01
Players used in 2001-02

27 different players have so far started or appeared as substitutes in league and/or cup games in season 2001-02 to date. In the whole of season 2000-01, 40 players appeared.
The Centenarians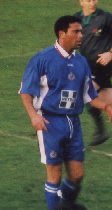 The following current players have clocked up more than 100 appearances for Alty:
168 (+10) Mark Maddox
143 Stuart Coburn
123 (+16) Jason Gallagher (seen right)
113 (+4) Steve Hawes
FOR COMPARISON- 2000 RECORDS
Longest League Runs in 2000
Without defeat: 7 - i.e 3W + 4D in the Conference, 19/2-25/3/00
Without a win: 11 - i.e. the last eleven games in the Conference, 5D + 6L from 11/3/00.
Highest League Scorer in 2000

Dickie Landon - 13 (8 Conf., 5 Unibond), followed by Kevin Ellison with 10 (3 Conf., 7 Unibond).
Highest and lowest home League gates

1,761 for the visit of Kidderminster, 6/5/00.
501 for the visit of Colwyn Bay, 12/9/00.
---
---
FOR EARLIER NEWS, CLICK HERE
---