Altrincham Football Club News Archive
15 to 21 January 2003
---
21 January 2003
FIXTURES
Tuesday
FA Trophy 3rd R'd Replay: Gainsborough T. 2 Farsley C. 1

League: Vauxhall M. 2 Runcorn FC Halton 1

Wednesday
FA Trophy 3rd R'd Replay: Altrincham v Kettering T.
PLAYER INJURIES
Rod Thornley is having treatment on his thigh in the hope that he will be fit for Wednesday's game against Kettering, but Gary Talbot and Neil Ryan will not be fit. Both Peter Band and Dave Gardner picked up knocks on Saturday but, hopefully, will be available. Ineligible for the game is new signing Tony Sullivan.
MOSS LANE FACILITIES
Details of the facilities at Moss Lane have now been logged in a Football Foundation database of 44,958 football ground and pitches. This is accessible here. Manchester United Youth are scheduled to play Sheffield Wednesday Youth on the Moss Lane pitch tonight (7pm) in the FA Youth Cup.
BIG CHANGES AT LOCAL CLUBS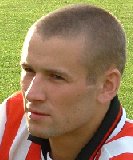 Our two nearest non-league neighbours, Trafford and Flixton, have both seen many changes in their playing staff in the last week or so. Trafford's new manager Mike McKenzie has signed 9 new players including ex-Robins Anthony Hargreaves and Rico Richards. As well as Hargreaves, he has signed a number of ex-Hyde players including John Foster, Martin Grant, goalkeeper Steve Lyons, central defender Michael Lomax and full-back Matty Taylor. A number of ex-Alty Youth players are still at the club and played in Trafford Reserves' win last Saturday. These were Dale Newbrook, Ian Horton, Richard Smith, Ian Taylor, Lee Thompson and Mark Drew, who scored one of his side's goals in the 4-0 win over Whitchurch.

Meanwhile, Valley Road, Flixton has seen a mass exodus of players, allegedly due to problems with wage payments. Amongst those moving on to Salford City are ex-Robins, Simon Woodford (right) and Martin McDonald. Simon played 4(+7) games for Altrincham this season. The new arrivals at Flixton are Tyrone Wade, Stephen Prince. Gary Rowbotham, Thomas Lennen, Warren Burne, Leon Thompson, Ian Gordie, Mark Piggott, Michael Ekpo, Michael Devaney, Franklin O'Mara and Gary McDonald.
VASE
Local NW Counties side Mossley will be at home to Prescot Cables in the next round of the competition.
UNIBOND NEWS
Gateshead report that they are trying to make the loan from Carlisle of striker Michael Dickinson a permanent one. Altrincham still lie fourth from top in the current form charts for the UniBond Premier, based on their last eight league results.

Transfers:
Cieran Donaghy (Cliftonville to Lancaster C.)
Timothy Graham (Glenavon to Lancaster C.)
---
20 January 2003
ALTRINCHAM 1 RUNCORN FC HALTON 1
Match report here.
KETTERING SIGNING
Kettering, whom we meet on Wednesday, have signed Neil Tolson, the 6ft 3ins Leigh striker. He made his debut last Saturday. Tolson has league experience at clubs including York and Oldham.
BUCKETS
SAFE members collected an excellent £101.63 in the bucket collection on Saturday. Once again many thanks are due to the collectors and the contributors alike.
UNIBOND NEWS
The Blyth Spartans site has a very interesting club structute chart showing who is responsible for what; it underlines just how much has to be done at a UniBond football club.

Blyth are celebrating the 25th anniversary of their famous F.A. Cup run to the 5th Round in 1978. There will be a "reunion evening in the Social Club when all the players from that squad, the management team and the club officials are going to be invited".
ANDY REID
A profile of Andy Reid has been added to the Alty Legends section of this site.
GATES
The Attendances chart has been updated.
---
19 January 2003
YOUTH GAME OFF
Today's youth team match at Euxton Villa has been postponed. It is now 5 weeks since the youth team were able to play a game!
BUSY WEEK
It will be a busy week at Moss Lane as, weather permitting, there will be three games on the pitch:
Tuesday 21st: FA Youth Cup - Manchester U. v Sheffield W. (7pm)
Wednesday 22nd: FA Trophy - Altrincham v Kettering (7.45pm)
Thursday 23rd; United Reserves v Everton Reserves. (7pm)

Stewards are needed for these dates so if you can help, please mail Chief Steward, Doug Ashton here.
OLD BOYS
Dicky Landon scored Radcliffe's winner yesterday. Steve Porter scored a penalty for Droylsden, for whom Leroy Chambers also played. Gareth Strange was in Atherton LR's side. Stuart Coburn passed a fitness test to play for Leigh yesterday, along with Ged Kielty, as RMI won away at Burton. Kevin Ellison was in Stockport's side, drubbed 5-2 at home by Swindon. Mark Sertori was again missing from Accrington's line-up yesterday but Steve Hawes returned to the Worksop eleven and Terry Bowker played for Stalybridge whilst James Wilkinson made his debut for Hyde United.
TROPHY
Kettering, our Trophy opponents on Wednesday, lost 2-1 at Woking yesterday. The winners on Wednesday meet Aylesbury who lost at Canvey Island where the NLP reporter described them as "a spoiling Aylesbury side who'd drawn half of their twelve away games".
---
18 January 2003
ALTRINCHAM 1 RUNCORN FC HALTON 1
Mark Maddox feels the weight of former team-mate Matt McNeil during today's game, as Peter Band (no.9), Sean Smith (back) and Dave Gardner (right) look on.
Match report here.
The following pages have been updated: Line-Ups, Statistics, League Table.
UniBond Premier
Accrington Stanley 5 Marine 0
Altrincham 1 Runcorn FC Halton 1
Barrow 3 Hyde U. 0
Droylsden 2 Harrogate T. 1
Gainsborough T. 3 Blyth S. 2
Gateshead 3 Vauxhall M. 2
Lancaster C. v Frickley A. OFF
Stalybridge C. 4 Ashton U. 1
Wakefield & Emley 1 Burscough 0
Whitby T. 3 Hucknall T. 3
Worksop T. 4 Colwyn Bay 1
ON THE MOVE
Two former Alty players have signed for Trafford. Striker Anthony Hargreaves (right), who recently rejoined Alty from Hyde, has joined Rico Richards, a former star of the Alty Youth team in moving to Shawe View.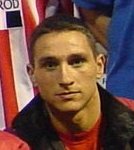 Anthony Hargreaves (Altrincham to Trafford)
Rico Richards (Flixton to Trafford)
Tony Sullivan (Southport to Altrincham)
David Jervis (Mansfield T. to Gainsborough T.)
Robert Pell (Larvik (Norway) ex Guiseley to Harrogate T.)
Jamie Horsley (Kemblawarra, Australia to Harrogate T.)
Robert Herbert (Halifax T. to Harrogate T., loan)
James Connolly (Southport to Marine loan)
Andy Evans (Frickley A. to Wakefield & Emley loan)
Matthew Daly (Bradford PA to Farsley C.)
Andrew Smith (Worksop T. to Stocksbridge PS)
James Whitehead (Ilkeston T. to Stocksbridge PS)
Matthew Hull (Pontefract C. to Frickley A.)

Graham Lewis has left Frickley for Lincoln United for a small fee whilst Andy Evans is moving to Wakefield & Emley on a month's loan with a view to a permanent move. Gainsborough have lost the services of Richard Logan, as his loan spell from Lincoln City has not been renewed by Trinity as the player is injured.
OLD BOYS
Stuart Coburn is doubtful for Leigh RMI tomorrow with a shoulder injury. Carl Furlong has been suspended for 4 games after his red card against Hyde.
CONFERENCE
Conference executive John Moules has confirmed that clubs which have not already applied to join the proposed new Conference feeder divisions will still be able to do so if they "meet the deadline this month with their completed application forms". Moules added, "Our preference is to have two semi-national divisions, feeding into the current Nationwide Conference of 22 member clubs. We propose to continue to operate promotion of three clubs from the feeder leagues Premier Divisions and introduce play-offs between the three Conference Divisions while increasing promotion with play-offs with the three feeder leagues and the two semi-national divisions. The net affect on all of the proposed changes will benefit each level of football with increased promotion and the excitement of play-offs. The net affect of the new structure will provide excitement throughout a playing season and increase attendances. It also provides for the Football Foundation to channel grants to promoted clubs, as opposed to the current system of funding all those in contention for promotion as the entry criteria for the two semi-national divisions will be set to accommodate this and will be a lower requirement than the current Conference criteria. We have already commenced discussions on new sponsorship and we are progressing the task of selecting the 44 clubs who would form the two new semi-national divisions. This will be a lengthy process".
UNIBOND NEWS
Whitby report that chairman Graham Manser as saying, "The postponement of the home game against Accrington Stanley on Boxing Day and the smaller than anticipated gate for the Trophy match at Barrow have severely affected the club's finances. You will all know that before these two setbacks we were already struggling financially due to the reduced gates. Now the situation is critical. We will want to see the number of spectators who turn up this afternoon and for next Saturday's match against Hucknall before we finalise our course of action. We must attract 400-plus, otherwise costs must be slashed. We just cannot finance a team in the Northern Premier League on these gates".
---
17 January 2003
GRAHAM HEATHCOTE INTERVIEW
Tonight's Manchester Evening News carries an extensive interview with Graham Heathcote, which can be read here.
NEW SIGNING AND A DEPARTURE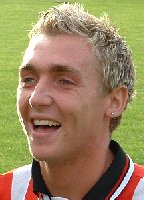 Altrincham have signed Tony Sullivan (left), aged 28, from Southport. Tony, a forward/winger, went to Southport in July 2001 from Stalybridge Celtic. In doing so Tony followed Celtic manager Phil Wilson, who moved from the Bower Fold to manage at Haig Avenue. Tony had joined Stalybridge in September 1997 after playing for Prescot Cables. Picture, left, courtesy of Iain Benson from the excellent Stalybridge Celtic website.

Leaving Moss Lane is Andy McDonald, (right), who has been "released". Andy signed for Alty from Witton Albion in late July, 2002. He had previously played for Ashton United, Woodley Sports, Winsford United and Abbey Hey, as well as for the East Levenshulme Sunday League team. Andy made 18(+6) appearances for the Robins and scored three goals. The Club wishes him well for the future.

For tomorrow's game Alty will still be without the injured Gary Talbot and Neil Ryan but Steve Lunt is nearing full fitness and the rest of the squad should be available for selection on Saturday.
GRAHAM PROUD
In SAM Graham Heathcote says about the Kettering draw on Tuesday: "We created enough chances to go on and win the match. Getting the first goal was important and then we were hoping to get the second goal to try to kill it off. The effort from the lads was fantastic. We are delighted to have another bite of the cherry at Moss Lane which will be an opportunity for the people of Altrincham to get behind the lads".
SATURDAY GAMES
The Through the Years page has been updated, courtesy of Howard Watts. Saturday is the 21st anniversary of our 6-1 beating at Burnley in the FA Cup; but it is also the day we beat Bangor City 6-1 in the Trophy in 1986. Pictured right is the teamsheet from the Turf Moor programme that Monday in 1982.

Runcorn FC Halton, whom we meet on Saturday, lost on Wednesday in the Liverpool Senior Cup 1st Round, 1-4 to Tranmere Rovers. They were without midfielder Chris Price (hairline fracture of leg) and striker Kevin Leadbetter (recurrent knee injury) for that game. "The real test though will come on Saturday when the Linnets travel to Moss Lane for their clash with Altrincham in the league", says This is Runcorn. Player-manager Liam Watson may partner former Robin, Matt McNeil, up front on Saturday.
CONFERENCE
"We are absolutely on course for next season" says Conference Chief Executive John Moules about plans for two new divisions for the Conference...61 of the 69 clubs we invited to join have said they are keen". Of these 44 would be selected to form two regional divisions both feeding into the current Conference. Moules added "This is an overwhelming declaration by the clubs themselves that they regard change as necessary - and they want it now!"
UNIBOND NEWS
This is Lincs reports that "Gainsborough Ttrinity are currently in talks with Bradford City over a proposed centenary friendly". Gainsborough were Bradford's first opponents in the Football League a 100 years ago. If the bid is successful then the game will be played as part of both club's next pre-season preparations". Yet more floodlight problems are affecting Bradford's other side, Park Avenue, however. This time BPA's Unibond League Challenge Cup tie against Ossett Town has had to be postponed because of electrical problems with the Horsfall Stadium floodlights. Bradford defender Matt Daly has been released, and has signed for Farsley Celtic. Colwyn Bay have signed midfielder Mark Evans (20) from Wrexham and Accrington's Gary Sampson is on trial with Macclesfield Town.

Ashton United beat Maine Road 4-0 in the Manchester Premier Cup to earn a semi-final tie against Flixton or Chadderton. The other semi is Droylsden/Abbey Hey v Salford City but Droylsden boss Dave Pace is unhappy with his side. "I'll offload before I buy in now, I've told the players that they must play for the shirts. There'll be changes on Saturday", he warned. Speaking of his new signing, the ex-Alty striker Leroy Chambers, Pace said that he "came on as a sub on Saturday at Whitby and looked really lively. Hopefully he'll quickly gel with the other lads". Meanwhile, David Burford, of Vaughan Promotions and also Chairman of Chester City, has assured Tranmere fans that "50 per cent of all profits accrued from this deal [of buying the club] would be ploughed back into the club and I can assure you and all supporters that our proposed club chairman David Pace [of Droylsden] will be working assiduously to improve the cash streams that Tranmere Rovers generate".
KETTERING'S NEW FACES
Northants Online reports that Kettering manager Carl Shutt "hopes to freshen up his squad with a couple of new faces before Saturday's trip to Woking. He dragged his forty-something body off the bench in Tuesday night's FA Trophy third-round clash with Altrincham at Rockingham Road... It turned into an inspired substitution when he grabbed a dramatic late equaliser to keep his team's hopes alive. But, typically, Shutt deflected the attention away... to praise the eye-catching performance of Victor Asombang. The young striker, plucked off a website as a relative unknown a couple of months ago, has waited patiently for his chance. It was a lively first start". Midfield playmaker Shaun Murray received an ankle injury on Tuesday, "It looked bad and I couldn't believe the referee missed the tackle. It was nasty", claimed Shutt. One new face for the Poppies is 18 year-old Delroy Gordon who signed for Kettering from Rushden & Diamonds just before the game with Altrincham last Tuesday. Gez Murphy, Kettering's no.9 in last Tuesday's game, is suspended for one game "from 18/01/2003" but whether this means his ban covers the Alty game is not clear.
OLD BOYS
The Tameside Advertiser reports that ex-Alty midfielder Ally Pickering will include fellow ex-Moss Laner Ricky Harris in his squad for Saturday's Vase match at Lymington, Hampshire. Harris is returning from injury.
---
16 January 2003
STRIKER FOR MOSS LANE?
Regarding the article below, Altrincham FC have confirmed that no player has yet been signed as of Thursday morning.
SAM reports that "Graham Heathcote has revealed that he hopes to sign a striker within the next few days. The Robins' chief is still looking for a regular strike partner to link up with Rod Thornley, as he aims for a top ten finish in the UniBond League Premier Division". The Alty manager also revealed that the player in question "was a proven UniBond scorer, who is currently plying his trade in the Conference. He was quick to add that should the deal come off, there was the real possibility of departures from Moss Lane, as he sticks to the tight budget imposed on him. 'If this player signs for us, then we will probably have to let some others go to make way for him. Decisions will have to be made as the budget is there, it has been set and there is no question of us going over. No one knows more than me how important it is that this football club does not overspend again. I would like to think that the place has a bit of attraction about it, rather than the wages. Hopefully, Dalton and myself have 'sold' the club to him'. Heathcote added he hoped to have the deal done and dusted before the Robins face Runcorn this weekend".
Referring to the deferred plans for new Feeder divisions for the Conference, Graham said, "We did not reply to the Conference deliberately as we wanted to wait and see what the FA's angle would be. Another 12 months is perfect for us. If it was to have happened this year, we would have had to have taken the step with the same wage bill we have now. Hopefully, in 12 months time, the club's financial situation will be better. The Board at Moss Lane should really be congratulated for what they have done here. People need to be thankful for these hard working Board members, and sometimes I get the feeling that people don't appreciate that. I see them day in, day out giving hours they probably don't have to spare, to eradicate a problem they did not create".
UNIBOND NEWS
Setting the Pace Pt.1
On the Confguide site, Neil Turner reports that "Vaughan Promotions Ltd, the company owned by the Chester City chairman Stephen Vaughan, are close to reaching a multi-million pound deal for the purchase of Tranmere Rovers Football Club ... The Vaughan proposal would see Rovers groundshare with Chester for a short period while their new stadium was being constructed. Prenton Park would be sold ... Part of the plan is to install Manchester-based businessman David Pace as the new Tranmere Rovers chairman and chief executive. Pace is a former director of Vaughan Promotions and is also a close friend of the Chester City owner. He is currently chairman of Uni-Bond League side Droylsden. Pace - who, it is proposed, will oversee the day-today running of Tranmere Rovers - is a former professional footballer himself, having played for Greek side Olympiakos and American outfit Dallas Tornadoes. Pace said last night: "I am always interested in business opportunities and I have known Stephen for a long time, but I would rather not comment at this time about the Tranmere Rovers situation."
Setting the Pace Pt.2
Pace is also in this week's Stockport Express which reports that magistrates have extended his unconditional bail on drink-driving charges. "Dave Pace, 43, ... is alleged to have driven a J-reg Mazda MX3 while over the limit and being drunk in charge of a vehicle on Oldham Street, Denton on July 27. No pleas were entered. Mr Pace is due to appear again at Tameside Magistrates' Court on Thursday, February 6".
Other news
Late goals helped Worksop beat Chester City 2-1 last night in the Trophy game at the Deva Stadium.
KEVIN ESTABLISHING HIMSELF
The Stockport Express quotes County manager Carlton Palmer as saying that ex-Alty left-winger, Kevin Ellison "has impressed me since returning from injury and is the key to playing a 4-4-2". Palmer even put the "match at Notts County back a week to make sure the left winger was fit for the game with Swindon on Saturday". The County boss explained that Kevin "has missed a couple of days' training because he is still a little stiff. That can be a problem sometimes with players when they move from non-league as they can take a little time to adapt". Referring to his recent toe injury, Kevin said "I dropped a wardrobe on my foot which broke a toe, and couldn't play for eight weeks so the gaffer fined me a week's wages. I used to be a removal man and took a lot of stick but I'll make sure it doesn't happen again. The fans have been brilliant to me this season ... I think they recognise I always give 100%". The reports adds that "the shaven-headed six footer is rapidly becoming a cult figure among the County faithful. He came to the attention of Colin Murphy - then assistant to Leicester City boss Peter Taylor while playing for Altrincham andmoved to Filbert Street in February 2001". Ellison added, "Last season I struggled to adapt to life as a professional footbailer. It wasn't that long ago that I was playing non-league football, but I am now beginning to get some consistency".
STEWARDS NEEDED!
Alty's Chief Steward, Doug Ashton, has issued an appeal for volunteers. He writes:

As we have got 4 games at Moss Lane over 6 days, can I ask for anyone who would like to help as stewards to come along on either Saturday 18th , Tuesday 21st, Wednesday 22nd and Thursday 23rd? All 4 of these games are important in one way or another to the club either for league points or cup progress or to impress the F.A..

The games are as follows :-
Saturday 18th: Altrincham v Runcorn (3pm)
Tuesday 21st: FA Youth Cup - Manchester U. v Sheffield W. (7pm)
Wednesday 22nd: FA Trophy - Altrincham v Kettering (7.45pm)
Thursday 23rd; United Reserves v Everton Reserves. (7pm)

Any help anyone can give on any or all of those dates will be much appreciated. You can mail Doug here.
---
15 January 2002
ALTY TACTICS CRITICISED
Northants Today quotes Carl Shutt, the Kettering manager as saying "We're very lucky to still be involved" in the Trophy. The article goes on, "Shutt accepted that his Kettering side were fortunate to maintain an interest in the FA Trophy after his late equaliser kept their hopes alive". The paper said that "Altrincham strangled the life out of the match with a negative tactical approach based on a blanket defence. 'They made things very difficult for us by getting so many men behind the ball', admitted club captain Lee Howarth. Team-mate Craig Norman concurred. 'We always seem to struggle to break teams down in those circumstances', he said. But Shutt argued: 'The onus is then on us to find a way through. It was down to us to come up with an answer. I don't think we used the width of the pitch and when we did go down the flanks the quality of the crosses or option of passes chosen lacked the necessary quality. We needed an early goal. And we had a couple of very good chances but failed to take them. Had we gone in front the whole complexion of the game would have changed. Instead we gifted them the lead through an individual mistake and poor marking. They played only one up front. But he caused us more problems on his own that we did to them. We know we can do a lot better than that. And Altrincham will certainly have to be more adventurous than they were here'", added Shutt.

Match report here.
KETTERING TOWN 1 ALTRINCHAM 1
Match report here.
The replay is next Wednesday (22nd) at Moss Lane. The winners will entertain Aylesbury in the next round; they beat Kingstonian 1-0 last night.
---
FOR EARLIER NEWS, CLICK HERE
---