Altrincham Football Club News Archive
19 to 26 May 2003
---
26 May 2003
ROBINS' REVIEW WINS AWARD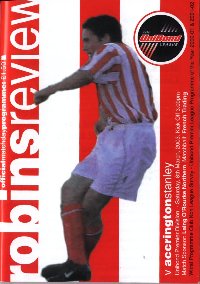 The Altrincham FC matchday programme,
The Robins' Review
, has won the UniBond Premier section of the prestigious Wirral Programme Club's Non-League Programme Survey for 2002-03. This is its third successive win in the UniBond Premier section of this competition. The Alty programme is jointly edited by Grahame Rowley, a Director of the Club, and his brother Terry, who spends most of the year working in the Middle East or North Africa but nevertheless shares the editorial role from afar. The overall UniBond winners were First Division champions Alfreton Town (160pts), just one point ahead of Altrincham. In a North-West clean-sweep, the runners-up in the Premier were Vauxhall Motors, followed by Stalybridge Celtic.
For more on the Altrincham programme, see here.
WILSON'S TARGET
The Lancaster
official site
quotes new City manager and ex-Alty player Phil Wilson as saying, "Having won this league with Stalybridge and with my other experience at this level and the Conference, I am confident of bringing the good days back to the Giant Axe... [For] a club of Lancaster's size and potential to fall from 3rd to bottom half is worrying but that's why I took the job. I am confident of a top six finish next season and that will be acheived by good passing football- the way the game should be played. As you know, I have vast knowledge and experience of this level and I know what's required to make Lancaster City a force again".
UNIBOND NEWS
Stalybridge Celtic have signed striker Greg Brickell (23) from NW Counties' side Atherton Collieries. Previously he had been a prolific scorer at a lower level for Coppull, (Wigan).
Hucknall have finally signed James Tevendale from Stocksbridge PS
The new pyramid structure, endorsed by the FA National League System Committee and awaiting approval of the FA Council on 21st June will see 22 clubs at levels five and six of the National System (The Conference and Conference North/South). The UniBond is expected to revert to 22 teams in both its Premier and First Divisions. So, perhaps 13/14 First Division clubs can expect promotion to the Premier to replace those who join Conference North. The 8/9 eight clubs left in Division One would then joined by 13/14 clubs promoted from the NW or Northern Counties East leagues.
YOUTHS MAKE GOOD
Our neighbours Trafford gave youth its head last season and their
website
says that "The obvious examples of players who have been given their chance and have taken it are Ben Ashmole and Paul Tilley who now feature regularly with the firsts". Paul was Alty Youth captain two seasons ago whilst Ben was also at Altrincham.
---
25 May 2003
PLAYERS OF 78/79
The Altrincham players of 1978/79 have been added to the series of pen-pictures
here
.
UNIBOND NEWS
Ashton United have offered goalkeeper non-contract terms for next season after having him on contract in 2002-03. However, Phil Denney has been re-contracted on improved terms.
Bradford PA's Horsfall Stadium is one of several sites being considered for the return of motorcycle speedway to the city.
The NLP reports that Danny Bacon, who hit 10 goals in 14 games for Hucknall Town whilst on loan from Mansfield last season, has been offered a new contract at the League club which cuts short Town's plans to sign him. Hucknall's Clint Marcelle is a target of the newly formed AFC Barnsley, established along the lines of AFC Wimbledon by disenchanted Barnsley FC fans.
The Gateshead chairman has told the NLP, "We must become self-sufficient and find alternative streams of income...We will be developing our community links". Despite relegation to the UniBond First, chairman Coulson has "agreed a budget which is bigger than last season's" for manager Derek Bell and a reserve and youth side are to be created. "Coulson believes gate income will increase, despite relegation, if the team begins winning".
DUCKS LOSE BOSS
Aylesbury United, who knocked Alty out of the FA Trophy, have lost their manager Steve Cordrey. He has moved down to Ryman Division One to manage Staines Town, which is his home-town, according to the Staines
site
.
---
24 May 2003
HARDY LEAVES BORO'
According to the Radcliffe Borough
website
former Alty players Niell Hardy and Scott Wilson "have left the club due to us not being able to agree terms with them". Barrie Keeling has also left Boro'.
NEW BOSS
Gainsboroughy Trinity
have announced that their new manager and assistant will be Paul Mitchell and Peter Rinckavage, who until late last season were in charge at Worksop Town.
OTHER UNIBOND NEWS
Ex-Alty man Phil Wilson, the new manager at Lancaster City, has told
Lancaster Today
, "I am very ambitious and... I am looking forward to getting stuck back in. The goal is to make sure the team qualifies for Conference North when it starts... The UniBond League has stagnated and been in the doldrums for a good few years but now with new teams coming in there is a new impetus... The Conference North will be a good league to play in and manage in". Wilson has appointed Peter Ward as his assistant manager, having previously worked with him at Leek Town in the 1990s. As regards his squad, Wilson added, "We do need some experienced UniBond players - they are the type of players we will being looking at, players who have won things at this level and know what it is about". Also looking for experience is Wilson's former club, Southport. The
Southport Visiter
quotes 'Port manager Mike Walsh: "'We have done some excellent work re-engaging [goalie] Steve Dickinson, securing Lee Ashcroft and acquiring a top goalscorer at this level in Andy Whittaker. I am talking to a number of Football League and UniBond players but it will take time to finalise deals... We are looking for players with experience of UniBond football and who we are confident can adjust to it". Walsh has also engaged seven trainees who will join the first team for pre-season training.
This is Lincs reports that "Ex-Gainsborough Trinity manager Phil Stant is in the running to become the new Grantham Town boss... Stant had only just quit two weeks ago, when he walked away as manager from Trinity after only a year in charge".
A second Harrogate player, midfielder Scott Bonsall, has left for Worksop according to the Harrogate website, and will be joining former team-mate Paul Sykes at Worksop next season. However, Harrogate manager John Reed says "that he is confident Bonsall will not be missed... 'He missed 24 games last season with injury and the year before he missed 19'". Reed added, "I've spoken to a couple of players from Worksop, one from Burton, one from Gateshead, one Accrington Stanley, one from Hull City and one from Scunthorpe United. So, there will be plenty of new blood to come in and replace any players we lose". Worksop, who have appointed Gavin Walker from Sheffield United as their assistant manager, have also signed former Northwich and Droylsden striker Robert Pell from Southport according to the Tigers' official site. Pell is their fifth signing of the close season but Worksop have also released five - Carl Smith, Krystof Kotylo, Darren Beesley, Brian Linighan and Nicky Wood.
---
23 May 2003
MORE FRIENDLIES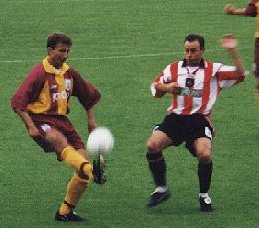 Altrincham have confirmed two more friendlies. On 5 August Bradford City, who like Alty celebrate their centenary next season, will bring a team to Moss Lane. City share another feature with Alty in that their team also travels on the Go Goodwins coaches of Alty chairman Geoff Goodwin. Pictured right, Mark Ward challenges Romanian international Dan Petrescu when Alty met Bradford City at Moss Lane in August, 2000.
On 26 July St Helens Town will entertain The Robins. For a full list of pre-season games, see here. Remember all the home friendlies are free if you buy a season ticket- see the link near the top of page for details.
ALTY DONORS
SAM
reports that "Two donors have made substantial cash contributions to Altrincham FC, in exchange for life season tickets. The parties, one individual and a couple, made their donations to the cash-strapped club in the past month and manager Graham Heathcote hopes more will come forward. "They have made substantial donations to the club and if there are any more out there, that would be smashing".
RESULTS
Four Nations Tournament:
Wales 0 England 2
Scotland 4 Rep. of Ireland 3
UNIBOND NEWS
Alfreton Town's site quotes the club chairman as saying: "I know speculation is rife and I understand the fans' desires to read of new signings and the comings and goings, but, the 2002/2003 season doesn't technically end until the UniBond AGM in Blackpool on June 14th which means no-one can sign anyone on until after that date". In what appears to be a clear reference to Altrincham, the website says "Compared with one North West UniBond Premier Division club who are charging £115 for adult standing and £55 for senior citizens and £135 for adult seating, the Reds look set to be one of the lowest prices in a division which promises increased entertainment value from a campaign of massive significance in the future of the club". Season tickets at Alfreton will cost £99 for adults and £49 for concessionaries with a turnstile price of £6 for adults. Chairman Wayne Bradley said "There is a fine balance between sensible attendance pricing and an attendance price to fund an assault on a high class division. The club's attitude towards season ticket holders is to offer the lowest possible price without restricting our ambitions and I feel this has been met".

23 year old wing-back Chris Lane has moved from relegated Southport to Morecambe. Barrow expect midfielder Scott Brough (21) to join Grimsby Town says the NW Evening Mail. He only joined the Bluebirds in April. Burscough's goalkeeper Matty Taylor and his brother and central defender Joe Taylor "are being targeted [by Yeovil], player manager Shaun Teale admitted this week" according to The Ormskirk Advertiser. Striker Peter Wright is also said to be exciting other clubs' interest. This is Runcorn quotes a Halton Council statement that "during the next two months, we will be carrying out an extensive programme of reseeding and top dressing [at the Halton Stadium, used by Runcorn FC Halton], to ensure that the quality of the pitch continues to improve... In the past year we have spent more than £35,000 on maintaining the pitch to as high a standard as possible... The pitch has taken some punishment, combined with the fact that there have been over 60 games played at the stadium in the past 12 months... To relay the whole pitch again would cost around £150,000".
VICS' NEW GROUND
The Northwich Chronicle confirms that our neighbours Northwich Victoria have been "given the go-ahead to build a new 4,000-capacity stadium at Wincham Business Park... and the club hopes to move in at the start of the 2004/05 season. Vale Royal Borough Council... approved proposals for a 16m high, two-storey main stand with 1,294 seats and a cantilever roof, two small terraces on either end of the ground each holding around 300 spectators, a 400-space car park with places for 10 coaches and other minor works. The club will also relocate the existing Danebank Stand, which has a capacity of 3,500, from the Drill Field... The new £1.6m ground, to be called the Victoria Stadium, will be located on vacant land between the Trent and Mersey Canal and Wincham Avenue. The total capacity will actually be 5,394, but Vics are seeking a licence for a stadium with a capacity of 4,000, and will be applying for special dispensation when a big crowd is expected".
---
22 May 2003
UNIBOND NEWS
Blyth Spartans's website reports that the club is at "the halfway point in the planned work on the improvements to Croft Park... Some of the terracing is already in place behind the goal at the Kingsway end of the ground and work has started to shape the earth behind the goal at the Plessey Road end for the terracing to go into place". Amongst other news reported at a club meeting was:
The club's goal sponsorship scheme raised £800 last season.
The club is to look for sponsorship to erect new dug-outs to Conference standard and to install new floodlights.
Season ticket prices are to remain the same as last season.

The Harrogate Town unofficial site reports that the Council have been asked to help in developing a new Sports Academy. "The club's ambitious plans include a new 5,000 seat stadium, 5 a-side pitches, tennis courts and 2 all-weather pitches", as well as a social club.

Barrow have asked former Stockport County and Bolton Wanderers striker Ian Stevens (36) to join them for pre-season training. Also invited to training is goalkeeper Luke Weaver, who made his debut against Altrincham last season whilst on loan from Carlisle, who have now released him, according to the North West Evening Mail.
FOUR NATIONS
The "England National Game XI" beat the Republic of Ireland semi-professional side 4-0 in the Four Nations Tournament being staged this week in Wales. John Kennedy (Canvey Island) was the only England player who came from a non-Conference side. Wales beat Scotland 2-1 in the same tournament.
UP IN THE AIR
Amongst the more unusual e-mails received by this site recently is one from Erik Borgman, a "football juggler" from Holland, who is offering his services to our club and others. See what it is all about on Erik's website.
---
21 May 2003
PHIL WILSON BACK IN WORK
Lancaster City's official site confirms that former Alty player and Stalybridge and Southport manager, Phil Wilson, has been appointed as manager to succeed Tony Hesketh. "There were more than 20 applications for the post with 14 given the opportunity of an interview... There were a few familiar names and a few household ones as well, with a handful of ex-premier league players wanting to make the break into management".

Spennymoor United too have made an appointment following Jamie Pollock's departure (see below). Former Newcastle United and Celtic player Alex Mathie (34) has taken over as manager, according to the UniBond site.
GAME OFF
The friendly at home to Chester City, set for 22 July, has been cancelled at the request of the Conference side. The revised list of pre-season games is here.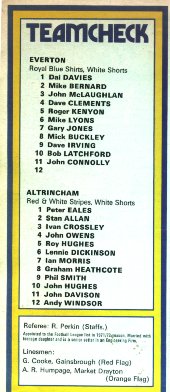 ROY REES
The Skelmersdale United website has an extensive interview with Roy Rees, who was manager of Altrincham from 1972-75, during which time the Robins had some memorable moments, e.g. v. Everton and Spurs in the FA Cup. Follow the "Interview with" link on the site's menu to read the full story, which includes references to Alty and to former player Barry Whitbread. Click the image, right, for the Alty line-up at Goodison Park in 1975.
THE MOORS' BOSS GOES
Jamie Pollock, manager of promoted Spennymoor United has "left the club due to commitments to his successful business venture. Reports that Pollock's assistant Jason Ainsley has also left may be a little premature as the club are keen for him to continue with them". For more see the UniBond site,
STAR

STAR, the Altrincham supporters' trust, has a number of fundraising activities lined-up for this summer. Amongst these are a Rocky Robin penalty shoot-out event to be staged at summer fairs of local schools and a Golf Day at Northenden. STAR is also involved in the Altrincham Festival on 5 July and a sponsored pub-walk is set for 24 August. A donation of £500 has also been given to the club to meet close-season bills. See the STAR site for full details of the above activities and of the AGM on 31 October.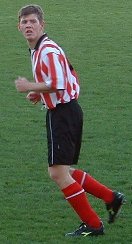 OLD BOY
Jordan Burke (right), the young midfielder who played 7(+1) times for Altrincham last season before joining Skelmersdale United, played only one game for his new club before picking up a serious foot injury which sidelined him for the rest of the campaign. (Thanks to Frank Hughes who runs the excellent Skelmersdale web site for this news).
UNIBOND NEWS
Barrow's new boss Lee Turnbull has told the NW Evening Mail, "We finished second with a decent squad and we want to keep the momentum going and introducing too many players could upset the apple cart". Nevertheless, he has already signed two strikers in Neil Campbell (ex-Scarborough and Doncaster) and Gavin Knight (ex-N. Ferriby Utd) but "is still looking for a third centre forward and is a big fan of Morecambe's Barrow-based striker Wayne Curtis". Vauxhall Motors manager Alvin McDonald has a different problem, as he told IC Cheshire. "We've lost three quality players already this year. First Danny Collins went back to Chester, where he has done really well, then Matt Haddrell went off to Macclesfield and we weren't going to stand in his way and then Phil Brazier... decided to try his luck in the Conference with Northwich... It's going to be hard without them, but we've still got good lads on board to take their places. Craig Robinson is improving all the time, Andy McMullen will be like a new signing having been out for most of this last season, and we've signed Mike Tomlinson from Runcorn... and he's already looking a very good player".

The Colwyn Bay website reports that the relegated Welsh club has drawn up a shortlist for its vacant manager's seat. An appointment is expected by next week.
---
20 May 2003
PIPPED AT THE POST
Congratulations are due to the Altrincham FC quiz-team which reached the final of last weekend's Non-League Quiz in Birmingham but were narrowly beaten for the trophy (48-47) by a Forest Green Rovers team. The Alty team, comprising Ian Boardman, Dave Thorpe, Mike Garnett and Malcolm Riley, won through to the final with wins over Rugby United and Guiseley, the latter being some recompense for our FA Cup defeat last season at the Yorkshire club's hands. Long-time supporter and servant of the club, Keith Davey, was also instrumental in the Altrincham team's success, which earned £250 for Altrincham FC. The event was hosted by the Non-League Directory and after it, the Altrincham team watched Burscough win the FA Trophy at Villa Park.
OLD BOY
The Colwyn Bay site confirms that ex-Alty man "Marc Limbert 29, has signed a contract to play for neighbours Rhyl in the JT Hughes Mitsubishi Welsh Premier next season. Limbert, who actually registered for the Belle Vue club towards the end of last season on dual forms, was part of the Rhyl side which recently beat Bangor City to win the Welsh Premier League Cup. The wide midfielder had just completed his seventh season at Colwyn Bay, having signed from Connah's Quay Nomads. He started his career as a trainee at Everton and then played 14 League games for Chester City".
UNIBOND NEWS
The UniBond League site has a statistical review of last season. Alty's most prominent appearance is in the Highest Attendances chart where the 2,263 crowd for Accrington Stanley v Altrincham on 12 April was the biggest gate of the season. In the clean-sheets department Burscough and Droylsden led with 17, but Alty were fourth with 14. In the Failed to Score category, we were also fourth (with 15) behind Burscough (21), Frickley and Hyde (both 16). Alty were also joint fourth in the list of teams conceding four or more goals in a game (5 times), behind Hyde (9), Colwyn Bay (7) and Ashton (6). We had no one in the leading scorers who, in league games only, were Lutel James of Accrington (33), Andy Whittaker of Lancaster (31) and Terry Fearns of Vauxhall Motors with 29.
FRIENDLY OPPOSITION
Alty travel to Mossley on 2 August for a friendly and Mossleyweb reports than former Alty midfielder and current Mossley manager "Ally Pickering has announced the departure of three players...Left-back Neil Pointon has been released at his own request in order for the veteran former Premiership star to find another managerial post. Rob Trees [briefly at Altrincham] walked out on the club on the eve of the Worthington Trophy Final after he was left out of the starting eleven... and Steve Hilton has been released... Arriving at Seel Park will be ex-Stockport County, Macclesfield Town, Burton Albion, Marine and Guiseley left-sided striker Alan Bailey. Meanwhile Ally is currently chasing an experienced goalkeeper, two wing-backs, an attacking midfielder and another forward".
---
19 May 2003
FRIENDLY DATES
The dates of seven pre-season Altrincham friendlies are now here. It is hoped that a couple more will also be arranged for early August.
LEVELLING THE PLAYING FIELD
The above picture shows, the goalmouths at Moss Lane are currently being dug up. Over the years, both goalmouths have been built up to such an extent that there was a marked slope up to the goal-line. This is now being levelled in time for next season.
PAUL LIFTS PRIZE
Trafford FC, relegated to the NW Counties for next season, report that Paul Tilley, the captain of Alty Youth in 2001-02, has been voted Supporters' Player of The Year for 2002-03.
UNIBOND NEWS
Hyde United's Secretary Tony Beard reports that "Ossett Town have been fined £400 (with £200 suspended) by the Unibond League for comments made on their website about the league and other clubs. A club official has also been fined, and since left the club I believe. All parties have been warned about their future conduct. Ossett were found guilty of "conduct detrimental to the good name of the league".

Dave Pace, the Droylsden chairman has told The Pink that his club's likely failure to complete ground improvements by a 7 June deadline will not affect The Bloods' place in the UniBond Premier division. Delays have occurred in work on a new stand but Pace says he will, if necessary, pay £20,000 to erect a temporary safety wall and then demolish it, once the building work is completed.

Next season's UniBond League Press Release will once again be available, weekly, by post for a £40 subscription, which also includes the League Handbook. Alternatively, for £15, you can have the Release e-mailed to you. To order, write to Mr R D Bayley, Chief Executive, The UniBond League, 22 Woburn Drive, Hale, Altrincham, Cheshire WA15 8LZ enclosing your payment.

UniBond champions Accrington Stanley state that Mike Marsh, Russell Payne and Mark Brennan are the only three players chosing to leave the club following promotion to the national level of football.

Hucknall Today reports that "Clint Marcelle has been offered non-contract terms .... for next season, as opposed to contract terms... [Manager Phil] Starbuck himself and player/assistant-manager Steve Prindiville have also had their playing contracts withdrawn and offered non-contract deals instead. However both have a year of their management contracts to run. Only five players are now fully contracted to the club, Ryan Young, Danny Mayman, Stuart Hicks, Karl Adams and Craig Gaunt, all of whom have a year left to run. Striker Danny Bacon who scored 10 goals in 14 matches for the club whilst on loan from Mansfield at the end of the season has been 'made an offer that exceeds any put to a Hucknall Town player in the history of the club'. Indeed, "Brian Holmes, chairman of Hucknall, has hit back at rumours that Starbuck's wage budget had been cut for next season by saying that it had, in fact, been increased. The report attributed to Phil Starbuck is incorrect", said Holmes, who added "that next season Hucknall will have a 'budget that will probably be one of the top six in the Unibond League'... Another striker almost sure to sign for Town is James Tevendale from UniBond 1st Division side Stocksbridge Park Steels... Meanwhile, planning permission has now been granted for a new £75,000 social club to replace the antiquated 'Shed', [which stands in the Hucknall FC car park and] has served the club ever since Town first embarked on the non-league 'pyramid' back in 1989".
ONE THAT GOT AWAY
IC Cheshire says that "Leyton Orient have made an undisclosed offer for the Chester City striker Michael Twiss". Twiss had pre-season trials at Altrincham two years ago. He went instead to Leigh and then Chester.
FRIENDLY OPPONENTS
...and finally, especially for Mark Eckersall who may have missed noting in the Ellesmere Port Pioneer that Cammell Laird, whom we meet in the pre-season friendlies (see below), went down 1-0 to Ashville FC in the West Cheshire League's Pyke Challenge Cup Final, held at Vauxhall Motors' ground on Saturday. Cammell Laird were however, this season's Cheshire FA Amateur Cup and Bill Weight Memorial Trophy winners.
---
---
FOR EARLIER NEWS, CLICK HERE
---