Altrincham Football Club News Archive
15 to 19 July 2003
---
19 July 2003
NEW FACE
A new face in the Alty side at Woodley on Thursday was trialist Rob Matthews (32). After spending most of last season with Mossley, where he scored 18 goals in 38 appearances, Rob has been training at Moss Lane this summer. Rob had joined Mossley from Northwich Vics in October 2002 and on his Mossley debut hit a hat-trick in the first 45 minutes and also scored the opening goal in the Worthington Trophy final win at Bury. Born in Slough, his career previously took him to Notts County (57 apps. 13 goals), Luton Town (12-0), York City (21-1), Bury (86-14), Stockport County (42-4), Blackpool loan (8-3), Halifax Town loan (8-2) and Hull City (30-4).
Info and picture courtesy of John Cawthorne, who runs the excellent Mossleyweb site.
UNIBOND NEWS
NL Daily
confirms that "Gainsborough Trinity have signed 25-year-old defender Stuart Reddington from Nationwide Conference outfit Burton Albion". Reddington had a "dream move to Premiership giants Chelsea in 1999. However, he never made the first-team under then boss Gianluca Vialli and... a £20,000 move to Mansfield followed before he left the Stags for Albion last November".
This is Lincs
states that "Trinity's other summer signing striker Carl Alford, is also expected play a part in the fixture against [Glapwell, tomorrow], after recovering from dysentery".
Wakefield & Emley are "hoping to persuade top scorer Simeon Bambrook to stay... The Leeds-based fireman was leading scorer under previous boss Ronnie Glavin last season with 21 goals and became a target for Premier Division rivals Worksop Town". New Emley boss, Ian Banks, has so far signed "Andy Lee from Bradford City and former Rotherham United duo of Jamie Ingledow and Chris Bowler, but he has lost winger Michael Reynolds, who has switched to Droylsden", where he was on loan last season.
The BBC Sport states that "Accrington Stanley are lining up a bold approach for Leeds United midfielder David Batty. The former England international is also wanted by former Leeds chairman Bill Fotherby at Harrogate Town".
Wakefield Today reports that "Plans to transform Frickley colliery site into a multi-million pound country park have been announced this week... Frickley Athletic Football Club are hoping to transform their grounds in line with the new park to provide a range of sporting facilities".
Harrogate Today reports that "Kevin Keegan's Manchester City come to Wetherby Road on Tuesday night for the third of Harrogate Town's pre-season friendlies... Manager John Reed said "Manchester City are a big club and they could bring anyone. But you never know, Robbie Fowler came back overweight so they might send him for a run out. I would hate to kid the public though and we will have to see - they might send all of their kids... Kevin is a friend of the chairman's and I would be surprised if he wasn't here".
Keeper Mark Thornley "has decided to hang up his boots after eight years at Lancaster City", says Lancaster Today. "Towards the end of last season I was not really enjoying my football and I have always said to myself that when I stopped enjoying it I would retire... I have said to Phil (Wilson) if he has a problem with a goalkeeper, if one is suspended perhaps, and he needs somebody to sit on the bench I will help out... Wilson is hoping to sign a Conference-experienced goalkeeper ahead of tomorrow's pre-season friendly at Chorley".
IC Liverpool states that "Steve Redmond (35), formerly with Manchester City and Bury, has joined Burscough... Redmond played alongside [manager Mike] Marsh's right hand man Ian Bishop for several seasons at Maine Road".
"Player-manager Liam Watson is close to also capturing a 6ft 1in attacking midfield player from West Cheshire League football and is chasing an ex-Football League striker. Runcorn are also interested in ex-Marine frontman Ged Courtney who is under pressure from new signings at Leigh RMI. On pre-season trial with the Linnets is central midfielder John Connors. Only in his very early 20s, he played in Blackpool's first team as a youngster... [Manager Liam] Watson is awaiting injury updates on striker Matty McNeil, whose knee problem is showing signs of improvement", according to IC Cheshire.
This is Cheshire also reports that "Alvin McDonald, manager of Vauxhall Motors, has made four additions to his squad. Bootle-based Chris Whelan, [a] 28-year-old central defender has recently been playing ... for Kingstonian... Central midfielder Neil McCann, 18, has arrived from Shrewsbury Town". Also signed are "Liverpool-based Chris Jewell, 17, from UniBond Premier Division champions Accrington Stanley...[and] striker Martin Molyneaux, also 17, [from]... Witton Albion".
Blyth Spartans have a new, second website at this link.
Other moves:
Sean Singh (Scunthorpe U. to Barrow)
Robert Pell (Southport to Worksop T.)
---
18 July 2003
YOUTH CUP POSER
If Alty Youth win their FA Youth Cup qualifier against Radcliffe, they are supposed to meet Louth United, but the Lincolnshire club appears to have folded; see Youth Page for details.
WOODLEY SPORTS 0 ALTRINCHAM 1
Left: Playing in the old orange strip, Alty's Gary Scott, Mark Maddox and Gary Talbot are seen in last night's match.
In Alty's first pre-season friendly Woodley Sports gave the Robins a good run for their money especially in the first half but a well-taken second-half goal by Paul Glynn, last season's Alty Youth team captain, secured a winning start to the pre-season. Alty started with eleven of last season's regular first-teamers before making eight substitutions, mostly in the second half. As well as a number of former Youth players, Alty also blooded Rob Matthews, (ex-Northwich and Halifax) and new signing Steve Aspinall. Match report here.
---
17 July 2003
BERNARD BUILDS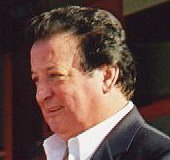 Former Alty manager Bernard Taylor (right), recently confirmed as boss of Kidsgrove Athletic in the UniBond First, has signed five new players, four of whom come from the Welsh Premier League. (Another ex-Alty stalwart, Stan Allen, who is Bernard's deputy, formerly managed in Wales). The signings are ex-Marine striker Karl Robinson from Oswestry Town plus Tim Alexander and Ryan Baker from Rhyl and Leighton McGivern from Aberystwyth Town. Bernard has also recruited Colin Flood from Trafford.
DAVE IS OK
OK magazine has 6 pages on Alty winger Dave Gardner's recent "celebrity wedding of the year" to actress Davinia Taylor, plus 2 more pages on Dave shopping with Davinia in Manchester. Sadly, there is no mention of Altrincham FC in the magazine, which goes so far as to say that "Dave gave up the idea of becoming a professional footballer and became an agent". None of the Alty guests is included in the wedding pictures which concentrate on the couple and best man David Beckham, to whose son Brooklyn, Dave Gardner is godfather. However, the article reports that the groom "and his footballer friends" spent the pre-wedding night together at a hotel. The £1.2 million wedding was funded by the bride's father "who made his fortune out of Naturel toilet roll and now spends most of his time in Monaco". After a champagne reception in a £100,000 glass marquee, which included "miniature bags of fish and chips in paper cones", the couple "flew off on an incredible honeymoon, two weeks on a private island in the Seychelles costing £30,000. This will be followed by another week on Davinia's family's £30 million yacht". So, it seems that we won't be seeing Dave tonight at Woodley Sports! Everyone at Moss Lane wishes the couple a very happy future.
ALTY FRIENDLIES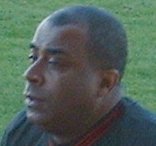 Alty start their pre-season games at Woodley Sports tonight (k.o. 7.30pm). SAM quotes Alty assistant manager Dalton Steele: "Pre-season at any club is about getting the players up to fitness and we are no different. Preparations are going well and it's games like these warm up matches that help the players become sharper. It's also a useful exercise in trying out new formations and ideas. The variety of games organised by the management team should be a good test for the squad which is virtually the same as last season with the addition of Steve Aspinall from Vauxhall Motors. It will also give us the chance to blood a few of the youth team who played so well last season and games against the likes of United can only be a good experience for them. It's a great opportunity to play against players from the highest level and we have deliberately chosen to play against passing teams as part of the warm up so as to give us a good grounding for the season to come". For more see the SAM site.
UNIBOND NEWS
Alfreton Town have made their sixth signing; "Left-sided defender Neil Grayston (28) signed a one-year contract this week. Grayston, was at "Halifax Town last season and Southport prior to that where he made over 120 appearances. He has also featured with Bradford City and Bradford Park Avenue". Speaking of another recent Alfreton signing, ex-Alty man Tony Hemmings, manager Lloyd said: "Tony is a naturally fit lad and a physical education instructor. He will give us far greater options and competition up front".

The Lancaster City site quotes manager Phil Wilson: "To clarify a few points: Brian Butler's registration finished at the end of last season and he was therefore not on the list of registered players given to me when I joined the club... At this time of year, a manager needs to play his cards close to his chest and as a result, communication may not be as good as the fans would like, but my team will do the talking. When it comes to priorities I do know that top of your list is a good side and I can tell you that after the first two weeks of training Lancaster City are on form for this season's challenges".

From The UniBond League site: "Marine F.C. announce the retirements of its two longest serving officers who have given a combined service of over 80 years to the Club. Tom Culshaw retires after 25 years as Chairman... Vice president and Press Officer David Wotherspoon has also retired after 35 years service to Marine".

NL Daily reports that "Spennymoor United have transferred striker Tony Woodhouse to neighbours and rivals Blyth Spartans... and following him out of the door is another striker, Andrew Shaw, who has moved to Northern League club Durham City". 'Snapper' Shaw played against Alty for Bishop Auckland on several occasions. Moors' manager Alex Mathie said "I want to bring Football League players to the club, but not players who are going to come along for the ride. I want players here who genuinely want to play for the club".

Another Shaw, Simon "made a return to the Barrow AFC line-up last night for the first time since breaking his leg in April". Manager Lee Turnbull told the NW Evening Mail, "All my strikers have scored goals which is good up to now and it's still very early days". "Tamworth have completed the signing of Burscough defender Joe Taylor, after the player finished a trial spell with Yeovil Town", according to Confguide.

Like Alty, Runcorn lost out in the chase for Chris Denham , so manager "Liam Watson is now back on the look out to strengthen his squad... The Linnets will this weekend launch another competition - this time to win a £7,000 Fiat Punto car. It will be unveiled at the Halton Show and entry will cost £1", according to This is Runcorn. Former Linnets player "central defender Carl Ruffer asked for a transfer" from Chester this week, states IC Cheshire.
---
16 July 2003
ALMOST THERE
The pre-season starts with three games in four days for Altrincham. Tomorrow night Alty travel to Woodley Sports (7.30pm), followed by a visit from a Manchester United XI to Moss Lane on Saturday (3pm), then a trip to play West Didsbury & Chorlton on Sunday (2pm). Click the Friendlies link above for the full pre-season schedule.
UNIBOND NEWS
Alvin McDonald, manager of Vauxhall Motors, told IC Cheshire of a pre-season game in which "We pitted last season's UniBond side against one set of players in the first half and against another 11 in the second half and just before the change over, the UniBond lads found themselves trailing 3-0, which I feel underlines the ability of some of the players trying to make an impression. The UniBond side eventually redressed the situation to draw level at 3-3, but anyone that was watching could not have failed to be impressed by some of these lads. We have signed four of them on so far and hopefully, more will follow," Alvin added. As for the new season, he said, "I believe the first nine matches are all winnable games"- this includes the match against Altrincham at Moss Lane!

Worksop Town have made the following statement. "Mr Neil Hood has resigned his position of Chairman of Worksop Town Football Club for personal reasons and the Board have accepted his resignation and wish him the very best for the future. Mr Howard Raymond has agreed to act as Temporary Chairman in the interim".

Ashton United have signed two Yorkshire players, James Brook, a full-back from Storthes Hall and Martin Allison, a midfielder from Golcar United. Ashton are away at Abbey Hey on Saturday, a team whom Alty play on 23 July.

Spennymoor United have signed Andrew Brown from Guisborough, whilst Danny Brunskill and Chris Lynch have re-signed for next season.

As well as losing Carl Furlong, Colwyn Bay report that Anton Lally is being watched by Vauxhall Motors.

Gateshead, whom we meet in the Trophy, if they beat Kendal Town, have announced that "Despite relegation... Gateshead need to raise their admission prices to meet the league minimum. However, there is good news as children under 16 will be admitted for free while adult prices are only raised by £1 to £6 while OAP's prices are doubled to £2 from £4".

The NW Evening Mail says that Barrow's manager Lee Turnbull "will avoid overworking his players as the Bluebirds continue their pre-season preparations at Armthorpe, near Doncaster... 'You have got to be mindful that it's very early in pre-season. If you start playing players for 90 minutes at this stage of the season you are only going to struggle with injury and people being tired, so that's what I'll be doing, changing the team around, for the next few games'", he said.

This is Bradford reports on Park Avenue's 4-0 home defeat by a Hull City XI. Manager Trevor Storton said, "We had five or six of our players missing because of holidays and work, and remember it was our first game and even the first time we have worked out on the pitch since last season, [so] I don't think we did too badly at all".
---
15 July 2003
OLD BOYS
The UniBond League reports that ex-Alty winger Tony Hemmings (35), has joined Alfreton Town from Ilkeston Town. He follows Emeka Nwadike and Ian Robinson in moving from Ilkeston to Alfreton this summer. Another ex-Alty man, midfielder, Jeremy Illingworth (right), has joined Guiseley from Stocksbridge PS.
UNIBOND NEWS
Ashton United have volunteered to split the proceeds of their home friendly with Oldham Athletic with the visitors in recognition of the League club's current financial plight.

This is Lincs reports on Gainsborough's salvaging of a 2-2 draw with Goole on Saturday but Trinity "trialist Matthew Turner left an indelible impression on the backroom staff as his late strike salvaged a draw... Turner (20), on trial from UniBond Division One side Stocksbridge Park Steels, turned in a fine second half performance alongside eight trialists in the friendly. Keeper Adam Valente, Sean Varley, Kristof Kotlyo, Steve Wilkinson (all Worksop Town), Ben Jones, Dan Sharif, Sam Thorne and Scott Patterson (unattached) all played at least 45 minutes". Trinity's team also included ex-Alty striker Lee Ellington.

Hyde United report that they "have signed Craig Buckley in the midfield who was with us late last year and also Neil Tolson, a striker formerly with Oldham Athletic, York, Southend, Halifax. 30 years old".

The Tameside Advertiser reports that "an eleven-month ordeal is finally over for Droylsden Football Club manager Dave Pace, who says he is looking forward to getting on with his life after he was proven innocent of drink driving charges... The club boss, of Thornley Lane South, Reddish was cleared following a six-hour trial at Tameside Magistrates. He said: "It was quite distressing to say the least. They were grilling me on the stand for at least two and a half hours saying I was a liar but the prosecution case was wrong... The case hinged on evidence given by a forensic scientist who proved that the club boss was not over the limit at the time he was arrested, but that he later drank from a bottle of alcohol attached to a key ring to calm his nerves".

AFC Barrow's first home pre-season game is reported by the NW Evening Mail which says that "Trialists Ian Stevens and James Cotterill made starts for AFC, veteran 36- year-old striker Stevens grabbing AFC's only goal with a well executed volley... Simon Bishop, starting in goal, looked to have shed some weight, though not the two and a half stone some people have suggested and club captain Mark Hume sported a more streamlined look, as well as a newly bleached hairstyle. Also returning for the Bluebirds were Steve Ridley and Scott Brough, both of whom impressed at the end of last season. Brough, currently linked with a move to Grimsby, was the only Barrow player to last 90 minutes". However, "striker Ian Arnold is to miss most of Barrow AFC's pre-season and is a doubt for the start of the new campaign. Arnold is working in Stoke and his hours mean the highly influential forward is unable to train or play at the moment".

"Blyth Spartans have swooped to sign former Blackburn Rovers midfield man Graham Fenton", according to IC Newcastle. Manager Paul Baker said, "He has been with Darlington and Blackpool and at least one other League club offered him terms, but he is a Whitley Bay lad who was keen to come back to the area. We have been having talks for some time and it is a great signing for us".

Scott Jackson has moved from Harrogate Town to Guiseley.
---
FOR EARLIER NEWS, CLICK HERE
---