Altrincham Football Club News Archive
8 to 15 November, 2003
---
15 November 2003
COCO POPS UP AT VAUXHALL
31 year-old left-sided midfielder Paul "Coco" Robertson (left), released by Altrincham in mid-September, has signed for Vauxhall Motors.
TODAY'S OPPONENTS
The Harrogate
site
says that "Harrogate Town are likely to be at near full strength for the trip on Saturday. Scott Bonsall could be ready for a return to action, after an absence of nearly 3 months", whilst Alty could be without strikers Rod Thornley (right) and Niell Hardy.
The UniBond site adds that Harrogate's "Robbie Whellans has been on the bench for the last two games and Scott Bonsall is now much nearer to being in line for consideration after both have been out with long term injuries".
ROD'S BROTHER JOINS RIVALS
Alty striker Rod Thornley's brother, Ben, has joined Stalybridge Celtic according to their
website
. Ben was released by Bury for whom he played five times this season. Ben, like Rod, was previously at Manchester United and his other league clubs included Stockport, Huddersfield Town and Blackpool, as well as Aberdeen in Scotland.
TROPHY OPPONENTS
Altrincham meet Southport in the Trophy later this month. The
Southport Visiter
says manager Liam Watson "has called first team player Liam McGuire a coward for a tackle that, he says, could have broken a player's leg. McGuire was sent off in the Marsden Trophy match against Colne on Tuesday". Watson "fumed: "I have to be critical of Liam McGuire, his challenge was cowardly. He is a first team player and could have broken the lad's leg. That kind of attitude is unacceptable... He will be disciplined to the maximum. It was a shocker - I'll back my players as much as I can but I am not going to condone that". Port currently have several injuries including Lee Ashcroft, Danny Stone, winger Mark Byrne (hamstring), Graeme Atkinson (hamstring) and left wing back Paul Byrne (knee), who is out for a couple of weeks. "In a fortnight Liam McGuire faces a three match ban". In response "Liam Watson has put four of his rookie players on Unibond forms- left sided Gary Hornby (19), midfielder Daryl Allen (18), centre back Michael Powell (17) and keeper George Ricketts (17)". Southport have a sponsored walk to Marine on Boxing Day.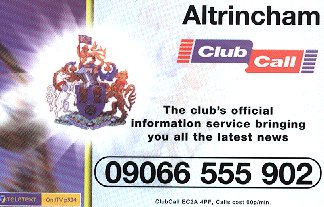 ULCC OPPONENTS
Alty travel to Workington on Tuesday in the UniBond Cup and the
UniBond
site says that tomorrow The Reds "have Tony Hopper poised to return after missing the defeat at Hyde last Sunday. Keeper Steven Pape is in danger of losing his ever present tag due to a sore hip. Kevin Wolfe is on standby after reserve keeper, Billy Redden, serves a suspension. Neil Fitzhenry will also miss the trip with long term injury victim, Craig Potts". Wolfe is 37 years old but after a bad knee injury he has just returned to fitness. Wolfe's former clubs include Whitby, Blyth Spartans and Harrogate.
The News & Star adds that "Workington's defender Neil Fitzhenry is to leave Borough Park due to travel problems. The 24-year-old is a student at Newcastle University and found travelling between the north-east, Borough Park and his Wigan home a strain, since joining Reds this season". Fitzhenry was previously with Leigh RMI.
TRANSFERS
Runcorn FC Halton
have signed 23 year old striker Carl Rendell from Prescot Cables and 21 year old midfielder Chris Tamm, previously at Chester and Caernarfon Town.
Dale Telfer (Prudhoe Town to Blyth S.)
Lee Clitheroe (Southport to Chorley)
Dean Cropper (Lincoln City on loan to Gainsborough T.)
Andy Whittaker (Southport, loan extended, to Kendal T.)
Mark Sheeran (Darlington on loan to Whitby T.)
Danny Salt (Runcorn FC Halton to Witton A.)
---
14 November 2003
HARROGATE
Alty play Harrogate Town at Moss Lane this Saturday (3pm). As for the Yorkshire club's recent defeat by Worksop, the Harrogate site says, "Harrogate manager John Reed admitted that this was a fantastic game of football, with lots of quality on show from two exciting teams but, thankfully, one result doesn't make a season, and hopefully Harrogate will be able to bounce back at Altrincham this weekend". It adds that "Worksop and Barrow are the only sides in the top six who have applied for promotion to the Nationwide Conference league at the end of this season should they finish high enough". Over the last four games Altrincham lie 9th in the UniBond Premier form guide whereas Harrogate Town lie 5th
UNIBOND NEWS
NL Daily says "Following recent speculation and rumours regarding the offer made by Shrewsbury Town for Radcliffe Borough's hot-shot Jody Banim, chairman Bernard Manning Jnr has issued an official statement- 'Contrary to the local Shrewsbury papers etc., I can confirm that the offer made for Jody was not as they stated - being £15,000 plus add ons - in their papers and website. The offer made was £8,000 and a further £8,000, but only if they got promoted... It really is an offer that is unacceptable to the club. In fact Shrewsbury are well aware we have turned down double that amount from a rival UniBond League team". Meanwhile Borough's Chris Denham "will be out of action for the foreseeable future due to a knee injury... to his medial ligaments... The injury leaves manager Kevin Glendon short of strikers due to the recent departures of Niell Hardy and Richard Landon".

Chester City's Steve Brodie is reported to have joined team-mate Dave Cameron on loan at Droylsden.
FIR PLAY
UniBond First Division Farsley Celtic have a novel fundraising idea, they will "offer anyone attending their two pre-Xmas home games discounts on Christmas trees!" Their president owns a plant nursery.
---
13 November 2003
WEDNESDAY GAMES
Bradford PA 1 Runcorn FC Halton 1
Whitby T. 2 Blyth S. 1
ALTY INJURIES
SAM reports that "Altrincham manager Graham Heathcote is facing an injury headache. He could be without both of his first-choice target men for the visit of Harrogate Town on Saturday. Niell Hardy pulled a muscle in his groin against Worksop on Saturday and is doubtful for the next 2-3 weeks, and Rod Thornley's knee injury is showing little sign of improvement. 'I could have some real problems for Saturday's game', said Heathcote. 'We'll just have to take stock at training on Thursday and maybe panic on Friday!' he added". However, Altrincham hope to have right-back Gary Scott (right) fit again. Manager Heathcote describes Harrogate's as "the best organised defence we will face in the league". SAM adds that Graham does have "alternative striking options: two-goal FA Trophy hero Nick Welton and youngster Steve Lunt may start". Speaking of the draw at Worksop, Graham said, "I was delighted with Lunty's performance and especially the discipline he showed doing the job I gave him to do. To be fair, that goes for all the players". SAM carries a 'Kids go Free at Alty FC' voucher for Saturday on page 103.
PRE-WAR
The first 12 of Terry Rowley's pen-pictures of Altrincham's pre-World War II players who progressed to league clubs have now been added to this site here, courtesy of the author. Players progressing to league clubs after the War are listed here. Alty players of other years are listed here.
CHESHIRE SENIOR CUP
Tuesday games:
Northwich V. 1 Stalybridge C. 2
Vauxhall M. 1 Woodley S. 1 For some reason this game was not played to a penalty shoot-out conclusion and will be replayed.
Congleton T. 0 Nantwich T. 1

The other semi-finalists will be Witton Albion.
UNIBOND NEWS
The UniBond League reports "that Gainsborough Trinity have managed to keep 8 clean sheets out of the last 9 league fixtures".

Transfer:
Dean Fearon (ex Stocksbridge PS to Wakefield & Emley)
---
12 November 2003
RESULTS
Our next opponents, Harrogate, missed a chance to go top last night as they lost in the last minute at Worksop.

UPL
Gainsborough T. 3 Frickley A. 0
Worksop T. 1 Harrogate T. 0
WORKINGTON
Alty travel to Borough Park to play Workington on Tuesday (18th) in the UniBond Challenge Cup. Founded in 1884, the club entered the Football League in 1951 and were promoted to the old Division 3 in 1964. Workington dropped out of the League in 1977 to make way for Wimbledon and joined the NPL. Their lowest ebb was probably in 1987 when they had to remove the roof of the main stand and reduce the height of their floodlights to meet stadium safety regulations. Today the stadium holds 2,500. The club, known as "The Reds", has a useful unofficial website; the official one seems to be inoperative at present.
Map of Workington's Borough Park ground area.
UNIBOND NEWS
Worksop confirm that they "have completed the signing from Tamworth of 23 year old former Burscough defender Joe Taylor...[and] former Tigers loan hero Dene Cropper has joined Gainsboro' from Lincoln City on a month's loan".
LOCAL NEWS
Mark Molyneaux, the former Trafford and Chorley boss is the new manager of Salford City, replacing Chris Wilcock.
---
11 November 2003
STAR SUCCESS
The STAR prize raffle raised more than £1,500 for the club. Thanks are due to all who organised the event and either sold or bought tickets. Prizes will be distributed after the Harrogate match on Saturday in the Noel White Suite. For more details, see the STAR website
NEXT GAMES
Alty meet Harrogate on Saturday and "ecstatic Harrogate Town boss John Reed told Harrogate Today that he has 'a team more than capable of winning the title' following his side's hard-fought 2-1 victory at Stalybridge Celtic... 'The way we have been playing encourages me to believe we can be considered a serious contender for the title if we can be consistent. We are playing really well and everything is going to plan at the moment'". Striker and "Long-term injury victim Robbie Whellans" is now fit and Reed said, "He is very boisterous on the pitch and in the dressing room and gives us competition for places up-front. But, I'm happy with the balance of the team at the moment as we have a wealth of Football League experience through the spine of the team".
Pictured above right, Chris Adams dons the keeper's jersey as Richard Acton (inset left) is injured in the game at Harrogate on 30 August, which Alty lost 1-0. Richard has remained out of action for the last ten weeks but is now recovering well.
The News & Star says that our ULC opponents, next week, Workington gave a disappointing show at Hyde on Sunday. Their only goal came when "Glenn Murray went down in the area claiming a trip by keeper John Baker... It was a tumble which didn't go down well with the home supporters or players. The resultant penalty was a harsh decision". The Workington side was: Pape, Gray, Wharton, Varty, Henney, Lewis (Coyles), Ennis, Hewson, Murray (Dawson), Goulding, Johnston. Sub (not used) Thornton.
RESULT
Monday
CSC2
Witton A. 4 Crewe Alex. 3 aet. Witton went 2-0 up after 8 mins through two own goals! Crewe then went 3-2 ahead till Witton equalised in the 90th minute. Witton won with a penalty after 117 mins!
UNIBOND NEWS
The UniBond League is making an award to Radcliffe's Jody Banim for his feat of scoring in 14 consecutive games - including one against Altrincham. The League is appealing for details of anyone with a longer scoring sequence in semi-professional or professional football.

Southport report that "Liam Watson is talking to a player with over 100 Conference appearances behind him, as he released Lee Clitheroe on Saturday". New boss Watson is also running his eye over the club's youth and reserve players.

Blyth have had a number of innovative fundraising ideas in recent years; their latest is "an all expenses paid safari holiday at the Saadani Safari Camp near Dar es Salaam, Tanzania". The only drawback is that the flights are not included. "The winner will be the person making the highest bid on or before 31st December 2003", says the Blyth website. IC Newcastle reports that Blyth's former Aston Villa "midfield man Graham Fenton, out for three weeks because of a calf injury, will resume training this week".

NL Daily reports that "5 stalwarts of UniBond League Premier Division club Marine are to be honoured next Saturday when the league's chief executive Duncan Bayley will make presentations to them prior to the fixture against Bradford Park Avenue. All five have put in more than 25 years unpaid service to the club". These are in addition to vastly experienced Marine manager Roly Howard and former chairman Tom Culshaw. The five are current chairman Paul Leary, treasurer Geoff Kewly, club secretary John Wildman, former programme editor David Wotherspoon and former treasurer Ian Gibson.
OLD BOY
This is Lincs reports that ex-Alty defender Paul Ellender played up front and was Boston United's captain in their defeat at Macclesfield on Saturday. "Skipper Paul Ellender deputised [up front] and, although the usual midfielder, and occasional defender performed valiantly, he is not a natural striker and presented little threat to Saturday's hosts".
---
10 November 2003
YOUTH WIN
Altrincham & District FA Youth beat The Wirral 3-0 yesterday at Shawe View. The goals came from Andy Thorpe, Kieran Lugsden and Adam Ball. Match report and picture in Youth section.
NEXT UP
The Through the Years section has been updated for 15 November, when Alty host Harrogate Town. Many thanks to Howard Watts for this statistical information.
POINTER?
Hyde United beat our UniBond League Cup opponents (on Nov. 18) Workington 3-1 today at Ewen Fields.

The News & Star says that Workington FC "have made an offer to last season's top goal-scorer Glenn Murray to return to the club [from Maryport side Netherhall]. 'We have made him a good offer and are awaiting his reply', [manager Tommy] Cassidy said. Murray had a summer stint in the United States with Wilmington Hammerheads, and he was joint top scorer for the North Caroline outfit, alongside Reds team-mate Graham Goulding".
UNIBOND NEWS
The BPA website says that "The crowd of 1,945 [for Sunday's FA Cup match v. Bristol City] was the largest at an Avenue home match since the club was reformed in 1988".

Southport "confirm the release of Paul Haddow whilst news on Lee Clitheroe remains to be firmed up".

NL Daily says that "Wakefield & Emley very nearly suffered a shock cup exit at home at the hands of Samsan Sports Central Midlands League Computer Products Supreme Division leaders Dinnington Town. The CMFL side went out of the Sheffield & Hallam Senior Cup 6-5 on penalties after holding their high riding hosts to 1-1 after extra-time".
LOCAL NEWS
Trafford FC "have announced that 28 year old Danny Johnson will take up the position of First Team Manager immediately. This season Danny held the post of Reserve Team Manager at Leigh RMI and has been the Team Manager of the Manchester County FA Under 18s side for the past five years. He has recently spent eight months coaching in Australia and before that he was first team player/coach at Atherton LR. His playing career includes spells at Atherton LR, Atherton Collieries and Salford City. Danny lives in Swinton and his occupation is a Sales Manager at plastics company. Danny will take up his new role on Tuesday night when Trafford are at home Warrington Town".
---
9 November 2003
FA CUP 1
Bradford PA 2 Bristol C. 5

Should Stalybridge win their replay against Barnet, they travel to Yeovil in Round 2.
WORKSOP TOWN 0 ALTRINCHAM 0
Above: Niell Hardy (9), later to be taken off injured, and Barry Shuttleworth (11) lead the Alty chase at Worksop.
Altrincham extended their unbeaten run to five games with a well deserved point at Worksop. Match report here.
The Worksop Town site has a brief report on yesterday's game.
UNIBOND NEWS
The UniBond League, The Football Conference and Ryman League have issued responded to the Isthmian League's challenge: "Notification has been received from the Isthmian Football League refusing to confirm its commitment to the Alliance Agreement contrary to the undertaking it signed on 17th March 2003. Instead it has confirmed its opposition to the current restructuring sanctioned by the Football Association that has been agreed by all the other competitions and which has also been supported by many of its own member clubs. The Football Conference, Northern Premier and Southern Leagues continue their commitment to implement the new structure following written confirmation from eligible clubs to proceed with their applications for a 1-2-3-4 system for season 2004/2005 in the format approved by the Football Association. The restructuring will proceed allowing for the small minority of Isthmian League clubs that have decided not to confirm their application for membership of the Conference North / South in the past few days".

Vauxhall Motors' new boss, ex-Alty coach Owen Brown, is "planning a shake-up" says the NLP.
OLD BOYS
Danny Adams and Paul Ellender met yesterday as Macc. Town beat Boston 3-0. The Pink has an interview with Danny, which concerns the managerial changes at the Moss Rose. Chris Timons is credited with an own goal in Gainsborough's 7-1 defeat by Brentford; it was 0-0 till the 44th minute! Another ex-Alty centre-back, Terry Bowker, was "involved" in both of Barnet's goals yesterday and according to the Pink was lucky not to be booked for a punch in a brawl. Danny McGoona set up a goal for Caernarfon Town yesterday and the much travelled Nathan Comley-Excell scored for Abbey Hey. Rob Matthews turned out for Mossley whilst Vernum Rowland scored twice and Wes Wilkinson once for Nigel Gelghorn's Nantwich, who beat Trafford. Mario Daniel played for Atherton Collieries and Martin McDonald hit two for Cheadle Town.
MOVES
Worksop Town are now expected to sign Tamworth's former Burscough defender Joe Taylor. Other moves:
Richard Dryden (Worksop T.to Tamworth)
Andy Bowes (Bedlington T. to Spennymoor U.)
Andy Kelly (Middlesbrough to Whitby T.)
Lee Pryers (Stalybridge C. to Chorley)
Ben Smith (Oldham to Stalybridge C.)
Jon-Paul Stanhope (Marine to Colwyn Bay)
David Holmes's recent move from Worcester City to Alfreton was for a "substantial fee", says the NLP.
---
8 November 2003
NEW DATE
The postponed league match at home to Lancaster City will now be played on Tuesday, 16 December at 7.45pm
DROYLSDEN GO TOP
UPL
Alfreton T. 1 Barrow 1
Blyth S. 1 Radcliffe B. 0
Frickley A. 4 Marine 3
Harrogate T. 2 Burscough 1
Runcorn FC Halton 1 Vauxhall M. 1
Southport 1 Hucknall T. 1
Spennymoor U. 0 Droylsden 1
Worksop T. 0 ALTRINCHAM 0

FA Cup 1
Barnet 2 Stalybridge C. 2
Brentford 7 Gainsborough T. 1
Hartlepool 4v Whitby T. 0
Lancaster C. 1 Cambridge U. 2
DICKIE GOES TO COUNTY!
Radcliffe Borough report that ex-Alty man "Richard Landon (right)... has accepted an offer to join Stockport County as their full time kit man... The position was offered to Richard last week, after thinking about it and talking to the Boro manager he notified the Stockport boss and accepted their offer. Manager Kevin Glendon said 'Richard really likes our club and has enjoyed his time here, but I told him the chance of working full time at a professional football club is one he should take'... Landon had doubled up this season as kit man and of course providing back up for the forward players, Glendon joked 'Our first official kit man at the club and we get him a move to a league club as a kit man!!!! Seriously I am delighted for him I have great respect for him and the way he has handled himself at the club since he has been here and I will be sorry to see him go'. The former Stockport County player leaves his post on Saturday... and as part of the arrangement Stockport County will be playing a pre-season match at Stainton Park".
INNOVATIONS
Some of our UniBond colleagues have come up with innovative ideas for fundraising:

Harrogate Town have advised York City Supporters' Trust members to "Show your Trust membership card on admission at Harrogate Town, and 50% of your entrance fee will be donated by Harrogate Town to York City". Chairman Bill Fotherby said, "The supporters are doing a great job running York City and we just wanted to show them some support. We look forward to a good relationship in the future".

Meanwhile, from Blyth Spartans come reports that "The Fireworks evening was more successful than last year" and "Christmas cards are to be sold once again".
UNIBOND NEWS
This is Lancs quote Radcliffe boss Kevin Glendon after defeat at Frickley: "Saturday was a mess for us and we gave sloppy goals away. Frickley is not an easy place to visit and hopefully we won't have to go again this season... It was good to see Danny Hooper (right) on the scoresheet on Tuesday because he gives us a lot of passion. Danny and Chris Denham have been fantastic since they joined us".

Borough have turned down an offer from Shrewsbury for the prolific Jody Banim. Chairman Bernard Manning told his club's site, that Shrewsbury "are aware of the figure we require and we have made our minds up to stick to that evaluation, especially with other interested parties involved... Jody is a very important player to us and I would not be doing my job as chairman of this club correctly if I did not enable the club and supporters to benefit by selling one of it's assets".

Gateshead report James Curtis (who played at no.5 v Alty last week) "has attracted the attention of Oldham Athletic... Curtis has been offered a trial by Latics... and could join the professional outfit on 17 November". Gateshead manager Derek Bell added "The three teams we have gives us the chance to rear and bring up a lot of new talent. We can offer young players a chance to cut their teeth at UniBond level and give them a chance to showcase their talent to a whole host of League scouts... We have Curtis, Ben Cattanach, Dave Colvin and Mark Rassmussen to name just four who are all capable of doing a good job for League teams".
Marine's former Alty defender Neil Murphy (left) is "long-term" injured.
Southport have lost Peter Wright to Northwich Vics who have released Hugh McAuley but re-signed former Trafford striker Dean Butterworth from Chorley.
IC Huddersfield says that Wakefield & Emley return to their former Welfare Ground home tomorrow in the Sheffield Senior Cup. This is because "Despite Emley playing their first team football at Belle Vue, Wakefield, they are still members of the Sheffield and Hallamshire County FA and so have to play county cup matches at the Welfare".
IC Newcastle says that "Blyth Spartans' boss Paul Baker has been given the go-ahead to strengthen his squad... He said, 'Their decision is to be applauded'."
---
FOR EARLIER NEWS, CLICK HERE
---