Altrincham Football Club News Archive
13 to 19 December, 2003
---
19 December 2003
NEW SIGNING
Altrincham have signed 19 year-old David Holt, a striker from Stockport County, on a month's loan. He will be "involved" in tomorrow's game versus Vauxhall Motors. Meanwhile Alty striker Niell Hardy will be fit enough to start on the bench tomorrow, but centre-back Mark Maddox will be rested after picking up a dead-leg against Lancaster City last Tuesday.
SATURDAY
Having never beaten them in a league game, Alty hope to repeat their only previous victory over Vauxhall Motors when they entertain the Wirral side on Saturday in the UniBond League Challenge Cup. Alty beat Vauxhall 2-0 on 11 December 2001 in the same competition but will be hoping for a bigger gate than the 114 who turned out at Moss Lane on a cold Tuesday night just 3 days after 3,302 had come to watch the FA Cup tie with Darlington.
LEGEND
The 45th of Terry Rowley's "Alty Legends" profiles has been added to the site
here
. It features centre-forward Johnny Worth, whose Moss Lane career spanned 1963-72.
BIG PRIZE
The Altrincham FC
Yankee
currently has a prize of £3,500 waiting for the next winner. The Yankee brings much needed revenue to the club and costs just £1 a week. New Yankee collectors are also always welcome; for details of commission please contact Jenny Heslop at the club on 928-1045.
UNIBOND NEWS
After selling Jody Banim recently,
Radcliffe Borough
are active in the transfer market. They have "agreed an initial loan deal for Harrogate Town captain & striker Robbie Whellans. The 34-year-old striker who was Harrogate's top goalscorer in 2001-2002 and 2002-2003 will start the loan period on Monday 22nd December... Manager Glendon continued 'Robbie initially is coming on loan to us for a month and we will see how things develop from there'". And, "Kevin Glendon will know on Thursday night if another signing has been completed when Curzon Ashton's Josh Mitten is due to give the manager an answer, the 22-goal striker is currently top of the NW Counties' scoring charts... Glendon stated "The system I eventually want to play will require a player such as Josh and I hope he decides he wants to test himself further". Also, "Chairman Bernard Manning Jnr confirmed that the club had made an official four-figure offer for Burscough's 20-year-old centre half Steve McNulty".
Meanwhile, Worksop Town say that "Andy Todd has agreed terms with Hucknall Town", which Hucknall confirm on their site: "The 23 year old left winger joins on a 2 year deal, with a fee being agreed between the 2 clubs... [But] striker James Tevendale has joined Ilkeston Town on a month's loan". As regards Todd, Worksop Today adds, "The striker is set to be the second player to leave the club this week after Robert Pell joined Harrogate on a free transfer. But the Todd deal is central to other players being released by the Tigers who are looking to bring in new faces".
---
18 December 2003
GATES
Terry Rowley's UniBond Premier updated attendance data for this season is
here
.
THIS SATURDAY
Altrincham host Vauxhall Motors in the UniBond Challenge Cup on Saturday. The Motormen, managed by Owen Brown, briefly Director of Football at Moss Lane in 2000, are currently bottom of the league form guide.
IC Cheshire
confirms that Vauxhall's "Wayne McDermott will miss out on that game through suspension, having accumulated five bookings, but captain Kevin Lynch will be available again having served his one-game ban for the same reason. The chase for a new defender continues. Manager Brown has been homing in on a couple of potential players with UniBond Premier Division experience. Meanwhile, long-term casualty Mike Tomlinson hopes to be back on the comeback trail soon having received specialist treatment this last week. The defender has virtually been sidelined since Easter Monday and has been sorely missed". Last Saturday, Vauxhall's Carl Macauley and Peter Cumiskey were also injured.
LAST SATURDAY
The
NW Evening Mail
reports on Barrow's win over Altrincham last Saturday. It says "Given victory was secured against Altrincham's former AFC Barrow boss Graham Heathcote, it was doubly satisfying for those on the terraces".
UNIBOND NEWS
Altrincham meet meet Whitby on 3 January. Their
website
reports that "Lee Ure will play his last game for Whitby Town on Saturday. The nippy wide man is to be transferred to Albany Northern League side Billingham Town partly at his own request... Whitby have also lost the services of Mark Sheeran, who has been recalled by Darlington. The Blues had hoped to extend Sheeran's four-week loan period after the youngster impressed fans with five goals in seven games. This leaves manager Harry Dunn's striking options extremely limited and he is looking at getting hold of another loan striker from a Football League club".
IC Cheshire reports that "last night, it was revealed that UniBond League leaders Droylsden have had a bid for Chester's midfielder Steve Brodie accepted. Brodie has been on loan at the Butchers Arms for the past month." City chairman Stephen Vaughan said: "We have accepted Droylsden's financial offer for Steve Brodie. It is now up to the player to agree personal terms".
---
17 December 2003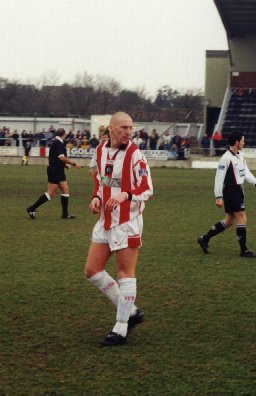 KEVIN ELLISON
The
Stockport Express
reports that "boss Sammy McIlroy has told [ex-Alty] winger Kevin Ellison, [seen right at Hednesford in 2000, when shorts were shorts], that he can move to another club on loan in a bid to secure some much-needed first-team football. McIlroy said: 'I've spoken to Kevin and he agrees that a loan move will do him good. He needs games, but the reserves don't have a fixture now until the new year. Kevin has been injured, but he knows he can't just expect to walk back into the first team. Getting a game elsewhere will benefit the boy'. As the Express went to press, no enquiries had been received from other clubs".
Kevin was Alty's record outgoing transfer when he left for Leicester City for £50,000 in February 2001.
CHRISTMAS FAIR
The Christmas Fair held at Moss Lane last Sunday raised an excellent £300 for the club. Many thanks are due to club director Grahame Rowley and his family as well as Jean and Jo Maxwell, Sue and Sarah Coop and everyone else who assisted or attended the event.
ALTRINCHAM 0 LANCASTER CITY 0
Match report here.
As the following table shows, Altrincham are doing a little better at the half-way point of this season compared with last season. We have scored 4 more goals, conceded 9 fewer and gained 2 more points than last season. However, we have won 2 fewer games and drawn 8 more than last season at this point; but have lost 6 fewer matches. We were 16th this time last year, we are now 14th in the table.
-
P
W
D
L
F
A
W
D
L
F
A
GD
PTS
02-03
22
4
4
5
16
16
3
0
6
10
17
-7
25
03-04
22
3
7
1
17
11
2
5
4
13
13
6
27
---
16 December 2003
BARROW FOR BURY
Former Alty player Graham Barrow has been appointed caretaker manager of Bury following today's sacking of Andy Preece.
GET WELL SOON
Rod Thornley's knee operation yesterday was completed successfully. In addition to the diagnosed problem, the surgeon also rectified a problem with his meniscus which had not shown on the pre-op scans. It is hoped that Rod will be back in action in two months' time. All at Moss Lane wish him well.

More good news is that Gary Talbot is confirmed fit for tonight's game.
TUESDAY
There is only one midweek UniBond game this week:
ALTRINCHAM v Lancaster C.

An Alty win would take us to 10th; a draw to 14th.
UNIBOND NEWS
The UniBond League reports that at Runcorn FC Halton "Along with their Christmas Card, each season ticket holder will be given four complimentary tickets for the next Runcorn FC Halton home league game... Chairman Dr David Robertson [said], 'Initially we wanted to thank the season ticket holders for their loyalty and this will be a chance for them to bring along family and friends to our next game but the Club will hopefully also benefit from an increased attendance - and not only that, hopefully some of the new people will want to come back and they also might bring us some luck as well! Runcorn FC Halton are yet to win at home in the League this season... The Club was delighted that this season that we had an increase in season ticket sales of 40% and we have made sure that we have kept all of them up to date with club affairs via a monthly newlsetter. We hope that this will generate interest and lead to another increase in sales next season'".

Worksop Town have "announced that Robert Pell has been transferred to Harrogate Town". Pell got two on Saturday whilst on loan to Wakefield and Emley, ironically scoring against Ian Bowling, Worksop's keeper who is on loan to Stalybridge.

Radcliffe's longest-serving player, David Bean, is leaving the club says their website. Manager Kevin Glendon said, "Telling Dave he is no longer part of my plans is one of the hardest things I have done and believe me it was a difficult decision to make. He has been with me for over 10 years and has always given me his best and never a problem to deal with". But "Former fans' favourite Jason Astley is expected to make his long overdue return against Blackpool Mechanics in the Lancashire Marsden cup tie on January 6th... [He] has been sidelined for three seasons due to a knee injury".

After losing his assistant manager last week to Stocksbridge PS, Gainsborough boss Paul Mitchell told This is Lincs "There is no question of me leaving, I am not going anywhere, I have not applied for any other job. The board here are superb as are the supporters. Everyone stuck by me and we were struggling at the start of the season and that is the kind of support I remember".

Harrogate Today says that "Harrogate Town will not be going up into the Nationwide Conference unless they move from Wetherby Road, the club confirmed this week". Chairman Bill Fotherby said, "You don't need a load of A-levels to work out what needs to be done. The rugby club, Crest Homes and ourselves need to sit around a table and get things organised. There's this perfect site at Claro Road where we could have two separate pitches, all-weather facilities, everything we need - it would be perfect. I'm sure houses could be built on Wetherby Road, so let's all get together and work something out".

Meanwhile Town manager John Reed said, "In all my years of football motivation has been my strength and I play to my strengths. I go into the dressing room and get them to do what I want them to. When I came here Harrogate were at the bottom of UniBond Division One. Since then we've won cups, promotions and this year we are up there in the league. To do all this from where we have come from is staggering... It would be devastating if we won the league and could not go up but then you have to ask yourself whether we have got the support to go into the Conference?"

Harrogate defender James Riordan is out for the season with a torn groin ligament but "Reed and chairman Bill Fotherby were working tirelessly this week to sign Brazilian left winger Afonso Branco, a player who has connections with former Newcastle defender Marcelino. Branco will hopefully be signed in time for tomorrow and Reed has been delighted with him in training. He added: 'I watched him in training and he has fabulous ability - he excites me'".
LOCAL NEWS
In the FA Vase 4th Round draw:
Nantwich T. v Wroxham (Norfolk)
Buxton/Congleton Town v Billingham Synthonia
Mossley v Winchester City
---
15 December 2003
PLAYER NEWS
For tomorrow's game at home to Lancaster, which could take Altrincham up to tenth place if we win, manager Graham Heathcote hopes to have both of his first-choice centre-backs back in action. Mark Maddox has completed his one-match suspension, whilst Gary Talbot is expected to have recovered from his chest infection. However, Niell Hardy is still receiving treatment and will be having a fitness test. His strike partner Rod Thornley entered hospital today for his knee operation so is obviously out of action tomorrow. Nick Welton, as expected, is unavailable due to work commitments in London. Steve Aspinall, booked on Saturday, is expected to be suspended for the away match at Stalybridge on New Year's Day.
BARROW
Alty's bench on Saturday included the 17 year-old twins, Kieran and Kelvin Lugsden. Steve Lunt and Lewis Chalmers were the other two current youth teamers involved on Saturday.

The Holker Street Newsletter says that the result on Saturday "was harsh on the visitors, and especially on their cluster of travelling fans who out sang the Barrow crowd for virtually the entire 90 minutes, but on the few clear chances created, the home side deserved their win".
WELL SUPPORTED
Terry Rowley's updated attendance data shows that Moss Lane is the third best attended ground in the Division.
CSC CONFUSION
Nantwich Town have been ejected from the Cheshire Senior Cup semi-finals for fielding an ineligible player against Congleton Town. However, the Dabbers are lodging a protest, so Stalybridge still do not know their opponents. Nantwich had better luck on Saturday in the Vase when Nigel Gleghorn's team beat Coalville 6-0.
UNIBOND NEWS
Harrogate Town "have the following contract players available for loan:- Scott Bonsall, 25, midfielder with Conference League experience at Hednesford Town [and] Robbie Whellans, very experienced striker and prolific goalscorer in the UniBond League".

Frickley report that "Phil Sharpe has signed former Frickley goalkeeper Jon Hood from Goole AFC but we look to have lost Karl Colley to Halifax Town".

Transfers:
Michael Yates (Lancaster C. to Witton A.)
John Stannard (ex-Marine to Witton A.)

Runcorn FC Halton welcomed back Dominic Morley on Saturday against Lancaster for his first game after being seriously injured when falling off scaffolding.

Worksop's "Andy Todd is considering a move to rivals Hucknall Town this weekend, after they had put in a four figure bid for last season's top scorer".
OLD BOYS
Two former Alty Reserves are on the move. Sam Baker has been released by Abbey Hey and Chuku Otutu has moved from Trafford to Woodley Sports. Other former Alty Reserves still at Trafford include goalkeeper Dale Newbrook, defender Patrick Claffey and midfielder Melvyn Pampilla.
---
14 December 2003
GRAHAM GOING SOLO?
Referring to the resignation of assistant manager Dalton Steele recently, Graham Heathcote tells the NL Paper, "I'll miss Dalton and he'll be welcome back anytime". He added "But I'm in no rush to replace him. I'll see how things go and decide if I need another assistant".
BARROW 2 ALTRINCHAM 1
A goal in added time at the end of the game robbed a depleted Altrincham side of a deserved point.

Report here.

4 of Alty's 14 man squad were making their Alty debuts either as league-match starters or as subs today, whilst 2 others were starting only their second league game. This was Alty's first defeat in 11 games and the first defeat suffered by Stuart Coburn since his return to Altrincham.
UNITED GO HOME FOR CUP
As feared, the FA Youth Cup match betweeen Manchester United and Manchester City has been assigned to Old Trafford rather than Moss Lane, where previous rounds have been played. It will be at 7.30pm on 13 January (or 21 Jan. if United's first team need an FA Cup replay).
OLD BOYS
Ex-Alty men in action yesterday included Carl Furlong, who scored twice for Droylsden, whilst Chris Timons got Gainsborough's first and Lee Ellington their fourth against Burscough. Leroy Chambers and Steve Porter also turned out for Droylsden as did Danny Adams for Macclesfield. Mark Quayle netted for Scarborough.
---
13 December 2003
YOUTH GAME OFF
Altrincham Youth's home game with Leigh RMI tomorrow has been postponed.
SCORES
Saturday games witnessed last minute winners for Alfreton, Bradford and Barrow.
Alfreton T. 2 Blyth S. 1
Barrow 2 Altrincham 1
Frickley A 0 Droylsden 3
Gainsboro T. 4 Burscough 1
Harrogate T. 2 Ashton U. 1
Radcliffe B. 1 Hucknall T. 6
Runcorn FC Halton 0 Lancaster C. 1
Southport 0 Bradford PA 1
Spennymoor U. 0 Marine 2
Stalybridge C. 3 Wakefield & Emley 3
Vauxhall M. 1 Worksop T. 1
Whitby - no game
UNIBOND NEWS
Because of injuries in his squad, Dave Pace has recalled former Alty centre-back James Glendenning, as well as Alex Kevan from Colwyn Bay. According to the Droylsden Secretary, their return from Wales was part of a "gentleman's agreement" between Pace and the Welsh club.

The Radcliffe Borough site reports that ex-Manchester City star Ian Bishop "has left Stainton Park after discussions with the manager, Bishop who made 9 appearances and scored 1 goal for the 'Boro' is the second player in a week to leave Stainton Park. Manager Kevin Glendon explained 'I have a great deal of respect for Bish - he did just what I asked for in giving us an initial lift, however I explained to him I was looking further forward and that I wanted to bring in some new players and I have too much respect for him to not involve him or keep him hanging around if he was not involved', he further commented 'Bish has always been my type of player but at this moment in time I need to progress in another direction and he fully understands the politics at non-league level that determine the making of these decisions".

Also, "Radcliffe Borough have agreed a £2,000 fee with Stalybridge Celtic for 21-year-old Chris Denham, the former Stalybridge Celtic forward who has made 22(3 sub) appearances scoring 4 goals was put on the list after a meeting with the manager on Monday night. Manager Glendon confirmed that Denham was being sold back to his former club, saying "Unfortunately the move has just not worked out with Chris and myself due to a number of reasons and he did not really fit into the club and surroundings and I felt it would be in the best interests for both parties if he moved on". But, "Boro' are set to complete the loan signing of Southport's 31-year-old central defender Niel Whitworth".

Southport report that "Jimmy Williams [has] signed a 2 year contract... The former Swindon Town teenage star is viewed as a big signing by manager Liam Watson". Also, Port's "Andy Whittaker has put pen to paper and signed for Bamber Bridge".

Spennymoor "have completed the signing of Hartlepool United left-back Mark Robinson for a one month loan period".

Stalybridge confirm that "Ian Monk joins us from FA Trophy opponents Leigh RMI. Wing back Ian (35) will go straight into the squad for [the] game with Wakefield".

Halifax Today reports that "Chris Wilder, manager of Nationwide Conference club Halifax Town has turned to a centre back from... Frickley Athletic in a bid to solve a defensive crisis at The Shay. Karl Colley, 20, has joined Halifax on non-contract terms.

The NL Daily says that "Harrogate Town may have a new striker when Ashton United visit Wetherby Road on Saturday. Agreement has been reached between Harrogate Town and Scunthorpe United for Andy Parton to come on loan to Wetherby Road for a one month period... Meanwhile, the club have scotched internet rumours linking Harrogate with Barrow duo Mark Hume and Scott Maxfield. The rumours are completely unfounded".
ALTY TEAM PROBLEMS
Manager Graham Heathcote has a much reduced squad from which to select his side for today's game at Barrow. The positions of centre-back and striker are particularly affected.
Gary Talbot is out with a chest and throat infection.
Niell Hardy has a fitness test tomorrow but is extremely doubtful to play.
Nick Welton is in London on business and has possibly played his last game for the Robins.
Rod Thornley is out because he has a knee operation on Monday.
Mark Maddox is suspended.
Michael Reynolds is again unavailable.

On the positive side, the above absences mean that three existing Youth team players get their chance to join the first-team squad. They are Lewis Chalmers and the twins, Kieran Lugsden (striker) and Kelvin Lugsden (defender/midfielder). Midfielder Lewis is the Youth team deputy captain. They join Steve Lunt who is the fourth Youth team player to be in the squad today.

Barrow's social club, The Cross Bar, will be open from noon and until 2pm it will be offering free food to all to celebrate the club's emergence from liquidation last week. Drink prices are also reduced between 12 and 2pm.
---
FOR EARLIER NEWS, CLICK HERE
---