Altrincham Football Club News Archive
2 to 8 May, 2004
---
8 May 2004
LINKS
A revised links page, including all our new Conference North partners, with ground locations, is
here
.
FINAL PLACE
Subject to ratification tomorrow by the Conference, the make-up of Conference North was resolved today when Redditch United won 3-0 at Merthyr Tydfil to secure the last place in the division. Dorchester Town won the other play off, 3-1 at Tiverton, and will enter Conference South. Redditch were champions of the Dr Martens West (equivalent to UniBond One). Redditch were founder members of the Alliance in 1979 alongside Altrincham but the two clubs' paths diverged at the end of that season when the Midlands side was relegated. In the Ryman play-offs, where there had been a farcical switch and then re-switch of the final ties this week, one place went to a team from outside the Ryman Premier when Sussex side Lewes beat Kingstonian at the Dripping Pan ground. St Albans City won the other Ryman "final", 5-4, at Bedford to clinch a place in Conference South.
Conference North should comprise:
Alfreton, Altrincham, Barrow, Bradford PA, Droylsden, Gainsborough T., Harrogate T., Hinckley U., Hucknall T., Kettering T., Lancaster C., Leigh RMI, Moor Green, Northwich Vics, Nuneaton Boro', Redditch United, Runcorn FC Halton, Stafford Rangers, Stalybridge Celtic, Southport, Vauxhall Motors, Worksop Town.
MOSS LANE AS YOU'VE NEVER SEEN IT
Above: Courtesy of Alan Johnson's photosite, a dramatic picture of Moss Lane yesterday, as it undergoes drainage and levelling work.
OLD BOYS
Striker Alex Hay (23, right), who had a successful loan spell at Alty in 2000-01, has been released by Tranmere Rovers. Marc Whiteman scored the only goal in Lewes's Ryman League play-off win last Monday whilst Lance Key saved two penalties in Kingstonian's win in another Ryman play-off game this week. However, another Alty keeper, Richard Acton, was the subject of a complaint from a reader in the NL Paper on Friday, for his alleged behaviour when playing for Rhyl recently.
CONF. NORTH NEWS
Port Connection
reports that "Southport have completed the much coveted signing of prolific goalscorer Terry Fearns. The striker, whose contract at Vauxhall Motors has expired, netted 37 goals in the UniBond Premier last season, becoming the leading scorer... He told the Southport Visiter: 'I've turned down a lot of clubs to join Southport because Liam Watson has sold me on the ambitions of Southport FC". Fearns had trials at Hull City and York City were also interested. Southport boss Liam Watson told the Visiter: "My aim is to score goals next season, our target is between 85-100... We've just got to see Terry and Neil Robinson hit it off now, they should be the most feared partnership in Conference North".
Runcorn FC Halton have denied claims made in the Liverpool Echo regarding the current situation. On the Runcorn forum, club secretary Debbie Quaile said "There is no truth in this whatsoever. We are not in a in a brilliant state financially but what club is?"
UNIBOND NEWS
After signing Morecambe's Dave McKearney, Burscough report that "Terms have also been offered to a highly rated striker and we are optimistic he will sign within the next seven days. We are also due to have talks with another striker at the weekend. All the players have been offered terms for next season except for Darren Connell who is being released. The option has been taken up on Steve McNulty's contract and he will be a Burscough player next season", reports the club
website
.
---
7 May 2004
YOUTH TEAM
Courtesy of Jo Ryan comes the above picture of Alty Youth's double-winning side. For identification of the players and other pictures from Monday's final game, see the Youth page.
WORK STARTED
Work has started on the new drainage system for the Moss Lane pitch; drains will be laid at 5 metre intervals and the ground will be levelled with the help of lasers, though a slight "crown" will be created in the centre of the pitch to aid drainage.
CONFERENCE NORTH NEWS
Leigh RMI have written to the Nationwide Conference, according to their
website
, in an attempt to clarify if they will be saved from relegation due to problems at other clubs. It states, "There are reports that Margate, who have already enjoyed a two year dispensation, have astonishingly requested a further extension to ground share in order to maintain their Conference status. Telford amongst other matters are said not to have the necessary ground lease arrangements in place and Exeter still await the outcome of a number of issues... The Nationwide Conference must surely deal with these matters in an expeditious and most importantly correct manner as prescribed and clearly defined in league rules. Both Leigh RMI and Northwich Victoria should be able to plan properly now for next season and cannot do so until these matters are resolved... With Northwich Victoria and Leigh RMI either at, or moving to, new stadiums the future for both clubs looks exceedingly bright and therefore the Conference should surely take this into consideration in reaching its decisions... Leigh RMI have been informed that the final funding partner, the NW Development Agency has now approved their grant towards a new 10,000 seated stadium".
IC Cheshire says that "This Sunday a meeting will recommend who goes where in the new-look non-league structure... However, any decisions taken this weekend will be subject to ratification by the FA National League System Committee". Runcorn chairman Dr Dave Robertson said: "We are looking for new investment now to strengthen the squad and give players a better chance of success at this new level... We have a few debts to finish off this season and it is a challenge for the board, Supporters' Club and Linnets Independent Supporters' Trust to do what's necessary. We are talking to three or four potential investors about the opportunity provided by playing at Conference level. One of the most important things is it gives us a range of local derbies that should increase our average gate considerably and give us some big-match feeling". Runcorn's Secretary, Debbie Quaile, "has resigned but will remain with the club until the end of the month. The chairman wants clarification on whether the resignation also covers her roles of company secretary and director".
Carl Ruffer, on loan at Droylsden from Chester City last season, has moved to Morecambe.
NEXT SEASON
The new season starts as follows:
Conference North and NW Counties - Sat.14 August
UniBond League - Sat. 21 August.
TV
Weymouth, who Alty beat in the Trophy, feature in a new BBC series called Football Diaries this Sunday on BBC (9pm). Whether any footage from Alty's visit will be included remains to be seen.
UNIBOND NEWS
IC Ormskirk says that Burscough's defeat in the UniBond play-off last Monday occurred "amid near farce when key central defender and captain Steve McNulty had to leave the arena - to go on holiday. McNulty had a car waiting to rush him to Manchester Airport at the end of 90 minutes, and in extra-time Bradford scored the two goals which won this play-off final. Burscough's other central defender Karl Bell had limped off injured after 50 minutes, then McNulty's departure left the team with a makeshift centre of defence in the shape of Michael White and Marvin Molyneux". Burscough's manager, ex-Alty man Derek Goulding, added "Steve had said some weeks ago that he had a holiday booked and I appreciated him playing at all because he had to be at Manchester for soon after 6pm".

The UniBond League says that "Burscough signed Dave McKearney from Morecambe on Tuesday. The 35 year old defender/midfielder is a former England semi-pro international".

The UniBond Premier Division for 2004-05 is expected to comprise:
Existing members: Ashton United, Blyth Spartans, Burscough, Frickley Athletic, Marine, Radcliffe Borough, Spennymoor United, Wakefield & Emley and Whitby Town.
Promoted from UniBond One: Bamber Bridge, Bishop Auckland, Bridlington Town, Farsley Celtic, Guiseley, Gateshead, Hyde United, Leek Town, Lincoln United, Matlock Town, Prescot Cables, Witton Albion and Workington.
---
6 May 2004
STANLEY MOVE FOR CRANEY
The Accrington Stanley website says that "Stanley have tabled a substantial offer for Altrincham's Ian Craney".

Craney has played two trial games for Tranmere Rovers' reserves this week. From the Liverpool Daily Post, a report on Tranmere Rovers Reserves' victory against Burnley this week says, Rovers "eventually equalised in the 59th minute. Thomas Rooney and trialist Ian Craney were involved in the build up". The Alty captain appears to have played at no.6.
NATIONAL PLAYER OF THE YEAR
To vote for any category in the inaugural National Game Awards, sponsored by Carlsberg, email here. The Non-League Paper is promoting the voting and has already mentioned Alty's Ian Craney and Stuart Coburn as contenders. This Friday's NLP "will cover the 2004 Club Website of the Year".

On the subject of voting, Ian Craney was voted the Alty Fans' Forum's Internet Player of the Year for the third successive season last week. Right, he receives his award from Gary Warrington, who runs the Fans' Forum (link at top of page) in addition to his sterling work in coordinating the half-time bucket collections for STAR at Moss Lane.
NEW OPPONENTS: No.2 MOOR GREEN
As well as Hinckley United (see News for 30 April), another team who will be in the same league as Alty for the first time next season is Moor Green. Named after their original ground at Moor Green Lane, Moor Green are based in the Hall Green suburb of Birmingham, off the A34 road to Stratford on Avon. Founded in 1901, "The Moors" qualified for Conference North in 13th place in the Dr Martens Premier Division. Manchester City legend Ken Barnes was once a Moor Green player whilst, more recently, Coventry City's David Busst also played for the Moors, before moving to Highfield Road. The club has an informative website.
OLD BOY
The BBC website says that "Lincoln boss Keith Alexander fears he could miss out on Kevin Ellison. The 25-year-old Stockport County midfielder is enjoying a successful loan spell at Sincil Bank. But Ellison would have to take a major pay-cut to sign for play-off chasing City on a permanent deal when his County contract expires in the summer. 'Kevin has been excellent for us since he arrived and I would love to have him here', admitted Alexander. 'But there are other clubs sniffing around'."
CONFERENCE NORTH NEWS
The NW Evening Mail says that "Barrow AFC chairman Brian Keen is remaining tight-lipped about his future... Keen said: 'In the next couple of weeks I will discuss the whole situation with the management team and the board'".

"Southport boss Liam Watson has swooped to bring in two new faces to strengthen his squad. In comes ex-Preston North End and Cambridge City centre-back Farrell Kilbane and it's a return to Haig Avenue for midfielder Dominic Morley. Both have been on Watson's wish list for some time and both players agreed to sign this week as their contacts expired at Lancaster and Runcorn respectively", reports IC Southport.

Harrogate Today quotes Town boss John Reed: "It has got a fabulous ring to it - Harrogate Town in the Conference. We are now a Conference club". He added that "We have a shopping list and will be looking at bringing 8 or 9 players in next season". Talking of their last-day win at Ashton, he added "I was delighted we beat them because if you had a choice between playing Ashton and Runcorn next season, you'd go with Runcorn every time because they have better facilities". The article adds that "Reed admitted his attacking philosophy may have to be tempered in the Conference North... 'We may have to pull the reins on our cavalry charge next season. I played in the same Doncaster boys side as Kevin Keegan and we try to play the same kind of football but we may have to be more organised in our pattern of play next season'", he said.
---
5 May 2004
CRANEY AT ROVERS
Ian Craney played for Tranmere Rovers Reserves on Monday and is likely to play for them against Burnley Reserves tonight. As things stand there is no transfer in the offing; Rovers are simply assessing the Alty captain.
RESERVES
Altrincham are lodging an application for a re-formed Reserves side to join the Lancashire League. Alty had a reserve side in that league until 2001/02 but have not run a second XI since then. It is expected that if the application is accepted, home games will be played on Wednesday evenings at Abbey Hey FC in Gorton. Alty have had an annual pre-season friendly at Abbey Hey for several years now and one is set for July this year.
SEASON'S REVIEW
Who topped the Alty scoring charts in 2003-04? Who made the most - or the fewest- appearances? These and many other vital statistical questions are answered by this website's annual review of the season, which is here!
STAR SHARES

"The Board of STAR, the Altrincham FC Supporters' Trust, has issued the following statement of its policy on the acquisition of shares in Altrincham Football Club:
With regard to proposed acquisition of shares in Altrincham Football Club, STAR's objective is to safeguard the long term viable existence of the Football Club. STAR's strategy to achieve this objective is to try to build a shareholding of 10%. STAR believes this would be a sufficient holding to represent the views of supporters of Altrincham Football Club in the critical decisions made by the Club. A holding of this size is likely to be achieved over a long period of time and STAR will continue to encourage existing shareholders to donate some or all of their shareholding to STAR to help protect the long term interests of the Football Club and the legacy of its supporters.
STAR currently holds 3,109 shares in the Football Club, around 3% of the total, with further shares expected shortly, and is actively seeking shares in line with its stated policy and its aim of achieving a real say in the running of the Club".
OLD BOYS
Marc Lloyd Williams of Aberystwyth Town, briefly at Moss Lane, "is set to join rivals Caernarfon Town as player/assistant-manager" according to the Welsh Premier site. This is a post held a couple of years ago by another ex-Alty player, Danny McGoona.
THANK YOU
The poster (right) has been pasted on the walls of Moss Lane to thank all Altrincham fans for their support this season.
CONFERENCE NORTH NEWS
"Paul Mitchell, manager of Gainsborough Trinity manager Paul Mitchell believes top scorer Gareth Grant will sign a new contract at the Northolme. 'I have spoken to the lad and he assures me he wants to remain at the Northolme which is a relief... His goalscoring record speaks for itself and we are going to need that sort of firepower if we are to be a success in Conference North next season'", said the manager. The report adds that "One player who has committed himself to the club is right-back Ben Purkiss. The former Sheffield United defender has signed a year's deal... Purkiss joins midfielder Christ Hurst and player/assistant-manager Neil Allison who have already signed new deals. With Lee Ellington also having a year left to run on his contract, Mitchell is pleased to keep his key players on a permanent contracts" reports This is Lincs.

From Leigh's website comes news that "Eight of RMI's current players will definitely departing Hilton Park, seven definitely staying, with the future of three others unclear as yet. Striker Damian Whitehead, midfielders Carl Rezai and Steve Gunby, former club captain Martyn Lancaster, Michael Price, Paul Shepherd, Wayne Maden and former Manchester City veteran Steve Redmond have all been released... The players that will be staying are former Derby County midfielder Gareth Holmes, Australian goalkeeper Ian Martin, midfielder Steve Smith, ex-Altrincham Trinidadian Mario Daniel, full back Andy Roscoe, Warren Peyton and former Oldham Athletic and Republic of Ireland goalkeeper Gary Kelly, who will also take over the position of RMI's assistant-manager that was vacated by Redmond's departure. It is unclear whether centre back Neil Durkin will be staying because of his work commitments, and top scorer David McNiven will only stay should he accept Leigh's offer of a new contract, with the same fate hanging over the future of former Burnley defender Gerry Harrison".
---
4 May 2004
MEDAL RETURNS TO MOSS LANE
This website was contacted recently by Jim Newton from Urmston who had found a silver medal, inscribed "Altrincham FC, 1939" amongst his deceased uncle's effects. He believes it belonged to his grandfather John Arthur Garner, a lifelong supporter of The Robins. The medal, dated 1939, is something of a mystery as Alty won nothing that year, though they were runners-up in the Western section of the wartime Cheshire County League. Club historian Terry Rowley has suggested, without having yet seen the medal, that it may derive from one of the medal competitions organised as fundraisers by Altrincham in the 1930s. Anyone with further information about the medal is asked to e-mail it, please, to the website, here. Jim has kindly donated the medal to the Football Club and delivered it into manager Graham Heathcote's keeping last week who was very pleased to receive it. It is pictured, above.
100 UP! -ALTY YOUTH 2 MARINE YOUTH 1
Altrincham Youth completed their league season with a 2-1 win over Marine at Moss Lane on Sunday afternoon. The goals came from Danny Grimshaw and Steve Lunt, the latter goal was Alty's 100th in all competitions this season.

Right: Coach Neil Thomason and manager George Heslop hold up the Premier Cup and Premier Championship trophies after Sunday's game.

For more pictures, see the Youth Page.
PLAY OFFS
Bradford PA report that two subs got the club's winning goals in extra time yesterday against Burscough in the UniBond Play-Off Final. They were Stephen Oleksewycz and James Russell. In the Dr Martens play-offs, it now depends on the outcome of Merthyr Tydfil v Redditch Utd next Saturday whether the Midlands club joins us in Conference North. If Redditch lose, then either Cambridge City or Worcester City will join us - depending which of the two the Conference decides is more appropriately a Conference North rather than Conference South club.
---
3 May 2004
PLAY-OFFS
UniBond Play-Off Final:
Bradford PA 2 Burscough 0 (after aet)

Dr Martens Play-Offs:
Bath C. 2 Dorchester T. 4
Kings' Lynn 0 Redditch U. 1
Tiverton 1 Chelmsford 0

Redditch now play away at Merthyr Tydfil on Saturday and if they win, they will join Altrincham in Conference North. If they lose, then either Cambridge City or Worcester City will join us. Cambridge is marginally north of Worcester but Worcester want to play in the North.
YOUTH FINALE
Above, left-back Matt Tooth, one of three Alty Youth players who figured in Gtr Manchester Schools' U-19' triumph in the national cup final this week, is seen playing (in blue) against Leigh yesterday - see below for more on yesterday's game. Josh Collins is in the background.
The Youth team is managed by George Heslop and coached by Neil Thomason, who have done a tremendous job once again this season. Tickets will be available at the match for the youth team's presentation night at Moss Lane on 22 May. Tickets cost £5 and include a buffet and disco.
TROPHY BOOK
Paul Eade has produced a book entitled "The FA Trophy", published by Tempus and available from bookshops or via Shop4Alty (link above) and Amazon Books. It "charts the history of non-League's greatest cup competition from its inception in 1969 to the present day". So, it obviously covers Altrincham, who were in three Trophy finals (1978,1982,1986). The blurb adds, "As well as a match report for each final, an 'in focus' section for every year looks at the clubs, people, oddities and notable achievements that make the competition special".
LEIGH RMI ACADEMY 1 ALTRINCHAM YOUTH 3
Alty Youth, already league champions, won again today at Pennington FC. Steve Lunt scored twice and Danny Grimshaw got the third as two goals in the final eight minutes saw Alty home. Above, Steve Lunt (pointing) turns to thank Matt Tooth for the cross for his second goal, whilst below, Paul Lewis is a model of concentration on a pitch covered in daisies and dandelions.
Monday 3rd May: Altrincham Youth v Marine A at Moss Lane, 2pm - entry FREE. The NWYA Premier Division championship awards will be made at this match.
---
2 May 2004
GRAHAM AND GARY PRAISED
In today's Pink there are substantial articles on Alty manager, Graham Heathcote, and physio, Gary Thompson.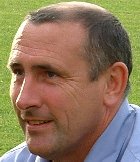 Chairman Geoff Goodwin (left) told the Pink of qualification for Conference North, "I honestly feel this is a turning point in Alty's history... We have one man to thank more than any other for this and that man is Graham Heathcote. What he has achieved this season on a shoestring budget is nothing short of unbelievable and it's my genuine belief that there's not another manager out there who could have done for us what he has... Without him, not only would we not have been promoted, there would no longer be an Altrincham Football Club... It was Graham who persuaded me to to come to Altrincham two years and hopefully , I and my fellow directors, Grahame Rowley and Andrew Shaw, are repaying the faith the club placed in us. But there simply would be no Altrincham without Graham".
Geoff added, "Graham joined me for a brief celebration after we'd clinched promotion, then he excused himself so he could go and clean the changing rooms. That's just so typical of him and it's things like that people don't see. He never stops working for the club".
Goodwin went on, "We've again made a profit this year, albeit a small one, and that again is in no small part due to Graham, for never once has he asked to go above his budget even when we've been crippled with injuries. Once we've got the VAT man off our backs then we can begin to think of giving Graham more money for the team but our fans have got to realise that this can't happen overnight". Geoff said, "Thankfully, we have a group of players here who want to play for Graham and Altrincham. They're not on good wages yet they've never stopped battling... Had we not gone up...I'm not sure if Graham would have carried on as manager and to me, that would have been a disaster... Among the plans we have in place is one to relaunch our reserve team which should enable us to keep together our successful youth side. I believe we've got a future, particularly with Graham in charge. To my mind, he's our answer to Sam Allardyce. I simply can't praise him enough".
UNSUNG HEROES
The Pink also writes about "unsung hero", Alty physio Gary Thompson. According to Graham Heathcote, Gary has been "the busiest man at Moss Lane" recently. "Gary has worked harder than anyone here over the last month, coming to the ground day and night to treat our long line of injured players. He really has been instrumental in what we have achieved and I'm eternally grateful".

Graham also singled out player Gary Scott for thanks after he had returned to action early from a bad facial injury. "Gary set a fantastic example to the other lads... For me, his fight for the cause epitomised our season".

Graham added that his top wish for the summer is that Rod Thornley gets fit after his operations.
IAN CRANEY
Responding to rumours that Accrington Stanley are lining up a bid for captain Ian Craney, Graham told the Pink, "Accrington haven't enquired about Ian but were they to do so, I'd tell them he's contracted to us for another season and that I'm not looking to sell him. There's also the possibility of him going to one or two League clubs and the truth is I'd be disappointed if bigger clubs weren't looking at Ian because he's absolutely outstanding... But Ian's not going anywhere unless someone comes in with what would have to be a very good offer".
BALL TICKETS
There are still some tickets available for the club's centenary Gala Ball at Manchester United's Old Trafford ground on 15 May. Please contact the club (928-1045) for details.
UNIBOND NEWS
The Hucknall Town website reports that the club "suffered their third cup final defeat in a week, having lost at home on Tuesday night to Droylsden in the Unibond League Cup, lost to Eastwood Town 2-1 in the Notts Senior Cup at Meadow Lane and, finally, today lost against Droylsden 1-0 in the Peter Swales Memorial Shield" in front of a crowd of under 200.

"The Harrogate Advertiser reports that Town manager John Reed hopes to bring some "big-hitters" to the club during the summer". Reed said: "We have a shopping list, and will be looking at bringing in eight or nine players next season... there will be no let-up in our efforts to bring players in. We know where the players are but with daft money knocking about, it is important to keep the cards close to your chest. We are now a Conference club and it's an exciting time for the club but although we don't know what is around the corner, we want to be able to compete with finances and take the club forward. There will be no dross in the league, so we are under no illusions that if we don't compete on an even keel in this league, we may become the whipping boys, so it's important the fans come out in force next year", reports their website.
GET VOTING!
The Non-League Paper writes that it is promoting National Game Awards 2004. As well as selecting players worthy of various categories of award, there will be awrads for "unsung heroes such as Fan of the Year". The Friday and Sunday Non-League Papers will be highlighting each category and giving some suggestions about the candidates. The Paper adds, "To make the awards as successful as possible we need as many clubs and fans to get behind their players and teams by voting". Categories include Player of the Year and UniBond Player of the Year. You can also vote by e-mail. Winners will be announced on May 30.
---
FOR EARLIER NEWS, CLICK HERE
---