Altrincham Football Club News Archive
9 to 13 May, 2004
---
13 May 2004
DALTON'S BACK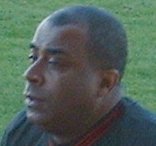 Altrincham FC have welcomed back Dalton Steele (right) as assistant manager. Dalton was previously Graham Heathcote's assistant from 23 October 2002 till 29 November 2003, when he resigned. Since then, however, Dalton has remained close to the club, carrying out scouting missions for Altrincham but he has now formally returned to his position as assistant manager. In the interim, Graham Heathcote had worked alone so he will be delighted to have Dalton back to help out as he continues with his many roles at Moss Lane, which include those of team manager and club secretary.
BARNSLEY AT MOSS LANE
Work continues apace on the drainage work at Moss Lane, with the playing surface still completely consisting of soil and drainage channels. However, the first friendly to be arranged on the planned new turf is set for Tuesday, 3rd August against Barnsley (7.45pm). Altrincham's Youth team played at Oakwell in the FA Youth Cup back in March.
Meanwhile, the pre-season game at Bamber Bridge has been moved from Saturday, 31 July to Thursday, 29 July at 7.45pm. All the friendlies arranged to date are listed here. Other games will be added, at Moss Lane, in early August.
ALTY REJECT OFFER FOR CRANEY
Accrington Stanley recently announced on their
website
that they had made a "substantial" offer for Altrincham captain and leading scorer, Ian Craney. The Board of Altrincham FC discussed the offer on Monday night and have since informed the Lancashire club that the bid is not to be accepted. Should an acceptable offer from any club be received for Ian, and should he wish to go, Altrincham would not stand in his way, though they would be very sad to see him go. However, the Stanley offer was equivalent to only a fifth of the fee paid to Altrincham by Macclesfield for left-back Danny Adams in 2000-01 season. Although the Stanley offer included added sums based on future appearances as well as a sell-on clause, the bid was considered to be well below Altrincham's valuation of the player. Ian has made 197 starts and 17 substitute appearances for The Robins and has won an England semi-pro international cap.
Above right: Ian Craney (left) is seen with Peter Band in January of this year.
Accrington's site reported today that "Stanley's bid for 21 year old midfielder Ian Craney has been turned down by Altrincham, with the Manchester club looking for more money for their captain. [Stanley] Chairman Eric Whalley said 'We are disappointed that Altrincham haven't accepted what was a very reasonable offer for Ian, especially as the young lad was very keen to come and join us as a full time professional footballer. Maybe they think that we have money to throw around, however I can assure everyone that this is not the case, in fact it wasn't our intention to spend any money at all on transfer fees'".
GROUND WORK
Alan Johnson has more interesting pictures of the drainage work at Moss Lane on his
photosite
.
CHESTER'S PARTY OFF
There is no danger of the Alty Youth team's presentation night (on 22 May, see the
Youth Page
for details) being cancelled but
Confguide
reports that "Chester City, Conference Champions, have cancelled both a Presentation Night and Victory Parade. The club had blamed a poor response from fans for the cancellation... The original plan was for a £100-a-head event including a 'Boxing Show'. But the boxers went on holiday according to chester-city.co.uk, and the event was reduced to £50-a-head. It seems that there was insufficient take-up, and the event has been cancelled, The club has also cancelled the traditional open-top bus tour. Only three players were available, and the manager too took a short-notice holiday. The club also cites unspecified concerns of the police and council, and cancelled the tour".
CONF. NORTH NEWS
IC Cheshire
says that "Northwich Vics will choose their manager from 19 - and there may be more applicants yet. An appointment will be made at the end of the month... Margate may still be relegated to the Conference South for breaching ground regulations and Leigh will be reprieved. Vics would also be saved if Telford United fail to find a buyer within the next 10 days".
Leigh RMI released Stuart Coburn to Altrincham last season when they decided Gary Kelly would be their first-choice goalkeeper. But the Leigh RMI website reports that "The injury Gary sustained at Chester is more serious than first thought. Gary was told by the surgeon that rest for six/eight weeks would suffice. This was not the case. Gary now needs an operation on his thumb ligaments which was missed in the first instance. This will be done very soon and Gary will be fit for the start of the season. We have two friendly games for RMI. We will be playing Everton and Leeds Utd". Kelly is now also assistant manager at Hilton Park.
This is Worcs reports that "Worcester City chairman Dave Boddy has scotched rumours linking Adam Wilde with a transfer to Weymouth.... 'Adam is very much a part of our plans at the moment', he said. 'I think probably the rumours have arisen because of the potential travel problems with Adam living in Cambridge and our place in Conference North'". City manager John Barton said of Conf. North, "This is the best of the best of the feeder leagues. Anybody who thinks that City are going to have a cakewalk is in for a shock. We're pleased and honoured to be competing but this is a tough new set up".
At the other end of the Conf. North empire, Barrow boss Lee Turnbull has, according to The NW Evening Mail "offered deals to a centre half and a central midfielder, and has given them until after the weekend to decide. Turnbull won't reveal their names for fear of competition from rival clubs for their signatures. But Doncaster-based Turnbull said both play for Unibond clubs in his area and both are 23 years old.... He said, 'I will be pleased if we get these two lads. They have played at a lower league level for about two years and been shining lights'".
This site reported yesterday that Barrow were increasing gate prices by £1 and "the club have announced season ticket prices will show a slight increase for the new Conference North campaign. That is because the Bluebirds want to bring their prices in line with the rest of the teams in their division after not changing them for three years. For non-members a ticket for the stand is £175 (£115 concessions) and £160 in the ground (£95 concessions)". However, at least one former Dr Martens side, Nuneaton Borough have announced prices for next season of £170 for stand season tickets and £136.50 for the terraces.
Southport boss, "Liam Watson made it clear" to IC Southport his transfer activities are far from over. The early acquisition of experienced players has ignited excitement among the town's supporters and the arrival of proven marksman Terry Fearns on a three-year contract to partner Neil Robinson indicates the Port harbour real promotion ambitions... The goal-getting manager revealed to the [Southport] Visiter he has at least three more players on his wanted list". Watson said, "All three new signings [Kilbane, Fearns, Morley] are equally important to the balance of the squad... We are looking and have targeted a left-sided defender and are currently doing the same on the right. While Steve Dickinson needs competition in the goalkeeping stakes, we cannot afford another number one but we need a young hungry keeper who can come in and do a trusted job at any time during the season. Those three areas will be addressed in the next few weeks".
ONE IN, ONE OUT
As Altrincham seek to rejoin the Lancashire League with their newly reformed Reserve side, Chester City are leaving that league, reports
IC Cheshire
. They have "officially applied to the Pontins League to upgrade the standard of football for their reserve team next season... the initiative is designed to close the gap between the standard of reserve football and the first team". City chairman Stephen Vaughan said, "We have enjoyed our time in the Lancashire League and we shall be making a donation to them as a way of saying thank-you. But we think its time to move on as a club. We intend to build up the playing strength of our second team, as well as creating a stronger youth infrastructure".
OLD BOY
Alty supporter and Exiles' coordinator Jacqui Forster tells me that Kevin Ellison will not be joining his club Stockport County's tour of China but, instead, will remain at loan club Lincoln City to help them in the Division 3 play-offs. Kevin told his club
website
, "The chance to play in the play-offs doesn't come along that often". Manager Keith Alexander added "I'm delighted that Kevin will be staying with us... I always envisaged playing him further forward but we've had to use him in that left wing-back role. He's done well and if we can keep him here then he may get that chance of playing a bit further forward. We've been talking to him for a while but he's on good wages at Stockport and we can't compete with those. But he's out of contract at the end of the season so you never know".
---
12 May 2004
IAN CRANEY
SAM
reports that "Altrincham midfielder Ian Craney is worth much more than Accrington Stanley have offered, according to Robins' boss Graham Heathcote... Heathcote said, 'In my personal opinion, the offer is nowhere near what he is worth. I was involved in the Danny Adams transfer to Macclesfield and the comparative valuations make Danny out to be a much better player than Ian', added Heathcote. This would suggest that Stanley have valued Craney at less than the £25,000 which Macclesfield paid Alty for left-back Danny Adams". The offer was being discussed at a board meeting on Monday but no ststement was forthcoming on Tuesday... At the present time, there is no offer on the table from [Tranmere] Rovers - the Wirral side are merely running the rule over the talented youngster... After signing from Runcorn's youth set-up, Craney made his first-team Alty debut against Emley on 9 September, 2000".
CONF. NORTH NEWS
An early indicator of gate prices in Conference North comes from
Barrow
where there will be "a £1 increase on adult admission charges across the board for next season. This is due to increased running costs at the club". So stand prices will be £9 at Holker Street (concessionaries £6), whilst the terraces will cost £8 (£5). Alty's Board discussed Moss Lane prices on Monday but no announcement has yet been made about them.
Kettering Town are not pleased that they "have been provisionally put into Conference South when it was widely expected they would be placed in the North. However, a further decision needs to be made on whether Margate's ground fulfils the criteria to remain in the Nationwide Conference National for another season to confirm the Poppies' placing. If Margate are demoted to the Conference South then Kettering will be switched across to the Conference North with Leigh RMI reprieved from relegation. Kettering Town chairman Peter Mallinger said: 'It is extremely unsatisfactory. We can accept being in one or the other but now we have to wait again to see what the future holds... We are ready to plan for next season but that is not easy when we don't know which league we will be playing in... We are at a loss to know why it is Kettering who are being disadvantaged. Both Worcester City and Redditch United lie south of Kettering, if only by a few degrees on the map, but both have been guaranteed a place in the North? How can that be? We are to ask the Conference what criteria they used to place Kettering Town in the South".
"Following discussions with manager Roger Ashby over the week-end Nuneaton favourite Terry Angus has decided to hang up his boots. Roger was hoping that Terry would continue for at least another season and was prepared to offer him another contract", reports the Borough website.
From the south comes news that Hendon have rejected their place in Conference South, despite qualifying comfortably. Their place has been given to Basingstoke Town, the play-off losers.
UNITED AT MOSS LANE
BBC Sport
confirms that Manchester United "will field two second string sides next season and are aware that their[!!] present Moss Lane ground [at Altrincham] cannot stage all their matches. 'We've considered the mini athletics stadium at Eastlands next door to the main stadium', confirmed David Gill, United chief executive. The club have also looked at using Hyde United and Bury as alternative venues. United have asked the City Council about the viability of their Pontins League team playing at Eastlands, with the Premier League reserve division side staying in Altrincham".
UNIBOND NEWS
As well as signing defender/midfielder Dave McKearney from Morecambe, Burscough have signed "highly rated striker Paul Lamb from Liverpool County Combination side Halewood Town", says their
website
.
"Wakefield & Emley have now been given approval from the FA to be named Wakefield - Emley FC from the 1st June", reports the UniBond League. So Alty can never again suffer a defeat against their bogey team, Wakefield & Emley!
OLD BOY
Ex-Alty striker and "Total Network Solutions manager Ken McKenna says he is considering his future after losing the JT Hughes Mitsubishi Welsh Premier title and the Welsh Cup final to Rhyl. 'I've had three years as manager of a full-time club', McKenna said 'We've been runners up twice in the cup and three times in the league. That's not good enough for this club. It's down to me to go away, analyse things and see where we are. "I think I can turn it around, but if the boss feels I haven't done enough I can understand it. I don't have doubts, but it's about personal pride'", he told
Welsh Premier
.
---
---
11 May 2004
ALTY RESERVES
On the
Alty Fans' Forum
, Alty youth team manager George Heslop reveals that the newly relaunched Altrincham Reserves are to be funded by a sponsor for five years. George adds, "With this generous offer, over 5 years, we may see a definite progression from Youth to Reserves to 1st Team. Let's hope so, this is the future".
Alty Reserves have applied to join the Lancashire League, which was won this season by Morecambe, who also won the Lancashire League Cup. Other teams in the League were (in finishing order) the Reserves of Marine, Accrington Stanley, Vauxhall Motors, Northwich Vics, Chester City, Southport, Bamber Bridge, Burscough, Ossett Town, Lancaster City, Barrow, Guiseley, Leigh RMI, Workington, Chorley and Bradford PA.
OLD BOY
This is Staffs
says that ex-Alty Youth "striker Wes Wilkinson has been offered a twelve-month contract by Oldham Athletic which will bank [his former club, Nantwich Town] £4,000 if he signs... Further payments to Nantwich are linked to appearances, while the Latics will visit Jackson Avenue for a pre-season game on July 17th as part of the deal".
CONF. NORTH
A reprieve for Leigh RMI looks more likely as Confguide reports that "Margate FC has confirmed that its application to the Nationwide Conference for a groundshare extension has been rejected by the Conference Board of Directors. The club has called an EGM of the Company to obtain views on how to proceeed". The club is considering either making an appeal; "formal application for a longer groundshare period with Dover Athletic FC"; or, accepting demotion to Conference South. If the latter happens, Kettering will move to Conference North to replace them.
The Alty Fans' Forum is always a source of useful information and one posting reveals that of the clubs in the new Conference North, Alty's average gate of 584 last season is the 7th best, but the top 6 all have gates of over 800 - Barrow, Worcester C., Nuneaton B., Kettering T., Northwich V. and Stafford Rangers.
On the Hucknall Forum, the chairman Brian Holmes says, "I am pleased to confirm that Steve Burr is contracted for next season, and a budget agreed for 2004/05 which will enable the club to compete in the Northern Conference. Peter Wragg will be continuing as his No. 2 and eight of this season's squad are contracted for 2004/05. Negotiations are proceeding to complete the squad for next season, which will include some new faces".
The Stalybridge site says that "The squad for next season is beginning to take shape, and the Friendly list looks more competitive than ever". These include a home game with a Manchester United XI. "Players who have so far put pen to paper for next term are: Scott Bonsall, Terry Bowker, Danny Caldecott, Chris Denham, Dave German, Andy Hayward. Players who are due to sign in the next few days: Craig Dootson, Phil Eastwood, Barrie Keeling, Kevin Parr".
This is Staffs reflects on Stafford Rangers' successful season. "Third place in the league and runners-up in the Staffordshire Senior Cup was no mean feat... With a little more luck on the injury front, a little self restraint from certain players and a little better sense of justice from the Dr Martens League bosses, Rangers could even have been cracking open the champagne! Stafford's success on the field has been built around skipper Wayne Daniel, who deservedly scooped all three of the club' s player of the year awards... Rangers also cannot ignore the importance of the goal contribution of Danny Davidson... Other players to shine through have included Richard Beale at left-back and Craig Wilding". 2003-04 has also seen "the emergence of promising players such as Gary Fife and Glyn Blackhurst from the youth scheme".
---
10 May 2004
CONF. NORTH
The FA National Leagues' Manager Mike Appleby and representatives of the Conference, Isthmian, Northern Premier and Southern Leagues met yesterday in Loughborough and agreed the official list of clubs to be in Conference North, which is as follows. Kettering have been allowed to stay in the South, even though they are north of Worcester, who have been put in the North. This site's Links have been amended to cover this change.
The clubs in the North are: Alfreton Town, Altrincham, Barrow, Bradford Park Avenue, Droylsden, Gainsborough Trinity, Harrogate Town, Hinckley United, Hucknall Town, Lancaster City, Leigh RMI*, Moor Green, Northwich Victoria, Nuneaton Borough, Redditch United, Runcorn FC Halton, Southport, Stafford Rangers, Stalybridge Celtic, Vauxhall Motors, Worcester City and Worksop Town
*If Leigh RMI are reinstated in the Nationwide Conference (because of the Margate situation), Kettering Town will be switched to the Conference North.
A full list of all the Conference North and South and Northern Premier League Premier Division members for 2004-05 is here.
OLD BOYS

Alty will renew acquaintance with Stafford Rangers in Conference North next season. A familiar face could be in Rangers' line-up as their unofficial
website
reports that "Rangers have signed midfielder Jamie Phoenix from Nantwich Town. He started off with a promising career, having spells with Bolton Wanderers and Manchester City. More recently he was at Altrincham". Jamie Phoenix never completed a game for Alty. Having impressed as a late substitute, he made his only start in the next game, an FA Cup match against Kendal, in which he was sent off. He is seen, right, heading for the early bath.
In Wales, Rhyl beat TNS in the Welsh Cup Final on Sunday. Not only are TNS managed by former Alty striker Ken McKenna, but the winning goal had strong Altrincham connections as Marc Limbert drove the ball past Richard Acton. John Toner was another ex-Robin in the TNS side.
CONF. NORTH NEWS
As Leigh and Northwich hope for salvation from relegation by the collapse of Margate,
Confguide
says that Margate "have formally asked the Nationwide Conference to allow the club to extend the groundshare agreement with Dover Athletic... The club moved out of its own Hartsdown Park ground before it had planning permission for a replacement. The old ground was demolished a year ago - but there is still no definite permission to erect a new stadium on the site. The club had previously been set a deadline of 31st May, by which it had to have a compliant stadium. It was then reported that this had been relaxed, and the club had to start work by then, with a certain level of construction complete for the start of next season. Work has not started yet, so a further groundshare period will be necessary".
Whilst we may have lost the long-serving Roly Howard, manager of Marine, from our fixtures next season, Moor Green, whom we meet in Conference North next season have in Bob Faulkner another of the longest serving managers in non league football. He has been in charge of The Moors since Boxing Day 1985 and has overseen well over 1,000 games. Moors' current players include Jimmy Haarhoff, (ex-Leeds) who played against us for Droylsden, Rob Elmes who played against us for Hereford and Dennis Bailey (ex-QPR) who opposed us for Forest Green.
---
9 May 2004
OLD BOYS
Left: Danny Adams (in blue) confronts Barnsley's no.2, Austin. Right: Here, Danny is the nearest of four ex-non-leaguers in the Stockport defence. Behind him are Rob Jones (ex-Gateshead), Ashley Williams (ex-Hednesford) and John Hardiker (ex-Morecambe).
With no Altrincham game yesterday, your correspondent went in search of former Moss Lane hero, Danny Adams, playing for Stockport County. In his 12th game for County, Danny tasted his first defeat as his side lost 2-3 to Barnsley. In fact, there were four recent non-leaguers in the County line-up for, as well as Danny, the County side included Rob Jones, the 6ft 7ins centre-back familiar to us from Gateshead, John Hardiker from Morecambe and Ashley Williams, the former Hednesford stopper. Barnsley also included Neil Austin (ex-Gateshead) and a sub from non-league- Kevin Betsy, once at Woking. Danny was his usual excellent self, at left-back. Also in the crowd was another ex-Alty hero, Dickie Landon, who is now County's kit man. Stockport's unbeaten run of 11 games wasn't the only bubble which Dickie saw burst yesterday as the picture below shows, (Dickie is on right).
Other old boys in the news include Chris Young, scorer of a penalty in the NW Sunday Champions' Cup Final for Grey Horse Failsworth and pictured in today's Pink. Ashley Timms played in goal for Man. City reserves' final league game yesterday.
VICS HARD TO PLEASE
Nationwide
site says that "Northwich Victoria chairman Dave Stone has quashed rumours linking [Hucknall's] Steve Burr with the managerial vacancy at Wincham Park. "'We've had nine applications and CVs come in to the office, but there has been no-one special yet', Stone told the Northwich Guardian. 'No-one has hit us as being the right man for the job. We haven't heard anything from Steve Burr. I know he was at the last match, but he was only there watching the game as were Gary Simpson and Dalton Steele [ex-Alty assistant manager] - none of them have applied for the job as yet'".
UNIBOND NEWS
Radcliffe
boss Kevin Glendon continues to sign up their squad, including "midfielder Simon Carden and full back Lee Duffy on new two-year deals. Glendon has now signed six players on new two-year deals. "Both Simon and Lee were being chased by clubs in the UniBond and the new Conference North, but were impressed with the plans of the club and the new proposed signings I hope to make". said the Boro' boss.
The Pink
links Shrewsbury's Jody Banim with a return to Radcliffe.
Steve Waywell has signed a new two-year contract to manage Hyde United. But Ashton's Gerry Quinn is to meet directors this week "to discuss what went wrong over the critical last six weeks of the season", says The Pink.
---
FOR EARLIER NEWS, CLICK
HERE
---