Altrincham Football Club News Archive
27 May to 1 June, 2004
---
1 June 2004
CRANEY TO STANLEY- OR NOT?
Contrary to what was said on the the Accrington Stanley
website
yesterday, Altrincham FC advise me that "as at 10pm [Monday] NO deal has been agreed between the two clubs. We are still awaiting an improved offer from them".
The Stanley website reported yesterday that "Altrincham midfielder Ian Craney is expected to make the move to the Interlink Express Stadium in the next few weeks. The two clubs have now agreed a deal and the player is keen to make the step up to full-time football with Accrington Stanley".
HUTCHINSON LEAVES
The Leek Town
website
says that "Winger Ryan Hutchinson has joined from Conference North side Altrincham. Hutchinson joined the Robins following his release from Stoke City in March 2004. He had figured in the Potters' reserve side after progressing from their youth set up". Ryan made 3 starts and 1 sub. appearance for Altrincham towards the end of last season.
CONF. NORTH NEWS
Leigh RMI
have signed Hucknall Town's defender Craig Gaunt. Midfielder Ross Clegg has joined Leek Town from Stalybridge Celtic.
NL Daily
reports that Liam Folds has become the third Bedford Town player to follow manager Kevin Wilson to Kettering Town, after Neil Lazarus and Daniel French moved last week. "Highly-rated goalkeeper Ian Brown is also thinking over a move to join Wilson's outfit".
OLD FRIENDS -2
Another club who will be renewing league acquaintance with Altrincham next season is Kettering Town, who can claim to have been assigned to five different divisions in the last three years! They finished 2000-01 being relegated for the first time from the Conference, having been founder members with Alty of its forerunner, the Alliance Premier League. As with Alty, who regained their Conference status for just a year after their 1997 relegation, so too Kettering bounced back from the Ryman for season 2002-03, only to go down again after one season. This time they entered the Dr Martens League, for 2003-04. Kettering were then assigned to Conference South in May 2004, only for the demise of Margate to see them transferred to Conference North before the end of that month!
The Robins last met The Poppies in January 2003 when, after a 1-1 away draw and a 3-3 draw at Moss Lane, Altrincham won 5-4 on penalties in the FA Trophy 3rd Round.
---
31 May 2004
IAN CRANEY AWARD
In yesterday's
NL Paper
, there is an article on Alty captain, Ian Craney (right), winner of the UniBond Player of the Year award. It recalls how, "his football began to drift after a spell as a youngster with Everton". Ian says that he would "really like to thank all the Altrincham supporters; they've been really good to me. It wasn't that long ago I was doing little more than playing Sunday football with my mates. I was playing for my dad's team and it was only his inspiration which made me realise that I had the potential to do more". He goes on to explain how he arrived at Moss Lane from Runcorn. Mark Ward's assistant, "Joey Dunn was in charge of the [Runcorn] youth team and when he bcame assistant manager at Alty, I moved with him. Joey pestered the manager to give me a go and I ended up on the bench... Fortunately, I got an early touch and settled down".
The Pink also has a piece on Ian's award. It quotes Graham Heathcote as saying "The fact that he has been named the UniBond Player of the Season speaks volumes for the lad and we can certainly understand his desire to play at a higher level". Of Accrington's attempts to sign Craney, the Alty manager added: "Both offers from Accrington have failed to match our valuation. The ball's now in their court and until we receive an offer that matches our valuation we are more than happy to have the lad remain one of us".
IN THE PINK
The
Pink
's review of Alty's season says - "The sight of princes-turned-paupers Alty struggling to qualify to qualify for Non-League's new second tier might have come as a shock to many. But look a little deeper and it would surely be right to conclude that, under the circumstances, the cash-strapped Robins did mighty well to squeeze into Conference North. Boss Graham Heathcote had to use every last ounce of his vast experience to ensure that they qualified and thoroughly deserved the lavish praise which was subsequently heaped on him by his chairman when they did. While certain other managers were able to resort to the cheque book when the going got tough, wily old 'Cote had to beg, steal and borrow. His recapture of keeper Stuart Coburn on a free-transfer from Leigh was nothing short of daylight robbery and was arguably the biggest single factor in Alty's promotion triumph".
YOUTHS LOOKING FOR SPONSORS
The
Pink
has a piece on the Alty Youth team's recent presentation night and the award made to former Robins' defender Malcolm Bailey for his role in helping to raise £1,000 for the Youth team through activities at the Stonemason's Arms in Timperley. The article recalls how the Alty Youth team won the double this season and that former players such as Wes Wilkinson and Mario Daniel have "gone on to play for Oldham Athletic and Leigh RMI respectively". After references to player of the year Matt Tooth (right) and to Steve Lunt and Kieran Lugsden, who have both played for the first team, the article ends with a note that the Alty Youth team, "being a self-funding unit, are looking to attract sponsors". Anyone who can help should ring the club on 928-1045.
CONF. NORTH NEWS
"Dean Thomas, manager of Conference North club Hinckley United, is hoping that his latest signing will be able to breach a three-league divide to replace departed defender Andy Penny. Penny left the Knitters last week to join rivals Redditch United and Thomas has turned to 31-year-old Tyrone Mintus as his replacement. Mintus spent last season playing for Oadby Town in the Travel Factory Midland Alliance, but has also played for Stafford Rangers, VS Rugby, Ilkeston Town, Hednesford Town, Corby Town, Shepshed Dynamo and Rothwell Town in the Southern League... Thomas has also snapped up Leicester-based midfielder Sam McMahon, who was released by Conference National side Burton Albion at the end of the season. McMahon, now 28, was originally with Leicester City and Cambridge United but suffered ruptured ligaments whilst with Stevenage Borough... Mintus and McMahon join Nathan Lamey as Thomas' early summer recruits. Lamey was brought in from Halesowen Town to replace David Sadler, who switched to Conference South outfit Cambridge City a couple of weeks ago... Thomas is still on the lookout for at least two more players to add to his squad. 'I want to keep improving and I'm looking to finish in the top six next season'" reports
NL Daily
.
Confguide confirms that the Conference AGM is on 5 June. This will formally decide who is in the Conference next season.
Worksop Town confirm that "fans' favourite Matty Caudwell has left the club and re-joined former Tigers manager Paul Mitchell at Gainsborough".
---
30 May 2004
PAUL D
In deleting the daily intake of "spam" today I accidentally deleted a message headed "Alty website" from Paul D - could Paul D please re-send it? Many thanks.
CRANEY
Today's NLP has an article on Alty's Ian Craney, winner of the UniBond Player of the Year in the National Game Awards.
CONF. NORTH NEWS
Yesterday,
Stalybridge
announced "the capture of Accrington Stanley wide man Dean Calcutt. Dean was unable to agree full-time terms with the Conference Club and has elected instead to join Celtic".
The Worksop Forum quotes new manager Ronnie Glavin. "Worksop Town is a big name, that's what caught my eye when the club approached me. I had left Barnsley as coach due to their financial difficulties but in the time I spent back at Oakwell, I learned more about the game... I feel I have the experience and qualities to make Worksop Town a force to be reckoned with in the Conference. The financial side of the club isn't great but I can't do anything about that, I just want to get on with the footballing side of things. I knew several players before I came to the club, including Simeon Bambrook and Mark Haran who were with me at Emley. There are several other quality players here and despite the likely departure of another two or three, I am confident we can do well next season". As yet unconfirmed reports say that Worksop's Matty Caudwell has signed for Gainsbrough Trinity.
FRIENDS REUNITED
Conference North brings Altrincham back to play against some clubs whom they have not met for a while. One of these is Stafford Rangers who, since 1995 have been the northerly outpost of the Dr Martens Premier Division. Alty last played in the same league as Stafford, curiously nicknamed "The Boro", in the Conference in 1994/95, both sides having been founder members of the Conference's forerunner, the Alliance Premier League, from 1979 (with a couple of years gap in the 1980s). The sides' joint history goes back much further than that, however, with regular clashes in the Cheshire County League, of which Rangers were members from 1952-69 and the Northern Premier League (1969-79). One of the most famous Rangers players to take the field against Altrincham was Stan Collymore. Rangers, who play in black and white stripes, play at Marston Road and have a
website
which is currently under re-construction. They had an excellent season in 2003-04, finishing third in the Dr Martens Premier. Visiting Stafford will be one of our more expensive trips as adult standing will be £9, and stand seats will cost £11.
UNIBOND NEWS
The
Shropshire Star
reports that Telford United "officially folded on Thursday, and supporters immediately launched AFC Telford United which will be run by the Telford United Supporters' Trust. The Trust hopes to compete two divisions below the Conference next season... It is hoped the new club will be able to play their home games at the New Bucks Head. Meanwhile, Conference chief executive John Moules said: ,"The final decision will be down to the FA and the respective leagues but I am hopeful if they can guarantee they can play at the New Bucks Head and find the money to pay their players, they could enter the Southern or UniBond Premier'".
The official site at Radcliffe Borough says that "The club annouced today they have signed former Bury, Burnley and Sunderland defender Gordon Armstrong. The experienced defender was in the Conference last season with Accrington Stanley, but could not go full time this coming season due to work commitments". Also, "fans of the club can take up the offer of paying £25.00 for an entrance pass for the 4 [pre-season] games against Shrewsbury Town, Bury, Bolton Wanderers and Manchester United thus saving £9.00 on the admission prices stated in the press".
---
29 May 2004
CRANEY LIFTS NATIONAL GAME AWARD
From a press release kindly supplied by the NL Paper:
"Altrincham's inspirational captain Ian Craney (right) has been awarded the National Game Awards' UniBond Player of the Year [title]. The 21-year-old midfielder has enjoyed another superb season where he was also awarded the club's fans' player of the season award for the third consecutive year. [Actually it was only the second year in succession, though it was the third year in succession as the Internet Player of the Year awarded by the Alty Fans' Forum]. Craney, rated at £50,000 has been attracting attention from clubs in the Football League and in the higher reaches of the Pyramid. He was on trial at Second Division Tranmere Rovers earlier in the season and is also rumoured to be interesting Conference outfit Accrington Stanley.
It's not just the players and managers who grab the headlines that are honoured in our National Game awards. Every club up and down the country has an unsung hero or long-serving stalwart. Which is why Frank Hannah, of the Manchester Football Association has been awarded the GLS Football Grass Roots Award...
David Emery Editor said 'We have long felt the Non-League game deserves its own awards to honour the players, officials and fans who help make the national game great. Our readers have voted in their 1000s over the last few weeks, truly making these the fans' awards'.
The full list of winners and an interview with Ian Craney will be published in the Sunday May 30th issue of The Non-League Paper in a special 16 page Awards Pullout".
The NW Evening Mail reported that AFC Barrow captain Mark Salmon was a leading contender for the award won by Ian Craney and adds that the "Altrincham midfielder Ian Craney [was] a summer transfer target for AFC manager Lee Turnbull". The article adds that "Turnbull is in no doubt as to who should win the award, describing Salmon as 'worth his weight in gold'".
Other local award winners include Michael Twiss, who had trials at Altrincham; he has won the Sky Sports' Conference Goal of the Season award and Chester City striker Daryl Clare is the Conference Player of the Year and wins the Golden Boot.
... AND 'ROSIE' WINS A TROPHY PRIZE TOO!
Confguide
reports that Alty supporter Ian Rosendaal is one of the winners of Paul Eade's new book about the FA Trophy in a competition run by the website. Congratulations!
Our FA Trophy Round 5 opponents in 2004, Weymouth have announced that their "Club director and hotelier Martyn Harrison has become the club's majority shareholder after buying between £300,000 and £400,000 worth of shares. The investment clears historic debts at the Wessex Stadium and sees Harrison become the football club's new chief executive... Ian Ridley... remains as chairman... The deal gives Harrison a controlling interest in Weymouth and wipes out the club's estimated £250,000 debt". Harrison said, "I have every faith in Ian Ridley and Steve Claridge's abilities and am in total support of the existing structure at the club". "Londoner Harrison admits 'falling in love' with Weymouth since first coming to the town five years ago".
LAST SEASON
Last season's Altrincham match reports, statistics, squad details, etc have all now been archived. A full list of this site's archive from 1999/00 to 2004 is
here
.
CONF. NORTH NEWS
The excellent Tony Kempster
website
has a piece on the possible effects of no club being relegated from the Conference due to the demise of Margate and Telford. Amongst the possible outcomes he speculates about are Ashton United joining Conference North or, he says, "It could be that the powers-that-be don't want to instigate any more contentious issues and that either the Conference National will run with 21 teams or Northwich are reprieved and Conference North runs with only 21 teams".
"Kevin Glendon, manager of Radcliffe Borough, is considering an offer from Conference North side Stalybridge Celtic for left back Tony Whealing. The Bower Fold side are proposing a player swap deal, but Glendon is still mulling over whether to let one of his best defenders and most influential characters leave the club... One man who won't be returning to Boro in the short-term is fans' favourite Jody Banim. The prolific striker will start pre-season with Shrewsbury Town and his new side's promotion to Division Three has netted Radcliffe another £2,500. Glendon said: "We ended up getting £20,000 for Jody and, in today's market, I think that is an exceptional deal".
UNIBOND NEWS
"Joint Wakefield Emley manager Ray Dennis has quit the club. Dennis made the shock announcement after the club advertised for a new manager in the national press, without his knowledge! Dennis's managerial partner Paul David was, meanwhile, unavailable for comment. 'The situation I find myself in has been truly humiliating', said Dennis, 'If I had been clearly sacked because of results, I could have accepted it. But to have had my job advertised without any knowledge is unprofessional and has been a humiliation'", reports
IC Huddersfield
.
---
28 May 2004
PLAYER NEWS
Right: Marcus Hallows and Ged Kielty are two of the players whom Graham Heathcote aims to keep at Moss Lane.
According to manager Graham Heathcote, in SAM, Ian Craney "has made it clear it is time to go and I'll be surprised if he is in an Alty shirt at the start of next season...You have to ask yourself what use he will be next season if he has to stay after this summer's activities". Unsatisfactorily, "A delay in receiving non-contract forms from Conference North means Heathcote is unable to sign up any of his current squad for next season, but he is confident most of them will stay". As for new players, he added, "We've spoken to a number of players but have encountered stumbling blocks, be it contracts, money or other terms". But he "confirmed that a striker has verbally agreed to join the club but has yet to put pen to paper".
SPONSOR A SEAT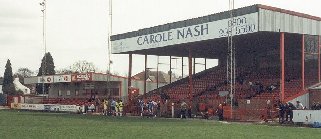 STAR has started a scheme whereby you can sponsor a seat in the main Carole Nash stand at Moss Lane for £10 for the season or £25 for five seasons. Payment should be made to STAR c/o the club address (at the top of this page) and applications should include the required seat number(s). Sponsors will have their seat labelled and will receive a certificate recognising their contribution. STAR will be issuing a newsletter in mid-June with the raffle tickets for the STAR AGM Grand Prize Raffle.
EVER-PRESENTS
Alty's last visit to Telford's Buck's Head ground was on 9 October 1999, when a great display by Stuart Coburn, including the above penalty save, produced a 1-0 win thanks to a spot-kick conversion by Brendan Burke.
Up to the end of the 2003-04 season, Telford United and Northwich Vics were the only clubs left in the Conference which had been ever-present in that division since its formation in 1979. Now, by the most bizarre of routes - including, last season, one of the lowest points hauls in the history of the Conference - Northwich can claim to be the last survivor, though others might say that they were relegated for a month from April this year. Another curious feature of the Vics' reinstatement- if that is indeed confirmed- is that they will re-enter the Conference after extending their ground share at Witton when one of the Conference's demoted clubs, Margate, were forced out of the Conference for a prolonged groundshare at Dover.
If Telford are demoted to a lower level than Conference North, it will be interesting to see which team, if any, replaces Northwich in Conference North. Ashton finished 14th in the UniBond Premier last season but Burscough were the beaten play-off finalists. But teams in the Dr Martens or Ryman Premier divisions may feel they have a case for inclusion too.
GO WEST
If you are in need of football action before the start of the season there is a closer alternative to travelling to Portugal for Euro 2004. Four Welsh clubs have qualified for European competitions in 2004-05 and their campaigns start in June or July. They are Rhyl in the UEFA Champions' League, Ken McKenna's Total Network Solutions and Haverfordwest County in the UEFA Cup and Aberystwyth Town in the Intertoto Cup. Aber meet Latvian side FC Dinaburg on 19 June. The draw for the other three teams will be on 25 June, with games to played in early July. See
Welsh Premier
for details.
PC REPRIEVED
Brian Pritchard, Witton Albion's policeman/footballer, sent off for felling a streaker at Moss Lane during the Cheshire Senior Cup Final in March has learned from Cheshire Constabulary that "no disciplinary action [will] be taken, despite the police officers' code of conduct covering behaviour both on and off duty", says the
Stockport Express
.
CONF. NORTH NEWS
Hucknall Town
report that "Work has commenced this week... for the erection of an extension to the [Doff] stand which will incorporate a viewing platform for the disabled, two additional turnstiles and exit gates which will join up to the end of the main stand. The old Board Room at the end of the main stand and the adjacent tea bar (we intend to have mobile catering vans for next season) will be demolished in the next few days to create additional terracing". There are also "proposals to convert the viewing slope at the Salterford Road end to proper terracing... [and] the erection of a terrace on the by-pass side of the ground that will occupy approximately 60% of the length of this side... [as well as] the upgrading of the floodlights to full Conference rating". The club will seek aid from the Football Foundation with a view to completing the work during the coming season.
---
27 May 2004
TELFORD GO INTO LIQUIDATION
BBC Sport
reports that "Telford will drop out of the Conference and go into liquidation after efforts to bring in an investor failed". Presumably this will save Northwich from relegation. The
Telford site
says: "The wheels have been set in motion with regard to the formation of a new club which should be confirmed within the next 24 hours. This will hopefully provide the vehicle for football in Telford to re-enter into Non League football, the level of which is as yet unknown. Encouraging dialogue has been opened with the FA and other partners in relation to this". How the Vics are replaced in Conference North remains to be seen.
CONF. NORTH NEWS
Alfreton Town
is the latest club to raise its prices for Conference North. "Admission for individual league matches has risen by a pound to £7 for adults... as the club recognise the need to keep in line with their Conference North counterparts. However, despite the small rise, the admission fees are still the lowest in the division. Reds' supporters making an application and paying for a season ticket before June 30th, 2004, can purchase at last season's prices of £99 for adults... The Conference chief executive's office - while not naming any clubs - confirmed on Tuesday that the highest admission prices in Conference North next season will be £11 adult (to sit) and highest concession of £8 (to sit); the highest terrace prices are £9 adult and £6 concessions. The majority of clubs are charging £8 entry for each home league game".
"Northwich Victoria chairman Dave Stone has admitted that a boardroom reshuffle may be on the cards for the relegated outfit... Stone told the Northwich Guardian: 'To be honest I'm not 100 per cent sure what's going on. We are in talks and have a crucial meeting on Wednesday and it really depends on what the chap we're speaking to wants to do. Whether that's a takeover or just more members coming on to the board we just don't know... We can't do anything to put a new manager in place if new people are going to come in", reports the Nationwide site.
But The Northwich Chronicle says that "Relegated Northwich Vics could be a Conference side again by Friday. Their fate rests on the demise or rescue of Telford United... Vics' chairman Dave Stone said: 'It is difficult to imagine Telford not being saved because of the size of the place and the history of the club, but all we have been told is that they just have a thin strand of hope'... The belief is - and the Chronicle understands it is shared by the parties likely to take over the club in the next few days - that Vics could regroup in a lower standard and come back stronger. Another season in the Conference would mean another struggle, especially as they will spend the first three months at Witton's Wincham Park, where Vics' results have been poor".
"Long-serving Michael Love has agreed a new one-year contract with Nuneaton Borough, much to the delight of manager Roger Ashby. 'He wants to stay here and by agreeing lesser money shows he's more motivated by playing than anything else'", said the boss. "Boro have transfer-listed centre back Dion Scott... The former Walsall trainee is among the highest-paid players at Boro and came to Manor Park last summer with a big reputation, but an Achilles heel injury meant he didn't make his first appearance until early November... [He] played 24 games for Boro but was never a favourite with the fans". Nuneaton are linked with "Avun Jephcott, released by Coventry City last week", says IC Coventry.
"Kevin Wilson, manager of Conference North club Kettering Town, says he will not be held to ransom by the wage demands of potential transfer targets... The Poppies' boss has made just one new signing while ten others have committed themselves to another season at Rockingham Road. Winger Daniel French agreed to join the Poppies from Wilson's former club Bedford Town". Wilson said: "It just seems nowadays that players want absolutely everything they can get their hands on. I have got to try and get a squad of 20 players together. But there is no way we are going to be held to ransom by some of the ridiculous wage demands certain players want... The one thing I don't understand is that there are some players who want to go and play at clubs where there will be 200 or 300 people watching them". Wilson has also "spoken to Bedford goalkeeper Ian Brown, but he denied a deal with Eagles midfielder Neil Lazarus had been done. He is still waiting to hear from Martin Matthews, who has also been offered a testimonial match, and midfielder Wayne Diuk who has also been offered fresh terms. London-based pair Paul Fewings and Richard Graham are also mulling over new deals", reports NL Daily.
"Redditch United boss Rod Brown has already started to bolster his championship winning squad with three new signings. Hinckley United central defender Andy Penny, young Stourport Swifts winger Rob Taylor and former Reds loan star Simon Hollis have already been snapped up by Brown who says he's now just looking for a striker". Of Penny, Brown said, "He's as good a defender as you're going to see". As for the others "Simon Hollis managed 10 goals in 12 games when he came in on loan in December 2002" whilst of 19 year old Rob Taylor. "Brown said, '"He's a very, very technically gifted player'... Brown is also keeping his eye on four Kidderminster Harriers players. Mark Yates, Sean Parrish and Matt Gadsby are already free agents and Brown is also keeping track of John Williams" says This is Worcs.
"Southport... will continue to run two squads in the Nationwide Conference Youth Northern section next season with the younger group named Southport Vulcans - a revival of the club's 1918-1919 title" reports IC Southport.
Former Gainsborough Trinity chairman John Reames "has been appointed Managing Director at Second Division Wrexham", says This is Lincs.
---
FOR EARLIER NEWS, CLICK
HERE
---