Altrincham Football Club News Archive
2 to 7 June, 2004
---
7 June 2004
IAN CRANEY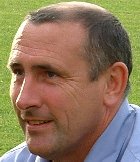 Regarding the Accrington Stanley bid for Ian Craney, Alty manager Graham Heathcote [left], (on behalf of himself and Alty chairman Geoff Goodwin [right]) and, separately, Alty director Grahame Rowley have posted messages on the
Alty Fans' Forum
. These are in response to comments in the
Accrington Observer
(see below, news dated 4 June). The Alty manager's and chairman's text will also appear in this week's
Sale & Altrincham Messenger
. Graham Heathcote writes: "We have given Accrington Stanley our bottom line figure with add ons; they have not agreed the figures [with us]... Accrington know the fee, if they can't meet it, we will be patient". Grahame Rowley adds, "We have tried to be dignified in our dealings with Accrington and Ian but the comments made by Accrington have not been helpful in the negotiations. Let's hope that everyone can get around the table in the proper manner and discuss a way forward for everyone concerned". For the full comments follow the Forum link above.
Accrington report that "John Kennedy has flown to America with the England National Game XI squad... Also drafted up is Stanley transfer target Ian Craney. Negotiations for the Altrincham midfielder have now all but stopped, though may well continue later in the month".
OLD BOY
Trafford, whom we meet in pre-season, are to launch a "new modified"
website
today. Yesterday the club reported that "Manager Danny Johnson today doesn't expect [ex-Alty man] Simon Woodford to be fit to start pre-season training on the 1st July... Simon is still struggling with the knee injury he sustained against Mossley back in March. He has been cleared by the knee specialist but that fact that Simon is an engineer and doesn't get much chance to rest it, is prolonging the recovery. I would expect [him] to miss the first couple of weeks of the season".
CONF. NORTH NEWS
Confguide
reports that "The Nationwide Building Society, which already has one year left on its [Conference] sponsorship deal, extends the scope to take in the two new regional divisions. Unfortunately, the company has already closed down its football web site, having lost the Football League sponsorship to Coca Cola... The regional divisions will adopt the 'five sub' rule - clubs can nominate up to five substitutes, of which up to three can be used in a game... Three clubs will be relegated from the National Division [perhaps!]... The Champion club of each regional division is promoted to the National setup. Four teams from each regional division play-off against each other to find a North team and South team to compete in a promotion final for the 3rd slot in the National division".
The Worksop website says that "The new league's title will be the Nationwide Conference North. A new cup competition will be introduced also with all 66 teams of the North and South being involved... The Conference North have two representitives on the management committee, they are Brian Scothorn of Hucknall and Charlie Clapham of Southport". The Conference AGM has also confirmed that Ashton United replace Northwich Victoria in the new division.
---
6 June 2004
MOSS LANE GREEN AGAIN
The grass is now growing again at Moss Lane after the recent drainage and levelling work on the pitch.
"ONUS ON ALTY?"
The
NLP
quotes an Accrington spokesman as saying that "Things are still up in the air and the ball is very much in Altrincham's court" regarding Stanley's bid to buy Alty captain, Ian Craney. "The spokesman refused to discuss the size of the fee sought by Altrincham, but it is believed to be well into five figures. Negotiations over Craney's future have come to a temporary halt with Alty chairman Geoff Goodwin and manager/secretary Graham Heathcote, as well as Accrington boss John Coleman, all on holiday".
Earlier, BBC Sport reported that "Ian Craney's move from Altrincham to Accrington has collapsed. Craney, last year's Unibond League player of the year, had agreed personal terms with Stanley. But Accrington chairman Eric Whalley says the deal for the 22-year-old has fallen through after disagreement on the size of the fee for Craney".
OLD BOY
Danny McGoona has joined UniBond First side Colwyn Bay from Caernarfon Town; he had a previous spell at The Bay a few years ago.
NEXT SEASON
The Conference AGM at Eastbourne, yesterday, decided that Ashton United will be promoted to Nationwide North to replaced reprieved Northwich Victoria. Play-off runners-up Burscough have reportedly decided not to appeal against this decision. It must now be decided whether Ossett Town or the new AFC Telford go into the UniBond Premier instead of Ashton.
It is also reported that Nationwide will sponsor the National, North and South divisions of the Conference and that squad numbers will not be used below the National division.
CONF. NORTH NEWS
At
Worksop Town
the website reports that goalkeeper "Ian Bowling has been placed on the transfer list at his own request while under-contract players Mark Haran, Simeon Bambrook, Linden Whitehead, Ryan Davis, Gary Townsend and Neil Glasser are all understood to be considering new financial terms. Out of contract players include Joe Taylor, Alex Callery, Ryan Ludlam and Steve Hawes".
Halifax Today reports that "Halifax Town have failed in their bid to wrap up a deal with experienced midfielder Kieron Durkan, who has decided instead to sign for Conference North outfit Runcorn FC Halton. Halifax boss Chris Wilder...said: "He's been offered a job outside football with the chance to play in Conference North so he's decided to take that. We earmarked Kieron as one of the signings we wanted to make and offered him our top wage but there's nothing we can do about it if another club tops that".
"Anxious AFC Telford United officials face a weekend of uncertainty after the crucial decision on which league the newly-formed club will play in was delayed", says the Shropshire Star. "FA officials were due to announce their result of seven days of deliberations to the club Friday... But lengthy negotiations failed to produce a definite conclusion, leaving the new club in limbo for a further 72 hours at least. AFC Telford interim director Simon Shakeshaft said: "The FA have decided they will have another meeting on Monday morning".
---
5 June 2004
CRANEY CALL-UP
Confguide
confirms that Ian Craney's call up to the England National Game squad for the game against the USA (see below) was to replace Dagenham and Redbridge's Ashley Vickers. Craney is the only non-Conference player in the squad.
CONF. NORTH NEWS
"After a meeting last week, Hucknall Town are pleased to announce that their future now lies at the present ground at Watnall Road. Verbal agreement has been reached with landlords, Bolsover Properties, and the Club can now plan development on the ground... Ground Development plans are in hand, and applications for grants from the Football Foundation can now be sought to enable work to commence. It is hoped a lot of the work will be completed by the end of this year".
Hucknall's entry prices will be £7 for adults with season tickets costing £120. The club is seeking stewards "aged between 18 and 55, and a Lover not a Fighter. Rewards - free entry to games, up to 5 free pints in the bar after a game, and a superb bright yellow jacket" says Hucknall Town's website.
But "Runcorn FC Halton are pleased to announce that we will be kicking off the inaugural Conference North season in August with the cheapest gate prices in the league... Adults will pay £7.00, with Concessions paying just £3.50. Concessions next season will include the over 60's and those in full time education. For the under 14s, the club will be continuing its revolutionary 'Kids Go Free' scheme next season, the only club in Conference North to offer such a scheme. Every child under the age of 14 will be admitted free to league matches if accompanied by a paying adult regardless of which club they support. The club will also be allowing students entry for £3.50 next season" says their website.
Hinckley, too, will be charging £7 for adults, whilst Stafford Rangers are probablt the dearest club, with entry costing £9 and a seat being priced at £11.
Burscough confirm that "Ashton United have been awarded the vacant place in Conference North... Ashton finished in 14th position in the league while Burscough were runners-up in the play-offs". However The Linnets are considering an appeal.
UNIBOND NEWS
Radcliffe Borough
confirm that "The proposed swap deal between Radcliffe Borough and former rivals and now Conference North outfit Stalybridge Celtic involving Tony Whealing and Andy Heald has been completed... Heald was previously in the Conference with Morecambe and Leigh RMI". Radcliffe "are to receive a nominal fee also as part of the deal".
Whitby Town have released defenders Tony Hall and Adam Reid.
---
4 June 2004
ASHTON UP?
Seemingly reliable sources on the
Pyramid Portal
report that Ashton United will be replacing Northwich Vics in the Conference North next season. However, until the Conference meets over the weekend, this cannot be confirmed.
CRANEY CALLED UP
Altrincham captain Ian Craney has been called up to go on a USA trip with the England National Game XI, the "non-league" international team. He departs tomorrow after getting a late call-up this morning. Craney has already played once for the National Game XI, against Belgium in February, 2003. England play against the USA at the Blackbaud Stadium in Charleston on Wednesday 9th June.
CRANEY "GUTTED"?
The
Accrington Observer
writes that Stanley "target Ian Craney is said to be gutted after his move to the Reds fell through - at least for now. The 22-year-old Robins captain, who won the UniBond Player of the Year award this season, had agreed terms with Stanley and thought he was on his way but chairman Eric Whalley says the deal could now be off. 'We made Altrincham two offers for Ian and they agreed the second one', said the chairman. 'The lad agreed terms and it seemed all sorted but then, when they started reading out the figures, it didn't add up. It wasn't what I had agreed'. It is thought Altrincham wanted around £15,000 from Stanley with appearance fees for their 22-year-old midfielder. 'I have spoken to the lad and he is gutted. He wants to come here', added the chairman. 'It is said there is another Conference club chasing him but he only wants to come to Accrington. It seems dead and buried - for now'".
CONF. NORTH NEWS
IC Ormskirk
reports that "The knock-on effect of Conference club Telford United going into liquidation could yet see Burscough gain the place in the newly formed Conference North that they so narrowly missed out on in the recent UniBond League club play-off final at Bradford Park Avenue... Press Officer Stan Strickland said: 'There is no guarantee that if they do promote another club in place of Northwich that it will come from the UniBond League although I believe it will, to prevent an imbalance between the numbers of northern and southern clubs. The two main candidates are Ashton United, who finished 14th, just below the automatic promotion places, and Burscough, who were beaten play-off finalists. I believe we have very strong case to be the promoted club so we have spent the past few days presenting our case in writing to those key players on the FA's National League Committee who will make the vital decision. Our case is based on the fact that two clubs from the Ryman and Dr Martens Leagues play-offs for the expanded Conference yet only one from the UniBond League was allowed to qualify. This has created an obvious disparity that can be corrected by promoting the second placed club in the UniBond play-offs - Burscough. We also believe that once we had gone into a play-off situation league position came secondary to success in the play-offs, that is the way play-offs work. Ashton United gained advantage from their 14th placed finish by playing all their play-off matches at home while Burscough reached the final despite playing away throughout'".
Barrow's Forum says that the Bluebirds' "utility man Kenny Mayers has joined Kendal on Unibond forms after only a few months at Holker Street... Goalkeeper Mark Thornley has also joined from Lancaster". Kendal are managed by Tony Hesketh, former manager of Lancaster City.
Worksop Today says that "Town boss Ronnie Glavin has brought a proven partnership to Sandy Lane, Peter Price and John Peachey, to make up his backroom staff. The three have worked together at Wakefield and Emley". Glavin added "I also intend to bring in a goalkeeping coach at a point nearer the start of the new season".
From This is Worcs is news that "Veteran Worcester City full-back Paul Carty is to have routine surgery on a cartilage injury... The left back is aiming to be fit for the opening match of the season but will not risk his knee unless fully fit".
Southport "Secretary Ken Hilton announced to the Visiter this week that the 'Port have pegged their season tickets to last season's prices and turnstile entry will also remain fixed with the club's aim to start the season with a 1,000 plus gate... Mr Hilton said: 'Our supporters stuck by us last season and we intend to repay that loyalty'", reports IC Sefton.
Kettering striker Jason Turner has moved to Histon. NL Daily also reports that "Former Northern Ireland international Jon McCarthy... is likely to depart Hucknall Town... Already Northwich Victoria... have expressed an interest".
"Nuneaton Borough's bid to sign the vastly-experienced Craig Norman from rivals Kettering Town has suffered a hitch after the player injured himself whilst on holiday... Norman suffered a recurrence of the groin injury which kept him sidelined for the last five games of last season while out running in Las Vegas". The Boro' manager Roger Ashby said "Everything is in place but we cannot sign him until he is fit, and he knows and understands that... Norman, a former Chelsea youngster, made 369 appearances for the Poppies and netted 79 goals in nine seasons, and is seen as the ideal man to fill the void left by fans' favourite Terry Angus" reports IC Coventry. Alfreton Town report that "work is continuing at the North Street stadium and a new water supply is being installed which will allow the Reds to open a secondary food outlet and a new toilet block adjacent to the Tom McRoy stand side of the ground. The club also intend having two new turnstile blocks operational for the new season which will double the current entrance flow rate [and, with other works]... will enable the Reds to seek a new safety certificate of around 3,500 from the 2,000 currently in place". The goal is "a national Conference ground grade before April 1, 2005".
OLD BOYS
Barry Whitbread's son Zak, 21, "is a tall, commanding presence who has marshalled the centre of defence for the Liverpool reserve side for most of the season. Barry played and managed at Canal Street [Runcorn] as well as winning caps for England at non-league level. He is now a coach at Liverpool's Kirkby youth academy, where he works with Steve Heighway to produce the Michael Owens and Steven Gerrards of tomorrow... Born in the United States, Zak has dual nationality and was approached by the USA to play for their national youth team. Last summer he starred in the World Youth Championships, and this season he has been part of the Under-23 USA Olympic team... The family moved back to Runcorn to further Zak's dream of making it as a professional footballer" reports
IC Cheshire
.
Kevin Ellison, on loan at Lincoln City, is one of the players, along with former Hyde star Simon Yeo, "mulling over one-year deals offered by boss Keith Alexander last month", reports This is Lincs.
AND FINALLY...
Nothing to do with the Conf. North but of some local interest... from
Confguide
: "A cheque for £18,000 from champions Chester City to Hereford United has bounced according to the
Hereford Times
. The payment relates to sales of tickets to away fans for the final day clash between the clubs at Edgar Street. Hereford have started legal proceedings to recover the money owed. Graham Turner said: 'We regret having to have to take legal action but Chester 's actions have left us with no alternative'".
---
3 June 2004
MORE INTEREST IN CRANEY
Following the two recent rejected bids from Accrington Stanley for Ian Craney, Altrincham FC reports that another Conference club has shown interest in taking the club's captain from Moss Lane.
Also interested are Barrow, whose Holker Street Newsletter states that Craney, "the Altrincham midfielder, was a reported target of Barrow AFC manager Lee Turnbull but it now seems likely we'll be unable to match the lure of Conference football".
STAR TEAM
STAR are organising a team of Alty supporters to play in Blackpool this weekend. Anyone interested in playing should contact
Brian Flynn
.
ALTY QUIZ TEAM
Courtesy of Mike Garnett, the following has been supplied to me by the Club:
Altrincham F.C. once again made it through to the last eight of the Ladbrokes National Non-League Knowledge Quiz and were invited in the persons of Mike Garnett, Malcolm Riley, Andrew Timms and Kim Brocklehurst, to the Trophy Weekend at the Quality Hotel in Walsall. Illness prevented Kim from appearing and the caricature that is our national rail system did its best to strand the other three of us, but after some interesting adventures which need not detain us we made it to the venue in time for the opening rounds. Holders Forest Green Rovers overcame Hungerford Town in the opening game and then we were pitted against Havant & Waterlooville.
Circumstances dictated that we had to engage a late substitute whose knowledge looked adequate as he correctly identified Southport's ground to gain us an immediate bonus point, but as he then named Moss Lane as the home ground of Macclesfield Town this advantage was soon lost! Indeed, only Malcolm managed to get an individual question right in the first round and we were at an immediate disadvantage against a well-informed South Coast outfit. We held our own in the team rounds but had to admit defeat 15-10 in the final analysis. Rye & Iden United and Winchester City overcame Hertford Town and Guiseley in the other quarter-finals.
After a break for lunch and an afternoon spent with half an eye on some football match in Cardiff involving one mob from the other end of the Borough of Trafford and another from a deprived part of South-East London we reconvened for the semis and final. Forest Green looked almost as good as they had done a year previously in overcoming Winchester and Havant & Waterlooville trounced Rye & Iden. The final mirrored that of 2003 at the start as the Conference club fans proved less strong individually, but unlike ourselves a year before, the Hampshire lads more than held their own in the team stages of the final and emerged victors by a clear ten points.
I suppose we can at least say as far as the quiz is concerned that Alty lost out to the eventual winners - again - but in all honesty the fun of the weekend is in the taking part, the camaraderie and conversation. The dinner after the final was full of good chat and good spirits.
The other element of the weekend was the Trophy Final at Villa Park on the Sunday afternoon. The much-vaunted Canvey Island were defeated by a relatively more limited but determined Hednesford Town, whose performance belied their lowly League position and suggested that the former Southern League sides we will be meeting this season will provide strong opposition.
The railway did its best to spoil our weekend by letting us enjoy the delights of New Street Station - and in particular Platform 10- for almost an hour longer than planned, but in the end we got home having much enjoyed ourselves in a number of ways. Our thanks to Ladbrokes and Tony Williams for organisation and to Keith Davey for his work in organising our own entry.
Mike Garnett.
CONF. NORTH NEWS
Stalybridge Celtic
report that SkyBet has produced odds for the Conference North title in 2004-05. Favourites are Barrow and Hucknall Town at 7/1, followed by Southport (8/1). Altrincham are in joint 16th place at 33/1 with Bradford PA and Vauxhall Motors. Surprisingly Gainsborough languish, with Runcorn, at 40/1 whilst Moor Green are rated last at 50/1.
IC Cheshire quotes Northwich Vics' President Derek Nuttall: "The fans have suffered enough. Next season won't be as bad, can't be as bad. Who knows what we can make of our future now. It is so exciting". The article continues, "There was even a section at the club who believed relegation would only be for the better. But the great escape actually means them being plunged back into a world where they were increasingly the poor relations - there will be 15 full-time clubs in the Conference next season". But Nuttall added, "You are always better playing a level you know and we certainly know the Conference. But the Conference North is an unknown quantity. There are eight to 10 clubs who could contest promotion and the play-offs and they will all be increasing their spending on the team". Vics' reprieve means that "those behind the proposed takeover of Vics have had to rethink their strategy though not their aim, although the Chronicle can report the takeover will not happen for a few weeks yet... It all means Vics are unlikely to appoint a manager just yet. The new regime would want their man in place rather than be presented with the choice of the current board".
Worcester City's latest transfer target is 3,000 miles away in America -- "but John Barton is confident of landing his man", reports This is Worcs. "Barton is holidaying in Spain while the Conference player in question is coaching in the States". Chairman Dave Boddy said the player "has been a top line Conference player in the last two seasons".
The Tameside Advertiser reports that "Dave Miller is warning his Stalybridge Celtic players they face a fight for a first team spot... Having signed Paul Sykes [from Worksop] and Dean Calcutt [from Accrington] to bolster the Blues' midfield... The spending may not stop there as the club have also been linked with a swoop for Radcliffe's Tony Whealing. However, one apparent move, which Miller was unaware of, was the weekend story claiming Ross Clegg had joined Leek Town". Miller said "If Ross has left it's news to me, he hasn't spoken to me" but Leek seem to think otherwise.
---
2 June 2004
CONF. NORTH NEWS
Another Conference North with adult prices higher than at Moss Lane is Kettering Town, whose
website
announces terrace prices of £8.50 and main stand entry as £10.50. However, under-16s pay just £3 to stand and £4 for the stand.
Hinckley United have re-signed Richard Lavery "in a 2 year deal, after the sad financial demise of Telford United. The, erm, 'tough tackling' midfielder will be a favourable signing for the fans who have cried out for a replacement for Dave Crowley... Richard was part of the Hinckley team that won the Dr Martens Western League in 2001, before moving to Nuneaton Borough. For the past year he had been playing full time football in the Conference with Telford United". The manager said, "I feel he will be the catalyst for us next season". Hinckley also hope to sign "a former football League defender this week".
OLD BOY
Congratulations to Droylsden's ex-Alty striker Leroy Chambers who gets married this week.
UNIBOND NEWS
IC Newcastle
confirms that "North East social clubs have voted overwhelmingly in favour of selling the Federation Brewery to Scottish Courage".
Blyth Spartans'
website says that "Once the sale is finalised the [Spartans'] club will receive a proportion of the sale".
The Wakefield-Emley website records supporters' unrest at the Yorkshire club following the resignation of Ray Dennis as joint manager, (with Paul David), after seeing his own job advertised in the NL Paper. "Club chairman Matthews said he had no comment to make on Dennis's resignation". The chairman added, "It is with regret that our actions may have caused upset to individuals, especially those with the length of service and dedication to the club which has been shown by Ray and Paul David, but what we all want is the best for this club".
---
FOR EARLIER NEWS, CLICK
HERE
---