Altrincham Football Club
This page is an edited version of the earliest webpage produced under the Alty Pages banner. Alty Pages became the Altrincham FC Official Website until 2018 when it reverted to unofficial status as the AltyFiles website.
Unfortunately, during several enforced transfers of hosting service from U-Net, NTL World, Virgin Media and 1&1, one of more of those companies was less than efficient and a number of images from this page were lost in the process.
Data below was, (hopefully), correct at the time of writing in 1998-2000 but more uptodate data will be found by following the Archive link at the bottom of this page.
---
The Club
Altrincham Football Club were founded in 1903. they have played in the following leagues:
1903-11 Manchester League
1911-19 Lancashire Combination
1919-68 Cheshire County League (founder members)
1968-79 Northern Premier League (founder members)
1979-97 Football Conference (founder members)
1997-99 Unibond Premier League
1999- Football Conference
Honours to Date (2000)
Alliance Premier League (now Conference) Winners 1979/80, 1980/81

Bob Lord Trophy 1980/81
Cheshire Amateur Cup Winners 1903/04

Cheshire League Winners 1965/66, 1966/67

Cheshire League Cup Winners 1932/33, 1950/51, 1963/64

Cheshire Senior Cup Winners 1904/05, 1933/34, 1966/67, 1981/82, 1998/99

FA Cup First Round 1921/22, 1933/34, 1963/64, 1971/72, 1972/73, 1975/76, 1976/77, 1987/88, 1990/91, 1995/96, 1996/97

FA Cup Second Round 1967/68, 1973/74, 1982/83, 1984/85, 1986/87, 1988/89, 1992/93

FA Cup Third Round 1965/66, 1974/75, 1979/80, 1980/81, 1981/82, 1985/86, 1994/95

FA Cup Fourth Round 1985/86

FA Trophy Winners 1978, 1986

FA Trophy Finalists 1982

Manchester League Winners 1904/05, 1906/07

Northern Premier League Cup Winners 1969/70

Northern Premier League Challenge Shield Winners 1979/80

Unibond League Challenge Cup Winners 1997/98

Unibond League Challenge Shield Winners 1998/99

Unibond Premier League Champions 1998/99

Best Results
Sixteen victories against Football League clubs have been recorded by Altrincham.
1986 Birmingham City 1 Altrincham 2 (FAC3R)
This was the first ever defeat of a First (Premier) Division team, away from home by a non-League club in the FA Cup.

Other League teams beaten :
Tranmere Rovers were beaten 4-2 in 1921/2 in a FA Cup Qualifier. Other teams defeated in the FA Cup Proper include: Crewe Alexandra, Rotherham, Scunthorpe, Sheffield United, York, Hartlepool.
Honourable draws were also achieved in the following matches;
1975 Everton 1 Altrincham 1 (FA Cup)

Tottenham Hotspur

Leyton Orient
Notable defeats included:
1980/81 Liverpool 4 Altrincham 1 (FAC3R). Current trainer, Graham Heathcote, scored the Altrincham goal from the penalty spot.
Altrincham were founder members of the Alliance Premier League (now the Football Conference) in 1979/80 and were its inaugural winners, at a time when automatic promotion to the Football League was not in place. They failed to gain election to the League by one vote in 1980. In 1997 the Club suffered its first ever relegation and for two seasons were in the Unibond Premier League (Northern Premier League).
Gallery 1998/99 Below is a selection of pictures from the away games against Leigh RMI (13 March 1999- lost 2-3), Bamber Bridge (20 March 1999- won 1-0) and Guiseley (1 May 1999- lost 0-2) and the home match which clinched the championship, versus Emley, on 29 April. Season 1998/99
The 1998/99 season ended in triple success. Having won the Unibond Challenge Shield on 8 August, which pitted the previous season's Unibond Cup winners, Altrincham, against the League winners, Barrow, the Altrincham team also triumphed in the Cheshire Senior Cup Final, defeating Conference-side, Northwich Victoria 1-0 at Witton Albion and, most importantly, won the Unibond Premier League by four points. Altrincham thus return to the Conference after an absence of two seasons.
The season had a number of remarkable features:
After eight games, Altrincham were joint bottom with no wins, four draws and four defeats.
Altrincham were awarded five penalties during the season and missed four of them.
Altrincham used forty-five?? players in League matches, as either participants or substitutes.
Altrincham had the best defence in the whole of the top two tiers of Non- League football; their thirty-three goals conceded was only matched by Nuneaton Borough in the Dr Martens League.
Some Match Reports (1998/99) and Pictures
---
Saturday 13 March 1999
Leigh RMI (2) 3 Altrincham (0) 2
---
Altrincham were forced to make several changes, owing to suspension and injury. The resulting makeshift side lacked Russell, Harris and Robertson and employed centre-back Ellender in a midfield position. With the sudden departure of Mark Ward a few days earlier, following a disagreement with the management, the midfield was also under par. Leigh established a two-goal lead by half-time.
Ellender moved further forward but Altrincham missed a first-half penalty after he was pulled down. Adams's spot-kick was well saved by Felgate. A third Leigh goal arrived just after the interval. Altrincham recovered with an own goal from Turpin and a header from Ellender and appeared to have saved the match when they won a penalty for a blatant hand-ball in the closing minutes. However, Ellender's side-footed attempt, see right-hand photo below, was saved, to his left, by Felgate. the other pictures show other second-half action.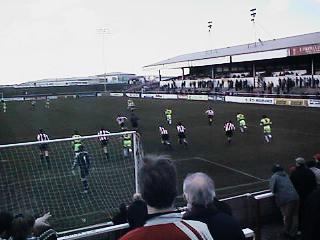 Click on pictures for larger versions.
---
Saturday 20 March 1999
Bamber Bridge (0) 0 Altrincham (0) 1
---
A season's best crowd of 890, mostly Altrincham fans, attended this match on a sunny afternoon. The compact Irongate ground has an attractive modern clubhouse, containing a bar, behind one goal, but one side of the ground is virtually empty where the main stand blew down two years ago. Currently there is no barrier between the ground and the main railway line between Preston and Blackburn.
The ground is also unusual at this level for having a movable cage which protects the players as they enter and leave the pitch through the crowd. The Club produces an excellent programme (48 pages for £1) packed with informative articles and statistics- a model for many more affluent clubs.
Last season Altrincham beat Bamber Bridge 5-0 at Moss Lane and 3-0 at the Irongate Ground, but the Lancashire team is much improved now. This genuine six-point match saw Bamber Bridge start as the League leaders and Altrincham gained only a narrow win, thanks to a 64th minute own-goal by Sculpher, after a shot by Harris.
Altrincham survived a couple of late scares, which were well saved by Coburn and an off-the-line clearance by Ellender, but they were generally in control, especially in the second half, with Harris having a particularly good game. Chambers, restored to his trade-mark black tights, which had been discarded at Leigh, had a good chance to add to the lead but the Bamber 'keeper made a good save. Altrincham have now used forty different players this season and this match saw Martin McDonald, a new buy from Macclesfield play only his second game, whilst Barr was a substitute who was new to the Altrincham team.
The victory restored Altrincham to the top of the league, where they have a two-point advantage over Bamber Bridge and Gateshead and three games in hand on both teams. At half time Altrincham supporters enjoyed an impromptu penalty-taking session with the fans having more success than the team had with its two penalties at Leigh (see above).
Click on the small photos below for larger versions: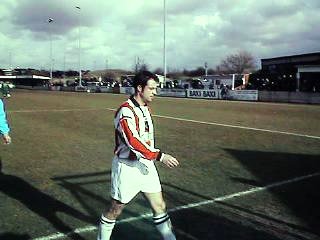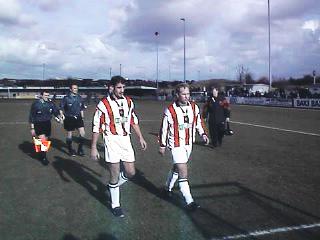 L to R: (1)Bernard Taylor chats before the match, (2) The team take to the pitch, (3) First-half action in the Bamber goalmouth, (4) Simeon Hodson, right-back, (5) Chris Timons, the captain, and Danny Adams (right).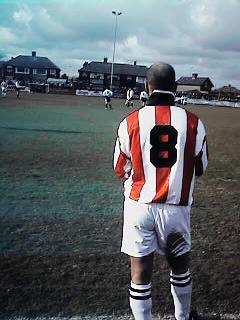 (6)First-half action, (7)Goalkeeper Stuart Coburn, (8) Mick Carmody, former captain, but here a substitute, followed by Paul Ellender, (9) Paul Power waits to take a throw-in, (10) Danny Adams (foreground) left-back.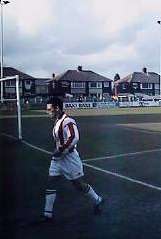 (11)Goalkeeper, Stuart Coburn, (12)midfielder, Jason Gallagher, (13)Paul Robertson, midfielder.
---
Thursday 29 April 1999
Altrincham (0) 1 Emley (0) 0
On Thursday, 29 April, as pictured above, Altrincham ground out a 1-0 victory over Emley, at Moss Lane, to clinch the Unibond Premuership title. The goal came from Lovelock 15 minutes before the end.
---
Saturday 1 May 1999
Guiseley (1) 2 Altrincham (0) 0
This was Altrincham's only League defeat all season in which they failed to score and the result was largely down to having won the League at home to Emley only two days previously and to having played three games in five days. Not until the second half, when Power was moved to midfield and Ellender put up front, did the side begin to function.
Before then, after eight minutes, Ellender had conceded a penalty. After a strong start to the second half, a rare Guisely attack saw the score become 2-0. The fact that the large Altrincham contingent had been shouting to each player in turn to 'Give us a wave' may not have helped the players' concentration. Despite hitting the post from a free-kick, Altrincham were not to score and not unfairly, lost the game, though 2-1 might have been a fairer result. After the match the Premiership trophy was paraded and a good-natured pitch invasion took place, observed by Guiseley's solitary crowd steward.
---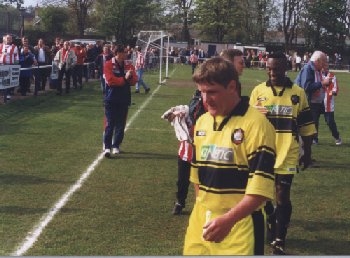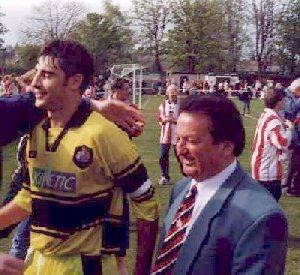 Above: Mick Carmody and Leroy Chambers leave the pitch at Guiseley, as do Bernard Taylor and captain Chris Timons.
---