in conjunction with the

and the


Match Report

4 August, 2000



Friendly Match, played on Friday, 4th August, 2000, at 7.30p.m.


ALTRINCHAM (0) 0 BRADFORD CITY (0) 1
SCORERS
70 mins: Isaiah Rankin
---
REFEREE: Mr A. Taylor
---
ATTENDANCE: Guesstimate 750.
---
TEAMS

4.8.00
ALTRINCHAM
versus.
BRADFORD CITY
7.30pm
Red, White and Black
---.
Claret and Amber
1.
Stuart COBURN
1.
Gary WALSH
2.
Jason GALLAGHER
2.
Dan PETRESCU
3.
Danny ADAMS
3.
Mark BOWER
4.
Eddie TURKINGTON
4.
Scott KERR
5.
Gary TALBOT (capt)
5.
David WETHERALL (capt)
6.
Mark WARD
6.
Ashley WESTWOOD
7.
Stuart QUINN
7.
Jamie LAWRENCE
8.
Steven HAWES
8.
Lee SHARPE
9.
Carl FURLONG
9.
Isaiah RANKIN
10.
Phil POWER
10.
Gareth GRANT
11.
Stuart SCHEUBER
11.
Peter BEAGRIE
12.
Barry CROWE
12.
Andrew LEE
13.
Richard LANDON
13.
Aidan DAVISON (gk)
14.
Leroy CHAMBERS
14.
Adam HARDY
15.
Adam FARLEY
15.
Lewis EMANUEL
16.
-----
16.
Ben JONES
17.
Scott WILSON
17.
Garry TYSON
18.
Mark MADDOX
18.
-----
19.
-----
19.
-----
20.
Mark O'CONNOR (gk)
20.
-----
---
Right: Bradford City's players warm-up before the match; picture courtesy of Alan Johnson, whose other pictures of the match may be seen at the Official Altrincham FC site.
---
SUMMARY
Altrincham suffered a narrow defeat to a Bradford City side which included more than half a dozen first-team regulars. It was only in the closing stages, after Altrincham had made a number of substitutions that the visitors gained the upper hand.
---
TEAM NEWS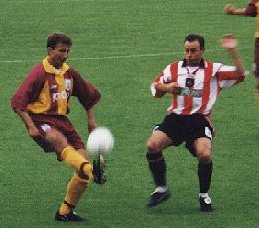 Left: Mark Ward and Dan Petrescu compete for the ball.

The presence of newly-signed Dan Petrescu in the Bradford ranks brought a respectable crowd and a strong showing of the media, including Sky TV, to this friendly match at Moss Lane. The Romanian, however, was to have a quiet game. Off the pitch, Malcolm Allison was prominent in the directors' box, presumably running his eye over Bradford for his Arsenal bosses; Neville Southall was amongst the Bradford management team, whilst Manchester City's Shaun Goater paid his £6.50 at the turnstile to watch the match, having been invited along by Mark Ward, with whom he had spent the afternoon at a presentation. For Altrincham, as feared, Kevin Ellison was unfit to play and Leroy Chambers, sporting a bandage on his left hand, was given a rest on the substitutes' bench. Carl Furlong and Phil Power were paired up front, with Gallagher, Turkington, Talbot and Adams at the back. In midfield, Mark Ward started the game alongside Steve Hawes, Stuart Scheuber and, on the right, Stuart Quinn. The Bradford side included team captain, David Wetherall, ex-Manchester United 'keeper, Gary Walsh, Peter Beagrie and the crimson-headed Jamie Lawrence. Dean Saunders was injured and unable to play, whilst Portuguese trialist and ex-West Ham player, Hugo Porfírio, completed half a dozen circuits of the ground in his training kit but did not figure in the Bradford squad as his international clearance to play had not come through in time. Similarily for Altrincham, Shaun Goodwin was present but not playing.
---
MATCH REPORT
From the start, Altrincham were not overawed by their Premiership opposition and throughout the match stuck to a passing game despite being closed down more speedily by their opponents than is the case at non-League level. Bradford's first opening came on six minutes when Grant's cross skimmed off the head of Kerr and went well wide of the Altrincham goal. For the home side, Carl Furlong was chasing everything but was narrowly offside as he tried to latch onto a through ball from Adams, as Walsh advanced to meet him (7 mins). Stuart Quinn was also looking lively, on the right wing but his energetic lunge at Dan Petrescu was rightly judged a foul (10 mins). For Bradford, Jamie Lawrence got past Scheuber but Gallagher intercepted the ball inside the home penalty area before any real danger ensued. A cross from Lee Sharpe was met well by the head of Ashley Westwood, the Bradford centre-back, and although Coburn saved comfortably, offside was given (12 mins). After good work by Quinn was undone by his own poor cross, Bradford won a corner off Adams after good interplay by Beagrie, Rankin and Grant (14 mins). Coburn punched the ensuing corner by Beagrie well clear. Sharpe and Rankin then combined to set up Beagrie who shot narrowly wide as Bradford pushed forward (17 mins). At the other end, Furlong almost got on the end of a Gary Talbot through ball, with the ball eventually reaching Quinn, on the right whose intended pass for Furlong resulted in an Altrincham corner, although the Altrincham number nine appeared to have handled the ball as he rose for an intended header (20 mins). Bradford, too, were threatening the other goal and Rankin got in a firm shot which Coburn beat out, the loose ball eventually being cleared. Dan Petrescu was having a quiet, but solid game at the back for Bradford but uninformed spectators would have been hard-pressed to single him out as the one World Cup star on display. Carl Furlong gave the Romanian a hard time when he wrestled his way past him to get himself into a free shooting position inside the box. However, Furlong's composure deserted him and he blasted his shot high and wide (27 mins). Moments later Phil Power was clearly pulled as he tried to engineer a shooting chance inside the box, but his over-dramatic fall led to Mr Taylor's ignoring the underlying foul. Mark Ward then fed Stuart Quinn on the right wing and after he had beaten his man, he fed Scheuber who ended up on the ground under pressure from a Bradford defender (32 mins). Petrescu then played a ball in to Rankin who, in turn, found Lee Sharpe who sliced his shot well wide. Then, a fine headed clearance by Wetherall almost reached Grant but Coburn dived at his feet to intercept. Jason Gallagher was making a good impression at right back and, from a good ball by Quinn, Jason overlapped down the right wing and won a corner, as the floodlights came on a gloomy night (35 mins). Mark Ward, too, was coming to life after a quiet start and he produced a good pass to Danny Adams, whose strength saw him get the better of Dan Petrescu and get in a firm shot from inside the box, which Walsh saved well (38 mins). Bradford responded with some good passing but the nearest they came to a goal was when Grant shot firmly, but wide (42 mins). The half ended goalless, with the gap of five divisions between the sides being barely evident.
---
HALF-TIME: ALTRINCHAM 0 BRADFORD CITY 0
---
The sides emerged unchanged for the second half and both were caught offside within the first few minutes of the restart. Hawes and Quinn combined to feed Gallagher but his low cross from the right by-line was easily intercepted by Walsh (47 mins). Walsh then came to the rescue again, beating Furlong to a through ball from Scheuber (50 mins). However, Bradford nearly took the lead three minutes later when an Eddie Turkington clearance fell to Beagrie whose superb, swerving shot was beaten out by Coburn only to end up in the net after a melee. To Altrincham's relief, the referee ruled out the goal, presumably for offside. However, the Robins responded with Carl Furlong taking a return pass from Steve Hawes but his shot was blocked by the advancing Walsh (53 mins). Play was now end to end, as Gallagher headed out a dangerous cross but only to Rankin, who screwed his shot wide (54 mins). Turkington and Coburn then got into a mix-up, with the keeper calling for the ball as the centre-back cleared. Turkington ended up injured after this encounter with his own advancing goalkeeper. As he received treatment (57 mins), Barry Crowe came off the bench to replace Danny Adams at left-back. Bradford again threatened the Altrincham goal but Gallagher saved the day with a timely interception of Beagrie (60 mins). Phil Power was finding himself playing deeper, leaving Furlong at times on his own up front. First, Grant made a hash of a good move before a superb ball from Beagrie led to Rankin beating Coburn with a low, placed shot which came back of the keeper's left-hand upright (65 mins). Quinn responded with a threatening run up the right which ended with Bower pushing him over, but no foul was awarded. Grant then set up Sharpe at the other end but his studied sidefoot shot went well over the bar. Scott Wilson then replaced Stuart Quinn, who left the field to a generous ovation (68 mins). Gareth Grant then got past Eddie Turkington on the edge of the box before crossing the ball firmly across the box, where the incoming Rankin met it with a firm shot into the net from close range (70 mins) to give Bradford the lead. Two minutes later, Grant wasted a chance to double the lead when he sidefooted wide when in a good position, after a poor clearance from Stuart Coburn had only found Jamie Lawrence.

The combination of the substitutions and, presumably, tiredness, began to tell on the home team. However, Furlong continued to press forward and won a corner in the 74th minute. Before it could be taken Ward went off to be replaced by Adam Farley, Furlong produced a fine header from the corner but Walsh saved well at the cost of another corner, this time from the right. This time, Talbot met the ball with a firm header which went just wide (75 mins). Turkington then had a narrow escape when he appeared to handle the ball in his own penalty area (77 mins) but he got away with it. Maddox then replaced Turkington (80 mins) and the young central defender limped his way to the changing rooms. After a stoppage to deal with what appeared to be an attack of cramp suffered by Gallagher, Richard Landon replaced the Altrincham number two (83 mins). Scheuber was then bundled off the ball at the Bradford end, before Grant got through the centre of the Altrincham defence and, faced only by Coburn, contrived to put the ball wide of the goal (85 mins). Rankin then allowed a cross to skim wide of the target from a cross from the Bradford right as the Premiership side asserted itself in the closing stages. An ambitious but wayward shot from Barry Crowe and a probing through ball which Walsh gathered before Furlong could get to it, were the best that Altrincham could muster in the closing minutes and when Power was caught offside in the last minute, the Unibond side's last chance of an equaliser had gone. Once again, Altrincham had performed creditably against opposition from a higher league and although this was their first defeat in seven outings under Mark Ward's management, they should be encouraged by their performance.
FINAL SCORE: ALTRINCHAM 0 BRADFORD CITY 1
---


Copyright: ©


Compiled by John Laidlar
---