Match Report
---
Departures during season 2001-02 and the close season of 2002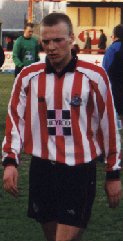 Terry BOWKER (d.o.b. 18 January 1981) A central defender who left Altrincham for Bamber Bridge, for whom he played once in 2000/01 season before sustaining a leg injury. Re-signed for Alty in December 2000 and made his debut versus Ashton in the Unibond Cup (9/1/01) but left for Castleton Gabriels the following week only, bizarrely, to return as sub for Altrincham on 27 January! Terry was established as a first choice by the end of the 2000-01 season but after Mark Ward's departure became a reserve to Maddox, Sertori and Taylor for 2001-02. Terry left the Club in early September 2001 and rejoined Bamber Bridge. He then joined Stalybridge Celtic and played for them against Alty in 2002-03. Appearances for Altrincham - 15(+2) goals 1.



Patrick CLAFFEY

Pat (left) is a centre-back who was an important member of 2000-01 season's double-winning Youth side. In 2001-02 he was a regular in Alty's Reserves and captained them on occasions. He was on the bench in two first-team FATrophy games but did not make his first-team debut before leaving to join Trafford Reserves for 2002-03.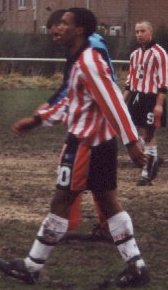 Mario DANIEL (d.o.b. ?1984)
A Trinidad Youth international and member of last year's and this year's Alty Youth team, Mario is a very fast front man. He made his first team Alty debut under Mark Ward in November, 2000. Mario was also a winner of a national Nike soccer "freestyle" skills competition in 2001. In 2001-02 he played 3(+5) games for the first team. Mario joined Trafford in July 2002 and scored on his league debut.


Steve FINNEY (d.o.b. 31 October, 1973, height 5ft 10ins, weight 12st 8lbs)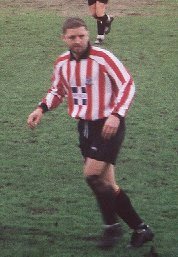 Born in Hexham, Steve's career began at Preston North End in May 1992, where he played one league game (+5 sub apps), scoring once. After a brief spell at Manchester City (no apps) he went on to play 47 times (plus 16 as sub) for Swindon, where he netted 18 times. After a loan spell at Cambridge (4+3 apps and 2 goals), he joined Carlisle in July 1998 and played 22 (+11) games for them, scoring 6 goals. He next joined Leyton Orient (May 1999 2+3 games, no goals) before having an unsuccessful trial at Exeter City, and then joining Barrow before moving on to Chester, where he played 4(+9) games in 1999-2000. After an initial month's loan at Altrincham, during which he scored a hat-trick against Whitby, he stayed on to become the season's top scorer with 11 goals. He then left the Club but unexpectedly returned to bag two goals against Woodley Sports in November 2001. After one more appearance on the bench he was not seen again.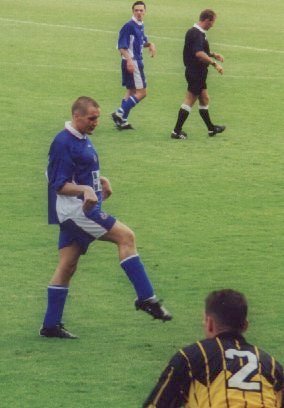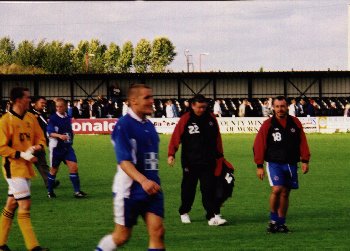 Carl FURLONG (d.o.b. 18 October 1976, height 5ft 10ins)
A young and volatile centre-forward, from Liverpool, who puts a lot of energy into his game. Carl, who is pictured (left) in an uncharacteristic pose, originally joined Alty on a one-year contract for the 2000-01 season, having moved from Droylsden. Before that he was on the books of Cammell Laird on Mersyeside, Netherfield Kendal and Wigan Athletic, for whom he made a number of League appearances. Carl netted five times from his first six starts in the League but was been plagued by injuries and was released in mid-November, 2000. In all he played 9 games (+2 sub) and scored 5 times. He then surfaced at TNS in the League of Wales, being sent off on his debut against Afan Lido on 27 January 2001. Carl returned to Moss Lane in summer 2001 and re-signed in August. He had become the regular partner to Rod Thornley but he suffered a cruciate ligament injury in October 2001 at Witton. He returned in December but got injured again at Burton in December, but resumed plating in January 2002. After his third red card of the 2001-02 season in the CSC Final, after reds at Lancaster and Barrow, Carl's contract was terminated in late March 2002. His total appearances numbered 29 games (+11 sub appearances) and he scored 12 goals. On the disciplinary front he received 11 yellow cards and 3 reds in those games and it is sad that his good strike rate was undone by his temperament. He joined Colwyn Bay for the end of 2001-02 season and had trials at Torquay and Stockport in summer 2002 but remained with the Welsh side for 2002-03.


Barry GUILDFORD
A 25 year-old right-back/midfielder, with Australian and Vietnamese league experience, Barry has also been with Marlow Town of the Ryman Division Two. He made his first team debut for Alty v Colwyn Bay in February, 2002. Made 1(+3) appearances by June 2002. Left the club in close season.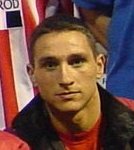 Anthony HARGREAVES

Formerly at Maine Road FC (NW Counties League), Anthony was a talented and speedy striker/midfielder who made his first-team debut as a substitute in the UniBond Cup at Runcorn on 26 September, 2001. Before then he had impressed in pre-season and Reserves' games for Altrincham. Anthony also played impressively as a substitute striker in the Trophy replay versus Spalding on 6 November 2001, and in subsequent cup games. He scored his first senior goal against Woodley Sports in the Cheshire Senior Cup. Went on loan to Bamber Bridge (Jan. 2002) but then was allowed to stay there permanently - even playing against Alty in April 2002!. In summer 2002 had trials at Hyde and joined the Tigers, playing for their first team in 2002-03 season against Alty. Made 1(+8) appearances and scored two goals for Altrincham.
BR>
Kevin HULME (d.o.b. 7 December, 1967, height 5ft 10ins, weight 13st 7lbs)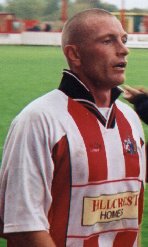 Kevin, a central midfielder signed on 25 July 2001. His career started at Radcliffe Borough before he joined Bury and then Chester. Then, after 34 league games for Doncaster Rovers (8 goals) he returned to Gigg Lane for the same £45,000 fee which had taken him to Yorkshire. In all, for Bury he played 139 games. Next, he signed for Lincoln City (5 starts) and after a spell at non-league Macclesfield from Christmas 1995, he joined Halifax Town (33 games and 4 goals), where he became the team captain. He won a Trophy Winner's medal for Macclesfield and also played in a Wembley play-off for Bury. Kevin followed his former Halifax team-mate, Mark Sertori, to York City in September 1999. At York he started 38 league games and scored 7 goals but he was out for two months with a hernia operation and suspensions. In all, he played 253 League games and netted 40 goals. Kevin has proved a very useful and versatile acquisition, playing in midfield, at centre-back and up-front this season. Kevin left the club for Mossley in the 2002 close season but never played for them before being linked with Leigh RMI. Appearances for Alty by June 2002 50(+1), goals 15.


Jeremy ILLINGWORTH (d.o.b. 20 May 1977, height 1m77cm, weight 74kg)


A midfielder, signed for Altrincham from Ashton United in June 2001, Jeremy was the captain of the Tameside club. He had spells at Huddersfield Town and Cambridge United, having previously been at Wisbech Town. Jeremy scored 16 goals in 53 appearances for Ashton in 2000-01,including the equaliser at Moss Lane against Altrincham in the Unibond Cup competition. 13 of his goals came in the league, where he played 39 matches in the UniBond First Division last season. "Jez" left the club in mid-October to go to Stocksbridge Park Steels. He made 12(+3) appearances and scored one goal for Altrincham. Picture courtesy of Terry Rowley.



Stuart LOCKE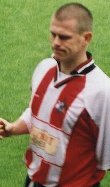 Stuart is a defender with a prodigious long-throw. He made his Alty debut on 15 September 2001 at Burscough after signing on non-contract terms following his release by Stalybridge. He began his career as an apprentice with Manchester City before moving to Northwich Victoria. Stuart then joined Stalybridge in 1990 before transferring to Macclesfield Town in 1992. In 2000-01 he played for Leigh RMI in the Conference before re-joining Stalybridge at the beginning of 2001-02 season. He has also had spells at Leek and Flixton on loan. Stuart has won the UniBond Premier championship with Stalybridge, Leek and Leigh, as well as winning a league title with Macclesfield. Released, through injury, by Alty in November 2001, he reappeared for 2002-03 pre-season games but then left again for Droylsden. Made 7(+3) appearances for Altrincham.



Keith MAIRS (d.o.b. 27 March 1981)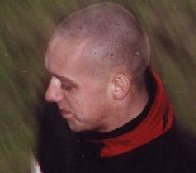 Keith is a young midfielder who made the bench for one Conference game in 1999-2000 and then was an unused first-team sub against Burscough (6 January 2001). He made an impressive first-team debut in the Unibond Cup match at home to Ashton (9 January 2001) and appeared again as sub at Ossett Town the following week. A product of the Alty Youth set-up, he made his league starting debut at Gateshead (January 2001). Keith captained the Reserves in 2001-02 and towards the end of that season began to figure regularly in the first-team squad but got limited chances to play. Joined Trafford for 2002-03. Appearances by June 2002 - 3(+14), goals 0.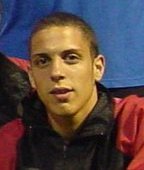 Dale NEWBROOK
Dale is a young goalkeeper who was an integral part of 2000-01's treble-winning Altrincham Youth side he made his full first-team début in the Cheshire Senior Cup against Trafford in October 2001 but he was never selected to play in the League. Dale was the regular Reserves' keeper in 2001-02 but that side was disbanded for 2002-03 and he moved to Trafford in the pre-season 2002. He made his league debut in late September 2002 and also played in the FA Trophy on 5 October 2002. Picture courtesy of Terry Rowley.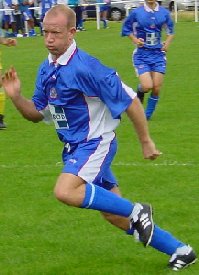 Lee POLAND (aged 23 in 2001)
Lee, an industrial chemist by profession, (23) signed for Northwich on 1 August 1999 before going on loan in March 2001 to Leek Town. His initial month's loan to Leek was extended but he came to Moss Lane on trial in Summer 2001 and signed for the Robins in early August. Although not the tallest of strikers, Lee's strength is on the ground where he shows good pace and skill. He is a particularly good left-footed striker of a dead ball. Lee scored four against Woodley Sports in the CSC and a memorable hat-trick in the FA Cup 1st Round replay at Lancaster. By March 2002 he had hit 15 goals in all but was invariably used only as a substitute in 2001-02. Signed for St Helens Town in July 2002. . Played 22(+35) and scored 15 goals. Picture courtesy of Terry Rowley.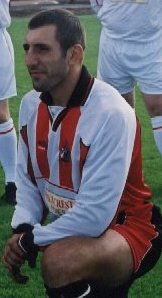 Mark SERTORI (d.o.b 1 September, 1967, height 6ft 2ins, weight 14st 2lbs)
Mark started at Stockport as a striker but converted to become a centre-back. After 3 league games for Stockport County in 1987, he went to before playing at Lincoln, Wrexham, Bury, Scunthorpe (82+1) and then Halifax. However, from Halifax he moved to York City for £20,000, where last season he was re-converted to be a striker/target-man. York City released him in March 2001. After leaving York he had one game for Shrewsbury and ten at Cheltenham before the season ended in 2001. In all, he has made 382 league appearances and scored 17 goals. He signed at Moss Lane, with Kevin Hulme on 25 July 2001 and is seen on the left of the accompanying photo with Hulme. Mark has brought great stability and organisation to the Altrincham defence. He became team captain in March 2002 and was third placed as Player of the Year. Made 62 appearances and scored twice in 2001-02. He left in the 2002 close season and joined Accrington Stanley in July, 2002.


Leon SMITH
Leon is a former Manchester City Academy and Morecambe first-team midfielder, who joined Alty from Stevenage Borough in late 2001 but left after just two substitute appearances.


Steven SPENCER (d.o.b. 6 October, 1981, height 6ft.)
Steven signed from Leigh RMI in December 2001. Prior to that he had been at Sheffield United (2000-01) and had trials at Doncaster Rovers in October, 2001 but left Alty without ever playing.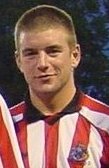 Dave SWANICK (d.o.b. 16 May, 1979)
Born at Bebington (The Wirral), as a trainee Dave had spells at Manchester City and Wrexham. In May, 1999, he joined the Morecambe FC Youth system and progressed to the first eleven, but was released by the Shrimps. He joined Altrincham in August 2001 after playing well in the pre-season games at right-back and also in central defence which is his preferred position. Dave made his first league start in February 2002 and had a consistent run in the side after that. He left the club in 2002 close season for Hyde United, for whom he played against Altrincham. 26 Alty starts (+21 sub). Picture courtesy of Terry Rowley.


Paul TAYLOR (d.o.b. 5 August 1977)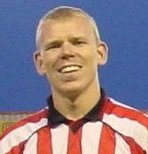 Bernard Taylor's first signing after resuming as manager, Paul joined Altrincham on 25 May 2001 from Hyde United. He had long been admired by Bernard and Graham Heathcote and despite having had an indifferent season in 2000-01 because of a cartilage operation, the Alty management were keen to acquire Taylor on a "Bosman" deal. Paul is a centre-back, who started out at Bury and also had spells at Castleton Gabriels and Bamber Bridge before moving to Ewen Fields. He injured himself in pre-season and only made his league debut in December, 2001, at left-back where he established himself before a knee injury ruled him out for most of the rest of the season and, it is feared, may have ended his career. Made 16(+3) appearances for Alty and scored once. Picture courtesy of Terry Rowley.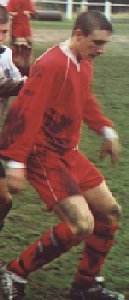 Lee THOMPSON
Lee (seen, right) is a skilful left-sided attacking player who made his first-team debut at North Ferriby in the FA Trophy in January 2002. He joined the Alty Youth side for 2001-02 and played regularly for both the Youth and Reserves teams, scoring at both levels. He joined Trafford in summer 2002 and played occasionally for the first team, as well as Reserves. Apps. 1(+5).




Chris WILLIAMS

A young keeper from Bolton Wanderers who made his debut as a trialist in the friendly against Tranmere on 17 July in which he saved a penalty. He left Moss Lane in the second week of August 2002. He never played in a competitive match for Altrincham.


David WILLS
Small, wingman who came from Trafford Reserves during 2001-02 season, having previously also been at Halifax Town. He left for Mossley in summer 2002 after making 3(+2) appearances for Alty.

---