Match Report
---
Players who departed Altrincham or were not used in 2003-04 season, or left in 2003-04 pre-season.
Greg BYRNE (d.o.b. 1985)

Greg is a tall centre-back who was a key member of the Altrincham Youth team in 2002-03. After playing well in pre-season, Greg was signed by Altrincham on non-contract terms on 6 September 2003.

Chris DOWNEY (d.o.b. 19 April 1983, height 5ft 10in)

Signed from Leigh RMI on 5 January 2004, Chris Downey is a striker who was born in Warrington. He was sub for RMI 4 times after he joined them in September 2003 on a free transfer from Bolton Wanderers, where he was Young Player of the Year in 2001. In 2000-01 Chris made a sub appearance for Bolton Wanderers in Division 1 and also played on loan for Sengkang Marine in the Singapore League in 2002. He made his one and only appearance for Alty as a sub on 6 January 2004. Also that month he played briefly for Trafford but was released from Shawe View to join Mossley in early March 2004. Career record on departure: 0(+1)

Dave GARDNER (d.o.b. 17 September, 1976, Salford)


Altrincham re-signed Dave Gardner from NW Counties side Salford City just before Christmas 2002. He had previously had a brief spell with The Robins but played just one Conference game for them in October 1999 at Welling. After this, he joined Salford City at the start of the 2000-01 season but in January 2001 he moved to Leigh RMI. There, he started one game in the Conference and made three sub appearances before being released in July 2001. He returned to Salford, for whom he scored 3 league goals in 2002-03 season before joining Alty. His started as a Manchester United junior before he joined Manchester City on 1 July 1995. He was released from Maine Road in the 1996 close season and went, on Pontins' League forms, to Blackpool, Birmingham City, Bury and Barnsley before joining Wrexham on 27 January, 1997, where he played one game as a sub in a cup competition. Dave then moved on to Morecambe for a couple of seasons, making a number of Conference appearances. After that he played for various non-league clubs including Macclesfield, Witton Albion, Haslingden, Leigh RMI (two spells), Clitheroe, Curzon Ashton and Salford City, from whom he joined Altrincham in time for his Moss Lane debut on Boxing Day 2002 against Droylsden.

Dave is a partner in the Elite Sports Group with Jason Ferguson, son of Sir Alex. The company brokers football transfers which have included Jaap Stam's move to Lazio and Roy Carroll's transfer from Wigan to Manchester United. Having missed much of the pre-season because of his wedding, Dave started 2003-04 as substitute but was soon on the scoresheet. Sadly, his work commitments halted his appearances for Alty in January 2004. Career record on departure: 25(+10) app's, goals 5.

Barry GEORGE (d.o.b. April, 1986)

Barry was Alty's youth team keeper and also the Cheshire FA youth number one. He signed UniBond forms at the end of March 2004. Barry has also kept goal for the England Partially-Sighted XI as the team's fully-sighted goalkeeper. Moved to Radcliffe Borough in summer 2004. App's to June 2004: 0.

Paul GLYNN (d.o.b. 1985)

Paul (right) was the Alty Youth team captain until the end of 2002-03 and has also played for Cheshire Colleges. He is a right-back or right-midfielder who can be relied upon to score goals as well. After impressing in pre-season, Paul made his first-team debut v. Burscough in October 2003. He has since also played for St Helens Town. Appearances to June 2004: 0+1.

Mark GRIFFITHS (d.o.b. 1985)

Defender/midfielder Mark Griffiths (right) is a two-footed player who is an excellent dead-ball kicker. He has played both for the Cheshire FA and England Colleges as well as being an important member of the Altrincham Youth team in 2002-03, usually at left-back. After pre-season training, Mark was signed on non-contract terms on 6 September 2003.

David HOLT (d.o.b. 18 Nov. 1984, Gorton, Manchester)

David signed on 19 December 2003, on loan from Stockport County. He made one first-team sub appearance for the Hatters in 2001-02 and was given a professional contract in October 2002 after he had netted 6 times in 9 games for the County reserve and alliance teams. A busy, little striker, David made a promising Alty debut on Boxing Day 2003 but County recalled him in mid-February 2004. Career record on departure: 6(+4) apps., 1 goal.

Danny HOOPER (d.o.b. 12 October 1982)

Danny Hooper, 20, a former Stalybridge midfielder, was signed on 8 September 2003 after starting for Celtic just two days earlier. He joined Celtic in October 2002 and played 43 games for them. Prior to that he played in Jamaica and Finland as well as with Stockport County Reserves and, in 2001, Caernarfon Town and Woodley Sports. In fact he played against us in Alty's famous 8-1 win at Woodley that year as well as for Stalybridge against the Robins in December 2002. Made his Alty debut at Vauxhall on 10 September 2003 but moved to Radcliffe Borough on 14 October 2003 but was released in Feb. 2004. Career record on departure: 3(+1)

Mattie HUGHES (d.o.b. 27 July, 1977)

Signed on 27 March 2003 from Salford City, Mattie is a pacey left-footed striker who had already scored 25 goals for the NW Counties League side when he left them. Mattie made a promising debut at Droylsden on 31 March and scored on his Moss Lane debut on 5 April. In his three pre-season games, Mattie scored four times but injured his nose which ruled him out of the opening league game at Alfreton. He then played twice before serving a suspension incurred before he joined Altrincham. Sadly, work commitments halted his promising Alty career by mid-September 2003 and his registration was cancelled in mid-October 2003. He rejoined Salford City briefly then joined Mossley even more briefly in late Jan. 2004. Career record on departure: 7; goals 3.

Ryan HUTCHINSON (born Manchester 20/9/83)

A right-midfielder released by Stoke City after regular games for their Reserves. Ryan (right) had emerged from the youth team. Signed for Alty on 8 March 2004; debut next day at Gainsborough. Signed for Leek Town at the very end of May 2004 and then Flixton in late September 2004. Career record on departure: 3(+1).

Kelvin LUGSDEN (d.o.b. 4/4/86)

Kelvin and his twin brother Kieran joined the Altrincham Youth team in late April 2003 from New Mills. He played at left-back, in midfield and centre-back for the Altrincham Youth team. Kelvin made his first-team debut, as a substitute, in the UniBond League Cup match at Workington on 18 November 2003. He has also been a regular first-choice for New Mills's first team in the Air Miles Manchester League. App's to June 2004: 0(+1).

Dave McCARTHY

Dave was signed on loan from Worksop Town after Richard Acton suffered a shoulder injury at Harrogate on 30 August 2003. Dave had previously been at Hucknall Town for 6 years and was their captain, before he moved to Worksop in February 2002 from where he also had a brief loan spell at Stocksbridge PS. Dave was coaching in the USA in summer 2003 and lost his place in Town's goal to Ian Bowling in pre-season. He played against Alty both for Hucknall and Worksop following spells at Bournemouth and Chesterfield. He made an excellent Altrincham debut against Barrow on 2 September but injured his groin in his second game before returning to action again. Before becoming a keeper Dave was a centre-back! Dave returned to Worksop when Ben Williams was signed on loan and regained his place in the Tigers' first team. Career record on departure: 3 app's..

Robert MATTHEWS (d.o.b. 4 October 1970)

After spending most of last season with Mossley, where he scored 18 goals in 38 appearances, Slough-born Rob signed for Alty on non-contract terms on 6 August 2003. A former schoolboy international, Rob went on to Loughborough University. He made his Alty debut as a trialist in the friendly at Woodley Sports on 17 July 2003 and went on to impress in the other pre-season games. Rob had joined Mossley from Northwich Vics in October 2002 and on his debut hit a hat-trick in the first 45 minutes and also scored the opening goal in the Worthington Trophy final win at Bury. Previously his career took him to Notts County (57 apps. 13 goals), Luton Town (12-0), York City (21-1), Bury (86-14), Stockport County (42-4), Blackpool loan (8-3), Halifax Town loan (8-2) and Hull City (30-4). Rob surprisingly failed to establish himself in the Altrincham first team and returned to Mossley near the end of September 2003 but was released in Feb. 2004 due to a family illness. He scored his only Alty goal, in his second start, at Droylsden in August 2003.Thanks to John Cawthorne, who runs the excellent Mossleyweb site for some of the info. above. Career record on departure: 4(+4), Goals: 1.

Mark RAWLINSON (d.o.b. 9 June 1975, height 5ft 10in, weight 11st 4lbs)

Mark was breifly a trialist at Alty (July 2004). After starting at Manchester United (1993-95), Bolton-born Mark had five years at AFC Bournemouth where he made 79 league appearances and scored twice. In 2000 he went to Exeter City (25 apps 2 goals) before joining Weymouth (01-03) and then Dorchester Town (03-04). He was Weymouth's penalty-taker.

Michael REYNOLDS (d.o.b. 19 June, 1974, height 5ft 5ins, weight 10st 7lb)

Michael (right) was a pacey forward who signed for Alty on 12 September 2003 after briefly joining Droylsden earlier in the season. In 1999 he had been sold by Emley, whom he had joined from local football, to Ayr United for £60,000 but, after 18+27 league appearances, he returned to the Yorkshire club in September 2001. Ironically, his Alty debut was against Wakefield & Emley, as a sub, on 13 September 2003 but his appearances were few and unproductive. He left for Eastwood Town, making his debut for them on 3 January 2004. Career record on departure: 3(+4), Goals: 0.

Paul ROBERTSON (d.o.b. 5 February 1972)

Paul rejoined Alty on 8 March, 2003, having been at Kidgsrove Athletic. He was an important part of the Alty side during its first spell in the UniBond which culminated in promotion to the Conference in 1999. A close season disagreement led to his departure soon afterwards. His early career was at Stockport County, Bury and Doncaster Rovers but Paul has also played for non-league clubs including Runcorn, Hyde, Droylsden, Accrington and Witton. Nicknamed "Coco", Paul is a left-back/midfielder who can take impressive in-swinging corners and free-kicks. He left the club after the Emley game on 13 September 2003 and joined Vauxhall Motors but has not figured much there. Career record on departure: 65+2, 5 goals.

Neil RYAN (d.o.b. 27 January, 1975, height 5ft 11ins, weight 12st 7lbs)

A midfielder/right-back signed from USA side Portland Timbers, Neil is the son of Jim Ryan the Manchester United coach. He made his debut on 12 December 2001 against Vauxhall Motors in the UniBond Cup. In the USA he also played for Boston Bulldogs and in the A-League in Richmond and Worcester, (MA). Neil often takes corners for the side but he was sidelined by injury in November 2002 and made only occasional appearances thereafter. However, Neil played well in 2003-04 pre-season and has appeared once as a sub in the league in 03/04 but decided to try his luck elsewhere in early September 2003. After a move to Kidsgrove foundered when manager Bernard Taylor resigned, Neil made his debut for Trafford on 11 October 2003 but did not reappear for them. Career record on departure: 47(+6) appearances and 2 goals.


Ashley TIMMS (d.o.b. 6 November 1985)

Ashley (right) came to Moss Lane after being released in summer 2003 by Manchester City and having trials in August at Bolton Wanderers. In late 2001 he was in the Oldham Athletic youth side. Ashley is a tall, confident keeper, with a strong left-footed kick. His first 3 Alty games were in 3 different competitions inside 11 days. He made his Alty debut at Vauxhall on 9 September in the UniBond Premier. He then played in the Cheshire Senior Cup against Stalybridge six days later and on 19 September he kept goal in the FA Youth Cup, a competition in which he reached the semi-finals last season with Man. City. Ashley had trials with Oxford United in late November 2003 but moved back to Man. City in February 2004. Career record on departure: 2 apps for first team, 8 for youth team.

Jason van BLERK (d.o.b. 6 October 1970, height 6ft 1in, weight 13st.)

Jason, a left-sided defender/midfielder, signed non-contract forms at Altrincham on 19 September 2003. Born in Sydney, Australia, 16 March 1968 he has 27 Australian under-21 caps and 1 full cap. His career started at Blackdown City in Australia before he moved in 1989-90 to the Low Countries with spells at Leichardt, St Truiden and Dutch League outfit Go Ahead Eagles Deventer. He left Deventer in 1994 for Millwall (73 games, 2 goals) where he stayed till moving to Manchester City (19 games) in 1997/98. He then moved to WBA from 97/98 to 2000/01 (109 games, 3 goals) before spells at Stockport County (13 games) and Hull City (10 games, 1 goal) in 2001/02. In 2002/03 he made 23 appearances for Shrewsbury Town in Division 3, scoring once. Jason made his Alty debut at left-back at Southport on 23 September 2003 but was released in mid-October and had joined Colwyn Bay by 24 October but returned to Australia with Woollongong Wolves in early December 2003. Career record on departure: 2+1.

Nick WELTON (d.o.b. 10 September 1975)

Nick (left) was signed from Mossley on 9 September 2003. He is a tall striker who moved to Mossley in January 2003 from Vauxhall Motors. He was previously with West Cheshire side Ashville and then in Wales with Total Network Solutions (for whom he played in Europe) and Rhyl. Made his Alty debut, as a sub, at Vauxhall on 10 September 2003 and his full debut in the CSC v. Stalybridge six days later. Though used mainly as a sub, Nick will be especially remembered for two late goals at Gateshead in the Trophy this season. Sadly, Nick had to leave Alty in January 2004 when his job moved to London. Career record on departure: 2(+11) apps, 3 goals.

Ben WILLIAMS (d.o.b. 27 August 1982, height 6ft, weight 13st.) Ben was signed on a one-month loan from Manchester United on 19 September 2003, deadline day for FA Cup eligibility. He played 14 league games last season for Chesterfield whilst on loan from 31 December 2002. He was also on loan at Coventry City for a month before that. As well as his loan period at Alty, Ben has played several times at Moss Lane for United Reserves, including the friendlies against Alty in August 2002 and 2003. Ben made his debut at Southport on 23 September 2003 and returned to United at the end of his loan before going on loan to Barnsley in Feb. 2004 and then Crewe. Career record on departure: 6. Picture courtesy of Alan Johnson.
---
Players who appeared in 2002-03 and in 2003 pre-season but not yet in competitive matches in 2003-04.
Luke KILLEEN (d.o.b. 1985)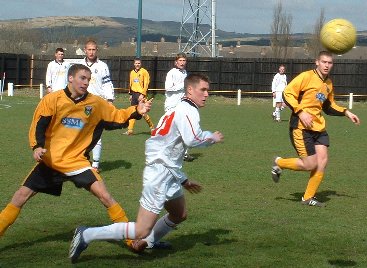 Luke (seen left, in white) made his first team debut, as a sub at Colwyn Bay, on 10 December 2002 having previously established himself as a first-choice striker in the Youth team. As a schoolboy he had been a prolific scorer and represented Bolton & District Schools. Luke was released by Bury during their cost-cutting exercises before he joined Altrincham. He played again for the Youth team early in 2003-04. Career appearances for Alty at June 2003 - 0(+1), goals 0.


Jonathan McEVOY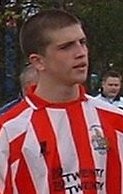 Jon was a regular youth team player in 2002-03 and was an unused first-team substitute for the UniBond league game against Bradford P.A. on 12 November 2002 but made a very good impression as a right-midfield sub against Hyde on 18 November 2002. He was a Cheshire Colleges and County squad player who joined the Altrincham Youth team for the 2002-03 season. Career appearances for Alty at June 2003 - 1(+2), goals 0.

---