Altrincham Football Club Legends Section Twenty Two
Profiles 70-72.
70. Roy REES
71. Fred BIRTLES
72. Frank CARRODUS
---
70 - ROY REES
By Terry Rowley, Joint Editor of The Robins' Review.
Born: 1st January, 1937
Died: 26th November 2011

Roy Rees (pictured below, left) passed away in his Southern California home in Temecula and tributes have been written both here and in the USA.

Born in South Wales, the soft-spoken Welshman was the founder of Altrincham's last period of success in the mid-1970s and 1980s. After a playing career that took in three seasons at Burscough between 1962/63 & 1964/65, Roy turned to coaching, becoming manager of Prescot Cables before moving to Skelmersdale United in May 1968. He commenced rebuilding the side by bringing in future Liverpool star, Steve Heighway and future Altrincham players Stan Allen, Andy Windsor and Ted Dickin and going on to win the Cheshire League and League Shield in his first season in 1968/69 in addition to reaching the semi-final of the FA Amateur Cup.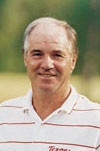 This feat was repeated the following season by winning 30 of the 38 league games, losing just 2 games, scoring 104 goals and conceding just 18 as they retained the title. They also won the Lancashire Challenge Trophy, The Lancashire Floodlit Cup and League Shield and, furthermore, reached the semi-finals of the FA Amateur Cup once again. The following season was to be Skelmersdale's last tilt at the Amateur Cup as they were due to turn semi-pro and join the Northern Premier League the following season.
Roy succeeded in taking Skelmersdale to Wembley in 1971 where they defeated Dagenham, 4-1 in the final of the FA Amateur Cup, with a hat trick from Ted Dickin and one from Andy Windsor. In total, the club played an incredible 80 games that season with Stan Allen playing in over 65 matches. In addition to the Wembley cup win, Roy's side also won the Ashworth Cup and retained the Lancashire Challenge Cup.
The next season, 1971/72, Altrincham manager John Davis was struggling to fire up the side, eventually leaving the club in December 1971. Felix Reilly stepped in as caretaker, as the Altrincham board went after Roy Rees, eventually landing their man in January 1972, bringing with him future Altrincham manager, Tony Sanders as his assistant.
By the end of the season Roy showed his belief in youth by blooding two Altrincham youngsters who were to later become Altrincham 'Legends', Graham Heathcote and John Davison. Season 1972/73 saw Roy rebuild the side, including former Skelmersdale players, Stan Allen, Peter Frankish, Andy Windsor and Alan Wolfe along with young players like John Owens, blended in with the experience of the likes of Lennie Dickinson, Tony Broadhead and Mickey Brooke. Altrincham went on to land the North West Floodlit League at the end of the season, when Roy blooded three more future legends, Peter Eales, Gerry Casey and Joey Pritchard, three players who would become essential to the following season's FA Cup success. In all Altrincham played 64 games in the 73/74 season with the FA Cup second Round matches against Blackburn Rovers being the highlight.
1974/75 was to be Roy's last at Moss Lane, resigning in March 1975, but not before Altrincham's third round ties against Everton. That day at Goodison Park will live long in the memory of all who were there, when John Hughes latched on to a defence-splitting Graham Heathcote pass and regally despatching it.
In addition to his club managerial posts, Roy was also a University lecturer and had been coaching with the FA since 1961. He also took on the role as manager of the British Universities' side, a source of a number of Altrincham players, including, Phil Smith, Peter Frankish, and John Owens. A busy man indeed!
The following season, 1975/76 saw Roy as manager of Bangor City but he was unable to bring any success and left at the end of the season. Roy continued to coach the British university side and coached the British Universities' team in the 1978 World University Games.
He began working for FIFA as an international coaching instructor and coached the national teams in Iraq, Iceland, Sudan, and Algeria.
The second part of Roy's career began in the USA in the early 1980s, where Roy give soccer clinics sponsored by Umbro. He eventually settled in Texas, where he co-founded the Houston Texans in 1983, from which spawned the Dallas Texans in 1993. By 1985 he had begun coaching the USA Under-17 national side and coached the USA at four U-17 World Cups, from 1987 through 1993. He guided the young Americans to historic victories over Brazil in 1989 and Italy in 1991.
By the early 1990s he had already formulated a scheme for a full-time residency school in Houston, that didn't work out until 1999 with the USSF's Bradenton Program opened up, a full-time residency school for young players.
Roy continued to serve as a U.S Soccer coaching instructor through 1997 and, before his retirement, directed youth clubs in Oklahoma (Tulsa Thunder) and Southern California (Southwest SC and Santa Anita). He was a board member of U.S. Club Soccer when it was founded in 2001.
Roy held both a Master of Education degree and a Master of Arts degree from Liverpool University and authored two books on soccer coaching, 'Coaching Soccer Successfully', with Cor van der Meer, and 'Manual of Soccer Coaching'. He also produced a video called 'Soccer Pal Skillbuilder'.
Roy is survived by his wife, Ann, his sons Stephen and Philip, and his daughter Sian. RIP ROY.
---
71 - FRED BIRTLES
By Terry Rowley, Joint Editor of The Robins' Review.
Born: Stockport 5th April 1903
Position: Forward, (primarily inside-left, also centre-forward, inside-right and left-wing)

Stockport-born Fred is one of an elite group of Altrincham players to have scored 100 goals for the club. A versatile forward, able to play right across the forward line, (and often did!), his best position was undoubtedly, inside-left. Fred's four seasons at Moss Lane were even more impressive in that he played at a time when the club were struggling in the early 1930s.

Fred started his senior career as a teenager with Crewe Alexandra in the Third Division North, making his debut, at centre forward in December 1922, in a 1-0 home defeat against Bradford Park Avenue. In all, he made 5 first-team appearances in his first season. The following season he started at centre-forward, scoring his first goals in the second game of the season in a 2-1 away win at Darlington. After 3 goals in 3 games, injury prevented him from playing until late October, when he played a further three games.

He then had to wait until March 29th 1924 to get back into the side, in his more familiar position of inside-left, playing a further 8 games and scoring 3 goals before the end of the season. For his final season he didn't appear in the first team till September, when he scored once in six games. His final two appearances came in December, scoring 1 further goal.
Picture, left, courtesy of www.mossleyweb.com
July 1925 saw Fred signing for Hartlepools United, (as they were then known) where, once again, cartilage problems restricted his availability, with him spending 3 months out of the side but still managing 6 goals in 15 games during the season. Released in May 1926, after just one season he returned to Crewe for the 1926/27 season, where he remained basically injury free and established himself on the left side of the attack playing 30 games and scoring 8 goals.
His final season, 1927/28, found Fred playing across the front line from inside-right to outside-left, scoring a further 4 goals in a further 33 games. With the goals drying up, Fred was released and 1928/29 saw him join up at Cheshire League Chester City where, in 32 league games, he scored 13 goals, in addition to playing in the FA Cup and scoring three goals in three Welsh Cup games.
Due to cost cutting at Chester 1929/30 Fred was allowed to leave and arrived at Moss Lane, where Altrincham had just finished the previous season second bottom of the table in 19th place.
Altrincham's 29/30 season started disastrously, losing the first 6 games, with Fred hardly featuring and, when he did it, was playing at inside-right. He was eventually shifted to inside-left and scored his first goals in a 5-2 win at Moss Lane against Whitchurch. Although records for the season are incomplete, Fred scored at least 18 goals in a season where Altrincham finished rock bottom of the table, conceding 140 goals during the season and Fred had the humiliation of playing in Altrincham's 13-2 defeat at Chester but, at least, he scored one of Altrincham's two goals!
The following season saw an entire turnaround with Altrincham finishing a respectable fourth place in the table, scoring 123 goals along the way, with Fred leading the way with 40 goals in all competitions, including 4 in an FA Cup preliminary round tie with Bangor City and a hat-trick against Hyde United in the Cheshire Senior Cup. Altrincham repeated their fourth place in the table the following season but injuries meant that Fred didn't finish the season, missing the last couple of months but he still managed a further 18 goals, complementing centre forward George Hurst's 41 goals.
Season 32/33 saw Fred weigh in with another 26 goals, as Altrincham dropped to 12th in the table but they reached the final of the Cheshire League Cup, which ended 3-3 with the replay held over to the following season. Injuries were now becoming increasingly more frequent. Even so, Fred was surprisingly allowed to leave at the end of the season, moving initially and briefly to Stalybridge before moving to his final club, Mossley in December 1933 and going on to score a further 27 goals in 71 games before retiring from senior soccer at the end of the 1934/35 season.
Fred Birtles's career statistics are available here.
---
72 - FRANK CARRODUS
By Terry Rowley, Joint Editor of The Robins' Review.
Born: 31st May 1949, Manchester.
Position: Midfield 5'9", 10st 11lbs

The choice of Frank Carrodus as an Altrincham legend might be considered an odd one for the number of games that he played for the club but the fact that he is an Altrincham lad who made it to the top of the professional game justifies his inclusion.