You are in the
MANCHESTER UNITED RESERVES AT MOSS LANE page

Links to rest of site:
Home & News







---

Altrincham Football Club
Hosts to Manchester United Reserves, 2002-03
---
Manchester United Reserves
Manchester United Reserves will be playing most of their FA Premier Reserve League home matches at Moss Lane, the home of Altrincham F.C., during season 2002-03. Ground directions and details are given below. Admission is £2 for adults and £1 for children/concessionaries. Kick-off is normally 7pm. United's home fixtures (as at July 2002) are as follows. However, please check the United site before travelling:
Wed. 21/8 West Bromwich Albion 1-0
Thu. 26/9 Bradford City 2-0
Thu. 3/10 M/cr Senior Cup Manchester City (7pm) 1-0
Thu. 17/10 Birmingham City 3-0
Thu. 31/10 Sunderland 1-3
Thu. 21/11 Aston Villa 6-2
Thu. 19/12 Newcastle United at Old Trafford 2-3
Wed. 8/1 Middlesbrough POSTPONED, frozen pitch.
Thu. 23/1 Everton 1-4
Mon. 10/2 Liverpool 0-2
Thu. 27/2 Blackburn Rovers 1-3
Thu. 13/3 Manchester City
Thu. 3/4 Bolton Wanderers 1-2
Mon. 14/4 M/cr Senior Cup Bury
Thu. 17/4 Leeds United
Tue. 6/5 Sheffield Wednesday
Thu. 8/5 Middlesbrough
---
By Road or on Foot
From the south: Leave M6 at J19, follow A556 to M56 signed for Manchester Airport. Turn off at J6 for Hale Barns. Pass through Hale Barns. Go straight on at traffic lights (Delahays Road [A5144] is the right turn at these lights) and take third road on right (Westminster Road) and continue straight on for half a mile or so, down a slight hill with speed humps, to Moss Lane. Ground is on the right.
From the north: Leave M60 at Stretford and continue south towards Altrincham on A56 for about 4 miles. Follow signs to Altrincham town centre either by taking a left turn after about 3 miles onto the B5164 (Barrington Road. Just after passing the Old Mill pub (on left) and then Altrincham station clock tower (also on left and pictured right), Moss Lane is the first turning on the left, (McDonald's is on the right at this crossroads). However, since 3 November 2002 Moss Lane has been made one-way at the town centre end so there is no longer vehicle access from the the A538 main road (Railway Street/Stamford New Road) which runs through Altrincham. So, vehicles should carry on southwards a quarter of a mile, past Altrincham Post Office (on right), and turn left at the next set of proper traffic lights into Lloyd Street. After crossing railway bridge, with Tesco on the left, turn first left (Manor Road) and proceed to the second set of traffic lights, where you should turn right into Moss Lane (currently unmarked). The ground is less than half a mile away on left, in front of a tall communications pylon, which can be seen from some distance away.
Pedestrians can still turn up Moss Lane from the town centre (A538) and go over the railway bridge, after which there is a large Tesco on the right. Go straight on at cross roads and the ground is half a mile along Moss Lane on the left.
There is a car park immediately behind the "20/20" (Hale) End of the ground, next to the closed nightclub, though it is not very large (c50 cars). Before closure, the nightclub, was known as Richman's, then Ellington's, but its even earlier name, Chequers, is still heard as a name for the Hale end of the stadium. Car parking is permitted on Moss Lane itself, though not immediately outside the ground on match days. There are pay and display car parks by Altrincham Leisure Centre in Thomas Street, off Oakfield Road and off Denmark Street, which run off Moss Lane to the left and right respectively at the foot of the slope of Moss Lane bridge.
Local Map
Click on this link for a map of the Moss Lane, Altrincham area, where the ground is situated; then, close the map window to return here.


By Public transport
From Manchester Piccadilly or Victoria railway stations, or Piccadilly Gardens bus station take the Metrolink tram service to Altrincham (NOT to Bury). This journey takes approximately half an hour. Metros run at frequencies of every 6 to 12 minutes. Buy your ticket from the platform machines before boarding.

Exit Altrincham station on the bus station (Interchange) side. (This is to the right with your back to the Manchester direction). Turn immediately left and proceed up the narrow inclined footpath to the junction with Moss Lane bridge. Turn left, over the railway bridge, and then walk straight on, past Tesco (on the right) and the Bridge Inn (on the left) for approximately eight minutes. The ground is on the left. Buses (16/41/263/264) run from Manchester Piccadilly bus station to Altrincham Interchange (immediately outside the Metrolink station).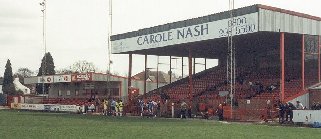 Left to right: The Main Carole Nash Stand at Moss Lane viewed from the Golf Road End, with the smaller Blue Cannon Family Stand to its left; View from the terraces at the Hale End.
---
---
Copyright: ©


Compiled by John Laidlar