Altrincham Football Club
News to 31 May 2000
---
30 May 2000
RUMOURS
The rumour-mill suggests that Jeremy Goss, the ex-Norwich City and Wales player, may be a candidate for the post of Mark Ward's assistant manager. Likewise, Dale Watkins of Kettering is being touted as a possible signing, though this seems unlikely given that he only signed for Kettering last season for £22,000 and before that was the top-scorer in Cheltenham's 1997/98 team and playing a prominent role in their promotion- winning side in 1998/99. Watkins, 28, is a semi-professional international who has played for Peterborough, Rotherham and Sheffield United. He played against Altrincham in the match in March 2000 at Moss Lane. He also reportedly formed a good partnership with Leroy Chambers when the Altrincham man was on loan at Kettering during part of last season.
Also, it is reported that Gainsborough Trinity are interested in re-signing the out-of-contract captain of Altrincham, Chris Timons. However, Mark Ward is hoping to persuade him to stay at Moss Lane.
---
28 May 2000
MANAGER RANKINGS
The
Non-League Newspaper
(28/5/00) carries rankings of last season's Conference managers in which Bernard Taylor is placed joint bottom with Hednesford's John Baldwin, with five marks out of ten. Had these marks been based on points gained per pound spent on players then Bernard would probably have been in the top six whilst Brian Talbot of Rushden, (joint third in these rankings), would have been near the bottom. Curiously, Jake King of Telford, (whose team finished 16th), is ranked as joint third best manager. Sutton's John Rains scored 7/10, even though his team finished bottom by a mile; his team's Trophy progress seems disproportionately to have outweighed their League form.
---
In the same newspaper, it is reported that Simon Parke (Guiseley) who was reported to be a possible Altrincham target at last week's supporters' meeting, has signed for Southport. Kevin Ellison is also noted as one of a handful of forwards from last year's Conference who could be targeted by Nationwide clubs. A list of 1999/2000 transfers includes a number of inward signings who do not appear on the departures list; these include Stuart Walker, Kieran O'Regan, Ally Pickering, Dave Gardner and Stuart Quinn, all of whom have, in fact, left the Club.
---
Altrincham fans will be able to visit another new ground next season, as Emley have confirmed that they will play at Wakefield's rugby league ground, Belle Vue, which has a 9,000 capacity. The Club also has substantial funds available for new players.
---
WHO'S STILL WITH US?
The
Pink
of 27 May states that Phil Power and 'Alty's 10 other contract players are all being retained'. Previous reports suggest that the following are out of contract and/or have been released: Simeon Hodson, Ged Kielty, Mick Carmody, Mike Morrell and Chris Timons, though the last named is to be approached by Mark Ward (see below). The '10 others' would appear to be ten of the following 12 names: Stuart Coburn, Danny Adams, Jason Gallagher, Leroy Chambers, Kevin Ellison, Steve Hawse, Gary Talbot, Mark Maddox, Richard Landon, Keith Russell, Andy Lovelock and Shaun Goodwin. Of these twelve, the only ones not specifically mentioned by Mark Ward at his meeting with the fans this week were Steve Hawse, Dean Greygoose, Gary Talbot, Mark Maddox, Andy Lovelock and Shaun Goodwin. Presumably Lance Key has returned to Northwich. Hopefully, confirmation of who is staying/leaving will come soon. The
Pink
also reports that Mark Ward is interested in signing his former Leigh team-mate and ex-Southport captain, Brian Ross (aged 33), who does not want the extra travelling which comes with Conference football.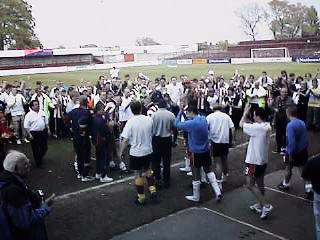 The players come out for the Player of the Year awards, 6 May, 2000.
The
Pink
also printed four letters from Altrincham fans, most of which were positive, although one seemed intent on prolonging the image to the outside world of Altrincham fans as a group riven by hostility towards one another. This is a view which the
Pink
has regularly seized upon recently and which is epitomised by its headline of "Alty row continues to rage".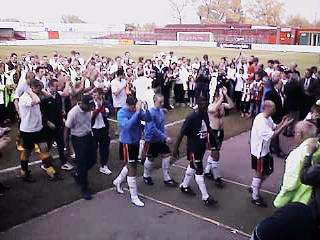 Altrincham's players leave the pitch after the Player of the Year awards cermeony, 6 May, 2000.
How many will return for the first match back in the Unibond?
There is also a wholly gratuitous swipe at Altrincham in an article on Sale R.F.C. by one Geoff Green. He refers to a possible Trafford Stadium, housing both Altrincham Football and Sale Rugby Clubs, describing it as a vision "that might just give that struggling soccer club a kick in the backside". People such as Mr Green, who clearly don't know anything about Altrincham F.C., should have the decency to keep their mouths shut and stick to rugby. Those who attended the supporters' meeting on Tuesday last will know that the football club is already party to discussions with Trafford Council about its future location.
---
25 May 2000
NEW MANAGER
Mark Ward's arrival as manager at Altrincham has been widely and positively reported in the local press, with the
Manchester Evening News
and the
Messenger
both giving good coverage to his appointment. It appears that Graham Heathcote was a strong internal candidate but that Ward's playing role was a significant factor in his winning the vote of the Board.
---
23 May 2000
MARK WARD MEETS THE FANS
Just over a hundred fans attended what Deputy Chairman, Mark Harris, termed the "first of a series of open meetings" at the Club on Tuesday night (23 May). Fielding the questions with Mark Harris were Gerry Berman (Chairman of the Club), Mark Eckersall (S.A.F.E. representative on the Board, Alan Brotherton (S.A.F.E.), George Heslop (Match Day Secretary) and, of course, new manager Mark Ward. Ward revealed that he had been surprised to be approached about the post, having attended the Altrincham v Kidderminster match on a spying mission for Leigh. He indicated that he had not needed much persuasion to take the Altrincham post in preference to an Assistant Manager's role at Leigh. Mark reported that he had already seen a number of the Altrincham players individually and would be seeing more of them after the meeting and on Thursday next. He also intimated that he would be appointing an Assistant Manager from outside the Club, who would also act as a coach. Ward himself vowed to take an active interest in the reserve and youth sides and to inculcate in those sides the same playing pattern as used by his first team squad.

The new manager confirmed the fans' worst fears when he revealed that Player of the Year, Danny Adams, had put in a transfer request. Danny's mother explained that her son's chief concern was that he would not gain international honours at non-League level whilst outside the Conference. Mark quickly underlined his great admiration for the Altrincham left-back whom he judged good enough to play in the League, never mind the Conference. He indicated that he was going to try to persuade Danny to change his mind. Gerry Berman pointed out that England manager, John Owens, was an ex-Altrincham player who regularly visited Moss Lane and that Owens would remain a firm admirer of Adams, whichever league he played in. It was also confirmed that Mick Carmody, Simeon Hodson and Ged Kielty had left the Club on the expiry of their contracts. Chris Timons's contract had also ended but Mark Ward indicated that he would be contacting the Alty captain when he (Timmo) returned from a holiday abroad. No new players had yet been signed, though Mark clearly had some names in mind. Mr Berman stated that he had never turned down a manager's request for a new player since he had become Chairman five years ago. It was reported that both Owen Brown and Stan Allan, who were Bernard Taylor's coaching staff, had left the Club.

Mark Ward is currently working for a coaching badge at the Liverpool F.C. Academy and clearly has his eyes on luring some of the Merseyside starlets to Altrincham not only from Anfield, but also Goodison and Prenton Park. Ward went on to say that the remaining contracted players were the "nucleus of a good side", which was "unlucky to go down" and which included some "quality" players and that he did not think that many additions would be necessary to gain promotion. The names of Phil Power, Leroy Chambers, Keith Russell, Richard Landon and Kevin Ellison were all mentioned as strikers who would, by implication, be staying at the Club. Jason Gallagher, he announced, would play at right-back in future, to replace the departed Simeon Hodson. Should he fail to gain promotion at the first attempt, Ward said that he would regard it as a failure. In response to a query from Gary Warrington, Mark Ward revealed that he had been in touch with Dave Watson and other sources on Merseyside with a view to strengthening the youth side. Ward confirmed that he would play in the Altrincham side and that it would take a good player to oust him from the team! He had good news of Stuart Coburn's rehabilitation; the 'keeper was now training three times a week with a view to being fit for the pre-season friendlies. The new manager rated Stuart as one of the best keepers he had ever played with at any level. Simon Parke of Guiseley was mentioned as a possible recruit; indeed, he had nearly come to Altrincham in the last close season but travelling problems were one reason for his not being signed.



To counter the side's poor disciplinary record, Mark indicated that he and the Chairman would be drafting a disciplinary code which would impose fines on miscreants next season. (Let us hope that Phil Power is not a contributor this time around; by implication his role of coach is over). Mark Ward then had to leave the meeting to see some of the players and Mark Harris handed over the floor to further questions from the fans. Firstly, however, Gerry Berman apologised for bawling out some loud- mouth "supporters" at the end of the Kidderminster game. Those at this meeting largely felt that the Chairman had been right to shout back at the critics. Gerry Berman confirmed that Ward had been selected over other candidates because he could also perform as a "midfield general" as well as a manager. The Chairman went on to defend Leroy Chambers who had been the butt of some fans towards the end of the season. He revealed that Leroy had been badly affected by the terrible racial abuse levelled at him at Boston in the Trophy in 1999 and that he had also been carrying an injury since that game. (Perhaps the only bonus of not being in the Conference will be that we won't have to go to Boston next year in the league). Leroy had vowed to Mr Berman that he would spend the summer training and return as the fittest player at the Club.

Mark Harris indicated that Kinetic, the club sponsors, had left the area and that a new sponsor would be announced in due course. He gave a clue that their identity was not far removed that the company whose sponsorship signs already adorn certain 'facilities' at the Club already. Mark also revealed that Rodney Buxton from Hyde United had been named as the new Commercial Manager, presumably replacing Gavin Price. Price is abroad and has not yet been seen by Mark Ward. In response to Alan Johnson, Mark revealed that the free entry for children would continue at specified matches next year. Replying to Stan Riley, Mark confirmed that match prices would remain at last year's level; relegation had saved the fans from a price rise which the Conference were insisting upon.

In response to a question, Gery Berman stated that the Board remained unaltered and that Bernard Taylor had yet to decide on whether to join it. He berated previous Board members who had attempted to hijack the Club and bemoaned the fact that two millionaires, from Altrincham and Knutsford, had chosen to bankroll Doncaster Rovers rather than Altrincham F.C.. Gerry Berman called for more sellers of Yankee tickets and a plea was also made for help in selling Golden Goal tickets. Alan Brotherton reported that the sponsored walk in April had raised over £2,000 - (even though only 17 walkers took part).

Because of a confidentiality clause signed by the Club, Mark Harris was necessarily evasive when questioned about British Gas's development adjacent to the ground and also regarding Trafford Council's involvement in possible redevelopment of the Moss Lane site. He vowed that no decision would be taken without consultation and that in the short to medium-term, the club would stay at Moss Lane, where it had 29 years left on its lease. He also reiterated that the lease had not been sold. Gerry and Mark then relayed the history of the Club's relationship with Trafford Council; the Council are still insisting on payment for any directional signs erected. It is to be hoped that the secrecy does conceal some positive developments in the not too distant future. Gerry Berman emphasised his commitment to the Club, in whose facilities £500,000 had been invested since he took over.

There was a plea from the floor for more information about the Reserves and Youth teams. In reply, George Heslop catalogued the managerial problems at both those levels in 1999/2000. Mark Ward would be bringing in a Reserve Team manager and

it was expected that players would in future progress through the ranks to the first team, a process which did not happen in 1999/2000 to any significant degree. The venue for the Reserves' matches remained uncertain, given the need to protect the pitch from over use. The groundsman, Peter Barry received a deserved round of applause at this point. Mark Harris confirmed that the new away kit was to be the blue and white strip paraded by Stuart Coburn before the Kidderminster match (see picture). A range of "Alty Leisurewear" would be marketed in the new season and it was hoped that the brand might also be sold to other clubs. Questions were then answered about the role of Associate Directors and Hon. Vice-Presidents; Gerry Berman also announced that some shares were available in the Club. Mark Harris then generously paid tribute to the great work done by S.A.F.E.'s Mark Eckersall both as a Board member and in his numerous other capacities (which range from coach-trip organizer to painting-gaffer).

Mark Harris wound the meeting up with a plea for unity and Gerry Berman added a request for vocal support. Mr Berman had been heartened by the good attendance at the meeting though he did indicate that the behaviour of a small number of fans at the Cheshire Senior Cup Final had cost us a friendly with Macclesfield in the pre-season run-up.

---
21 May 2000
MARK WARD'S PLANS
In an interview in The Non-League Newspaper of 21 May, Mark Ward indicated that, despite the loss of three defensive players since relegation was confirmed, his top priority was a "quality striker". He will be talking to each of the remaining members of the squad personally, having already apparently met them as a group. Mark has declared that Altrincham will win promotion back to the Conference- "it's not if, but when". He confirmed that he would play as well as manage the team.
The same issue of the NLN contains a profile of John Toner, the former Altrincham player, now at TNS in Wales.
20 May 2000

MARK WARD APPINTMENT CONFIRMED

The rumours have been proved correct; Mark Ward has been appointed as Altrincham's new manager. He has been given a two-year contract, having been appointed to the vacant position, despite his not having applied for the post. Ward, aged 37, was seen in the crowd at the last match of the season against Kidderminster, on 6 May, which suggests that moves were afoot for his appointment as soon as relegation was confirmed. Mark played 15 Unibond Premier League games for Altrincham in 1998/99, as well as nine cup matches. He made his Altrincham debut in October 1998 but left the Club following the FA Trophy defeat at Boston on 27 February 1999, following a dispute. Altrincham lost only one league match in which Mark Ward played.

Mark eventually moved to Leigh RMI, for whom his midfield appearances in 1999/2000 were a key factor in their first-ever promotion to the Nationwide Conference. Ward was born in Prescot, Merseyside on 10 October, 1962 and his professional career started at Oldham Athletic, for whom he made 84 appearances, scoring 12 goals. He then moved to West Ham United for whom he also scored 12 goals in 165 appearances. His next club was Manchester City for whom he netted 14 times in 55 appearances, before he was sold to Everton, for whom he made 83 appearances, scoring six times. He then was transferred to Birmingham City, initially on loan. According to Altrincham Chairman, Gerry Berman, Mark Ward will operate as a player-manager in what will be his first managerial appointment. An early task will be to address the departure of regular first-teamers, Chris Timons, Simeon Hodson, Mike Morrell and Dean Greygoose, and to confirm his managerial team.

BRANDAN BURKE
A request by Altrincham for a friendly match against a Manchester United XI in aid of Brendan Burke has been reluctantly turned down by Alex Ferguson, who feared that it would create a precedent to agree to such a fixture. United, however, will donate a signed team item, if a retirement dinner is organised on his behalf. Brendan is now reported to be approaching Manchester City for a testimonial game.

TEAM OF THE SEASON
Despite the team's relegation, both Danny Adams and Kevin Ellison featured in the North West News's 'Team of the Season', published on 17 May.

OLD BOYS
Former Alty keeper Andy Dibble played for Hartlepool in the second-leg of the Division Three play-offs on 17 May. Hartlepool lost to an own-goal and went out 0-3 on aggregate. Another 'old boy', Tim Ryan is on the verge of being transferred from Southport to Doncaster Rovers.
---
16 May 2000
TROPHY APPEARANCE
Alty supporters may be interested to know that Graham Heathcote represented Altrincham in a parade of past winners at last Saturday's Trophy Final at Wembley. Elsewhere, ex-Alty winger Stuart Terry has been released by Northwich Vics.
---
13 May 2000
MARK HARRIS RESIGNS
According to the MEN Pink (13/5) Mark Harris (Dep. Chairman) resigned BEFORE Bernard Taylor resigned on "A matter of principle entirely unconnected to personnel within the club". Yet, later, on Friday (12/5) he pointedly still described himself as Deputy Chairman in the GMR interview described below.

MARK HARRIS INTERVIEW
On BBC's GMR (12 May) Mark Harris (Deputy Chairman of Altrincham FC) revealed that the Board had felt it was time for a change of Manager and that Bernard Taylor had agreed. Enigmatically, he then said that the Club did not anticipate advertising the vacancy and did not have any particular individual in mind, yet expected to make an appointment in the 'short term'. Mark also confirmed that Chairman Gerry Berman, would be staying at the Club, which he had done so much to keep solvent. He went on to refer to the disruption caused to the financial as well as the playing side of the Club by the enforced three-week Conference lay-off in Spring. Alluding to the "terrifying experience" of relegation to the Unibond in 1997, Mark indicated that this time the Club was not entering the unknown and would aim for immediate re-promotion.
---
12 May 2000
BERNARD TAYLOR RESIGNS
Altrincham manager, Bernard Taylor, resigned last night (11 May) following his side's shock relegation from the Conference, after a run-in which comprised eleven games without a win. Bernard is staying with the Club as General Manager, a post he held before and during his tenure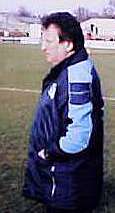 of the Manager's position. He has reportedly been offered a chair on the Board. Bernard built an excellent rapport with the Altrincham fans and his record until the start of April, 2000 was one of which he could be justifiably proud. Since taking over the job during the 1997/98 season he had guided the team to the Unibond Premiership title (1999), the Unibond Shield (1998 and 1999), the Unibond Challenge Cup (1999) and the Cheshire Senior Cup (1999). It was only after reaching the Cheshire Senior Cup Final again (2000) that things began to go seriously wrong. Phil Power's sending off in that match and the absence through injury of first-team regulars cost Altrincham the Cup. An enforced three-week break from Conference fixtures caused by other teams' cup commitments and Conference fixture planners then led to a loss of rhythm and a team which had only lost 8 of its 34 Conference matches then failed to win a further game. The long-term losses of Stuart Coburn and Brendan Burke, together with other injuries at crucial times to the likes of Keith Russell, Dean Greygoose, Simeon Hodson, Mike Morrell and Shaun Goodwin, combined with the enforced sale of Paul Ellender and the lack of resources to bring in reinforcements underlay the slide into relegation. Altrincham were also not helped by a number of suspensions; despite being one of the bottom six in the Conference's 'fouls committed' table, they inexplicably finished second top in the table of 'punishments received' (i.e. yellow and red cards). Apart from the above-mentioned trophies, most of which Bernard immediately presented to the Altrincham supporters after the respective matches, Bernard is to be thanked for the pleasure of two memorable away-wins against the arch-rivals, Northwich Victoria (6-1 and 3-1). Whoever replaces Bernard will do well both to match his record and to build as good a relationship with his players and the team's supporters.

---
Go to ALTRINCHAM FC ARCHIVE
---