You are in the
PLAYERS OF 1936 page

Links to rest of site:
Home & News
Past Players







---

Altrincham Football Club
Players of 1936
---
ALTRINCHAM FC PLAYERS OF 1936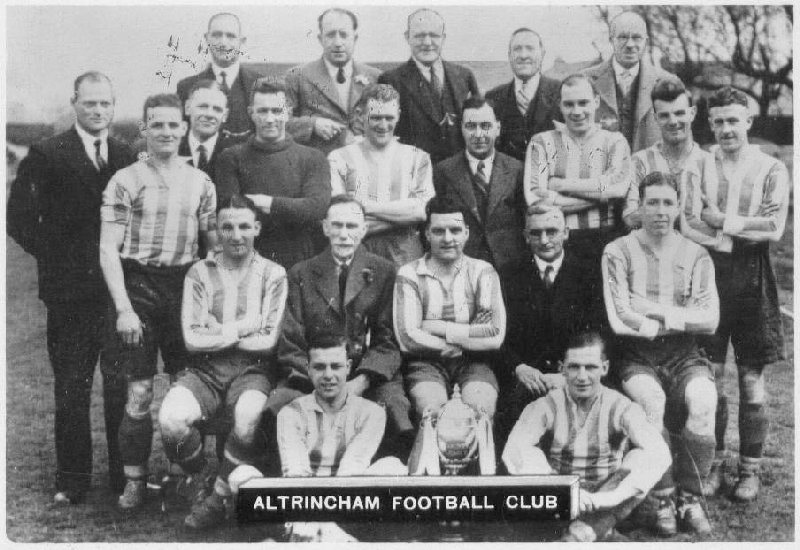 The 1936 team.
Terry Rowley kindly informs me that the above picture "was taken at the end of 1935/36 or very beginning of 1936/37, when AFC were runners up to Wigan. The Line up is:
Back row, left to right: R.Walker, T. Brierley, J.Chapman, A.Hughes & J.Lee
Second Row: Jimmy Seddon (former Bolton and England International) Trainer, E.G.(Emrys) Rees, C. Pace (Treasurer) Alf Steward (G/K), Ray Clipson, J. Moran (Secretary/Manager), Stewart Littlewood, Bob Ward, Spencer Evans.
Third row: Dai Jones, Edward Case (President of the Cheshire County League), Billy Felton (Captain), J. Southern (Chairman), Herbert Blackshaw
Seated: C.Haslam, Stan Gallimore".
---
The following is an anonymous article from the Robins' Review of 9 September 1986. However, I am advised that Terry Surridge was the un-named author and I hope he is agreeable to its reproduction.
Altrincham F.C. awaited the start of the 1936-37 season with great excitement and anticipation. Runners up in the Cheshire County League for the previous two seasons, all at the club hoped it would be third time lucky for the title. As runners-up in 1935-36, the club retained the Edward Case Cup. Their defensive record was slightly better than for the previous season (51 goals against compared to 57), but there was a drastic reduction in the number of goals scored - only 88 compared to 118 in 1934-35.
They remained undefeated at home in the league for the second season running, although they had disappointing cup performances, losing in the League Cup to Northwich Victoria (interestingly referred to as "our bogey team" even 50 years ago), and an unexpected home defeat by Winsford United in the Cheshire Senior Cup. Left-half Spencer Evans was the only player to play every game, although goalkeeper Alf Steward and centre half Bob Ward were each absent only once.
The reserve team rounded off an excellent season, finishing 4th in the South East Lancashire League, winning 12, drawing 5 and losing 9 of their 26 games to total 29 points. However, all was not well with finances. Income did not cover expenditure. As always, the main expenditure was players' wages, travelling expenses and meals. These totalled £1,881-9s-8d, whilst gate receipts reached £1,611-1s-9d. Other expenditure included £132 for players' insurance, £97 for printing, stationery and advertising and £58 for rent, rates and taxes. The total loss for the season was almost £550.
By 1936 the results of the Altrincham F.C. Building Fund Social Club, guided by Harry Jackson, were very evident. Formed in 1931, this fundraising social club had raised almost £2,000 to finance ground developments. These included a new stand and dressing rooms, plus a new shelter on the popular and the reserved sides to increase covered accommodation to 3,500.
For the start of the new season the social club was to run refreshment huts, and with Alf Steward, the former Manchester United 'keeper appointed as player manager, the club looked forward eagerly to a new campaign.
Footnote:
After being runners-up in 1934/35 and 1935/36, Altrincham finished 13th in the Cheshire County League in 1936/37. They were destined not to win that League until 1965/66.
---

Copyright: ©