You are in the
PLAYERS OF 1990/91 page

Links to rest of site:
Home & News
Past Players







---

Altrincham Football Club
Players of 1990/91
---
ALTRINCHAM FC PLAYERS OF 1990/91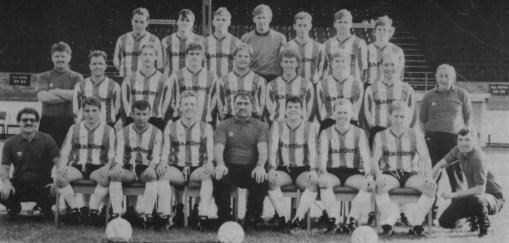 BACK: Mark Cullen, Andy Rooney, Peter Byrne, Jeff Wealands, Paul Showler, Ian Doran, Chris Staunton.
MIDDLE: John Rogers (physio), Gary Simpson, Mark Hughes, Andy Reid, Martin Lewis, Nicky Daws, David Gamble, Harry Wiggins, Keth Prince (kitman).
FRONT: Les Atwood (coach), Neil Kelly, John Brady, Paul Rowlands, John King (manager), Ken McKenna, Nigel Shaw, Neil Young, Graham Heathcote (assistant manager).
---
1990-91 was the season when Altrincham set a Conference record, which still stands, of 28 games without defeat. They looked odds on to win the title until a fixture backlog saw them faced by 13 games in 35 days and from their last 5 league matches just 2 points were taken, when a total of 8 points would have won promotion to the League. They finished third.
The following pen pictures are from the Kidderminster Harriers v Altrincham programme of 15/12/90.
MEET THE PLAYERS
JEFF WEALANDS: Goalkeeper - born 26.8,51. Jeff returned to Moss Lane for his second spell in September 1988. He made 436 Football League appearances, with Wolves (0), his home town club Darlington (31), Hull City (270), Birmingham City (117) Manchester United (8) and Oldham Athletic (10) before winning an FA Trophy winner's medal in his first season with Altrincham in 1986. He made over 100 appearances for the Robins before spending the 1987/88 season with Barrow and has been outstandingly consistent throughout his career at Moss Lane.
NIGEL SHAW: Midfield - born 13.2.63. An extremely versatile player who can play either in midfield as a full-back and has also played in goal. He started his career with his home club Stoke City as an apprentice and then played for Nantwich Town and Congleton Town before joining Macclesfield Town in 1983. He won a Northern Premier League championship winnerís medal in 1987 and was the Silkmenís player of the year in 1986. He joined Altrincham in January 1989.
MARTIN BAKER: Central defender - born 26.2.67. Martin spent two seasons playing in Watfordís reserve side before his studies brought him north and he joined HFS Loans League side Rhyl. He joined Altrincham in November 1988 and quickly claimed a regular first team place with a series of impressive performances but suffered a badly broken leg in last seasonís final League game.
NICKY DAWS: Midfield - born 15.3.70. Three seasons ago Nicky became the first schoolboy to figure in the Altrincham first team for 20 years after being spotted playing in the Bass North West Counties League for nearby Flixton. He claimed a regular place in the Robinsí side as sweeper last season and was voted by supporters as the Robinsí youngest ever player of the year.
ANDY REID: - Midfield - born 4.7.62. A Manchester born midfield player who spent a season with Witton Albion and four years with Southport before joining Runcorn in March 1988. He won a Cheshire Senior Cup winner's medal during his stay at Canal Street and signed for Altrincham in the summer of 1989, figuring regularly in the Robinsí side last season.
ANDY ROONEY: - Full-Back - born 7.8.68. Andy started his career as an apprentice and then a professional with Everton before he joined Crewe Alexandra. He spent two seasons with Runcorn, collecting two Cheshire Senior Cup winnerís medals and joined Altrincham in the summer of 1989, only for his first season at Moss Lane to be ruined by a serious knee ligament injury which limited him to only 19 first-team games.
PAUL ROWLANDS: - Defender - born 10.1.61. A powerful six-foot-plus defender who began his career as a junior with his hometown club Tranmere Rovers and then played West Cheshire League football with Heswall. He made over 150 first team appearances, winning three Cheshire Senior Cup winnerís medals, in a four-year stay at Runcorn and left Canal Street to join Bangor City in October 1988. After spending the summer with Air New Zealand Soccer League leaders Mt. Maunganui, he signed for Altrincham in August 1989 becoming club captain and winning the Robins' Playersí Player of the Year Award.
DAVID GAMBLE: Midfield - born 23.3.71. Former Everton player Mike Lyons took David from his native Liverpool to spend two years as a YTS player with Grimsby Town from whom he joined Altrincham at the start of last season. He showed great promise as he was gradually blooded in the Altrincham first team last season.
PETER BYRNE: - Defender - born 24.9.67. A talented Liverpool-born defender who was a Youth Team player at Anfield and won a Central League championship medal before moving across Stanley Park to play in Evertonís reserve side. He then made over 120 team appearances for Runcorn, winning three Cheshire Senior Cup winner's medals before joining Altrincham in the summer of 1989.
GARY SIMPSON: - Midfield - born 11.4.61. Signed from Boston United in October last season, previously with Stoke City and Stafford Rangers. He has won nine England semi-professional international caps and also captained the Middlesex Wanderers' touring side, playing games In Indonesia, Holland and Hungary.
MARK HUGHES: - Striker. Mark was signed in September last season from HFS Loans League outfit lrlam Town. Mark was a former apprentice at Everton Football Club than played in local Liverpool football where he played for Avon Athletic scoring some 50 goals before joining lriam at the beginning of last season and making the headlines with his scoring exploits.
KEN McKENNA - Striker - born 2.7.60. Birkenhead-born, Ken McKenna played West Cheshire League football before joining his home town club Tranmere Rovers, playing four league games before joining Telford United for the first time. He rejoined Tranmere four years later, scoring 3 times in 14 League appearances, and had a loan spell at Runcorn before returning to Telford in a £7,500 deal at the start of last season. He moved to Altrincham in the summer.
JOHN BRADY - Forward - born 25.8.58. Ormskirk-born John won North West Counties League championship honours with Burscough before making the short move to Southport from whom he joined Altrincham for the first time in February 1984. He made 14 appearances scoring once, in a year-long spell at Moss Lane before returning to Southport and later playing for Buxton. John spent four years with Chorley, winning an HFS Loans League championship medal, before returning to Moss Lane in the close season.
MARTIN LEWIS - Central Defender or Midfield. A talented 21 year old who was signed from West Cheshire League side Heswall just before last seasonís transfer deadline and quickly settled into a defensive role, turning in some impressive displays in the last seven games of the season.
HARRY WIGGINS - Defender - born 21.11.59. A 31 year old full-back or central defender, Harry began his career in West Cheshire League football with Poulton Victoria from whom he joined Telford United, in five seasons at the Buckís Head he was twice the clubís player of the year, skippered the team and played in the 1989 FA Trophy final at Wembley.
PAUL SHOWLER - Forward - born 10-10.66. Began his career as an apprentice at Sheffield Wednesday and then moved to Sunderland before playing in the North East Counties League for Bentley Victoria. Paul then spent four years with Goole Town before joining Colne Dynamoes in December 1989. He came to Altrincham in the close season.
GARY ANDERSON - Midfield. Started his career in the Altrincham Reserves as a teenager and moved to South Liverpool when John King took over in the Summer of 1984. He returned to Moss Lane when John King took over as Manager and figured in the 1986 FA Trophy-winning side. He joined Runcorn in the Summer of 1987, again under John King. Rejoined Altrincham this season and scored on his debut. He also played in New Zealand for a short spell.
TOMMY MILLER - Central Defender - born 3.5.58. Tommy play for Liverpool as a junior and was playing for Earlestown in the Liverpool County Combination before joining Runcorn five seasons ago. He played over 170 first team games for the Linnets, winning Cheshire Senior honours before signing for Altrincham in November.

MEET THE MANAGER
JOHN KING originally joined Altrincham in November 1977 as a player and captained them through their most successful ever period which included a league and cup double in 1981, and two FA Trophy finals as well as four consecutive appearances in the 3rd Round Proper of the FA Cup from 1979 to 1982. A knee injury in the FA Trophy final against Enfield in 1982 ended John's playing career and he took over as manager of South Liverpool for the 1983/4 season. A successful start to his managerial career saw him return to Moss Lane in January 1984 and he led the Robins to FA Cup successes over Blackpool (twice) and 1st Division Birmingham City. John led the Robins to a further FA Trophy at Wembley with success against Runcorn in 1986, but he resigned the following day and took the managerís job at Runcorn. He returned to Moss Lane for his second spell as manager in September 1988.