You are in the
PLAYERS OF 1992/93 page

Links to rest of site:
Home & News
Past Players







---

Altrincham Football Club
Players of 1992/93
---
ALTRINCHAM FC PLAYERS OF 1992/93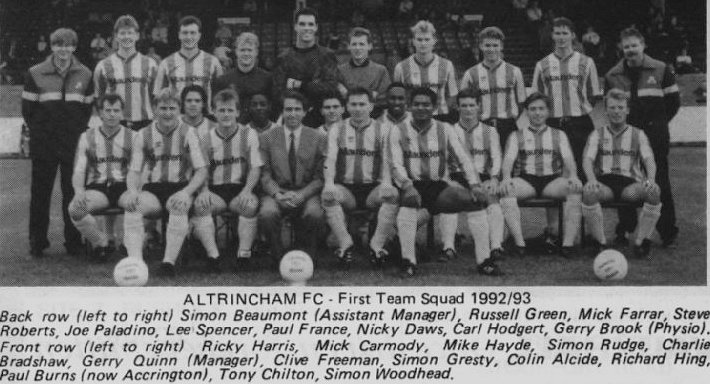 The following pen-pictures appeared in November, 1992.
AT THE BACK
The regular choice as the Robins last line of defence this term has been Giuseppe "Joe" Paladino who is one of several members of the squad with football league experience. Joe joined Wigan from St. Helens Town and made 7 league appearances during the latter part of season 1990-91. After leaving the Latics he had spells with Runcorn and Witton Albion, the latter being last season when he was a member of the Albion squad that took part in the FA Trophy final. 26 year old Joe joined Altrincham at the start of this season.
The most experienced member of the squad in terms of football league games played is central defender Mark Ogley who joined the club from Telford United in October after trials with Woking and Stafford Rangers in pre-season. Barnsley-born Mark served his apprenticeship with his home town side but then played just 19 games in 4 seasons as a pro. An 8 game loan spell with Aldershot was followed by a permanent move to Carlisle in March 1988, a move which brought another 3 appearances. Mark then rejoined Aldershot in 1989 and stayed with the club until they left the league scene, taking his career appearances past the 150 mark in the process. Clive Freeman is earning himself something of a reputation which looks like costing his vice chairman a few bob following a reported wager involving Clive scoring 10 goals by Christmas. He has already reached the half dozen mark! Equally at home in midfield, Clive was on Doncaster's books in 1987/88, without making a league appearance, and then moved on to join Bridlington Town before spells with Swansea and Carlisle brought 18 league appearances in the past two seasons. Clive joined Altrincham at the start of this season. Paul France was another summer recruit and again an ex-league man. Paul was an apprentice with Huddersfield and played 11 games in two seasons as a pro with the club. A brief spell with Bristol City did not increase that tally but Paul then played 8 times for Burnley before moving to Moss Lane. Mike Hayde (22) is a defender/ utility player who served his apprenticeship at Anfield and then spent time with Chester, tasting brief league action as a substitute against Mansfield on the opening day of season 1989/90. Mike then moved into non-league circles and joined the Robins from St. Helens in November of last year.
Several members of the squad have followed manager Gerry Quinn from Emley and two of these can be found in the defensive ranks, though central defender Russell Green has also proved to be a more than useful striker scoring 4 goals in 3 games when moved forward recently. Russell began his career as a striker whilst in the junior sides at Barnsley but then last season partnered Mick Farrar in the centre of the Emley defence. Mick had a spell with Rochdale without making the league side but then had a successful time with Emley, helping them to the final of the FA Vase in 1988 and then being voted player of the year in 1990/91. Carl Hodgert made his debut for Altrincham under Tommy Docherty in season 1987/88 but was then released because of injury problems. Carl rejoined the club in May of this year having spent 4 seasons with Hyde United, collecting a player of the year award along the way. Ray Sidderley is another of this season's new recruits, 30 year old Ray was signed from Accrington Stanley, where he was captain, an honour which he had also enjoyed with his former club Droylsden with whom he'd had two spells.
IN THE MIDDLE
Simon Rudge is the man with the league experience in this department having played 91 games for Bolton, scoring 14 goals in the process. Simon had served his apprenticeship at Burnden Park but then dropped out of the league scene when still only 22. Simon joined Altrincham at the start of last season having seen service with both Hyde and Runcorn but is currently trying to overcome a knee injury. Mike Carmody tasted league action briefly, playing 8 games for Huddersfield and 2 for Tranmere in the mid 1980s. Mike joined Emley in 1987 and was a member of their FA Vase side in 1988 and like several of his team mates moved to Moss Lane in the summer. 20 year old Colin Alcide was one of those team mates at Emley, he spent a single season there after being signed from local football in Huddersfield. A versatile player, Colin can play at the back and can also score goals as he did on his debut for Emley. Ricky Harris can play in midfield or up-front and is in his second spell at the club. Ricky was first signed from Ashton United in 1988 but then moved on to Hyde before rejoining the club this summer. Ricky was originally signed by Jeff Johnson from Ashton United in the summer of 1988.
UP FRONT
Again looking at the ex-league men first, Steve Saunders spent his early career with Bolton and made 3 appearances in 3 seasons with the club. Brief spells with Crewe and Preston brought another 22 appearances and his first league goal before consistent performances brought him over 100 appearances with Grimsby and Scarborough and produced 14 goals along the way. 28 year-old Steve then had a spell with Runcorn before joining Altrincham in September of this year. Simon Woodhead played 122 games for Mansfield in the early 1980s as a defender. Brief spells with Crewe, Burnley, Scunthorpe and then Shepshed were followed by a successful period with Frickley Athletic for whom Simon was leading scorer in each of the past two seasons. Again, Simon joined the Robins this summer. David Lloyd, despite the name, was born in Glasgow and played his football North of the border with St. Johnstone and Stirling Albion, during the past two seasons he scored 16 goals in 45 games for the latter. David joined Altrincham in September after spending a brief spell with Gainsborough Trinity. Charlie Bradshaw is probably still trying to come to terms with the fact that recently he almost became a Spurs player only to be told that he was older than they thought he was and so the deal was off! Charlie is another of the ex-Emley contingent and previously had also played for Rossendale and Accrington Stanley. Carl Dyson is another player in his second spell at the club. Carl scored 5 goals in 6 games at the end of season 1987/88 hut then moved on to Stalybridge. Carl was signed from Witton Albion in August and has also seen non league action with Irlam, Ashton and Runcorn. Finally Simon Gresty previously played for West Cheshire League Christleton. Simon joined Altrincham from Northwich in March of this year (1992).
Additional information from Farnborough Town v Altrincham programme, 1 May 1993:
Gerry Quinn (manager) Appointed last May after 7 years as manager at Emley. Took the Yorkshire club to an FA Vase Final in 1988 and promotion to the HFS Loans League Premier Division in 1991. 36 year-old Gerry spent his playing career with Hyde United and Emley before hanging up his boots in the mid-1980s.
Andy Gorton: Goalkeeper, currently on loan from Bury. Has also gained considerable League experience with Oldham.
John Smith: Midfield. Signed from Northwich in December 1992. Started out with Tranmere before spells with Stalybridge, who sold him on to Bangor for where he went to Northwich Victoria.
Steve Raymond: Forward. Has recently made the step up from the club's successful youth set-up
Ian Tunnacliffe: Forward: Aged 26, a towering figure, became the sixth player signed by Gerry Quinn from Emley in mid-December. At the time of his move was joint leading scorer in the HFS Loans League.

Additional information from Stalybridge Celtic v Altrincham programme, 27 March 1993:
Bondswell: No longer with club but pictured in the programme.
Paul Burns: Moved to Accrington Stanley from Altrincham.
Tony Chilton:
Paul Collings: Goalkeeper, 24, signed from Accrington in March 1993. He made four League appearances for Tranmere Rovers in the late 1980s.
Richard Hing:
Alan Richards: Midfielder, signed in March 1993. Alan began his career with luton Town before moving to Chester in 1991 and joining Runcorn, later that year. This is 21 year-old Alan's second season in the Conference.