You are in the
PLAYERS OF 1995/96 page

Links to rest of site:
Home & News







---

Altrincham Football Club
Players of 1995/96
---
ALTRINCHAM FC PLAYERS OF 1995/96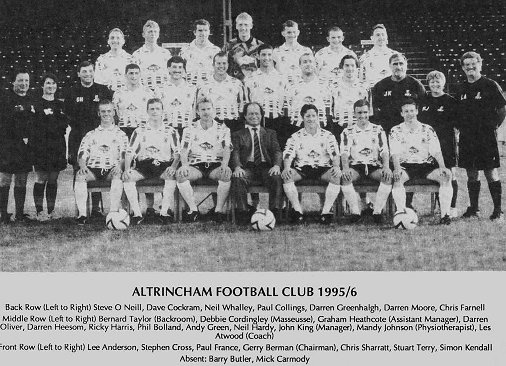 The following pen-pictures were written in 1995/96.
Lee Anderson: Defender. Full back Lee signed for Altrincham in August 1995 from Bury, his home-town club, where he made twenty-nine Football League appearances. 22 year-old Lee was manager John Kingís first capture of the 1995 close season.
Barry Butler: Midfield/Defender. Vastly experienced player signed from Barrow in March 1994, Made 268 Football League appearances in a seven year spell at Chester City.
Mick Carmody: Captain/Midfie1d. A model of consistency since joining the Robins in June 1992 from Emley. Mick played league football for Tranmere Rovers and his home town club Huddersfield Town. Whilst at Emley he played in the 1988 FA Vase final.
Greg Challender: Midfielder. Greg is currently (Dec. 95) on-loan to Altrincham from Bath City whom he joined from Southport, earlier in the season. He began his career as a YTS at Blackburn Rovers before moving to Swansea City, Oldham Athletic and then Preston North End.
Paul Collings: Goalkeeper. Paul re-joined The Robins in December 1995 following a three month spell with Bury and fimnally made his debut for Altrincham some ten months after initially signing from Accrington Stanley A knee injury had kept Paul out of the side when the oportunity arose to add to the four Football League appearances he had made during a four year spell at Tranmere Rovers.
Stephen Cross: Defender. Former Bangor City full back Stephen signed for Robins in November 1993, following his former boss Paul Rowlands to Moss Lane as the latter's first signing of a short-lived reign. Began his career in local football on the Wirral, progressing to Bangor via Heswell and Rhyl, where he was part of the Welsh Cup Final side which lost to Cardiff City.
Paul France: Defender. Paul splits his working week between Moss Lane and Elland Road, where he works with Leeds Unitedís Football in the Community programme. A cool and commanding presence in the centre of the Moss Lane defence. Paul played League football with Huddersfield Town, Bristol City and Burnley, arriving at Altrincham in August 1992.
Andy Green: Striker. Leading scorer in the 1994/95 season, Andy scored some crucial goals to keep the Robins in the Conference at the end of that season. Andy is one of the few players in the Conference to have sampled Belgian football, having joined Binche from South Liverpool for a five figure fee in 1990. Macclesf ield brought the player back to England in 1991 and, after spells with Morecambe and Knowsley United, Andy signed for Altrincham in February, 1994.
Niell Hardy: Midfield/Striker. Manchester-born Niell signed for the Robins from Northwich Victoria in August 1995. After beginning his career as a YTS at Bolton Wandrers, and then enjoying spells at Tranmere Rovers and Crewe Alexandra, Niell spent two years at the Drill Field.
Ricky Harris: Midfield. Signed for the second time in August 1992 for £25000 from Hyde United, four years after his first debut for the Robins. Began his career with Ashton United before spells at Moss Lane, Hyde, Runcorn and Hyde again.
Darren Heesom: Defender. Darren is the clubís only remaining playing link with the Tommy Docherty era, having been signed by the Doc in October 1987 from Burnley, where he made 38 Football League appearances. After two years Darren left Moss Lane for Macclesfield and subsequently Witton Albion, where he was part of the squad that reached the 1992 FA Trophy Final.
Jerome John: Goalkeeper. Currently (Dec.95) on trial at Moss Lane, Jerome is a former West Ham apprentice who made his first appearance for Altrincham in a friendly against Tranmere Rovers in November, 1995.
Darren Oliver: Defender. Began his career as a YTS with Bolton Wanderers, where his contemporaries included Alan Stubbs and Jason McAteer. Darren spent six years at Burnden Park before moving to Rochdale for £35,000 in 1993.
Chris Sharratt: Winger. A deadline signing from Macclesfield in March 1994. Chris crowned a superb first ful-season at Moss Lane by taking the fans' Player of the Year' award. After beginning his career with Bangor City, Chris moved via Caernarfon and Stalybridge Celtic to Wigan Athletic. Chris sepnt 18 months at Springfield Park, making more than 20 League appearances before returning to non-League football.
Stuart Terry: Forward. Stuart earned his first England semi-pro cap last season, just fifteen months after stepping into Conference football together with Bangor City team mate Steve Cross and only three years after leaving West Cheshire side HeswalI for Bangor.
Neil Whalley: Midfield. A deadline signing in March 1995 from Preston North End. Neil played over 70 Football League games for Preston in his two-year spell at Deepdale after signing from Warrington Town in a £15,000 deal. Has already appeared twice at wembly in his career, in the 1987 FA Vase Final for Warrington and a play-off final for Preston.