You are in the
PLAYERS OF 1997/98 page

Links to rest of site:
Home & News
Past Players







---

Altrincham Football Club
Players of 1997/98
---
ALTRINCHAM FC PLAYERS OF 1997/98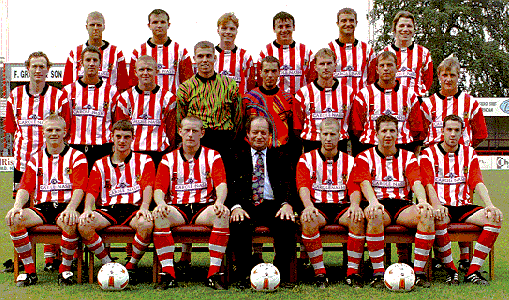 BACK: Chris Adams, Michael Moore, Jamie Taylor, Ian Horrigan, George Shepherd, Steve Carroll.
MIDDLE: Chris Waring, Andy Brown, Mark Maddox, Matt Dickins, Steve O'Connor, Paul France, Ricky Harris, Mick Carmody.
FRONT: Kevin Lampkin, John Toner, Peter Glick, Gerry Berman (Chairman), Danny Adams, Danny McGoona, Niell Hardy.
---
The following pen-pictures are taken from 1997/98 away-match programmes.
MATT DICKENS: Goalkeeper. Matt signed for Alty in August 1996 from Stockport County, where he made 17 Football League appearances. Beginning his career at Lincoln City. Matt joined Kenny Dalglish's Blackburn Rovers for £260,000, although his first team opportunities were limited there. He later played for Blackpool and Rochdale before joining Stockport in 1994. An ever-present for Alty throughout 1996/97.
GEORGE SHEPHERD: Defender. Manchester born "Jud" joined the Robins in August 1996 after seven years with Macclesfield Town, where he won the Vauxhall Conference and Drinkwise Cup. Beginning his career with Manchester City, George had spells with Bolton and Hyde before a £6,000 fee took him to the Silkmen.
DANNY ADAMS: D.O.B. 3/1/76. Defender & Midfielder. Local player who first played under John King as a junior at Bury. Danny signed from Congleton Town in July 1997 after spells with several local clubs. A member of the successful Reserve side at Moss Lane. Danny started out this season in midfield but has made a successful transition to left-back.
ANDY BROWN: Defender, d.o.b. 2/9/71. Altrincham-born Andy was promoted from the Robins' reserve team last season where he captained the side to the North West Alliance Cup. A familiar figure in local football, Brown impressed his supporters with a tremendous will to win despite the club's relegation to the UniBond League.
MARK MADDOX: Defender. Merseysider. Mark was spotted by John King playing Sunday football and signed for Alty in 1996. A consistent and reliable defender. Could be destined for greater things.
TONY KELLY: Midfielder. Tony originally signed for Alty back in February 1996 from Wigan Athletic after spells with numerous League clubs, most notably Bolton. He had a brief but impressive stay at Moss Lane before leaving just before the end of the season. He returned in October 1997 and is a skilful midfielder who reads the game superbly.
RICKY HARRIS: Midfielder. A £3,000 signing from Hyde United in 1992, Ricky is in his second spell at Alty after time at Ashton Utd and Runcorn. "Bomber" has come back well from a knee injury, which has kept him out for a season. Ricky was the club's leading scorer in 1993/4 season.
JAMIE TAYLOR: Midfielder. A promising, tenacious player, Jamle came through the ranks at Rochdale making his League debut during the 1994/95 season and attracting the interest of bigger clubs. Signed for Alty in the summer of 1997.
STUART TERRY: Forward. Stuart earned his first England Non-League Cap in 1995, just fifteen months after stepping up to Conference Football from Bangor City. Stuart has been a consistent scorer for Alty and was voted Player of the Year by Players and Supporters alike in 1997.
DANNY McGOONA: Forward. This young winger signed from Connah's Quay Nomads in December 1996 made his debut the following day at Southport. Danny is powerful on the ball and has proved a handful for many full-backs. The winger began his career at Colwyn Bay and works in a sportswear shop.
NIELL HARDY Midfielder & Striker. Manchester-born Niell signed for the Robins from Northwich Victoria in August 1995. After beginning his career as a YTS Trainee at Bolton Wanderers and then enjoying spells at Tranmere and Crewe. Niell then spent two years at Northwich's Drill Field before making his debut at Southport, netting four goals in his first four games. Leading scorer in 1996/97.
MICK CARMODY: Midfielder, d.o.b. 9/2/66. Club Captain "Carmo" is renowned for his tireless midfield work and never-say-die attitude. After spells with Tranmere and Huddersfleld (his home town club) he signed from Emiey in 1992 after being an integral part of the Yorkshire club's rise through the leagues. Whilst at Emley played in the 1988 FA Vase Final. Appointed Altrincham club skipper on New Year's Day 1994, Mick was the 1993/4 Players' and Supporters' choice as player of the year.
PAUL FRANCE: Defender. Paul splits his working week between Moss Lane and The McAlpine Stadium, where he works as Huddersfield Town's Football In the Community Officer. Paul played League football with Huddersfield, Bristol City and Burnley before arriving at Altrincham in August 1992.
CHRIS SHARRATT:Forward. Chris arrived back at Moss Lane after spending less than a year at Southport. Originally a deadline-day signing from Macclesfield Town in March 1994, Chris soon became a favourite with the fans with his exciting wing skills. The scorer of the winning F.A. Cup goal against his old club Wigan in 1994, Chris has also played for Caernarfon and Stalybridge.
CHRIS WARING: Defender. Liverpool based "Gus" is a summer signing from Conwy United and the versatile defender has gained plenty of experience with Wigan, Knowsley, Southport, Witton, Colwyn Bay and Rotorua of New Zealand. Born 28 October 1967, a former captain of Wales's semi-professional team.
DAVID ANANE: Winger. Young winger who has progressed from the Reserve team. Promising winger with electric pace.
ANDY BROWN: Defender (dob 2/9/71). Captain of the Reserve side last season. A solid committed centre half. Based in the Altrincham area.
STEVE CARROLL: Midfielder. Joined Altrincham in the summer of 1996 and became part of the first team squad early in the season of 1996/97.
NATHAN COMLEY-EXCELL: Striker. Nathan has emerged from an extremely successful spell with the Reserves and is a prolific striker who is hoping to carry his form into the first team squad.
MIKE MOORE: Striker. A team-mate of Paul Cain in the 1996 Liverpool team which won the FA Youth Cup. Mike arrived at Moss Lane in the summer of this year, graduating to the first-team squad at the end of last season. Turned down a full-time contract with Doncaster Rovers to stay at Moss Lane.
CHRIS ADAMS: Left-back. Previous clubs were Congleton Town and Altrincham Reserves. Made his debut in a home defeat against winsford before moving on to Trafford.
JAMIE TAYLOR: Midfielder, born 11/1/77. Played 10+26 times for Rochdale, scoring four times. Was to be Alty player of the year in 1997-98 but moved on in the summer. Joined Alty in summer 1997.
IAN HORRIGAN: Midfield. Ian signed for Altrincham in February 1996, making his debut 24 hours later against Welling United. Ian had a brief spell with Morecambe before arriving at Moss Lane and his other former clubs include Barrow, Knowsley United, Conwy United and Prescot. A major asset to the squad with his flexibility and never say die spirit.
STEVE O'CONNOR: Goalkeeper. Liverpool-based.
KEVIN LAMPKIN: Midfielder, with a Football League pedigree, having topped the ton of appearances with Mansfield Town. Kevin had trials with Macclesfield before signing on at Alty.
JOHN TONER: Striker. Signed from Mond Chemicals but was a one-time Liverpool apprentice. Went on to play most of his career in Welsh football.
PETER GICK: Defender, born 25/9/74, who came from local football but had been a Liverpool apprentice.
---

Copyright: ©


Compiled by John Laidlar.