Match Report
---
Goalkeepers
Stuart COBURN (d.o.b. 5 May 1975)

Stuart joined Altrincham from Unibond First Division side Trafford in March,1997. Although kept out of the side at the start of the 1998/99 season by the veteran ex-Manchester City keeper, Andy Dibble, Stuart soon forced himself into the team. He was elected the fans' Player of the Year and also won the non-league goalkeepers' award for conceding the least goals of any non-League team. Perhaps his best game for the club, to date, was away at Telford this season (1999/2000) when he saved a penalty in the first-half (as seen left) and made a stupendous double-save from point-blank range in the second-half. In December 1998, he even scored a League goal in the away fixture at Runcorn. Sadly, Stuart suffered a serious leg injury early in the 1999/2000 season and remained out of action till the end of the season.
Dean GREYGOOSE (d.o.b. 18 December 1964)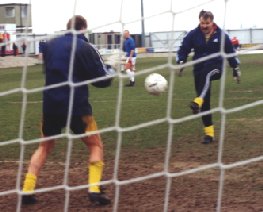 Dean, pictured above fielding shots from fellow 'keeper Ian Senior, at Hednesford, joined Altrincham from Cheshire rivals Northwich Victoria during the 1999 close season. A qualified FA coach, Dean has played for Cambridge United (26 appearances) and made a handful of appearances for Leyton Orient, Lincoln City and then established himself at Crewe Alexandra (205 League appearances). Following Stuart Coburn's injury, Dean kept goal for Altrincham for part of the 1999/2000 season, but then he himself was injured in February 2000. However, he returned to the substitute's bench in March, only to succumb to a training ground injury which ruled him out of contention again.
Ian SENIOR (d.o.b. 22 July 1960)

Ian rejoined the club in 1999 as cover for Dean Greygoose. He played for Altrincham in the 1980s and became, at 39, the Conference's oldest current keeper when he substituted for Dean Greygoose against Welling on 8 January 2000. This was his first appearance for the team since 1983. Ian has been on the books of 30 different clubs during his career and can boast that he did not conceded a goal for Altrincham over a period of 18 years! His record was lost at Witton on 4 April, 2000 when he played the full match in the Cheshire Senior Cup Final, which was won by Macclesfield Town, 2-1.
Lance KEY (d.o.b. 13 May 1968)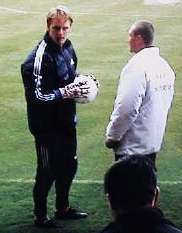 Signed on loan from Northwich Victoria following the injuries sustained by Coburn and Greygoose. Lance has played for ten League teams during his career. He played in every match after signing and played seven matches for Altrincham before he finished on the losing side at Rushden on 15 April 2000, where he is pictured, right. Thereafter he never finished on the winning side in season 99/2000!


---
Defenders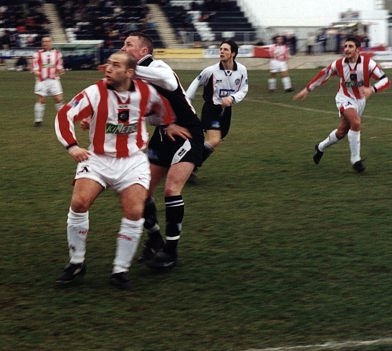 Danny ADAMS (d.o.b. 3 January 1976)

An Altrincham resident and one of the most consistent players in the team, Danny is a permanent fixture at left-back and winner of many Man of the Match Awards. He joined Altrincham from Congleton Town in July, 1997 and is now the longest serving member of the normal first team squad. His sequence of 97 consecutive games was broken by a one-match suspension this season. Danny, a postman by profession, turned down a lucrative move to Telford United earlier this season. He swept the board in the Player of the Year Awards, 2000.



Chris TIMONS (d.o.b. 8 December 1974)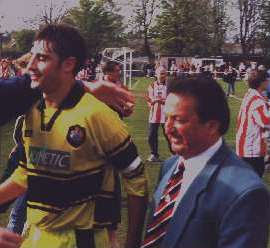 Signed with centre-back partner Paul Ellender from Gainsborough Trinity in the 1997/98 close-season. 'Timmo' is the team captain and a right-sided player, who is strong in the air. Pictured, right, with manager, Bernard Taylor, Chris lost his regular centre-back place in January, 2000 to Mark Maddox but, after featuring as a substitute, won back his place, firstly in midfield and now, once more, as centre-back where he has been putting in some excellent performances. He can also be seen pictured in the background of the above picture of Danny Adams. Chris played League football for Mansfield Town before moving to Gainsborough Trinity, from where he was signed in summer 1998, together with Paul Ellender (see below).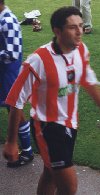 Paul ELLENDER (d.o.b. 21 October 1974)

To the disappointment of Altrincham fans, Paul was sold to Scarborough in late November 1999, for a fee which could reach £80,000 depending on appearances. Signed with Chris Timons from Gainsborough Trinity in summer 1998, Paul was the major force in Altrincham's Unibond championship success in 1999. An outstanding centre-back he also played in a forward position towards the end of the 1998/99 season. He has been selected for England's non-league squad, though has yet to play.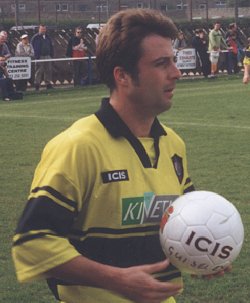 Simeon HODSON (d.o.b. 5 February 1966)

"Simmo" is a highly dependable right-back, formerly with WBA, as well as Notts County,Charlton Athletic, Lincoln City, Newport County and Mansfield Town. He has also played for Kidderminster Harriers, Rushden and Diamonds and Telford. Simeon is a good dead-ball kicker and throw-in expert. A new side to Simeon has been seen this season when, on more than one occasion he has played at centre-back to cover for injuries and suspensions to Talbot, Timons or Maddox. He himself was out injured in late March and April, but returned to the first team at the end of the 1999/2000 season.
Oliver GOODIER (d.o.b. 12 July 1978)

An excellent prospect; a British Universities' full back, but yet to break into the first team.
Wayne HULSTON (d.o.b.....)

A promising defender who has graduated from the Reserves; has made one substitute appearance in the Conference (v. Sutton United).
Paul LOFT (d.o.b.....)

Another young Reserve who has, so far, only figured on the subs' bench in the Conference.
Gary TALBOT (d.o.b. 6 October 1970)

Signed towards the end of the 1998/99 season from Winsford, Gary is a superb centre-back and the best header of a ball at the club. He is also a threat to opponents' goals at corners and free-kicks and assumed the captaincy from Chris Timons in 1999, but has since relinquished it once again to 'Timmo'.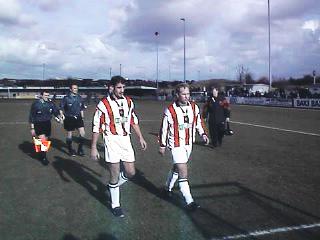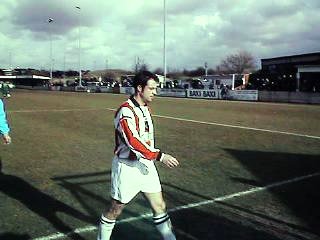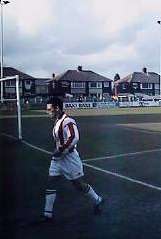 L to R:Chris Timons with Danny Adams; Simeon Hodson; Jason Gallagher- all at Bamber Bridge, 1999.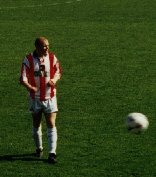 Mark MADDOX (d.o.b. 11 March 1973)
Mark is a centre-back who rejoined Alty in December 1998 after a brief spell at Barrow. He had to settle for a role as substitute but then re-established himself as first-choice centre-back alongside Gary Talbot. He has also played this season at right-back and in midfield. Nick-named 'Mad Dog' he is nevertheless an excellent tackler. He returned to the side after being out through suspension and injury since 19th February, 2000, but was sent off against Doncaster (24/4/00).
Midfielders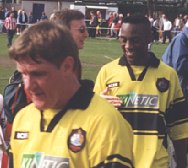 Mick CARMODY (d.o.b. 9 February 1966)

The former club captain, (pictured right, leading Leroy Chambers off the pitch at Guiseley, May, 1999), 'Carmo' is the epitome of determination and effort. He is a hard-tackling midfielder who did not figure in the Conference in 1999/2000, other than as non-playing substitute in the final few matches of the season, the first time being versus Yeovil on 29 April, 2000. Earlier during the 1999/2000 season he was twice on loan at Ashton United in the Unibond First Division .
Jason GALLAGHER (d.o.b. 25 March 1972)

Jason is a pacy and hard-working midfielder who generally operates on the right. He is also a capable right-back. His former clubs include Marine, Witton Albion, Northwich Victoria,Runcorn and Caernarfon, as well as Ternia in Belgium. Despite his lack of inches he is a good header of the ball.
Steve HAWES (d.o.b. 17 July 1978)

Signed late in 1999 from Hull City, for whom he started 18 games. A young midfielder who displays a lot of effort and promise. He also can play very well at right-back and has a good long throw. Steve was the youngest player ever to play in the Sheffield United first team and has become a great asset to Altrincham.
Ged KIELTY (d.o.b. 1 September 1976)

After a tentative start, Ged was settling into the team towards the end of the season, though still not commanding a regular place. The 1999/2000 season saw him enjoy periods of first-team football as well as spells on the periphery. He joined from Barrow in January 1999, having previously played at Manchester City, York City and Southport. Transfer-listed in January 2000, Ged moved on loan to Leigh RMI in the Unibond Premier division in late March, 2000 and thus now remains in the Conference, unlike his former team-mates.
Andy LOVELOCK (d.o.b. 20 December 1976)

Andy scored the goal that secured the 1999 Unibond title, having joined from Crewe Alexandra on loan during the latter part of that season. He is a fast-running player who can operate on either wing. He has mainly started as a substitute in 1999/2000, from which position he scored a magnificent winner against Scarborough in this season's home game. He started a number of games at the end of the 1999/2000 season but only started 12 games and scored only one other goal in his career at Alty before leaving for Solihull Borough in the 2000 close season.
Shaun GOODWIN (d.o.b. 14 June 1969)

Shaun signed from Doncaster Rovers for £3000 in late 1999, as he did not wish to become full-time at that club. His appearances were seriously limited by injuries but he has performed solidly when fit.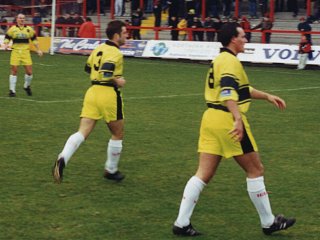 Keith RUSSELL (d.o.b. 31 January 1974)

Leading scorer in 1997/98, Keith (no.8 in the adjacent picture, with Simeon Hodson, at Morecambe, 2000) was displaced upfront by Chambers and Power in 1998/99. His initial period at the club was sensational as he averaged almost a goal a game, including the winner in the Unibond Challenge Cup Final, versus Gainsborough Trinity at Chesterfield. He has suffered a number of injuries and has converted successfully to a midfield role. Takes excellent inswinging corners from the left. Underwent a knee operation in January 2000 but returned in the match at Woking (19 February 2000). Keith is the club's most expensive acquisition, arriving from Blackpool for £30,000 in March 1998.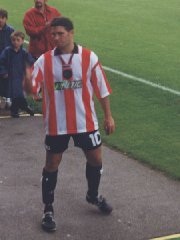 Brendan BURKE (d.o.b. 13 October 1970)

Signed from Stalybridge Celtic in June 1999, Brendan (pictured left) has worked hard without matching his goalscoring record at his former club. A skilful player, who has become the club's penalty taker. Following a back injury, Brendan had to announce his retirement in Spring 2000, a move taken to avoid the risk of permanent disablement. Altrincham fans only saw glimpses of him at his best, but his goal against Northwich in the Unibond Cheshire Senior Cup in November 1999 will long be remembered by the modest crowd in attendance that night.



Paul HART (d.o.b. 19 August 1980)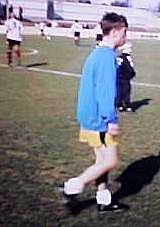 An up and coming young reserve player, perhaps the smallest on the Club's books, yet never stops running. He has still to figure in a Conference match, except on the bench. He memorably hit a hat-trick inside five minutes of coming on as substitute in the 1999/2000 pre-season match at Wilmslow Albion.




Barry CROWE (d.o.b. 15 June 1980) Currently injured (Feb. 2000), this young and busy midfielder has been on loan to gain experience, but is now back with Altrincham. He rivals Paul Hart as the shortest player in the squad. In the picture, left, he lines up with fellow injury-victims Stuart Coburn and Dean Greygoose flanking him, to left and right respectively, modelling the proposed new kit for 2000-01 season.



Kevin ELLISON (d.o.b. 23 February 1979)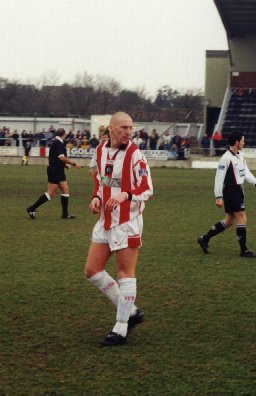 Acquired for a small fee from Conwy, Kevin has become the club's leading scorer with 11 Conference goals in the first half of the 1999/ 2000 season. He has attracted much interest from other clubs because of his pace and ferocious left-foot shot. An offer of £130,000 for his services was turned down by Altrincham. Affected by injuries during January and February 2000. He returned to the side in March, but is still less than fully fit. Despite this, he played for Manchester City Reserves on 28 March 2000 in their top-of-the-table Pontin's League clash with Port Vale. He certainly did not look out of his depth, despite being starved of the ball particularly in the first-half. Even so, it took a goal line clearance to rob him of a goal after he had skilfully lobbed the Vale goalkeeper in the opening minutes. Whilst any transfer income gained for Kevin would be welcome, his loss to the team would be substantial. He finished the season with 14 Conference goals and at times headed the News North West strikers' performance chart ahead of such figures as Andy Cole and Dwight Yorke! His form was only moderate in April and May, due to not being fully fit.

Phil POWER (d.o.b. 25 July 1967)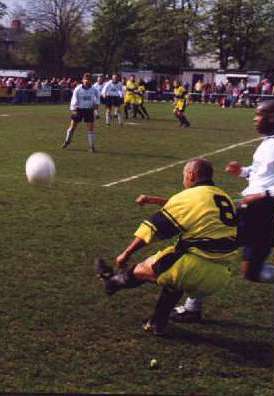 The 'Maltese Falcon', Phil regained his place after injury and a loss of form in mid-season and now features in midfield rather than up-front. He is a tricky dribbler, good at holding the ball and with a strong shot. One of the most popular players with the fans, in January 2000 he became player-coach following the resignation of Graham Heathcote. However, he has since blotted his copybook with two sendings off for violent conduct in February and April. A gardener, by profession, with the Greater Manchester Fire Service. Formerly played for Macclesfield Town Crewe Alexandra, Stalybridge Celtic and Chorley.



---
Strikers
Leroy CHAMBERS (d.o.b. 25 February 1974)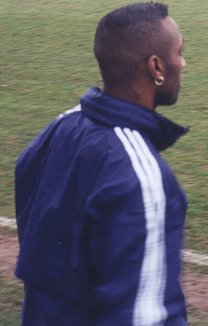 The club's leading scorer in 1998/99, though he endured a barren spell towards the end of the season. After starting a few games at the start of the 1999/2000 season, Leroy was injured and lost his form. He returned from loan to Kettering (January 2000), for whom he scored one Conference goal and has since started a number of matches for Altrincham, though he managed only one goal all season for Altrincham. He is a male-model by profession and is seen, right, sporting his earring.




Richard LANDON (d.o.b. 22 March 1970)

A tall centre-forward whose strength is in his powerful shot rather than his aerial skills. He has tended to start as substitute and has scored some vital goals this season in that capacity. Richard was formerly at Macclesfield and Plymouth Argyle for whom he scored 12 goals in only 21 games. A spell at Stockport County was blighted by injury. Created a season's record by scoring in five consecutive Conference matches in January/February 2000, all of his goals coming in the last ten minutes of matches. Finished the season as second top-scorer with twelve goals in the Conference and also established himself as a reliable penalty taker.




Gavin PRICE (d.o.b. 29 January 1974)

Gavin is both a centre-forward and Altrincham's Commercial Director. He has played with a hernia injury since joining the club in 1999 though he scored eight times in his Reserve Team debut. His former clubs include Brechin City, St Johnstone, Meadowbank Thistle, as well as Den Haag in Holland and a team in Hong Kong. Having established himself as a penalty-taker, his season ended prematurly in February, 2000 when he underwent an operation on his hernia.

Craig SKELTON

A young striker signed on loan from Darlington in February, 2000, but who has now left the club.

Mike MORRELL (d.o.b. 17 August 1977)

A speedy front-man, formerly at Guiseley and Harrogate Town in the Unibond Premier and First divisions respectively. He soon made his mark with two fine goals, but then missed several matches through injury in March and April, 2000. Left for Leigh RMI during the 2000 close season.

Chris YOUNG A reserve team striker who has played on loan for Flixton in the Unibond First Division and figured briefly on the Altrincham first-team bench.
---