---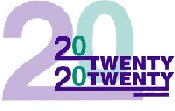 20-20 RESEARCH ARE THE YOUTH TEAM'S SPONSORS
Click the logo to visit their website.
---
Match Reports, 2002-03
---
ALTRINCHAM YOUTH (1) 2
EUXTON VILLA (0) 0
NW Youth Alliance League match,
played on Sunday, 16 February 2003
---
ALTRINCHAM TEAM
ALTRINCHAM: 1. Richard HARRISON, 2. Paul GLYNN (capt.), 3. Adam DOUTHWAITE, 4. Michael BAILEY, 5. Alex FROST, 6. Jon MCEVOY, 7. Francis EVANS, 8. Steve TAYLOR, 9. Andy THORPE, 10. Luke KILLEEN, 11. Josh COLLINS. Subs: 12. Steve LUNT, 14. Anthony POTTS, 15. Stuart COOK, 18. Barry GEORGE (gk).
EUXTON VILLA: Gibbs, Hardy, Clayton, Woodman, Jarvis, Scott, Winstanley, Ashton, Grimes, Howells, Anderton. Subs: Thompson, O'Loughlin. Euxton's line-up included some players who wore numbers higher than 11, so individual identities were not clear.
---
MATCH REPORT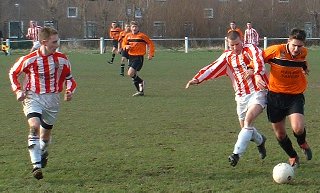 Paul Glynn looks on as Josh Collins contests possession against Euxton.
Altrincham were attempting to complete their first game for nine weeks today, following the abandonment of their last home game two weeks ago. They were without defenders Mark Griffiths, Greg Byrne and, also, Todd Hayes, who were all involved in a US Colleges' match. So, Alex Frost moved to centre-back and captain Paul Glynn reverted to right-back from midfield. A newcomer to the team was midfielder Steve Taylor, a recent signing from that source of so many good youth players, Wright Robinson College. Striker Steve Lunt had played 26 minutes for the first team on Saturday so he was only to play for the second half of this game.
Altrincham started well and dominated the opening stages, with Collins twice going close from the left and Thorpe also looking menacing. Three corners were won by Altrincham in the first ten minutes but the Euxton defence held out. After being penned largely in their own half, Euxton then began to get into the Alty half, around the 20-minute mark. But it was Alty who deservedly took the lead after 27 minutes. Curiously, the goal came after Collins had launched a shot which ended up behind the goal and across the Stockport Road, in a petrol station forecourt! From the resulting goal-kick, the ball came to Glynn in centre-field. He controlled it well and played it promptly forward towards the Euxton goal where he found Killeen in space. Luke advanced and scored cleanly past the exposed Euxton keeper. Two more Alty corners soon followed but both were cleared, the latter after a scramble in the goalmouth. For Alty, Jon McEvoy was playing well in midfield, alongside Francis Evans, who now went down with what appeared to be a muscle pull, but he continued after treatment from Neil Thomason's first aid bag.
Michael Bailey was also doing well at the back, where his new partner, Alex Frost was likewise looking solid. Euxton won themselves a corner after 36 minutes and, following this, came their first real shot at goal, when their number 17 was played in but shot wide. The Euxton number six then got past his marker to fire in a low shot which Richard Harrison saved well with his legs. The visitors' no.10 put the rebound wide (40 mins). After Alty had twice been caught offside, Bailey had to be alert to see off the Euxton no.17, just before the interval. The half ended with McEvoy's shot from a cross by Steve Taylor, who had made a promising debut.
---
Half-Time: ALTRINCHAM YOUTH 1 EUXTON VILLA 0
---
Alty brought on Steve Lunt for Andy Thorpe at the interval. However, Euxton started well and Glynn had to head off the line to concede the first of two successive corners to Euxton (47 mins) Then Akty won a corner of their own. With just the one goal lead, Altrincham were unable to produce the killer punch. Lunt same close just before the hour mark when he got on the end of an Alty corner from the right but his header was cleared off the line. Then Glynn did well to get to the by-line to the right of goal from where he found Killeen. Though Killeen got hold of his close range effort well, it struck the goalkeeper's face and rebounded to safety. The keeper needed treatment but continued afterwards (62 mins). Adam Douthwaite made a number of forward movements as his side pressed for a second goal. Eventually it came when Steve Lunt battled with a defender and took the ball off him, to the right-centre of goal. Though Steve's powerful shot was beaten out, it fell invitingly to Collins who drove it home from close range (65 mins). Frost then stretched well to cut out a dangerous Euxton through ball before a fine cross from the left by Collins was met by Lunt, whose shot went wide (70 mins).
Euxton battled on and won three corners over the next ten minutes, in between which Collins had a firm shot well saved at the other end. Lunt then set up Taylor for a shot which went over the bar (83 mins) before an effort from Killeen went wide (88 mins). With a minute left, Stuart Cook came on for Josh Collins. After nine weeks without a full game, it was not surprising that Alty were not at their most fluent. Nevertheless, despite their enforced changes of personnel, they ran out deserved winners.
---
Full-Time: ALTRINCHAM YOUTH 2 EUXTON VILLA 0
---
Link to Home Page
---

Copyright: ©


Compiled by John Laidlar