---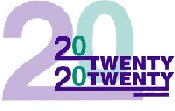 20-20 RESEARCH ARE THE YOUTH TEAM'S SPONSORS
Click the logo to visit their website.
---
Match Reports, 2002-03
---
ALTRINCHAM FC YOUTH (3) 3
KINGSLEY UNITED B (1) 1
NWYA Open Cup match,
played on Sunday, 16 March 2003
at 2p.m.
---
ALTRINCHAM TEAM
ALTRINCHAM (Red & white striped shirts, white shorts & socks): 1. Richard HARRISON, 2. Adam DOUTHWAITE, 3. Josh COLLINS, 4. Michael BAILEY, 5. Greg BYRNE, 6. Paul GLYNN (capt.), 7. Francis EVANS, 8. Steve TAYLOR, 9. Steve LUNT, 10. Joel EKOLONGENI, 11. Jon McEVOY. Subs: 12. Andy THORPE, 14. Anthony POTTS, 15. Stuart COOK, 16. Luke KILLEEN, 18. Tom READ (gk).
KINGSLEY UNITED B. As in previous encounters, Kingsley failed to produce a teamsheet before kick off so no details of their team can be given here.
---
MATCH REPORT
Manager George Heslop, (behind keeper Richard Harrison), gives the team his post-match analysis.
Altrincham were without several regulars, including defenders Alex Frost and Mark Griffiths, midfielder Todd Hayes, and reserve keeper Barry George, who had injured his hand. However, Luke Killeen was fit enough to return to the bench but, in Luke's absence from the starting line-up, Steve Lunt's strike partner today was Frenchman Joel Ekolongeni, who had been unavailable for games recently due to work commitments. So, Josh Collins started in an unaccustomed left-back berth whilst Jon McEvoy was in left midfield, whilst Michael Bailey returned from his recent role in midfield to a central defensive spot alongside Greg Byrne.
Kingsley got in the first shot of the game after two minutes when Harrison saved comfortably (2 mins). Alty soon responded with Ekolongeni's persistence leading to a cross from the right by Glynn which was just too high for Steve Lunt to be able to guide his header under the bar (3 mins). The Kingsley no. 10 then seized on a mis-pass from Alty and forced Harrison to make a good save, at the cost of a corner on the right. Following an Alty free-kick, 20 yards out on the right, Joel Ekolongeni got the ball past the keeper but Steve Lunt appeared to get the final tap-in to the vacant goal (10 mins).
The lead did not last long as the Kingsley no.11 was allowed to advance and exploit a hole in the Alty defence before driving home a well taken goal with his left foot from the edge of the box (18 mins). Kingsley soon won two corners and from the second of these Harrison saved very well from a clever lob by the no.7 (25 mins). Steve Lunt soon won a corner following a Collins free-kick but this was cleared (28 mins). Though most of the play was now in the Kingsley half, the visitors remained a danger on the break. However, Alty doubled their lead when Ekolongeni, Lunt and Glynn combined with Taylor and from Glynn's pass from the right side of the box, Francis Evans was presented with a tap-in, which he did not miss (30 mins).
Joel Ekolongeni (far left) about to head home the third goal.
AFter Evans had left the field for treatment following a collison, Kingsley won another corner but this was cleared before Glynn made a fine tackle to see off another Kingsley advance. Altrincham then won a corner on the right and this was headed on towards the back post by Collins for Ekolongeni to head home (39 mins). The score remained 3-1 at the interval.
---
Half-Time: ALTRINCHAM FC YOUTH 3 KINGSLEY UNITED B 1
---
Francis Evans (left) hits the upright.
Kingsley started the second half strongly but Byrne and Bailey stood firm. Josh Collins was now pushed further forward on the left side, with Jon McEvoy dropping back to compensate. Soon, however, Alty won a corner on their left and, following this, a good effort from the left by Evans hit the Kingsley post, with the keeper well beaten (53 mins). Alty were now well on top. Before the hour mark both sides made a change with Steve Lunt giving way to Andy Thorpe shortly before Kingsley's no.6 came off to allow their no.12 to come on. Soon, a 25 yard Kingsley free-kick went narrowly wide (65 mins), before a well-struck Evans free-kick form 25 yards forced the deceptively agile Kingsley keeper to tip the ball onto the bar (67 mins). Glynn then had a shot blocked before, at the other end, Richard Harrison had to tip a good shot from the Kingsley no.10 over the bar; but otherwise Alty's lead looked secure. A dreadful two-footed lunge on Evans by the Kingsley no.11 rightly earned him a red card (77 mins) and this was the worse of several strong challenges from the visitors. Francis had to hobble off after treatment to his knee from Neil Thomason, whose sponge bag was in frequent use this afternoon. Anthony Potts replaced Evans (78 mins).
When play resumed, a superb 35-yard shot from Collins forced the Kingsley keeper into a fine save, which gave Alty a corner (81 mins) and from this Collins himself rose well to head against the foot of the keeper's right post (84 mins). Kingsley made another substitution but there was no way back for them. The visitors' uncompromising play continued to the very end when their no.10 was deservedly booked for an unnecessary foul on Richard Harrison, well after he had caught the ball cleanly (89 mins). Altrincham fully deserved their win and kept their discipline well in sometimes challenging circumstances.
---
Full-Time: ALTRINCHAM FC YOUTH 3 KINGSLEY UNITED B 1
---
Link to Home Page
---

Copyright: ©


Compiled by John Laidlar