---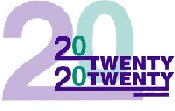 20-20 RESEARCH ARE THE YOUTH TEAM'S SPONSORS
Click the logo to visit their website.
---
Match Reports, 2002-03
---
ALTRINCHAM FC YOUTH (0) 1
LEIGH RMI ACADEMY (2) 3
NW Youth Alliance Mark Pover Open Cup Final
played at The Robin Park Arena, Wigan
on Sunday, 4 May 2003 at 2pm.
---
LINE-UP
ALTRINCHAM (red & white striped shirts, black shorts and socks): 1. Richard HARRISON, 2. Alex FROST, 3. Mark GRIFFITHS, 4. Josh COLLINS, 5. Greg BYRNE, 6. Paul GLYNN (capt.), 7. Michael BAILEY, 8. Todd HAYES, 9. Stephen LUNT, 10. Joel EKOLONGENI, 11. Stevie TAYLOR. Subs: 12.Adam DOUTHWAITE, 14. Jon McEVOY, 15. Francis EVANS, 16. Luke KILLEEN, 18. Barry GEORGE (gk).
LEIGH RMI (Blue) The programme gave no numbers and listed 19 players.
---
MATCH REPORT
Altrincham were the 2002 winners of the Open Cup, which has now been named the Mark Pover Cup in memory of the 17 year-old midfielder who played for Altrincham FC and previously for Leigh RMI. Mark sadly died from natural causes, whilst playing football last year.
Altrincham had lost the Premier Cup last Thursday so were looking for an improved performance today at the Robin Park Arena, which is located right next door to the JJB Stadium of Wigan Athletic. The Robin Park Arena is a Gateshead-like set-up - a football pitch surrounded by a running track and a long-jump runway, so the crowd is well away from the action. However, unlike the International Stadium at Gateshead, there were no ballboys and, often, no ready supply of replacement balls so the game was repeatedly stopped for the retrieval of balls by the players themselves. The pitch itself was excellent but there was a strong blustery wind, blowing behind Altrincham in the first half.
Altrincham had made four changes to their starting line-up since Thursday. Into the side came Josh Collins at centre-back, Todd Hayes and Stevie Taylor in midfield, and Joel Ekolongeni up front. This meant that Adam Douthwaite, Luke Killeen, Francis Evans and Jon McEvoy were all on the bench, alongside the reserve keeper, Barry George.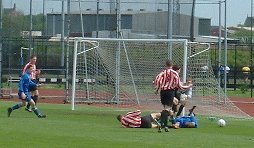 Altrincham could not have got off to a worse start. After just 60 seconds, a Leigh player got into the box on the right and Josh Collins brought him down from behind (see left). Mr Haslam had no hesitation in awarding a penalty. However, worse was to come for Michael Bailey said something out of turn and was shown a red card. It is a pity that the referee could not have shown some leniency so early in a cup final which, for many of the players, would be the highlight of their season. The Leigh no.9 converted the penalty comfortably (2 mins). Alty quickly adapted to a three-man midfield and soon Lunt broke free but was forced wide, to the left of goal, as he got past the keeper. He was able to play the ball back across the goal but no one was there to convert the chance (7 mins). If the first goal had been controversial, the second was even more so. Firstly, the referee over-ruled the linesman to give Leigh an unlikely corner on the right. This was half cleared but then the Leigh no.4 received a ball over the top of the Alty back four in what seemed to be a clearly offside position. However, he strode on to lob Harrison and double Leigh's lead - to the consternation of the Alty team (16 mins).
Despite their one-man deficiency Alty were giving as good as they got with Mark Griffiths and Greg Byrne both shining at the back and also prompting attacks. From one of Griffiths's passes, Lunt headed for goal but rolled his shot across the face of goal, just wide of the keeper's left upright (20 mins). Ekolongeni now went out to the right whilst Glynn moved to the left. After the award of a free-kick to Alty, 35 yards out, Griffiths curled a superb dead-ball kick just over the Leigh cross bar (24 mins). Next, Byrne rode a foul tackle to stride on and drive in a 30-yard shot which the keeper saved well (26 mins). Play got a little niggly and the Leigh no.4 and Byrne had a small-scale skirmish which the referee interpreted as being worth a Leigh free-kick (32 mins). Hayes was then very late in tackling the Leigh no.4 and was deservedly booked (36 mins). At this point Leigh replaced their limping no.9 by no.12. Shortly afterwards the Leigh no.7 was booked for a foul on Glynn as play continued in a less than flowing manner (37 mins). Lunt then got round the Leigh no.6 but his attempted chip fell easily for the RMI keeper (41 mins). The referee next had to call over Byrne and the no.4 after another spat and the players ended up shaking hands before play resumed. Just before the interval, Alty won a corner on the right but Glynn overhit this in the windy conditions.
The strong wind and the loss of a man so early in the game had made things difficult for Altrincham. However, they had been far from outplayed in the first half and the two-goal margin flattered Leigh.
---
Half-Time: ALTRINCHAM FC YOUTH 0 LEIGH RMI ACADEMY 2
---
The half started with Ekolongeni being accidentally injured by a Leigh challenge and needing treatment. Soon, Glynn made a 40-yard run up the left before being stopped and a minute later he again advanced and got in a shot which went wide (50 mins). Harrison was then quick to smother the ball at the other end as Leigh's no.10 broke clear. The game lacked much goalmouth action as the hour mark was passed, However, Harrison soon had to make a fine save when the Leigh no.10 was judged to have sprung the offside trap. Harrison's excellent parry from a one-on-one situation was cleared by Collins (62 mins).
Byrne continued to impress at the back and it was Altrincham who were doing more of the pressing forward as Leigh failed to take advantage of their extra player. Killeen then replaced Ekolongeni (71 mins). After a foul by Taylor, for which he was lectured, the Leigh no.10 fed the no.12 who got past Harrison and it took a great interception from Griffiths to avert any danger as the vacant goal beckoned (73 mins). Leigh were now getting the upper hand and from a breakaway up the right they got in a shot over the bar (74 mins). Alty soon replaced Hayes by McEvoy (79 mins) as the clock ticked away. Moments later the Leigh side brought on no.16 for no.10. A Leigh corner was then cleared and by now Josh Collins had been pushed further forward as Alty left just three at the back and Francis Evans had replaced Steve Lunt. Leigh then scored a third and, once more, it was a far from clear-cut goal. Their nos. 11 and 7 got the ball to the no.12 who appeared to be well offside in the box. Play was allowed to continue and he passed the ball into the net from close range. Keeper Harrison immediately protested to the linesman and both Collins and Griffiths were cautioned for their protests.
Left: Josh Collins, far right, turns after scoring Alty's consolation goal having got past the stranded keeper on the edge of the box.
There then followed yet another controversial goal which was almost a carbon copy of Leigh's second. This time it was Alty who benefited from the officials' decision when McEvoy's pass up the middle found Collins in a seemingly offside position. Josh kept his head and got the ball past the keeper before finishing it off as he and defenders raced for the line (87 mins). A late corner for Leigh was cleared before a bad foul on Glynn by the Leigh no.4 led to a skirmish and an Alty free-kick. The final incident of note, a booking for Byrne for a verbal offence, was a mirror image of the first minute incident which had done so much to cost Alty the game. There were four goals in this match and it is strangely true to say that probably the least controversial was the penalty. The other three goals, from open play, were all arguably offside. The game had few other goalmouth incidents and even fewer shots of note. Added to this, the early sending-off of Bailey and the strong wind ensured that the game was a disappointing spectacle. Altrincham can take consolation from an impessive ten-man performance for 89 minutes and from the fact that if they had to lose, defeat to Leigh RMI, a club with which their former colleague Mark Pover was so closely associated, was perhaps less hard to bear than losing to any other club. Leigh are now on course for a league and cup double.
The medals and trophy were awarded by Mark Pover's father Dave, a well-known and popular football physio, who has served at both Leigh RMI and Stalybridge Celtic.
---
Full-Time: ALTRINCHAM FC YOUTH 1 LEIGH RMI ACADEMY 3
---
Link to Home Page
---

Copyright: ©


Compiled by John Laidlar