Match Report
---
ALTRINCHAM (1) 4 GATESHEAD (0) 0
UniBond Premier League match,
played on Monday, 26 August, 2002 at 3p.m.
---
| | |
| --- | --- |
| Matchday Sponsor | Matchball Sponsor |
| S.A.F.E. | Grahame and Karen Rowley |
---
SCORERS:
20 mins: Rod THORNLEY (penalty) (Altrincham 1 Gateshead 0)
55 mins: Rod THORNLEY (Altrincham 2 Gateshead 0)
61 mins: Rod THORNLEY (Altrincham 3 Gateshead 0)
88 mins: Peter BAND (Altrincham 4 Gateshead 0)
---
REFEREE:
Mr. D.G. Kellett
---
ATTENDANCE:
548
---
TEAMS:
26.8.02
ALTRINCHAM
versus.
GATESHEAD
3pm
Red & white striped shirts, black shorts & red socks
&nbsp
Claret & blue shirts, white shorts and socks
1.
Andy MOORE
1.
Richard SIDDALL
2.
Neil MURPHY
2.
Neil RADIGAN
3.
Gary SCOTT
3.
Dave MORGAN
4.
Stephen ROSE
4.
Dave GOODCHILD
5.
Gary TALBOT
5.
Rob JONES
6.
Neil RYAN
6.
Nicky MOHAN
7.
Jason GALLAGHER
7.
Ian DIXON
8.
Andy McDONALD
8.
Steve AGNEW
9.
Peter BAND
9.
Steve PREEN (capt.)
10.
Rod THORNLEY (capt.)
10.
Neal BISHOP
11.
Chris YOUNG
11.
Alex LAWSON
12.
Mark MADDOX
12.
Martin REED
14.
Simon WOODFORD
14
Gareth McALINDON
15.
Sean SMITH
15.
Dave COLVIN
BACKGROUND
Both teams started this game with no points and only one goal between them from a collective 450 minutes of football this season. Altrincham had conceded four goals in each of their last three games.
---
SUMMARY
Altrincham started well and dominated the game until they won a penalty after 20 minutes, converted by Thornley. This had been awarded for a clear handball after Scott had driven the ball across the box. The goal, however, signalled something of a revival by Gateshead and as half-time approached they went close to an equaliser, with Lawson crashing a shot against the angle of upright and crossbar. Alty improved again in the second half scoring twice in six minutes through Thornley (55 and 61 mins). Altrincham finished strongly with Band rounding off a fine debut with a goal two minutes from the end. Rod Thornley received the Man of the Match award.
---
TEAM NEWS
Peter Band made his debut after serving a three-match suspension incurred whilst at Hyde United; he replaced the injured Ian Craney. Band started in midfield having spent most of the pre-season at centre-back. Former Squires Gate keeper Andy Moore was also given a debut in goal, in place of Nick Stephens.
Stephen Rose started in place of Maddox at centre-back and Simon Woodford swapped places with Jason Gallagher who had been on the bench in the last game. Gateshead played their new signing Nicky Mohan from Hull City but Dave Colvin, recently signed from Sheffield United, started on the bench.
---
MATCH REPORT
In bright sunshine the game was preceded by a minute's silence for the murdered Cambridgeshire schoolgirls, following that observed at Hucknall on Saturday. Alty kicked off towards Golf Road and soon won a free-kick 40 yards out which ended with a Band header being saved cleanly by Siddall (1 min). As the Golf Road End supporters encouraged their side with strong vocal support, Alty built on their good start with new keeper Moore's only contribution being a routine kicked clearance. Alty then won a corner through Young (12 mins), soon followed by another gained by Band. Gary Scott was involved in several early advances up the left wing and then Neil Murphy ran 30 yards out of defence to feed Young, but his shot from 20 yards was well off target. But it was Scott who was instrumental in the opening goal. He interchanged passes with McDonald on the left and, though Scott's first cross rebounded back to him, his second attempt was a firmly driven cross-cum-shot which was clearly handled in the air, towards the back post by a Gateshead defender. Mr Kellett awarded a penalty and after talking to Goodchild, he booked Morgan. Following this significant delay, Rod Thornley sent Siddall to his right and put the ball to the keeper's left to record his first goal of the season, as pictured to the right (20 mins).
Left: Andy McDonald gets past Alex Lawson.

Following the goal, Gateshead won a free-kick for Band's foul on Bishop but their effort from 22 yards was weak and ran to Moore (22 mins). Then, a long throw by Morgan saw Lawson's shot blocked before Morgan himself hooked an effort well over the top from 22 yards (24 mins). Altrincham were consistently foiled in this game by the Gateshead offside trap which was often applied right upto the half-way line. Gateshead then won a corner off Talbot but keeper Moore caught the flag-kick cleanly (28 mins). Lawson next got round Rose but Talbot made a saving interception as the game went through a fairly quiet spell. Murphy played a ball forward which Rod Thornley used to dummy a defender and set Gallagher into the box, but only a throw resulted.
Alty improved a bit as Scott fed Murphy and his chip led to a Thornley header which Siddall dived to his left to save well (35 mins). Ryan was then tripped and retaliated when he did not get a free-kick. As well as conceding a free-kick, the Alty midfielder was booked (36 mins). The free-kick from 40 yards out was flicked on by Preen but ran to Moore.
With Thornley and Young still getting caught offside, Alty were not creating too much at this stage. After treatment to Rose for a facial injury, the free-kick from one of these offsides drifted over the Altrincham defence to the back post where the incoming Bishop could only turn it into the side netting (38 mins). A fine ball from Rose then set Thornley running at goal but the defence stopped his progress. Next a 20 yard shot from McDonald went over the bar. After a foul on Gallagher a free-kick by Murphy came off the back of Talbot's head to Siddall.
Soon, following a good turn by Gallagher, Murphy won a corner on the right but the ref blew for an offence as the ball came in from the flag-kick. But the last couple of minutes of the half belonged to Gateshead. A fine long range shot by Lawson was well saved at the foot of the post by Moore, diving to his left, to concede a corner. As the corner was taken, the three minutes board was displayed. Dixon's corner was half cleared by Band but Dixon soon pumped the ball back into the outer area of the box where Moore elected to use a double-fisted punch rather than to catch the ball. Though he made reasonable contact, Lawson immediately got behind Murphy and crashed a firmly hit shot against the junction of upright and crossbar to the keeper's right (44 mins). Then, a lay off to Agnew saw the Gateshead man's shot deflected for a corner but Alty hung onto their lead as the half-time whistle blew.
Half-Time: ALTRINCHAM 1 GATESHEAD 0
---
The second half started with Gallagher putting Thornley in on goal but Rod lost control. However, soon after this, Band did get in a shot but it was far too high (46 mins). Following Band's foul on Goodchild, the former Whitby defender, Agnew's free-kick came off the wall for a Gateshead corner on the right. Radigan wasted this, putting the ball directly onto the roof of the net. This error was followed by Moore's equally mis-directed goal-kick into touch. There was then a bad foul on Gallagher by Goodchild, just inside the Alty half and Jason briefly retaliated before receiving lengthy treatment (seen, left). Goodchild was booked and so, too, was Gallagher after the physio had finished her treatment (51 mins). Further errors followed from both sides as play became scrappy. Morgan then gave away an avoidable corner on the Alty right. From Ryan's corner, Band's shot from the edge of the box took a couple of deflections before reaching Thornley. He turned smartly only six yards from goal near the left post and planted the ball into the back of the net to make it 2-0 (55 mins).
Fed by Young and Gallagher, Thornley, invigorated by his second goal, then threatened to get past the last man, Reed, who knocked him over and was promptly booked (58 mins). Ryan's free-kick went straight to the keeper. Then Goodchild charged into Moore as he attempted to field a high ball and the Alty keeper did well to get the ball away. Alty immediately broke away and Young, who probably had his best game to date for Alty, fed Band but the Alty man was tackled just as he shot from 12 yards and the effort went wide (59 mins). Alty continued to press and, after Murphy was caught by Preen inside the centre-circle, Mr Kellett allowed play to continue which saw Thornley running free to the left of goal. Rod strode on and drove the ball firmly across Siddall for his hat-trick goal (61 mins).
Gateshead were now on the rack and Young was unceremoniously bundled over by Jones, the former Spennymoor stopper. Ryan's free-kick was met by McDonald's volley, which Siddall held well. But then Preen won his side a corner on the left (63 mins). From this Mohan headed the ball well but in a moment which summed up Gateshead's afternoon, his effort hit one of his own players in the box. Alty responded with Scott's fine cross from which Band headed narrowly over (64 mins). Gateshead now brought on Colvin for Lawson before a foul on Scott by Radigan led to a spat as a result of which both defenders were lectured (69 mins). Alty now made a straight swap of Gallagher and Woodford (69 mins). Andy McDonald soon got past a defender before being tripped and then Thornley had a cross cleared before McAlindon came on for Agnew (72 mins).
Alty were now well on top. A fine run, up the middle, by Woodford set Thornley off at goal but he was driven left and lost the ball. Colvin then sparked an attack at the other end which won a corner. From this Preen headed at Moore. Next, Young fed Thornley who won a corner as he was tackled in the box (78 mins).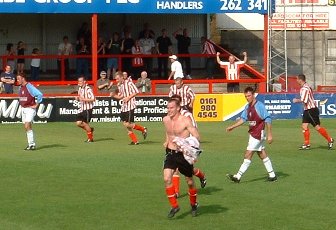 The corner was half cleared and then Thornley hooked the ball just over the bar (79 mins). Radigan then won a corner for his side. Jones met this with a fine header which the stretching Scott did well to clear off the line at the right upright (80 mins). After Dixon and Young had clashed, Gateshead strove for a consolation goal. But Alty then pressed again as, from Ryan's free-kick 35 yards out, Band had two bites at the cherry from each of which Siddall punched clear (84 mins). Then Ryan did well and set up Thornley but Jones stopped the striker's advance. Gateshead won a corner when Goodchild's header from a Reed cross was deflected. After the ball had ping-ponged round the area, Mohan stabbed the ball over the bar. Andy McDonald was then set completely clear inside the Gateshead box in a central position but he delayed so long that he was tackled and the chance went (87 mins). Nevertheless Alty scored within a minute through McDonald's efforts. The midfielder's firm shot from the left of goal was parried out to his left by Siddall and Band tapped it past him into the net for goal number four (88 mins). Pictured right are the post-goal celebrations led by the topless Peter Band who ran to the touchline to hug manager Bernard Taylor. The "two minutes" board was shown before Goodchild headed wide under pressure. McDonald then rolled a shot just wide (89 mins) before Mr Kellett ended proceedings.
Left: Gary Talbot leads Andy McDonald, Simon Woodford, Neil Murphy and Peter Band off the pitch at the end of the game.

After three games in each of which they had conceded four goals, Alty made the perfect reply with this 4-0 win. Gateshead had their moments but it was not to be their day. Alty's improvement today had a lot to do with the inclusion of Peter Band who made a fine debut in central midfield. The new keeper, Andy Moore also had a solid game, apart from his punch just before the interval. Young Nick Stephens, the deposed Alty keeper, watching from the stand must have felt disappointed that he had been dropped for a game in which the Alty defence was not under the sustained early barrage that he had faced at Vauxhall and Hucknall. Rod Thornley was also back to his marauding best after being starved of service for much of the season to date. Chris Young also was more involved than he had been whilst at the back, Scott and Murphy played well and Rose and Talbot dealt competently with everything thrown at them. Alty next travel to Blyth, who have started the season well, and Alty will hope to emulate one of their best performances of last season when they won 3-0 at Croft Park.
---
Full-Time: ALTRINCHAM 4 GATESHEAD 0
---