Match Report
---
ALTRINCHAM (0) 1
KENDAL TOWN (0) 0
FA Cup, 2nd Qualifying Round Match,
played on Saturday, 28 September, 2002 at 3p.m.
---
SCORERS
72 mins: Chris YOUNG (Altrincham 1 Kendal Town 0)
---
REFEREE: Mr. J. COLLIN
---
ATTENDANCE: 513
---
BACKGROUND
These sides had never previously met in the FA Cup. After Alty's poor recent run and Kendal's good start to the season, an upset was a distinct possibility. The game was sponsored by Bob Peters's 20/20 Research, who are the Club's FA Cup Sponsors for this season. Bob also kindly sponsors the Alty Youth team
---
SUMMARY
Kendal started tentatively but improved as the first half wore on whilst Altrincham played moderately throughout the first 45 minutes. Following a double substitution at half-time which saw first-team regulars Young and McDonald restored to the side, Altrincham were much improved and had the better of the second half. The only goal of the game was a little fortunate as keeper Ward met Gary Scott's cross with a punch which seemed to rebound off Chris Young and loop into the net (72 mins).
On his full debut, Jamie Phoenix got himself needlessly sent off eight minutes from the end when he foolishly pushed over the Kendal player-manager Peter Smith deep in the left-hand corner of the Alty half. The game was not a classic but Altrincham deserved to win it.
---
TEAM NEWS
Rod Thornley was restored to the starting line-up for Altrincham after injury but regular first-teamers Craney, McDonald and Young were all on the bench. Gary Talbot returned to the starting line-up and Jamie Phoenix was given his first start for Altrincham. Gary Scott started in right midfield as Mark Maddox moved across to left-back. Richard Acton kept his place in goal instead of Andy Moore and Alty elected not to name a substitute keeper amongst their five on the bench. Adewale Ajetunmobi was present but was omitted from the squad.
---
TEAMS
ALTRINCHAM (red & white striped shirts, black shorts, red socks): 1. Richard ACTON, 2. Neil MURPHY, 3. Mark MADDOX, 4. Stephen ROSE, 5. Gary TALBOT, 6. Neil RYAN, 7. Gary SCOTT, 8. Peter BAND, 9. Jamie PHOENIX, 10. Rod THORNLEY (capt.), 11. Danny MURPHY. Subs: 12. Jason GALLAGHER, 14. Ian CRANEY, 15. Andy McDONALD, 16. Andy TUNNICLIFFE, 17. Chris YOUNG.
KENDAL TOWN (Yellow shorts, blue shorts and yellow socks): 1. Lee WARD, 2. Lee PENNINGTON, 3. Lee BOWEN, 4. Philip HODGSON, 5. Richard CLOSE (capt.), 6. Jamie CLOSE, 7. Lee BLAMIRE, 8. Kyle HAYTON, 9. Craig WALMSLEY, 10. Ian SIMPSON, 11. James SHEPPARD. Subs: 12. Dave FOSTER, 14. Mike McKECHNIE, 15. Stuart CLIFF, 16. Peter SMITH, 17. Stuart PARKIN.

---
MATCH REPORT
Before the match, Alty's mascot "Rocky Robin" made his first appearance of the season and seemed to have grown a few inches in height since last year. The crowd was disappointing but Kendal did bring a vocal contingent with them. The Cumbrian side had escaped relegation from the UniBond First Division last season only because of Gretna's decision to move to the Scottish League but under player manager Peter Smith they have been a much better side this season and are currently vying for a promotion place.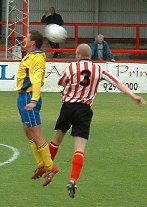 Right: Mark Maddox in action today.
Kendal won the game's first corner (2 mins) when Jamie Close's shot, from a Walmsley pass, was deflected. After Acton had missed the corner, a second corner followed on the Kendal left, taken by Sheppard but the referee spotted an infringement and gave Alty a free-kick. The early stages were punctuated by regular free-kick stoppages. The worst offence was Thornley's late challenge on Hayton for which he was fortunate only to receive a lecture. Then Simpson received a talking-to from the referee for another transgression. Altrincham were enjoying the better of the early exchanges with Kendal appearing a little tentative. Gary Talbot started well making three early headed clearances and he went on to have a good game. From a Kendal free-kick Acton punched clear but collided in the process with Band, and the midfielder needed treatment in his own penalty area.
Kendal then won their third corner, (to Altrincham's zero), when Simpson's shot was deflected out by Neil Murphy. At the other end, Phoenix was showing some good control and pace but was tending to lose possession by running into trouble. Nevertheless, a shot of his was blocked and came to Scott whose own effort ran to keeper Ward. Thornley and Scott then combined well and from the latter's cross from the right, Danny Murphy's flying header went narrowly wide (15 mins). Play then stopped and the struggling Band limped off, after further treatment for a leg injury. A minute later he was replaced by Ian Craney, himself less than fully fit (17 mins). This meant that Scott moved inside as Craney went to the right flank. When play resumed, a nice turn by Thornley set up Scott for a shot which Ward saved before the lively Sheppard got past Neil Murphy and put in a good cross from the left.
Altrincham's greater percentage of possession was undone by misplaced passes. Hodgson was soon lectured for a foul on Danny Murphy in the air before Scott was tripped by Sheppard. Though Sheppard had not offended previously he was booked, more because of the referee's impatience with the series of fouls by both sides in the opening stages than for the severity of his particular offence (24 mins). Walmsley, who had a good game for Kendal, then put in a cross from the left which the diving Blamire headed into the net but, as he did so, the whistle went for offside (26 mins).
Altrincham were failing to create any clear openings as the Kendal defence stood firm and Rod Thornley looked below par. Sheppard then fired in a thirty yarder which was not too far over the bar (32 mins). As the visitors now came into the game more, Danny Murphy tried his luck on the right which meant that Gary Scott went over to the left, his third position of the game so far. A needless trip by Phoenix earned him a booking, that was to cost him dear, on his full debut for Altrincham (38 mins). Following this, from Walmsley's feed, Hayton got in a shot at Acton as Kendal enjoyed a good spell. However Ryan's pass to Danny Murphy saw the number eleven connect with a good volley but Ward saved it comfortably (42 mins). Alty won a corner just before the interval from which Talbot headed over Phoenix's flag-kick (45 mins).
---
Half-Time: ALTRINCHAM 0 KENDAL TOWN 0
---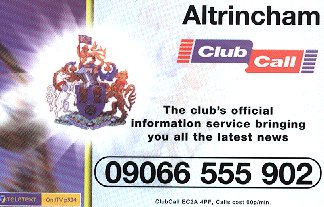 After their relatively lacklustre performance in the first half, Alty shook things up with a double-change at half time, bringing on Young up front and McDonald in midfield, with the two Murphys giving way. The versatile Gary Scott now moved to right-back and Phoenix moved to the left flank as McDonald slotted into central midfield. After Walmsley had again linked well with Sheppard on the left, Acton had to rush out to kick clear. He collided with Sheppard and lay injured but play continued and he had to hobble back to his goal before play stopped when the already booked Phoenix rode his luck with a foul on the half-way line.
Both Sheppard and Acton were then treated by their physios (47 mins). On the resumption, almost immediately Acton had to repeat his dash from the line to kick clear as Walmsley again played the ball forward well. Ryan and Phoenix then combined neatly and the ball was laid off to McDonald whose fine shot from 25 yards smashed against the right-hand upright with the keeper beaten (50 mins). Kendal responded with Hayton, Walmsley and Simpson combining well before Rose recovered from an earlier mistake to clear the danger. Phoenix then won the ball well off Pennington and fed Young who shot firmly, but narrowly wide, from 20 yards (52 mins). Altrincham were now much improved on their first half showing. Maddox and Talbot were solid at the back as Kendal were kept out of range of the Alty goal.
A fine ball from McDonald over the defence set up Craney for a well-struck half-volley which Ward saved superbly (56 mins). However, Phoenix made a poor fist of the resulting corner from the right, hitting the ball short and out of play. Thornley soon won another corner, taken by Ryan, which produced a further corner. Ward held this at the second attempt (58 mins). Walmsley did soon get in a shot from a very acute angle to the left of goal but Acton held this comfortably. Young then forced another corner at the other end, off Pennington's chest, which Ryan curled under the bar but it ended in a Kendal goalkick. Maddox was now in evidence pushing forward as Altrincham had the upper hand. Phoenix was then scythed down by Blamire who was booked, on the Alty right, some 18 yards out (64 mins).
Altrincham remained on top as Acton remained largely a spectator. Then Craney won the ball near halfway on the right and fed McDonald. The ball came to Scott on the right, via Ryan, and from Scott's cross Ward appeared to have punched clear in the air only for the ball to hit the challenging Young and rebound into the net to give Altrincham the lead (72 mins). After treatment to a Thornley head injury the sides shared an error strewn few minutes. Foster replaced Simpson for Kendal and player-manager Smith came on for Jamie Close (76 mins). Walmsley then found Sheppard in acres of space on the left and he found Blamire, but his effort was easy for Acton to field.
Phoenix next found Craney at the other end and his curling shot was not far wide of the upright, to the keeper's left (80 mins). Foster then skied a shot well over the Alty bar before Phoenix foolishly pushed over Smith from behind, near the Alty left-hand corner. Mr Collin had little option but to send the debutant off (82 mins). A minute later Cliff became the last substitute to appear when he replaced Blamire for Kendal.
With their one-man advantage Kendal were now able to mount a little pressure after being second best for most of the second half. Alty now just had Thornley up front as Young was withdrawn to cover for Phoenix's absence on the left of midfield. A long stoppage ensued for treatment to Cliff (85 mins) before another Walmsley cross just evaded the unmarked Foster on the six-yard line and the ball ran to Acton. Alty saw out the closing stages without too many more problems and can look forward to the next round draw on Monday. After eight consecutive home ties in the FA Cup, the Robins must feel they are due an away trip. Mark Maddox was deservedly named Man of the Match but his defensive partner Gary Talbot must have run him close.
---
Full-Time: ALTRINCHAM 1 KENDAL TOWN 0
---