---

20-20 RESEARCH ARE THE YOUTH TEAM'S SPONSORS
Click the picture of manager George Heslop, with Bob Peters (MD of 20/20), to visit the company's website.
---
ALTRINCHAM YOUTH pictured before the game against Lancaster City on 20 April 2003.
Back L to R: James Carty, Steve Lunt, Joel Ekolongeni, Michael Bailey, Barry George, Greg Byrne, Richard Harrison, Josh Collins, Alex Frost. Front: Stevie Taylor, Paul Nelson, Luke Killeen, Jon McEvoy, Paul Glynn, Adam Douthwaite, Mark Griffiths..
---
Altrincham's Youth side are managed by George Heslop, ably assisted by Neil Thomason and Mal Bailey. The team plays in the Bolton and District Amateur Football Combination (North West Youth Alliance Under-18s' Premier Division). I am very grateful to George for his help in providing information for this page. If anyone else has information on the Youth team, I am always happy to receive it. You can e-mail me
here
.
John Laidlar
.
---
12 August 2003
ALTY HIT NINE
Altrincham Youth won last Sunday's friendly at West Didsbury and Chorlton by nine goals to nil! Manager George Heslop has provided details for a brief match report, which is
here
.
---
8 August 2003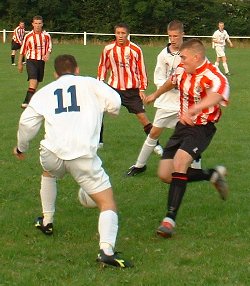 COUNTY HONOURS
Four Alty Youth players are currently training with the Cheshire FA Youth Under-18 side. They are Adam Douthwaite, Josh Collins, Barry George and Alex Frost.
ALTRINCHAM YOUTH 1 TRAFFORD RES. 0
Right: James Carty in action against Trafford FC Reserves, as Kieran Lugsden and Lewis Chalmers look on.
Alty Youth won tonight's pre-season game against Trafford 1-0 thanks to a superbly struck goal by Stuart Cook seven minutes from the end. Report here.
---
23 July 2003
YOUTH INVOLVED
So far, eight of last season's youth team have played alongside first-team colleagues in Altrincham's pre-season games. They are Paul Glynn, who scored at Woodley Sports, Joel Ekolongeni, Mark Griffiths, Steve Lunt, Richard Harrison, Greg Byrne. Jon McEvoy and Josh Collins.
---
19 July 2003
PRE-SEASON DRAW
Alty Youth drew 1-1 against Runcorn FA last weekend. Courtesy of George Heslop, there is a brief report and also player statistics
here
.
---
18 May 2002
YOUTH NIGHT SUCCESS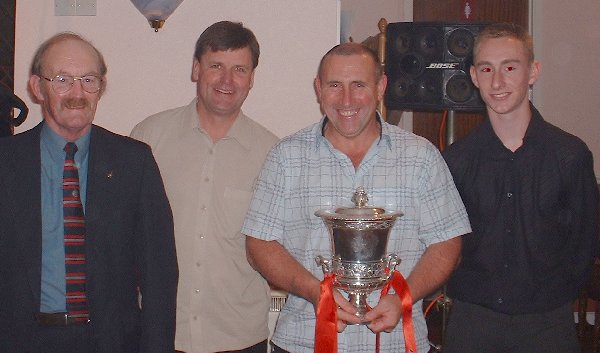 Many thanks are due to the organisers of a highly successful Altrincham Youth Team presentation night, held last night in a packed Noel White Suite at Moss Lane. Above, Youth Team manager George Heslop, coach Neil Thomason, club chairman Geoff Goodwin and Youth team captain Paul Glynn pose with the Cheshire FA District Youth Cup won by the Altrincham & District FA side, which was entirely made up of Altrincham FC players.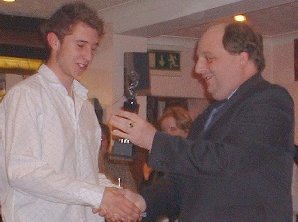 The evening was expertly compered by Joanne, sister of Steve Lunt, Alty's youth and first-team striker. After a brief review of the season by manager George Heslop, in which the youth team had finished fourth in the NW Youth Alliance Premier Division and reached the finals of both the Open and Premier Cups, the award was made of the Jackie Swindells Trophy. This is a new trophy, named after Alty's goalscoring legend of the 1960s, and sponsored by STAR, the Altrincham supporters' trust. This was awarded to Steve Lunt by STAR Vice-Chairman and Moss Lane stadium officer Phil Taylor (shown above). Steve has led the way for the Youth team, having both played and scored for the first team in 2002-03.
Next, came the presentation of the Cheshire FA's District Cup by Norman Sherriff, Secretary of the Altrincham & District FA. This was won by the Altrincham & District FA side, managed by George Heslop, Neil Thomason and Mal Bailey and comprising a team made up entirely of Altrincham FC youth players. The trophy was collected by captain Paul Glynn, who had no trouble in lifting the award after undergoing a weight-training course with the first-team this week! Mr Sherriff not only congratulated the team and management for their on-field displays, which have seen them lose only once in three seasons from open play, but he also commended the team's smartness and behaviour off the pitch.
Winner of both the manager's and the players' Player of the Year trophies was Steve Lunt. Making the introductions, first-team manager Graham Heathcote revealed that he had come to the event primarily to see what trophies looked like, after the first team had finished 14th in the league and been knocked out of the various cup competitions! More seriously Graham congratulated the team for their efforts and reaffirmed his willingness to give young players a chance, noting that he himself had been given his debut as a 16 year-old at Altrincham. Graham also paid special tribute to Neil Thomason and Mal Bailey for their sterling work for the youth team alongside manager George Heslop. Club chairman Geoff Goodwin presented the Players' Player of the Year Award and it was subsequently announced by Neil Thomason that Geoff was providing new kit for the youth team next season. Neil also thanked Stamford Van Hire, who will be sponsoring the youth team's away travel next season.
It was also very fitting that a presentation was made to Sean and Della, licensees of The Stonemason's Arms in Timperley, who had raised more than £600 for the youth team through events organised by the pub. Sean announced that he expected to raise even more funds in the coming season.
First prize in the raffle, which raised more than £200, was won by Jenny Heslop, wife of George, and herself a great servant of the Club as bar and shop manager.
NEXT SEASON
A number of this season's youth squad will be over-age for next season's competitions. These include Greg Byrne, Paul Glynn, Francis Evans, Richard Harrison, Jon McEvoy, Mark Griffiths, Todd Hayes, Joel Ekolongeni. However, a number of these players will be training with the first team over the summer. Those who remain eligible for next year include Barry George, Alex Frost, Michael Bailey, Steve Lunt, Josh Collins, Adam Douthwaite, Luke Killeen, Chris Davies, Anthony Potts, Andrew Thorpe, Stevie Taylor and the Lugsden twins, Keiran and Kelvin.
The draw has already been made for the District Youth Challenge cup for 2003-04. Altrincham will be in the same group as Chester, Macclesfield, Stockport and The Wirral's FA sides. Group two will comprise Crewe, Mid-Cheshire, Runcorn and Stalybridge.
---
14 May 2003
DOOR OPEN
Alty manager Graham Heathcote has "confirmed that during the pre-season programme, the door to the senior squad would be open for the youth team, and he will be monitoring their progress. He also revealed that the club are looking at the possibility of farming out youth team players to North West Counties clubs, in order to play more regular football", according to
SAM
.
---
9 May 2003
WALKOVER
Tonight, for the second time this season Ashton Athletic failed to raise a team against Altrincham. This time, rather than a replay, Alty were awarded the three points. They complete their season, away at South Sefton Borough, at 2pm on Sunday.
---
YOUTHS DRAW

Alty Youth drew 2-2 with Prestwich Heys last night at Wythenshawe Town FC, thanks to a late goal by James Carty. Above the Prestwich keeper saves well from Keiran Lugsden's header. Match report here.
---
7 May 2003
RESULT
Altrincham Youth lost 1-0 away at Leigh in a league match last night. Alty are at home to Prestwich Heys on Thursday (6.30pm at Wythenshawe Town FC).
---
4 May 2003
FINAL DEFEAT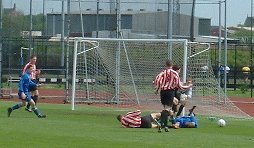 Alty Youth lost 3-1 to Leigh RMI Academy in the NWYA Open Cup Final at The Robin Park Arena, Wigan today. Alty were reduced to 10 men after only 60 seconds when Michael Bailey was dismissed for a verbal offence, following the award of a penalty against Josh Collins, which was converted. Pictured above is the penalty incident as Collins brings down a Leigh player. Report here..
---
3 May 2003
NATIONALLY
Southport
reports that "the FA County Youth Cup Final was played at Haig Avenue, with Northumberland FA beating Liverpool FA 1-0".
CUP FINAL LOST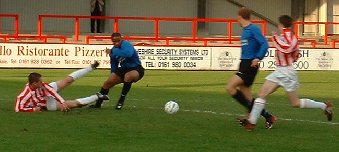 Alty Youth lost Thursday night's NWYA Premier Cup Final 0-3 to Kingsley United. Above, Kingsley's Paul Addo eludes Mark Griffiths's tackle just before scoring the opening goal after 3 minutes. Report here.
---
30 April 2003
YOUTHS WIN

Match report here.
Above the Alty players rush out from their lines; l. to r. Paul Glynn, keeper Barry George, James Carty, Kelvin Lugsden, Greg Byrne, Josh Collins, Luke Killeen and Andy Smart. See the Home Page for a picture of Collins's goal.
---
27 April 2003
ALTY YOUTH 2 SOUTH SEFTON BOROUGH 4

Above: Steve Lunt nets Alty's first goal.
Match report and pictures here
On Tuesday (29th) Alty play St Helens College at Wythenshawe Town (6.30pm k.o.).
---
24 April 2003
NEW MILLS RESIGN
It has been confirmed that New Mills have resigned from the NWYA Premier League which means that Altrincham have a bye into the Premier Cup Final as they were set to play New Mills in the semi-final. Also, as New Mills's league record has been deleted, including their 5-4 win over Altrincham and defeats to some of the league-leaders, Altrincham are now back in with a mathematical chance of winning the league title. The revised league table has yet to appear on the NWYA website.
YOUTH CUP FINALS
Altrincham Youth have two cup finals on the horizon:
Thursday, 1st May: The NWYA Premier Cup Final v. Morecambe or Kingsley United, at Moss Lane, k.o. provisionally set for 7pm.
Sunday 4th May: The NWYA Open Cup Final v. Leigh RMI Academy, at Robin Park, Wigan at 2pm. The Robin Park Arena is immediately adjacent to the JJB Stadium of Wigan Athletic and is itself a modern athletics/football stadium. Details of the Arena are here. It is at Loire Drive, Robin Park, Wigan, WN5 0UH. Click here for a map of the area.
FIXTURE CHANGES
Alty now entertain South Sefton this Sunday- for this and other new fixtures, click here.
---
20 April 2003
ALTY IN FINAL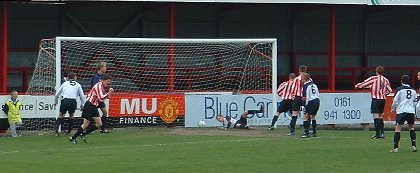 Altrincham Youth beat Lancaster City today 1-0 in a hard-fought Open Cup semi-final at Moss Lane. The goal came from Stevie Taylor (above, no.11, nearest the fallen defender).
Match report and more pictures here.
NEW PICTURE
Pictured above is the latest Youth squad picture taken today before the Lancaster City match. If anyone wants a larger version, please let me know and I will gladly send one by e-mail.
---
17 April 2003
YOUTHS WIN AGAIN
Alty Youth beat Euxton Villa 1-0, away, on Tuesday, to extend their record to one defeat in their last 17 games. The goal came from Joel Ekolongeni. Report here, courtesy of George Heslop.

The next game is the Open Cup semi-final at Moss Lane this Sunday (2pm) against Lancaster City. Alty will be without Francis Evans who has an important Liverpool FA match on the same day. The Alty league matches originally planned for this Thursday and next Tuesday have now been postponed.
---
16 April 2003
MARINE YOUTH
The Marine site now has a brief report on Alty's recent draw with their "A" side.
---
15 April 2003
TABLES
The updated NWYA Premier Division league table is at the foot of the Fixtures page. Other results last Sunday:
Ashton A. 1-3 Leigh RMI
Marine 1-0 Euxton V.
Morecambe 1-2 Lancaster C.
New Mills 2-1 South Sefton
YOUTH PRESENTATIONS
The Alty Youth Team Presentation Night will be at Moss Lane on 17 May at 7.30pm. Please contact the Club (928-1045) for tickets, which are £3 and include a disco.
---
13 April 2003
CUP DRAW
Alty have drawn New Mills in the Premier Cup semi-final. The venue and date are not yet known. The other semi is Kingsley U./ Lancaster C. v Morecambe.
ALTY YOUTH 3 KINGSLEY UTD 1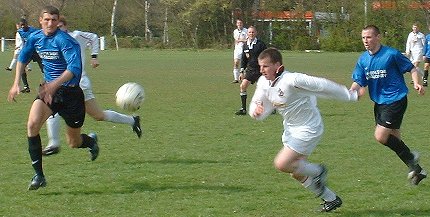 Above Stevie Taylor is seen in action today.
Report here.
---
9 April 2003
DRAW AT MARINE
Alty Youth drew 2-2 on Tuesday night away to Marine "A", thanks to late goals from Greg Byrne and Paul Glynn. Report here, courtesy of George Heslop.
EASTER SUNDAY
Alty's league game against St Helens on Easter Sunday has been replaced by the Open Cup semi-final which will be played at Moss Lane, at 2pm. The opponents will be Lancaster City.
---
6 April 2003
YOUTHS ADVANCE

Alty Youth beat Ashton Athletic 5-3 on penalties after extra time in today's Premier Cup quarter-final at Wythenshawe Town FC. The score was 1-1 after 90 minutes. Above, James Carty drives home the final penalty. Report and more pictures here.
---
4 April 2003
FIXTURES, CUPS & TABLES
Altrincham Youth will now be at home to Ashton Athletic in the NWYA Premier Cup quarter-final this Sunday (6th) rather than playing S. Sefton in the league as was planned. K.o. is 2pm at Wythenshawe Town FC. Morecambe have already reached the semi-finals by beating South Sefton. Next Tuesday's league game for Alty is now away at Marine (which should have been on Thursday) and not at home to New Mills.

The teams still left in the Open Cup 3rd round are Altrincham, Ashton Athletic, Kingsley United, Lancaster City, Leigh RMI, Marine 'A', Rochdalians and Unsworth.

The updated NWYA league table is on the Fixtures Page.
---
30 March 2003
NEW MILLS YOUTH 5 ALTY YOUTH 4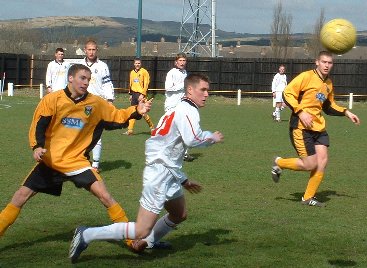 Above Luke Killeen (white shirt) fights for the ball at New Mills. Match report and more pictures here.
For the opposition view and some excellent photos, see the very good New Mills site.
---
28 March 2003
CUP WIN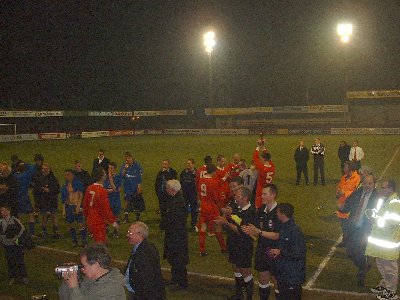 A shot in the last minute of extra time from Steve Lunt won the Cheshire FA District Youth Cup Final for the Altrincham & District side tonight at Moss Lane. Above, Alty centre-back Greg Byrne holds up his individual trophy after the game. All of the Altrincham side, which was managed by George Heslop, came from the Altrincham FC Youth side. Match report here.
On Sunday Altrincham FC Youth travel to New Mills (2pm) for a league match. For directions visit the excellent New Mills AFC website.
---
25 March 2003
FIXTURE CHANGES
All of the May league fixtures have now been moved into April, meaning there are now ten league games in four weeks, including four in eight days! Details here. This Sunday (30th) the team is away at New Mills (2pm). There are also matches in the two NWYA cup competitions to be played as well as the District Cup Final, this Friday at Moss Lane (7.30pm) against Macclesfield F.A..
---
23 March 2003
ALTY YOUTH 4 MARINE A 1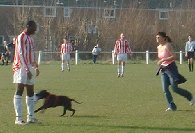 Seen above is Alty's latest acquisition, a midfield terrier whose dogged performance helped his side to a 4-1 win over Marine on Sunday. The dog, pursued by its owner, is seen as it skirts round Joel Ekolongeni this afternoon, with a ball in its mouth. Below, Mark Griffiths's goal.
Report and more pictures here.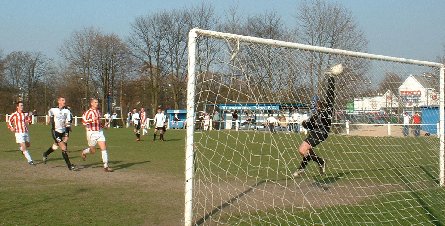 ---
19 March 2003
NEXT GAMES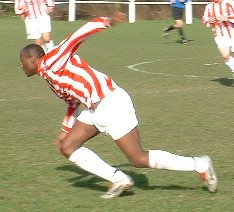 Altrincham Youth are at home to Marine A in a league match at Wythenshawe Town FC next Sunday at 2pm. Then on Friday 28 March, Altrincham & District FA are at home to Macclesfield & District in the District Youth Challenge Cup Final at Moss Lane (kick-off time to be confirmed).

Player appearances in the District Cup are as follows - courtesy of George Heslop. All but one of the team this season have been from the Altrincham FC Youth team. Sub appearances are in round brackets and goals are given in square brackets. Pictured right is Joel Ekolongeni.
Michael Bailey 3, Greg Byrne 3, Josh Collins 2 [2], Chris Davis 1, Adam Douthwaite 1(+2), Joel Ekolongeni 1, Francis Evans 3 [1], Alex Frost 3 [1], Barry George 1, Mark Griffiths 2, Richard Harrison 2, Todd Hayes 1 [1], Luke Killeen 1, Nick Killeen (Styal) 0(+1), Stephen Lunt 3 [5], Jon McEvoy 2(+1) [1], Anthony Potts 0(+2), Ian Taylor 1 [1], Stevie Taylor 0(+1), Andy Thorpe 0(+1) [1].
---
16 March 2003
ALTY ADVANCE
Alty Youth deservedly beat a sometimes rugged Kingsley United side 3-1 today in the NWYA Open Cup at Wythenshawe Town FC. Match report and pictures here.
---
5 March 2003
THREE IN TEAM
Three Alty Youth players appeared for the Altrincham first team in the UniBond Premier League last night. Steve Lunt played the entire game at Barrow, Jon McEvoy played for an hour and Francis Evans came on in the late stages. All performed well and Jon and Steve could be involved in the squad again on Saturday, but Francis is unavailable.
---
2 March 2003
ANOTHER WIN
Altrincham Youth today beat Ashton Athletic 2-0. A report is here, courtesy of George Heslop.
---
27 February 2003
CUP FINAL & FIXTURE UPDATE
The Altrincham FA side's Cheshire County FA District Youth Cup Final versus Macclesfield is now set for Friday 28 March, at Moss Lane. There are also numerous new Altrincham FC Youth team fixtures, which can be found here. The backlog is such that Alty now have games on Friday 2nd May, Sunday 4th and Monday 5th!
---
24 February 2003
ALTRINCHAM FA YOUTH 5 STOCKPORT FA YOUTH 1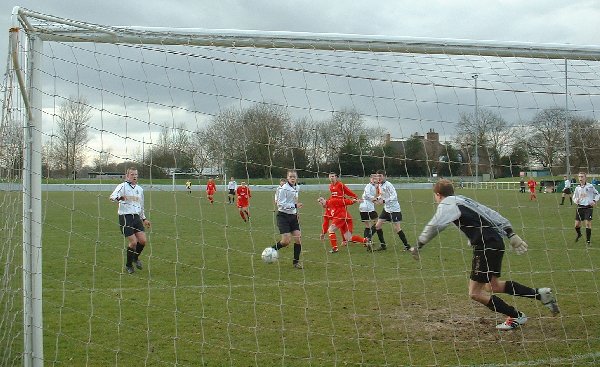 The Altrincham side was entirely made up of Altrincham FC players as they beat Stockport 5-1 this afternoon at Trafford F.C. to qualify for the final of this inter-F.A. youth competition where they will meet Macclesfield F.A. The goals came from Steve Lunt, Jon McEvoy, Todd Hayes, Francis Evans and Andy Thorpe.
Above, keeper Richard Harrison goes to gather a shot in today's game as his colleagues (in white) look on.
More pictures here and match report here.
18 February 2003
WES'S BIG CHANCE
18 year-old Wes Wilkinson, a former striker for Alty Youth, who has hit 20 goals this season for Nantwich Town, is going on trial with Crewe Alexandra.
---
16 February 2003
ALTRINCHAM YOUTH 2 EUXTON VILLA 0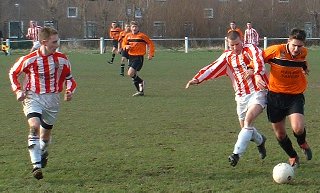 Paul Glynn looks on as Josh Collins contests possession against Euxton.
Goals from Luke Killeen and Josh Collins gave Alty a win in their first completed game for nine weeks today. Match report here.
---
9 February 2003
TABLE
The NWYA Premier league table, at 8 February, is here.
GAME OFF
Today's Alty Youth match, away at Leigh. has been postponed. It is now 8 weeks since the team were able to complete a fixture. All fixtures are here.
---
7 February 2003
FIXTURE OFF
Alty's game on 23 February against St Helens Town has been postponed as most of the Alty team will be representing Altrincham & District FA against Stockport FA at Trafford's Shawe View ground on that day (2pm). Should Altrincham win, they will be into the final of the inter-FA tournament.
---
2 February 2003
HAIL & SNOW STOP GAME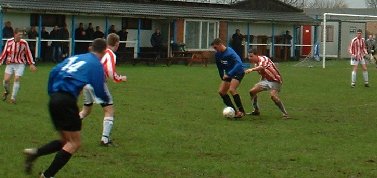 Hail and snow, blown on an icy, strong wind forced the abandonment of Alty Youth's game today at Wythenshawe Town FC. An illustrated report on the 56 minutes of play against league leaders Kingsley United is here. Alty Youth last played a full game on 15 December, so will have had at least an 8-week weather-enforced break if they manage to play next Sunday!
---
30 January 2003
FIXTURES
The Alty Youth fixtures for February are now here.
---
28 January 2003
TABLE
Having not played a game for six weeks, Altrincham Youth have played fewer games than any other team in the NWYA Premier Division. The updated league table is hereThe game last Sunday at home to new Mills was the latest victim of the weather. At present I have no further fixtures for the team but will try and obtain these as soon as possible.
---
16 January 2003
OPEN CUP
The draw for the NWYA Open Cup 3rd Round is as follows:
ALTRINCHAM v Kingsley U.
Lancaster City v Marine
Leigh RMI v Unsworth