Altrincham Football Club
News: 1 June to 1 July, 2000
---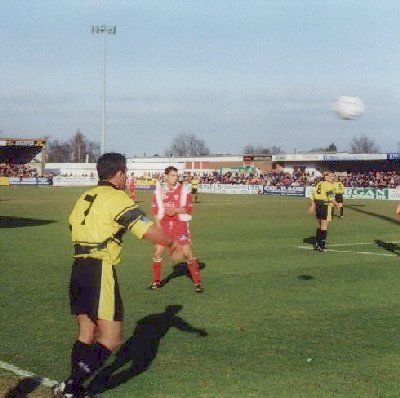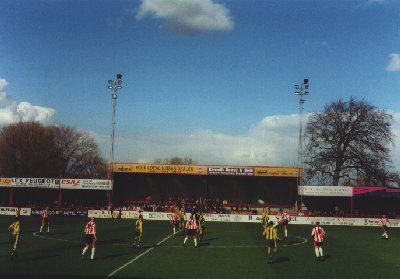 Left: Jason Gallagher takes a throw at Kidderminster, 11/3/2000.
Right: Chris Timons heads clear at Moss Lane, versus Kettering, 25/3/00.
1 July 2000
RUSSELL FINALLY GOES
Keith Russell's protracted free-transfer to Hednesford has now been completed. Russell was Altrincham's highest-paid player so his departure frees up some cash for Mark Ward to strengthen his squad. Whilst negotiations with Stockport's Kevin Francis and with Leigh RMI's Steve Jones have been confirmed, neither player has yet agreed to come to Moss Lane. Another target for Ward has been confirmed as ex-Alty centre-back Eddie Turkington. Turkington was signed by Bernard Taylor from Stockport County in 1999 but was soon released to Leigh where, despite a nightmare start of two sendings off, he played an important part in their promotion to the Conference. However, Turkington has been offered a new contract at Hilton Park so his return to Moss Lane cannot be certain.
MORE INTEREST IN KEV
Carlisle United are the latest side to express an interest in Altrincham's Kevin Ellison. However, their request for his loan for pre-season training has been rebuffed by Mark Ward.
PLAYERS ON TRIAL
Mark Ward has arranged for a number of young players released by Merseyside clubs to join Altrincham for the pre-season period. These include Steve Porter (midfield) from Liverpool, Paul Walsham (full-back) from Tranmere Rovers and John Wright, another full-back, from Everton. Manchester City's centre-back, Greg Duff, will also join these trialists at Moss Lane.
SQUAD RETURNS FOR TRAINING
The Altrincham players returned to Moss Lane this morning for their first training session of the new season. Whilst the make-up of the squad is still not wholly certain, the following appears to be the situation as regards last season's first-team squad:
Certainly or probably still at the Club: Stuart Coburn, Danny Adams, Jason Gallagher, Mark Maddox, Gary Talbot, Steve Hawse, Kevin Ellison, Phil Power, Richard Landon, Leroy Chambers, Barry Crowe.
Possibly going: Chris Timons, Gavin Price.
Not known Shaun Goodwin.
Departures: Lance Key, Dean Greygoose, Mick Morrell, Keith Russell, Ged Kielty, Simeon Hodson, Andy Lovelock.
Additionally, Mark Ward has acquired Mark Quayle from Everton on trial (see below) and will, of course, himself being playing for Altrincham next season.
FRIENDLY OFF
The friendly against Bolton Wanderers scheduled for Tuesday 25th July has been cancelled. However, it is hoped that another fixture may be arranged for the same date. Ring the Robins' Round Up information line for further news on this and other developments- 09066-555-902.
---
29 June 2000
NEW FIRST TEAM PHYSIO
Gary Thompson, last season's reserve team physiotherapist has been appointed as Altrincham's first-team physio for the coming season. Presumably, therefore, Paul Lake has left the Club.
UNIBOND PREMIER LEAGUE FIXTURES
Unibond sources have indicated that the 2000-01 season's fixtures should become public by 10 July. Altrincham's fixtures will appear on this site as soon as they are known. Conference fixtures are due to appear within the next week.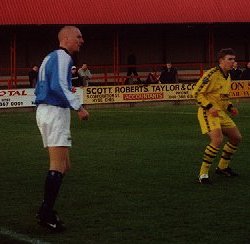 ELLISON'S FELLOW TRIALIST MOVES FOR £35,000
Striker, Marc McGregor, who played a couple of times in Manchester City trial matches last season alongside Altrincham's Kevin Ellison, has landed a £35,000 move away from Forest Green Rovers. However, his move is not to a League side but to fellow Conference team, Nuneaton Borough. McGregor has signed on a two-year contract. He will join Hayes's Lee Charles and Stafford Rangers's leading scorer Richard Mitchell, who have both joined the 'Boro to make up what promises to be a potent Nuneaton front-line. Meanwhile, Kevin Ellison (seen left playing for City versus Port Vale Reserves at Hyde on 28 March, 2000) appears to be still at Moss Lane for the coming season, although a few more good performances may see the scouts gathering around him as they did last season before he was injured.
---
25 June 2000
LOVELOCK LEAVES
Andy Lovelock has left Altrincham to join Solihull Borough, who finished fifth in the Dr Martens Western Division last season; that League is the equivalent level to the Unibond First Division. Solihull will be playing at their own ground, Damson Park, for the first time in more than a decade after groundsharing, most recently at Redditch. The 23 year-old Lovelock, whose goal against Emley took Altrincham into the Conference as Unibond Champions at the end of the 1998/1999 season, started only twelve games in his Altrincham career, though he also made 38 substitute appearances. Apart from the Emley goal, he scored only once, a superb 25-yarder against Scarborough in the Conference match at Moss Lane in February, 2000.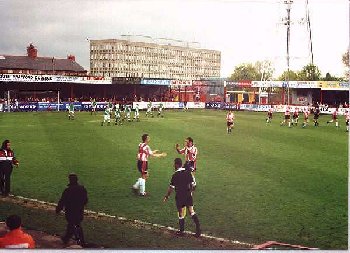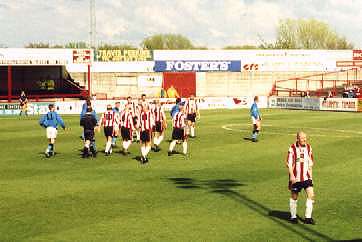 April Highs and Lows. (Left) The ball is in the net and Altrincham celebrate the lead versus Yeovil; (right) Maddox is sent off against Doncaster. Click on images for larger versions.
---
24 June 2000
INS AND OUTS?
The Pink has confirmed (24/6/00) that Mark Ward is pursuing Leigh RMI's right-winger, Steve Jones who was the Player of the Year at Hilton Park last season. Ward hopes to pair Jones with Kevin Ellison but any move awaits the return from holiday of the Leigh Chairman. As reported below, Ward is also still pursuing Lancaster's Jamie Udall, but he faces competition form Morecambe and others. However, Ward has acquired an Everton reserve striker, Mark Quayle, on pre-season trial. Leigh's reserve goalkeeper, Mark O'Connor is also a possible arrival at Moss Lane as his present employers are seeking to sign Bamber Bridge's keeper, Craig Dootson. Mick Morrell has signed for Leigh and Chris Timons is expected to do so, to join ex-Alty midfielder, Ged Kielty. Whilst Kevin Ellison remains at Alty despite some interest from Chester City, Northwich Vics have made an approach for centre-back Gary Talbot. Surprisingly, Keith Russell has not jumped at the offer from Hednesford to sign him and still has not yet agreed terms with the Pitmen. North-West Trains side Salford City are hoping to sign two ex-Alty players, Darren Lyons and Neill Hardy both of whom have been released by Morecambe in the last few months, although it is surprising, particularly in Hardy's case, that the players in question are prepared to drop several leagues. Southport have made a player-exchange offer for Danny Adams, but this has been rebuffed.

Altrincham may be playing a pre-season friendly in late July, away, against an as yet unspecified Irish side.
---
22 June 2000
WARD PURSUES KEVIN FRANCIS
Mark Ward is reported to be in negotiation with Stockport County's tall centre-forward, Kevin Francis. The six foot seven striker is 32 years old and has been released from Edgeley Park after returning to Stockport earlier this year. Ward got to know Francis when both were at Birmingham City. In his first spell at Stockport he scored 88 goals in 152 games and initially struck a goal every two games at St. Andrew's. Currently, Kevin is suffering from an Achilles tendon injury but should be fit for the new season.

Following Paul Jewell's move from Bradford City to Sheffield Wednesday, there may be some doubt about the proposed friendly between Bradford and Altrincham. However, Sheffield Wednesday would be more than welcome at Moss Lane should Jewell decide to help out his fellow Scouser, Mark Ward.

Barrow have signed ex-Carlisle United centre-back, Lee Taylor, from Workington. Barrow manager, Kenny Lowe, is also trying to bring Scunthorpe's Steve Housham back to the Club, after a loan-spell of one month at Holker Street.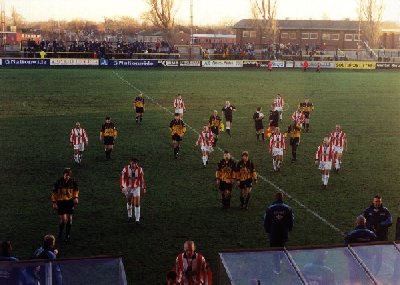 All the Altrincham outfield players are seen here leaving the pitch at Southport after the 0-0 draw in the FA Trophy, January, 2000. Click on photo to enlarge it.

UNIBOND RIVALS Whilst little significant news is emerging from Altrincham FC, Unibond Premier rivals Accrington have resigned Paul Burns, who since leaving Stanley had been playing for Morecambe. Burns was originally a forward, who converted to midfield. Accrington are said to be interested, too, in Radcliffe's impressive striker, Paul Mullin, and are expressing a wish to lure back Gary Williams from Doncaster Rovers. The Yorkshire side signed Williams last season for £60,000 but he has not established himself at Belle Vue under the post-Snodin regime.

Meanwhile, Runcorn have opted to spend another year at Canal Street after a furore erupted when plans were announced to move out, possibly to Warrington.

---
17 June 2000
PLAYER NEWS

Chester City have made an approach for Kevin Ellison, but Mark Ward is keen to retain the Liverpudlian at Altrincham, so the outcome remains to be seen. Mick Morrell seems to be on his way to Leigh RMI, whilst Chris Timons is also mulling over a move to Hilton Park. Jason Donnelly, who played briefly for Altrincham in the Unibond, is the new joint manager of NW Trains League side Maine Road. Meanwhile Northwich's clear-out continues; Val Owen has joined Keith Russell at Hednesford and Darren Vicary and Jamie Bates have asked for transfers. The Vics have accepted, provisionally, an offer of £2.4 million for their Drill Field ground but protests are growing against their plans to build a new stadium at Moss Farm.

RESERVE MANAGER APPOINTED
Mark Ward has appointed Joey Dunn, Runcorn Reserves' manager, as his own Reserve team boss.

---
15 June 2000<
RICHARD LANDON STAYS
Mark Ward has denied any interest in a swap-deal involving Richard Landon going to Haig Avenue in exchange for cash plus Southport's Adie Mike and Lee Trundle. Unofficial Southport sources had suggested that such a move was afoot. Mark Ward has also implied that there will not be a mass influx of new players to Moss Lane. He confirmed his interest in Leigh RMI's reserve keeper, Mark O'Connor but otherwise is apparently placing his faith in the bulk of the 1999/2000 squad. The Messenger (15/6/00) states that Keith Russell's free move to Hednesford is near to completion.
---
13 June 2000
NEW SEASON

The new Unibond Premier League season will start on 19 August, 2000.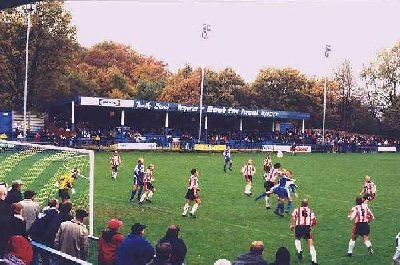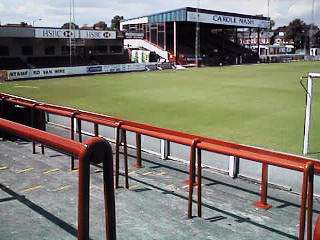 L to R: Ellender heads clear at Stalybridge in the infamous 2-3 FA Cup defeat; Moss Lane awaits the new season, June 2000.
---
11 June 2000
SCARBOROUGH PURSUING KEVIN ELLISON

Colin Addison, manager of Scarborough, is reported on the front page of the Non League Paper (11/6/00) to have "targeted" Kevin Ellison as one of his main transfer targets, whilst Justin Jackson (Morecambe), who scored twice against Altrincham in the 3-3 away draw last season, has signed for Rushden for £180,000. The same newspaper also carries an interview with England's semi-professional team manager, John Davison, formerly of Altrincham and now manager of Burscough. This interview recalls Altrincham's famous 1979 FA Cup Third Round draw (1-1) against Tottenham Hotspur, at White Hart Lane. Although Altrincham lost the replay 0-3 atMaine Road, their draw at Spurs in front of 31,000 spectators earns them a place in the NLP's 'Heroes of Non-League' section. The feature is accompanied by a dubious photo which purports to be the squad which played against Spurs- but isn't.
---
10 June 2000
PRE-SEASON DEVELOPMENTS
The Pink (10/6/00) reports that Mark Ward is expecting his players to report for their first training session of the new season on July 1 "in something approaching the shape I am in". Ward is training every day whilst also trying to bring new players to the Club. He has been checking the PFA's list of players released by professional teams. He wants to sign several experienced semi-pros to join his existing players and make up a pool of 18 players. Mark is said to be interested in Jamie Udall, a central-defender who played at Lancaster last year, after leaving Morecambe. Apparently Bernard Taylor was put off by a £10,000 tag when he moved for the same player when Alty were in the Unibond previously. Udall was Lancaster's 'Player of the Year' in 1998/99.

It is also reported that Leigh RMI are pursuing Chris Timons, who is out of contract at Moss Lane, as well as Mick Morrell who was previously, perhaps prematurely, reported as having left Altrincham. Likewise rumours of Richard Landon's departure (see below) may also prove to have been premature.

Former Robin, Stuart Walker, is now playing Sunday football for Moss Vale, Altrincham Sunday League First Division champions, as well as remaining on the books of Hyde United.

---
7 June 2000
INS AND OUTS?
Rumour has it that Richard Landon has been bought by Southport, whilst the Sandgrounders' Adie Mike and Lee Trundle are believed to be travelling in the opposite direction. Trundle, a 23-year old Merseysider, played for Liverpool, Chorley and Stalybridge Celtic before moving for £16,000 to Southport in late 1998. Although a striker, he also played virtually an entire game in goal for Southport at Rushden. Mike, aged 26, played for Manchester City before a loan spell at Bury, then moved to Stockport, Bury (again), Hartlepool, Doncaster, Leek and Hednesford for whom he scored against Alty this season.He only went to Haig Avenue at the end of 1999. Both were unable to command regular first-team places at Southport last season.
---
6 June 2000
CUP REUNION
Unless there is a wholesale change of personnel at Ewan Fields, the Unibond Cups should bring Altrincham up against a number of former Moss Lane players when they meet Hyde United. Amongst those playing for Hyde United last year were John Foster (who made a fleeting appearance as a full-back for Altrincham), left-footed midfielder Paul Robertson, Stuart Walker, who played for Altrincham at the start of last season, Ally Pickering and Martin McDonald. Ashton United, also in Altrincham's Cup group, included Nathan Comley-Excell in their side last season, but the tall striker has since moved on to Bangor City. Another name to look for is Darren Royle, who is the Manchester City manager's son, Darren; he also played for Ashton last season.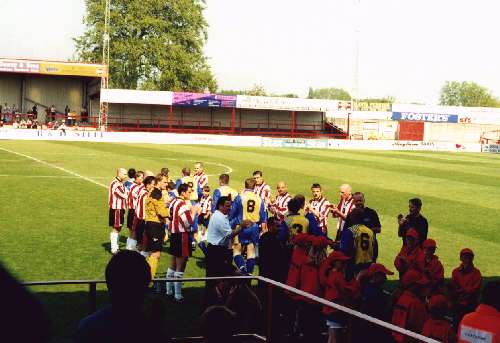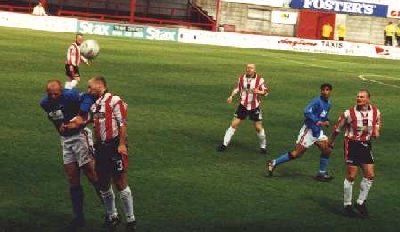 L to R: Altrincham form a guard of honour for Kidderminster, 6 May 2000; Danny Adams wins the ball versus Doncaster Rovers.
---
5 June 2000
CUP DRAW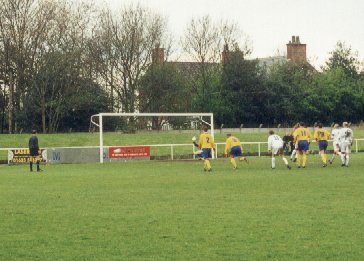 Stocksbridge in action versus Trafford, 22 April, 2000.
In the complex draw for the three Unibond cup competitions, Altrincham have been drawn in the same vaguely regional group as Ossett Town, Hyde United, Stocksbridge Park Steels and Ashton United. Each club plays two home and two away games with the top eight teams from the nine groups involved moving into the last eight of the Unibond Challenge Cup. The ninth winner is joined by the best seven of the group runners-up in the President's Cup, whilst two more runners-up and the best six third-place teams become the field for the Chairman's Cup, which is the new name for the Unifilla Cup. Whilst Altrincham fans will be familiar with Hyde and Ashton, the two Yorkshire sides are less well-known at Moss Lane. Stocksbridge, from the fringes of Sheffield, finished 9th in the Unibond First Division last year, with veteran striker Wayne Biggins their best-known player. Ossett, from West Yorkshire, finished eighth in their first year in the First Division after promotion. Neighbours Trafford, holders of the President's Cup, are drawn with Runcorn, Bamber Bridge, Winsford and Accrington Stanley.

---
4 June 2000
POOR RELATIONS
After Altrincham's sale of Paul Ellender and release of Keith Russell, neighbours Northwich Victoria have netted £25,000 for the sale of captain and semi-pro international, Steve Walters, to Morecambe. The Shrimps have also acquired Rushden's reserve 'keeper Mark Smith and Marine's midfield player, Chris Price. According to an interview in the Non-League Paper (4/6/00) with ex-Alty player, Graham Barrow, who is the new manager of Chester City, his will be another non-League Cheshire side scouring the lists of players available on free transfers. On the contrary, returnees to the Conference, Boston United, continue to splash their money around. Already this close-season they have acquired Miquel de Souza, Ken Cramman and Tim Wooding from Rushden, as well as Paul Fewings from Hereford, Jason Minett from Doncaster and Lee Howarth from Stevenage Borough. Cheshire may have one of the highest per capita incomes in Britain but its non-League teams remain amongst the poor relations.

---
3 June 2000
KEVIN CAN GO?

The headline "Kevin can go" appears in tonight's MEN Pink leading readers to fear that Kevin Ellison is about to join the exodus from Moss Lane. However, the headline is a mis-print for "Keith can go". Keith Russell, according to the story, allegedly does not know that he has been off-loaded to Hednesford, as he is on holiday. As Keith is rarely separated from his mobile phone, this seems a little unlikely. Russell formerly played for "The Pitmen" and still lives nearby. Somewhat unfairly he is accused by the Pink of only having delivered the goods for Altrincham for his "first few weeks" with the Club.


The only offer received, to date, for transfer-listed Danny Adams is from the above-mentioned Midlands club, Hednesford Town. However, this offer did not meet Altrincham's "five-figure" valuation.

It has been confirmed that goalkeepers Dean Greygoose and Lance Key have left Altrincham and that Ian Senior may be going to Leigh as a goalkeeping coach.Also, Mark O'Connor, Leigh's reserve 'keeper, seems to be far from certain to be coming to Altrincham. This means that if Stuart Coburn is not fit for the coming season, we will have a serious goalkeeping problem.

Captain, Chris Timons, is now rumoured to be the target of approaches from Leigh RMI. A possible arrival at Moss Lane is Leigh's Brian Butler, who does not want to go into the Conference because of employment commitments. Also, Mark Ward is reported to be interested in the situation at Southport, where Adie Mike (ex-Manchester City) and Lee Trundle, formerly at Stalybridge, maybe available for transfer.
GAVIN PRICE
The news from Moss Lane continues to be of departures (actual and rumoured) rather than of arrivals. Striker Gavin Price, who underwent a hernia operation which led to his missing the latter part of last season, may not be at Moss Lane next season. He is believed to be seeking full-time football abroad, probably in the Netherlands. It will be remembered that one of his many former clubs was the Dutch side, Den Haag.

---
2 June 2000
RUSSELL GOES
Keith Russell is to leave Altrincham and return to his old haunt, Hednesford Town. Although he cost Altrincham a record sum, £25,000 when he came from Blackpool, he has been allowed to go without any fee being levied. Presumably the benefit to the payroll of not paying his wages was deemed sufficient reward. Although he was allegedly seeking a move to Hednesford during the last close season, Russell had latterly played well in a midfield role. He first appeared at Altrincham, as a left-back for Hednesford, in April 1996. At Altrincham he was a prolific striker before being converted to midfield. Ged Kimmins, whose name has previously been linked with Altrincham, has been released by Hednesford.

Possibly joining Altrincham are Wrexham's Dean Spink and Leigh RMI's reserve goalkeeper, Mark O'Connor. Spink, aged 33, is a six-footer whose career up to1998 was as a centre-forward, notably at Shrewsbury Town, where he scored 52 goals in 273 appearances. Before playing at Gay Meadow, he also played for Bury (6 times), Scarborough (3 times) and was also briefly at Aston Villa. Wrexham paid the Shropshire side £70,000 for him. In 1998/99, having lost his place up-front, Spink was converted to centre-back to such effect that he won the Wrexham Player of the Year award that year.<
PRE-SEASON FRIENDLIES
Click below for:

Friendlies Fixture List
---
1 June 2000
ANOTHER BOSS GOES

Whilst no news is yet forthcoming about any new signings for Altrincham, another relegated Conference side, Welling United, has joined Altrincham in parting company with its manager. Kevin Hales has left the Kent club to become assistant manager to Paul Fairclough at Stevenage Borough. "Hales Out" banners were unfurled at mostof Welling's fixtures last season, including that at Moss Lane. On the playing front, Hayes's striker, Lee Charles has joined Nuneaton Borough, whilst Tarkan Mustafa of Kingstonian has been acquired by Rushden and Diamonds.
---
12 February 2000 ALTRINCHAM 0 WELLING UNITED 1
22 February 2000 ALTRINCHAM 2 SCARBOROUGH 1
26 February 2000 MORECAMBE 3 ALTRINCHAM 3
4 March 2000 ALTRINCHAM 3 SUTTON UNITED 0
11 March 2000 KIDDERMINSTER HARRIERS 1 ALTRINCHAM 1
18 March 2000 HAYES 1 ALTRINCHAM 1
25 March 2000 ALTRINCHAM 1 KETTERING TOWN 1
15 April 2000 RUSHDEN & DIAMONDS 1 ALTRINCHAM 0
18 April 2000 ALTRINCHAM 1 HAYES 2 .
24 April 2000 ALTRINCHAM 1 DONCASTER ROVERS 2
26 April 2000 SCARBOROUGH 1 ALTRINCHAM 0
28 April 2000 ALTRINCHAM 2 YEOVIL 2
1 May 2000 SOUTHPORT 2 ALTRINCHAM 0
3 May 2000 ALTRINCHAM 1 KINGSTONIAN 3
6 May 2000 ALTRINCHAM 0 KIDDERMINSTER HARRIERS 0
---
6 May 2000 ALTRINCHAM PLAYER OF THE YEAR AWARDS 1999/2000
---
Go to ALTRINCHAM FC ARCHIVE
---