Altrincham Football Club
News: July, 2000
---
31 July 2000
CHESHIRE SENIOR CUP
If Altrincham wish to regain the Cheshire Senior Cup, which they lost to Macclesfield this year, they may have to face Stockport County, who have announced that they will re-enter the competition this year after several years' absence.
---
BRADFORD SIGNING
Bradford City, who play at Altrincham this Friday evening, have signed Chelsea's Dan Petrescu. Whether the Romanian will play at Moss Lane remains to be seen. The Bradford first team play the second leg of their Intertoto Cup match at home to St Petersburg on Wednesday night.
---
ST FRANCIS MATCH
A brief report of the St Francis (Dublin) versus Altrincham friendly can be found on the
Official Altrincham FC site
. Details of the two teams can be found
here
---
30 July 2000
DEAN GREYGOOSE
Altrincham's goalkeeper for much of last season, Dean Greygoose, played in goal for Chester City in last week's friendly at Runcorn, which the Conference side won 2-1. This was a less traumatic game for Dean than his recent trial at Bamber Bridge where his side went down 1-6 to a Preston North End XI.
---
UNIBOND PREMIER NEWS
Ernie Moss, Gainsborough Trinity's long-serving manager has left to become the number two to Peter Morris at Kettering Town. Also in the Unibond Premier Division, Accrington Stanley have acquired Servet Tasdemir a Turkish Second Division midfielder and Chris Waddle has made his pre-season debut for Worksop Town. Lancaster City are hoping to sign Rochdale's former Preston striker, Michael Holt and have also refused to allow their leading scorer, Chris Ward, go on trial to Carlisle United. Meanwhile, in the Conference, Paul Ellender has a new manager as Scarborough have appointed former York City boss and Scarborough player, Neil Thompson, to succeed Colin Addison who surprisingly resigned in midweek.
---
29 July 2000
MARK WARD HAPPY WITH SQUAD
In an interview in tonight's
Summer Pink
newspaper, Mark Ward professes himself happy with his first team squad and declares that he is unlikely to make any big signings in the near future. He has offered Kevin Ellison a further year on his existing one-year contract and is hoping to sign Scott Wilson, who has been on trial after being released by Rochdale. The red-headed 21-year-old midfielder played several times for Altrincham last season before returning to Spotland. Ward is also impressed by 22-year-old Stuart Quinn, who also had a spell at Altrincham last year before moving on. Quinn played alongside Michael Owen in Liverpool's side which won the F.A. Youth Cup. Despite his contentment with the squad, Ward is being linked with Accrington Stanley's transfer-listed right-winger, Mark Shirley. The
Pink
also confirms that Gary Thompson has been named as Paul Lake's successor as first-team physiotherapist.
---
OLD BOYS
Former Altrincham striker, Niell Hardy. has unexpectedly joined Radcliffe Borough on a free transfer from Conference side, Morecambe. Despite scoring more than a dozen goals for the Conference side last season, Hardy was released by manager, Jim Harvey, in the close season.
Former Altrincham captain, Mick Carmody, has joined Ashton United, for whom he had two spells on loan last season.
---
ST FRANCIS (Dublin) 3 ALTRINCHAM 3
Altrincham's unbeaten pre-season continued with a 3-3 draw in Dublin, last night.
---
27 July 2000
ALTRINCHAM 2 BURY 1
Altrincham secured a deserved win on Thursday night against a Bury XI, with goals from Chambers and Ellison. For a full report, click
here
.
---
26 July 2000
SUPPORTERS' A.G.M.
The Annual General Meeting of S.A.F.E., the Altrincham supporters' association, will take place on Saturday, 5th August, at 1pm in the Sponsors' Lounge. Items for the agenda should be sent, in writing, to S.A.F.E. c/o Altrincham F.C. by Wednesday, 2nd August.
---
24 July 2000
ONE TO SAVOUR
In Sunday's youth team match between Altrincham and Northwich Victoria, Altrincham won 6-0.
---
23 July 2000
BRADFORD FIXTURE
The friendly at Moss Lane against Bradford City scheduled for 25 July has now been moved to 4 August.
---
OPEN DAY
The Altrincham FC 'Open Day' was attended by about eighty people and consisted of an excellent schoolboy under-13 match between Whiston (Merseyside) and Wythenshawe Amateurs. After a very entertaining and skilful first half in which Whiston went ahead 1-0, the second half became more one-sided as the Merseysiders ran out 7-1 winners; they also hit the bar three times. Altrincham's Mark Ward, Dickie Landon and Mark Maddox were in attendance.
---
22 July 2000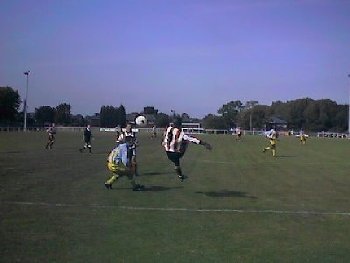 Leroy Chambers in action at Abbey Hey (20/7/00)
ABBEY HEY 1 ALTRINCHAM 5
Altrincham came from 0-1 down to win comfortably in today's friendly at Abbey Hey's ground in Denton. For a match report, please click
here
. Altrincham's other friendly today was on the Wirral, where the result was Poulton Victoria 1 Altrincham 6. Thanks to Alan Johnson, the webmaster of the Official Altrincham FC web-pages, a full report of the Poulton game can be seen
here
.
---
22 July 2000
Among the spectators at the friendly with Tranmere on 15 July were John Barnes and Malcolm Allison, both of whom were on scouting missions. The
Pink
speculates that the targets were Danny Adams and Kevin Ellison. Mark Ward is also confirmed as having added former Runcorn and Northwich player, Tony Murphy, to his backroom team at Moss Lane.
---
20 July 2000
BRADFORD MATCH OFF
The friendly between Altrincham and Bradford City, scheduled for 25 July, has apparently been postponed. The next match after this weekend's two friendlies is, therefore, at home against a Bury XI on Thursday, 27 May, at 7.30pm.
---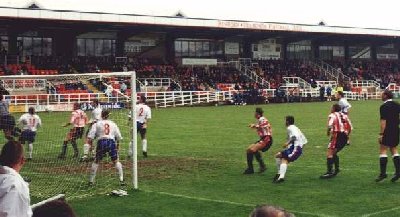 An Altrincham corner, in the Conference match at Rushden and Diamonds, 2000
---
20 July 2000
DECISION TIME
Altrincham fans have a choice of two friendlies tomorrow, both away, both at 3pm. One side will be at Poulton Victoria (whose ground is at Rankin Street, Wallasey, near the northern end of the M53), the other at Abbey Hey (Goredale Road, Denton).
---
GREYGOOSE AT BAMBER BRIDGE
Dean Greygoose, who kept goal for Altrincham for much of last season, has been on trial at Unibond Premier rivals Bamber Bridge. His appearance in a home friendly against Preston North End ended in disaster as Bamber Bridge lost 1-6.
---
20 July 2000
ALTY OPEN DAY
There will be an Open Day at Moss Lane on Sunday, 23 July. The event, which will be attended by Altrincham players, will take place alongside a 12.30 lunchtime juniors' match.
---
UNIBOND PREMIER FIXTURES
The Unibond Premier fixtures for all 23 teams in the division can be found here.
---
BACK IN ACTION
After a week away on holiday, I hope to be able to maintain these pages on a more or less daily basis from now till the end of the 2000-01 season. Having therefore missed the 1-0 friendly victory over a Tranmere Rovers XI on 15 July, I am very grateful to Alan Johnson of the Official Altrincham FC Web Site for agreeing to a link to his full match report. As mentioned on the Official web-pages, we will be cooperating during the season to try to ensure that as full coverage as possible of Altrincham's matches and Club news is provided for users of the two sites.
---
9 July 2000
PRE-SEASON FRIENDLIES
So far, ten pre-season friendlies have been arranged; these are all listed here. As there are two simultaneous away fixtures on both 22 July and 12 August, it will be impossible for anyone to attend all of the matches. The date of the Wrexham friendly has been moved to 5 August.
---
FRICKLEY MANAGER GOES
Ian Thompson, manager of Frickley Athletic, has resigned (7 July) for reasons which have not yet been made public.
---
8 July 2000
2000-01 FIXTURES
The new season's fixtures have now been compiled and the first few of these can be seen on the Fans' Forum. The full list will appear here as soon as possible. The opening match is at home to Gateshead (19th August).
---
McGOONA MOVES ON
There will be no reunion for Altrincham next season with former winger, Danny McGoona. He has continued his odyssey around the clubs of North Wales with a move from Altrincham's Unibond Premiership colleagues Colwyn Bay to Caernarfon Town, who were relegated last season from the League of Wales to the Cymru Alliance League after winning only one of their 34 games. Meanwhile, ex-Manchester United player, Deiniol Graham, has left Cwmbran Town in less than amicable circumstances to rejoin The Bay.
---
WADDLE FOR WORKSOP?
As well as Danny McGoona, another left-sided player on the move may be the ex-England star, Chris Waddle. It is rumoured that he may have signed for Unibond premiership side Worksop Town on a non-contract basis. However, Boston United and Chesterfield are also believed to be on his trail.
---
6 July 2000
BRADFORD CITY AND IRISH FRIENDLIES
The date has now been set for the friendly at home to Bradford City. It will take place at 7-30pm on Tuesday, 25th July. This replaces the fixture against Bolton Wanderers which, as reported below, has been cancelled. On Friday, 28th July, Altrincham will play a friendly in Dublin against local First Division side, St Francis, kicking off at 7.30pm.
---
TRAINING
Training began on 1 July when, as well as the four trialists mentioned below, Mark Ward ran his eye over nearly sixty players. A further half dozen training sessions are envisaged before the friendly game against Tranmere Rovers on Saturday, 15 July.
---
TICKET PRICES
All young supporters will be admitted to home games at the bargain price of £2 during the coming season. Adult season tickets can be purchased via the Club Secretary for £125 in the Carole Nash Stand and £105 for standing spectators. These remain the same price as last season but because there are 23 home League games this year, they represent better value. Junior and OAP season tickets in the Stand will be £60, whilst junior standing season tickets will be £40 and OAP standing season tickets will be £55. Season ticket holders also normally gain free admission to pre-season friendlies at Moss Lane.
---
S.A.F.E. HUT
The S.A.F.E. (Supporters' Club) headquarters at Moss Lane have now been resited to the former Club Shop premises at the Moss Lane/Golf Road corner of the ground. The vacated hut on the Popular Side will be used as a base for the ball-boys.
---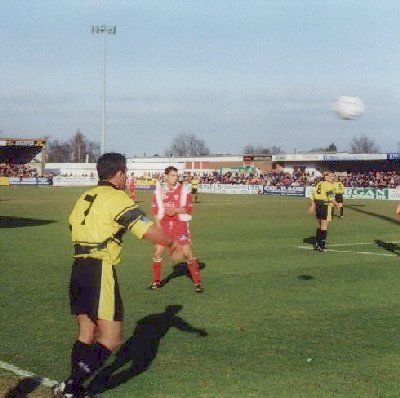 Jason Gallagher takes a throw at Kidderminster, 11/3/2000.
2 July 2000
TURKINGTON JOINS?
According to the unofficial Leigh RMI web-site, today, centre-back Eddie Turkington has been released by Leigh RMI and has returned to Altrincham. Turkington was loaned and then transferred to Leigh early last season. This move remains to be confirmed from the Altrincham end.



2 July 2000

CUP DRAWS
F.A. CUP
Altrincham now have to enter the F.A. Cup at the 2nd Qualifying Round, which takes place on 30 September, 2000. They have been drawn at home to a team deriving from the following five, depending on results in the Preliminary Round. The five are: Mossley, Hatfield Main, Guisborough Town, Chadderton or Hebburn. Mossley (4th last season in the NW Trains 1st Div.) and Chadderton (10th in NWT Div.2) will be known to Altrincham fans. Less well-known to us are Hatfield Main, from Doncaster, who finished bottom of the Northern Counties East Division One last season; Guisborough Town, who came 12th in the Arnott Northern League Division One and hail from Cleveland; and, Hebburn (near Gateshead) who were promoted in third place from the Northern League Second Division to the Northern League First at the end of last season.
F.A. TROPHY
Altrincham must now enter the Trophy at the 1st Qualifying Round. They have been drawn away to Nottinghamshire side, Ilkeston Town on Saturday, 4th November. Ilkeston finished ninth last season in the Dr Marten's Premier Division. The Nottinghamshire side acquired Tony Hemmings from Altrincham in 1999 before the wing-man moved to Chester City. Last season they reached the Second Round Proper of the F.A. Cup, beating Carlisle United in the First Round and only losing to Rushden and Diamonds 0-3, after a 1-1 draw at home in front of a crowd of over 4,000. Should Altrincham win, they would meet Whitby Town or Bishop Auckland, at Moss Lane, on 2 December.

UDALL TO LEIGH?
Jamie Udall, a transfer target of Mark Ward's, is reported to have signed for Leigh RMI (Non-League Paper, 2/7/00)
---
1 July 2000
RUSSELL FINALLY GOES
Keith Russell's protracted free-transfer to Hednesford has now been completed. Russell was Altrincham's highest-paid player so his departure frees up some cash for Mark Ward to strengthen his squad. Whilst negotiations with Stockport's Kevin Francis and with Leigh RMI's Steve Jones have been confirmed, neither player has yet agreed to come to Moss Lane. Another target for Ward has been confirmed as ex-Alty centre-back Eddie Turkington. Turkington was signed by Bernard Taylor from Stockport County in 1999 but was soon released to Leigh where, despite a nightmare start of two sendings off, he played an important part in their promotion to the Conference. However, Turkington has been offered a new contract at Hilton Park so his return to Moss Lane cannot be certain.
---
MORE INTEREST IN KEV
Carlisle United are the latest side to express an interest in Altrincham's Kevin Ellison. However, their request for his loan for pre-season training has been rebuffed by Mark Ward.
---
PLAYERS ON TRIAL
Mark Ward has arranged for a number of young players released by Merseyside clubs to join Altrincham for the pre-season period. These include Steve Porter (midfield) from Liverpool, Paul Walsham (full-back) from Tranmere Rovers and John Wright, another full-back, from Everton. Manchester City's centre-back, Greg Duff, will also join these trialists at Moss Lane.
---
SQUAD RETURNS FOR TRAINING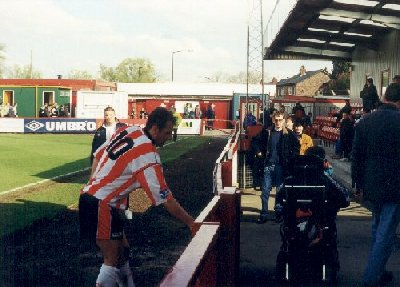 Right, Dickie Landon is still with Alty.

The Altrincham players returned to Moss Lane this morning for their first training session of the new season. Whilst the make-up of the squad is still not wholly certain, the following appears to be the situation as regards last season's first-team squad:

Certainly or probably still at the Club: Stuart Coburn, Danny Adams, Jason Gallagher, Mark Maddox, Gary Talbot, Steve Hawse, Kevin Ellison, Phil Power, Richard Landon, Leroy Chambers, Barry Crowe.
Possibly going: Chris Timons, Gavin Price.
Not known Shaun Goodwin.
Departures: Lance Key, Dean Greygoose, Mick Morrell, Keith Russell, Ged Kielty, Simeon Hodson, Andy Lovelock.
Additionally, Mark Ward has acquired Mark Quayle from Everton on trial (see below) and will, of course, himself being playing for Altrincham next season.
---
FRIENDLY OFF
The friendly against Bolton Wanderers scheduled for Tuesday 25th July has been cancelled. However, it is hoped that another fixture may be arranged for the same date. Ring the Robins' Round Up information line for further news on this and other developments- 09066-555-902.
---
29 June 2000
NEW FIRST TEAM PHYSIO
Gary Thompson, last season's reserve team physiotherapist has been appointed as Altrincham's first-team physio for the coming season. Presumably, therefore, Paul Lake has left the Club.

---
29 June 2000
UNIBOND PREMIER LEAGUE FIXTURES
Unibond sources have indicated that the 2000-01 season's fixtures should become public by 10 July. Altrincham's fixtures will appear on this site as soon as they are known. Conference fixtures are due to appear within the next week.

---
ELLISON'S FELLOW TRIALIST MOVES FOR £35,000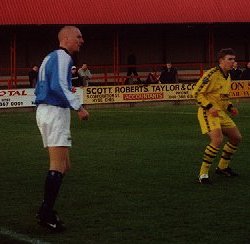 Striker, Marc McGregor, who played a couple of times in Manchester City trial matches last season alongside Altrincham's Kevin Ellison, has landed a £35,000 move away from Forest Green Rovers. However, his move is not to a League side but to fellow Conference team, Nuneaton Borough. McGregor has signed on a two-year contract. He will join Hayes's Lee Charles and Stafford Rangers's leading scorer Richard Mitchell, who have both joined the 'Boro to make up what promises to be a potent Nuneaton front-line. Meanwhile, Kevin Ellison (seen left playing for City versus Port Vale Reserves at Hyde on 28 March, 2000) appears to be still at Moss Lane for the coming season, although a few more good performances may see the scouts gathering around him as they did last season before he was injured.





---
25 June 2000
LOVELOCK LEAVES
Andy Lovelock has left Altrincham to join Solihull Borough, who finished fifth in the Dr Martens Western Division last season; that League is the equivalent level to the Unibond First Division. Solihull will be playing at their own ground, Damson Park, for the first time in more than a decade after groundsharing, most recently at Redditch. The 23 year-old Lovelock, whose goal against Emley took Altrincham into the Conference as Unibond Champions at the end of the 1998/1999 season, started only twelve games in his Altrincham career, though he also made 38 substitute appearances. Apart from the Emley goal, he scored only once, a superb 25-yarder against Scarborough in the Conference match at Moss Lane in February, 2000.

---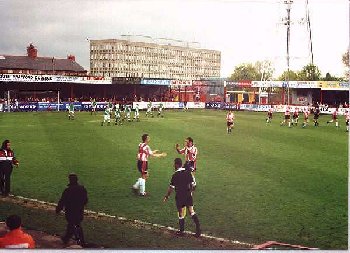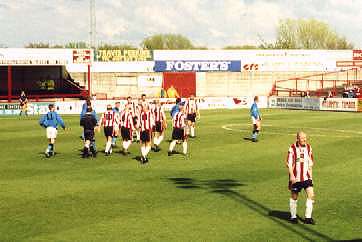 April Highs and Lows. (Left) The ball is in the net and Altrincham celebrate the lead versus Yeovil; (right) Maddox is sent off against Doncaster. Click on images for larger versions.
24 June 2000
INS AND OUTS?
The Pink has confirmed (24/6/00) that Mark Ward is pursuing Leigh RMI's right-winger, Steve Jones who was the Player of the Year at Hilton Park last season. Ward hopes to pair Jones with Kevin Ellison but any move awaits the return from holiday of the Leigh Chairman. As reported below, Ward is also still pursuing Lancaster's Jamie Udall, but he faces competition form Morecambe and others. However, Ward has acquired an Everton reserve striker, Mark Quayle, on pre-season trial. Leigh's reserve goalkeeper, Mark O'Connor is also a possible arrival at Moss Lane as his present employers are seeking to sign Bamber Bridge's keeper, Craig Dootson. Mick Morrell has signed for Leigh and Chris Timons is expected to do so, to join ex-Alty midfielder, Ged Kielty. Whilst Kevin Ellison remains at Alty despite some interest from Chester City, Northwich Vics have made an approach for centre-back Gary Talbot. Surprisingly, Keith Russell has not jumped at the offer from Hednesford to sign him and still has not yet agreed terms with the Pitmen. North-West Trains side Salford City are hoping to sign two ex-Alty players, Darren Lyons and Neill Hardy both of whom have been released by Morecambe in the last few months, although it is surprising, particularly in Hardy's case, that the players in question are prepared to drop several leagues. Southport have made a player-exchange offer for Danny Adams, but this has been rebuffed.

Altrincham may be playing a pre-season friendly in late July, away, against an as yet unspecified Irish side.

---
22 June 2000
WARD PURSUES KEVIN FRANCIS
Mark Ward is reported to be in negotiation with Stockport County's tall centre-forward, Kevin Francis. The six foot seven striker is 32 years old and has been released from Edgeley Park after returning to Stockport earlier this year. Ward got to know Francis when both were at Birmingham City. In his first spell at Stockport he scored 88 goals in 152 games and initially struck a goal every two games at St. Andrew's. Currently, Kevin is suffering from an Achilles tendon injury but should be fit for the new season.

Following Paul Jewell's move from Bradford City to Sheffield Wednesday, there may be some doubt about the proposed friendly between Bradford and Altrincham. However, Sheffield Wednesday would be more than welcome at Moss Lane should Jewell decide to help out his fellow Scouser, Mark Ward.

---

Barrow have signed ex-Carlisle United centre-back, Lee Taylor, from Workington. Barrow manager, Kenny Lowe, is also trying to bring Scunthorpe's Steve Housham back to the Club, after a loan-spell of one month at Holker Street.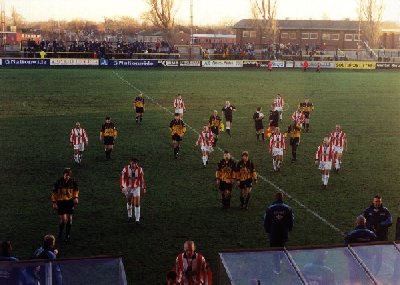 All the Altrincham outfield players are seen here leaving the pitch at Southport after the 0-0 draw in the FA Trophy, January, 2000. Click on photo to enlarge it.
---
FOR EARLIER NEWS, CLICK HERE
.

---
Go to ALTRINCHAM FC ARCHIVE
---