Altrincham Football Club
News: 21 October to 5 November 2000
5 November 2000
ALTY BEWARE
Since sacking their manager recently, our next League opponents, Gainsborough Trinity, have won all four games played and scored ten times under caretakers Frank Nicholson and Phil Tingay. Trinity's captain is ex-Alty midfielder, Ally Pickering, who has recently been operating at right-back. Lee Ellington, who was also briefly at Alty last season, scored twice in their Trophy win on Saturday and is part of a very pacey attack.
S.A.F.E. MEETING
There will be a meeting of SAFE (The Alty Supporters' Association) on Saturday 11th November at 12.30pm in the Noel White Suite at Moss Lane. All SAFE Members are welcome and non-members may join at the door.
ALTRINCHAM ACTION
For new pictures of the following games, click on the following links:
Droylsden v Altrincham 8 October 2000
Altrincham v Blyth Spartans 21 October 2000
Altrincham Youth v Walton-le-Dale 22 October 2000
---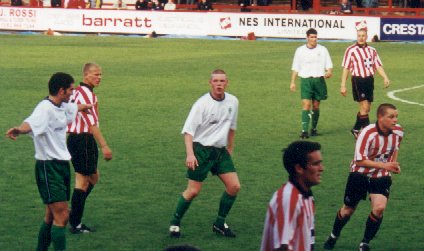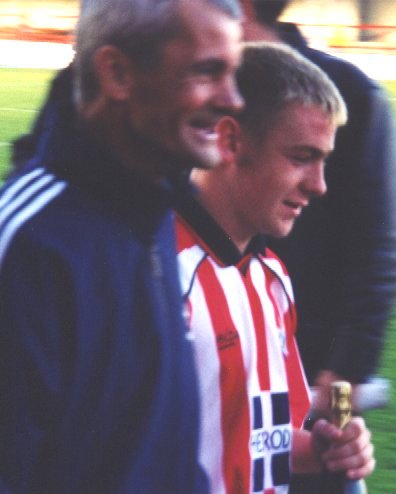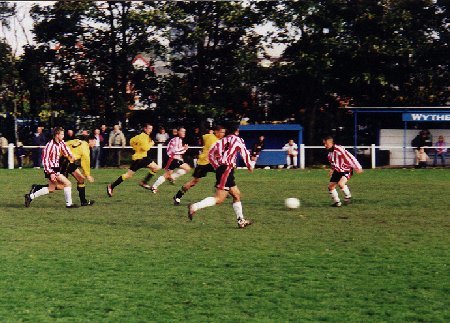 ---
The present and the future: (left) Alex Hay, Carl Furlong, Danny Murphy and Steve Hawes in action in the First Team's 3-1 win over Blyth (21/10/00), (centre) Steve Porter with his Man of the Match award from the same game and (right) Altrincham's Youth Team in action during their 4-1 win over Walton-le-Dale the following day (22/10/00).
WARD WITHDRAWS
Mark Ward has withdrawn from the Unibond squad to play an FA XI on the grounds that he is too old, according to an interview in the Pink. Ward is of the opinion that such games should feature up and coming talent such as Steve Hawes or Stuart Coburn. In the interview he confirms that Kevin Ellison is likely to be out of action till Christmas.
NEXT MATCH
Following yesterday's draw, (see below), Altrincham will now re-play Ilkeston on Tuesday (7.45pm on 7 November) in the Trophy instead of hosting a visit from Ashton United in the Unibond Challenge Cup. Yesterday's crowd of 597 was Ilkeston's highest of the season. Alty or Ilkeston's 2nd round opponents are still unknown as Whitby and Bishop Auckland also drew 1-1 yesterday. A full report on the Ilkeston-Alty game is here. For an opponent's view, praising Alty's support, visit the Ilkeston site.
F.A. TROPHY 1st ROUND MATCHES
Amongst the results are the following:

Barrow 0 Runcorn 1
Bishop Auckland 1 Whitby 1 (the eventual winners play Alty or Ilkeston)
Chorley 1 Accrington Stanley 1
Droylsden 0 Bromsgrove Rovers 0
Gainsborough 3 Bradford PA 2
Ilkeston Town 1 Altrincham 1
Leek Town 2 Radcliffe Town 2
Spennymoor Utd 3 Frickley Athletic 1
Stalybridge Celtic v Bedworth United POSTPONED
HYDE CLEAROUT THREATENED
Mike McKenzie, the Hyde manager, is quoted as about to embark on a clear-out of his squad. He is displeased with a number of players whom he feels are not performing satisfactorily:- "the ones I've got in mind [for the sack] may come as a shock to many", he states. Arriving at Ewen Fields is speedy Northwich winger, Carl Laurie, who has been surprisingly released by Northwich Vics.
ELLENDER RUMOURS
The Non-League Paper again reports that Paul Ellender may be on his way out of Scarborough, with Doncaster the favourites for his signature.
---
4 November 2000
OTIS LIFTS ALTY: ILKESTON TOWN 1 ALTRINCHAM 1
A full match report is here.

An equaliser from substitute Otis Thomas, 11 minutes from the end, gave Altrincham a draw which they more than merited for their second half dominance of Ilkeston. A cracking 20 yarder from Dickie Landon thumped against the cross-bar just seconds from the end to deprive Altrincham of victory. Ilkeston had gone ahead after 41 minutes of a mediocre first half when John Knapper sent Coburn the wrong way from a penalty which was awarded by Ms Rayner who adjudged Kirkwood to have been pulled down in a goalmouth melee. The replay is expected to be next Tuesday.
EMLEY GO 8 POINTS CLEAR
UNIBOND LEAGUE GAMES, Saturday 4 November
Because of the FA Trophy fixtures, there were only two Unibond Premier matches today.

Emley 2 Gateshead 0
Hyde United 2 Marine 1
---
3 November 2000
ROBERT TREES
Former Manchester United youth player, Robert Trees, who was briefly at Moss Lane last season, has joined Leigh RMI.
LOCAL FIRM TO BUY CHESTER?
The Messenger reports that a Sale-based company, Drive UK, is in discussions to take over Chester F.C. from its current American owner. If this falls through, perhaps they might like to help out Gerry Berman by investing some of their funds in Altrincham instead?
---
2 November 2000
ELLENDER IN F.A. XI
The England Semi-pro side to play the Unibond XI at Lancaster on 20 November is:
Goalkeepers: Wayne Brown (Chester C), Andy Woods (Scarborough)
Defenders: Simon Marples & Barry Miller (Doncaster R), Scott Guyett (Southport), Paul Beesley (Chester C), Paul Ellender (Scarborough)
Midfielders: Kevin McIntyre (Doncaster R), Mike Marsh (Southport), Paul Carden & Chris Blackburn (Chester C), Dave Ridings (Leigh RMI)
Forwards: Simon Parke (Southport), Steve Brodie (Scarborough), Steve Jones (Leigh RMI), Neil Campbell (Doncaster R)

Mark Ward and Gary Scott are set to represent Alty in the Unibond side, whilst Kevin Ellison was also selected but is injured. There is a completely different F.A. side for the southern trial match.
OPPONENTS' NEW MANAGER
Ilkeston Town, our opponents on Saturday, have appointed former Nottingham Forest midfielder, John McGovern, as their new manager. He also spent some years at Derby County, again under Brian Clough, and now replaces Keith Alexander who moved recently to manage Northwich Vics. McGovern was previously manager at Bolton Wanderers, Rotherham United and Woking. However, McGovern will not be in charge against Altrincham as Ian Helliwell will continue to run the side, as player-manager, for that match.
WARD'S CONCERNS
Mark Ward is reported in the Sale & Altrincham Messenger as being concerned at the effect of the weather disruptions on Altrincham's form, which was so good at Barrow. He is also a little perturbed by the crowd trouble at the Hucknall v Ilkeston match last Saturday (see below). Ward goes on to explain that he did not take on trialist Francis Tierney (see earlier news), currently at Witton, because the player really wants League football whilst Ward doubted he was currently fit enough even for Unibond level football.
---
1 November 2000
NEXT GAME- ILKESTON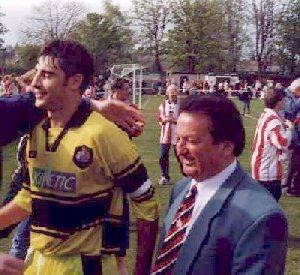 Altrincham's next scheduled match is away at Ilkeston Town (Derbyshire) in the first round of the F.A. Trophy on Saturday, 4th November. Like Altrincham, Ilkeston are known as "The Robins" and they are captained by Chris Timons, our own former captain and centre-back, who is pictured left with Bernard Taylor. Ilkeston play in the Dr Martens Premier League and currently lie ninth, a position to which they have risen after a shaky start to the season. This is only their third season back in the Premier, after being relegated in 1996, and they have finished 3rd and 9th in the last two campaigns. Timons's goal last Saturday saw his side through to the First Round of the F.A. Cup, in which they will visit Swindon Town.
NEXT LEAGUE GAME- GAINSBOROUGH
Our next league game is at home to Gainsborough Trinity on 11 November. Trinity have still not appointed a manager to succeed the sacked Greg Fee but caretaker boss, Phil Tingay has turned round their fortunes recently. Their latest win was 3-2 away at Worksop (including Waddle) in the Unibond Challenge Cup. Alty fans may not be surprised that Shaun Goodwin missed the match as did Ally Pickering, who is now Gainsborough's captain.
NON-LEAGUE DIRECTORY
The Non-League Directory 2001 (1056 pages) has now been in the shops for several weeks but can be acquired at £3 off its price of £19.50 by collecting tokens from the Non-League Paper. The pages on Altrincham include a picture of Keith Russell in action whilst the "Match Facts" starkly chart our Conference decline from 10th after game 31 on 4 March to 21st after game 42 on 6 May. Although there is no team picture of Altrincham, that of Leigh includes at least five current or recent Alty players, whilst another photo shows Kidderminster fans celebrtating promotion at Moss Lane. Dickie Landon is also pictured in the Cheshire Senior Cup Final and Brendan Burke is shown in action against Stalybridge. One disappointing feature of what is otherwise a mine of information on all non-league clubs is the lack of an index to each team's entry; you need to know which league a team plays in before you can find its details.
---
31 October 2000
UNIBOND CHALLENGE CUP (Group Stage) RESULTS - 31 October
Listed below are those ties involving Premier sides and those First Division sides in Altrincham's group.

Blyth Spartans 2 Gateshead 1
Spennymoor Utd v Whitby Town POSTPONED
Lancaster City v Barrow POSTPONED
Altrincham v Hyde Utd POSTPONED
Ossett Town 3 Stocksbridge Park Steels 3
Runcorn v Bamber Bridge POSTPONED
Winsford v Accrington Stanley POSTPONED
Marine 1 Colwyn Bay 0
Stalybridge Celtic v Droylsden POSTPONED
Worksop Town 2 Gainsborough Trinity 3
Hucknall Town v Leek Town POSTPONED
---
30 October 2000
ASHTON RESERVES' GAME OFF
The Reserves game at Ashton Utd (Tuesday 31 October) has been postponed because of the wet weather. The first team match aginst Hyde is also at risk though no decision will be taken till tomorrow.
UNIBOND CHALLENGE CUP (Group Stage)- 30 October
In tonight's only match Emley beat Frickley Athletic 1-0.
MARIO MAKES HIS MARK
The scorer of Altrincham Reserves' goal in the defeat at Northwich (see below) was 16 year-old Mario Daniel, who had also scored in his two previous games for the Youth Team.
NO PLACE FOR COBURN
There is no place for Stuart Coburn in the Unibond Representative XI selected by Marine's manager, Roly Howard, to play an F.A. XI at Lancaster City on Monday, 20th November. The two selected keepers are Dave McCarthy (Hucknall Town) and Chris Clarke (Marine)- both of whom have conceded more goals than Coburn this season. Thirteen sides are represented in the squad with Altrincham, Barrow and Marine each providing three recruits. The Moss Lane men are Mark Ward, (who has not played recently), Kevin Ellison, (who has a long-term injury) and newcomer Gary Scott.
ANDY MORRELL
Andy Morrell, the forward whom Mark Ward is pursuing, signed for Wrexham in March, 1999, having previously been a prolific goalscorer as a University student whilst playing for Newcastle Blue Star of the Northern League. Although he only scored once for the Wrexham first team in his first 20 full and sub appearances, he has scored this season against Bournemouth. The 26 year-old's greatest feat was scoring seven goals in an 8-0 win over Merthyr Tydfil in the Welsh Premier Cup- shades of Gavin Price?
BAND BANNED
Peter Band of Hyde United has been suspended for two games and, therefore, will not be able to play against Altrincham tomorrow night in the Unibond Challenge Cup.
---
29 October 2000
YOUTH MATCH OFF
The torrential rain of recent days has caused the postponement of today's game at Prestwich Heys.
RESERVES GO DOWN TO VICS
Although the Altrincham first team match was postponed yesterday, the Reserves did play in an unpublicised rearranged away match against Northwich Vics. Unfortunately, they lost 1-3 and remain 11th in the 14-team Lancashire Combination league.

ALTY CONNECTIONS
In yesterday's Unibond First Division match against Guiseley, Witton Albion, managed by ex-Alty man Nigel Gleghorn, included a number of other ex-Moss Laners. Dean Greygoose played in goal, David Anane was up-front and Steve Haw was given a red card whilst sitting on the subs' bench for abusing a linesman. Ex-Notts County man, Francis Tierney, who came to Altrincham for trials a few weeks ago laid on the only goal as Witton won 1-0. Lee Ellington, who was an Alty sub a couple of times last season scored one of Gainsborough's goals in a 2-0 win over Marine in the Unibond Premier. Another former Altrincham player, John Toner, hit a hat-trick for TNS in the League of Wales and, nearer to home, Stuart Walker also got three for Moss Vale in the Altrincham Sunday League, last week. Mick Morrell was an unused sub for Leigh, but Ged Kielty and Ricky Harris both played in the 4-3 FA Cup win at Scarborough. Keith Russell was also an unused sub for Hednesford in their draw at Billericay. Ex-Alty keeper Ian Senior's Greater Manchester Fire Service XI got through the first round of the All England Fire Service Trophy, of which they are the holders.

MARK WARD NAMES NAMES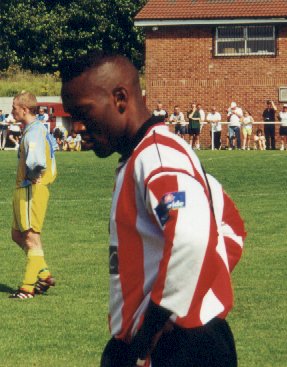 Mark Ward has followed up his earlier criticism of some of his forwards for allegedly having more interest in their wage packets than their playing effort by telling the Pink that "I've got players here who are prepared to sit back and pick up fat wage packets and, particularly when one of them turns down the chance to go back into the Conference, you've got to question their attitude and desire to be a footballer". The player in question is named as Leroy Chambers (pictured left) who has apparently turned down recent moves to both Woking and Gainsborough Trinity. Phil Power is also mentioned in the article as "languishing in the reserves". In this interview in the Pink Ward goes on to say that he needs to get rid of "the dead wood" to free up the cash to bring in new players, with a striker being the priority. It remains to be seen whether such public criticism will have the effect that Ward desires of clearing his wage bill of players whom he sees as unproductive as such comments are unlikely to encourage other clubs to move in for such individuals. However, Ward's hope is that such players "will get fed up of playing in the reserves" and move on. On a happier note, many Alty fans will be pleased that Mark Ward now has "no gripes with...Richard Landon", despite the striker still apparently being transfer-listed. With five goals in five starts, Landon is continuing his high strike rate of last season. As for his other forwards, Mark has requested an extension of the loan of Alex Hay from Tranmere for a further month and has been negotiating with Brian Flynn, manager of Wrexham, for a month's loan of his young forward, Andy Morrell. Last season Morrell, a 26 year-old from Doncaster, made 4 starts and 9 sub appearances for Wrexham's first team, scoring once, at Colchester. In all he had made 20 appearances for Wrexham by the start of this season, with just the one goal to his credit.

TIMONS LEADS ILKESTON TO PLUM TIE
Ex-Alty captain, Chris Timons, led Ilkeston Town to a 1-0 FA Cup win at Hucknall Town in a match marred by a police baton charge of the away fans. Timons got the only goal, a header, after 4 minutes. Ilkeston, who played for 58 minutes with only ten men, now play away at Swindon Town in Round One. Altrincham travel to play Ilkeston on 4 November in the FA Trophy. Also in the FA Cup 1st Round, Northwich Vics will play Bury (away) and Leigh RMI will entertain Millwall at home. Frickley, who beat Altrincham's conquerors, Mossley, have an away tie at Northampton Town following their win over Hyde United yesterday.
---
28 October 2000
ALTY MATCH OFF, Saturday 28 October
Altrincham's match at Lancaster was called off at noon today, following an inspection of the waterlogged pitch. The Lancaster match had been brought forward from 10 February so the game will now presumably revert to that date. Today's surviving results are shown below.

Accrington Stanley 1 Spennymoor United 0
Bishop Auckland 3 Leek Town 1
Colwyn Bay v Emley POSTPONED
Droylsden 1 Blyth Spartans 2
Gainsborough Trinity 2 Marine 0
Lancaster City v Altrincham POSTPONED
Runcorn v Stalybridge Celtic POSTPONED
Whitby Town 1 Bamber Bridge 1
For the revised league table, click here.

Today's FA Cup matches involving Unibond Premier sides finished as follows:
Barrow 6 Whitley Bay 1
Burscough 1 Radcliffe Borough 1
Frickley Athletic 1 Hyde United 0
Gateshead 4 Billingham Synthonia 2
Hucknall Town 0 Ilkeston Town 1

ALTRINCHAM TRIALIST GOES ELSEWHERE
Lee Ellington, who had a month on loan at Moss Lane last season has joined Gainsborough from Hull City. Lee was a non-playing sub in our two Conference matches against Northwich Vics last season. (Thanks to Terry Rowley for this information).

FIXTURES CHANGES

Altrincham's Unibond Challenge Cup matches with Ashton United (home) and Stocksbridge Park Steels (away) are reported to have been changed to 7 and 14 November respectively.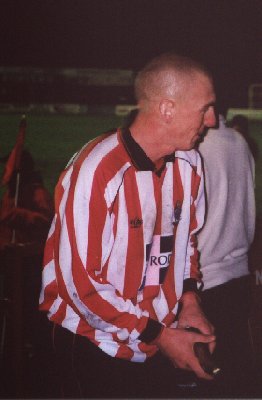 26 October 2000
ELLISON OUT FOR 2 MONTHS?
It is reported in this week's Sale and Altrincham Messenger that Kevin Ellison (right) will not return to action for Altrincham until at least Christmas due to a knee injury sustained during the 2-1 defeat at Droylsden.

25 October 2000

ALTRINCHAM 3 BARROW 2
In very wet and blustery conditions at Holker Street, Altrincham put in arguably their best performance of the season, especially in terms of the effort, commitment and determination on display. This result, in conjunction with Worksop's loss to Stalybridge, means Alty rise to second in the table. A shortened match report can be found here. However, a full report can be found on Dr Alan Johnson's Official Altrincham FC website.

23 October 2000

GREYGOOSE MOVES ON
Ex-Robin Dean Greygoose has joined the growing ex-Alty contingent at Witton Albion, who currently field no less than 8 players who have formerly been at Moss Lane. After being released by Chester City earlier in the week, Dean made his debut on Saturday, keeping a clean sheet in the 2-0 win over Ossett Town. (Incidentally, both goals were also scored by former Altrincham players, Anane and Haw!)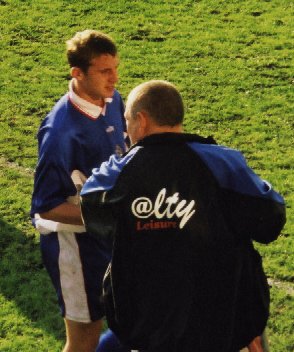 Left: Ian Craney receives touchline advice from coach, Tony Murphy, at Spennymoor.
CRANEY TARGET OF SCOUTS?
Alty midfielder Ian Craney is allegedly the focus of attention from several Premiership clubs. Tonight's Manchester Evening News reports that, among others, scouts from Manchester City, Everton and Derby have all been watching the 18-year-old "midfield prodigy", who has impressed after emerging from the reserve team at the start of this season.



WARD DISPLEASURE
Manager Mark Ward has publicly expressed his anger after a lacklustre performance against Blyth. In an interview in tonight's Manchester Evening News he says "Some of my players..were not good enough". Hopefully, his words will have made an impact in time for the long trip to Barrow tomorrow (Tuesday) evening.

22 October 2000

ALTRINCHAM YOUTH WIN AGAIN
In a late change of opposition, George Heslop's Altrincham Youth team today met Walton-le-Dale rather than Morecambe. Even without Otis Thomas (see below) Altrincham played impressively and won 4-1 in a very entertaining match played at Wythenshawe Town F.C.. The scorers were Mario Daniel (17 mins), Adam Schofield (30 and 42 mins) and Paul Monaghan with a second-half penalty. A brief match report can be found here. For details of Youth fixtures and players, please visit the Altrincham Youth page of this site.

DANNY MURPHY
The reason for Danny Murphy's substitution yesterday is reported to have been a groin strain.

---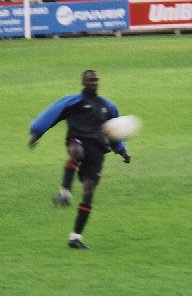 21 October 2000
OTIS MAKES HIS MARK
Otis Thomas, Altrincham's speedy young striker, has been invited to undertake a two-week trial at Bristol City after being watched by a scout during the friendly game against Manchester City on 18 October. Otis also played for the first team in the Cheshire Senior Cup match at Northwich recently.

GAINSBOROUGH NEWS
From Both Ends", an unofficial Gainsborough site, reports that Leroy Chambers "could be a possible target for a Trinity team desperate for more fire power". After today's 1-7 defeat by Stalybridge, Trinity manager Greg Fee has left the Club, though whether he was sacked or resigned is not yet clear.

ALTRINCHAM 3 BLYTH SPARTANS 1
A full match report is here.

Altrincham remain third after a generally low-key performance against Blyth. With ten minutes to go the score was 1-1 and as Blyth had enjoyed the better of the second-half play, it looked as if two points might be lost. Danny Murphy had put Altrincham ahead with a shot from the edge of the area a minute before the interval, after a disappointing first-half which saw too many misplaced passes and poor ball control. Andy Hay struck a deserved equaliser for Spartans after 62 minutes but Altrincham raised their game, especially after Alex Hay finished off a Dickie Landon flick to put the Robins ahead (80 mins). Four minutes later Stuart Coburn made a good save but fell backwards into the net. With the visiting fans baying for a goal to be awarded, the well-placed referee ruled in Altrincham's favour and waved play on. Jason Gallagher scored a fine third when Hawes's cross to the right was knocked forward by Hay and Gallagher went round the keeper to score (88 mins). Altrincham remain third; the new table is here.

---
Go to ALTRINCHAM FC HISTORICAL INFORMATION INDEX
---