Altrincham Football Club News Archive - 5th to 14th November 2000
14 November 2000
UNIBOND CHALLENGE CUP
Results from Tuesday's matches are below:
Gainsborough T. 1 Lincoln Utd 0
Hucknall T. 0 Belper 2
Kendal 1 Barrow 3
Marine 3 Vauxhall 0
Worksop T. 1 N. Ferriby Utd 1
ABOUT THE BISHOPS
Our next league opponents (Saturday, away) are Bishop Auckland. Their manager is Tony Lee who joined them in 1993. He was formerly a player at Leicester City, Bradford and Darlington. His assistant is Tony Boylan who used to be a player for the Bishops. Most of their players have joined from other North-East teams, including this season, Michael Dunwell (a young forward) from Hartlepool and Andy Howarth the ex-captain of Spennymoor, who scored 14 goals from midfield last season for the Moors. Another young striker to watch is Danny Melanby, a signing from West Auckland.

MATCH OFF
Tonight's (Tuesday) match against Ashton United in the Unibond Challenge Cup group stage at Moss Lane, has been postponed due to a waterlogged pitch following a 3.30pm pitch inspection. It is not yet known when this fixture will now be played.
---
13 November 2000
WARD "GUTTED"
Mark Ward is quoted in tonight's Evening News as "gutted" at Saturday's defeat to Gainsborough, describing the game as "our worst performance since I have been at the Club". Ward confirmed that he will name himself in tomorrow's line-up against Ashton. At Saturday's SAFE Meeting, Mark indicated that other players returning from injury, such as Eddie Turkington and Mark Maddox are also likely to play on Tuesday. It has also emerged that Phil Power missed Saturday's game with an achilles-heel injury.

---
12 November 2000
MORE FACTS TO BORE YOUR FRIENDS WITH
Did you know that Alty have yet to lose this season when Dickie Landon has scored? Or, that sixteen different players have already scored for us in League and Cup matches this season? What has happened four times in the 25th minute of Saturday afternoon matches involving Altrincham? For more fascinating facts and the answers to these and other major questions, click here. At least it may take your mind off Saturday's result.
REASONS TO BE CHEERFUL!
Although yesterday's performance against Gainsborough was disappointing, compared with our two previous seasons in the Unibond Premier we are still enjoying our best Unibond season by far:

| | | | | | | | | | | | | | |
| --- | --- | --- | --- | --- | --- | --- | --- | --- | --- | --- | --- | --- | --- |
| YEAR | P | W | D | L | F | A | W | D | L | F | A | GD | PTS |
| 1997 | 18 | 5 | 1 | 3 | 18 | 9 | 3 | 2 | 4 | 13 | 10 | 12 | 27 |
| 1998 | 18 | 5 | 5 | 1 | 16 | 8 | 2 | 1 | 4 | 9 | 9 | 8 | 27 |
| 2000 | 18 | 5 | 2 | 2 | 18 | 9 | 5 | 1 | 3 | 21 | 13 | 17 | 33 |
SUPPORTERS' MEETING
A report of yesterday's SAFE meeting is here, covering squad and transfer news, financial initiatives and the formation of a SAFE "in exile" group for fans based outside the locality.

Don't forget it costs only £3 to join SAFE (less for concessionaries) and £5 for families, so if you are not a member, why not sign up at the SAFE cabin at the next home game (this Tuesday evening)? You can pick up your Christmas draw tickets at the same time; this is a key fund-raiser for the Club so all fans are asked to play their part.
OLD BOYS
Neill Hardy yesterday headed the goal which earned Radcliffe Borough a 1st Round FA Cup tie against York City; Boro beat Burscough 2-1. Danny Adams's success at Macclefield has been such that the Club have now listed Greg Rioch, whom Danny has effectively replaced. Mick Morrell came on as a sub for Leigh in their 1-1 draw at Woking; Woking equalised with a last minute penalty. Dean Greygoose kept a clean sheet for Witton. There was no sign of Keith Russell in Hednesford's squad yesterday and Mark Quayle has yet to appear in the Conference for Morecambe.
"NON-LEAGUE PAPER" AND "PINK"
The NLP has an article on Mark Ward's turning down a place in the Unibond representative XI, as well as a picture of yesterday's game. In this illustration, Gary Talbot is depicted but is described as Gary Scott. Grahame Rowley's excellent summary of the game is also included in the match report section. The Pink timed yesterday's opening goal for Gainsborough at 17 seconds from the kick-off! It also contains an article on former Robins's keeper, Andy Dibble.
---
11 November 2000
ALTRINCHAM 0 GAINSBOROUGH TRINITY 2
There is a full report on the game here.

As at Accrington earlier this season, Altrincham lost this match by conceding two goals inside the first ten minutes. This time their performance did not dramatically improve and they earned no consolation goal, although a Scott header was disallowed five minutes from the end. Although Altrincham kicked off it took the visitors less than a minute to go ahead, Lee Ellington finishing well after Craney had lost the ball in the centre of the field. Eight minutes later Altrincham's comeback attempts were undone when Craney once more lost possession and Talbot knocked Newton's cross into his own net. Danny Murphy was clearly not fit and gave way to 16 year-old debutant, Mario Daniel after 25 minutes. Talbot was replaced at half-time by Glendenning and 17 year-old Otis Thomas came on for the injured Porter midway through the half. Although Altrincham played better in the second half, they lacked both width and bite and rarely looked as if they would retrieve the game. They remain second but Stalybridge closed the gap below them (results below). The new League Table is here. The following pages have been updated: Team Line-Up, The Unibond Fixture Grid and Team Statistics.
S.A.F.E. MEETING
There will be a meeting of SAFE (The Alty Supporters' Association) today (Saturday, 11th November) before the Gainsborough match. The meeting begins at 12.30pm in the Noel White Suite at Moss Lane. All SAFE Members are welcome and non-members may join at the door. There will be a report on the meeting later.
10 November 2000

CHANGE OF OPPOSITION
This Sunday's Youth Team opposition will now be provided by Euxton Villa rather than Rossendale United, as previously scheduled. Euxton is near Chorley. Kick off is scheduled for 2pm at Wythenshawe Town FC. The ground's entrance is on Timpson Road which runs off Southmoor Road, immediately behind Tesco's car park at Baguley. Alty Youth beat Euxton 10-0 earlier this season but the visitors are much improved since then.
---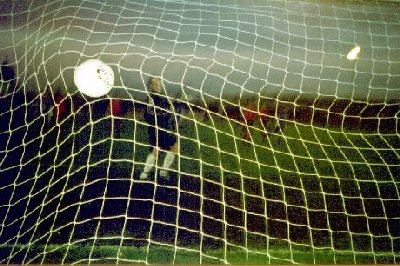 OTIS'S GOAL AT ILKESTON
Left: Courtesy of Andy Boyers, a picture of Otis Thomas's equaliser at Ilkeston hitting the back of the net, on Saturday 4 November. Click image to enlarge it. For more pictures, by Alan Johnson, of this and other Alty matches visit the Official Altrincham FC web-site. You can also find match pictures in many of the match reports on this site.
---
RUMOURS
The rumour-mill is linking Bromsgrove Rovers's striker, Richard Burgess, with Altrincham. Bromsgrove currently languish in penultimate place in the Dr Martens Western Division having scored only 12 goals in 13 matches this season. Bromsgrove knocked out Droylsden in the Trophy this week.
STILL UNBEATEN
In a rearranged Trophy match, postponed both last Saturday and last Tuesday, Stalybridge Celtic beat Bedworth Utd 4-1 last night.

---
9 November 2000
OPPONENTS' NEWS
Gainsborough, the visitors to Moss Lane for next Saturday's league match are reported to have elected to delay a managerial appointment as they have won four consecutive games under caretaker Phil Tingay. More than 20 applicants have expressed an interest in the job with David Hirst and Ian Snodin amongst those rumoured to be front-runners should the Club elect an outsider. Alty fans should see former players Ally Pickering and Lee Ellington in the Gainsborough side; coincidentally the nightclub formerly known as Richman's and Chequers, at the Hale End of the Moss Lane ground, has recently been renamed "Ellington's".

On Tuesday (14th) we entertain Ashton United in the Unibond Challenge Cup. Ashton's McDonald is one man to watch as he has scored four goals recently; two each in Ashton's last League and Trophy matches. The last League match was a 9-2 win over Gretna! Ashton have recently signed a 25 year old striker, Bradley Wasahlo from Ipswich Wanderers.
FULL SERVICE RESUMED
Owing to a problem at U-Net, the service providers for this web-site, certain parts of The Alty Pages have not been displaying properly over the last 24 hours. This problem has now been resolved, so the affected pages- Statistics, Cup Fixtures and Cup Line-Ups should now be working normally.
ACCOLADE FOR GEORGE
Otis Thomas's breakthrough into the first team in recent Altrincham Cup matches has brought a public acknowledgement from Mark Ward of the sterling work put in with the Youth Team by George Heslop. In SAM, Ward states that "it is down to the hard work of the youth team and, in particular, George Heslop, that players of Otis's quality are coming through". For more information on Altrincham's young players, see the Youth Team Page of this site. The next scheduled Youth match is versus Rossendale United this Sunday, at Wythenshawe Town, kick off 2p.m.- admission is free!
"MESSENGER" WEBSITE IMPROVED
The Sale and Altrincham Messenger has now upgraded the Altrincham FC page of its web-site. It is pleasingly laid out but some of its information is a little out of date e.g. fixtures. Nevertheless, it is well worth a visit.
FIXTURE CLARIFICATION
Following the numerous recent changes of Unibond Challenge Cup tie dates, here is the latest version of these fixtures:

Tuesday 14 November: Altrincham v Ashton United
Wednesday 22 November: Altrincham v Hyde United
Tuesday 28 November: Ossett Town v Altrincham
Tuesday 19 December: Stocksbridge Park Steels v Altrincham
TROPHY CROWD
Tuesday's Trophy replay attracted only 332 spectators to Moss Lane, the lowest home gate of the season. As the weather had made the match doubtful, and conditions around the Ilkeston area were particularly bad, this was perhaps not surprising.
---
8 November 2000
UNIBOND PREMIER TEAMS IN TROPHY REPLAYS
A full report on Altrincham's match against Ilkeston Town is here.

Games played on Tuesday 7 November

Altrincham 4 Ilkeston Town 3
Bromsgrove Rovers 1 Droylsden 0
Whitby Town v Bishop Auckland POSTPONED to 14 November.
Accrington Stanley 2 Chorley 1
Tamworth 2 Colwyn Bay 1

---
7 November 2000
ALTRINCHAM 4 ILKESTON TOWN 3
Alty won their FA Trophy first round replay against Ilkeston at Moss Lane tonight after extra time, having taken a two goal lead with a fine goal by Hay (21 mins), followed by a glancing header from Dickie Landon two minutes later. Ilkeston replied with two goals from Whitehead, the first a near-post howler by Coburn direct from a corner by Whitehead (54 mins), the second coming when the defence parted to leave Whitehead clear to run and shoot past the keeper (68 mins). Altrincham struck twice in extra time, Landon scoring from the spot after he had been fouled (92 mins) and then Talbot heading home from close range from a Porter corner (98 mins). Clarke scored a breakaway third for Ilkeston four minutes from the end of extra time. Landon was named Man of the Match. Despite his good strike-rate for Alty, this was the first time he has scored twice in a match for the Club. Altrincham meet either Bishop Auckland or Whitby at home on 2 December in the next round. A full match report is here.
EMLEY PROMOTION ELIGIBILITY
Emley have apparently been granted permission to enter a late application for eligibility to join the Conference. A deadline of 31 March has been set, by when Emley must not only satisfy ground grading standards for their new Wakefield venue but must also have satisfactory leasing arrangements in place with their Rugby league hosts at Wakefield. This means that a second place finish to Emley at the end of this season may not now guarantee Altrincham promotion.
FIXTURE CHANGES
Altrincham will now meet Hyde at home in the Unibond Challenge Cup on Wednesday 22 November at Moss Lane and will meet Ashton United in the same competition, also at home, on Tuesday 19 December 2000.
NEW LEEK BOSS
The new Leek boss has been confirmed as ex-Northwich manager, Mark Gardiner. Gardiner recently joined Leek as a full-back.
UNIBOND PREMIER LEAGUE MATCHES
Tuesday 7 November
Colwyn Bay v Bamber Bridge POSTPONED
Leek Town v Gainsborough Trinity POSTPONED
Frickley Athletic v Barrow POSTPONED
---
6 November 2000
LEEK GROUND FLOODED
Harrison Park, Leek's ground, is currently under two feet of water and the situation may worsen if sluice gates on the nearby reservoir have to be opened tonight. Needless to say tomorrow's League game against Gainsborough looks almost certain to be postponed.
ELLENDER FOR SALE
All of Scarborough's squad have been transfer-listed in an attempt to raise cash. This brings the prospect of a percentage of Paul Ellender's transfer-fee coming Altrincham's way should he be sold.
UNIBOND MATCH OFF
Tonight's League match between Hyde and Droylsden has been postponed.
---
5 November 2000
ALTY BEWARE
Since sacking their manager recently, our next League opponents, Gainsborough Trinity, have won all four games played and scored ten times under caretakers Frank Nicholson and Phil Tingay. Trinity's captain is ex-Alty midfielder, Ally Pickering, who has recently been operating at right-back. Lee Ellington, who was also briefly at Alty last season, scored twice in their Trophy win on Saturday and is part of a very pacey attack.
ALTRINCHAM ACTION
For new pictures of the following games, click on the following links:

Droylsden v Altrincham 8 October 2000
Altrincham v Blyth Spartans 21 October 2000
Altrincham Youth v Walton-le-Dale 22 October 2000
---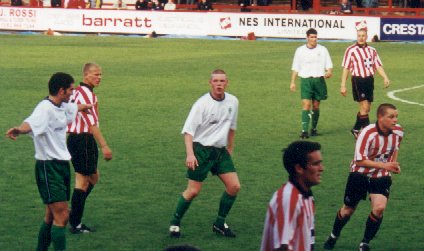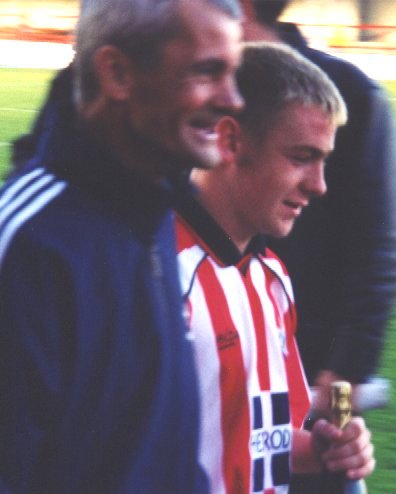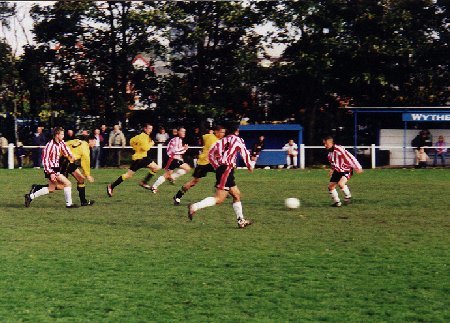 ---
The present and the future: (left) Alex Hay, Carl Furlong, Danny Murphy and Steve Hawes in action in the First Team's 3-1 win over Blyth (21/10/00), (centre) Steve Porter with his Man of the Match award from the same game and (right) Altrincham's Youth Team in action during their 4-1 win over Walton-le-Dale the following day (22/10/00).
---
Go to ALTRINCHAM FC HISTORICAL INFORMATION INDEX
---