Altrincham Football Club News Archive
15th - 26th November 2000
---
26 November 2000
OSSETT TOWN, ALTY AND TRAFFORD
Ossett Town
who entertain Altrincham next Tuesday in the Unibond Cup have now scored 13 goals in their last four home games. Michael Midwood, who almost joined Altrincham this season, has scored six in his last five games for the Yorkshiremen. Ossett Town yesterday beat Trafford 3-1. Trafford swap opponents with us as they play Alty's last opponents, Bamber Bridge, next week in the same competition. Trafford have reportedly lost ten (!) of their players in the last week to Cheadle Town following the move there of Trafford's "manager in waiting", Dave Norman. Also joining Cheadle is ex-Alty and Hyde player, Martin McDonald.
CROWDS
Yesterday's Unibond premier fixtures included two matches watched by fewer than 100 people. Ninety people watched Frickley hit six against Colwyn Bay whilst only 77 witnessed Burscough's win at Spennymoor.
JOHNNY KING OR BERNARD TAYLOR FOR DROYLSDEN?
Johnny King, the former Moss Lane boss, is named in the
Pink
as one of the applicants for the vacant deputy's post at Droylsden, as is Paul Futcher, the former Southport manager. Alty's Bernard Taylor is also cited as a potential applicant. Why the number two post to the volatile Dave Pace is such a magnet is difficult to explain, though Pace has more than once threatened to sack himself. As yet, the Droylsden tea-ladies, who masterminded the Bloods' local cup campaign last season, have not thrown their aprons into the ring.
YOUTH MATCH OFF
Today's Youth match at home to Rylands is off due to the bad weather.
LEEK SIGNINGS
Leek Town, whom Altrincham visit on 16 December, have signed Colin Rose from Northwich Vics and have taken Andy Mason on loan from Leigh. Mason's non-registration with Stalybridge was the cause of the re-played FA Cup tie with Alty last season.
STEVE HAWES AND GARY SCOTT
The
Non-League Paper
carries a brief match report on the Unibond XI v FA XI at Lancaster last week. Steve Hawes played for the FA XI, for whom he was the only non-Conference representative. He was one of four players substituted at half-time in the FA's 4-0 win. Gary Scott played for the Unibond XI.
---
25 November 2000
BAMBER BRIDGE 1 ALTRINCHAM 1
A full match report is here
Altrincham, playing a 4-3-3 formation, lost more ground today with this draw at Bamber Bridge. A dramatic opening few minutes saw Coburn very lucky to stay on the pitch when he brought down Whittaker after Farley had sold the keeper short with an underhit back pass on a very soft pitch. Coburn then saved the resulting penalty from Aspinall with his feet as he dived the wrong way. Alty took the lead with a goal from Hay after 14 minutes which he took well from a feed by Landon. The Robins then played well and had the better of the first half but the second half saw Bamber Bridge assert themselves and they deservedly equalised through Burton (74 mins). Alty lost Gallagher and Farley injured in the second half as they dropped to fifth. Ceefax, yet again, had a wrong result last night showing that Bishop Auckland had lost when they had won. The new league table is
here
, updated team stats are
here
and the Alty team-sheet is
here
. For Alan Johnson's photos of today's game see
here
.
Other results, corrected in the light of Ceefax's error, were:
Bamber Bridge 1 Altrincham 1
Droylsden v Lancaster City POSTPONED
Frickley Athletic 6 Colwyn Bay 2
Gainsborough Trinity 2 Barrow 0
Gateshead v Hyde United POSTPONED
Marine 1 Bishop Auckland 3 - NOT 3-1 AS ON CEEFAX LAST NIGHT
Runcorn 2 Accrington Stanley 0
Spennymoor United 0 Burscough 2
Stalybridge Celtic 4 Emley 2
Whitby Town 1 Leek Town 2
Worksop Town 4 Blyth Spartans 3

EMLEY AND PROMOTION
According to GMR, last night, Emley are definitely being allowed to make an application for promotion to the Conference. Whether it will be successful remains to be seen. This follows confirmation that Wakefield will be their "medium term" home ground. Stalybridge Celtic are leading the protests but, no doubt, Altrincham will have an opinion on this too.
---
24 November 2000
OSSETT TOWN
The December issue of Team Talk magazine has a feature on Ossett Town, Alty's next opponents in the Unibond Challenge Cup (Tuesday 28 Nov). Ossett entertain our neighbours Trafford this Saturday in the Unibond First Division. Team Talk also includes a picture purporting to be Carl Furlong in Droylsden colours- but it clearly is not the ex-Alty man who is depicted.

---
23 November 2000
ALTRINCHAM 1 HYDE UTD 1
A match report is here

An understrength Altrincham just about deserved their 89th-minute equaliser in this Unibond Cup match, watched by just 211 spectators. Starting without Hawes, Talbot, Farley, Scott, Landon, Murphy, Craney and Porter, Altrincham gave a debut to Steve Morgan, a first start to Mario Daniel and recalled Chambers. Morgan (aged 32) is a former Coventry City left-back. Born in Oldham, he started his career at Blackpool (144 app's, 10 goals) before moving to Plymouth Argyle (121/6), Coventry City (68/2) and Wigan (36/2) before having five loan games at Bury. Morgan was a regular member of the Hull City side at the end of last season in Divison Three. Alty's side tonight was (in number order): Coburn, Crowe, Morgan, Glendenning, Maddox (capt), Scheuber, Gallagher, Ward, Hay, Chambers, Daniel. The subs were Landon, Craney and Scott.
---

Warming Up, 11 November: L to R- Daniel, Thomas, Landon, Talbot, Porter, Farley, Murphy, Scheuber, Scott, Hay, Craney, Glendenning, Hawes.
---
22 November 2000
CHESHIRE SENIOR CUP
Last night Stalybridge beat Witton 2-1 at Wincham Park to win a place in the CSC Semi-Finals. In the Trophy, Radcliffe beat Leek Town 2-1 and now meet Accrington Stanley.
---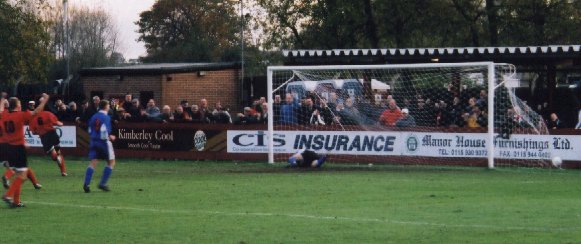 4 November 2000: Ilkeston's Knapper scores his penalty against Altrincham. Match report here.
---
21 November 2000
SURPRISE, SURPRISE
Shaun Goodwin has been released by Gainsborough due to his recurrent injuries and illnesses.
LEAGUE CUP FIXTURES
Alty entertain Hyde Utd in the Unibond Challenge Cup on Wednesday, 22 November at 7.45pm.
The Unibond Challenge Cup Games involving Premier sides on Tuesday 21 November are as follows:

Droyslden 1 Congleton Town 0
Runcorn 0 Bamber Bridge 2 (played at the Irongate)
Spennymoor U. 0 Whitby T. 0
Winsford v Accrington Stanley - POSTPONED
HOW IT WORKS- PART TWO
Just to complete the story of the workings of the three Unibond Cup competitions from the Quarter-Final stages onwards (see "How It Works - Part One" below), the matches are of one-leg only and have no extra time. If the scores are level, a replay occurs at the away-team's ground. If the scores are level after this, a penalty shoot-out occurs. The Finals are at venues selected by the Unibond League which can be the ground of one of the Final participants. Extra-time and a penalty shoot-out occur if the final is a draw at 90 minutes. The League takes 25% of the revenue from the Semi-Final and Final games. An indicator of Unibond crowds is that the minimum sum payable under this rule is just £10. As with Unibond League matches there is a rule that the minimum charged admission to Unibond Cup matches is £4, though discretion may be used for charges to juveniles and senior citizens.
---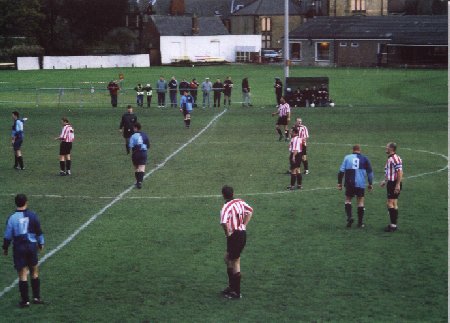 18 November 2000: Gary Talbot and Danny Murphy keep an eye on "Snapper" Shaw (Bishop Auckland). Match report here
---
FA XI 4 UNIBOND XI 0
The FA XI had an easy win at the Giant Axe in last night's representative match. A report appears in today's Daily Telegraph though no Unibond players are mentioned except the sub-goalkeeper.
HOW IT WORKS - PART ONE
If Altrincham finally get to play a Unibond Challenge Cup match on Wednesday, it may be helpful to recall how the competition works. Alty are in Group 4 of nine groups at this initial "Qualifying Stage"; the five teams in each Group are ranked 1 to 5 according to their league positions last season. Thus, Altrincham are team number 1, Hyde are 2, Ossett Town are 3, Stocksbridge are 4 and Ashton are 5. The pre-ordained fixtures for each Group require the following matches to be played in each Group: team 1 v 2, 3 v 4, 5 v 3, 4 v 1, 2 v 4, 1 v 5, 3 v 1, 5 v 2, 2 v 3 and 4 v 5. Thus, Altrincham play Hyde and Ashton at home and Ossett and Stocksbridge away. The eight "best" Group winners proceed to the Quarter-Finals. The ninth Group winner goes into the Unibond President's Cup along with the seven best runners' up. "Best" is defined as the teams scoring the most goals; if there is a tie, then the total goals-scored by each side decide who proceeds; then, if necessary, goals scored away from home are the determining factor. There are another three criteria if sides still cannot be separated before criterion seven is applied- a play-off between those sides who have identical records according to the first six criteria!! Even if a team does not qualify for the quarter-finals of the Challenge or the President's Cup, it may go into the Chairman's Cup, which is a competition for the worst two runners-up in the Challenge Cup Qualifying Stage plus the six best third-placed teams at that stage. The quarter- and semi-finals of all three Cups are one-leg matches. In all the Cup matches up to the semi-final stage, 10% of the proceeds goes to the League, the rest is split between the two teams.
---
20 November 2000
WARD FIGHTS ON
In tonight's Evening News Mark Ward refuses to throw "the towel in" despite Saturday's reverse. "We've made things difficult for ourselves by losing twice on the bounce but there's still a long way to go", he said.
HYDE MATCH
The Unibond Challenge Cup is now expected to go ahead at Moss Lane. If bad weather intervenes between now and Wednesday a new date will be found rather than the match being transferred to Hyde's ground. Top-scorer, Simon Yeo, played for Hyde last Saturday following a fall from scaffolding which led him to miss the previous game.
S.A.F.E. IN EXILE
Jacqui Forster is setting up a group for SAFE (Supporters' Association) members resident outside the Greater Manchester and Cheshire areas. She hopes, in particular, to be able to offer to exiled Robins' fans the possibility of shared travel to matches and local accommodation in the Altrincham area for home games. Anyone with an offer of accommodation or wishing to join SAFE in Exile, should contact Jacqui Forster.
NEXT LEAGUE OPPONENTS
Bamber Bridge are our next League opponents at the Irongate ground next Saturday (25th). The ground has an impressive new stand, built since our last visit. Andy Whittaker, who scored more than twenty goals for the Bridge last season has been transfer listed at his own request but a move to Lancaster City has stalled. Lancaster see the 32 year-old Whittaker as the replacement for striker Chris Ward who seems likely to join Carlisle United. Whittaker took the unusual step of putting a message on his Club's website stating that if his manager "can't find a place in this team for his leading goal scorer who has scored over 100 goals for the club, well, it's time to move on".
ALTY FINANCES
As yet here have been no public reports of responses to the public airing of Altrincham's financial plight by Mark Harris (in SAM) and Gerry Berman (in the Evening News/Pink). Gerry and Mark's appeals for wealthy backers to come forward from the locality combined with the statement that the Club is not for sale, suggest that a moderate investor who is prepared to join the present Board is being sought rather than a large investor who might wish to take over the Club.
RECENT UNIBOND TRANSFERS
Brendan Aspinall (Hyde Utd to Ossett Town, loan)
Gareth Collinson (Rossington Main to Gainsborough Trinity)
Stuart Honor (Runcorn to Chorley)
Mike McNaughton (Frickley Athletic to Northwich Vics)
Anthony March (Jarrow Roofing to Whitby Town)
Andy Mason (Leigh RMI to Leek Town, loan)
Aiden Newhouse (Sutton Utd to Northwich Vics)
Andy Richardson (Willington to Spennymoor Utd)
Henrique Rodrigues (Port Vale to Leek Town)
Colin Rose (Northwich V to Leek Town)
---
19 November 2000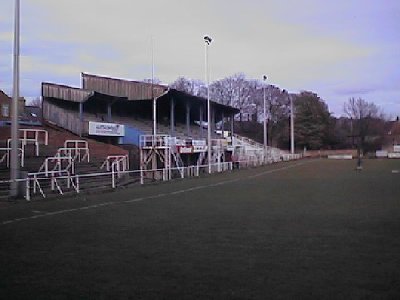 BISHOP AUCKLAND MATCH
Only 238 spectators watched yesterday as Alty went down 0-2 at Bishop Auckland, whose stand is pictured, left, before kick-off. A match report is here. However, even this crowd was nearly twice the crowd of 122 that watched league-leaders Emley win at Spennymoor to open up an nine point-lead over second-place Stalybridge.
ALTY KEEPERS TURN TO COACHING
Ex-Alty keeper, Ian Senior, has joined Dave Felgate of Leigh RMI in setting up a goalkeepers' coaching school at Bolton. He joins two other ex-Alty goalkeepers in this profession as Lance Key and Dean Greygoose run such schools in Sheffield and Crewe respectively. For more details, see today's Pink.
FORMER PLAYERS
Mark Quayle finally appeared for Morecambe yesterday as a sub in their away win at Forest Green in the FA Cup. Once more Keith Russell did not figure for Hednesford as they were beaten at home by Oldham Athletic.
F.A. CUP
Leigh RMI lost 0-3 today, away to Millwall. Neill Hardy netted Radcliffe's goal in a 1-4 defeat by York City. Yesterday's results involving Unibond Premier sides were:

Halifax T. 0 Gateshead 2 - Gateshead travel to Swindon, conquerors of Ilkeston, in Round Two.
Northampton T. 4 Frickley Athletic 0
SUNDAY PRESS
Both the Non-League Paper and Pink carry pieces on Altrincham's financial position. The departures of Turkington and Furlong are both presented as cost-cutting moves. However, Mark Ward indicates that he is not under orders to sell his best players. The Pink also carries a story about Steve Hawes and his late selection for the FA Semi-Professional XI to meet the Unibond XI at Lancaster on Monday evening.
---
18 November 2000
LEAGUE RESULTS
Today's results were:

Accrington Stanley 3 Droylsden 0
Bishop Auckland 2 Altrincham 0
Burscough 2 Worksop Town 2
Colwyn Bay 0 Hucknall Town 2
Gainsborough Trinity 2 Runcorn 0
Hyde United 3 Whitby Town 2
Lancaster City 1 Blyth Spartans 1
Spennymoor United 0 Stalybridge Celtic 2
HYDE MATCH
A decision will be made on Monday whether the Unibond Challenge Cup match with Hyde will take place as scheduled at Moss Lane on Wednesday or be transferred to Hyde's ground, Ewen Fields.
---
17 November 2000
BISHOP MATCH
Weather reports suggest that tomorrow's match at Bishop Auckland will take place. Bishops' stars in their last game, the Trophy replay against Whitby, were keeper Steve Jones, who saved two spot-kicks in the shoot-out, Danny Mellanby, a young striker, and defender Mark Salmon.
TWO PLAYERS LEAVE AS WARD CHANGES FORMATION
Mark Ward is set to employ a sweeper system in future matches, with Adam Farley playing behind the main defensive pairing of Talbot and Glendenning according to the Evening News tonight. This is a move intended to stem the defensive lapses of recent weeks and also several other changes are expected in tomorrow's line-up. Mark has also allowed striker Carl Furlong and centre-back Eddie Turkington to go to rivals, Droylsden. Furlong, with a creditable five goals from eight League starts has, according to the bush telegraph, had one or two "run-ins" with the management during his brief spell at Moss Lane and Turkington, as one of five centre-backs at Altrincham, can be seen in retrospect to have been in a vulnerable position at a Club which needs to cut its outgoings.
FINANCES
A substantial article in the non-sport section of SAM covers Alty's financial position. Director, Mark Harris, underlines the need for financial support both at Board level and through increased support at the turnstiles. Because many of the players are on lengthy contracts, signed when our Conference position looked safe, Alty now have a large wage bill. "We're not on the verge of closure" said Mark but, he confirmed that "players have been paid late for the last couple of weeks". The article ends with an exhortation from Alan Brotherton to come along and swap League football for the ease of access, the relatively low entry charges and the general atmosphere of non-league football at Moss Lane. Meanwhile, we wait to see if any big financial backer (or backers) emerges to stave off what appears to be a serious situation for the Club and its fans.
NEW DATE FOR ASHTON AND CUP NEWS
The Unibond Cup match at home to Ashton will now take place on 12 December at 7.45pm.
---
16 November 2000
GERRY BERMAN CLARIFIES MATTERS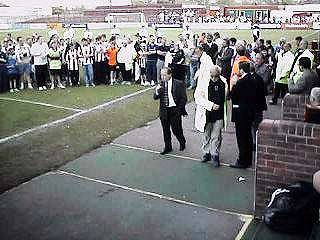 Left: Gerry Berman addressing fans on the last day of last season.

In tonight's MEN, Alty Chairman Gerry Berman is quoted as saying that, contrary to rumours, the Robins are NOT about to be put up for sale. He went to say that, however, the Club did need "new blood" in the boardroom to maintain the club's status as a major non-league team.



UNIBOND CHALLENGE AND CHESHIRE SENIOR CUPS
One Unibond Cup match did actually get played yesterday; the result was Gateshead 1 Spennymoor United 1. In the CSC, Hyde beat Northwich 2-1 at the Drill Field. They meet Stalybridge or Witton in the semi-finals. Stockport beat Crewe 3-1 and meet Macclesfield or Woodley Sports in the other semi.
SCARBOROUGH
The Scarborough clear-out has begun with the following players already off-loaded. Chris Tate has already been sold to Leyton Orient for a bargain £25,000, whilst Michael McNaughton and Stewart Morris (who scored against Alty last season) have left on free transfers. Ex-Alty man Paul Ellender remains, like all his colleagues, available for purchase from the Seadogs.
FRICKLEY
Today's Daily Telegraph has a an article on Frickley's recovery from their 12-0 drubbing at Worksop to gain a place in the First Round of the FA Cup away at Northampton, who are doing well in the Nationwide Division Two. Frickley beat Altrincham's Cup conquerors, Mossley. Until the local pit closed eight years ago Frickley's core funding came from a levy paid by Frickley Colliery miners; now they have several new sponsors. Former Frickley manager, Stewart Barraclough, has returned to his former job at Barnsley's soccer academy.
---
15 November 2000
READING MATTER
As the weather is washing out so many games, there is plenty of time to read about Non-League football instead. A new publication of interest is The Cherry Red Non-League Newsdesk Annual 2000 by James Wright. At only £6-95 it is good value for 256 pages packed with details of dozens of Leagues. Results grids are given for last season for each League as well as League tables and details of club locations, officials etc. The detail is greater for the higher Leagues such as the Unibond. There is also Cup competition information for each League. Where it particularly scores over the larger but three times more expensive Non-League Directory is that it has an index of all Clubs and it has more detailed results information on the lower rungs of the Non-League Pyramid. Where else would you find all of last season's results for Norton & Stockton Ancients or Pucklechurch Sports, for example? The book is available from Sportspages shop next to Barton Arcade, off St Ann's Square, Manchester.
REFEREES REALLY ARE POOR
One of the many interesting pieces of information to be found in The Unibond League 2000-2001 Handbook is the pay-rate for Unibond League refs and refs' assistants. The referee receives just £30 per match and a princely meal allowance of £2 for journeys of up to 200 miles. The Handbook costs just £3.50 (or almost two referees' meal vouchers) plus a first class stamp and a first-class stamped A5 size envelope from, (amongst other sources), Accrington Stanley FC, Crown Ground, Livingstone Road, Accrington BB5 5BX. The 208 page volume includes a directory of all Unibond League teams, the Rules of the League and all the present season's fixtures.
BISHOPS ARE OUR TROPHY OPPONENTS
Bishop Auckland are not only our next league match hosts, they will also be our next Trophy opponents on 2 December at Moss Lane. Last night they beat Whitby on penalties after a 2-2 draw. According to the Whitby web-site the penalty score was 4-3; according to the national press it was 5-4.
---
---