Altrincham Football Club News Archive
1-11 March, 2001.
---
11 March, 2001
MARK HARRIS
Today's
Pink
carries another interview with Mark Harris emphasising that Alty are still in a financially poor situation. The article confirms the names of the new directors at Altrincham (see earlier news on this page, below). It also confirms that Hednesford's Terry Brumpton starts tomorrow at Moss Lane as Alty's "sales manager". Ominously, referring of the Club's efforts to raise funds, Harris is quoted as saying of some people "associated with Altrincham" that "I am aware there are certain people around and about us who are hoping we will fail". Mark once more also states his willingness to step aside should a large backer come to the Club.
ALTY CONNECTIONS AT DROYLSDEN
Former Alty Coach Owen Brown is confirmed as joining Droylsden as is controversial ex-Barrow Chairman, Steve Vaughan, who has been co-opted as a Director of the Bloods. The
Pink
claims that Vaughan "was interested in joining Altrincham last season". Droylsden have also sacked former Alty man Paul Rowlands as their coach.
ALTY WIN A T.V. FOR STEELS
Stocksbridge Park Steels won a portable television for their "Sports.com Performance of the Month" in defeating Altrincham 3-1 in the Unibond Challenge Cup last month.
OLD BOYS: ACCIDENT SIDELINES POWER
Phil Power, who recently left Moss Lane for Radcliffe Borough, will miss the rest of the season with whiplash injuries following a car accident. Other ex-Robins in the news this weekend include Ged Kielty who scored again as Leigh won 4-0 over Hayes and moved to sixth in the Conference. Kielty is pictured in colour in today's
Pink
; ex-Alty midfielder Robert Trees also played in the game. However, RMI's gate, on a Saturday with minimum distraction from the Premiership, was just 414 which is worse than Alty's lowest gate of the season which was last Tuesday, when it was wet, windy and the guests were Bamber Bridge. Andy Dibble was Stockport's Man of the Match yesterday, whilst Rod Thornley, Congleton's striker who played in Alty's recent friendly with Doncaster, scored twice for the Cheshire side in midweek. Mark Quayle netted in Morecambe's 6-1 win at Kingstonian. Barry Crowe was a sub for Droylsden as they lost again, to Burscough. Neill Hardy and Scott Wilson helped Radcliffe see off Dickie Landon's new club Vauxhall Motors, 1-0, yesterday. Gary Talbot played for Northwich as they maintained their unbeaten run at the Drill Field and Gary is pictured in the
Non-League Paper
"scoring" a disallowed goal in midweek against Morecambe. Leroy Chambers almost notched a late winner for Frickley but they still got a creditable draw with Stalybridge, 0-0. John Toner hit two more for TNS in Wales and Chris Sharratt scored for Rhyl. Simeon Hodson's Sutton Coldfield won 3-1 to help themselves away from the relegation zone in the Doc Martens Western Division. Michael Garrity turned out for Kendal Town whilst Chris Timons's Ilkeston drew their game in the Dr Martens league. Paul Robertson's move to Leigh seems to be on hold as he turned out still for Hyde yesterday. Danny Adams's Macclesfield opened their new stand for their home game today (Sunday) versus Barnet, which they won 3-0. Joe Royle's son, Darren, a former Robin is subject of a feature in the
Non-League Paper
.England Non-League manager, John Owens, has dropped Paul Ellender from his squad for the match against Holland on 22 March.
RUNCORN EXPERIMENT
Runcorn's game against Bishop Auckland yesterday was played at Widnes's rugby ground and, with free admission, attracted 929 fans. The game ended 4-4 after Runcorn had led 4-0; Bishops got two goals in the last few minutes to level the scores.
---
10 March, 2001
YOUTH AND RESERVES
Alty
Youth
travel to Morecambe tomorrow, whilst the
Reserves
won 3-1 on Wednesday at Leigh RMI and are now 11th in the league of 13 teams.
UNIBOND RESULTS- CEEFAX WRONG YET AGAIN!
Altrincham had no match today; the new league table, correcting the Ceefax errors noted below, is
here
.
Barrow 3 Leek Town 0
Blyth Spartans 5 Colwyn Bay 2 NOT 2-1 AS ON CEEFAX
Droylsden 1 Burscough 2
Frickley Ath. 0 Stalybridge Celtic 0
Gateshead 0 Accrington Stanley 0
Hucknall Town 1 Marine 1
Hyde Utd 0 Gainsborough Trinity 1
Lancaster City 3 Whitby Town 1
Runcorn 4 Bishop Auckland 4 (Runcorn led 4-0 at half-time!)
Spennymoor Utd 1 Bamber Bridge 2 NOT 2-1 AS ON CEEFAX
SIX EX-ROBINS AT TRAFFORD
Trafford beat Witton Albion 2-1 today at Shawe View, with five ex-Robins involved on the pitch. These were Darren Emmett, who scored the winner and Witton's Dean Greygoose, David Anane, Lee Cox and Martin Faulkner. The last named will be remembered for starting only 7 games (+4 sub) but clocking up 2 red cards for the Robins. Also present was another ex-Alty man, Nigel Gleghorn, Witton's boss, who did not play today. A seventh Witton regular, ex-Robin Steve Haw, did not start for Witton either.

Witton were unlucky not to take a point, having taken an early lead through Heywood, off whom a Hogan clearance rebounded into the net following an Anane shot which had hit the post (7 mins). Trafford came into the match midway through the first half and deservedly levelled after 37 minutes when Thomas headed in an Emmett cross following a short corner. Emmett himself got the winner (74 mins) neatly finishing off a fine move involving Patterson, Whitehead and Wilkinson. Martin Faulkner picked up a booking on the hour and was subbed 17 minutes later. Greygoose had a quietish but efficient game, as did Anane after an early flourish. Witton were without Francis Tierney, the wing-man who Mark Ward tried to lure to Moss Lane earlier this season. He has just signed for Doncaster Rovers. Tierney, a 25 year-old Scouser, was at Crewe, Notts County and Exeter before going to Wincham Park in January, 2001.
CONFERENCE
Ex-Robin Mark Quayle scored again as Morecambe thrashed Kingstonian 6-1 at Kingsmeadow. Ged Kielty scored for the second week running as Leigh trounced Hayes 4-0. The Non-League on the Net site has assessed the Conference and predicts that the Vics will finish 17th, with relegated teams being 20th Kettering, 21st Hayes, and 22nd Hednesford. If this comes true, it will be interesting to see if any of these teams join the Unibond or whether another club will be transferred from the Dr Martens or, indeed, whether no team comes down and the Unibond is restored to 22 sides.
---
9 March, 2001
UNIBOND CUP SEMI-FINAL DRAWS
Challenge Cup
Marine v Bishop Auckland
Lancaster City v Belper or Droylsden
President's Cup

Stalybridge Celtic v Vauxhall Motors
Blyth Sp. or Workington v Farsley Celtic or Accrington Stanley
Chairman's Cup

Chorley v Barrow
Harrogate Town or Runcorn v Worksop Town
LANDON GOES FOR GOOD AND GLENDENNING GOES FOR A WHILE
SAM reports that Dickie Landon has been transferred to Unibond First Division title hopefuls, Vauxhall Motors on a free transfer. Vauxhall recently sold their top scorer, Greg Blundell to Northwich Vics and, tonight, have drawn Stalybridge in the President's Cup semi-final. Also, James Glendenning has gone to St Helen's Town in the NW Counties First Division but will return to Moss Lane in the close season. Mark Ward is also hoping to sign Congleton Town's Rod Thornley who played in the recent friendly against Doncaster Rovers but his arrival is dependent on another player leaving Moss Lane first. Ward has summed up his strategy for next season by saying that "It's a matter of starting afresh with some very good young players who are hungry and hopefully make an impact and win the championship. If someone had told me the difficulties I would face when I took the job, I would not have believed it".
DANNY ADAMS'S NEW CONTRACT?
The Teamtalk site reports that Macc manager, Gil Prescott has denied that ex-Robin Danny Adams is set to leave the Moss Rose. Rumours have grown that Danny wants to renegotiate his contract, having taken a cut in his overall wages when he resigned as a postman and went to full-time soccer. According to Prescott, "The chairman has spoken to him (Danny) and promised he'll get together and produce a new contract for him."
OWEN BROWN PART OF DROYLSDEN CHANGES?
Confusion reigns over goings-on at Droylsden. Barrow newspaper sources claim that Barrow FC's ex-Chairman, Stephen Vaughan has become Chairman at Droylsden. Current Bloods' Chairman and manager, Dave Pace is quoted as saying that Vaughan is "coming on board. He's going to take the hotseat, but I still own the club. He's coming in as chairman, but I'm still the owner of the club." Pace also allegedly stated former Alty man, Owen Brown would be joining Droylsden's coaching staff until the end of the season. However, Pace denies this story in tonight's Evening News describing the reports as "total garbage", though he admits that discussions have taken place.
8 March, 2001

LOWEST CROWD
Tuesday's match against Bamber Bridge attracted the lowest league home gate of the season at Moss Lane, just 427.
McGOONA, THE CENTRE-BACK!
Danny McGoona, who made his name as a flying left-winger at Altrincham, is now at Caernarfon Town. Recently he has been playing at centre-back for the Welsh side, who lead the Cymru Alliance by five points and are therefore well placed for a return to the League of Wales. McGoona was sold in 1998 to Bangor City and has since been at Conwy United.
ALTYFANS' E-MAIL ADDRESSES
If you want to show that you are an Alty fan to all your e-mail contacts, Gary Warrington is offering you an e-mail address which comprises your choice of username "@altyfans.co.uk". To get such an address, e-mail Gary at administrator@altyfans.co.uk enclosing your first name and surname and your chosen username. It is a free offer from Gary and can be set up in any e-mail package.
NON-LEAGUE ON TV
The "Non-League Football Show" will be shown on Sky Sports 2 this week, at 8.30pm on Thursday. This is due to cricket coverage on Sky Sports 1. The repeat shows are on Sky Sports 1 at 12.30am and on Friday on Sky Sports 2 at 5.00pm.
TIMO'S BOSS SACKED
Ilkeston Town, whom we beat in the Trophy this year and whose captain is former Robin, Chris Timons, have sacked ex-Derby and Forest player John McGovern as manager. McGovern was named as manager just before our Trophy match but despite a mid-table position, he has followed the current Northwich boss, Keith Alexander in leaving the club. His successor is Ian Helliwell, who was acting player-manager between Alexander and McGovern. Helliwell played previously for Stockport County and a host of other league clubs.
---
7 March, 2001
BOMBER UNDER REPAIR
The nlfootball.com site reports that ex-Robins' favourite Ricky Harris, now at Leigh, has had an operation on both of his knees and could be sidelined till mid-April. He has had his left-knee cartilage removed and "debris" removed from his right knee. Meanwhile it is reported that the new stand to be built at Leigh (see below) will incorporate "community classrooms" which should bring in extra revenue.
IMPORTANT CLUB DEVELOPMENTS
SAM carries a report from Acting Alty Chairman, Mark Harris, confirming that, at last, we have a new Commercial Manager. He is Terry Brumpton who currently exercises that role at Hednesford. As the Pitmen currently lie bottom of the Conference he will be relinquishing one challenging job for another. SAM also reports that "the Club is talking to a couple of big investors and if we are successful in realising the interest that has been declared, it would see substantial amounts of money coming in to the Club". Mark also confirmed that Dave Tracey has been appointed as Financial Director, whilst Gerald Deaffuren, a Lancashire-based businessman, has rejoined the Board.
ALTRINCHAM 1 BAMBER BRIDGE 2

The full match report is here.

The revised league table is here and the updated statistics, fixture grid and line-up for last night can be found by clicking the appropriate buttons above.
NEXT ACTION
Assuming the proposed friendly game at Moss Lane against Manchester City does not materialise, the next action there is on Wednesday 14 March when the Reserves entertain Ashton United Reserves at 7.30pm.
YOUTH RECORD GOES
Altrincham Youth lost their unbeaten record with a 0-2 reverse at Prestwich Heys on Sunday. They remain top of the table, however.
ANOTHER LOCAL GROUND UPGRADE
As well as the new fitness centre to be built at Stalybridge's Bower Fold, another local club, Leigh RMI, have announced plans for a new stand at Hilton Park. This will be erected (for £750,000) on the Glebe Street side of the ground
DONCASTER
Doncaster, our guests last Saturday (see below) have signed 19 year-old ex-Wigan midfielder Scott Willis on loan from Mansfield until the end of the season. Whether this has any effect on the Rovers' recent interest in our own Steve Hawes is not yet clear.
---
6 March, 2001
ALTRINCHAM 1 BAMBER BRIDGE 2
After taking the lead through Steve Finney, following a free-kick from Ward (13 mins), Stuart Coburn tripped Whittaker to concede a penalty just three minutes later. Phil Robinson converted the spot-kick. Eleven minutes into the second half, following a melee after which three players were booked, a Bamber Bridge freekick was awarded. The kick, from near the touchline some forty yards out, was headed on into the net by McCann. Though Alty then dominated the second half, in which they played into lashing rain and a gusty wind, they could not get the equaliser, although a Scheuber effort was disallowed for offside. The revised table is here and the updated statistics, fixture grid and line-up for last night can be found by clicking the appropriate buttons above. Match report tomorrow. Other results:

Accrington Stanley v Burscough POSTPONED
Droylsden 0 Runcorn 2
Emley 3 Bishop Auckland 1
Gainsborough Trinity 2 Spennymoor United 1
Leek Town 2 Hyde Utd 0
Stalybridge Celtic 1 Hucknall Town 0
Worksop Town 2 Gateshead 2
---
5 March, 2001
SPENNY PUNISHED
Spennymoor United have been docked one point and fined £1,000 for failing to play at Colwyn Bay recently. It is also understood they have to pay the Welsh club a compensatory sum.
NEW FORUM ADDRESS
The Alty Fans' Forum, run by Gary Warrington, has moved to its own server at www.altyfans.co.uk.
TUESDAY'S LEAGUE GAMES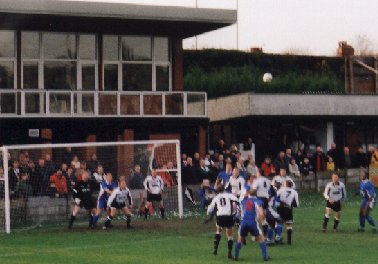 Altrincham play Bamber Bridge this Tuesday at Moss Lane (7.45pm), The Brig have lost only one of their last six league games and one in the last ten games in all competitions. They lie 15th in the table, 14 points behind Altrincham with four games in hand. Pictured right is action from the 1-1 draw at Bamber Bridge this season.
RECENT UNIBOND & LOCAL TRANSFERS
Tomorrow's visitors, Bamber Bridge have acquired three new players in the last few days, as shown below. Another recent Brig signing is Turk, Servet Tasdemir, who played against us for Accrington early in this season.
Karl Robinson (Marine to Bamber Bridge)
Andy Moran (Hereford Utd to Bamber Bridge [loan])
Lee Westwood (Crewe Alexandra to Bamber Bridge [work experience])
Other transfers include:
Lee Copeland (Gretna to Barrow)
Liam Croxton (Droylsden to Radcliffe Borough)
Colin Hall (Oldham Ath to Hyde Utd)
Grant Holt (Halifax T to Barrow [month's loan])
Neil Matthews (Leigh RMI to Chorley)
Gary Ormston (York C. to Frickley Ath)
Carl Waters (Holker Old Boys to Barrow)
Gus Wilson (Hyde Utd to Radcliffe Boro)
Andy Wright (Morecambe to Gateshead)
SCOUTS EYE BISHOPS
Bishop Auckland's fine form has led to League interest in three of their players. Jeff Smith is on trial at Bolton Wanderers this week, his team-mate and striker Danny Mellanby is to go on trial at Barnsley, whilst Bury are showing interest in Michael Nelson.
STALYBRIDGE DEVELOPMENT
As mentioned in the matchday programme when we visited the Bower Fold, Stalybridge have now confirmed their plans for a £5 million health and fitness centre which will rise on the carpark. Celtic expect the scheme to get a planning go-ahead and believe that the scheme will keep the club solvent in years to come. It is hoped to open the centre in 2002.
---
4 March, 2001
DONCASTER PLAYERS' VIEWS ON ALTY
The Doncaster Rovers website carries the views of several of their players on the game at Moss Lane on Saturday. The first-half goalkeeper, Barry Richardson, was somewhat dismissive: "We tried to do the right things on a poor, hard pitch and passed the ball well. I had little to do for the first 45 minutes that I played, except pick the ball out of the back of the net. And, it was the same for Andy [Warrington] in the second half...I thought they were an OK side. At least they tried to pass the ball not just hoof it and hope for the best". Neil Campbell, who scored twice, said that "Against Altrincham today our superior fitness showed in the last 20 minutes and we could have scored about eight". For this site's match report, click here.
A YEAR AGO TODAY
4 March 2000 was Altrincham's high point of last season as we lay tenth in the Conference after recording what was to be our last win of the Conference season, 3-0 over Sutton. Today, we lie fifth in the Unibond Premiership, having played well but being beaten 2-5 by Conference side Doncaster in a friendly yesterday at Moss Lane. Yesterday's match report is here.
EIGHT(?) NOW ON BOARD
Two more Directors have joined the Alty Board. Dave Tracey, a well-known Associate Director at the Club, has joined the Board as has Gerald Deaffuren. Already on the Board are Mark Harris (acting Chairman), Anthony Taylor, Kevin Guiney, Bob Green, Jeremy Pollitt and Mark Eckersall.
YOUTH CHANGES
The Youth Team fixture list has changed yet again; the updated version is here. The team are due to play at Prestwich Heys at 2pm today.
NEW BOYS?
Rod Thornley was presumably only able to play for Alty yesterday because of foot and mouth disease. His club, Congleton Town, were due at Kendal yesterday but all matches in the Lake District, even schools' games, have been cancelled because of the agricultural disease. Thornley acquitted himself well, his impressive bicycle kick near the end of yesterday's game being his best attempt on goal but he showed pace and industry throughout. Another player being linked with a move to Altrincham, Prescot Cables' Gary Jensen, scored as his team won at Curzon Ashton in the NW Counties league.
OLD BOYS
The clash between Paul Ellender's Scarborough and Gary Talbot's Northwich ended in a 3-0 win for the Vics for whom Lance Key also played. Mark Quayle scored in Morecambe's win, whilst Keith Russell was not in Hednesford's squad as they sank to the bottom of the Conference. The Blond-Streaked One now appears to be heading for successive relegations from the Conference. Ged Kielty set Leigh RMI on the way to a 6-2 win over Nuneaton with a fine goal. Robert Trees also played for Leigh, whilst Mick Morrell was an unused sub. but only 501 watched this Conference game. Ex-Robin Tony Rigby hit five for Cambridge, a team in the Wigan Amateur League. Mick Carmody is pictured in the Pink playing yesterday against Stalybridge in the President's Cup and the same paper carries articles on ex-Alty physio and City star, Paul Lake and on Ray Sidderley, now assistant manager of Offerton United. Leroy Chambers played in Frickley's 0-0 game at Colwyn Bay. Chris Timons played as Ilkeston lost 1-0 and both Andy Lovelock's and Simeon Hodson's sides, Solihull Boro and Sutton Coldfield lost yesterday.
ALTY AND DONNY
Altrincham fan Pete Hughes has a letter in today's Non-League Paper in defence of the Yorkshire side's chairman, John Ryan, who lives in the Altrincham area. Pete reminds Rovers' disgruntled fans just how fortunate they are to have such good financial backing and that being in the top ten of the Conference is not a bad performance.
SPENNY'S FATE
The Unibond League Committee is expected to announce today the punishment for Spennymoor's failure to fulfil their fixture at Colwyn Bay recently. With only nine points in the bag this season, a points' deduction could leave the Moors in a horrendous position. Another club in trouble, Barrow, are seeking £15,000 from their fans "to ease a cash-flow crisis", according to the NLP.
WORKSOP SIGNING
Worksop Town have acquired Sheffield Wednesday's young striker Adam Muller on loan to replace the departed Kirk Jackson.
GROUNDS FOR IMPROVEMENT
Accrington are receiving £82,000 from the Football Foundation, chaired by Tameside M.P. Tom Hendry, to improve their stand and floodlights. Runcorn have agreed a £1 million deal with a building firm for the sale of the Canal Street ground. Widnes's rugby league ground is the Linnets' likely home venue next season.
CUP RESULTS
Challenge Cup Quarter-Finals:
Hyde 0 Bishop Auckland 2
Lancaster C 1 Bamber Bridge 0
Marine 2 Gainsborough T 1 (a.e.t.)
President's Cup Quarter-Finals:
Ashton Utd 1 Stalybridge 2
Hucknall 2 Vauxhall 4 (not 2-2 or 2-0 as in some sources)
Chairman's Cup Quarter-Finals:
Barrow 4 Emley 2
Burscough 0 Worksop 1
Chorley 2 Leek 0
The other ties were postponed.
---
3 March, 2001
THORNLEY AND CONGLETON
Alty today included Congleton Town's Rod Thornley, brother of Ben Thornley, the former Manchester United player, in their line-up against Doncaster. Meanwhile Congleton have just sacked their manager Glynn Chamberlain as they seek to recover from a poor run which sees them bottom of the Unibond First Division. Thornley was top scorer and player of the year for "The Bears" last season. Alty fans may recall that Danny Adams also came to Alty from Congleton.
ALTRINCHAM 2 DONCASTER ROVERS 5
This was an entertaining game in which Alty were level (1-1) at half-time, having fallen behind after Watson scored (26 mins) but equalising when Tim Ryan headed an own goal. Rovers were impressive in the opening period of the second half and went 3-1 up through a brace from Campbell before Craney immediately pulled one back just before the hour mark. Patterson made it 4-2 before Miller headed home from a corner for the fifth, three minutes from the end. The Robins, for whom Ian Craney was arguably Man of the Match, gave a debut to Congleton Town's Rod Thornley. Although 12 substitutes were used, the game retained a lively flow throughout.
A fuller match report is here

UNIBOND RESULTS
With most Unibond sides playing cup games, the only league match today was:
Colwyn B 0 Frickley 0
The other scheduled game, Whitby T v Gateshead, was postponed. The revised table is here.
UPGRADED "EXTRA TIME"
The second issue of Extra Time, the new Unibond league magazine will have a glossy, colour cover and an increase in pages to 28. Simon has also now obtained the official approval of the Unibond League for his publication. It will be available from 16 March either at our own Club Shop or by contacting Simon Matters, 199 Nottingham Road, Hucknall, Nottingham NG15 7QB .
---
2 March, 2001
LEROY FEATURE
The Non-League Portal carries a report on ex-Robin, Leroy Chambers's hat-trick in midweek for Frickley, entitled "Leroy makes it a magnificent seven".
TRANSFERS
The former Southport player, Lee Trundle, who was rumoured earlier this season to be Altrincham-bound, has been sold to Second-Division Wrexham by Rhyl for the same £50,000 sum that we got from Premiership club Leicester City for Kevin Ellison. Doncaster, whom we meet tomorrow, have this week signed Scott Willis from Mansfield Town. In the Unibond, Andrew Joseph has joined Bamber Bridge from Hereford United on loan.
DONCASTER MATCH
SAM reports that Altrincham will be trying out some "potential new recruits" in tomorrow's friendly game with Doncaster Rovers at Moss Lane (3pm). Mark Ward stated that he was "looking at players in every position, we are that low in numbers, but certainly strikers. Our main problem last Saturday was not creating chances, but putting the ball in the net". Given that Doncaster have two centre-backs and a right-back on their injured list, it could be a chance for a home striker to make his name. In another swipe at Stalybridge, Mark welcomed Doncaster as a team which plays a passing game "not like Stalybridge. I know my lads would do well in the Conference because they are are footballers, they are not just a 'lump it up the pitch' side."
"BOMBER" OUT
Injury-jinxed ex-Robin, Ricky "Bomber" Harris, has had to have a cartilage operation and is likely to miss most if not all of the rest of this season for Leigh RMI. Leigh have now completed the signing of ex-Flixton and Winsford striker, Troy Hayder.
MOORS SAVED
It is rumoured that Spennymoor United has a new owner, who has secured its immediate future.
ANOTHER BLOW TO WORKSOP
On top of the sale of Kirk Jackson, Worksop Town have also lost midfielder Ryan Ludlam, who broke his leg in the FA Trophy match at Tiverton Town, as well as Andy Gray, who has a long-term ankle injury.
---
1 March, 2001
SCHOOLS' INITIATIVE THRIVES
The Altrincham FC Schools' Initiative is thriving, with the following schools already having requested tickets for home games:
STAMFORD PARK JUNIORS
ALTRINCHAM BOYS GRAMMAR
LORETO GRAMMAR
GREEN LANE HIGH
WELLINGTON HIGH
ST ANNE'S C OF E PRIMARY
HAVELEY HEY JUNIOR.

Also, Eckersley's Newsagents of Marsland Road, Sale has become the first local newsagent to support the scheme, so if you are passing that way, why not return the favour by using their shop? The Scheme is run by Bob Allan, with the help of a colleague, Doug, who is targetting the Wythenshawe area. Click the Schools Initiative button above for details of the scheme which provides free tickets for schools.
LEAGUE'S TOP SCORER LEAVES WORKSOP
Kirk Jackson, the leading scorer in the Unibond League, has left Worksop and signed a two and a half year deal with Darlington. Jackson has hit 40 goals this season, ahead of Chris Ward (32 for Lancaster) and Simon Yeo (30 for Hyde). In another transfer deal, Emley have gained £24,000 from the sale of Glyn Hurst from Ayr United to Stockport County, thanks to a sell-on clause for Hurst, who left Emley for £30,000 in 1998.
DONCASTER GAME
The Doncaster manager, Steve Wignall, has spoken about this Saturday's friendly at Moss Lane, saying that "The lads need a game and we are pleased that Altrincham have agreed to play us", according to his club's website. Kevin McIntyre will miss the game through (another) suspension and Simon Shaw, Stone and Hawkins are injured, but it sounds as if it will be a strong side which opposes us. For a report on last season's Conference match between the sides, click here.
---