Altrincham Football Club News Archive
12-30 March, 2001.
---
30 March 2001
EMLEY WIN AGAIN
Hyde Utd 1 Emley 2 - the revised table is here
GAINSBOROUGH MATCH


Altrincham warm up before the match against Gainsborough at Moss Lane on 11 November. Only those names in bold were in Alty's starting line-up against Barrow last Tuesday: L to R- Daniel, Thomas, Landon, Talbot, Porter, Farley, Murphy, Scheuber, Scott, Hay, Craney, Glendenning, Hawes.

Altrincham travel to Gainsborough on Saturday to play a side enjoying a much better second half of the season after a poor start to the campaign. Like Altrincham they have suffered a managerial sacking this season, with Greg Fee giving way to Phil Tingay after a 7-1 mauling by Stalybridge. Trinity are currently unbeaten in their last nine league games, with 5 wins and 4 draws. Although goalscoring has not been their strength all season, one of their leading strikers is Lee Ellington, who was briefly at Moss Lane last season. They currently lie 7th, 5 points behind Altrincham from one fewer game than the Robins have played. John Reed will be missing, suspended, from their regular line-up whilst Brian Linighan may also be doubtful after suffering a head injury last week at Whitby. Trinity beat Altrincham 2-0 at Moss Lane on 11 November, when Alty were at their season's high-point, second in the league. Since then, their captain, ex-Alty player Ally Pickering has left Trinity and returned to Abbey Hey.
SUNDAY MATCH
An Altrincham Veterans' side will play an Altrincham Supporters' XI at Moss Lane this Sunday, kick off is at 1-30pm. Entry is free and the bar will be open. In the fans' side will be Brian Flynn and Gary Warrington, whilst on Gary's Alty Fans' Forum has a poll on whether the appointments of Bernard Taylor and Graham Heathcote should be made permanent.
---
29 March 2001
TAKING STOCK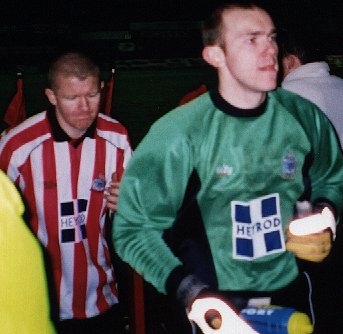 After the recent turmoil at Moss Lane, it may be an appropriate time to review where Altrincham stand on a number of fronts:
Players:
There are currently 16 players at the Club who have regularly figured in the first team. They are:

Goalkeepers Stuart Coburn (seen left with Mark Maddox)

Defenders/Midfielders Jason Gallagher, Gary Scott, Steve Porter, Mark Maddox, Adam Farley, Terry Bowker

Midfielders Steve Hawes, Ian Craney, Stuart Scheuber, Keith Mairs

Wide Midfielders Danny Murphy, Paul Edwards

Strikers Rod Thornley, Steve Finney, Dickie Landon
Others who have played odd games and are still on the Club's books include Mario Daniel and Otis Thomas from the Youth Team and Eric Seekie and Neil Wakefield from the Reserves.

Fixtures:
Altrincham have seven league games left; five are away from home (Gainsborough, Colwyn Bay, Emley, Burscough and Hucknall), two are at Moss Lane (Runcorn, Hyde United).

Leading Scorers: Total Scored 85

10 - Steve Finney (9 league + 1 cup in 19 appearances ); Kevin Ellison (9+1 in 20 app's)
9 - Danny Murphy (7+1 in 27 starts + 2 sub app's)
8 - Alex Hay (7+1 in 18 app's)
7 - Steve Hawes (6+1 on 43 app's), Dickie Landon (5+2 in 13 starts + 13 sub app's)
The best strike rate is Rod Thornley's: 4 goals in 3 games.

Cautions: Total 71 Yellow and 2 Red

Sinners
10 - Mark Ward (from 23+2 app's)
9 - Mark Maddox (from 26+3 app's)
7 - Steve Hawes (from 43 app's)
Red cards - James Glendenning (1) and Steve Morgan (1)

Saints
0 - Gary Scott (from 25+6 app's)
0 - Steve Finney (from 19 app's)

League Position

Current - 5th
Lowest - 11th (26/8/00)
Highest - 2nd (last time 11/11/00)
For more information, see the Statistics Page
---
28 March 2001
RESULTS/FIXTURES
Fixtures: Wednesday 28 March
Gateshead 1 Burscough 1
Runcorn 1 Hyde Utd 1
Updated table is here

ALTRINCHAM 1 BARROW 1
The match report is here.
---
27 March 2001
ALTRINCHAM 1 BARROW 1
A strong second-half performance from Barrow gained the visitors an equaliser 7 minutes from the end, from Holt, after Altrincham had played well and led through a 34th minute goal by Finney. Both Finney and Thornley missed from close range in the second half but Rod Thornley was deservedly made Man of the Match. Alty are now unbeaten in their last three games. The new table is here; click the buttons above for updated Statistics, League Line-Up and Fixture Grid. Full match report here tomorrow. Other results included several surprises as Stalybridge, Worksop and Lancaster all lost.

Accrington S. 1 Hucknall T. 2
Bamber B. 0 Bishop Auckland 2
Blyth S. 1 Worksop T. 0
Colwyn Bay 3 Spennymoor Utd 2
Droylsden 3 Lancaster C. 2
Stalybridge C. 1 Leek T. 2
and from the NW Counties: Clitheroe 13 Cheadle Town 0. Cheadle lost 7-1 in their previous game!!

REPORT OF MEETING
There is now a full report of yesterday's supporters' meeting at Moss Lane here. The meeting covered both the sacking and replacement of Mark Ward and an address from Mr Brian Lomax of Supporters Direct, explaining how to set up a Supporters' Trust.
LANCE KEY
Ex-Alty keeper, Lance Key, was named as Man of the Match yesterday in the 0-0 draw with Rushden and Diamonds. More than 2,000 fans watched the game at the Drill Field in which Gary Talbot also played. Key was also featured, less happily in tonight's BBC "Question of Sport" when his error in the FA Cup was included in the "What happened next sequence".
MORE CHAIRMEN'S RESIGNATIONS IN THE UNIBOND As well as the thirteen managers, including Mark Ward, who have parted company with their teams this season in the two Unibond divisions, two more chairmen went this month, following our own Gerry Berman. Hucknall Town's chairman John Beherall, resigned citing overwork, whilst Colwyn Bay's Dave Lloyd resigned after only six months but will stay at the Club in another capacity.

---

25 March 2001
ALTRINCHAM 5 ACCRINGTON STANLEY 2 This match witnessed not only the Second Coming of Bernard Taylor and Graham Heathcote as Altrincham's management team but the Third Coming of Dickie Landon, who had returned from Vauxhall Motors to be named as substitute today. After an impressive first-half display by Altrincham which produced a three-goal lead, Accrington improved on their poor first 45 minutes to claw the score back to 3-2 with the help of a debatable penalty. Rod Thornley notched a hat-trick; his first after just 47 seconds. Finney added the second after 13 minutes before Thornley scored his second shortly before the interval. Carden converted a penalty after 68 minutes and then Coleman scored from a free-kick nine minutes from the end. A fairer margin was restored when Farley strode through the Stanley defence to notch his first goal for the Robins with a minute to go. There was still time, however, for Thornley to be chopped down for a penalty which he converted to earn his hat-trick. However, it was Ian Craney who earned the Man of the Match award. Alty moved up to fifth place; the table is here; also updated are the League Line-Up and Statistics pages- please click the appropriate buttons above for these. The full match report is here. For the view from Accrington, visit the excellent unofficial Stanley site here

Other results were:

Droylsden 1 Leek Town 0
Hucknall Town 4 Blyth Spartans 1
Whitby Town 1 Hyde United 3
FA YOUTH WIN
Altrincham FA Youth side, managed by George Heslop, beat Stalybridge FA 3-0 today. The side is largely made up of Altrincham FC's youth team.
WARD SACKING AND SUCCESSION
The Non-League Paper reports that Mark Ward's pay-off for being sacked could be as much as £60,000. In the Pink Mark Harris underlines that the Taylor/Heathcote appointment is a holding operation and that neither of the caretakers has indicated a wish to carry on beyond the end of this season; "Neither of them has so far said they'd want to manage the team on a permanent basis", he said. The Pink names some of those interested in the manager's post - Peter Davenport (ex-Macclesfield boss), Paul Futcher (ex-Southport manager) and Mark Carter (Runcorn's boss at the start of this season). One or two of those names would not seem to meet the declared aim of appointing someone with deep knowledge of the Non-League scene at our level. The Pink confirms that Joey Dunn and Tony Murphy, Mark Ward's backroom team, have also left Moss Lane.
ROD THORNLEY
Rod Thornley's move to Altrincham has been confirmed as a free transfer with a sell-on clause which would benefit Congleton Town should he move on from Altrincham. Rod is out of today's match, injured.
OLD BOYS
Paul Hart scored the fifth for Vauxhall in their 5-5 draw with Chorley in midweek. Dean Greygoose starred for Witton as they held Ashton United 0-0 yesterday. Stuart Terry netted for Connah's Quay and John Toner was the TNS scorer in their 3-1 defeat at Newtown. Keith Russell was again not in Hednesford's side as they slid nearer to relegation but Leroy Chambers played in Frickley's important 1-0 win over Gateshead. The Pink has an interview with Owen Brown, who alludes to coming to Alty last season "to give my good friend, Bernard Taylor, a lift". Owen is now manager at Droylsden as well as working for the Liverpool FC Academy. Danny Adams was taken off, with a groin strain, in Macclesfield's 2-1 win yesterday over Blackpool.
---
24 March 2001
UNIBOND RESULTS/FIXTURES
Saturday 24th
A good day for Frickley; they won as the bottom two lost again. The revised table is here.

Burscough 0 Runcorn 0 (1pm)
Frickley Ath. 1 Gateshead 0
Hyde Utd 4 Spennymoor Utd 0 (1pm)
Marine 2 Colwyn Bay 0 (1pm)
SUPPORTERS' MEETING
Don't forget that on Sunday at 12.30pm in the Noel White Suite there will be a meeting open to all fans at which Mr Brian Lomax of Supporters Direct will outline how his organisation's scheme works to the benefit of cash-starved clubs such as our own. More on Supporters Direct can be found on their website. Mark Harris (Acting Chairman) will also be in attendance to answer questions about the recent events at the Club.
BAMBER LOSE SPONSORS
Baxi, sponsors of Bamber Bridge have withdrawn their support for next season, costing the Unibond club some £10,000 a year in lost income. Baxi have recently merged with another company, prompting a reassessment of their sponsorship both of Bamber Bridge and Preston North End. The Brig still have to finish payments on their £300,000 new stand so are now in urgent need of a replacement sponsor. There is more on this on the club's website.
BISHOPS' DECLINE
Bishop Auckland's fine run has ended with two recent defeats. These are partly attributable to injuries and the loss of two of their star players; Jeff Smith has joined Bolton (see earlier news, below) whilst Michael Nelson has been having trials at Bury. Danny Mellanby is also the target of League scouts.
THORNLEY AND MADDOX OUT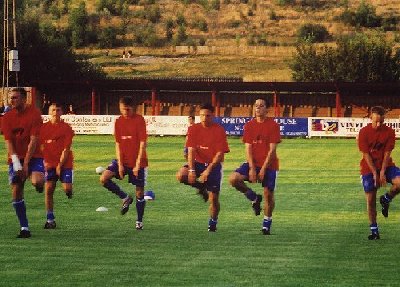 Mark Maddox is suspended and Rod Thornley is injured so neither will play on Sunday against Accrington. In the away match at the Crown Ground, all three goals arrived in the first fourteen minutes, with Altrincham losing 1-2. Only 5 of the 14-man squad for that match remain on the Moss Lane books; the Alty team is shown warming up before that game in the adjacent picture. One adult with up to two children will be admitted free on Sunday as an incentive aimed at newcomers to Moss Lane. Otherwise, children aged under 14, will also be admitted free on production of the voucher printed in this week's SAM newspaper. Bernard Taylor has confirmed to SAM that he and Graham Heathcote are acting manager and acting coach respectively and that they have only been appointed till the end of the season. The team will have a training session this morning.
---
23 March 2001
MARK HARRIS ON RADIO
Mark Harris was on GMR tonight and he outlined three reasons why Mark Ward was sacked: (1) despite a high wage bill this season, the Club is well off the pace and it was felt that with a lower budget, Ward would not be able to deliver the title next season, (2) the Club's and his own poor disciplinary record which may lead to a £10,000 fine, (3) Mark Ward's controversial statements in the press. Mark Harris heavily stressed that Bernard Taylor and Mark Ward had only been appointed as caretakers and that the Club had a high standard of applicant for the manager's post already. He promised that the identity of the permanent management team would be clarified within 10 or 14 days of the end of this season to allow the appointee to acquire his choice of players for next season.
RESULTS
Emley now have 84pts (from 35 games) the same total which won Altrincham the title (from 42 games) in 1999. The full table is here; there are now 17 pts between 2nd and 3rd place.

Bamber Bridge 0 Stalybridge Celtic 2
Lancaster City 1 Bishop Auckland 0
Whitby Town 0 Gainsborough Trinity 1
Worksop Town 1 Emley 2

CHAIRMAN'S STATEMENT
The full text of Mark Harris's statement about the recent events at Moss Lane has now been released and is reproduced below:

By now, most Alty fans will be aware that we parted company with player-manager Mark Ward last weekend. The decision to relieve Mark of his managerial responsibilities was made at a board meeting prior to the Droylsden match, and I wanted to take this opportunity to explain why the directors have taken this course of action, and the timing of it. On behalf of the board I wish to express my thanks to Mark Ward for having undertaken his first managerial job in the most difficult of circumstances. It cannot have been easy to remain focused on the footballing side of the job in the light of the financial crisis facing the club, let alone deal with the challenges of combining the roles of player and manager. Mark was brought to this club to get us back into the Conference with a side that he, like us, felt was more than capable of achieving this goal. Injuries have meant that we never enjoyed the true benefit of the on-field influence a fully-fit Mark Ward would have exerted.

Unfortunately, partly due to circumstances beyond Mark's control, we will probably end this season around 30 points off top spot, and have really failed to mount a serious title challenge throughout the campaign despite having a wage bill twice that of any other UniBond club, and three times that of most. As I explained in the Bamber Bridge programme, the financial reality is that we were losing £5,000 a week EVERY week prior to Christmas, and although we have already reduced the operating losses and are now setting about increasing income to close the gap further, in order to survive Altrincham F.C. must next season adopt a wage bill substantially below the £4,200 per week level set by the board and with which Mark complied. We are working on budgets for every area of the club's income and expenditure, but our feet remain firmly on the ground when it comes to predicting what we'll bring into the club coffers next year. You cannot budget to sell another Kevin Ellison, or for a (long overdue) FA Cup run. The old saying of "horses for courses" applies nowhere more than in football, and the board reached the unanimous decision that the club needs a manager with more experience of working with limited resources and of spotting players from throughout non-league football and locally. Danny Murphy, and before him Danny Adams have been shining examples of the talent available locally. If we were unable to challenge for the title on £5,000 a week despite changing 75% of playing personnel, then we reluctantly concluded that Mark would be unlikely to assemble a squad capable of winning the UniBond on substantially less. And before anyone accuses the club's directors of lacking ambition, let me make it clear that we are totally committed to returning to the Conference, and that the 22 other managers of UniBond Premier League clubs would be only too happy to work on the budget which will be available to the new management team, whoever they might be.

Despite being the predominant factor behind Mark's departure, there were others, some of which must remain confidential between the board and Mark. The club has been under threat of a £10,000 suspended fine being imposed by the Football Association for our disciplinary record last season. We had impressed on Mark the importance on ensuring that our record this season reflected a substantial improvement, but although our tally of sendings-off has been much better, the number of bookings has led to the F.A. warning us that we are in danger of having the suspended fine imposed. Mark's own disciplinary record did not, we felt, set the appropriate example to his players. Finally, it is a matter of record that Mark was often outspoken in his views expressed through press articles. Despite having been given a clear instruction to the contrary at Christmas, Mark has since made a number of public statements that have been detrimental to the image of Altrincham Football Club. Specifically, his comments before and after the Stalybridge fixture caused considerable embarrassment to the club, particularly as we enjoy an excellent relationship with our friends from Bower Fold. Mark is a man who wears his heart on his sleeve and who believes in speaking his mind; unfortunately it is not always possible to do so.

On Monday, the directors invited Bernard Taylor and Graham Heathcote to take on the roles of caretaker manager and caretaker coach respectively. They will take charge of team affairs until the end of the season, giving the board the chance to assess the interest already being declared, and that yet to be shown, in the Moss Lane hot seat. We are in no hurry to make an appointment because we need to be absolutely sure that the man we go for has all the qualities we believe are required. Bernard and Graham will also have the chance to show what they can do, although the fact that their partnership took the club to 10th spot in the Conference means that their credentials to fulfill this temporary role are obvious.

My phone has been red hot this week, and I expect that to continue in the six weeks remaining this season. To close, I would like to make the final point that the decisions made last weekend were not those of one or two men. Both the decision to relieve Mark Ward of his managerial responsibilities and that of the timing of the decision were made by eight of us collectively. We wish Mark every success in the future, and must now concentrate on our own.
COLWYN BAY
Colwyn Bay have held a crisis meeting at which the Club vowed to continue its fight to stay in the Unibond League and clear its debts of £46,000.
---
22 March 2001
MARK HARRIS EXPLAINS In two messages posted to the Altrincham Fans' Forum, Acting Chairman Mark Harris gives the fullest explanation yet of the circumstances which led to the sacking of manager, Mark Ward. His comments were later mostly included in a statement released on 23 March and reproduced above. However, the following additional comments were made by Mark.
Alty were paying over £6,000 a week in wages before Christmas 2000 and the Club was losing £5,000 a week. The recent Bamber Bridge game, for example, brought in only £800 at the gates.
The squad is currently 21 and not the much smaller figure quoted by Mark Ward. Mark Harris states that "Youth is the future for Alty FC".
The manager had been told of a £10,000 fine held in abeyance by the FA for the team's indiscipline on the field last season but had not taken effective action to improve our record this year, thereby exposing the Club to the risk of the fine being implemented.
The sacking had been implemented sooner rather than later to give the Club time to get itself together for a serious title challenge next season.
Bernard Taylor and Graham Heathcote are caretaker-appointments, (though they may presumably wish to make a case for a more permanent appointment). The Club has already received applications (presumably unsolicited) from figures in the Conference, Unibond Premier and other leagues. Bernard and Graham are receiving no extra pay for their caretaker duties.
£85,000 has been injected into the Club since the end of January but there are currently no "Mystery Backers" in the background. For the full details visit the Fans' Forum, where you can also cast your vote on the sacking decision.
COMMERCIAL MANAGER Terry Brumpton, who was announced recently as Altrincham's new Commercial Manager, turns out to be sharing his role at Moss Lane with similar duties at two other clubs according to nlfootball.com. That site claims that he is still also working for Hednesford and that he has also just become Crawley Town's new commercial manager. The site states that "Through his company Westpoint Media Sales Ltd, he will be looking after Hednesford and Unibond Leaguers Altrincham as well as [Crawley]" and Terry himself is quoted as saying of Crawley, "I am committed 150 per cent to the club". He is going to be spending a lot of time on motorways if this report is true. TRANSFERS
James Berry (Bamber Bridge to Ashton T.)
Dave Carroll (Bamber Bridge to Fleetwood Freeport)
John Ryder (Runcorn to Bootle)
---
21 March 2001
RESERVES TONIGHT The first-team friendly at Rhyl tonight has been "cancelled" according to the Rhyl website, but tonight's Reserves match v Northwich at Moss Lane looks likely to go ahead. DICKIE AND RYAN MOVE ON Just two weeks after joining Vauxhall Motors from Altrincham, Dickie Landon is reported to have left the Merseyside Unibond First Division club. Where Landon has gone is not clear but he missed Vauxhall's amazing 5-5 draw with Chorley last night. He played just two games for the Motormen. Ryan McMahon, Alty's keeper in the fateful 0-3 FA Cup defeat by Mossley, has moved on from Warrington Town to Prescot Cables. UNIBOND CUP SEMIS All the following will be played on Tuesday, 3rd April.
LEAGUE CUP
Lancaster C. v Belper T.
Marine v Bishop Auckland
PRESIDENT'S CUP
Blyth Sp. v Accrington S.
Stalybridge C. v Vauxhall M.
CHAIRMAN'S CUP
Chorley v Barrow
Harrogate T. v Worksop T.
---
20 March 2001
THREE ALTY TEAMS IN ACTION TOMORROW? Alty Reserves play Northwich Vics Res. at Moss Lane at 7-30pm tomorrow (Wednesday 21st), whilst the Youth team are playing Wright Robinson College. The first team are to play at Rhyl and the match is still advertised as "on" on the Rhyl website tonight; k.o. 7-30pm. ALTY DROP Alty dropped to sixth tonight as a result of an injury-time penalty winner for Worksop; the new table is here.
Results- Tuesday 20th

Blyth Spartans 3 Frickley Athletic 0
Colwyn Bay 1 Stalybridge Celtic 7
Marine 1 Accrington Stanley 1
Spennymoor Utd 0 Gainsborough Trinity 3
Worksop Town 1 Burscough 0

NEW REGIME CONFIRMED AT MOSS LANE According to GMR (radio) tonight, Bernard Taylor and Graham Heathcote have accepted the offer of the vacant managership at Moss Lane. Their respective individual positions seem not yet to have been announced. Supporters will be hoping that next season they they repeat the feat of 1998/99 when they won the Unibond Premier title. In pictures taken at the last match of that season, at Guiseley, Graham is pictured left, whilst Bernard is seen, (right), with former captain Chris Timons. Their appointment is described as "temporary" and it is assumed that their acceptance is till the end of this season in the first instance.


FIXTURES Wednesday 21st

Bishop Auckland v Runcorn
Gateshead v Whitby Town
Friday 23rd

Bamber Bridge v Stalybridge Celtic
Lancaster City v Bishop Auckland
Whitby Town v Gainsborough Trinity
Worksop Town v Emley
Saturday 24th

Burscough v Runcorn (1pm)
Frickley Ath. v Gateshead
Hyde Utd v Spennymoor Utd (1pm)
Marine v Colwyn Bay (1pm)
Sunday 25th

Altrincham v Accrington Stanley (3pm)
Droylsden v Leek Town (1.30pm)
Hucknall Town v Blyth Spartans
ACCRINGTON BOSS SIGNS FOR PRESCOT CABLES! Prescot Cables of the NW Counties' League have been granted an extension to their season to complete their backlog of games. This has allowed the Accrington Stanley boss, John Coleman, his assistant Jimmy Bell, and players Russell Payne and Steve Carragher to sign for the Cables with a view to playing for the Merseysiders at the end of Stanley's own season! BOLTON SIGN A BISHOP Bolton Wanderers have signed Jeff Smith from Bishop Auckland till the end of the season at least. EMLEY MOVES Emley are expected to sign a ten-year deal to play at Belle Vue, Wakefield by the end of this month. This will then lead to a Conference ground inspection on 3rd April which the Club expects will lead to approval for promotion should they win the Unibond title. The deciding match could be when Emley host Stalybridge on 28 April. However, this date clashes with the Rugby League Challenge Cup Final, which may prove more of a draw to Wakefield's rugby-loving locals.

---

19 March 2001
BOTH SIDES COMMENT Speaking to SAM today, Mark Ward (left) said of his sacking: "Obviously, it came as a huge shock to me. I'll be telling the players tonight when I get them together at the club. I have spoken to the PFA about my contract, the playing side of which remains unaffected. The powers that be have made the decision and time will tell whether it is the right or wrong decision. People at the club are just waiting for me to say the wrong thing so I cannot say too much right now." Revealing that the Board's decision was unanimous, Mark Harris (Acting Chairman) said that "The Board felt that, although Mark should be congratulated for doing his job in very difficult circumstances, the club would need a manager with more non-league experience and and a proven track record in finding and attracting players from throughout non-league and local football".

The sacking of Mark Ward will have provoked mixed feelings amongst the Moss Lane regulars. On the one hand Mark Ward gave youth its head and tried to stick to an attractive passing style of game. He also seemed to take the financial cuts more calmly than he might. On the other hand, playing more than two dozen back-four (and back-three) combinations in only 45 league and cup games tells its own story about tactical indecision and the public criticism of senior players and opposition sides in the press did not reflect well on the Club. His record as manager reveals that the team played 35 league and 10 cup games, won 17 of them, drew 12 and lost 16, scoring 79 goals and conceding 66. Mark Ward's teams employed 40 different players who collected 71 yellow cards and two reds. He had exactly ten months in charge, from 19 May 2000 to 18 March 2001.

A curious feature of the affair is that Mark Ward remains on the Club's books as a player, with a contract which runs till Summer 2002. More on the sacking can be found at the BBC. On Ceefax, Mark Harris is quoted as telling GM Radio, "we need a manager with more experience of finding players at non-league level and more locally". MARK WARD SACKED Altrincham have unexpectedly sacked manager Mark Ward just hours after his side recorded an impressive 3-0 win over Droylsden. This was particularly unexpected as the winning team on Saturday featured two players whom Ward had just been allowed to bring in for their first games- Rod Thornley and Paul Edwards. However, it is believed that the move was made on the grounds that Ward had not achieved promotion with a highly-paid squad and would find it even more difficult next season with scant resources available. The former managerial partnership of Bernard Taylor and Graham Heathcote is thought to have been put in at least temporary charge. In the last twelve months Alty fans have witnessed many ups and downs:

4 March 2000 - Alty lay tenth in Conference, despite the 1999 sale of Paul Ellender to Scarborough and the resignation in December 1999 of Graham Heathcote, a move occasioned by the arrival of former manager, Stan Allan, as Director of Football.
5 May 2000 - Alty were relegated to Unibond Premier on the last day of the season.
Summer 2000 - Bernard Taylor resigned and Mark Ward was appointed as the new manager.
Summer 2000 - Departure of players, including captain Chris Timons, Mick Morrell and Simeon Hodson.
September 2000 - "Player of the Year" Danny Adams sold to Macclesfield for £25,000.
January 2001 - Gerry Berman resigned as Chairman as a Winding-Up Order was threatened.
February 2001 - Players off-loaded to save money- including Kevin Ellison to Leicester City for £50,000 and captain Gary Talbot to Northwich Vics.
17 March 2001 - Alty recorded their best win of 2001 against Droylsden.
18 March 2001 - Mark Ward reported to have been sacked.

Mark Ward, who had another season to run on his contract, is unlikely to leave Moss Lane without compensation, which makes this move all the more surprising, given our financial state. The rumour-mill has already started regarding a long-term successor to Ward, with the name of Leigh's Steve Waywell prominent amongst those mentioned. The Club, however, may decide to stay with the previously successful in-house team of Taylor and Heathcote which won the Unibond title in 1999.

Before Ward arrived at Moss Lane, Lancaster City turned down Mark's application for their then vacant manager's post. Lancaster's website stated that they feared that if they had appointed the ex-Everton and West Ham man it would have led to the club being on a "roller-coaster". How right they were!
TRANSFERS Darren Vicary, the Northwich wingman, has joined Stalybridge Celtic. He was linked with Alty recently. Other Unibond and local moves include:

Chris Adams (ex-Alty) (Heanor Town to Matlock Town)
Andy Brownrigg (Stocksbridge Park Steels to Hartlepool Utd)
Ian Carthy (Northwich Vics to Congleton Town, on loan)
Mark Deegan (Total Network Solutions to Colwyn Bay)
Ian Dickinson (Lancaster City to Chorley)
Rod Thornley (Congleton Town to Altrincham)
Eddie Turkington (Altrincham to Droylsden)
Steve Walklate (Darlington to Blyth Spartans)
Paul Edwards (Doncaster Rovers to Altrincham)
Wayne Johnson (Congleton Town to Leek Town)
Scott Williams (Leek T to Congleton T)
Liam McDermott (Cambridge Utd to Spennymoor Utd)
John Grant (Crewe Alexandra to Hyde Utd on loan)
---
18 March, 2001
FRANK CARRODUS
By coincidence, on the weekend when Kevin Ellison made his Premier League debut, the Pink carries a feature on Frank Carrodus, one of the few other Alty players to have moved from Moss Lane to the top flight. Frank, now 51, won League Cup winners' medals with Aston Villa and a runner-up's medal with Manchester City, for whom he made his frist-team debut in 1970. Wrexham, Birmingham and, finally, Bury, were his other league employers. Today he runs his own corporate hospitality company and still plays amateur football with Old Alts' Vets.
ALTY AND NORTH WALES
Altrincham travel to Rhyl on Wednesday (21st) for a friendly against the North Wales side. The Rhyl Director of Football is ex-Man. Utd player, Mickey Thomas, who has been arranging friendlies against top league clubs to keep the Welsh side afloat and there is a full-page article on this in today's NLP. The same paper also reports that Colwyn Bay, whom we now visit on 3 April, are to lose their manager of 22 years, Bryn Jones, along with three directors, at the end of the season. The economic decline of Colwyn Bay is blamed for the Club's demise; they are currently second bottom of the Unibond Premier league. Another cash-strapped side, Spennymoor, are now reported to have debts of £300,000 and to be relying on creditors' generosity, the efforts of a debt practicioner and a successful local businessman to keep their club going.
OLD BOYS
Kevin Ellison played the last six minutes of Leicester City's Premiership game at Old Trafford yesterday. Sadly in those few minutes the score went from 0-0 to 2-0 for United. With little football in Wales the many ex-Robins players at TNS were out of action, as was Keith Russell who again did not make the Hednesford squad. Lance Key's kicked clearance rebounded off a Hayes forward to concede a goal in a 2-2 draw for Northwich. Robert Trees and Ged Kielty helped Leigh win yet again, 2-1 at Dover, to go fifth in the Conference. Neill Hardy returned after injury for Radcliffe but they lost 1-0 to Michael Garrity's Kendal Town. Paul Ellender had a penalty saved as Scarborough drew at Woking, 1-1. Mark Quayle has two pictures of himself in the NLP playing in the goalless match with Yeovil. After 9 games without a win, Chris Timons's Ilkeston won 1-0. Despite rumours of a move to Leigh, Paul Robertson still turned out for Hyde yesterday whilst ex-Robins' goalkeeper Dean Greygoose figured in Witton's 1-1 draw with Stocksbridge. Jamie Hoyland, who played one Conference game for the Robins last season, has been appointed Youth coach at Rochdale. Stuart Terry scored one of Connah's Quay Nomads's goals as they beat UWIC Inter-Cardiff in the League of Wales, 2-0.
---
17 March, 2001
ALTRINCHAM 3 DROYLSDEN 0

A full match report is here.
Altrincham cruised to a 3-0 win against a very disappointing Droylsden side. The goals came from Craney (15 mins), Murphy (44 mins) and Rod Thornley (57 mins). Rod Thornley, signed from Congleton, and Paul Edwards, from Knutsford, both made impressive debuts, the former winning the Man of the Match award. Eddie Turkington made his debut for Droylsden and another ex-Robin, Barry Crowe, also played for the Bloods. Altrincham move back to fifth having fallen to sixth overnight after Worksop's win yesterday. The new table is here and team line up is here.
Other results:

Accrington Stanley 0 Whitby Town 2
Bamber Bridge 1 Blyth Spartans 3
Barrow 5 Hucknall Town 0
Bishop Auckland 2 Spennymoor United 0
Burscough 0 Gateshead 1
Colwyn Bay 1 Lancaster City 2
Emley 3 Hyde United 1
Leek Town 2 Frickley Athletic 1
Stalybridge Celtic 2 Marine 1
ELLISON DEBUT
Kevin Ellison apparently made his first-team debut for Leicester as a sub at Old Trafford today, just seven weeks after his last Altrincham appearance against Worksop on 27 January- a rise of five leagues in 49 days.
THREE ALTY GAMES ON WEDNESDAY
All three Alty sides play this Wednesday. The first team travel to Rhyl for a friendly. The Reserves entertain Northwich at Moss Lane, whilst the Youth team play a friendly with Wright Robinson College. The Unibond Premier match at Colwyn Bay has now been rescheduled to Tuesday, 3 April.
SUPPORTERS' MEETING
Brain Lomax of the Supporters' Direct organisation will be at Moss Lane to address a meeting of supporters at 1230pm next Sunday- before the Accrington game.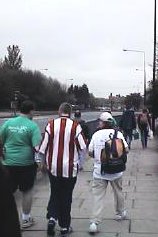 SPONSORED WALK
There is to be a S.A.F.E. Supporters' Association Sponsored Walk on the morning of Saturday 28 April, before the home game against Hyde United. The route will be from Manchester City's Maine Road ground via Manchester United to Moss Lane- only 10 miles and no hills to negotiate! Last year, (pictured right), this event raised over £2,000 for the Club. Everyone is encouraged either to do the walk or to support the event through sponsoring a walker. If you wish to walk please inform the organiser, Neil Dawson, at the SAFE (Supporters' Association) cabin on any matchday or write to him c/o the Club at Moss Lane, Altrincham WA15 8AP.
---
16 March, 2001
WORKSOP WIN, SO ALTY DROP
In tonight's match Worksop won 4-0 at Runcorn, consigning Altrincham to sixth place in the table, which is here.
THORNLEY SIGNS TILL END OF SEASON
SAM reports that Congleton Town striker, Rod Thornley has signed for Altrincham till the end of this season. Mark Ward said that "Rod has got pace and he's a good player. Hopefully he will give us a real cutting edge up front, which is something we have lacked all season". Thornley played for the Alty Reserves on Wednesday, scoring the opening goal and will start tomorrow against Droylsden. Mark and his management team have also been busy scouting for next season, "We've been looking at lower leagues, including North-West Counties, Unibond and even the Conference", the manager said.
HAWES'S TRIAL IN JEOPARDY?
The announcement today that Alty captain, Steve Hawes, was to have a trial at Barnet has now been followed by the sacking of the Barnet manager, Tony Cottee. Cottee is a friend of Robins' manager Mark Ward, both having played at West Ham and Everton. Possibly, therefore, Hawes's trial will be put on hold. Steve would have been at least the fifth Alty player to have League trials this season, after Stuart Coburn (Crystal Palace), Kevin Ellison (Leicester City) and youth players Otis Thomas and Mario Daniel who had trials at the Bristol clubs. Meanwhile Northwich's 19 year-old striker, Gary Fletcher, has gone to Hull City on loan till the end of the season.
POWER IN PUB
Radcliffe's manager, Kevin Glendon was interviewed tonight on GM Radioin a pub, alongside Phil Power. Referring to the ex-Alty man's recent car-accident injury, Glendon said that he was having discussions with Power to see if he would be able to play for the Boro next season, having already had to rule Phil out for the rest of this season.
WELSH LINK
TNS (Total Network Solutions) of Llansantffraid, the League of Wales club, now have a very strong Altrincham connection. Their manager is Ken McKenna, formerly of Altrincham and Runcorn. The ex-Alty playing squad includes prolific striker John Toner, defender Lee Coathup, Gary Powell and Mike Quigley. More recent signings from Alty are full-back Steve Morgan and striker Carl Furlong. Elsewhere in Wales, ex-Robins' trialist, Adam Lillis, is now at Caernarfon Town, where his team-mate Danny McGoona scored the winner with a diving header in his side's recent game against Holywell.
THREE EX-PLAYERS ON MOVE?
Central defender Eddie Turkington, who left Moss Lane some months ago but never surfaced at his rumoured destination of Droylsden is now set to join The Bloods belatedly. Mick Morrell who failed to establish himself as a first-choice striker last season at Moss Lane and has had the same fate at Leigh RMI has been transfer-listed and is now being watched by Scarborough. The protracted move of left-back Paul Robertson from Hyde to Leigh RMI is now about to be finalised; Neil Critchley has already moved in the opposite direction. Another local transfer sees Gary Cooley return from Witton Albion to Trafford, for whom he played last Saturday against- Witton!
CONFERENCE ON SKY TV
Sky TV have announced that they will show up to ten live Conference games next season, with kick-offs at noon on Saturdays. They will be broadcasting Yeovil v Hayes this season on 24 March.
"EXTRA TIME"
Issue 2 of the UniBond League magazine "Extra Time" is out now, price £1.20 plus an A5-size SAE from Simon Matters, 199 Nottingham Road, Hucknall, Nottingham, NG15 7QB. The Robins' Shop should also have some copies for sale on Saturday. It is now a 28 page publication on glossy paper, with increased photographic content and is subtitled "a monthly look at the Unibond League".
---
15 March 2001
DROYLSDEN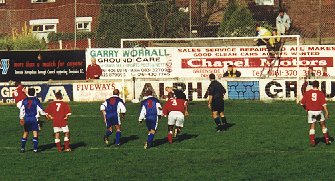 This Saturday (17th) Alty, with only one league win in their last ten outings, entertain Droylsden, who are also going through a lean spell with no wins in their last six games. The Bloods have also had a back-room shake-up with Dave Pace bringing the controversial former Barrow Chairman, Steve Vaughan, onto the Droylsden Board and appointing ex-Moss Lane and Barrow man, Owen Brown as manager. Alty lost at the Butcher's Arms in October, which was the 12th game of the season but the first in which they conceded a penalty; (Carl Holmes is pictured left beating Stuart Coburn from the spot). Nine more spot-kicks have been conceded by Alty in the following 22 league games.
---
14 March, 2001
NO MORE CUTS
According to SAM Mark Ward has been told that he does not have to shed any more players before the end of the season; "I have been told that the eight or so players I have cut from the squad was enough and thank God really, because I would not have been left with a team, if more cutting was required. It's now a case of seeing out the rest of the season with what we have left, and trying to win as many games as possible. We need to show we can mount an even more serious challenge next season".
UNIBOND TRANSFERS
David Fish (Stalybridge Celtic to Curzon Ashton)
Danny Gabrielson (Marine to Mossley)
James Glendenning (Altrincham to St.Helens Town)
Brian Hatton (Burscough to St.Helens Town)
Robbie Woods (Altrincham to TNS) - this one is listed in the Non-League Newsdesk
Also of interest to Alty fans is:-
Nathan Comley-Excell (Bangor City to Rhayader Town)
RESERVES WIN
Alty Reserves beat Ashton United Res. tonight 2-0. Mark Ward fielded virtually the entire first team, plus Rod Thornley (loaned from Congleton Town) and Paul Edwards, a speedy and skilful left-winger spotted in local football by Alty Director, Kevin Guiney. The starting line-up was: 1. Coburn, 2. Farley, 3. Porter, 4. Bowker, 5. Maddox, 6. Hawes, 7. Murphy, 8. Craney, 9. Finney, 10. Thornley, 11. Edwards. The subs who were used included Stuart Scheuber and Phil Burton, the latter a young centre-back; they replaced Hawes and Finney at half-time. Ashton had a number of good chances in the first half and Coburn made a couple of fine saves but Altrincham opened the scoring through Thornley, ten minutes before the interval. He seized on a poor pass and lobbed the keeper well from outside the box, the ball bouncing into the empty net just under the crossbar, with Edwards in close attendance. The second half was dominated by the Robins and Murphy wrapped up the game two minutes after the interval with a close range header.
UNIBOND LEAGUE
Tonight's only league game ended as follows:
Gateshead 0 Bishop Auckland 3

Yesterday's match between Barrow and Colwyn Bay was reported in many sources as being abandoned at half-time at either 0-0 or 3-2 depending on where you read it. In fact the game went the full ninety minutes and ended 3-2. The updated league table is here.
---
13 March, 2001
RESULTS
Tuesday 13 March
Stalybridge's backlog of away games is catching up with them, as they lost ground to Emley tonight. The revised table is here.
Barrow 3 Colwyn Bay 2
Burscough 0 Emley 1
Gainsborough Trinity 1 Hucknall Town 1
Spennymoor United 0 Lancaster City 3
Whitby Town 2 Frickley Athletic 2
Worksop Town 1 Stalybridge Celtic 1
TOMORROW AT MOSS LANE
Alty Reserves entertain Ashton Utd Reserves at Moss Lane tomorrow (Wednesday) at 7.30pm. With no first-team game for over a week, Mark Ward may give some first teamers a run-out.
YOUTH SIDE LOSE
After going nine games unbeaten, Altrincham Youth lost their second successive game last Sunday, going down 3-2 to Morecambe, who are now just three points behind with a game in hand. The revised table is here.
KEV CLOCKS UP ANOTHER 90 MINS
Ex-Robin Kevin Ellison played the full 90 minutes as his Leicester City Reserves side beat Charlton Reserves 3-1 (away) last night.
TRANSFER DEADLINE
A flurry of Unibond transfer activity can be expected in the next fortnight as Rule 33 of the Unibond League states that "After the 31st day of March in each season, registrations and transfers of registrations must be declined or will be approved subject to such limitations or restrictions as the Management Committee may determine".
---
---
12 March, 2001
ROD THORNLEY
According to nlfootball.com, Congleton's leading scorer , Rod Thornley, who played for Alty in their recent game with Doncaster "looks destined to more than double his money with a move to Premier Division Altrincham". Thornley, whose brother Ben played for Manchester United, has had spells at Warrington Town and Doncaster Rovers. Rod is not currently on a contract with The Bears.
OWEN BROWN
In tonight's Evening News former Altrincham coach, Owen Brown, is named as Droylsden's manager, following his recruitment by Dave Pace who, until now, has been both manager and Chairman of The Bloods.
PLAY-OFFS NEXT YEAR
The Unibond League is to debate the introduction of a play-off system between the Premier and First Divisions. Under the proposed system, the bottom two clubs in the Premeirship would be relegated but the third bottom would play off against the 3rd to 5th teams in the First Division.
---