Altrincham Football Club News Archive
31 March to 12 April, 2001.
---
12 April 2001
THURSDAY 12 APRIL - FIXTURES
Barrow 3 Gateshead 1
Droylsden 2 Marine 3
Hyde Utd 1 Runcorn 1
Lancaster C. 4 Hucknall T. 1
Leek T. 0 Worksop T. 3
Spennymoor Utd 0 Bishop Auckland 3
Revised table is here. Alty drop to sixth and are just one goal ahead of Barrow, who are seventh. Spennymoor are now statistically doomed to finishing bottom of the league.
INJURY DOUBTS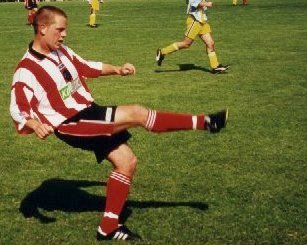 Altrincham go into Saturday's penultimate home game of the season, against Runcorn, with doubts about four injured players-captain Steve Hawes (seen left), Dickie Landon, Danny Murphy and Steve Porter. Murphy has been less than fully fit for some time and has only featured as a sub in recent games, whilst Porter went into the Colwyn Bay game with a knee injury and was injured further during that match. Some or all of the above are expected to be given fitness tests at this evening's training session. Runcorn have a busy week with a game tonight (see above) and they are also at home to Stalybridge on Monday.
RESERVES
In an unpublicised match Altrincham Reserves drew 1-1 at home to Burscough on Wednesday evening. The Robins included two trialists in their side, according to SAM.
COMPARISONS
Along with Altrincham, Sutton United and Welling United were relegated last season from the Conference. This season, Sutton lie 14th in the Ryman and Welling are 9th in the Dr Martens league so neither is set to return to the Conference. Sutton are on target for a 48pts total and Welling for 59pts from 42 games. Altrincham already have 60 from 40 games. Although Altrincham currently lie fifth in the Unibond Premier, they have played more games than any other side so are likely to be overtaken and a probable finishing spot is 7th or 8th, which would echo our 8th place finish in 1998, when first relegated from the Conference.
---
11 April 2001
POST TO BE ADVERTISED
Mark Harris has confirmed that the manager's post at Altrincham will be advertised in the Non-League Paper even though there has already been strong interest without any advertisement being placed. Also, whilst talking to the SAM newspaper Mark has condemned recent publicity surrounding Paul Edwards's non-footballing activity and has emphasised that so far as Paul is concerned the Club wants to "let his football do the talking for him". Paul has certainly being doing that with some excellent performances for the Robins, not least his second-half display at Wakefield last Saturday, against Emley.
---
10 April 2001
TONIGHT'S RESULTS
The new table is here
Blyth 1 Stalybridge C. 2
Gainsborough T. 4 Leek T. 1
Hucknall T. 2 Bishop Auckland 5
Lancaster C. 1 Colwyn Bay 0
Marine 2 Bamber B. 1
Whitby T. 0 Barrow 2
Worksop T. 6 Spennymoor U. 0
KEV AT UPTON PARK
Kevin Ellison is lined up to play for Leicester City Reserves against West Ham United at Upton Park tonight.
NEILL HARDY ON TRIAL
Ex-Altrincham striker Neill Hardy has recently been at Bury on trial. Hardy, with 19 goals this season for Radcliffe Borough, despite missing matches through injury, played yesterday for Bury Reserves against Stoke City Reserves.
---
9 April 2001
ALTRINCHAM YOUTH 4 EUXTON VILLA 1
In a very entertaining League Cup match at Moss Lane tonight Alty Youth gave an impressive second-half performance to build on a 1-0 interval lead. Levi Kennedy headed in from close range after only 3 minutes and although Altrincham had the better of the half, Euxton enjoyed some spells of pressure and never looked like crumbling as they did when they lost the league match between these sides by ten goals at the start of the season. Wesley Wilkinson made it 2-0 after 54 minutes before he gave way to Lee McDonald whose pace and skill were soon put to good effect. However, against the run of play, Euxton pulled back a goal when Alty keeper Neil Wolszczuk was unable to hold a fierce free-kick and the rebound was knocked past him (67 mins). McDonald scored the third with a rasping shot from right of goal after a strong run into the box (76 mins) and Rico Richards finished the scoring five minutes from the end after more good work by McDonald. Altrincham showed a lot of pace going forward even without Mario Daniel and Otis Thomas. (Alty team: Wolszczuk, Rowland, Ross, Howe, Claffey, Leahey, Tilley, Kennedy, Wilkinson, Richards, Crowther. Subs included McDonald and Monaghan).
BOMBER AND STRIKERS
Leigh RMI's ex-Alty midfielder, Ricky Harris, is back in training after his recent operation on both legs. Two other former Alty players figure in the Unibond First Division's top strikers' list; Trafford's Darren Emmett has 21 league and cup goals and Neill Hardy (Radcliffe) has 19.
TONIGHT'S LEAGUE MATCH OFF
Hyde v Burscough, tonight's scheduled Unibond Premier match was postponed.
---
8 April 2001
EMLEY 3 ALTRINCHAM 1
The full match report is here. The crowd, 686, was Emley's second highest of the season for a league game. April 19 is decision day as regards the suitability of Emley's ground for the Conference.
KEVIN ELLISON AND OTHER OLD BOYS
Acording to the Sunday Telegraph chart of leading scorers in the Premiership, Kevin Ellison lies 12th with 9 goals this season, ahead of Andy Cole, David Beckham and Alan Smith. Elsewhere, Danny Adams was substituted after 26 minutes for Macclesfield and Paul Ellender limped off in the second half for Scarborough but Dean Greygoose made a fine save to preserve 3 points for Witton. Mark Quayle won a penalty for Morecambe but the spot kick was missed as the Shrimps crashed 4-1 to Rushden. Altrincham-in-Wales, also known as TNS, won through to the Welsh Cup Final yesterday with ex-Moss Laners Steve Morgan, Lee Coathup, Gary Powell and John Toner in the side, which is managed by another former Robin, Ken McKenna.
OWEN BROWN
In the Pink Owen Brown asserts that he may soon be reinstated at Droylsden after being sacked as manager. Brown seems to be the victim of conflict between two volatile characters- Dave Pace and Steve Vaughan. It would appear that the recently appointed Vaughan's degree of financial input is not up to Pace's expectations. Pace modestly summed up his role in recent events by saying "I'm still the force behind the Club...I am stamping my authority".
COLOMBO ALTY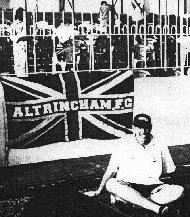 Ian Wilkinson, an Alty fan, showed the flag at the recent Colombo cricket test match.
---
7 April 2001
GARETH NEWHALL
It is with sadness that the Altrincham FC received the news this week of the death of 21 year-old supporter, Gareth Newhall. Gareth had been a life-long Altrincham fan, following the Club all over Britain but he was recently struck down by cancer and his funeral took place last Monday. Our sincere condolences go to his family.
ALTY PLAYER'S WORLD CUP CALL-UP!
Youth team striker, 16 year-old Mario Daniel, has been selected for the Trinidad and Tobago Under-17s World Cup squad. Mario broke into the Altrincham first-team squad earlier this season.
EMLEY 3 ALTRINCHAM 1
The full match report is here

The revised league table is here and the updated Statistics, today's League Line-Up and Fixture Grid can be found by clicking the appropriate buttons at the top of this page.

Bamber Bridge v Worksop Town POSTPONED
Barrow v Gateshead POSTPONED
Bishop Auckland v Hyde Utd POSTPONED
Burscough v Frickley Athletic POSTPONED
Colwyn Bay 3 Gainsborough Trinity 3
Droylsden v Accrington Stanley POSTPONED
Lancaster City v Hucknall Town POSTPONED
Runcorn 2 Whitby Town 1
Spennymoor Utd v Leek Town POSTPONED
Stalybridge Celtic v Blyth Spartans POSTPONED
YOUTH OFF
Alty Youth's home match tomorrow at Wythenshawe has been postponed.
---
6 April 2001
PACE SACKS OWEN BROWN
The controversial Droylsden Chairman, Dave Pace, has sacked his manager, ex-Alty coach Owen Brown. In their three matches since their defeat at Moss Lane, Droyslden have beaten Lancaster City 3-2, drawn at Gateshead and won at Hucknall. Pace has now resumed as manager with defender Aeon Lattie as his assistant. Steve Vaughan, the recently appointed Chairman at Droylsden, is reported to be staying at the Butcher's Arms despite his friendship with Brown.
---
5 April 2001
MATCH OFF
Manchester United Reserves match with Middlesbrough Reserves at Moss Lane tonight has been postponed due to a waterlogged pitch.
MANAGEMENT AND BOARD
SAM quotes Acting Chairman, Mark Harris, as saying of the managerial vacancy at Moss Lane, "I have been impressed by the calibre of those expressing an interest, and the club is still evaluating whether to advertise the position, in order to gauge properly the level of interest that is out there." He went on to say that "strengthening the Board with quality at every level is very important to us here at Altrincham, and we need people who have the clout and determination to work for Altrincham."
HARDY ON MARK
Ex-Robin Neill Hardy got Radcliffe's goal as they beat top-of-the-table Bradford Park Avenue in the Unibond First Division last night. His goal came after an effort from another ex-Moss Laner, Scott Wilson had rebounded to him.
---
4 April 2001
COLWYN BAY MATCH REPORT
The Colwyn Bay v Altrincham match report is now here
TONIGHT'S FIXTURE
President's Cup:- Stalybridge C. 2 Vauxhall Motors 1
EMLEY TOP SCORER OUT
Simeon Bambrook, Emley's top scorer will be suspended for the clash against Altrincham at Belle Vue, Wakefield, this Saturday. He was sent off against Worksop on 23 March and has been banned for three games for foul and abusive language, starting this Saturday.
ALTY RESERVES OFF BUT UNITED RES COME TO MOSS LANE
Tonight's Alty Reserves v Morecambe Reserves match has been postponed.
---
3 April 2001
COLWYN BAY 1 ALTRINCHAM 2
After 23 weeks, an away league win for Altrincham! Altrincham went ahead after 3 minutes when the bounce deceived the Bay defence to let in Steve Finney, who finished well. However, the Welsh side equalised after 34 minutes when Maddox was adjudged to have brought down Deiniol Graham in the box. Graham got up to send Coburn the wrong way from the spot. Alty were forced to defend for much of the second half by a spirited and, at times, robust Colwyn Bay side. However, Gallagher won a penalty when he was man-handled by the keeper and Dickie Landon slotted it home coolly after 73 minutes. The revised league table is here, the League Line-Up, Statistics and Fixture Grid have also been updated- click the appropriate buttons above to check them.

Other games tonight were:

Bamber Bridge 4 Gateshead 2
Hucknall Town 1 Droylsden 2
League Cup:- Lancaster C. 6 Belper T. 1; Marine 0 Bishop Auckland 3
President's Cup:- Blyth Sp. 2 Accrington St. 1
Chairman's Cup- Chorley 0 Barrow 2; Harrogate T. 1 Worksop T. 0
---
2 April 2001
CHESHIRE SENIOR CUP FINAL: -STALYBRIDGE CELTIC 5 STOCKPORT COUNTY 1
A report from our Stockport correspondent, Peter Wadsworth... Stalybridge Celtic won the Unibond Cheshire Senior Challenge Cup Final, for the second time in their history, at Ewen Fields (Hyde) on Monday night with a powerful display against a lacklustre Stockport County team made up of a smattering of fringe first teamers and a number of youth players. With a goalkeeping crisis ahead of Tuesday's re-arranged game at Bolton Wanderers (including another injury for Andy Dibble), Stockport fielded a young keeper in Craig Budgen and Celtic, marshalled superbly by man-mountain centre-half Martin Filson, scored five goals between the tenth and thirty-third minute to completely render the rest of the game meaningless. Stalybridge scorers were Parr (3) and Jones (2) and, after the fifth goal, Budgen's evening was complete when he was stretchered off and centre-forward Ian Lawson went in nets. Funnily enough, Lawson then proceeded to keep a clean sheet but this owed more to the fact that Stalybridge eased up rather than the County man's keeping skills. County gained some consolation when, in the 87th minute, Peter Wild scored with a neat lob. Final score Stalybridge Celtic 5 Stockport County 1. Attendance: 855
EMLEY WIN AGAIN
Emley 2 Burscough 1. Revised league table is here.
THORNLEY IN TOP TEN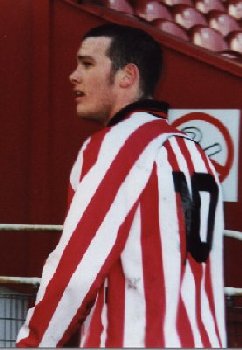 The weekly Unibond Press Release places Rod Thornley (right) eighth in the list of current Unibond goalscorers. He has scored 22 goals (17 League, 5 Cup) this season, but 18 were for Congleton in the Unibond First Division. Lancaster's Chris Ward leads the charts with 38 (27 in the League) but Kirk Jackson, now at Darlington, had scored 40 (28 League) for Worksop before his transfer.
BAY RAISE CASH
A local meeting at crisis-ridden Colwyn Bay was well-attended and the Club is now confident of survival, having raised £3,000 last week alone through an appeal. However, their defender Mark Price suffered a fractured nose and cheek in their 3-2 win over Spennymoor last Tuesday. Altrincham play at Colwyn Bay on Tuesday night (k.o. 7-30pm). The Bay have had a dreadful second half of the season, having won only one of their last 22 league games. In their last 7 games they have shipped 22 goals. As for Altrincham, they have not won away since late October. Rod Thornley is expected to miss the game due to his commitments as a masseur for Manchester United, who play Bayern München on the same date.
TRANSFERS
Amongst the following transfers are Mike Moseley who was about to join Altrincham earlier this year and two Gainsborough players (Debenham and Donnelly), who were in the Trinity team against Alty last Saturday. Ex-Man. Utd star and ex-Macclesfield manager Peter Davenport has signed for Congleton, who also expect to sign Jimmy Quinn, the Northern Irish international, shortly.
Richard Acton (Runcorn to Hyde Utd)
Peter Davenport (ex-Macclesfield manager via Cammel Laird to Congleton T.)
John Beresford (Southampton to Worksop T.)
Jimmy Byrne (Leek T. to Congleton T.)
Michael Canavan (Durham C. to Whitby T.)
Anthony Charles (Crewe Alex. to Stalybridge Celtic on loan)
Rob Debenham (Rossington Main to Gainsborough Trinity)
Mark Donnelly (Congleton T to Gainsborough Trinity)
Gary Gill (IFK Velen of Sweden to Gateshead)
Eddie Hebbron (Billingham T to Spennymoor Utd)
Eddie Hussin (Winsford Utd to Marine)
Glen Johnstone (Lancaster C. to Kendal T.)
Krystof Kotylo (Nuneaton B. to Worksop T. on loan)
Rod McDonald (Northwich V. to Droylsden)
Tony McMillan (Preston to Runcorn on work experience)
Craig Marsh (Scunthorpe U. to Frickley Ath.)
Michael Moseley (Runcorn to Vauxhall Motors on loan)
Scott Nicholson (Tow Law T. to Gateshead)
Gregg Pearce (Chesterfield U. to Worksop T. on loan)
---
1 April 2001
ALTRINCHAM VETERANS 2 ALTRINCHAM SUPPORTERS 0
Two second-half goals from TNS (League of Wales) player-manager Kenny McKenna secured victory for the Vets in an entertaining and well-balanced game at Moss Lane this afternoon. The Supporters had a goal controversially disallowed by Phil Taylor, Stadium Officer at Moss Lane and qualified referee, in the first half. The game was marred by an injury to the Vets' keeper and Club physiotherapist, Gary Thompson. Gary was hurt in a collision as he collected a low ball and ended up in hospital with a suspected dislocated shoulder. Tony Palin took over in goal and made a couple of fine saves. Amongst those playing for the Vets were the managerial duo of Bernard Taylor and Graham Heathcote, former manager Stan Allan, directors Jeremy Pollitt and Dave Tracey, as well as chairman Mark Harris. The Supporters' side included Clubcall supremo Brian Flynn and Gary Warrington of the Fans' Forum.
GAINSBOROUGH TRINITY 1 ALTRINCHAM 0
The full match report is here.
MARIO'S INTERNATIONAL TRIAL
The Pink reports that Alty Youth player, Mario Daniel is currently in the West Indies on international trial for Trinidad & Tobago's Under-18 team. Mario has figured in five first team games this season for Altrincham and has also had trials at league clubs.
OLD BOYS
Gary Talbot was Northwich's star performer as they drew at Southport, whose goal was a last-minute penalty. Veteran 'keeper Ian Senior kept goal for Radcliffe Borough yesterday and the 40 year-old apparently aged five years in the process as the Non-League Paper says he is now 45! Radcliffe lost 2-0 at Workington. Another ex-Alty keeper, Dean Greygoose played in Witton's home defeat to Belper, and Lance Key was in goal for Northwich. Danny Adams recovered from injury to play in Macc's defeat by Carlisle. Andy Lovelock's Solihull Borough's new ground, Damson Park, is proving unplayable through drainage problems and they may have to switch venues to complete the season. Ged Kielty played for Leigh, whilst keeper Mark O'Connor and midfielder Robert Trees were subs. Mark Quayle was also on the bench, for Morecambe. Leroy Chambers played for Frickley whose defeat leaves them still in relegation trouble.
OPPONENTS' SENDING-OFFS
Emley should be without top scorer Simeon Bambrook when Alty play the table-toppers next Saturday. Bambrook has been given a three-match ban for a sending-off for foul language at Worksop ten days ago. Our opponents on Tuesday, Colwyn Bay, had two sent off yesterday, including their keeper.
SCARBOROUGH IN THE MONEY
Leicester City have paid Scarborough £100,000 (rising to £250,000) for 17 year-old Ashley Lyth. He will join Alty's Kevin Ellison at Filbert Street. It would be naive to expect the Seadogs to pay their debts to us now for Paul Ellender's purchase!
---
31 March 2001
GAINSBOROUGH TRINITY 1 ALTRINCHAM 0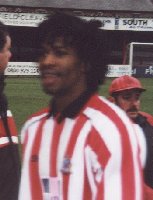 Altrincham are still without an away league win since October after this narrow defeat at The Northolme. The Robins were unfortunate not to take something away from a game which never really reached an exciting level. The home side created few chances, whilst Altrincham missed a couple of presentable opportunities. Trinity's win was founded on their solid central defence from which Altrincham got little change. The goal came four minutes before the break when Watts was left unmarked to finish from close range. Finney hit the cross bar before the interval but, though the Robins had most of the second half possession, the best efforts of Edwards (left) and Thornley were not enough to break down the resolute Trinity defence. Click on the following links for today's Altrincham line-up and the updated team statistics.

The other results today are below. The revised league table is here.

Barrow 2 Frickley A. 0
Bishop Auckland 5 Colwyn Bay 1
Blyth Sp. 0 Lancaster C. 1
Gateshead 1 Droylsden 1
Hucknall T. 1 Runcorn 0
Leek T. 4 Burscough 0
Spennymoor U. 0 Stalybridge C. 1
Whitby T. 3 Marine 2
Worksop T. 1 Bamber B. 1
TWO ALTY GAMES ON SUNDAY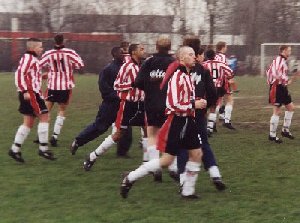 At Wythenshawe Town FC, Timpson Road (behind Tesco at Baguley), Altrincham Youth entertain Rossendale United tomorrow, (k.o. 2pm), whilst at Moss Lane, the Alty Supporters' XI take on the Altrincham Vets' XI, managed by Bernard Taylor, which may include Steve Bruce in its ranks. Pictured left is the Youth side before the home game against Rylands (l. to r. in team strip are Paul Monaghan, Paul Crowther, Levi Kennedy, Adam Schofield, Mario Daniel, Danny Leahey, Pat Claffey).
TWO RESERVES' WINS The Reserves beat Ashton Utd 4-0 on Monday (26th) and then beat Lancaster away by the same score on Friday (30th). Gareth Mostyn scored once against Ashton and twice at Lancaster.

---