Altrincham Football Club News Archive.

This Page

7 May 2001




All framed pictures on this site are enlargeable; just click on the images themselves.
---
6 May 2001
ALTY YOUTH PLAYERS INSPIRE VICTORY
Seven Alty Youth players represented the N.W. Youth Alliance League at Moss Lane this afternoon in the second leg of their game against the Northern Under-19 Alliance from Yorkshire. Two more Alty players came on as subs as the N.W. side won 2-0. For further details on the game, visit this site's Youth Page.
MATCHES GALORE AT MOSS LANE
Moss Lane witnessed two matches today- the above-mentioned Youth game and, earlier, a local cup final between a Warrington side featuring Paul Edwards and a local Sunday league side, Temple. Paul's side lost 1-5 to a Temple team which included Danny Murphy's brother. Next Friday, the Alty Fans' XI meet their Runcorn counterparts at Moss Lane- more details later. On Thursday Brian Flynn has organised a match on behalf of Yellow Pages and there is also another local amateur league final during the week. Groundsman Peter Barry may eventually be able to go on a much deserved holiday after all that activity!
HUCKNALL TOWN 1 ALTRINCHAM 3

Full match report is here.


BERNARD AND GRAHAM
The Pink and the NLP picture Bernard Taylor on his reappointment as Moss Lane manager. "I felt as if I had let the fans down last time", Bernard is quoted as saying. The NLP then says of Taylor, "the one-time night-club owner and joiner who has built the club bar and carries out odd jobs around Moss Lane, is ready to unearth the next Paul Ellender and Kevin Ellison for the club... I know it's going to be hard...Graham and I have won a lot together and we are desperate to win this club promotion". In the Pink Bernard says, "I let [the fans] down when we were relegated. I should have done things differently". Mark Harris is quoted as saying that Bernard and Graham came top of "the best field of applicants we've ever had in my time on the Board". Mark also confirmed that discussions continue with Mark Ward to resolve the issue of his remaining contracted year as an Altrincham player.
OTIS'S TITLE
Youth player Otis Thomas scored twice for Hursts as they won the Manchester Saturday Morning Premier Division title and remained unbeaten all season.
VICS WORSE THAN ALTY- THE STATS PROVE IT!
Northwich Vics finished with 46 points from 42 games this season, the same as Alty last year. However, Alty's goal deficit in 2000 was only 9, the Vics in 2001 is 18. Vics finished 17th this season- we ended up 21st! Also in the Conference, Mark Wright has left Southport, apparently after the Club refused him a full-time contract. Leigh RMI finished fifth. Colin Addison has also resigned at Yeovil.
NEXT SEASON
Press reports now suggest that Burton Albion actively want to move to the UniBond from the Dr Martens league. Play-offs between the third-bottom side in the Premier and the third to fifth finishers in the First division look almost certain in the UniBond league next season.
TRIUMPH AND DISASTER
Tuesday 2 May: Alty Reserves 7 Morecambe Res 1. Alty fielded a strong side, with Thornley, Murphy and Gallagher amongst the scorers.
Friday 4 May: Alty Reserves (0) 1 Southport Res (6) 7
OLD BOYS
Neill Hardy is still interesting Bury and Accrington are waiting for him if he does not move to Gigg Lane. Sub. Mick Morrell won a penalty for Leigh which won them their game at Morecambe; Ricky Harris was also a sub but Robert Trees and Ged Kielty started. Ex-Alty boss Gerry Quinn has been confirmed as staying at Ashton Utd next season despite missing out on promotion.
STALYBRIDGE
Martin Filson's last game for Celtic ended in a sending-off for fighting, whilst manager Phil Wilson has hinted that his Conference future may be away from the Bower Fold as he does not want a constant struggle against relegation and poor financial resources. Elsewhere in Cheshire, Winsford appear to be relegated from the UniBond First due to a 6-point docking by the League for playing unregistered players but their fate depends on the ground-gradings of whoever comes up from the NW Counties.
---
5 May 2001
HUCKNALL TOWN 1 ALTRINCHAM 3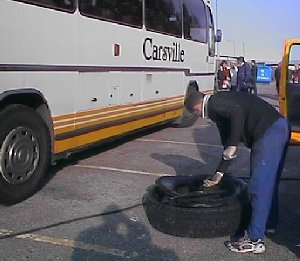 Altrincham's 20th league win of the season was achieved on a hard, bumpy pitch but in spite of the playing surface the spectators saw some well-taken goals. Ian Craney slotted home the first when he finished off a fine move, which he himself had started (14 mins). Somewhat against the run of play Hucknall equalised when Cooke curled a fine shot past Coburn after Bowker had missed a through ball (39 mins). Hucknall missed a couple of good chances before Rod Thornley put Alty ahead again, seizing on a fumble by goalkeeper McCarthy (59 mins). McCarthy injured himself in the process and had to give way to Cooke in goal. Altrincham's third came from Craney, again, this time a fine finish from the edge of the box after 69 minutes. Despite this good win, many Altrincham fans were left "deflated" at the final whistle- the supporters' coach was found to have a flat tyre and was stuck in the Hucknall car park for over two hours whilst repairs were carried out (as shown, left). This is why this report is late, tonight. The Alty side today is here and updated statistics are here. There will be a full match report tomorrow and a review of the season on Monday.
Only Alty and Emley of the top nine did not lose today; other results below. Final league table is here:

Bamber B. 0 Spennymoor U. 0
Blyth S. 0 Hyde U. 0
Colwyn B. 2 Barrow 0
Droylsden 1 Emley 3
Lancaster C. 0 Frickley A. 1
Leek T. 3 Bishop Auckland 1 LEEK ARE RELEGATED
Marine 2 Gainsborough T. 2
Runcorn 1 Gateshead 2
Stalybridge C. 0 Burscough 2
Worksop T. 0 Accrington S. 2
---
4 May 2001
SIMEON SAVED BY BROMSGROVE
Alty's right-back last season, Simeon Hodson, nearly suffered the same fate this week as his ex-Alty team-mate Keith Russell - a second successive relegation. His side, Sutton Coldfield were only saved from relegation by Alty's former Conference colleagues Bromsgrove Rovers, who themselves now drop into the Midland Alliance, three levels below the Conference, from which they were only relegated as recently as 1997.
BLYTH SAVED
Blyth Spartans appear to have reached agreement with the Inland Revenue regarding payment of their £60,000 tax-bill.
---
3 May 2001
NEXT SEASON
The "Flag Man", writing in the Holker Street Newsletter for Barrow FC fans states: "I read the piece in the Newsletter from the Manchester Evening News written by Tony Glennon regarding promotion and relegation from the UniBond and the Conference, but I believe he is mistaken when he says no club will be relegated to the UniBond from the Conference this season. If a feeder League, such as the UniBond, promotes one club and doesn't receive a club in return from that League, a club transfers from a neighbouring feeder League to redress the balance. In this instance it will probably be Burton (to be confirmed) from the Dr Martens League who will probably play in the UniBond next season. Does Mr Glennon think that if three northern clubs were the bottom three in the Conference that the UniBond would operate with 25 clubs next season?". However, if a club were to be moved to the UniBond, there is a good case for it being Ilkeston Town, which is some miles north of Burton, and near to Hucknall Town. That would mean that ex-Robins' captain Chris Timons's team would visit Moss Lane next season.
THURSDAY FIXTURES
Bamber B. 1 Worksop T. 2
Hyde U. 1 Lancaster C. 1
Leek T. 1 Droylsden 1
For updated table, click here. Colwyn Bay, Frickley or Leek could still go down with Spennymoor.

LAST GAME


A scene from Altrincham v Hucknall earlier this season.
Hucknall Town are Altrincham's final opponents of the season, this Saturday, at Watnall Road. At the start of this season many Altrincham fans, encouraged by Mark Ward's optimistic talk, may have pencilled in 5 May 2001 for a trip to Nottinghamshire to celebrate clinching the UniBond Premiership title. In reality, the game has turned into a meaningless match so far as Altrincham's league position is concerned. Unless we lose and Gainsborough win, both by huge margins, Altrincham are going to finish seventh in the League. Although this is disappointing, it is one place higher than we achieved in 1998, in our first season in the Division. However, the appointment of Bernard Taylor and Graham Heathcote as manager and coach of Altrincham on Tuesday of this week does now give the game an extra dimension for the visiting fans. It will be an opportunity for them to show their confidence in the new management team and to look forward to a more successful season next year. No doubt it will also be a last chance to see some members of this season's team as it faces rebuilding over the coming close-season.

For Hucknall, however, there are good grounds for celebration this season for they will finish between 8th and 10th, a marked improvement on last season's 18th place and, as such, the highest position in the Club's history. Hucknall only left the Northern Counties East league in 1997 and gained promotion to the UniBond Premier league as recently as 1999, only being pipped to the First Division title by Droylsden after they had points deducted by the League. Recently, their manager John Ramshaw was reported to have resigned on their web-site amidst anger at carping comments from fans but he has either changed his mind or the reports were a misrepresentation of his views, for he remains in the hot seat. In the match at Moss Lane earlier this year, Alty won 1-0, thanks to a late goal by Steve Hawes.
BLYTH THREATENED WITH CLOSURE
Tax debts of £60,000 are threatening Blyth Spartans with closure. For more details, visit the Blyth website.
---
2 May 2001
YOUTH SIDE HIT FIVE
Alty Youth beat Runcorn Youth 5-1 tonight at Wythenshawe Town FC. For more on the match click here.
TONIGHT'S RESULTS
Accrington S. 2 Burscough 0
Gateshead 1 Hucknall T. 2
Revised table is here
NEW OPPONENTS
Vauxhall Motors secured promotion to the UniBond Premier last night so Altrincham will be journeying to Ellesmere Port next season. Ashton United finished third for the fifth time in nine seasons.
---
1 May 2001
IT'S BERNARD AND GRAHAM!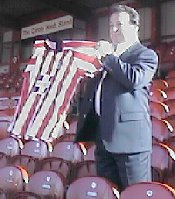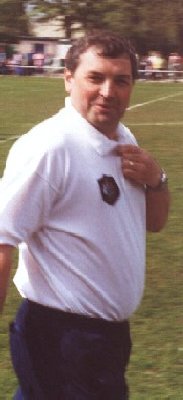 Altrincham FC tonight announced the appointment of Bernard Taylor and Graham Heathcote as their new management team, following the departure of Mark Ward. Bernard (seen, right, tonight after his appointment) will be Manager and Graham (pictured left) will be Coach. They will both remain on their current contracts with the Club. Graham and Bernard have been doing the managerial job on a caretaker basis since late March and they have gathered 14 points from their eight games in charge to date. Bernard previously became First Team Manager when promoted from his Reserves' Manager's post in March 1998, when John King and his assistant, Graham Heathcote, resigned. Bernard almost immediately led the Robins to the Unibond Challenge Cup trophy against Gainsborough Trinity in April, 1998. In September, 1998 Graham returned to his role as first-team coach following the departures of Nigel Gleghorn and Brian Kilcline. The Taylor-Heathcote duo went on to take the UniBond Premiership title in May 1999, as well as the Cheshire Senior Cup against Northwich Victoria. Altrincham also won the UniBond Shield in both 1998 and 1999. After promotion to the Conference, the partnership was split by Graham's resignation on 18 December 1999, precipitated by the arrival on the scene of Stan Allan. At that point Alty lay 17th in the table and although results held up until March, by which time the team had climbed to 10th in the league, the last eleven games of the season saw Altrincham gain only five points. Even so, they slid into the relegation places only after the last kick on the last day of the season. Their points-haul of 46 would have seen them survive comfortably in this season's Conference.

As well as the stability that Bernard and Graham have brought to Moss Lane since the turbulent period earlier this year, the duo offer a degree of continuity. They know the players currently at the Club and the local non-league scene. After the financial and managerial traumas of the New Year and Spring, Altrincham fans will now look forward to a period of recovery and, hopefully, a challenge for honours next season.

The official press release issued by Altrincham FC follows:

Robins announce new managerial team

Altrincham Football Club today announced the permanent appointment of Bernard Taylor and Graham Heathcote as manager and coach respectively. The move re-unites a partnership that previously guided the Moss Lane outfit to the UniBond Premier League championship in 1999, three trophies and tenth place in the Nationwide Conference.

The appointment follows an eight-match caretaker spell for the duo, who took over six weeks ago after former player-boss Mark Ward was relieved of his managerial responsibilities. In this time, the team has been defeated just twice.

The track record of the Taylor/Heathcote team, their first-hand knowledge of the Moss Lane squad and their overwhelming support in the dressing room are three key factors cited by Chairman Mark Harris in the Board's decision to remain "in house" despite advertising the position externally.

'Had Bernard and Graham been external candidates, then their CVs alone would have made them leading contenders for the posts. Although both were already at the Club, the Board determined to have the widest possible pool of qualified talent to choose from and consequently drew up a shortlist of interviewees from 16 current managers and players including three former internationals. The calibre of applicants was excellent, although we interviewed only those with a proven track record of success at this level of non-league football. However, Bernard and Graham bring an irresistible and unique combination of man-management, coaching skills, organisation and all-round passion for Altrincham FC' he said.

'We have taken a great deal of time to make our selection and feel that our best chance of promotion back to the Conference is with a management team who have done it, know what it takes to do it again and are fully aware of the resources available to them in achieving the common goal of everyone at Moss Lane. Many of the players also made it clear that Bernard and Graham were the choice of the dressing room and that is always a very important factor in any managerial appointment', concluded Harris.

The Press Conference

Shortly after 5.30pm tonight Chairman Mark Harris and Director Jeremy Pollitt introduced Bernard Taylor as the new manager; Graham Heathcote was not present. It was stressed by Mark Harris that the decision was a unanimous one by the 8-man Board and that it was also "the overwhelming choice of the dressing room". Mark Harris underlined that Bernard and Graham were aware of the budget they had at their disposition. Mark described Graham as "the best coach" and Bernard as the "best motivator and attracter of new players" at this level. He stressed that the Youth team would be an important factor in the Club's future. The duo were offered the posts last night and accepted and Bernard indicated that the appointment of Graham as Coach was a major factor in his accepting the post of Manager. Bernard stated after the Press Conference that he felt that he had "unfinished business" to do, to prove that Altrincham were capable of Conference-level football after last season's last-day relegation. Mike Crockett of SAM and photographers from both SAM and the Evening News took many pictures of Bernard, seated in the stand, so make sure you get your copies of these papers this week!
STALYBRIDGE AND RUSHDEN CLINCH TITLES- ALTY VIRTUALLY SURE TO FINISH SEVENTH
Tuesday 1 May
Stalybridge clinched the UniBond title tonight, whilst Worksop's 100th goal of the season earned a point, which means Altrincham cannot climb higher than seventh as the Notts side has a much better goal difference than Alty. Spennymoor won again and Frickley's win puts more pressure on Leek at the bottom; Droylsden are also still not safe. The revised league table is here.
Droylsden 0 Stalybridge C. 1
Frickley A. 3 Barrow 2
Marine 1 Blyth S. 1
Spennymoor U. 2 Runcorn 0
Worksop T. 1 Colwyn Bay 1
League Challenge Cup Final Lancaster C. 2 Bishop Auckland 2 Lancaster won 4-3 on pens.

In the Conference, Yeovil lost tonight to hand Rushden League status, barring a very large defeat for Rushden on Saturday and a win for Yeovil.
---
30 April, 2001
NEW ALTY MANAGER TO BE NAMED TOMORROW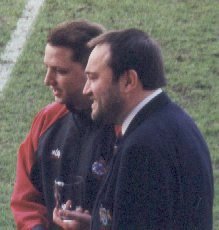 Mark Harris, pictured left with Steve Finney, has confirmed on the Alty Web Forum that the new Altrincham manager will be named tomorrow evening. He has discounted rumours in the press that Mark Carter, the former Runcorn boss, has been interviewed for the vacancy. In another development, Mark Harris himself has now been appointed the Chairman rather than Acting Chairman of the Club, though it is understood that he will step aside if a major new backer for the Club emerges. Details of the new managerial appointment will appear here as soon as possible after the announcement. Meanwhile our Cheshire neighbours Witton Albion have attracted more than a dozen applicants for their vacancy, caused by the dismissal of Nigel Gleghorn.
TONIGHT'S RESULT
Monday 30 April
Hyde U. 1 Burscough 1
. The revised table is here.
THORNLEY HAUL
Rod Thornley's goal on Saturday takes his season's haul to 26, with eight of these coming in his eight league games for the Robins, the remainder were scored for Congleton who have already been relegated from the UniBond First Division.
WINSFORD LOSE 3 MORE POINTS
After losing three points for fielding ineligible players earlier this season, Winsford have been docked a further three points for repeating their mistake. They are now third bottom, just a point ahead of Gretna with two games left. If they go down, it would be a second successive relegation for the Cheshire side after going down from the UniBond Premier with a total of just 16 points last season.
---
FOR EARLIER NEWS, CLICK HERE
---


Copyright: ©


Compiled by John Laidlar

---