Altrincham Football Club News Archive

This Page

26 May 2001

---


All framed pictures on this site are enlargeable; just click on the images themselves.
---
26 May 2001
ALTY MEN IN EUROPE
Even though TNS lost the Welsh Cup last night, 0-2 to Barry Town, they still qualified for the UEFA Cup. This means that TNS's ex-Alty men Ken McKenna, John Toner, Steve Morgan, Carl Furlong, Gary Powell and Lee Coathup could be playing on the continent next season. The League of Wales AGM has confirmed that Danny McGoona's team, Caernarfon Town are promoted to the League of Wales.
ROBINS' REVIEW
The Unibond Forum today carries a message awarding Altrincham's Robins' Review matchday programme the accolade of best programme in the UniBond League. Congratulations to Grahame and Terry Rowley, the editors of the programme!
BARROW PRICE-RISE & OTHER UNIBOND NEWS
Barrow are likely to be the most expensive side to watch in the UniBond League as they are raising admission prices next season to £8 (stand) and £7 (terrace). Season tickets will be £150 and £135 respectively. However, a £30 season ticket for juniors and a £55 one for students will be available. At Altrincham admission prices are expected to remain at last year's levels, though some new discounted initiatives are expected to be announced by the Club.

Bishop Auckland are making progress with plans for a new stadium in the town, at Tindale Crescent. With the help of the Football Foundation, they appear to be at the stage of formulating their funding applications.

Leek Town have retained all of their registered players, despite relegation to the UniBond First Division. Nevertheless, it is expected that some of the players will move on before the season starts.
---
25 May 2001
YOUTH TEAM GO FOR TITLE
Even though Morecambe Youth, one of Alty's rivals for the NW Alliance championship, put 17 (seventeen!) goals past a 10-man Euxton Villa side this week, a win by the Alty Youth side on Sunday will still clinch the championship. Alty's last game of the season is a fixture against Rossendale United. The game has been transferred from the normal home venue at Wythenshawe Town FC to the Wilmslow Albion ground at Oakwood Farm on Styal Road, kick-off 2pm. Moss Lane was not an alternative due to the pitch maintenance work that is in progress there. The updated table is on the Youth Page.
SUPPORTERS' TEAM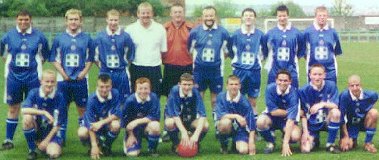 Andy Boyers of the Altrincham Supporters' football team has kindly sent me the adjacent photograph of the side before the recent away game against Runcorn. Andy gives the the line-up as (standing from left to right), Jordan, John Ross-Jones, Andy Boyers, Mark Eckersall (manager), Martin Jordan, Mark Harris, Steven ?, Brush, Tom Jacobs; (front row) Shaun Newhall, Paul ?, "Foz", Ian Beesley, Paul ?, Gary Warrington, Matt Lamey, Gary Stewart . Click on image to enlarge it.


---
24 May 2001
MORE FRIENDLIES
In this week's Messenger it is reported that two more friendlies have been arranged by Altrincham, against Witton Albion and Blackburn Rovers, but no dates have yet been confirmed for these. The paper also contains a review of the season by S.A.F.E.'s Alan Brotherton, an ever-present at the games this season; indeed such is his dedication to the Club that he even drove the supporters' minibus to Bishop Auckland for a midweek Trophy replay!
EX-ROBINS WIN PROMOTION
Danny McGoona, who left Moss Lane in 1998 and Adam Lillis, who appeared once for Altrincham in 2000-01 are both members of the Caernarfon Town squad which has recently won promotion to the League of Wales from the Cymru Alliance league.
GLAVIN REJECTS CELTIC'S APPROACH
Emley's manager, Ronnie Glavin, has rejected an approach for his services from Stalybridge Celtic. Celtic, who are seeking a replacement for Phil Wilson, are reported by the Evening News to be considering three candidates for the vacancy. These are ex-Southport manager Paul Futcher, ex-Alty player John Davison (currently manager of Burscough) and Dave Miller, who is Steve Waywell's right-hand man at Leigh RMI. Stalybridge are now stalling on a decision on the grounds that more applications than the twelve they have received may be stuck in the strike-affected postal service.
---
23 May 2001
NEW SIGNING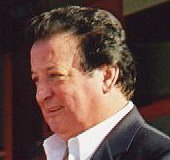 It can now be reported that Altrincham have signed central defender Paul Taylor from Hyde United. The player, who has long been admired by Bernard Taylor (left) and Graham Heathcote, was out of contract so has not cost a transfer fee. Paul, who is 23, was previously at Bury, Bamber Bridge and Castleton Gabriels. He suffered a cartilage injury last season and was only just returning to fitness by the season's end. However, a fully-fit Taylor will be a much different proposition and he is set to be an important element in tightening up the Altrincham defence next season. It is understood, though, that he will miss the opening of the new season due to suspension. The Hyde United site both confirms Taylor's transfer and reports that former Alty full-back Paul Robertson has also left Ewen Fields, though his destination is not stated. Paul joined Hyde in December 1999 having unexpectedly left Moss Lane after an off-field dispute.
THE BOARD AND SPONSORS
The recent appointments of Grahame Rowley, Geoff Goodwin and Bob Peters are believed to complete the composition of the Board for the foreseeable future. Bob Peters of 20/20 Research has undertaken to sponsor the highly successful Altrincham Youth Team for next season, whilst Grahame will continue to edit the matchday programme with his brother Terry in addition to his new boardroom responsibilities. These include implementation of the Club's communications policy and responsibility, with Barry Pond, for ensuring that sponsors are well looked-after on matchdays. The appointment of a Sales and Marketing Manager is expected later this week.
WORKSOP TOWN
Worksop have signed up their manager, Paul Mitchell, for a further five years.
CELTIC DEAL
Stalybridge Celtic are reported to have secured a two-year sponsorship deal from Tameside Council, which will net them £60,000 a year.
WHERE DO SUCH SILLY RUMOURS COME FROM?
The nlfootball website reports that "veteran Cambridge United defender John Dreyer has denied rumours linking him with a move to UniBond League side Altrincham as player-manager. Reports had linked former Oxford and Bradford City defender Dreyer with the job at the Lancashire [!!] side, but he said: 'That is the first I have heard of it'".
PITCH MAINTENANCE
Anyone visiting Moss Lane this week will have seen two tractors running up and down the pitch. Their use has been part of the close-season work to ensure that the playing surface is in excellent condition for next season. Altrincham fans will know what a magnificent job the groundsman, Peter Barry, and his colleagues have done throughout the last year and will be pleased to know that Peter is remaining at Moss Lane for the 2001-2 season. Not only did his work ensure that very few matches were postponed but the good playing surface went a long way towards providing entertaining play for the spectators to watch.
YOUTH TEAM
It should be known by Thursday whether the Altrincham Youth team will need three points or fewer from their final game, next Sunday, to clinch the Bolton and District N.W. Youth Alliance championship. Their closest rivals for the title, Prestwich Heys and Morecambe play each other tonight. Alty Youth lifted the League Cup last Sunday, so the "double" is within their reach. See the Youth Pages for more details.
UNIBOND CUP CHANGES?
Altrincham have supported a proposal by Hucknall Town to amend the format of the UniBond cup competitions next year. It is believed that the proposals involve more of a knock-out formula for the Challenge Cup. However, the League has still to decide on the format for next season.
---
22 May 2001
ROD THORNLEY, ONE OF SIX TO SIGN UP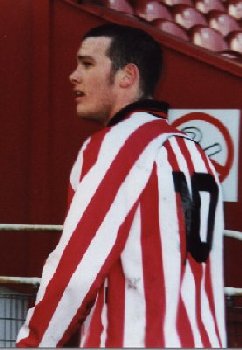 Rod Thornley (right) has re-signed for Altrincham for a further year plus an option on a further year. Thornley, who joined the Club in mid-March 2001, scored nine goals in his nine appearances for the Robins before the end of the season. He will continue to combine his playing role at Moss Lane with his employment as a masseur for Manchester United. Five other players have definitely re-signed for Altrincham for next season. These are club captain Steve Hawes, goalkeeper Stuart Coburn and midfielders Jason Gallagher, Ian Craney and Danny Murphy.

MORE FRIENDLIES ARRANGED
As well as the matches noted earlier on this page, Altrincham have now also arranged pre-season games against:

Tranmere Rovers on 17 July at Moss Lane.
Abbey Hey on 21 July, away (in Gorton).
For a full list of the friendlies arranged to date, click here.
---
21 May 2001
RUSSELL GETS HIS CARDS
Keith Russell, who left Altrincham at the end of last season, has been released by Hednesford Town after making only a handful of appearances in his second spell at the club. Keith now has the dubious distinction of suffering two consecutive relegations from the Conference. .
BARROW CHANGE STRIP
The Barrow Evening Mail reports that Barrow will play in a black and white strip next season instead of their usual blue; so, a new nickname will have to be found for a team normally known as "The Bluebirds". The change is a reversion, for one season, to the club's original strip in what will be their centenary year. Barrow's top scorer Nicky Peverell has signed a new two-year contract at Holker Street.
GAINSBOROUGH CONFIRM BOSS
Gainsborough Trinity have followed Altrincham in making their acting manager permanent. Phil Tingay will therefore remain in charge after prompting a strong finish from the Lincolnshire side following a disastrous start to the season under Greg Fee. A new Assistant Manager is expected to be appointed soon. Meanwhile, goalkeeper Steve Curry and full-back Nicky Limber have been released by Trinity.
---
20 May 2001
ALTY YOUTH WIN CUP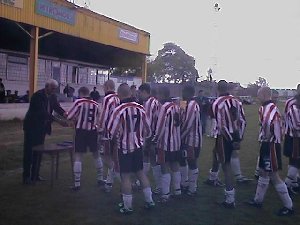 Altrincham's season looks set to end on a high note as the Youth Team today won the League Cup and could complete a double by winning the League itself next Sunday. In a hard-fought match with Prestwich Heys, Altrincham Youth ran out 4-3 winners, having led 4-1 with ten minutes remaining. For a brief report of the game, click here. The Alty team are seen,left, collecting the Cup and medals; better pictures will follow in due course!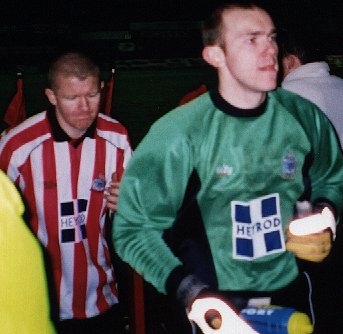 R.M.I. CHASE COBURN
Today's Pink reports that Leigh RMI are to approach Altrincham for goalkeeper Stuart Coburn, (seen left with Mark Maddox). Leigh would be suggesting a deal involving a swap for either 41 year-old Dave Felgate or ex-Bamber Bridge 'keeper Craig Dootson, who is already transfer-listed after losing his place to the veteran Felgate.
NEW SIGNING
Brian Flynn's ClubCall has details both of some re-signings of last season's players and of a new Altrincham signing - telephone 09066-555-902. Once the news is more public, details of the resignings and a player profile of the new signing will appear on this site.

PERILS OF FINISHING TOP
Both Stalybridge Celtic (champions) and Emley (runners-up) could be in disarray next season if reports in today's Pink are correct. Not only has Phil Wilson decamped from the Bower Fold with the Stalybridge team captain and coach, but more Celtic players are allegedly set to follow - including Tony Sullivan. Meanwhile, Ronnie Glavin, the Emley boss, is tipped as Wilson's successor at Stalybridge and it would be surprising if he, too, did not bring some of his current players with him if he were to take the Celtic job.
OLD BOYS
Like Danny Adams at Macclesfield, Paul Ellender has been named "Player of the Year" at Scarborough and the new owners of the Yorkshire club report that the ex-Alty centre-back is not now for sale. Another ex-Moss Laner, Neill Hardy has also been awarded the Players' Player of the Year award at Radcliffe Borough. Less happily, Mick Morrell has been released by Leigh RMI. Former Robin, Darren Emmett, acted as barber when he shaved his team-mates heads at half-time of their last match against Kendal recently. The newly-shorn team then turned a 0-2 half-time deficit into a 2-2 draw in the second half! Trafford finished fifth in the Unibond First, their highest ever league position.
---
19 May 2001
YOUTH VENUE CHANGE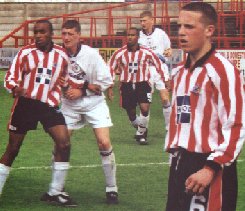 Next Sunday's (27th) final league match for Alty Youth has now been rearranged to take place at Wilmslow Albion FC and NOT at Styal FC as previously arranged, with a 2pm kick-off. Alty fans may remember that Altrincham had a friendly at Wilmslow in the close-season before last; the ground is at Oakwood Farm on Styal Road. The match, which is an Alty home game, has been switched to a neutral venue because the Moss Lane pitch is receiving its close season treatment from groundsman Peter Barry. This Sunday's League Cup Final between Alty and Prestwich kicks off at 2pm at Winsford FC. Either side could win the double the season. For more on the championship race and the updated league table, click here. Seen left are Domain Esdale, Mario Daniel and Danny Leahey in action against Lancaster Youth recently.
---
18 May 2001
YOUTH LEAGUE FINALÉ & CUP FINAL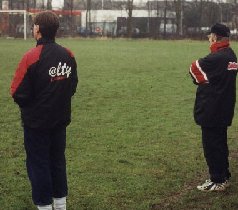 The last Youth match of the season sees Altrincham Youth playing Rossendale United at Styal FC on Altrincham Road, Styal, on 27 May. Kick off is presumably at 2pm. Altrincham will certainly be champions if they win and, depending on results elsewhere between now and then may not even have to gain all three points to secure the title. This Sunday (20 May) Alty Youth play Prestwich Heys Youth at Winsford FC in the League Cup Final, so get along there if you want to see Altrincham try to lift some silverware this season! The kick-off is at 2pm. Danny Claffey's report of the Youth side's win this week at Daten Sports is here. Seen, left, in characteristic poses, encouraging their players from the Wythenshawe Town touchline are Neil Thomason and George Heslop, the Altrincham Youth squad's management team.

KEVIN TULLY
The former Winsford manager, Kevin Tully, who is an Altrincham resident, is featured in this week's SAM opening a modern art "exhibition space", Downs Court Galleries, in Altrincham. Tully has set up the premises with a business colleague.
ANOTHER FRIENDLY
Altrincham will host a pre-season game against Northwich Vics at Moss Lane on Saturday, 11th August.
OLD BOYS
Lance Key, who spent the latter part of last season on loan from Northwich as Altrincham's keeper has now left the Drill Field and moved to live in Cambridge. SAM reports that Nathan Comley-Excell is still knocking in the goals for AFC Gardeners in the Altrincham and District Sunday League. Nathan ended the 2000-01 season in the League of Wales League side, Rhayader Town.
UNIBOND & DR MARTENS COMPARED
Click on the NLOTN site, here, for a comparative assessment of the UniBond and Dr Martens leagues in relation to Burton Albion's transfer to the former from the latter. The UniBond is seen in the review as the more difficult to win and also enjoys smaller crowds. Manager Nigel Clough is cited as saying "Overall I think we're quite pleased with the move, certainly not upset at losing some of the awful journeys we had last season, and we hope our supporters will feel the same".
---
17 May 2001
YOUTH SIDE CLOSE IN ON TITLE
Altrincham Youth had a magnificent 4-1 win at Daten Sports in Warrington last night. For an excellent match report by Danny Claffey, father of Youth Team centre-back Patrick Claffey, please click here.
UNIBOND FIRST
The two teams promoted to the Unibond First Division for next season are Rossendale United and Ossett Albion. Both Ossett sides are now in that division and for Ossett Albion it is a delayed reward as they actually won their league last season but could not be promoted because of their ground grading.
---
16 May 2001
BURTON JOIN UNIBOND
It has now been confirmed that Burton Albion will be playing in the UniBond Premier League with Altrincham next season. The Brewers will thus leave the Dr Martens League to rejoin the Northern Premier League where they played previously from 1979-87. The Official Burton site quotes the Club's Chairman Ben Robinson as saying: "In view of the fact that there were no northern clubs relegated from the Conference, we spoke to the leagues concerned and said we would not object to a move north." The site also reports that the Burton manager "Nigel Clough is pleased with the move, stating that although it's like stepping into the unknown, the club won't miss the journeys that involve the M25". He also made it clear that the club didn't see it as an easy route to the Conference saying, "In some ways it will be harder because of the opposition being an unknown quantity." Burton were runners-up in the Dr Martens this season. It is also reported that both Hednesford Town and Kettering have joined the Dr Martens League, whilst Kingstonian have been consigned to the Ryman.
GRAHAM'S TESTIMONIAL
A date has now been fixed for the Graham Heathcote Testimonial game against Macclesfield at Moss Lane; Thursday 26 July 2001.
DIRECTORS XI?
Two more new Directors have been appointed at Moss Lane, in addition to the recent appointment of Grahame Rowley (see below). The new appointees are Geoff Goodwin of Goodwins' Coaches and Bob Peters of 20 Twenty Research, a market research company. This brings the Board up to eleven in number so the Boardroom should now be able to field a full team against the Supporters' eleven.
FLIXTON SAVED
Alty's neighbours Flixton have been saved from a second successive relegation by tonight's 1-1 draw at Leek CSOB, a result which consigns Leek to the NW Counties Division Two. Both Leek sides have now been relegated this season.
---
15 May 2001
ODD ASSESSMENT
The Evening News's Tony Glennon tonight gave his review in that paper of the Non-League season. Bizarrely he awarded Altrincham (7th in the table) 4 points out of 10 for their season, whilst giving Accrington (9th) 6, Bamber Bridge (12th) 6, Runcorn (13th) 5 and Hyde (16th) 4. Of Alty he writes, "a season which started with optimism soon disintegrated" whilst Alty fans are described as "the long-suffering Moss Lane faithful".
WILLIAMS TO KINGSTONIAN
Bill Williams, the Dover boss has resigned and has been appointed as the new manager of relegated Kingstonian, who recently sacked their long-time manager, Geoff Chapple.
---
14 May 2001
A MODEST SPARTAN
Today's Daily Telegraph has almost a full-page on Blyth Spartans and their manager, John Charlton, son of Jack Charlton. Jack is set to become Club President next year and his son seems to have inherited some of his father's outspokenness. With disarming modesty, Mr Charlton Junior states, "I don't like to blow my own trumpet, but the enthusiasm I have brought into this football club, to the players and spectators, is huge". Charlton also claims that Spartans "remain the most famous non-league club in the world. Our merchandise sells in 24 countries". Charlton is aiming to be successful at Blyth before moving on to better things but, referring to the Club's current state and its pressing Inland Revenue debt, he believes that it will be resolved by the 28 May deadline.
RESERVES FINISH EIGHTH
Alty Reserves finished eighth in the 13-team Lancashire League Division One. For the league table, click here and for more on the Reserves click here.
SUPPORTERS' MATCH
Alty Supporters lost 2-3 at Runcorn yesterday, though completely unbiased reports, closely associated with Gary Warrington, indicate that there were some controversial refereeing decisions!
---
13 May 2001
ALTY YOUTH 2 LANCASTER CITY YOUTH 1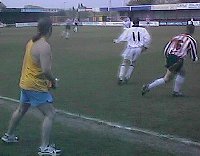 Alty Youth enhanced their championship chances with a well-deserved win over Lancaster, this afternoon at Moss Lane. The game was saved from postponement when Alty Youth coach Neil Thomason stepped in to officiate after the referee and linesmen failed to turn up! Pictured left is one of the emergency linesmen, Alty Youth goalkeeper Dale Newbrook's father, keeping an eye on Alty's number 6, Danny Leahey. For a brief report of the match, click here. The Youth side have a good chance of a league and cup double and three Alty players are set to figure in the Northern Counties' Youth Championship Final next Saturday at Newcastle. Alty full-back Paul Robinson, midfielder Lee McDonald and striker Mario Daniel are all likely to be in the squad for that game.
NEW DIRECTOR
Altrincham have appointed a ninth Director to the Board. He is Grahame Rowley, well-known to Moss Laners as the joint editor with his brother, Terry of the Robins' Review match-day programme. Grahame and Terry have been long-time Altrincham supporters and they were also the compilers of The UniBond Years, a record of Altrincham's 1997-99 spell in the UniBond League.
GRAHAM'S TESTIMONIAL
A well-deserved testimonial game for Graham Heathcote, against Macclesfield Town, will take place in the 2001-2 pre-season period, some 30 years after his debut as a 17 year-old in a 4-1 win over Chorley at Moss Lane in 1971-72 season. Graham was recently restored to the position of Coach but in a playing career spanning 14 seasons he appeared 502 times for the Robins, scoring 146 goals - including a famous penalty at Anfield against Liverpool.
SUPPORTERS AT RUNCORN
The Alty Supporters' XI will be seeking revenge for Friday's defeat (see below) against Runcorn's Fans at Canal Street today, k.o. 3pm.
LOCAL BOSSES
Northwich boss Keith Alexander is reported by the NLP to be unsettled after taking a staggering £15,000 a year pay-cut to come to the Drill Field from Ilkeston. His remaining at Northwich appears to hinge on the Vics receiving a fee of £120,000 from Hull for the on-loan Vics' striker, Gary Fletcher. Winsford manager Steve Shaughnessy is also said to be considering his future after Winsford were relegated to the NW Counties League because of a 6-point deduction for twice fielding unregistered players. Meanwhile Wallasey-based ex-Stalybridge boss Phil Wilson's contract at Southport has been confirmed as of three years' duration. Droylsden's Dave Pace has issued yet another threat to resign if the Bloods don't do well next season. He also says that up to seven Droylsden players may be shown the door this close-season.
NICKY DAWS
Ex-Alty man Nicky Daws, a central part of Bury's success in recent years, is set to leave Gigg Lane according to the Pink. Daws turned down moves to QPR and Gillingham earlier this season.
---
12 May 2001
SUPPORTERS LOSE
Alty Supporters' XI lost 0-4 to Runcorn yesterday but will seek revenge tomorrow at Runcorn (Canal St) at 3pm.
BISHOPS' CASH IN
Bishop Auckland are to receive £30,000 from Bolton Wanderers as a result of Jeff Smith's appearance for Bolton's first team against Sheffield Utd last Sunday. Micky Nelson of the Bishops has also been on trial in the North West, at Bury.
WAYWELL SIGNS UP
Despite making public his concerns at Leigh's lack of support through the turnstiles, Steve Waywell, the Club's manager, has signed a new 4-year contract at Hilton Park.
NEW BOSS AT BAY
Colin Caton the Colwyn Bay centre-back has been appointed the Club's new player-manager, with Dean Martin remaining as the Assistant Manager. Long-time manager Bryn Jones had announced that he would stand down some week ago.
NO RELEGATION TO UNIBOND?
According to the Hednesford Forum the teams relegated from the Conference will learn their fates on 23 May. It is understood that all three of the relegated clubs have applied for the Dr Martens League. However Kingstonian are likely to be put into the Ryman and it is thought that no one will be relegated to the UniBond.
---