Alty Pages News Archive


This Page www.lusoweb.co.uk/alty1.htm

12 June 2001

---



NEWS ARCHIVE May 6-11, 2001
All framed pictures on this site are enlargeable; just click on the images themselves.
---
11 June 2001
FOLLOW MY LEADER
Southport centre-back Phil Bolland, who was briefly at Altrincham, has left Phil Wilson's Southport and followed his former manager Mark Wright to Oxford United. Bolland, the most booked player in the Conference last season is likely to be joined by his Southport team-mate Scott Guyett, who is also reported to be signing for Oxford.
---
10 June 2001
BERNARD LINKED TO FIVE!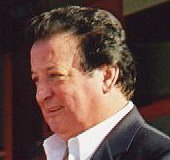 Today's Non-League Paper somewhat surprisingly links Altrincham to five of last season's title-winning Stalybridge players. Altrincham are cited as "eyeing Bridge's midfield partners Kevin Parr and Steve Pickford. The Robins could be ready to move, too, for Celtic's trusty defenders Stuart Locke and Dominic Crookes". The article also says that Bernard Taylor "is keen to prise Gary Bauress from Southport", where he has just arrived as Phil Wilson's player-coach. If all this is true, it would be very surprising! Indeed, the NLP itself elsewhere quotes Locke as wanting Conference football. A letter in the same paper from Stephen Leigh of Altrincham corrects the claim that Bernard Taylor (left) is Altrincham's most successful manager ever. He points out that Tony Sanders won both the "Conference" and the FA Trophy twice and also got to the 3rd round of the FA Cup five times.
HARDY'S SHOCK
There is a sizeable article in the NLP on Neill Hardy's move to Stockport County (see earlier news on this site). At 27, Hardy believes he is one of the oldest players ever to make such a jump; his rise of five divisions emulates Altrincham's 21 year-old Kevin Ellison's five-divisions move to Leicester last season. Neill is amazed that after many years at Conference clubs, Altrincham and Morecambe, he should get his chance when playing at a much lower level. After leaving Morecambe he had had to get newspaper publicity in order to find a new club and ended up at Radcliffe. He had a one-match trial at Stockport during last season but got injured and then had a spell at Bury, before Andy Kilner swooped for his signature last week.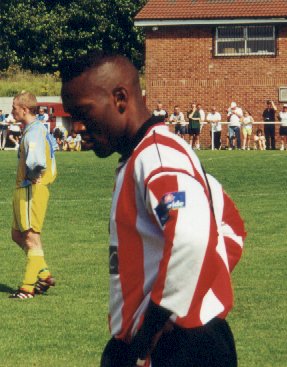 LEROY SIGNS UP
Ex-Alty striker Leroy Chambers has signed up with Frickley for next season. He spent the latter part of last season at the Yorkshire club, on loan from Moss Lane, even scoring twice against the Robins in a 3-3 draw. Meanwhile, at Worksop, Chris Waddle has been offered a player-coach position.


UNIBOND CUPS
The UniBond League's three cup competitions will revert to a knock-out system next year, following a year of group-stage competitions which were ravaged by postponements.
LEAGUE 71 CONFERENCE 1
By a massive 71-1 majority the Football League voted against the proposed two-up/ two-down system between the Conference and the League yesterday. Only Wycombe voted for the change whilst even recently promoted sides such as Kidderminster and Cheltenham voted against it. The League's decision was led by Orient chairman and boxing promoter Barry Hearn. The objections by the League were primarily to the scale and duration of the parachute payments to demoted clubs. It is suggested by the NLP that this may mean that the Conference will only allow one new club to join its league each season, so that the winners of the UniBond, Ryman and Dr Martems would have to play-off for the single promotion place. Such a move would seem to be a complete contradiction of the Conference's principles were it to happen; the Conference could hardly then criticise the League if they themselves acted in such a petty way to their own feeder leagues.
---
9 June 2001
THREE UNIBOND CLUBS IN DISTRESS
BARROW The Barrow FC site reports that the final hearing of the winding up order for Barrow AFC 1901 Ltd is due to be held in Leeds on 2 January 2002, though this could be brought forward to September 2001. This week a Leeds Court heard an uncontested claim that Stephen Vaughan (now a Director at Droyslden) had grossly undervalued Barrow when his company had bought the Holker Street ground. The winding up hearing will have to settle the claims of the creditors and then the liquidator will have to sell the ground to pay off the creditors.
BLYTH SPARTANS Blyth have had some success in meeting their £54,000 debt to the Inland Revenue. Three people have come forward with loans which go part of the way towards the sum owed, but the money would have to be repaid within three years. Friendlies against Celtic and Middlesbrough are being planned to asist in fundraising. For more on this, visit the excellent Blyth Spartans unofficial web-site.
SPENNYMOOR UNITED The club is still managerless, though an appointment is hoped for by the end of June. On the playing side, Rob Jones has left, reportedly for Gateshead, but Craig Veart and Stuart Dawson are amongst those staying. Off the field, talks with the club's creditors are nearing completion.
CONFERENCE PROMOTION UNALTERED
The Football League today rejected proposals for a two-up and two-down promotion/relegation system between the Conference and Nationwide Division Three. The League's Chief Executive indicated that the financial effects of losing League status were the main sticking point. So, the system remains unaltered from this year. The Conference clubs are to hold an emergency general meeting to debate the next move.
---
8 June 2001
YOUTH TEAM HONOURED
Altrincham Football Club laid on a Presentation Evening tonight for the "Double"-winning Altrincham Youth side. The squad and their families were guests of the Club as officials of the Altrincham and District Football Association and the Bolton and District North West Youth Alliance presented them with their medals and trophies. Mr Jack Berry, Mr Norman Sheriff and colleagues from the Altrincham FA gave each qualifying player an award for representing the FA during the season before Mr Fred Morris of the Bolton Alliance handed over the League and Cup trophies and medals. Finally, Mr Morris awarded George Heslop with a much deserved "Manager of the Year" trophy. George's assistant, Neil Thomas was also rightly honoured with an award from George for his hard work throughout the season. The evening was compered by Altrincham FC Chairman, Mark Harris, who underlined the importance of the Youth Team to the Club's future. He also thanked the team's parents for their unstinting support throughout the 2000-01 season. After the awards, George Heslop indicated that ten of this year's squad were still eligible for next year's competition. He also confirmed that Altrincham would once again be entering the FA Youth Cup, which starts in July. Many of last year's squad have also progressed onto the books of the Altrincham Reserve side and there is real optimism that a number of these lads will establish themselves at that level and even make their mark in the first team during the coming twelve months. Pictured (left) on the Moss Lane pitch, which thanks to Peter Barry looked in superb condition, is the squad as they lined up tonight before the awards ceremony:- Back row Neil Thomason; Paul Monaghan, Rico Richards, Pat Claffey, Neil Wolszczuk, Dale Newbrook, Wes Wilkinson, Otis Thomas, Domain Esdale, Levi Kennedy, George Heslop; Front row Lee McDonald, Paul Crowther, Paul Robinson, Steve Howe, Paul Tilley, Vernum Rowland, Lee Shillito, Danny Leahey. (NB: It is hoped to have a better picture here shortly). For details of the team and their exploits last season, visit the archived Youth Team 2000-01 and Youth Team Players 2000-01 pages. The current Youth Page (2001) is here. For more photos of the presentation night, visit the Official Altrincham FC site.
UNIBOND NEWS AND PRICES
Runcorn manager Liam Watson has brought Steve Carragher back to the Club. As previously reported, ex-Alty man David Gamble has also joined the Linnets from Marine. The Club's chairman Dr David Robertson has confirmed that a change of the Club's name is on the Board's agenda, with the word "Halton" likely to figure in any new title. Runcorn's ground for next season will be the Autoquest Stadium in Halton (Widnes). Elsewhere, Frickley have lost a third player, following the losses of Chris Hurst and Duane Beckett, as their midfielder Paul Burton has joined Lincoln United. Burton only joined Frickley at the start of last season, having previously played at Scarborough, Matlock Town and Sheffield Wednesday. Arriving at Frickley is full-back Nicky Limber, who has arrived from Gainsborough Trinity. Matt Russell, a 22 year old full-back is also expected to sign, from Scarborough. Emley have announced season ticket prices of £110 for adults and £20 for Juniors, underlining the good value of Altrincham's season tickets at £105 and £10 respectively. (See below for details of how to get your Altrincham season ticket). Only slightly cheaper than Moss Lane is Frickley, where season tickets are to be £95, with matchday admission set at £5. Frickley are also making plans for a stand on the pit-waste side of their ground. By way of comparison, Conference side Northwich will charge £150 for stand season tickets and £120 for terraces. Also from the Drill Field, Gary Fletcher has signed for Leyton Orient, netting Northwich up to £150,000.
---
7 June 2001
CELTIC CHOOSE BOSS
Ex-Southport boss Paul Futcher (aged 44) has been chosen to succeed Phil Wilson as boss of Stalybridge Celtic. Futcher's playing career took in Chester, Luton Town, Manchester City, Oldham Athletic, Derby County, Barnsley, Halifax Town and Grimsby Town. As a manager Futcher had spells at Darlington and Gresley Rovers, with whom he won the Southern League, before becoming Southport player-manager in June, 1997. His assistant at Southport, Paul Lodge, will also be his assistant at the Bower Fold. Despite taking the Port to the Trophy Final in 1998, Futcher was sacked from Southport in late 1999 and there is an irony that he owes his new appointment to Southport's acquisition of Phil Wilson as their new manager.
DANNY ADAMS
Tonight's Evening News includes a 24-page supplement called "Soccer 2001" which includes no less than four colour photos of Danny Adams, albeit three of them are the same image cropped in different ways. In the supplement's review of last season, Danny is described as a "real value for money buy from Altrincham". It also states that "Adams came in from semi-pro Altrincham, forgot his previous life as a postman and made the left-back spot his own".
ANOTHER GAINSBOROUGH SIGNING
Hot on the heels of their acquisition of Chris Hurst from Frickley (see below), Gainsborough Trinity have now signed 25 year-old Boston United defender Joby Gowshall. Gowshall, formerly at Grimsby Town and Lincoln City has left Boston as he did not wish to go full-time.
VICS TO TRY AGAIN
Northwich Vics are upbeat about their deferred planning application for a new ground at Wincham and believe they have the answers to Vale Royal Council's doubts about traffic congestion and parking facilities. The Club expects the plans to be reconsidered by the Council before the start of the 2001-02 season.
---
6 June 2001
UNIBOND TRANSFERS
Gainsborough Trinity have released keeper Steve Curry, who has now signed for Lincoln United in the UniBond First Division. The 34 year-old played at Moss Lane this season in their 2-0 win over the Robins. He lost his first-team place at Gainsborough following injury. Meanwhile, Simon Tucker, top scorer at Gresley Rovers of the Dr Martens Western division has moved to relegated Leek Town.
TWO JOIN VICS
Keith Alexander, the Northwich manager has raided his former club Ilkeston Town to bring Paul Eshelby and John Knapper to the Drill Field. Alexander is believed to be bringing in two more new players as well as two goalkeepers (see below).
TWO LEAVE VICS
The Drill Field Den website reports that Gary Fletcher, the young Northwich striker whose move to Hull City fell through last week, is now heading for Leyton Orient, subject to a medical. No fee has been announced yet. Fletcher must have impressed Orient when they met the Vics in last season's FA Cup. Also, Northwich have lost a second goalkeeper inside a month following the departure of ex-Robins' player Lance Key. Now, Malcolm Rigby has left the Drill Field to play football in Malta.
MORE FRIENDLIES
Further to the item below, Altrincham FC have now confirmed the following dates for friendly games:
28 July (away) Trafford
31 July (away) Flixton (to be confirmed)
7 August (home) Stalybridge Celtic
There will also be pre-season home games against Blackburn Rovers, Manchester City and a Reserves game at Stand Athletic. An updated and full list of friendlies is here.
ANOTHER FREE MATCH FOR SEASON TICKET HOLDERS
Another pre-season friendly has been arranged - against Stalybridge Celtic - on a date to be confirmed. Anyone who buys an Altrincham season ticket for 2001-02 not only gets a bargain price for league matches but also gains free entry to the pre-season friendlies (except for the Graham Heathcote testimonial). So at just £105 (standing) and £125 (sitting) they should not be missed! If you buy a child season ticket with an adult one, it will only cost £10 extra. Junior season tickets are otherwise £40 and £60 respectively, whilst senior citizens' prices are £55 and £60 respectively. To get your season ticket(s), please send a cheque (payable to "Altrincham FC") and a stamped addressed envelope to Mr Graham Heathcote, The Secretary, Altrincham FC, Moss Lane, Altrincham , Cheshire WA15 8AP. Please remember to specify the number and type (stand/terrace; adult/child/senior citizen) of tickets required. You can collect the tickets from the ground (tel. 928-1045 for collection times), otherwise please enclose a s.a.e.. A list of the pre-season friendlies announced to date is here.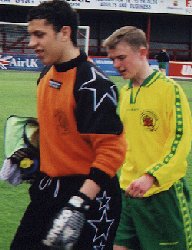 YOUTH TEAM HONOURED
The Double-Winning Altrincham FC Youth squad will be honoured by the Club on Friday evening with a presentation of their medals and trophies. Congratulations are due to the players and also to the management team of George Heslop and Neil Thomason who guided the squad to the Bolton and District Youth Alliance league title and to the league cup. For details of their season, see the Youth pages of this site. Pictured, left are Youth Team goalkeeper Dale Newbrook and captain, Steve Howe, in the NW Alliance representative team colours.




FRICKLEY LOSE PLAYER OF YEAR
Frickley's Player of the Year and leading scorer, Chris Hurst, has left the Yorkshire club for Gainsborough Trinity. Frickley's midfielder, Duane Beckett has also left. He has dropped a division to sign for Stocksbridge Park Steels.
---
5 June 2001
HARDY GOES TO COUNTY
Neill Hardy, the former Alty striker, has joined First Division Stockport County from Radcliffe Borough of the UniBond First Division for £15,000, rising to £25,000 based on appearances. Having been tracked by Bury earlier this season, the move to Edgeley Park has come as a surprise. Hardy, now aged 27, hit 22 goals last season for Radcliffe, despite being injured for part of the campaign and was a prolific scorer during his four years at Moss Lane, netting 59 goals in 133 starts (+28 sub appearances) before he left in 1999, having lost his automatic starting place in the side.
---