Altrincham Football Club Youth Team, 2001-02:
Current News.
---
The 2001-02 side, left to right, back
: Michael Bailey, Steve McGrath, Paul Glynn, Domain Esdale, Neil Woloszczuk, Jordan Broxson, Lee Thompson, Mark Drew, Lee Shillito, Steve Lunt..
Front:
David Walsh, Richard Smith, Vernum Rowland, Lee McDonald, Paul Tilley, Paul Robinson, Ian Horton.
---

---
---
Altrincham's Youth side are managed by George Heslop, ably assisted by Neil Thomason. The team plays in the Bolton and District Amateur Football Combination (North West Youth Alliance Under-18s' Premier Division). I am very grateful to George for his help in providing information for this page. If anyone else has information on the Youth team, I am always happy to receive it. You can e-mail me
here
.
John Laidlar
.
---
L to R Back: Michael Bailey, Steve McGrath, Paul Glynn, Domain Esdale, Neil Wolszczuk, Jordan Broxson, Lee Thompson, Mark Drew, Lee Shillito, Steve Lunt.
Front David Walsh, Richard Smith, Vernum Rowland, Lee McDonald, Paul Tilley, Paul Robinson, Ian Horton.
Above, the Youth team seen before the home cup game against Prestwich Heys.
---
26 May 2002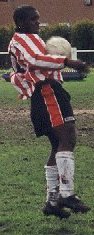 RICO STARS
Rico Richards (right), the former Alty Youth striker, starred in today's Budweiser National 6-a-side competition. From a field of 600 entrants, Rico's team "Legends" from Sheffield, won the trophy at Stamford Bridge. Rico left Alty to join Hyde United.
---
23 May 2002
FINAL PICTURES
Below are some pictures from the Open Cup Final against Prestwich Heys at Moss Lane:

Above, Mario Daniel sandwiched by Prestwich defenders.




Above, the Alty line-up: BACK- George Heslop (manager), Michael Bailey, Lee Thompson, Mark Drew, Neil Woloszczuk, Jordan Broxson, Steve Lunt, Vernum Rowland, Domain Esdale, Richard Smith, Neil Thomason (coach). FRONT- Paul Glynn, Lee Shillito, Ian Horton, Paul Tilley, Mario Daniel, Lee MacDonald, Paul Robinson, David Walsh.
---
17 May 2002
INJURIES
Alty Youth players suffered a number of injuries as the season ended. Mario Daniel was sidelined by a head injury, Paul Robinson has been diagnosed as having two broken bones in his foot after being injured in the Reserves and Lee MacDonald limped off in the same game. Finally, Francis Evans had to go off in yesterday's game. Hopefully all will be fit well before the start of next season.
---
16 May 2002
ALTY END WITH A WIN
An Alty side fielding many newcomers won 2-1 tonight against Prestwich Heys. The goals came from two of the new players, Liam Pearson and Connor Morris. Alty finished third in the league.
Match report here.
.
---
11 May 2002
ALTY LOSE FINAL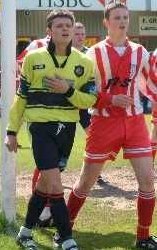 Prestwich Heys gained revenge for last season's defeat by Alty in the Open Cup Final by winning this year's competition this afternoon at Moss Lane. Alty went ahead after 3 minutes through Mario Daniel but Heys soon equalised. The score remained 1-1 even after extra time. Alty then lost 4-5 on penalties. Match report here.
Lee Shillito is seen, above, during the Cup Final in a picture reproduced from Alan Johnson's website.
---
9 May 2002
ALTY YOUTH 0 MORECAMBE 0
Alty Youth played well tonight but were unable to break down the Morecambe defence.
Match report here.
---
6 May 2002

PRESTWICH HEYS 0 ALTY YOUTH 2
Brief match report here.
NEXT GAME
| | | |
| --- | --- | --- |
| Thursday, 9 May 2002 | MORECAMBE | NW Youth Alliance Premier League, HOME, at Wythenshawe Town FC, k.o. 7pm |
---
4 May 2002
BURSCOUGH 1 ALTY YOUTH 0
An Alty team weakened by injury lost 0-1 at Burscough last night. The goal was a penalty.
---
28 April 2002
ALTY LOSE
Alty Youth lost 0-2 at home to South Sefton Borough this afternoon.
Report here
.
---
25 April 2002
YOUTH FIGHTBACK
Alty Youth came back from 0-2 down tonight to beat Marine deservedly 3-2 in their NW Youth Alliance league match. The goals came from David Walsh, Lee Thompson and Steve Lunt.
Match report here.
---
---
21 April 2002
ALTY YOUTH 1 MORECAMBE "A" 4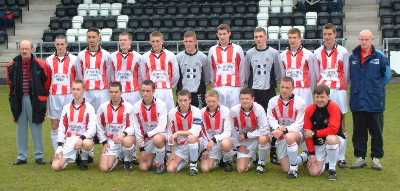 L to R, back: George Heslop (Manager), Paul Robinson, Nathan Ardayfio, Mark Drew, Lee Thompson, Jordan Broxson, Paul McGrath, Neil Wolszczuk,Steve Lunt, Michael Bailey, Vernum Rowland. Front: Paul Glynn, Richard Smith, David Walsh, Paul Tilley (capt.), Ian Horton, Lee Shillito, Lee McDonald, Neil Thomason (Coach).
The NW Youth Alliance Premier Cup went to Morecambe this afternoon in the Final at Bamber Bridge. Altrincham were without both Vernum Rowland and Mario Daniel, whose involvement in the first team squad ruled them out of contention. Match report here
Pictured above by Alan Johnson is the team before the game; more of Alan's excellent pictures are on his website.
OPEN CUP FINAL
The NW Youth Alliance Open Cup Final between Altrincham and Prestwich will be played at Moss Lane, Altrincham on Saturday, 11th May. This is a repeat of last year's Premeier Cup Final, which Alty won.
SALUTE TO GEORGE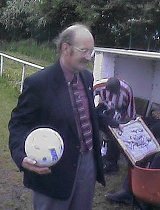 The programme for today's Premier Cup game (see below) included an article by Alty Youth team manager George Heslop (right), outlining his managerial career.
I started with the Youth team as Secretary and Assistant Manager for the 1997-98 season. They were Altrincham & District Youth League champions, winners of the League and Supplementary Cups and runners up in the Edgar Webb Cup.
1998-99 Entered the NWYAL and won the league.
1999-00 Became the manager and finished third.
2000-01 Championship and Premeier Cup winners. Manager of the Year.
2001-02 Finalist in Premier and Open Cups

I was also NWYA Inter-League Manager for three years with my friend and colleague Richard Danson of Morecambe F.C. and I have spent the last two seasons as manager of Altrincham & District F.A. Youth side which, in the season 2000-01 finished runners-up in the Cheshire & District F.A. final.

My career as manager started in 1980-81 with Altrincham & District Sunday league and it continued until the end of the season 1994-95. I then became more involved at Altrincham F.C.

George Heslop.
---
15 April 2002
MORECAMBE "A" 3 ALTY YOUTH 1
Match report here.
FIXTURE CHANGE
The scheduled game this Thursday (17th) at home to South Sefton has been postponed as the opposition have several players unavailable.
---
14 April 2002
NEW FIXTURES AND TABLE
The revised league fixture list and the updated league table are here. Seven clubs are now covered by four points at the top!
---
12 April 2002
YOUTH REPORT
There is now a brief report on the Youth team's fine Open Cup semi-final win against Marine here.
---
11 April 2002
SECOND CUP FINAL
With goals from Mark Drew, Lee Shillito and Lee McDonald, Alty Youth reached the final of the NW Youth Alliance Open Cup with a 3-1 win over Marine last night, at Burscough. They will play Prestwich Heys in the final, probably on 5th May. The Alty Youth side already have another cup final booked for 21st April in the Premier Cup at Bamber Bridge FC. More details on the Marine match to follow. The revised league table is now available, taking into account Northfield's resignation from the League; click the Youth Fixtures button above. The Alty line up was Broxson, Drew, Robinson, Horton, Bailey, McDonald, Smith, Tilley, Shillito, Daniel and Thompson with Walsh, Lunt, Ardayfio, Glynn and Leigh as the substitutes. It was Alty's eighth straight win on the run.
LEAGUE TABLE
Click here for the revised league table, which reflects the resignation from the League of Northfield Juniors.
---
7 April 2002
ALTY PROGRESS
Alty Youth today beat Daisy Hill 2-1 to reach the semi-finals of the Open Cup, against Marine. The Semi is at Burscough FC on Wednesday, 10 April at 7.45pm. Daisy Hill took the lead after 20 minutes with a header and Jordan Broxson made some good saves to keep Alty in the match. Alty were much improved in the second half and their goals came from a Paul Robinson penalty after 48 mins, following a foul on Lee Shillito, then Lee himself scored a fine goal after 70 minutes. Shortly before the second goal, Daisy Hill had a player dismissed for a second offence. Alty's team was 1. Jordan Broxson, 2. Lee McDonald, 3. Paul Robinson, 4. Ian Horton, 5. Steve McGrath, 6. Lee Shillito, 7. Richard Smith, 8. Paul Tilley (capt.), 9. David Walsh, 10. Steve Lunt, 11. Lee Thompson. SUBS: 12. Domain Esdale (for Walsh), 13. Neil Wolszcsuk (gk), 14. Paul Glynn, 15. Mario Daniel (for Lunt), 16. Michael Bailey (used).
ALTY LOSE 3 POINTS!
Northfield Juniors have resigned from the NW Youth Alliance League, so Alty's win over them has been deleted from the record books. The revised league table will be posted here as soon as possible. The resignation also gives Prestwich Heys a bye into the final of the Open Cup.
---
4 April 2002
CUP VENUE
The venue for the Premier Cup Final on 21 April has now been switched to Bamber Bridge FC. Click on the Links/Maps button above for a map.
TRIALISTS
A team of Alty Youth trialists played a Stockport County U-19 side on Tuesday at Ridgeway Road. Though County won 2-1, Youth manager George Heslop was able to run his eye over some very promising talent for next season.
---
2 April 2002

FIRST TEAM
Both Vernum Rowland and Mario Daniel were on the bench for Monday's first team game at Bradford. Vernum got on to the pitch for most of the second half.
REPRESENTATIVE GAME
A NW Youth Alliance representative side containing four Altrincham FC players drew 1-1 with Scottish under-19 side Campsie Black Watch on Sunday. The Alty Youth team was out of action yesterday because of the above match.
PAUL SIGNS FOR TRAFFORD
Youth captain Paul Tilley is reported to have signed for UniBond First Divison club, Trafford. However, it is hoped that he may remain available for Altrincham Youth games.
---
1 April 2002
YOUNGEST AND OLDEST SCORER?
Steve Lunt may be one of the youngest members of the Alty Youth side this season but, apart from first-team veteran Mark Maddox, he is the only player at the Club to have featured in the Alty matchday programme as long ago as 6 November, 1996, when Altrincham met Southport in the Conference. Looking through the Robins Review for that game you will find a report of St Hugh's R.C. School of Timperley's seven-a-side game in the Altrincham FC/EN-S Youth Development Initiative Trophy, which they lost 1-2 in a penalty shoot-out to Oldfield Brow. The programme reports that "St Hugh's scorer was 11 year-old Stephen Lunt". Steve is still knocking the goals in and was on the mark in the Youth team's most recent game, a 2-0 win at Lancaster.
---
25 March 2002
LANCASTER CITY YOUTH 0 ALTY YOUTH 2
Altrincham moved within 2 points of the league leaders Marine, with four games in hand, after beating Lancaster 2-0 on Sunday, with goals from Steve Lunt and David Walsh. Report here. Sunday's other result was South Sefton 2 St Helens College 1 and the updated table is here.
---
21 March 2002
LEAGUE TABLE
Click here for the updated NW Alliance table as at 10 March, supplied by George Heslop. Since then, leaders Burscough have lost again, 0-3 to Marine, following a 1-4 reverse at home to Morecambe.
---
19 March 2002

YOUTHS IN FIRST TEAM
Vernum Rowland made his first first-team start tonight in the Cheshire Cup Final whilst Lee Thompson was a second-half substitute.
GAME OFF
Last Sunday's Cup game at Daisy Hill was postponed.
---
17 March 2002
VERNUM ON DUTY
Vernum Rowland was again in first team action yesterday in the first team's 1-1 draw with Gainsborough. A match report is here.
---
14 March 2002
YOUTH CALL UP
Three Youth players were called up to the first team yesterday against Bishop Auckland. Vernum Rowland made his league debut after 55 minutes whilst Mario Daniel came on shortly afterwards. Both acquitted themselves well, with Mario almost notching an equaliser from a cross by Vernum. Lee Thompson was on the bench for this game.
---
3 March 2002
OPEN CUP WIN
Alty Youth beat Leigh 4-0 today in the Open Cup; brief report here.
FIXTURES & TABLES
The Youth team's season will now run till mid-May. Due to lack of action on the field, Alty have dropped to 4th in the table. For the updated fixtures and league table, click here.
---
17 February 2002

ALTY YOUTH REACH FINAL
Altrincham Youth beat Prestwich Heys 3-1 today in the semi-final of the NW Youth Alliance Premier Cup but they did it the hard way! Trailing 1-0 they had Mark Drew sent off after 87 minutes but in the 88th minute they equalised through a well taken header by substitute Steve Lunt. Steve netted again three minutes into extra time and Paul Robinson added a late penalty following a foul on Lee Shillito. Match report here.
---
10 February 2002
MATCH OFF
Above: Mark Drew and Paul Glynn.

Today's league match against Marine was postponed.
---
6 February 2002
SEMI-FINAL MOVED
Altrincham's semi-final against Prestwich Heys in the Premier Cup is now NOT to be played at Christie Park, Morecambe. Instead it will take place at Moss Lane at 1.30pm on Sunday 17 February. The other semi, between South Sefton and Morecambe, has been switched from Moss Lane.
---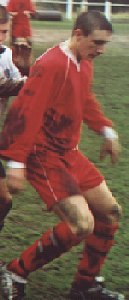 30 January 2002
SCORERS
Alty Youth have scored forty goals in all competitions this season; the scorers are:
9- Lee Thompson (seen right)
7- Lee Shillito
4- Mark Drew, Richard Smith, Paul Tilley, Mario Daniel
3- Lee McDonald
1- Paul Coverley, James Jennings, Steve Lunt, Paul Robinson, Wes Wilkinson



---
27 January 2002
DOMAIN TAKES CREDIT
The Pink reports that Manchester F.A. manager Danny Johnson said "only [Alty's] Domain Esdale came out of the game with any credit" in last week's 0-8 defeat to Northumberland.
---
23 January 2002
7 IN RESERVES
Seven current Youth players were in Alty Reserves squad tonight against Marine. See the Reserves Page for more on this.
---
20 January 2002
ALTY YOUTH 5 EUXTON VILLA 0
Altrincham overcame the bottom side in the league, Euxton Villa, 5-0 today at Wythenshawe Town FC. Mario Daniel hit a hat-trick, with Lee Thompson and Paul Tilley adding the others. Match report here.
---
18 January 2002
MANCHESTER F.A.
Several Alty players can expect to be involved as Manchester FA play Northumberland FA tomorrow at Brantingham Road, Chorlton.
---
16 January 2002
CHANGED FIXTURE
Alty Youth's next game is now at home to Euxton Villa (not Marine) in the NW Youth Alliance League. This is on Sunday 20th January 2002 at Wythenshawe Town FC at 2pm. Right-back Paul Glynn, who suffered a nasty accidental knee injury from a Marine player's studs last Sunday, has had several stitches inserted and must be doubtful for this game.
FUTURE IS YOUTH
In the Altrincham matchday programme for last night, the Robins' Review, club chairman Mark Harris wrote: "We see the Youth Team as the long-term future of the club. This is a five-year plan which means that if it takes a week under five years to produce a single first-team player, then so be it". In fact, within days of Mark Harris writing these words, youth team player Lee Thompson appeared for the first team in the FA Trophy at North Ferriby.
ONLY FOUR PAUL ROBINSONS!
The same Robins' Review had a feature The Name's the Same which, this week, dealt with current British professional players called Paul Robinson, of whom three were identified - at Leeds United, Watford and Wimbledon. Of course, Alty Youth have their very own Paul Robinson who along with colleagues such as Mario Daniel, Lee McDonald and Steve McGrath has been a mainstay both of the Robins' and the Manchester F.A. youth teams and who will be hoping to become the fourth "professional Paul Robinson".
---
13 January 2002
ALTY BEAT MARINE
Alty Youth beat Marine Youth 2-1 today in the Premier Cup. Match report here
---
16 December 2001
ALTY YOUTH 3 ROCHDALIANS 0
Match report here.

NB The next two Alty Youth fixtures have changed; see the Fixtures page. Morecambe lost today in the Cup 1-2 against Daisy Hill. Alty meet Leigh away in the next round, next Sunday.
---
10 December 2001
TRY AGAIN
Alty hope to play their postponed Open Cup home game against Rochdalians next Sunday (16th) at Wythenshawe Town, 1.30pm. Click above Fixtures button above for other revised fixtures. Weekend league results:
Euxton V. 2 Prestwich H. 5 Alty drop to 3rd now, below Prestwich.
Marine 4 Northfield 3
---
2 December 2001
MANCHESTER FA
Manchester FA manager Danny Johnson has been named as manager of Oldham Town. The FA side, which included a number of Alty Youth players, lost 1-2 to West Riding last week, despite a late goal by Wes Wilkinson.
---
30 November 2001
MARIO ON TV
Alty's Mario Daniel is again on TV this Sunday afternoon on the MTV Base digital channel, demonstrating his footballing skills in the Nike Freestyle Event.
---
25 November 2001
MATCH OFF
Today's Open Cup game against Rochdalians was postponed due to the heavy rain overnight and this morning.
---
24 November 2001
CHESHIRE REPS
Three Alty Youth players are in today's Cheshire FA squad, which is playing in the Northern Counties Championship in Yorkshire today. Those concerned are Lee Shillito, Mark Drew and Paul Tilley.
---
18 November 2001
ST HELENS COLLEGE 1 ALTRINCHAM YOUTH 0
Despite creating numerous chances, Alty Youth lost 0-1 this morning to St Helens College, who took one of the few chances that came their way. On the plus side, the game saw a return from a long injury spell for Domain Esdale. League leaders Burscough also lost (0-2), so Alty remain second in the table. The Alty team today was: 1. Jordan Broxson, 2. Paul Glynn, 3. Paul Robinson, 4. Vernum Rowland, 5. Steve McGrath, 6. Lee Shillito, 7. Richard Smith, 8. Paul Tilley (capt.), 9. Ian Horton, 10. Wes Wilkinson, 11. Lee Thompson. SUBS: 12. Mario Daniel (for Wilkinson), 13. Neil Wolszcsuk (gk), 14. Steve Lunt (for Shillito), 15. Domain Esdale (for Thompson).
FA REPS
Lee Shillito scored for Cheshire FA in their recent win over North Riding in the National Counties Cup, at Scarborough. Altrincham are also likely to have representatives in the Manchester FA side to play West Riding in the Northern Counties Championship next Saturday. These include Paul Robinson (right) and Mario Daniel, who is reported in the Pink today as hitting a hat-trick recently for amateur side Worth Fold.
---
13 November 2001
RESULTS
Sunday's results:
Marine 2 Morecambe 2
Prestwich Heys 2 St Helens College 0
---
11 November 2001
ALTRINCHAM F.A. 3 STALYBRIDGE F.A. 1
Playing with only 10 men for most of the second half, Alty FA showed great character to gain this convincing win: a match report is here
---
9 November 2001
WREXHAM
Wrexham Youth, who only narrowly beat Alty Youth 2-1 in the FA Youth Cup 1st Round, thumped Farsley Youth 5-0 in Yorkshire last night in the 2nd Round.
---
5 November 2001
STILL SECOND
Apart from Alty's draw (see below), there was only one other result yesterday:
South Sefton 3 Prestwich Heys 0
The revised league table is here, courtesy of Bob Allan and Fred Morris.
---
4 November 2001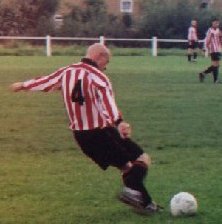 DRAW WITH ST HELENS
In a match which they dominated for long spells, Alty Youth let two points slip in a 2-2 draw today, despite a fine performance by centre-back Vernum Rowland (right). Match report here.
---
3 November 2001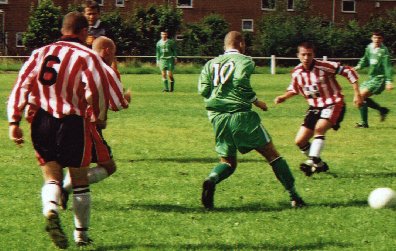 Alty v Burscough Youth: Lee McDonald, Vernum Rowland and Paul Tilley close in on Burscough's number ten.
---
29 October 2001
CLOSING IN ON BURSCOUGH
Alty Youth won 2-1 at South Sefton on Sunday, whilst Burscough could only draw with Prestwich Heys, 3-3. Alty now lie second, four points behind Burscough, with a game in hand. The line-up and some details of the Sefton/Alty game arehere.
MARIO SHOWS HIS SKILLS
As Mario Daniel awaits the outcome of his controversial sending off at Bamber Bridge, he took his chance to meet the stars at the Nike Freestyle Event at the MEN Arena last week. Mario was pictured in the presence of Andy Cole in this Sunday's Pink taking part in the competition which allows young players to demonstrate their ball-control skills.
NO DISGRACE
Underlining the fact that Alty Youth's defeat at Wrexham was no disgrace, Wrexham's U-19 side only lost 2-3 to the mighty Manchester United's U-19s this week.
---
25 October 2001
CUP RUN ENDS
The Youth side's fine run in the FA Youth Cup ended tonight with a 2-1 defeat against Wrexham Youth at their Racecourse Ground. Wrexham now travel to Farsley Celtic in the next round. There is now a match report here with a link to the Wrexham view, too.
---
21 October 2001
ALTRINCHAM FA 8 MACCLESFIELD FA 2
Altrincham & District FA beat Macclesfield & District FA 8-2 today at Trafford FC. Ten Altrincham youth players were used during the match and all of the goals were scored by Altrincham players. More details later.
MARIO HITS FOUR AND LEE GETS THREE
Mario Daniel hit four for Manchester FA in the 6-1 win over Westmorland in the Northern Counties Youth Championship this week. Meanwhile, Lee Thompson grabbed a hat-trick for the Great Britain Colleges side. Four Youth players played for the Alty Reserves in their win yesterday at Bamber Bridge, (see the Reserves' Page for Danny Claffey's match report).
---