Home Page: Altrincham Football Club News.


This Page www.lusoweb.co.uk/alty1.htm

22 June 2001

---


All framed pictures on this site are enlargeable; just click on the images themselves.
---
21 June 2001
SAM PICTURES
SAM has added an Altrincham FC picture archive to its website.
FREE FOOTBALL AT MOSS LANE!!
Altrincham FC season ticket sales are going well, with a 33% increase compared with this time last year. Details of Alty's season ticket arrangements were given on this page on 2nd June - click here. Please remember that season ticket holders get free admission to all the pre-season friendlies (except to the Graham Heathcote testimonial game). The gate prices for the friendlies will be £5 for adults and £2 for children for all parts of the ground. The friendly against Blackburn Rovers is now set for 4 August. For a full list of the pre-season friendlies, click here. Because there will be three home friendlies in one week, the Board has agreed that everyone who attends the Blackburn and Stalybridge games (on 4 and 7 August) will be issued with a token. Collection of the two tokens will entitle the bearer to FREE admission to the Northwich friendly game on 11 August.
BARROW SACKED
Unconfirmed reports suggest that Chester have sacked ex-Alty man Graham Barrow as their manager.
FILSON INVADES WALES
Martin Filson, the rugged Stalybridge Celtic player, has left the Bower Fold for Rhyl. Other moves include five new signings at Hucknall. Apart from the arrival of Leroy Chambers, the following players have also signed for Hucknall: Tommy Gallagher (from Hinckley United), Lee McGlinchey and Michael McLarnon (both from Shepshed Dynamo), Paul Sherlock (Bedford Town) and Jermaine Bailey (Ilkeston Town).
MORE ON IVAN CROSSLEY
It is understood that Ivan Crossley, whose untimely death is announced below, collapsed and died whilst playing five-a-side football with his sons. Altrincham F.C. have sent their condolences to his family.
---
20 June 2001
IVAN CROSSLEY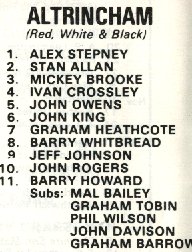 It is with regret that Altrincham FC today heard of the death on Monday of Ivan Crossley, the former Altrincham defender and utility player. Ivan, who was only 50, was at Altrincham for 8 seasons (1974-75 to 1981-82) and played more than 250 games for the Robins, scoring 8 goals. Ivan had been intending to attend Graham Heathcote's testimonial game in July. Ivan was signed from Bangor City, having previously been at Coventry City. In the meantime, pictured left is a reminder of the line-up for Ivan's joint testimonial game at Moss Lane against Manchester City on 30th October, 1979. (Click on image to enlarge it). The fellow players honoured that night were Stan Allan, John Owens and Mickey Brooke. The Altrincham team sheet includes at least eight players who later went into football managership either temporarily or permanently. The City line-up included the new Stalybridge manager Paul Futcher.

DOUBLE YOUR MONEY AT ALTY?
John Robertson, who has just left Northwich for Southport claims his move was not inspired by money. On the Vics' official site he claims that at Southport "I´m on the same as I was offered at Northwich and could´ve almost doubled it if I´d gone to Altrincham". However, Altrincham sources have now categorically confirmed that Robertson was never offered anything approaching the sums that he has alleged; the offer to him would have no more than matched his Vics' pay-packet.
LEROY NOW TURNS BACK ON FRICKLEY
A couple of days ago the excellent Frickley web-site reported that ex-Robins' striker Leroy Chambers had signed for Frickley for whom he played on loan for much of last season. However, Leroy has since had a change of mind and joined Hucknall Town instead- apparently for financial reasons. Also at Frickley, the club's longstanding chairman Mick Twiby has resigned after 18 years in post, for what are thought to be health reasons.
BISHOP AUCKLAND INITIATIVES
A second meeting has been held at Bishop Auckland F.C. to get their new Supporters' Club of the ground (see earlier news, below). As at Altrincham, representatives of the Supporters' Direct organisation are being invited to Kingsway to discuss the formation of a supporters' trust. Amongst the initiatives being taken to raise the Club's profile are a stall at Bishop Auckland market, to publicise fixtures and to sell Club merchandise, and the sale of raffle tickets. The Club is also to produce a free magazine, Two Blues News, to be distributed before the first home league fixture of next season. For more, see the Bishops' web site.
---
19 June 2001
UNIBOND CUP FORMAT UNALTERED
The Colwyn Bay web site reports that the UniBond AGM last weekend voted to retain the group-format for the UniBond Cups next season. Contrary to expectations, the initial stages of the three Cups will remain based on geographically defined groups. Although Hucknall Town and Matlock Town had proposed reverting to a knock-out competition, a majority voted for retention of last year's system. It will be recalled that this ended up with teams being cascaded down from the League Challenge Cup into the President's and Chairman's Cup depending on their final position in the group stages. Altrincham achieved the most difficult feat of all- failing to qualify for any of the three cups' final stages!
PAUL ROBERTSON
Steve Waywell, who has just signed ex-Robin Paul Robertson for Leigh RMI from Hyde United, says on the Leigh web-site that "Paul is comfortable on the ball which is something I like in a player. He has good ability and will suit us, he is quick, skilful and gets up and down the pitch. He has a lot of experience and has won two promotions with Barrow and Altrincham and I'm sure he'll come in and prove himself". Waywell, previously linked with Stuart Coburn, has now confirmed that he is in talks with Droylsden's goalkeeper Paul Phillips.
BLYTH SLAGS
Blyth Spartans have launched a new t-shirt showing the Viz comic characters "The Fat Slags" in Blyth Spartans' kit. You can see what it looks like at the Blyth Spartans web site.

---
18 June 2001
RIVAL FOR "ROBINS' REVIEW"?
As reported earlier, the Altrincham matchday programme, The Robins' Review won the annual Wirral award for the Best Programme in the UniBond Premiership in 2000-01. Next season, however, there could be stern competition as the joint-winners of the Best Programme in the UniBond First Division (with Witton Albion) were Bradford Park Avenue, who have just been promoted to the Premier League. The excellent Bradford Park Avenue supporters' site reports that their side's Bank Holiday Monday UniBond Premier fixture (27 August, 2001) will be away at Whitby Town. It is not clear how this fixture has been discovered when the main UniBond fixture list is not due out till next month. Also, football commentator John Helm has been appointed the Honorary Vice President of the Bradford club.
---
17 June 2001
BERNARD AND GRAHAM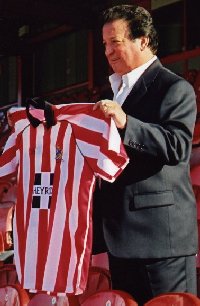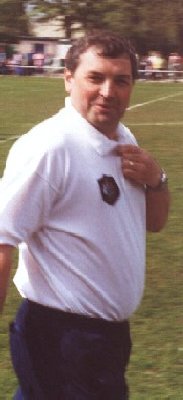 There is a full-page interview with Bernard Taylor and Graham Heathcote in today's Non-League Paper. Starting from the premise that Bernard's Mercedes car, his gelled hair and his ownership of a horse make him appear a "Flash Harry", the article goes on to portray Bernard as actually being a "warm-hearted man who is more than happy to let the fans into his office for a chat on match days and has a consoling word for just about everyone." Bernard is keen to make up for the relegation from the Conference in 2000 - "It would really be something if I could get the Club back up to where they belong. Then I could let a new man come in and I'd just be a supporter again". After summarising Altrincham's glory days, the article describes how Bernard, now 56, came to management very late in his career. A joiner by trade, - he actually constructed the Club bar - Bernard was surprised to be made manager in 1998. "I still don't really know why I was given the job in the first place. I thought they probably wanted a big name", he says. Bernard and Graham went on to win five trophies in under two seasons but he insists that he has only succeeded because he has good support. "You need good people around you, like Graham Heathcote...I don't think I could have done it all without Graham", he asserted. "We worked together at Barrow and have always hit it off". For his part, Graham records his appreciation of Bernard, indicating that his colleague has qualities which are dying in football. "For a start he's a very good listener. He is great at easing problems. He mothers the players, which builds a happy ship and he lets me get on with the coaching without interfering. In terms of management, it's an incredible story, given his age. He'd be the first to admit that people gave him a lot of help but the C.V. he can put on the table after 30 months, most managers would be proud to achieve in a lifetime".
IAN RUSH JOINS KEN McKENNA
Liverpool legend Ian Rush has joined Welsh side TNS, who are managed by ex-Alty striker Ken McKenna, as a non-executive director. Rush is establishing a youth policy at the Club. Other Alty players who were at TNS last season included Steve Morgan, Carl Furlong, Gary Powell and Lee Coathup.
UNIBOND NEWS
Today's NLP reports that Accrington boss John Coleman has been given "an open cheque book" though the Chairman, Eric Whalley insists that the Club will not pay over the odds for players. "The clubs that do pay the big wages are the ones that sack their managers halfway through the season", said Whalley. The Barrow FC site reports that manager Kenny Lowe has signed a prolific lower-league striker, Gareth Jones from Dalton United. Frickley have signed Scarborough's Matthew Russell whilst our UniBond Cup opponents last season, Ossett Town, have appointed ex-Leeds United and Port Vale player, Peter Swan, as player-coach. The former first-team coach Mick Polli will become Reserve Team manager.
'BRIDGE LOSE ANOTHER
The break-up of the promoted Stalybridge side continues with the departure to Southport of former Vics' striker Ian Cooke. Phil Wilson, the Southport boss, has also signed Northwich defender John Robertson and midfielder Brian McGorry from Telford. According to Wilson "There are three or four more signings in the pipeline".
---
16 June 2001
YOUTH UPDATE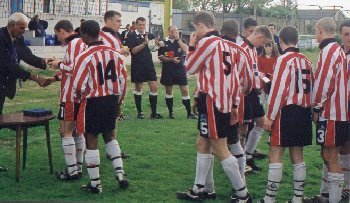 Courtesy of George Heslop, the final NW Alliance league table for 2000-01 and the complete Altrincham Youth player statistics for the season are now available in the Alty Pages Archive. Click links below for:
Player statistics
Pictured above are the Youth Team receiving their NW Alliance Cup medals from Secretary, Fred Morris. The lads had just beaten Prestwich Heys 4-3 at Winsford. More new pictures of the Youth team's final league and cup games are now on the current Youth Page 2001-02.
---
15 June 2001
ALTY RESERVES FACE MORE COMPETITION
The Lancashire League, in which Altrincham Reserves play, is set to grow next season. Although Leek Town are believed to have resigned, four new teams have signed up- including one from Yorkshire! The newcomers are the Reserves of Accrington Stanley, Barrow, Ossett Town and Rossendale United. For more on Altrincham's Reserves, click the Reserves button at the top of this page.
STANLEY AND GATESHEAD LOSE PLAYERS
According to the Accrington unofficial site, Accrington's "Player's Player of the Year" Steve Carragher has surprisingly left the Club and rejoined Runcorn, from whom he moved in 1999. Stanley are reported to be in talks with two Conference players, a full back and a forward and will be poring over the PFA's list of released players from the Football League. Gateshead have also lost one of their regulars, Paul Dalton, who has reportedly rejected a pay-cut. However, local cult hero Wayne Edgcumbe has re-signed for the Club.
LEIGH SIGN "COCO" AND WARD TO FOLLOW?
The NL Football site has reported that Leigh RMI have signed Paul "Coco" Robertson from Hyde United. Paul, a former Alty left-back, has been linked to Leigh for some weeks. Manager Steve Waywell is also quoted as saying that "If Mark Ward was available I would go back for him tomorrow, but he is currently in dispute with Altrincham and I don't think his signing will come off. He's 37 now and still keeps himself fit but his present situation makes it very unlikely that he'd be able to re-join us".
INTEREST DENIED
Altrincham have denied reports in the Non-League Paper that they were pursuing up to five Stalybridge or ex-Stalybridge players. SAM also reports that Altrincham have attempted to sign Simon Yeo but the Hyde striker is to stay at Ewen Fields.
EX-ROBINS AT STOCKPORT
The Stockport Express has almost two pages on Neill Hardy's arrival at Stockport County. In these, the former Robins' striker revealed that his biggest fear was that he would not be fit enough and so he has abandoned his labouring work for his brother-in-law and dedicated himself to training. He is also hopeful of joining County's pre-season tour of Finland. After that, Neill's goal is to get into the 16-man first team squad every Saturday and, after getting as far as sitting on the bench for Bury's first team last season, he is hopeful of actually getting on to the pitch for Stockport. Another player released in the past by the Robins, 'keeper Andy Dibble, has been re-contracted to Edgeley Park for a further year.
---
14 June 2001
CONFERENCE CHANGES CONFIRMED: BAD NEWS FOR THE UNIBOND LEAGUE
Changes to the promotion system to the Conference from the UniBond and other feeders were approved today by the Conference clubs' chairmen.
After next season the Conference will NOT accept runners-up from the feeder leagues if the top team is ineligible for promotion.
From 2002-03 the Conference will only accept the same number of clubs from the feeders that the Football League accepts from the Conference into Nationwide Division Three. So, the winners of the Ryman, UniBond and Dr Martens will have to play off for just one promotion place as things currently stand, since only one club is allowed to go up to the Football League.
The Conference team which is top of the league at the end of the season will not be automatically promoted but will go into a play-off. The 2nd to 5th teams will play-off to produce one team who will play the Champions for the sole place in the Football League. This bizarre system starts next season and therefore the Conference finishes on 27 April to allow time for these play-offs. So, a team could finish fifth and be promoted to the League whilst the Champions may not be promoted!

Before the meeting Doncaster's chairman, John Ryan, told the Yorkshire Post that "If they [the Conference] want to create some sort of Gentlemen's Club, the Conference can create one too". Ryan is supporting a proposal that only one promotion place to the Conference would be available in future, with the champions of the UniBond, Ryman and Dr Martens having to play off for the privilege. Ryan sees such moves as a way to "put pressure on the Football League".
MORE ON NEW STADIUM
Since yesterday's initial report (see below), further details of the proposed new sports complex, including a £20 million stadium, that might be used by Altrincham FC have appeared in the SAM newspaper. The plans, which are opposed by Trafford Council, as they would deprive the area of Green Belt land, would include a rugby/football stadium for possible use by Sale Sharks and Manchester United Reserves. Where Alty would fit into the playing schedules at the new Stretford site (Bradley Lane) is unclear- as, indeed, is the state of the pitch if it were to be used regularly by three teams. As well as the 15,000 stadium, there would be a further 5,000 seater athletics stadium next door to it, an 18-hole golf course, a 150-bed luxury hotel, training pitches and a tennis/leisure centre. The Plan has already been rejected once by the Unitary Development Plan (UDP) Sub-Committee but under UDP review procedures it is being considered once more. A copy of the architects' plans for the development is on the SAM website, as is a form for readers to cast their vote on the proposals.
FA TAKE ACTION AGAINST BISHOPS
Following a number of incidents of crowd trouble at Bishop Auckland's away games in recent years, the F.A. has required the Durham club to implement a membership scheme. A new Supporters' Association is being formed and attendance at designated away games will only be extended to members. Quite how this ruling will be enforced remains to be seen.
---
13 June 2001
NEW £20 MILLION STADIUM FOR ALTY?
According to the SAM website Altrincham FC have confirmed that they are considering moving from Moss Lane to Bradley Lane, which lies just off the A56 on the Sale/Stretford border, to the left as you head towards Manchester, between TGI Fridays and the M60 flyover. In other words, it would be sited on the other side of the A56 from the Crossford Bridge athletics track. The plans are for a 15,000 seater stadium for Trafford. Chairman, Mark Harris is quoted as saying, "We have been discussing with Trafford Council the possibility of alternative stadia, because of the obvious limitations of what we can do at our current site. We have looked at a number of options but could not and would not enter into any agreement without full and proper consultation with our shareholders and supporters". Mark also confirmed that the consortium involved in rescuing Altrincham FC earlier this year is not directly linked to the consortium planning the new stadium.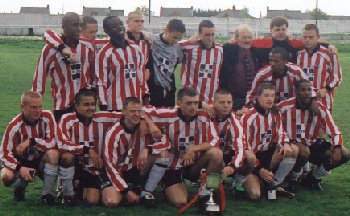 CUP WINNERS

Yesterday's picture on this page showed the Double-Winning Youth team after their Presentation Night last week. The picture left now shows the Youth team after they had won the NW Alliance Cup by defeating Prestwich Heys at Winsford on 20 May. The line-up is: Back row: Domain Esdale, Rico Richards, Mark Drew, Dale Newbrook, Paul Robinson, George Heslop (manager), Mario Daniel, Neil Thomason (coach), Lee McDonald. Front Row: Vernum Rowland, Wes Wilkinson, Steve Howe (capt.), Paul Crowther, Paul Monaghan, Pat Claffey and Levi Kennedy. There will be more new pictures on this site of both the Youth and First team over the next few days.

NON-LEAGUE RESTRUCTURING
At the Ryman League AGM this week, the F.A.'s restructuring proposals for Non-League football were debated. These plans mean that from 2003/04 there could be a Conference set-up which, as well as the existing Conference division would include a Conference First Division of two sections, each with 24 clubs split into North and South divisions. Probably 16 Premier Division clubs from the existing three feeder leagues (including the UniBond) would be invited into the new structure. No doubt this topic will also be debated at the UniBond League AGM which will be held this weekend in Blackpool, whilst an extraordinary General Meeting of the Conference takes place tomorrow (Thursday) to discuss the rejection of two-up and two-down by the Football League clubs.

In the 2002/03 season the Ryman League will be restructured to comprise a Premier League of 24 teams and two First Divisions of 16 sides, one for the North of the League's region, the other for the South. In 2001-02, it is probable that just one club will be relegated from the Ryman Premier and three will come up to form a 24 team Premiership, though an alternative of two down and two up is still being considered.
---
12 June 2001
DOUBLE WINNERS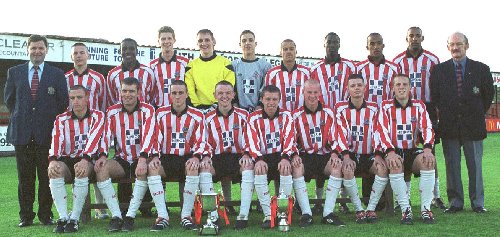 Pictured above, courtesy of Danny Claffey, is the Altrincham Youth double-winning side. The Youth squad won both the N.W. Youth Alliance League and Cup. The photo was taken last Friday at the trophy and medal presentation ceremony at Moss Lane. The line-up is: Back row Neil Thomason (coach); Paul Monaghan, Rico Richards, Pat Claffey, Neil Wolszczuk, Dale Newbrook, Wes Wilkinson, Otis Thomas, Domain Esdale, Levi Kennedy, George Heslop (manager); Front row Lee McDonald, Paul Crowther, Paul Robinson, Steve Howe (captain), Paul Tilley, Vernum Rowland, Lee Shillito, Danny Leahey. Thank you to Danny, father of centre-back Pat, for this excellent photograph. For Alan Johnson's photos of the event, see the Official Altrincham FC site. For more on the Youth side, click here.
ANOTHER SIGNING
Altrincham have signed 24 year-old Jeremy Illingworth, the Ashton United midfielder and captain. Jeremy scored 16 goals in 53 appearances last season, including the equaliser at Moss Lane against Altrincham in the Unibond Cup competition on 9 January. 13 of his goals came in the league, where he played 39 matches in the UniBond First Division last season. Jeremy was formerly at Huddersfield and Wisbech Town.
VAUGHAN TO BARROW AGAIN?
Stephen Vaughan, the controversial Droylsden Director, who formerly was Chairman of Barrow, is threatening to buy the Bluebirds back. Despite allegations of mis-management made against him during his previous tenure at Holker Street, Vaughan has told the Barrow Evening Mail that he has "had the stadium valued independently at £3l5,000 with a football tenant and I will be making a bid. I will offer the asking price and lease it back to Barrow Football Club." As he cannot simultaneously be on the Board of two UniBond clubs, he would have to leave the Butcher's Arms were his bid to be successful. His view on that dilemma is that "there's only one club I will walk away from Droylsden or any club for and that is Barrow. I've got the finance in place and I intend to take control again but if somebody up in Cumbria wants to have a go then let's get on with it".
---