---
Home Page: Altrincham Football Club News Archive, 23 November to 3 December, 2001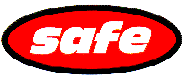 ---
3 December 2001
DARLO NEWS-1
From Teamtalk [Darlington boss, Tommy] "Taylor is now preparing for the FA Cup tie at Altrincham on Saturday, and as a precaution, he will plan without Barry Conlon and Mark Ford, who are appealing against their dismissals at Scunthorpe. 'I know what I'm going to do with that game,' said Taylor". What does he mean by the last sentence?
TROPHY DRAW
Alty will play North Ferriby United away in Round 3 of the Trophy, on 12 January, if we can get past Accrington tomorrow. North Ferriby is 8 miles west of Hull. They lie 7th in the UniBond First Division and beat Spennymoor Utd 4-2 in the 1st Round. Other UniBond ties are:
Scarborough v Hednesford T./Gateshead
Leigh RMI v Emley
Worksop T. v Sutton U./Tamworth
Solihull B. v Runcorn FC Halton/Farsley C.
Barrow/Burton A. v Blyth S.
Vauxhall M. v Lancaster C.
DARLO NEWS-2
On the official Darlington website, Darlo's former Manchester City defender David Brightwell says, "We cannot afford to underestimate Altrincham". After their 7-1 reverse at Scunthorpe last week, Darlo bounced back with a 3-1 win over York City this weekend. In the Scunthorpe match, two players were dismissed and they should therefore miss the game at Altrincham. These were Irishman Barry Conlon, a 6ft 3in former Manchester City and York City striker, and Mark Ford, a former Leeds United and Burnley midfielder, who is the team captain. Darlington are a strong home side but have won just once away from home in ten attempts this season in the Third Division, in which they lie eleventh. However, they did beat Kidderminster Harriers away in the FA Cup 1st Round, 1-0. Other players in their current team include Scottish Under-21 international Gary Caldwell, who is on loan from Newcastle United, and Dan Chillingworth, a 6ft striker on loan till mid-December from Cambridge United. Kirk Jackson (ex-Worksop) and Danny Mellanby (ex-Bishop Auckland) are two squad members who have played against us in their UniBond careers. Darlo are managed by former West Ham centre-half, Tommy Taylor. As well as the good official web site, Darlington fans also have a fine unofficial one, The Tinshed.
TICKETS ON SALE
Main Stand tickets for home supporters for the Darlington FA Cup tie go on sale at 9am this morning at Moss Lane. They will also be available after tomorrow's Trophy replay at Moss Lane. Admission to the terraces is available on the match day. Darlington fans will be accommodated in the 20/20 (Hale) End terraces and the McDonalds Stand. See the Match Guide for details and more background information.
NEW DATE
Alty's postponed UniBond League Cup home date with Colwyn Bay has been provisionally rearranged for 18 December, though that could be the FA Cup replay date if we draw this Saturday with Darlington.
DAVISON LEGEND
Terry Rowley's profile of John Davison has been added to the Alty Legends section of this site, here.
ATTENDANCES
The Attendance Grid has been updated; please click the button at top of page to see it.
---
2 December 2001
AYORINDE AT BOWER FOLD
TheStalybridge Celtic site reports that the Club has signed former Robin, Sammy Ayorinde, who was with us five years ago. Although Nigerian, Sammy was signed by Celtic from a club called Assyriska in Sweden. His other previous clubs include Sturm Graz, Leyton Orient and Dover.
SET THE VIDEO!
Match of the Day, which features Altrincham's game with Darlington next Saturday, starts at 11.25pm.
ACCRINGTON STANLEY 1 ALTRINCHAM 1
The match report is here.
In the above picture, kindly reproduced from Alan Johnson's website where more can be found, Rod Thornley and Ian Craney look aghast as an effort goes wide, whilst Stanley's Smith and colleagues express their relief. The replay will be on Tuesday (4th Dec.) at 7.45pm. Click on the Cup Line-Ups and Statistics buttons above for updated player data.
The other completed ties involving UniBond Premier sides were:
Barrow 1 Burton A. 1
Grantham 5 Frickley 1
Gretna 0 Emley 1
Hyde U. 0 Ilkeston T. 4
Lancaster C. 2 Hinckley U.1
Stafford R. 0 Vauxhall M. 3
Stoutport S. 5 Bishop A. 4
Whitby T. 1 Blyth S. 2
Worksop T. 3 Marine 2
LEAGUE BACKLOG
The next Altrincham first-team league match is now the big away clash with league leaders Burton Albion on 15 December. With their FA Cup and Trophy successes, Alty will have played only three league games in the ten weeks before they travel to Burton! By then, Alty will have played 30 competitive games this campaign; 15 in the League and 15 in Cups. Alty have six league games to re-arrange and have now played as many as seven games fewer than some other teams in their division. Yesterday's League results were:
Bamber B. 3 Droylsden 3 (given as 3-2 on Ceefax in error)
Gainsborough T. 1 Colwyn Bay 2
Hucknall T. 1 Burscough 2
Click "League Table" button above for updated positions.
BERNARD'S ERROR
The Non-League Paper confirms that Alty have Lancaster to thank for allowing hat-trick hero Lee Poland to play against them last Tuesday. Alty manager Bernard Taylor only realised that he had omitted Poland from his team sheet when "he spotted the player sulking in the dressing room". Bernard then had to get Lancaster's manager to agree to change the teamsheet before telling his own defender James Wilkinson that he was not in the team after all, to accommodate Poland. Wilkinson was already in his kit at this stage. The article goes on to describe how Taylor led 500 fans on a celebratory march round the Giant Axe after the final whistle. This week, Bernard, in his capacity as Stadium Manager, is negotiating extra car park space with the Gas Board for next Saturday's 2nd Round tie and getting the additional turnstiles working, as well as helping to prepare the team with Graham Heathcote.
OLD BOYS
As well as "Mad-Dog" Maddox's own goal for Alty today, his former centre-back partner Gary Talbot also put through his own goal today. However, Talbot, who is now the Vics' captain, made amends by also scoring in the right net but Northwich still lost 1-3 to Yeovil. Adam Farley and James Glendenning were in Droylsden's defence, and Steve Porter was a sub, as the Bloods shipped another 3 goals yesterday, but drew 3-3 with Bamber Bridge, for whom Terry Bowker played. Kevin Ellison made his debut today in the starting line-up for Stockport County, who lost 0-1 to Crewe. Ex-Alty striker Leroy Chambers has moved from Hucknall Town to Bradford PA; this will be his fourth UniBond club in the last season and a bit (Alty, Frickley, Hucknall, BPA). Stu Scheuber played for Colwyn Bay, Paul Ellender turned out for Boston and Michael Twiss also did so for Leigh but Dean Greygoose was reduced to the bench for Stevanage and his replacement had a significant role in his side's defeat. Danny Adams's good week continued, after his penalty in the FA replay on Wednesday, with a role in Macclesfield's away win at Torquay.
ALTY LEGENDS
Former Alty star John Davison is featured in the next issue of the Non-League Magazine due out on 3rd December. Another former favourite, John Owens, is reportedly under pressure to include non-Conference players in his England semi-professional side.
---
1 December 2001
REPLAY
| | | |
| --- | --- | --- |
| Tuesday, 4 December 2001 | ACCRINGTON STANLEY | FA Trophy, 2nd Round Replay, HOME, at 7.45pm |
---
30 November 2001
TROPHY REPLAY- AND INJURY NEWS
If tomorrow's Trophy game at Accrington is a draw, the replay will be next Tuesday (4th) at Moss Lane. Following his surprise appearance in the FA Cup replay on Tuesday, Jason Gallagher had an operation on his groin today. Rod Thornley picked up a knock at Lancaster but trained yesterday so it is hoped that he will play tomorrow. Paul Taylor is also now back in training so may make a come-back with the Reserves shortly. Although Accrington's Paul Howarth did not break his leg on Tuesday night, as had been feared, he has a calf injury which will force him to miss the game against Alty in the Trophy tomorrow. Three others are hoping to be fit - Peter Cavanagh (the captain), Dave Robinson and Paul Mullin.
LANCASTER REPORTS
The Lancaster Guardian in its match report of Tuesday's FA Cup tie, says that "For 200 minutes Lancaster were undeniably the better side. Over normal time at both Moss Lane and Tuesday night's replay at Giant Axe, they'd had chances galore to comfortably send them through to meet Darlington in round two. But then in 15 minutes it all went wrong. Horribly and unjustly wrong". Not quite how we saw it! See this site's report here. There is another Lancaster-based report on the Lancashire Evening Post site.
GAME OFF
The away Unibond Premier League game between Marine and Altrincham, scheduled for Tuesday, 4th December has been postponed at the instigation of the UniBond League. Altrincham are the League's sole representatives left in the FA Cup on the following Saturday. The Robins now have six league games to rearrange: these are against Marine (H and A), Gainsborough (H), Worksop (H), Runcorn (A) and Bamber Bridge (A). Also postponed is the charity game scheduled for this Sunday at Moss Lane between Manchester City Old Boys and accountants Deloitte & Touche.
GAME ON
Alty Youth will play Rochdalians in the Open Cup this Sunday at 1.30pm at Wythenshawe Town FC (Timpson Rd, Baguley, behind Tesco's car park).
KEVIN COST £55,000
The Stockport County web site reports that Kevin Ellison cost £55,000 to sign from Leicester; Alty sold him for £50,000 last season.His squad number will be six. Kevin is now contracted to County till July 2004.
YEO TO 'PORT?
A deal is being set up which would take Hyde's Simon Yeo to Southport. The transfer would take Celtic's Tony Sullivan in the opposite direction on a 3-month loan. Two other strikers would also move to Hyde as part of the deal, they are Ben Obong, already on loan at Ewen Fields, and Kevin Leadbetter, who played against Alty earlier this season whilst on loan at Runcorn. Former Southport boss Mark Wright has resigned as boss of Oxford United.
UNIBOND NEWS
Barrow have signed central defender Ian McGucken from Oxford Utd, who had acquired him from Fulham.
DARLINGTON MATCH GUIDE
Altrincham look forward to welcoming Darlington's supporters to Moss Lane. To help them and those local fans who are not regulars at our ground, a special page has been created on this site giving practical and background information on the FA Cup tie with Darlington on 8 December. Even regulars may not realise that Altrincham have been awarded at least one penalty in all five FA Cup matches played this season and have had a home draw in every round so far. So, for this and other information and statistics on Alty's cup run as well as links to match reports of previous rounds, please click here.
BURSCOUGH
The Burscough official website has closed down "until further notice" due to lack of time for the site's organiser. The same club are reported to be interested in signing ex-Robin, Michael Garrity, who has been released by Witton Albion.
---
29 November 2001
PRAISE FOR PLAYERS AND FANS
The SAM website carries interviews with both Mark Harris and Bernard Taylor. Mark says "I know Darlington will start favourites, but if this fine bunch of players continues to stick to it and not lie down, the visitors may well get a shock." Bernard admits that "Lee, who I originally left off the team sheet by mistake, played superbly and well deserved his hat-trick," and he also applauded the Alty fans who went to Lancaster, "That was the best I've ever heard them. They were just out of this world."
RESERVES 1 GUISELEY RES 2
There is a report here of last night's game.
CUP GREETINGS
Alty Sales and Marketing Manager, Mark Eckersall writes:

We are reserving a page in the programme for messages of good luck to the lads for the Darlington game. The price is £50 plus VAT and you get to put your message of support in for the Robins on the big day. You will also receive a copy of the programme in the post as a thank you for your support. If you or your company can help, please ring or e-mail me as soon as possible. It's first, first served. Hope you can help, Mark Eckersall.
BBC, MONEY AND 1PM KICK-OFF
The Evening News tonight reports that the reason why Alty's FA Cup tie with Darlington has been switched to a 1pm kick off on 8 December is both to "avoid the tie clashing directly with Manchester United's home game...at 3pm that day and give the "Match of the Day" programme makers more time to edit the highlights". Both these reasons seem a little odd, but if it brings us £40,000 in broadcasting fees, that is fine! If matches are broadcast on the radio, too, clubs can receive £10,000 but there has been no mention of this happening to Alty yet. Mark Harris is quoted as saying "Our FA Cup run is proving to be a massive bonus and the television money is the icing on the cake. It will bring us very close to our goal of getting the club back on an even keel".
The Club itself has issued a statement confirming the ticket arrangements outlined below (see this page's news for 28 November). It adds that "Supporters will be segregated and home supporters should use the Golf Road turnstiles. As a thank you to their superb supporters, the Club have held admission prices to normal UniBond levels of £7.50 for seats (concessionaries £5.50) and £6.50 for the terraces (concessionaries £4.50)". The turnstiles will open on matchday at 11am.
ELLISON SIGNS FOR COUNTY
Kevin Ellison has now completed his move from Leicester City to Stockport for a fee of £50,000- the same as that paid by the Foxes to Altrincham last season.
---
28 November 2001

MACCA WIN 11-10!
Macclesfield beat Forest Green 11-10 on penalties in their FA Cup replay tonight after a score of 1-1 in the game itself.
RESERVES LOSE
Alty Reserves lost 1-2 to Guiseley tonight; more on this tomorrow.
LANCASTER CITY 1 ALTRINCHAM 4 (FA Cup 1st Round Replay)
A shot, kindly reproduced from Alan Johnson's photographic web site, which shows Anthony Hargreaves shooting at goal as Lancaster's Whittaker (no.9) looks on.
A full match report is now here.
Click the following buttons (above) for updated pages: "Statistics", "Cup Line-Ups".
ALTY MATCH ON TV- SEATS ARE ALL-TICKET
Altrincham FC has now confirmed the Darlington website's announcement that "The cameras will be at Moss Lane as our FA Cup game against Altrincham will be on the Match of the Day highlights programme on 8th December. We'll be the second game on with extended highlights, so set your videos now. Consequently the kick-off has been brought forward to 1pm so that the BBC can get the video edited etc... Although the match is not an all-ticket match, tickets for the seating area at Altrincham MUST be purchased in advance". Stand tickets go on sale to Altrincham supporters at Moss Lane from 9am till 5pm on Monday 3rd December. There will be normal turnstile admission to the terraces on the day of the match.
The FA website quotes the payment for live matches in the 2nd Round as being £100,000 per club; however, the payment for highlights is still a substantial £40,000 per club. This would be on top of the £30,000 for Second Round winners. Winning last night at Lancaster earned the Club £20,000 from the FA Prize fund.
DARLINGTON
Alty now meet Darlington in the FA Cup round Two on 8 December at Moss Lane. The sides met, also in Round Two, in the 1983-84 FA Cup. After a goalless draw in the North-East, Alty lost the replay 0-2. Darlington currently lie 13th in Division Three, but have won only once away in the league all season. They lost 7-1 at Scunthorpe last Saturday and had two players sent off, who should be suspended when they come to Moss Lane. They have also just dismissed their French defender Alex Jeannin for being on licensed premises within 48 hours of the start of a match, which was contrary to Club rules. Still on their books are striker Kirk Jackson who played against us for Worksop last season and Danny Mellanby who also opposed us, for Bishop Auckland. Alty's full FA Cup record in the post-qualifying rounds is here. Because of Round 2, Alty's home league game against Worksop, scheduled for 8 December, has been postponed. Click the League Matches button above for details of Alty's league fixtures.
ELLISON SIGNS
According to the Stockport County website, Carlton Palmer says that County "have agreed a deal to bring Kevin Ellison in from Leicester so he should be available for Saturday as well. He's exactly what we are looking for. He's 22-years-old. He scored 14 goals in an Altrincham side relegated from the Conference. He's the future of the football club".
OTHER FA CUP REPLAYS
Barrow 0 Oldham A. 1
Plymouth A. 3 Whitby 2

Altrincham, Hinckley Utd and Canvey Island are now the only clubs left from below the Conference.
UNIBOND CUP
Tuesday 27th
Group 5 Trafford v Witton A. Match postponed.
---
27 November 2001
ATTENDANCES
Click the Attendance Grid button, above, for updated UniBond match attendance data, courtesy of Terry Rowley.
LANCASTER BOSS CAN'T SLEEP
In today's Daily Telegraph, Lancaster boss Tony Hesketh says "I've not slept properly for the last three or four nights thinking what might be". Following Darlington's 7-1 defeat at the weekend he believes that the winners of tonight's FA Cup replay with Altrincham can get to Round Three. Of his own striker Andy Whittaker and of Alty's Rod Thornley, Hesketh says, "They are both match-winners. Andy has the ability to lose people in the six yard area while Thornley has great pace and clever feet". Tonight's replays involving UniBond sides are:
Barrow v Oldham Athletic
Lancaster City v Altrincham
Plymouth Argyle v Whitby Town
MARINE TRIP
The coach details for the League match at Marine on 4 December can now be found by clicking the Away Travel button at the top of this page.
---
26 November 2001
LANCASTER ARRANGEMENTS
Tomorrow's Cup replay at Lancaster will see the supporters segregated. Altrincham fans have been allocated the covered end of the ground. However, the entrance is through the ground's only open turnstiles which are sited at the car park end. On entering the ground, Altrincham fans will be shown to the away end by stewards provided for the evening by Preston North End. Supporters are requested to arrive as early as possible as Lancaster expect a crowd of around 2,500 for the match. According to Ceefax, Alty captain Steve Hawes has only a 50/50 chance of being fit for tomorrow's Cup clash at Lancaster. Jason Gallagher is expected to be missing from the Alty side.
ALTY DEFENCE UN-LOCKED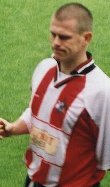 It is reported that non-contract defender Stuart Locke (seen, left) has been released by Altrincham. Locke started just five league games for The Robins, following his release by Stalybridge Celtic, but he was never on the losing side for Altrincham in the UniBond Premier League. The only defeat in which he played was in the UniBond Cup against Witton. He started in three cup games in all and came on as a sub in two others, wearing four different shirt numbers to add to the five other different numbers that he wore in each of his league games. So, in an Alty career of just 8(+2) games, he wore nine different shirts! His departure means that Altrincham have now lost a Locke and a Key in the last two years, but rumours that we are now signing former Kingstonian player Danny Bolt have been denied. As Alty have also released both a Porter and Daws in recent years, it is perhaps no wonder that Frickley found our defence to be not much of a barrier when they scored three times inside half an hour last Saturday.



AROUND THE UNIBOND
Barrow's FA Cup match at home to Oldham Athletic is a 4,500 (ground capacity) sell-out. John Ramshaw, who recently resigned as manager of Hucknall Town, has joined UniBond First outfit Eastwood Town as assistant manager. Dave Pace is quoted in the MEN as not just considering leaving the manager's post at Droylsden but also slashing the wage bill; "I'm not going to bring in a manager and leave myself skint while he [the new manager] gets all the glory", he said! Leeds United have lent Whitby their luxury team coach for the long trip to Plymouth for their Cup replay.
BOMBER'S SUICIDE MISSION
Ex-Robin, Ricky "Bomber" Harris, has been cleared to play for Rossendale United, where he is on loan, against his own club, Leigh RMI, in the FA Marsden (Lancashire) Trophy.
BIGGEST GATE
The UniBond Press release praises Altrincham FC for its "excellent publicity drive" which attracted 662 fans to the recent match between the FA XI and the UniBond XI. This was the biggest crowd of the three representative games played by the FA XI last week.
FRICKLEY ATHLETIC 3 ALTRINCHAM 1

A shot, kindly reproduced from Alan Johnson's web site, which shows the new orange kit and the famous Frickley slag heap in the background.

The match report is here.

Click the League Line-Up button, above, for today's team and the League Table button for the latest standings; the Statistics button takes you to updated player data.
RESERVES/ YOUTH
This week's Reserves' League results and updated table are here. The Reserves are next in action on Wednesday (28th) at home (at Flixton FC) to Guiseley. Yesterday's Youth match was postponed.
---
25 November 2001
RE-INDEXED
The Search Engine for this site, located at the bottom of this page, has been re-indexed today so should give up to date results to all your queries. There is also a separate search-engine on the Archive section of this site which can be reached from the link at the bottom of this page.
NEXT GAME
| | | |
| --- | --- | --- |
| Tuesday, 27 November 2001 | LANCASTER CITY | FA Cup, 1st Round replay, AWAY, at 7.45pm |
Click the "Away Travel" button for supporters' coach details and the "Through the Years" button for details of Altrincham's past games on the above date.
CSC DATE
It has been announced that the Cheshire Senior Cup Semi-Final tie with Macclesfield Town is to take place on Tuesday, 22 January 2002, at Moss Lane. The other semi is betweeen Stalybridge and Crewe, at the Bower Fold.
LANCASTER GAME
In the Pink today Bernard Taylor says of our replay at Lancaster on Tuesday- "the tie is still wide open". The Pink quotes chairman Mark Harris as confirming that Altrincham have enquired of Hyde about unsettled striker Simon Yeo "but refutes speculation that the Robins have gone as far as making a bid". Yeo was carried off in Hyde's game yesterday at Bishop Auckland.
OLD BOYS
Adam Farley and James Glendenning were in the Droylsden side thumped 5-1 at home by Accrington. The Bloods have now conceded 18 goals in 3 matches and have not won for 11 games and the Pink quotes manager Dave Pace as still agonising over whether to leave the club. Leroy Chambers played as Hucknall also lost, but Danny Adams's Macclesfield triumphed 4-1 against Luton. The Bamber Bridge revival continued with a draw, with Terry Bowker in the Brig side. Mike Twiss netted for Leigh RMI and, elsewhere in the Conference, Gary Talbot figured in the Vics win, and Paul Ellender was also on the winning side with Boston. However, Dean Greygoose's Stevenage lost 2-1. "Richard" Harris played for Rossendale, Stuart Scheuber turned out for Colwyn Bay and Dickie Landon was in action for table-topping Radcliffe Borough. Chris Timons was only a sub for Ilkeston but Danny McGoona started for Caernarfon Town, who won at Rhayader.
AROUND THE UNIBOND
Emley have bought the Coach and Horses pub adjacent to their ground as a revenue earner. Vauxhall Motors lie fourth and Burton Albion sixth in Ladbrokes' national Non-League Fairplay Trophy table. Worksop's chairman has given his manager a target of 2006 to achieve League status.
---
24 November 2001
FRICKLEY ATHLETIC 3 ALTRINCHAM 1
Match report here.

Other results were

Bishop Auckland 0 Hyde United 2
Blyth Sp. 2 Burscough 1
Burton A. 5 Gateshead 1
Colwyn Bay 0 Bamber Bridge 0
Droylsden 1 Accrington S. 5
Emley 2 Lancaster C. 1 Lancaster have never won at Emley.
Gainsborough T. 0 Barrow 1
Marine 1 Bradford PA 2
Vauxhall M. 3 Hucknall T. 1
Whitby T. 2 Runcorn FC Halton 2

AROUND THE UNIBOND
Blyth Spartans have signed 38 year-old striker, Paul Baker, formerly at Southampton, Carlisle United and Motherwell. He has been signed as cover for the Spartans' injured top-scorer Glen Robson. The new boss of Bamber Bridge, as reported by the Bamber Bridge site is Jimmy Willis, who played for five seasons at Filbert Street, Leicester. The same site quotes from the Lancashire Evening Post that previous manager Tony Greenwood was sacked because he allegedly would not give a long-term commitment to the Club following the recent culling of his squad for financial reasons. For his part, Greenwood blamed a culture of acceptance of relegation as a reason for his unhappiness. Bishop Auckland have asked the Football Association for a portion of the £120 million National Lottery funding that was earmarked to build a new national stadium to finance their own plans for a new ground. Burscough's first-team currently contains no fewer than seven teenagers. In Division One, Spennymoor have sacked manager Peter Quigley.

Other UniBond transfers include:

Joel Armstrong (Chesterfield to Hucknall T [loan])
Michael Carter (Leiftur [Iceland] to Whitby T)
Richard Coleman South Normanton Ath to Worksop T
Adam Marsh (Darlington to Whitby T [loan])
RACE NIGHT
A successful Race Night was held last night by SAFE in the Noel White Suite. Final figures are not yet available but certainly several hundred pounds was raised by the event. At the same time- and linked to Moss Lane by mobile phone- the Club dinner took place at the Cresta Court Hotel and that, too, was a successful event which raised valuable funds for the Club.
---
23 November 2001
ELLISON MOVE BREWING?
According to the Stockport County website, ex-Alty man Kevin Ellison "caught the eye" in his recent appearance for the County Reserves. Stockport's Director of Football, Colin Murphy, says that a move to the First Division club depends on Ellison's current club Leicester City's valuation. "Kevin is an interesting cup of tea", said Murphy, the man who took Ellison to Filbert Street and now wants him at Edgeley Park. He believes that Kevin has "got talent and is versatile. He needs to improve his fitness but that will come and I can only see him getting better". If signed, Kevin would join another ex-Robin at County, Neill Hardy, though Hardy is sidelined by a long-term injury at present.
FA XI LOSE AGAIN
The Ryman XI beat the England FA XI 2-0 at Bishops Stortford on Wednesday night. This means the FA lost all three games this week against their opposition from the UniBond, Dr Martens and Ryman leagues.
SAFE COLUMN
By kind permission of the Sale & Altrincham Messenger the weekly SAFE Column from SAM will appear on this site. This week's offering is here.
---
FOR EARLIER NEWS, CLICK HERE
---