---
Home Page: Altrincham Football Club News Archive, 14 to 29 December, 2001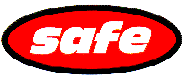 ---
29 December 2001
MATCH OFF
Today's game at Bishop Auckland has been postponed. Altrincham now have eight matches to rearrange through postponements.
HYDE CLIMB OFF BOTTOM- RESULTS FOR 29TH DECEMBER
Barrow 2 Bradford PA 3
Bishop Auckland v Altrincham POSTPONED
Burscough 0 Hyde Utd 2
Colwyn B. 1 Blyth S. 1
Emley v Droylsden POSTPONED
Frickley A. v Marine POSTPONED
Gainsborough T. v Lancaster C. POSTPONED
Gateshead v Runcorn POSTPONED
Hucknall T. 1 Bamber B. 1
Whitby T. v Vauxhall M. POSTPONED
Worksop T. v Accrington S. POSTPONED
Revised table here
AROUND THE UNIBOND
The Hyde site reports that the our New Year's Day opponents have put in seven day's notice of approach to Stalybridge for defender Dominic Crookes, who scored against Alty last season at the Bower Fold. Steve Oleksewycz, who played against Alty for Frickley recently, has joined Worksop Town. Oleksewycz, who was on loan at Frickley from Halifax Town, has joined the Tigers for a month, with a view to a permanent signing, which the Frickley site reports may be a "five figure fee". Gateshead keeper Adrian Swan has been dismissed by the club; this follows a sending-off against Barrow recently.
---
28 December 2001
BISHOPS' MANAGER RESIGNS
Tony Lee surprisingly resigned as manager of Bishop Auckland on Boxing Day and is stepping down to the UniBond First Division to manage Spennymoor United instead. Lee, who had eight years at the Bishops, was shortlisted for the Altrincham manager's post after Mark Ward's dismissal earlier this year. The Bishops will be managed by Tony Boylan for tomorrow's game. It is thought locally that some of the Bishops' players may follow Lee to Spennymoor. The Moors now have a benefactor whose financial backing for the struggling club is thought to have influenced Lee to switch clubs.
BURSCOUGH NET £20,000
Burscough's teenage striker Lee McEvilly, who was sent off in the match against Altrincham this season, has joined Rochdale for a fee in the region of £20,000. Other moves are:
Steve Aspinall (Bamber Bridge to Runcorn FC Halton)
Phil Brignall (Hucknall T. to Eastwood T.)
Kevin Leadbeater (Southport to Hyde Utd on loan)
Ben Obong (Southport to Hyde Utd)
CHESTER DERBY?
Whether through our promotion or their relegation, Altrincham could well have another Cheshire derby fixture next season- against Chester City. On Boxing Day, Chester lost again, 3-1 at Northwich, and their manager, Steve Mungall, was sacked afterwards. In fact, against a Vics' side captained by former Robins' skipper Gary Talbot, Chester had been the better side up to the hour mark but had gone behind when the England semi-pro keeper Wayne Brown mis-kicked when well out of goal. Vics' Mark Devlin put the loose ball into the unguarded net from 35 yards. Chester remain second bottom of the Conference and former Robin, Graham Barrow is, once more, being tipped as a candidate to take over their reins.
---
27 December 2001
NEXT GAME
Altrincham will be hoping to play only their fourth league game since October when they travel to County Durham for the match at Bishop Auckland on Saturday. In fact, Altrincham have not won a league match since 30 October! They now trail Burton by 18 points in the league table, but Alty have seven games in hand.
BAMBER BRIDGE
Andy Moran has left the Brig for League of Wales side Rhyl and Steve Aspinall has moved to Runcorn.
---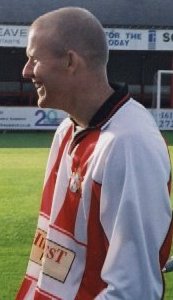 26 December 2001
Boxing Day: ALTY GAME -and Christmas Draw- OFF
Altrincham's game was called off due to a frozen pitch. Altrincham now have seven fixtures to be re-arranged. The Christmas Draw, due to be held today, has been deferred to 5 January, 2002, after the Emley fixture at Moss Lane. Today's results were:
ALTRINCHAM v Hyde Utd POSTPONED
Bamber B. 0 Accrington S. 1
Barrow 0 Lancaster C. 0
Blyth S. 2 Gateshead 1
Burton A. 3 Bradford PA 0
Colwyn B. 2 Burscough 1
Droylsden v Runcorn FC Halton POSTPONED
Emley 2 Frickley A. 1
Marine 1 Vauxhall M. 1
Whitby T. v Bishop A. POSTPONED
Worksop T. v Gainsborough T. POSTPONED
Click League Table button, above, for updated standings.
CENTENARIANS
Pictured above is centre-back Mark Maddox, Altrincham's most senior player as regards first-team appearances for the Club. There are four current players with more than 100 Alty appearances to their names and their total first-team appearances, to date, are as follows:
168 (+10 as sub.) Mark Maddox (aged 28, joined Alty in 1996 but left briefly for Barrow in 1998. He has scored 5 goals for Altrincham)
143 Stuart Coburn (aged 26, scored 1 goal)
123 (+16) Jason Gallagher (aged 29, scored 8 goals)
113 (+4) Steve Hawes (aged 23, scored 9 goals)

All of the above have some way to go to match John Davison's all-time record of 473 (+5) league appearances and 672 (+5) games in all competitions for Altrincham. John is currently manager of our Unibond rivals, Burscough.
---
25 December 2001
ELLENDER
Scarborough have settled out of court with Boston United over the money owed for the transfer of ex-Robins' centre-back, Paul Ellender. Scarborough had threatened Boston with a winding-up order.
---
24 December 2001
GATES
Please click the Attendance Grid button for updated attendance data on all of the UniBond Premier clubs; Alty's average league home crowd is now 711.
NEXT GAME
| | | |
| --- | --- | --- |
| Tuesday, 26 December 2001 | HYDE UNITED | UniBond Premier League, HOME, at 7.45p.m. |
For this game Hyde will be without Chris Young, who was briefly once at Moss Lane. He is suspended for two games after amassing ten cautions. Another ex-Robin now at Ewen Fields is the former Stockport junior striker, Lee Evans, who signed last week after playing for Alty Reserves. Click the Through the Years button, above, for Alty's Boxing Day record.
---
23 December 2001
RESERVES' PROGRESS
The Reserves had a win and a defeat last week and rose to eleventh in the table. For Danny Claffey's match report of last Friday's game at Morecambe and more Reserves' news, please click here.
ALTRINCHAM 2 DROYLSDEN 2
Above: One of Alan Johnson's pictures from yesterday's game. For more of Alan's photos, click here.
The match report is here
Click the League Line-Ups, League Table, League Grid and Statistics buttons for other updated information.
SAFE COLUMN
The S.A.F.E. (Alty Supporters' Association) column which appears every week in SAM had to be cut in size by the newspaper's editor this week owing to a smaller newspaper being produced for Christmas. The full submitted text is here. I should like to record my thanks to Mike Crockett of SAM for his weekly coverage of Altrincham during 2001.
OLD BOYS
Despite a reported transfer last week to Tamworth, Tony Hemmings played and scored for Ilkeston yesterday. Chris Timons was also in the Ilkeston side. Mark Quayle, whose wages are being paid by supporters, played but did not score as his Telford side thrashed Dagenham.
CITY COMPLAIN
Lancaster City are complaining at being fined £500 for fielding a very weak team in the UniBond Shield, a game they lost 11-0 to Stalybridge. Their defence is that other sides field weaker teams in Cup games and don't get punished.
---
22 December 2001
Saturday, 22 December
Accrington S. 3 Burton A. 3
Vauxhall M. 2 Blyth S. 2
Bishop Auckland v Marine POSTPONED
Bradford PA v Bamber B. POSTPONED
Burscough v Worksop T. POSTPONED
Gateshead v Hucknall T. POSTPONED
Lancaster C. v Emley POSTPONED
Runcorn FC Halton v Whitby T. POSTPONED
ALTY ON T.V.
Altrincham's past FA Cup exploits will be included in a BBC-1 programme about the competition, "Walking with Giant Killers", to be shown on Friday, 4th January, at 10.35pm.
SAFE MEETING TODAY
SAFE (The Alty Supporters' Association) held a members' meeting and E.G.M. today to approve a new constitution. More on this later. You can join SAFE by using this application form.
NEXT GAME
| | | |
| --- | --- | --- |
| Wednesday, 26 December 2001 | BISHOP AUCKLAND | UniBond Premier League, AWAY, 3pm |
HEMMINGS MOVES AGAIN
Tony Hemmings, who had a brief spell at Moss Lane, is still commanding significant transfer fees at the age of 34. He has now moved from Ilkeston Town to Tamworth for £7,500. Recent UniBond Premier moves include:
Julian Anger (Tamworth to Gainsborough Trinity [on loan])
Scott Bairstow (Bradford P.A. to Farsley Celtic)
Brett McNamara (Gainsborough Trinity to Bedford T.)
Simon Watson (Gainsborough Trinity to Farsley Celtic)
---
21 December 2001
FRIDAY'S RESULTS
Friday 21st
Gainsborough T. 2 Frickley A. 2
Hyde Utd 1 Barrow 2
Click the League Table button, (above), for updated positions.

IT'S GAINSBOROUGH!- THE UNIBOND CUP DRAWS
Ties are on Saturday 26 January 2002.
President's Cup
ALTRINCHAM v Gainsborough T.
Leek T. v Guiseley/Bradford PA
Burscough v Ashton U./Droylsden
Barrow/Workington v Blyth/Gateshead/Spennymoor/B. Auckland
Challenge Cup
Kendal T. v Trafford
Guiseley/Bradford PA v Blyth/Spennymoor
Accrington S. v Emley
Matlock T. v N. Ferriby U.
Chairman's Cup
Gateshead/Spennymoor/B. Auckland v Hucknall T.
Droylsden/Ashton U. v Chorley
Vauxhall M. v Worksop T.
Farsley C./Whitby T./Harrogate T. v Barrow/Bamber Bridge/Workington
EVANS MOVES
Lee Evans, who played for Alty Reserves this Wednesday, has joined Hyde United, whom we meet on Boxing Day. Evans, a former Stockport County player, is also a Welsh non-league international.
---
20 December 2001
CHRISTMAS OPPONENTS & OTHER UNIBOND NEWS
The coach travel details for the matches at Bishop Auckland (29 Dec.) and at Hyde (1 Jan.) can be found by clicking the Away Travel button, above. Hyde United, who we meet both on Boxing and New Year's Days have signed Leigh RMI's David Felgate on loan. The 41-year-old keeper is hoping to see first-team action at Hyde. Meanwhile, Tony Lee, manager of Bishop Auckland who are our opponents on 29 December, has apologised to fans for his team's performance in losing 3-0 at Vauxhall Motors last weekend. Bishop's Coach, Colin Richardson, has left the club after an unspecified argument. Frickley Athletic are planning to move to a new stadium as part of the ambitious Frickley Colliery Reclamation Scheme, which will create a Country Park and sporting facilities for the local community. Frickley's keeper Mark Wilkinson has signed for Stocksbridge Park Steels. He played for Frickley in the FA Cup tie against Altrincham this season.
FURLONG OUT "FOR WEEKS"
According to SAM, Carl Furlong will be out of action "for a few weeks" after being carried off at Burton last weekend. He had only recently returned from a 10-week injury lay-off.
OLD BOYS
Former Robins' striker Mark Quayle has rejoined Telford United from Morecambe.
RESERVES WIN
Altrincham Reserves won 1-0 last night against Burscough. There is a match report in the Reserves' section of this site.
ATTENDANCES
For the updated UniBond attendance chart, please click the Attendance Grid button above.
CAROLS AND S.A.F.E.
The Club's Christmas Carol Concert, organised by assistant chaplain, Rev. Jeremy Tear and featuring music from the Salvation Army, takes place tonight, Thursday 20th December. It starts at 7-30pm in the Noel White Suite at Moss Lane and everyone is welcome.
SAFE (The Alty Supporters' Association) members are reminded that there is a meeting (EGM) at 12-30pm on Saturday 22nd December, before the Droylsden home game. This will discuss a proposed new constitution for SAFE so, if you are a member, please do come and have your say. If you are not a member, you can join SAFE by using the application form.
---
19 December 2001
ALTRINCHAM 2 COLWYN BAY 1
The match report is here.
See also yesterday's (18 December) news below. Barrow last night joined Alty in qualifying for the President's Cup.
Pictured right, by Alan Johnson, is David Wills in action against the Bay. For more (and bigger) pictures, please visit Alan's site.
---
18 December 2001
ALTRINCHAM 2 COLWYN BAY 1
Alty's line up is here and updated player statistics are here. Ashton Utd, Gainsborough and Leek Town are amongst those who have also already qualified for the President's Cup competition. Trafford go into the Challenge Cup draw whilst Vauxhall qualify for the Chairman's Cup. The draws for the knock-out stages of the UniBond Challenge, President's and Chairman's cups are on GMR this Friday between 8.05pm and 8.45pm.
| | | | | | | | | |
| --- | --- | --- | --- | --- | --- | --- | --- | --- |
| | UCC 2001-02 | | | | | | | |
| | Group 5 | | | | | | | |
| | as at 18 December | | | | | | | |
| POS | TEAM | P | W | D | L | F | A | PTS |
| 1 | Trafford | 5 | 4 | 0 | 1 | 7 | 3 | 12 |
| 2 | Altrincham | 5 | 3 | 0 | 2 | 6 | 5 | 9 |
| 3 | Vauxhall Motors | 5 | 2 | 2 | 1 | 9 | 8 | 8 |
| 4 | Witton Albion | 5 | 2 | 1 | 2 | 7 | 5 | 7 |
| 5 | Runcorn FC Halton | 5 | 0 | 3 | 2 | 7 | 11 | 3 |
| 6 | Colwyn Bay | 5 | 0 | 2 | 3 | 6 | 10 | 2 |
According to the Unibond Press Release, the following teams have already qualified for the UniBond Challenge Cup knock-out stage: Accrington, Emley, Kendal Town, Matlock Town, N. Ferriby Utd and Trafford.
GRAHAM'S HONOUR
Altrincham Coach and Club Secretary, Graham Heathcote, has been rewarded for his almost 30 years of service to the Club by being named a Freeman of Altrincham. The ceremony will take place on 12 January. In today's Daily Telegraph Graham says "People tell me that Freemen can walk their sheep through the town". He goes on, "In more trying times I used to go round the town putting the match posters up. You name it, I've done it apart from being on the board of directors". Graham is currently enjoying a successful testimonial year at the Club.
NEW ALTY SIGNING
Altrincham have signed Steven Spencer from Leigh RMI on non-contract terms. He has also played this season as a trialist defender for Doncaster Rovers Reserves. Other UniBond moves include:
Bobby Stevenson (N. Ferriby to Burton A.)
Tim Edwards (TNS to Colwyn Bay)
Chris Howe (Rossington Main to Frickley A.)
Rory Prendergast (Emley to Frickley A.)
Julian Anger and James Kearns (Tamworth to Gainsborough T.)
Anthony Bowden (Accrington S. to Marine)
Lee Mullin (Tranmere R. to Marine)
LANCASTER FINED
Lancaster City have been fined £500 by the UniBond League for fielding a weak side in the Swales Shield match in October which they lost 11-0 to Stalybridge Celtic.
SCORERS
The UniBond Premier's leading scorers in the League are:
Andy Whittaker (Lancaster C.) 22
Lee McEvilly (Burscough) 15
Lutel James (Accrington S.) 14
Alty's leading scorer is Rod Thornley with 10 league goals; he also has 12 cup goals. Click the Statistics button for more details.
---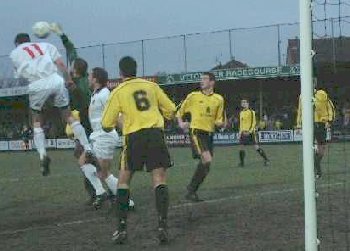 17 December 2001

BURTON ALBION 1 ALTRINCHAM 1
Match report here.
Seen right, Danny Murphy challenges the Burton keeper, Matt Duke, for the ball in a photo reproduced courtesy of Alan Johnson, on whose site there are more pictures of the game.
NEXT GAME
Colwyn Bay, whom we play on Tuesday, report on their website that leading scorer James McIlvogue has decided to stay with the Club despite being offered an attractive deal by League of Wales side, Aberystwyth Town.
Click the Through the Years button above for details of past Alty games on 18 December.
---
16 December 2001
YOUTH SIDE WIN
Altrincham Youth missed two penalties yet still overcame Rochdalians today in the NW Youth Alliance Open cup. For a match report and amended fixtures, click here.
BURTON ALBION 1 ALTRINCHAM 1
Match report here.
RESERVES UPDATE
The revised Reserves' table and latest results are here.
OLD BOYS
In the Conference, Gary Talbot returned to the Vics's side yesterday after illness and Dean Greygoose was restored as Stevenage's goalkeeper, whilst transfer-listed Ged Kielty was on the bench for Leigh. In the UniBond the following ex-Robins were amongst those in action - James Glendenning, Steve Porter and Adam Farley (all for Droylsden), Stu Scheuber at right-back (for Colwyn Bay), Terry Bowker (Bamber Bridge) and Leroy Chambers (Bradford PA). Chris Timons seems often to be just a sub for Ilkeston these days, as he was yesterday. In the League, Kevin Ellison played for Stockport and Danny Adams is described in the Pink as having "battled like a prizefighter" for Macclesfield. Scott Wilson netted for Radcliffe Borough and Sammy Ayorinde played for Stalybridge Celtic, whilst Jamie Taylor scored twice for Ramsbottom. Ricky Harris scored Rossendale's winner and Nathan Comley-Excell hit four for his Sunday-league side but Otis Thomas got five for his!
PRESS REPORTS
Mark Harris appeals to the fans who saw us in the FA Cup last week to keep coming to Moss Lane for the less glamorous games. He praised the "brilliant hardcore of fans" but said that "it is now time that the town helped us". The same paper reports Bernard Taylor's praise for Neil Ryan after his midweek debut. In the Pink, a letter is published praising Graham Heathcote.
HOLMES MOVES
Carl Holmes, the Droylsden captain, has moved to Worksop Town and played for the Tigers yesterday.
---
15 December 2001
BURTON ALBION 1 ALTRINCHAM 1
For today's Alty team, click the League Line-Ups button above; click the League Table, League Grid and Statistics buttons for other updates.

The other games are:
Bamber Bridge 2 Burscough 3
Barrow 4 Gateshead 1
Bradford PA 3 Hyde United 1
Droylsden 1 Gainsborough Trinity 2
Frickley Athletic 1 Lancaster City 4
Hucknall Town 1 Accrington Stanley 3
Marine 2 Emley 0
Vauxhall Motors 3 Bishop Auckland 0
Whitby Town 1 Colwyn Bay 0
Worksop Town 3 Blyth Spartans 0
TROPHY OPPONENTS WIN GROUP
Our next FA Trophy opponents, North Ferriby United, have won their Group in the UniBond Cup. The other four known qualifiers for the Challenge Cup knock-out stages are Accrington Stanley, Kendal Town, Hucknall Town and Trafford, who won Group 5 in which Altrincham played. Coincidentally, North Ferriby entertain Trafford today so, as Graham Heathcote is a Vice-President of Trafford, we may pick up some hints as to how play against the Humberside team.
NARROW VOTE
Bishop Auckland shareholders have voted to allow the sale of the Club's Kingsway ground, on condition that an alternative venue has been arranged before the sell-off. The vote was carried by 29,450 votes to nil!
---
14 December 2001
QUAYLE MOVES
Mark Quayle, who made a big impression in his short spell at Alty last season, has joined Telford United after Telford fans raised £4,500 in their "Buy a Player" campaign. Quayle has signed on a monthly basis, following a successful loan period at Telford earlier this season whilst on loan from Morecambe.
GAZZA HELPS OUT
Paul Gascoigne has pledged £10,000 to financially troubled UniBond side, Gateshead. Barrow have generously agreed to arrange a crowd collection to help out the Tyneside club when they play each other tomorrow.
TEAMS TOMORROW
According to the Evening News, both Chris Adams and Kevin Hulme are out of tomorrow's clash at Burton, but Carl Furlong and Paul Taylor are available despite not completing last Tuesday's game. Ian Craney is also fit after a bout of flu. Bernard Taylor is reported to be considering including new signing Neil Ryan (see below) in the squad. For their part, Burton midfielder Neil Glasser "was seeking specialist treatment today to try to find a speedy cure for a back problem that prevented him from taking part in last night's training session", according to the informative Burton Mail website. Jason Kavanagh is the only other Brewers' doubt after midfielder Steve Evans and striker Sean Farrell came through their midweek match. Manager Nigel Clough said, "It's probably our biggest game of the season as a result of losing at Emley... If we lose tomorrow, with both Lancaster and Altrincham then have games in hand to overtake us".
SEADOGS LOSE POINTS
It looks increasingly as if Scarborough will be in the UniBond Premier next season after a three-point deduction for fielding an unregistered player. Goalkeeper Mark Smith was played by the Seadogs though he was still registered at Morecambe.
NEXT LEAGUE GAME
| | | |
| --- | --- | --- |
| Saturday, 22 December 2001 | DROYLSDEN | UniBond Premier League, HOME, 3pm |
Last Saturday, Droylsden, our opponents on 22 December, dropped their midfielder and captain Carl Holmes, a player who has been openly admired by the Altrincham management in the past. The Bloods went on to defeat Vauxhall 3-2 and record their first win in thirteen games. Leaving the Butcher's Arms are Darren Esdaille, Leon Mills and ex-Flixton and Leigh RMI striker Troy Hayder, who has signed for Rossendale United.
---
FOR EARLIER NEWS, CLICK HERE
---