---
Home Page: Altrincham Football Club News Archive, 7 to 26 February 2002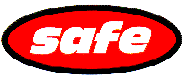 ---
26 February, 2002
MATCH OFF
Tonight's Alty match with Worksop is OFF. Not only is the pitch waterlogged but there has been some damage to the stand at Moss Lane caused by strong winds. This damage is not thought to be major but it requires an inspection to ensure that everything is safe. Both of tonight's other games are also off, namely Lancaster C. v Gateshead and Whitby T. v Blyth S..
---
25 February, 2002
MONDAY RESULT
Gainsborough 1 Emley 2
Revised table.

NEW NEW DATE
Alty's away match at Bamber Bridge has been rescheduled for Wednesday 3rd April, at 7.45pm, and not Tuesday 30 April as previously announced.
BLYTH SPARTANS 0 ALTRINCHAM 3
Match report here
ATTENDANCES
Click on the "Attendance Grid" button for the updated chart of UniBond attendances this season.
---
24 February, 2002
YOUTH MATCH OFF
Alty Youth's scheduled game with Morecambe at home today has been postponed. For the revised Youth fixtures, click here.
BLYTH SPARTANS 0 ALTRINCHAM 3
Match report here
The revised league table is here. For other updates click the League Line-Ups, League Grid and Statistics buttons above.
The NLP has two pictures of the game; one shows Alan Johnson and a number of other well-known Alty fans after the opening goal. The above picture, courtesy of Alan Johnson himself, captures celebrations after the second goal. More pictures of the game are on Alan's website.
OLD BOYS
Chris Timons conceded two penalties yesterday playing for Ilkeston in a 2-2 draw. Dean Gregoose was restored to the Stevenage goal as they won in the Trophy. Tony Hemmings scored twice for Tamworth and Stuart Terry netted for Connahs Quay in Wales. Stuart Scheuber (Colwyn Bay) and Leroy Chambers (Frickley) played yesterday for their current sides. Danny Adams, carrying a thigh injury, was substituted in Macclesfield's win on Friday night.
UNIBOND NEWS
The Accrington Stanley site reports that Mark Brennan has returned just weeks after leaving to take up the assistant manager role at NW Counties club St Helens. His move back to the Crown Ground follows the resignation of St Helens Manager Jimmy McBride. Bishop Auckland lost their fundraising friendly with Newcastle 0-8 but drew a crowd of about 1,000. Newcastle's team included Carl Cort, Marcelino, Shola Ameobi, and Wayne Quinn. Also on the fundraising front, our former Conference rivals Kettering Town report that their players have made a voluntary contribution towards a deficit of £75,000 in the club's budget.
TRANSFERS
Neil Austin (Barnsley to Gateshead on loan)
Darren Wright (Chester C. to Droylsden)
Soner Zumrutel (ex Alty, Bedford T. to Hampton & Richmond B.) Soner has already also been at Kettering Town, Frickley Athletic, Dover Athletic this season.
---
23 February, 2002
SATURDAY RESULTS
Accrington S. 1 Frickley A. 1
Bamber Bridge 1 Gainsborough T. 0
Blyth Sp. 0 ALTRINCHAM 3
Burscough 0 Bradford PA 2
Droylsden v Bishop Auckland POSTPONED
Emley 1 Runcorn FC Halton 0
Hucknall T. 2 Barrow 1
Lancaster C. 2 Colwyn Bay 1
Vauxhall M. 0 Whitby T. 2
Worksop T. 2 Marine 1
---
22 February, 2002
RESERVES OFF
Tonight's Alty Reserves' game at Colwyn Bay has been post
---
21 February, 2002
JASON OUT FOR REST OF SEASON- AND CARL BANNED
In an interview in SAM, Bernard Taylor indicates that Jason Gallagher "is likely" to be out of action for the rest of the season following his recent hernia operation. Although Jason made a comeback and even started the game against Bamber Bridge on 12 February, he had to go off. Striker Carl Furlong has been banned for four matches following his second sending off of the season at Barrow. Danny Murphy and Kevin Hulme are also still suffering with injuries. Bernard says that Danny "can only manage half a game" at present, as he awaits a hernia operation.
TOON HELP OUT NON-LEAGUE CLUBS
Newcastle United are taking a team to play our fellow UniBond club Bishop Auckland to raise much needed funds for the Bishops. This follows the loan of a Toon club coach to another north-eastern club, Tow Law Town, for their recent Vase match and the involvement of Newcastle's Alan Shearer in fundraising events for another UniBond side, Gateshead.
CHESHIRE NEWS
Conference ground inspectors have inspected Witton Albion's ground and required the installation of a new turnstile, the tarmacing of a cinder track and improvements to the dugouts and floodlights- this is to be done by 1 April 2002. If this work is completed permission will be given for an increase in capacity from 2,040 to 4,000 to facilitate Northwich Vics planned groundshare with Witton next season. Elsewhere in (what was) Cheshire, Runcorn FC Halton manager Liam Watson has signed a new contract.
---
20 February, 2002
RESERVES OFF
Tonight's Reserves' home game against Barrow has been postponed.
ANDY GREEN
A profile of striker Andy Green, by Terry Rowley and Bill Coop, has been added to the Alty Legends page of this site.
UNIBOND BLANK
Tonight's only scheduled UniBond Premier match between Gateshead and Bradford has been postponed.
LEROY STRIKES
Ex-Alty front-man Leroy Chambers scored twice last night in Frickley's 4-0 victory over Worksop Town.
---
19 February, 2002
BAMBER BRIDGE MATCH OFF
Altrincham's away match at Bamber Bridge, scheduled for tonight (Tuesday) at 7:45, has been called off due to a waterlogged pitch. Tonight's other results saw victories for the lower placed sides involved:
Blyth S. 1 Hucknall T. 2
Frickley A. 4 Worksop T. 0
Marine v Runcorn FC Halton POSTPONED
Whitby T. v Emley POSTPONED
Revised table here.
HALF-WAY
Every season the UniBond League produces a half-way table showing all the clubs' records after they have each played 22 games. Over the last seven seasons, the leaders in this table have gone on to win the UniBond title every year except one. The exception was 1998/99 when Alty were third after half of their games but still lifted the title. This season, Lancaster City lead Burton, with Altrincham again lying third. Will history repeat itself?
FAIR PLAY
In the UniBond Fair Play League, as of last week, Alty had risen to sixth in the fair play table, with 32 yellows and 3 reds in UniBond competitions this season. Since then Carl Furlong has been sent off. For Alty's full, current disciplinary record in all competitions this season, click the Statistics button at the top of the page.
AROUND THE UNIBOND
Hyde's Simon Yeo is to tour Vietnam and Indonesia with Middlesex Wanderers this summer. The Wanderers will play each country's national XI. Gateshead keeper Adrian Swan has been released for the second time this season.
---
18 February, 2002
BISHOP AUCKLAND TO MOVE
Our trip to Bishop Auckland's Kingsway ground on 13 March will be our last visit to that venue as Bishops have announced that they will be leaving there at the end of this season. After 115 years at Kingsway they are building a new ground, two miles away, on the town's outskirts. Whilst the new ground is being built the Bishops may play at West Auckland Town, Crook Town, Shildon or Spennymoor United. Bishops have also signed Paul Proudlock, who recently resigned as manager of Gateshead as well as defender Thomas Dunn from Peterlee, John Ellenden from Darlington and Tony Skedd from Spennymoor. Other transfers:
Craig Gaunt (Moor Green to Hucknall Town)
Steven Quinn (Woodley Sports to Droylsden)
Dave McCarthy (Hucknall T. to Worksop T.)
ATTENDANCES
Please click on the Attendance Grid button above for the latest UniBond Premier crowd statistics, compiled by Terry Rowley.
ALTRINCHAM 1 MARINE 0
The match report is here.
Pictured above by Alan Johnson in yesterday's game is Danny Murphy, watched by Mark Sertori. For more of Alan's pictures, click here.
---
17 February, 2002
YOUTHS REACH FINAL
Alty Youth today beat Prestwich Heys 3-1 at Moss Lane in the semi-final of the NW Youth Alliance Premier Cup but they did it the hard way. See the Youth Page for a match report.
NLP ON ALTY
In an article in today's Non-League Paper on Mark Harris's resignation as Chairman of Altrincham there is speculation that "players such as Rod Thornley, Mark Sertori, Stuart Coburn and Kevin Hulme could see their future away from Moss Lane. Some contracts will not be renewed and the jobs of both [Bernard] Taylor and Graham Heathcote could be redefined". Mark Harris is quoted as saying that "it's absolutely up to Bernard how the changes [to reduce the wage bill] are carried out. I would never dictate". Mark goes onto say "The people on the Board now are money people, able to put their money where their mouth is. I thnk it is unfair of me to sit in the chairman's seat unable to put money in when others are".
OLD BOYS
Sammy Ayorinde hit a hat-trick for Stalybridge who beat Nuneaton 4-2 after trailing 2-1 with 11 minutes left. Also in the Conference, Mike Twiss scored in Leigh's 3-3 draw, a game in which Ged Kielty also played. Dean Greygoose was blamed for Forest Green's goal but his Stevenage side won 4-1. Gary Talbot was suspended so missed the Vics' win at Hayes. In the NW Counties, Stuart Walker netted for Kidsgrove. Chris Timons played for Ilkeston and Tony Hemmings turned out for Tamworth. In the League, Danny Adams played in Macc's win yesterday. In our Division, Leroy Chambers (Frickley) as well as Adam Farley, Steve Porter and James Glendenning (all Droylsden) turned out for their clubs yesterday.
RESERVES
The Reserves' Page has been updated with results and the uptodate league table.
SIGNING
Former Doncaster Rovers man Ian Duerden has joined Hucknall Town from Barrow. Yesterday he scored on his debut. Duerden lives nearer to Hucknall than Barrow and had also become a fringe player at Holker Street.
---
16 February, 2002
CHAIRMAN'S STATEMENT
As reported earlier, Mark Harris is relinquishing his role as Chairman of Altrincham F.C.. Mark's resignation statement, reproduced in full from today's Robins' Review, courtesy of the editors Grahame and Terry Rowley, is here.
ALTRINCHAM 1 MARINE 0
The match report is here.
Alty are now third in the updated table; also updated are the Statistics, League Line-Ups and Fixture Grid- click the appropriate buttons above. Other scores:
Barrow 0 Hyde U. 0
Bishop Auckland 0 Hucknall T. 2
Bradford PA 1 Worksop T. 5
Burton A. 4 Blyth S. 0
Frickley A. 1 Vauxhall M. 0
Gateshead 2 Droylsden 0
Lancaster C. 5 Gainsborough T. 2
Runcorn FC Halton 1 Accrington S. 0
Whitby T. 1 Burscough 3
PRIZE DRAW
If anyone sold a winning ticket in the SAFE Prize Draw and wants to collect a prize on behalf of the purchaser, please contact Alan Brotherton in the SAFE hut at today's game, or via the Club.
---
15 February, 2002
UNIBOND TRANSFERS AND NEWS
Ayad Al-Rawi (Quorn to Gateshead)
Thomas Dunn (Peterlee Newtown to Bishop Auckland)
Wayne Fairclough (Hucknall T. to Matlock T.)
Michael Knowles (Morecambe to Bamber Bridge on loan)

Frickley's Rory Prendergast has now decided to stay at the club, having threatened to join Ossett Town. At Emley there are rumours that the Wakefield Wildcats want to raise the hiring fee to Emley for the Belle Vue ground by 80%, fuelling ideas of a possible move to Dewsbury's rugby ground. Neighbours Bradford P.A. also have ground trouble, as the local council are limiting the club's access for to the Horsfall Stadium for training purposes. Bradford are considering a move to join the Bradford Bulls' at Odsal Stadium after it has been converted to a 25,000 all-seater stadium. Leek Town director Paul Ogden has been reappointed the club's manager following the departure of joint managers Karl Wilcox and Mark Bromley. Leek are currently unable to pay their players after no home league games for two months.
HYDE CHASE BOMBER
Ex-Alty midfielder Ricky Harris is now being pursued by Hyde United, having just moved from Rossendale Utd to Mossley. Hyde manager Dave Nolan rates Ricky highly and wants to bring him back to Ewen Fields, where he played before joining Altrincham.
FOSTER CHANGES MIND
John Foster, the former Manchester City defender (and Alty trialist), has decided to join ex-Robin, Ally Pickering, at Mossley. Foster had been reported to have already signed for Kidsgrove after leaving Hyde United, where he had been captain.
---
14 February, 2002
UNIBOND MOVES
Frickley's site reports that the club is expected to make three new signings as it fights relegation fears. The new players are Danny Taylor, Matt Russell and Gary Reece, all due to sign by Saturday after playing in a recent friendly. Taylor is a young goalkeeper who was at Bradford City before moving to Bradford P.A. and Alfreton Town. Russell is a right winger/full-back from Scarborough and Pickering Town. Reece is a right-back who would be a loan-signing from Barnsley. Gateshead report that Steve Bowey has signed for Queen of the South.
---
13 February, 2002
ALTY CHAIRMAN TO LEAVE POST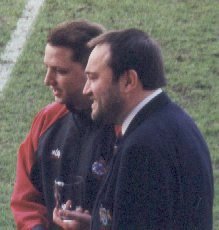 Mark Harris (seen left with Steve Finney) has confirmed to SAM that he is to resign as Altrincham's Chairman in May and that he is already starting to hand over duties to fellow Directors. No new Chairman has been named. "I feel that I have taken the club as far as I can", Mark told SAM. "When I took over, my objectives were to steady the ship and to create a sound infrastructure on which the future of the club can be built. That is largely done; we now have a board of directors with the will and energy to take the club forward, so I am merely handing the baton on." He also indicated that he needs more time to devote to his non-football work and to his family.
BOMBER MOVES
32-year-old former Alty favourite Ricky Harris has moved from Rossendale United (UniBond 1st) to Mossley (NW Counties 1st), where another ex-Robin (Ally Pickering) is manager.
ALTRINCHAM 4 BAMBER BRIDGE 3
The match report is here
Other results:
Droylsden 3 Hucknall T. 0
Vauxhall M. 4 Lancaster C. 1
Worksop T. 4 Gainsborough T. 0
CONQUERORS CONQUERED
North Ferriby Utd, who knocked Alty out of the Trophy, lost their 4th Round replay tonight 4-5 on penalties at Braintree after the game itself ended 2-2.
---
12 February, 2002
AROUND THE UNIBOND
Tonight's four games in the UniBond Premier should produce the 1,000th goal of the season as 995 have been scored so far. The Frickley site reports that former Northwich and Emley player Rory Prendergast "could be leaving the club after having a disagreement with Gary Marrow and subsequently going to play for Goole". Frickley's winger Pete Myers may be out for a fortnight after being mugged for his mobile phone and damaging his hand. The Hyde site reports that defender and ex-captain John Foster, who had trials at Alty a couple of seasons ago, has joined a number of ex-Tigers - Steve Tobin, Stuart Walker, Bradley Sandeman, Paul Robertson and Richard Acton - at Kidsgrove Athletic in the NW Counties league. (The above list includes a few ex-Alty players too!). Gates at Blyth Spartans are up by c.100 on the same period last year. This is attributed to "improved security on the pass gate and publicity generated during the summer". A new financial problem has surfaced, however, as turnover has exceeded the £52,000 threshold for VAT exemption and Blyth will now have to pay 17.5% VAT on admission monies. Although it can be reclaimed through purchases made by the Club, "the football club doesn't buy very much" so will find it difficult to recover the tax. Blyth reckon they "need an income of approximately £100,000 per year to run the club". Their wages amount to £2,000 per week for 33 weeks of the year.
---
11 February, 2002
ATTENDANCES
Please click the Attendance Grid button for the updated UniBond Premier attendance chart for this season.
AWAY TRAVEL
The supporters' coach times and away travel details for the games at Bamber Bridge (19th) and Blyth Spartans (23rd) can be found by clicking the Away Travel button at the top of this page.
THORNLEY OUT
Rod Thornley will miss tomorrow's match against Bamber Bridge because he will be on international duty as masseur to the England team which plays the Netherlands in Amsterdam this week. Click on the Through the Years button, above, for details of previous games on this date.

Bamber Bridge chairman David Spencer says that his club is "not in receivership but is looking at going into voluntary administration and being managed by a professional body". The club has £300,000 debts. A licensed insolvency practitioner is to meet Spencer this week. Bamber have just signed Michael Knowles on loan from Morecambe. Other UniBond moves include:
Anthony Lee (Bishop Auckland to Spennymoor Utd- following his father, manager Tony Lee).
John Ellenden (Darlington to B. Auckland)
Andrew Lee (Bradford C. to Emley)
Neil Bray (Long Eaton to Gainsborough T.)
Andrew Pimplott (Prescot Cables to Marine)
Tom Taylor (Liverpool to Marine)
MADEW, THE HERO
When Altrincham Reserves arrived at Leigh on Saturday, they found they had no goalkeeper. Midfielder Stuart Madew volunteered to keep goal and put in a fine performance in a 2-2 draw. For Danny Claffey's match report, click here.
UNITED AT MOSS LANE
Following the example of Manchester United Reserves, the Reds' Academy side will play two games at Moss Lane. Admission will be £2 (£1 for concessionaries/children):
20 Feb. at 7.15pm; v Stoke City Academy
20 Mar. at 7.15pm; v Everton Academy
GATESHEAD
Gateshead's Steve Bowey has given the club 14 days notice to pay his wages or else he will leave the club, with Morecambe and Chester City both hovering for his signature. However, Richie Alderson who was recently released by the Heed has returned to the International Stadium.
BARROW 2 ALTRINCHAM 2
A match report is here
Pictured right, by Alan Johnson, Mark Maddox and Lee Ellison face each other in Saturday's game at Barrow. Click here for more of Alan's pictures.
MONDAY'S GAMES
Emley v Gateshead POSTPONED
Hyde Utd 2 Marine 2
Revised table here.
---
10 February, 2002
RESERVES DRAW
Without a goalkeeper in their team, Alty Reserves played well to draw 2-2 at Leigh yesterday. A match report from Danny Claffey and the revised Lancashire League table, courtesy of Bob Allan, are accessible here.
MORE ON FINANCES
In today's Pink, confirmation is given that Alty Manager Bernard Taylor must either get rid "up to three" players or reduce the wages paid to the existing playing staff. Chairman Mark Harris says, "In a nutshell, we're running adrift and we've somehow got to get ourselves back afloat". Mark addressed the players after Saturday's win over Colwyn Bay to tell them this news. Both Bernard Taylor and Graham Heathcote "realise they, too, could be next in line to suffer the consequences of these cut-backs" says the paper. Bernard responded by saying "I would be prepared to go part-time". Both Bernard and Graham are full-time employees of the Club but Graham doubles up as Club Secretary and Bernard as General Manager.
OLD BOYS
In the Conference, Ged Kielty and Mike Twiss helped Leigh to another win yesterday, with Twiss getting the only goal. Mark Quayle played for Telford and Gary Talbot was on the winning side for the Vics but Dean Greygoose watched from the bench as his Stevenage side lost 1-4 to lowly Woking. Dean's successor in the Alty goal, Lance Key, was the "hero" as Kingstonian drew 1-1 yesterday. Andy Lovelock is back in the Solihull Borough side after a long absence with injury. John Toner scored for TNS but Leroy Chambers was goal-less for Frickley. Terry Bowker again played for Bamber Bridge and in the UniBond First, Jeremy Illingworth figured for Stocksbridge and Darren Emmett scored twice in Trafford's 2-2 draw with Lincoln Utd. Neither Kevin Ellison (Stockport) nor Nicky Daws (Rotherham) figured in their sides' League clash yesterday but Paul Edwards was on the bench for Swindon Town and Danny Adams played for Macclesfield.
---
9 February, 2002
BARROW 2 ALTRINCHAM 2
Click the above buttons for today's updates: League Line-Ups, Statistics, League Table and League Grid. The other results were:
Blyth S. 1 Accrington S. 1
Burscough 1 Bishop Auckland 0
Emley 1 Bradford PA 0
Gainsborough T. 0 Burton A. 1
Gateshead 0 Vauxhall M. 2
Hucknall T. 1 Runcorn FC Halton 2
Marine 4 Frickley A. 0
Whitby T. 1 Bamber Bridge 0
Worksop T. 2 Colwyn Bay 1
PAUL FRANCE
Another of Terry Rowley's profiles of former Altrincham players has been added to the Alty Legends page, here. The subject is 1990s' centre-half and captain, Paul France.
FRIDAY RESULT
Hyde Utd 1 Lancaster C. 1
Updated table.
PHONE-IN
Next Friday (15th) there will be a Non-League Phone-In on the GMR sports programme, which starts at 7pm on 95.1 and 104.6FM. The number is 0161-228-2255.
---
8 February, 2002
GATESHEAD BOSS GOES
Gateshead boss Paul Proudlock has resigned as manager. He is replaced by ex-Middlesbrough player Gary Gill, (aged 37), with player Steve Agnew as his assistant. "Paul was so distressed by our defeat in the semi-final of the Durham Challenge Cup at Billingham on Tuesday night that he walked in the dressing-room on the final whistle and announced to the players that he was quitting", explained chairman John Gibson. Gill was the Gateshead coach under Proudlock.
CARMO
Another profile has been added to the Alty Legends pages; this one is of Mick Carmody, the former Alty captain.
FIRE AT CHEQUERS
The SAM newspaper reports that firemen were called to the disused Chequers nightclub, adjacent to the 20/20 (Hale) End of Alty's Moss Lane ground, last Tuesday afternoon. Two youths were found to have set fire to material in the beer store area but no major damage seems to have resulted.
FRIDAY, 8th FEBRUARY
Hyde Utd v Lancaster C.
HUCKNALL
Hucknall Town have signed 21 year-old goalkeeper Ryan Young from Nuneaton Borough for a "small fee". Young was formerly at Plymouth Argyle. New manager Phil Starbuck has already prompted Hucknall to a fine away win at Accrington and has also signed three other new players Simon Newell, Paul Mitchell and Paul Burke. However, defender Mark Place has left for Frickley Athletic and midfielder Paul Sherlock has gone to Stamford.
---
7 February, 2002
KEEPERS
Terry Rowley's survey of Altrincham's post-war goalkeepers is here.
PRIZE LIST
The list of prizewinners from the S.A.F.E. annual prize draw is here. S.A.F.E. wishes to thank all who took part by either selling or buying tickets, or both.
---
FOR EARLIER NEWS, CLICK HERE
---