Altrincham Football Club News Archive
6 to 22 May 2002.
---
22 May, 2002
IT MAY BE MAY
SAM
has reported that former Manchester City midfielder Andy May is "strongly linked with the soon-to-be vacant head coach position at Altrincham. No official announcement has been made, and the club are refusing to rule anyone in or out of the running for the job. But sources both outside and inside Moss Lane have intimated that only Board approval stands in the way of the appointment being made". 37 year-old May is based in Hale Barns and, as well as 141 league starts for City between 1982 and 1987, he has useful coaching experience both as Assistant Manager at Halifax (till April 1999) and, until July 2001, as Youth Coach at Wigan Athletic. Since then May has been working as one of the network of matchday statisticians employed by the Press Association, in addition to radio commentating.
SIX FRIENDLIES ARRANGED
So far, six pre-season friendlies have been arranged for Altrincham. The opponents will be teams from Manchester United, Tranmere Rovers, Abbey Hey, Village United (Jamaica), Leek Town and Southport. Details are on the
Friendlies Page
.
LEAGUE MOVES FOR TWO EX-ROBINS?
The
Manchester Evening News
reports that Lincoln City, who have just signed Simon Yeo from Hyde, are also looking at ex-Alty striker, Leroy Chambers (right), now at Frickley. Another former Robin who may be moving back to the League is Lee Ellington, who was briefly at Moss Lane in our last Conference season 1999-2000. The 23-goal striker is spending the summer on trial at Wigan Athletic where his cousin, Nathan Ellington already plays. Lee's current club, Gainsborough Trinity, values him at £50,000.
HAWES
The
Manchester Evening News
reports that Steve Hawes turned down a move to Stalybridge Celtic before signing for Worksop Town.
UNIBOND NEWS
Like Altrincham,
Frickley
are holding admission charges at last year's levels, in their case £6 for adults and £3 for concessionariess. A £15 family ticket (for up to 2 adults & 2 children) will also be available.
Whitby
have released central-defender Dave Goodchild, who had been at the club since March, 1995. The
Barrow forum
lists the fans' five main hopes for next season. The top-listed priority is that the Bluebirds "win at Moss Lane"!
---
21 May, 2002
ROD'S TRIP
Whilst, as reported below, Emley's Steve Nicholson is the only UniBond representative in the Middlesex Wanderers' touring non-League side on their imminent visit to Vietnam and Indonesia, it has emerged that Alty's Rod Thornley turned down the same trip. Rod had a prior engagement in the Far East, as masseur to the England team for the World Cup.
HAY STAYS
Striker Alex Hay, who made a good impression whilst on loan at Alty in 2000-01, has been given a new one-year contract at Tranmere Rovers.
UNIBOND NEWS
Colwyn Bay Football Club
and Coleg Llandrillo Cymru have launched Coleg Llandrillo Football Academy, which is due to open in September. Students will mix their studies with six hours training each week at Rydal School and will play at Llanelian Road, home of Colwyn Bay FC, 12 times a season. Their team will compete in the British Colleges' Academy League. Mike Roberts, Secretary of Colwyn Bay Football Club, said "We hope that it will help us look at more local youngsters and, hopefully, bring quality local talent to the club". Elsewhere in the UniBond,
Runcorn
supporters are looking for ten volunteers to raise funds through a sponsored parachute jump, whilst Stalybridge are running a "Meet the Manager" event on 28th May, when Dave Miller will be questioned on his plans for the club.
THOSE WERE THE DAYS!
Alty fan Simon Arron has an amusing e-mail published in the June 2002 issue of
When Saturday Comes
in which he recalls being "hit over the back of the head with a bit of tree" as he left the Moss Rose after a draw with Macclesfield some 20 years ago. He goes on to write, "My only offence was to have been wearing an Altrincham scarf- something for which I get laughed at rather than assaulted nowadays".
---
20 May, 2002
HAWES'S DEPARTURE
The
Non-League Paper
carries Bernard Taylor's comments on Steve Hawes's departure to Worksop Town. "Everyone in this club has been forced to take a huge pay cut and that includes Steve. I was desperate for him to stay but there was no way we could have paid him what he wanted. I brought him to this club and I valued him as a friend and a player"
SOUTHPORT FRIENDLY
Alty's previously announced pre-season friendly against Southport will be on Saturday 10th August at 3pm. Southport manager Phil Wilson has released Shaun Teale (who has become player/manager of Burscough), Carl MacAuley and Phil Morgan. Remaining under contract are Gary Bauress, Steve Dickinson, Phil Eastwood, Dean Howell, Chris Lane, Barry Jones, Steve Jones, John Robertson, Steve Whitehall. Andy Scott and James Connolly, whilst out of contract are Simon Parke, Lee Elam, Neil Grayston, Martin Clark and Tony Sullivan. All of Alty's pre-season friendlies will be listed
here
.
UNIBOND NEWS
Frickley
have been asked to make a number of improvements to their ground to maintain its Premier Division football status. These include enlarging the dugouts and the referee's room as well as perimeter fence repairs. In addition stand seats are to be painted and numbered whilst parts of the terrace need repairing. Hyde have confirmed that Simon Yeo has signed a one-year deal with Lincoln City. Lancaster City report that renewal deals have been struck with eleven of last year's squad and three or four new signings are likely to be made. Stalybridge's new signing, Chris Timons the former Alty captain was allowed to leave Ilkeston after differences with manager John McGinlay over his contract and also his wish to be named as captain once more of the Notts club. Chris has been made captain at Celtic.
---
19 May, 2002
CUDDY PROFILE
Courtesy of Terry Rowley, Paul Cuddy has been added to the
Alty Legends
section of this site.
---
18 May, 2002
YOUTH TABLE
The end of season NW Youth Alliance league table has been added to the
Youth Team section
of this site.
NEWCOMERS ADDED
The
Links Page
has been updated with the newcomers to the Premier and First Divisions of the UniBond League (Ashton Utd, Harrogate Town, Kidsgrove Athletic, Alfreton Town, Stalybridge Celtic). Maps have also been added for the new Premier clubs.
ALTY's BUSY YEAR
Altrincham's three teams played 138 games in season 2001-02. The First Team played 44 league and 21 cup matches. The Reserves played 32 league games whilst the Youth team had 17 league matches (one of which was subsequently annuled) and 12 cup games. In addition Altrincham played 12 pre-season friendlies.
OWENS TASTES DEFEAT
Former Robin, John Owens, saw his England semi-professional side go down to their first defeat in 14 games under his managership on Thursday when the Republic of Ireland beat them in the UniBond Four Nations Tournament.
UNIBOND NEWS
At their pre-season game against Rochdale, Burscough will make a presentation to their former striker Lee McEvilly to mark his being the first Burscough player to gain a full international cap (for Northern Ireland). McEvilly, who was sent off when Alty played at Burscough, now plays for Rochdale. The Emley captain Steve Nicholson is the only representative of the UniBond League in the touring Middlesex Wanderers team, who are heading to Indonesia and Vietnam later this month.
---
17 May, 2002
DEANO RELEASED
Former Alty keeper Dean Greygoose has been released by Stevenage Borough; his last outing was on the bench for the Trophy final at Villa Park. Also on the move is Alty trialist Mike Twiss, who has moved from Leigh RMI to Chester City.
YOUTH TEAM WIN TO FINISH THIRD
Fielding a team with many newcomers, Alty Youth had a good 2-1 win last night against Prestwich Heys in the final league match of the season. The Alty goals came from Liam Pearson and Connor Morris midway through the second half. Alty's win ensured they gained third place in the final table.
Match report here.
BISHOPS ACCEPT DEMOTION
Bishop Auckland have withdrawn their appeal against demotion to the UniBond First Division, which was imposed on them because their proposed base next season, Shildon, was not up to the ground grading criteria by the 30 April deadline.
---
16 May, 2002
MARSH JOINS STANLEY
Our UniBond rivals Accrington Stanley have signed the former Liverpool, Kidderminster and Boston Utd midfielder, Mike Marsh.
BRIEF STATEMENT FROM THE BOARD AND MAJOR SHAREHOLDERS
The following text has been issued today by the Board and major shareholders of Altrincham F.C.:
A brief update on the current financial situation is that the Board and a group of major shareholders are working hard to resolve both the short-term and longer-term plans for the future of the club. A meeting was held last night at the club between the Board and major shareholders, and the major shareholders will meet early next week. The Board and major shareholders would expect to be able to outline plans in more detail mid-week.
RESERVES' NARROW DEFEAT
Alty Reserves lost 4-3 to Accrington Stanley in a very entertaining match at Moss Lane last night.
Match report here.
---
15 May, 2002
STEVE HAWES GOES TO WORKSOP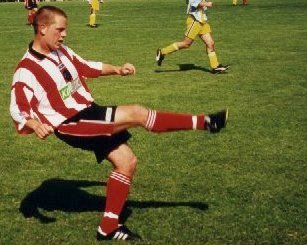 The
Worksop forum
has announced that Alty's midfielder and former captain Steve Hawes (right) has signed for Worksop Town. He is joined at Worksop by yet another new signing, Richard Peacock. After joining Alty in late 1999, Steve made 137 starts and 4 sub appearances for the Robins, scoring 12 goals. He was one of Alty's most dependable and hardworking players over the last three seasons. Steve Taylor, reported earlier as also having joined the Tigers has not now done so, for contractual reasons.
TIMONS JOINS CELTIC & THREE LEAVE LANCASTER
Former Alty captain Chris Timons has signed for Stalybridge Celtic from his current club Ilkeston Town. Chris will be the Club captain at the Bower Fold. Celtic have also signed former Leigh RMI goalkeeper Craig Dootson as well as Lancaster City's Lee Clitheroe, Colin Potts and Paul Sparrow. Leaving Stalybridge is Steve Pickford, who has joined former boss Phil Wilson at Southport. Earlier this week Celtic's manager Dave Miller had named Pickford as one of only three players to be retained at the Bower Fold for next season in the UniBond Premiership.
HARDY LEAVES
After announcing that he would not leave Stockport County until his contract expired, ex-Alty striker Niell Hardy has now left Edgeley Park. Manager Carlton Palmer is quoted as saying that Hardy would not have figured in the first team next season and might not even have made the reserves.
FAIR PLAY & TIGHT DEFENCE
The UniBond League has published its end of season Fair Play League. Alty finished twelfth, with 60 yellows and 6 reds in all UniBond league and cup games. For the full disciplinary record in all games, see the
Statistics
page and the
League
and
Cup Appearances
pages of this site. Top of the league were Burton (22 yellow, 2 red) and Vauxhall Motors (43 yellow, 2 red). Those with most red cards were Burscough (11) and Bamber Bridge (10). Other statistics released by the League show Alty as fifth in the Clean Sheets charts with 12 in league matches. The only tighter defences were Burton (18 clean sheets), Worksop (15), Lanacaster (14) and Frickley (13). Alty were one of only five sides to concede four league goals in a match on one occasion or fewer; that was at Bradford.
SUPPORTERS' GAME
The Alty Supporters's team lost 0-4 to Runcorn Supporters last night at Moss Lane. Alan Johnson will be putting pictures and further details on his
website
.
---
14 May, 2002
LOCAL CLEAROUTS
Two of Alty's neighbours, Northwich Vics and Stalybridge Celtic are having player clear-outs. Celtic are retaining just three players from last season, one of these being ex-Robin Sam Ayorinde, the others are Kevin Parr and Matt Woods. Meanwhile Northwich have already lost Mark Barnard to Worksop Town but they have also released Neil Illman, Darren Knowles, Jamie Collins and Craig Skinner.
SUPPORTERS IN ACTION
Altrincham FC Supporters take on Runcorn FC Halton Supporters at Moss Lane tonight at 7pm. The bar will be open!
GOALSCORERS
Courtesy of Terry Rowley of the
Robins' Review
, a list of Alty's leading scorers season by season since 1946 is now to be found on this site; click
here
.
UNIBOND NEWS
Accrington Stanley will have a civic reception on 25 May to mark their winning three cups this season- the UniBond Challenge Cup, the Marsden Trophy and the UniBond (Peter Swales) Shield. Gateshead are not to renew the contract of Robbie Painter who scored nine goals for them in 2001-02 season. Painter played in both games against Altrincham this season.
---
13 May, 2002
ALTY LEGENDS
The Alty Legends section (click on link in red panel, above left) has been updated with a profile of goalkeeper Jeff Wealands, provided by Terry Graham and reproduced with his permission from The Robins' Review. Also, added to the Legends section are photos of Jackie Swindells and Jeff Johnson. There are now twelve profiles in the Legends section, with more to follow shortly.
WORKSOP SIGNINGS
Worksop have begun to strengthen their squad for next season. They have signed Mark Barnard from Northwich Victoria, Matthew Caudwell from Doncaster Rovers, Darren Roberts from Tamworth and Steve Taylor from Matlock Town. However, the Tigers' Dean Cropper, who had been on loan from Sheffield Wednesday, is set to join Lincoln City.
CHESHIRE NEWS
Winsford Town Council is to set up a working party with Winsford United to consider the transformation of the Barton Stadium into a leisure complex. Plans include upgrading the ground to Conference standard and constructing adjacent all-weather pitches as well as facilities for junior and ladies football. A new social club, fitness centre, indoor sports and conference facilities are also under consideration.
---
12 May, 2002
YEO TO LINCOLN
The
Hyde United site
reports that Simon Yeo is to join Lincoln City, subject to passing a medical. Yeo had been linked with Altrincham and Droylsden recently.
AGGRESSIVE OLD BOYS
In today's
Pink
, former Robins player Kevin Ellison is described as an "aggressive left-winger, who looks the part" whilst Danny Adams is described as having "a combative, aggressive and often thug-like temperament" which "disguises a genuine talent. [He is] definitely the new fans' favourite [at Macclesfield]".
NEW LOOK
A new look is being applied to the Altrincham FC Official Web Site. Links to other parts of the site are now to be found in the red panel on the left at the top of the page. Apologies for any inconvenience whilst the changeover takes place.
---
11 May, 2002
ALTY LOSE CUP FINAL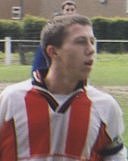 Alty lost the NW Youth Alliance Cup Final this afternoon, 4-5 on penalties after a 1-1 scoreline at the end of extra time. Mario Daniel got Alty's goal before being taken to hospital with concussion. Pictured above is Paul Tilley, the Youth team captain. Match report in the Youth section.
FRIENDLIES FIXED
Altrincham have fixed three friendlies at Moss Lane for the 2002-03 pre-season. Their opponents will be a Manchester United XI, Southport and Village United, a Jamaican side which includes the Jamaican national goalkeeper. The dates are to follow when confirmed.
---
10 May, 2002
FRICKLEY'S DOUBLE BLOW
Frickley Athletic have lost their manager Gary Marrow to UniBond League First Division club Belper Town. Chairman Paul Fenn has also left the Club.
ASHTON JOIN PREMIERSHIP
Ashton United won last night's UniBond play-off final at the Irongate, defeating Bamber Bridge 2-1 with a disputed second goal. The Brig are now relegated to Division One, whilst Ashton join the Premier League after finishing third in the First Division in three of the last four seasons. This means that four Tameside clubs are now in the Premier League- Ashton Utd, Droylsden, Hyde Utd and Stalybridge Celtic. With the relegation of Bishop Auckland and Bamber Bridge, Alty's away travels next season will be a bit shorter.
YOUTH DRAW
Alty Youth drew last night at home to Morecambe. There is a match report to be found via the
Youth Page
.
---
9 May, 2002
RESERVES LOSE
Alty Reserves lost 8-1 at Guiseley on Tuesday night.
PLAY-OFF TONIGHT
The final play-off for a place in the UniBond Premier league next season takes place tonight at Bamber Bridge where the home side play Ashton United.
HISTORY REPEATS ITSELF?
A recent chance encounter with an August, 1961 Altrincham FC matchday programme (v Oswestry Town), revealed that, in some respects, little changes in Altrincham's footballing history. Forty-one years ago, just as today, the national football transfer market was being flooded with players released by League clubs. In 1961, this was due to the abolition of the maximum wage following the George Eastham case in the High Court; today it is due to the ITV Digital collapse. Also then as now, according to the 1961 Programme Notes by Wilf Dowding, Altrincham F.C. had recently been "threatened with extinction or alternatively, all amateur action" because of financial problems. But the outcome of the 1961 crisis may not be repeated in 2002-03. The 1961 programme recorded that as a consequence of the flooded transfer market no fewer than "a dozen [ex-professionals] have settled at Altrincham". These included Paddy Fagan, the first player-manager at Moss Lane for more than 25 years, who had been an FA Cup winner with Manchester City and who had played for the Republic of Ireland's national team only three months earlier. Other arrivals at Moss Lane were two FA Cup Finalists from 1958, Tommy Banks (ex-Bolton) and Ernie Taylor (ex-Manchester United). The prospect of 12 ex-professionals arriving at Moss Lane in the 2002 close season is unlikely as is a repetition of the 1961 practice of listing the Alty playing squad in the programme in two distinct groups of "professionals" and "amateurs". On the field, having conceded 125 goals and finished 21st out of 22 in the Cheshire County League in 1960-61, the Club would rise to 11th in 1961-62 and win the title just four seasons after that. Off the field, the Club's finances were beginning to be turned round by the arrival of local record-shop owners Noel White and Peter Swales who, in 1961-62, were Vice-Chairman and Chairman of the Club respectively.
OLD BOYS
Former Alty winger Danny McGoona was pictured on 25 April in the
North Wales Weekly News
after playing for Park Rangers from Colwyn Bay who had just beaten Anglesey side Pentraeth Bay Court 3-0 in the final of the North Wales Coast FA Sunday Challenge Cup. Danny was Man of the Match, scoring the first two goals and setting up the third. Park Rangers play in the Old Colwyn, Llandudno and District League. So far as is known he is still also still registered for Caernarfon Town in the League of Wales, but he did not play for them when Colwyn Bay lost 1-2 recently to Town in the semi-final of the North Wales Coast FA Cup. Another ex-Robin, the prolific Nathan Comley-Excell scored again on Tuesday night as Flixton beat Atherton Collieries 2-0.
(Thanks to Ian Saunders and Andy Owens for the above information)
.
---
8 May, 2002
QUAYLE MOVES ON
Mark Quayle, who made a big impact in a short stay at Moss Lane in 2000, has now signed for Nuneaton Borough, from Telford United. Nuneaton, beaten by Alty in this season's FA Cup, have released five players including well-known strikers Lee Charles and Marc McGregor. McGregor missed a penalty in the FA Cup match at Moss Lane.
UNIBOND NEWS
The 2002-03 UniBond season starts on 17 August 2002 - only 101 days to go! The UniBond League Chairmen's Meeting is to be held in Altrincham on 14 May, the day after the F.A. meets in Leeds to discuss restructuring the non-league pyramid. Barrow's ex-Alty player Neil Doherty has retired from football whilst Runcorn's leading scorer Paul McNally has returned to Marine for next season.
UNIBOND CROWDS
As reported yesterday, Alty's league gates were up by 41 per game this season. Statistics for other teams who were in the UniBond both last and this season were Accrington (down by 84 per game), Bamber Bridge (-17), Barrow (+51), Bishop Auckland (+17), Blyth (+104), Burscough (+2), Colwyn Bay (+8), Droylsden (-94), Emley (-239 change of ground), Frickley (+32), Gainsborough (0), Gateshead (-17), Hucknall (+42), Hyde (-86), Lancaster (+50), Marine (-6), Runcorn (+10 change of ground), Whitby (-13), Worksop (-57). The loss of well-supported Burton Albion could adversely affect gates next season. Newly promoted Harrogate Town averaged gates of 421 this campaign, up from 216 the previous year.
NO GERMAN INTEREST!
The
Leigh RMI Newsletter
has retracted its story that Leigh's "Dave German is considering an offer to play for Altrincham".
---
7 May, 2002
NEW BURSCOUGH BOSS
The successor to former Alty player John Davison as boss of Burscough is the former Aston Villa centre-back Shaun Teale, who is currently playing at Southport.
ALTRINCHAM 0 VAUXHALL MOTORS 1
Match report here.
---
6 May, 2002
YOUTHS WIN
Alty Youth beat Prestwich Heys in their NW Youth Alliance league match yesterday. For a match report, visit the
Youth Page
. The same two sides meet again next Saturday at Moss Lane in the Open Cup Final (2pm) but before then Alty have a home game on Thursday against Morecambe.
UNIBOND PLAY OFFS
Ashton Utd 3 Spennymoor Utd 1
Bamber Bridge 3 Radcliffe Borough 2 a.e.t. The Play-Off Final is at Bamber Bridge, against Ashton Utd on 9th May.
Swales Shield: Burton A. 1 Accrington S. 1, Stanley won 5-3 on pens.
UNITED LOSE AT MOSS LANE
Leeds United Reserves beat Manchester United Reserves 2-1 today at Moss Lane in front of a very respectable crowd. United included a number of players with first-team experience including David May, Ronnie Wallwork, Michael Stewart and goalkeeper Paul Rachubka. It was Rachubka's weak kick clear which led to the first goal. After Leeds had picked up the keeper's kick, the ball was played out to the left and Singh's fine cross was firmly headed home by Armstrong (10 mins). United had a number of chances but failed to equalise before half-time, the best falling to Muirhead whose shot was brilliantly saved by Allaway in the Leeds goal. Leeds's second came after 69 minutes when Tate slipped in his own box to allow Singh to score. The second half, interspersed by numerous substitutions only really came to life in the closing stages. Muirhead finally got a goal for United from 12 yards with just six minutes left, following good work by Rankin on the left and a feed by substitute Fox. Tate's header skimmed off the top of the bar three minutes later but Leeds held on for their win. Neverthless United are the champions of the Premiership Reserve League (North). The United team was - 1 Rachubka, 2 Clegg, 3 Rankin, 4 Roche, 5 May, 6 Wallwork, 7 Lynch, 8 Stewart (capt), 9 Muirhead, 10 Nardiello, 11 Djordjic, 12 M. Williams, 13 B. Williams, 14 Tate, 15 Wood, 16 Fox. Leeds did not include any big names in their team but they certainly had a long one in Shane Cansdell-Sheriff, their captain.
2001-02 STATISTICS
Season 2001-02 saw Alty finish ninth, their lowest finish in the Non-League system since 1971-72, when they finished 10th in the Northern Premier League.
For a much fuller review of season 2001-02, click here.
---
FOR EARLIER NEWS, CLICK HERE
---