Altrincham Football Club News Archive
23 May to 14 June 2002.
---
14 June, 2002
UPDATES
For the next seven days this site will continue to be updated but not on its normal daily basis.
---
13 June, 2002
FIXTURES
It is believed that the UniBond Premier league fixtures will be issued in the first week of July. The UniBond League Cup draw is also expected at around the same time.
McGOONA DRUG TEST SHOCK

The BBC Wales
website
reports that former Alty star Danny McGoona, now at Caernarfon Town, has been banned for nine months after testing positive for amphetamines following a random drug test after a match against Rhyl. "Danny is not the sort of person to take drugs," said club secretary Ian Sixsmith. "He doesn't smoke and isn't an excessive drinker", he added. Danny had been out celebrating in a club after finishing some exams when his drink was allegedly spiked. Caernarfon are to appeal against the ban, and must present their case to the F.A. of Wales by 17 June.
---
12 June, 2002

ONE OFF, ONE ON
The proposed friendly at Moss Lane on 23 July against Jamaican side Village United has been cancelled. This is because the Jamaican Football Federation has cancelled the side's tour as it clashes with a Jamaican international side's overseas trip. However, there is now a newly arranged fixture, away at Flixton of the NW Counties League, at 7.30pm on Thursday 25th July. Click the "Friendlies" link (above left) for the list of Altrincham's remaining pre-season games.
---
11 June, 2002
UNIBOND CONTRADICTIONS
Contradictory statements continue to surface about two of the Lancaster City players who had allegedly recently signed for Stalybridge Celtic. Whilst City's Kenny Mayers and Colin Potts have definitely signed for Celtic, both Lee Clitheroe and Paul Sparrow are now reported to be staying at the Giant Axe. Likewise,
Hyde United
have announced that Gus Wilson will NOT now be taking over as Assistant Manager in succession to Martin Filson. Explaining that Wilson's work commitments had forced a rethink, Hyde manager Dave Nolan said: "It's disappointing but Gus said that he would be struggling to give 100 per cent due to extra shifts at work. I've got one or two other prospective candidates in my mind so I'll have to turn my attention to them now." Nolan also said that he expects up to nine new players at Ewen Fields for pre-season training.
---
10 June, 2002
BOWKER SIGNS FOR CELTIC
Terry Bowker, last season's captain of Alty Reserves and a Robins' first-teamer in 2000-01, has signed for Stalybridge Celtic. Terry spent last season at Bamber Bridge, where he was captain.
---
9 June, 2002
ROD AND SVEN
Rod Thornley, Alty's striker and also the England chief masseur, is pictured in the
Non-League Paper
alongside Sven Goran Eriksson. In the accompanying article Rod is described as "the keeper of the nation's secrets". An anonymous England player is quoted as saying that the team has complete confidence in Rod and his colleague Steve Slattery- "they are a captive audience and they are usually good listeners. After half an hour's treatment the hamstring is no better but at least I've got things off my chest". Alty manager Bernard Taylor said, "It's a great honour for us to have an England international in Japan, even if it's only in a backroom capacity". The article concludes by revealing that Rod's friendship with David Beckham earned him an invitation to the Beckhams' recent pre-World Cup party in Hertfordshire.
OLD BOY
The
NLP
also has an article on ex-Robin, Scott Wilson. It describes how the red-headed Scott's physical similarity to Paul Scholes has earned him the nickname "Scholesy" at his present club, Radcliffe Borough.
UNIBOND NEWS
Newly promoted Harrogate Town have been strengthening their squad. Ex-York players Kieran Darlow and Ben Rhodes have already been signed and no fewer than ten more players are targets of manager John Reed! These include ex-Manchester United youth player Anthony Lennon, Bury defender Michael Nelson, Hucknall striker Paul Burke, Danny Farthing of Pickering Town and another York player, Marc Thompson. In contrast, Premier League runners-up Vauxhall Motors have kept all of their squad from last year and at most are likely only to add one or two new faces.
---
8 June, 2002
MICKEY BROOKE

It is with sadness that we record the death last Thursday of Mickey Brooke, a mainstay of the Altrincham side in the 1970s. Mickey joined Altrincham in season 1972-73 from Ellesmere Port Town, his local club. Mickey played at left-back but also in midfield and even on occasion as a striker. Mickey enjoyed a joint testimonial with Ivan Crossley, Stan Allan and John Owens against Manchester City on 30 October 1979 - the line-up is reproduced, right. Sadly Ivan also died, almost exactly a year ago.
TWO-UP
The Football League agreed today to two-up and two-down promotion and relegation between the Nationwide Conference and the Nationwide Division Three. The FA agreed a £6m compensation package over five years with Division Three clubs and all 24 Division Three clubs will receive £50,000 every August for the next five years. The two promoted Conference teams will each receive £35,000. The Conference will arrange play-offs amongst the second to fifth-placed clubs to decide the second promotion place.
UNIBOND MOVES
Darren Bullock (Worcester C. to Hucknall T.)
Joby Gowshall (Gainsborough Trinity to King's Lynn)
Ross Turner (Alfreton T. to Worksop T.)
---
7 June, 2002
ALTY SIGN DUERDEN
The NLP site reports that Alty have signed striker Ian Duerden from Hucknall Town. Born in Burnley in 1978, Duerden has previously played for Halifax, Doncaster, Kingstonian and Barrow. He scored six goals in 14 appearances for Hucknall. According to the report "Hucknall player-manager Phil Starbuck shrugged off Duerden's decision to accept a better financial offer from Altrincham. 'It is not really a blow to lose him', said Starbuck. 'He was always going to be a short-term signing only. I need players who will fight and give 110 per cent to the cause every week'". Hucknall hope to replace Duerden with Scott Huckerby.
NUMBER 19
Central defender Paul Rowlands is the 19th and latest Alty Legend to be added to this site, courtesy of Terry Rowley.
UNIBOND NEWS
Worksop's major financial supporter Howard Raymond has confirmed that Conference inspectors yesterday approved the Sandy Lane ground for Conference football subject to "certain works being undertaken by ourselves". As well as signing midfielder Nigel Pepper from Scunthorpe, Barrow have also captured the Bishop Auckland captain and centre-back Mark Salmon. Hucknall have signed midfielder/defender Jason Tee, once at Sheffield United, and hope to sign midfielder Darren Bullock from Worcester City. Bullock has experience at both Huddersfield and Swindon Town.
---
6 June, 2002
UNIBOND NEWS
Stalybridge Celtic have made yet another signing, full-back Dave German from Leigh RMI. Gainsborough Trinity have released Phil Brown, Ian Gore, Gareth Williams and Wayne Hall. Amongst their retained players are former Alty player Lee Ellington, Chris Hurst, John Reed and Alex Allen. Bill Fotherby, chairman of Harrogate Town has quashed rumours that he was to take control at Bradford City. Bishop Auckland report that defender Mark Salmon has joined Barrow. Marine have released Chris Clarke whilst Mike Douglas is taking a year out to travel the world so will not play for the Crosby side next season.
---
5 June, 2002
TOMMY BANKS
Tommy Banks is the latest addition to the Alty legends page, here. 4 June, 2002
UNIBOND NEWS
Like Barrow last season, Blyth Spartans will be using an historic team strip next season. However, whereas Barrow adopted a strip from 100 years ago, Blyth will only be going back 25 years when they re-adopt the green and white striped style they wore in their 1978 FA Cup 5th Round ties against Wrexham. Worksop Town, who have already signed a number of new players for next season including Alty's Steve Hawes, will be lending some of their fringe players out to Glapwell, a Northern Counties East club.
ANOTHER LEGEND
Robins' Review editor Terry Rowley's profile of 1970s' Alty player Tony Broadhead is the 17th to be added to the Alty Legends section of this site.
---
3 June, 2002
LEGENDS
A profile of John Owens, by Terry Rowley, has been added to the Alty Legends section of this site.
---
2 June, 2002
UNIBOND NEWS
Colwyn Bay boss Colin Caton has revealed that he has rejected offers from other clubs in order to stay as Colwyn Bay manager. "I have had a few offers to go elsewhere for better money, but I feel my heart is at Colwyn Bay he told the local Weekly News. He added that he is aiming to bring in "four or five new faces in various positions during the summer, and aiming to re-build a side around the younger players in the squad". Gateshead skipper Steve Preen has decided to stay with the UniBond League Premier Division club. Preen scored 23 goals last season before a broken leg caused him to miss much of the season. Preen said, "I have tied myself to Gateshead because I believe they are as ambitious as I am". Relegated Bishop Auckland will ground share at Shildon for at least two years but the hosts' fixtures will take priority. The Albany Northern League have already issued Shildon with their league fixtures for next season which have been passed to the UniBond League to avoid any clashes.
---
1 June, 2002
UNIBOND MOVES - FACT OR FICTION?
Confusion reigns over how many of Lancaster City players have actually joined Stalybridge. Press reports have stated that four players have noved - Colin Potts, Kenny Mayers, Lee Clitheroe and Paul Sparrow. However, it has been reported elsewhere that Sparrow has changed his mind and that Lee Clitheroe is still undecided but both Potts and Mayers, the Lancaster captain, have definitely gone to the Bower Fold. Keeper Andy Banks has also left City but has yet to find a new club. Another name linked with Stalybridge is that of former Alty defender, Terry Bowker, from Bamber Bridge. Frickley have reported that their captain Steve Price has joined former manager Steve Richards at Goole AFC and that Rob Hanby is also possibly to make the same move. UniBond League First Division club Leek Town have appointed former Hucknall Town boss John Ramshaw as their new manager.
---
31 May, 2002
ANOTHER LEGEND
The 15th in the series of Alty Legends by Terry Rowley and Bill Coop has been added to this site. It features Stan Allan, who made over 400 appearances for The Robins, and it can be found here.
NEW GLOVES FOR COBURN?
If the FA agrees to two teams being promoted to the Nationwide League next season, there will be play-offs in which the second placed team will play the fifth and the third will play the fourth placed team. As a consequence of these play-offs, the FA Trophy Final will be brought forward. All full-time professionals in the Conference will receive a free pair of Mitre boots and all the goalkeepers will be given a pair of Pro-Punch gloves. Also, next season all Nationwide Conference players will wear names and squad numbers.
BARROW
Barrow have signed former Scunthorpe midfielder Nigel Pepper.
---
30 May 2002
UNIBOND NEWS
Gainsborough Trinity's manager David Norton resigned on Monday to become the assistant player-manager at Tamworth. He left because Trinity's chairman would not find £4,000 for a player he wanted to sign. However, Trinity who finished fourth from bottom in the Premier Division table have already appointed a successor. He is the former Lincoln City boss, Phil Stant, who was sacked by the Division Three side 15 months ago. Meanwhile, Frickley hope to appoint their new boss in the next week. Gateshead have released striker Robbie Painter, who joined Gateshead last season after making over 400 League appearances for clubs which included Halifax Town, Chester City, Burnley, Darlington and Rochdale. He played against Alty last season but only netted nine goals in more than fifty games for "The Heed". Goalkeeper Adrian Swan is to leave the International Stadium for at least the third time inside a year, his destination this time being Blyth Spartans. However 6ft 7in. defender Rob Jones has re-signed for 2002-03. Reports have finally been confirmed that Lancaster have lost three players to Stalybridge Celtic with Lee Clitheroe and Paul Sparrow joining former team-mate Colin Potts who signed on at the Bower Fold a couple of weeks ago.
DIBBLE MOVE
Andy Dibble, who left Alty after Stuart Coburn took over as the Club's regular keeper, is expected to sign for Wrexham as keeper/coach after being released by Stockport County. Another "old boy", Jamie Hoyland, who played just half a game for the Robins in their last season in the Conference, has been promoted to Assistant Manager at Rochdale.
---
29 May, 2002
CLUB WILL SURVIVE, SAYS GERRY BERMAN
On the SAM website Alty's major shareholder and former chairman, Gerry Berman says "There is no question about it - Altrincham will survive". The report says that "Berman also stands by his earlier statement that the major shareholders in the club were only made aware of the financial situation at the Annual General Meeting of May 13". Gerry went on to say "Independent board members will be appointed - to my knowledge, none of the major shareholders want to be directors". SAM also reports that "the £43,000 owed to the Inland Revenue - is being dealt with. Whether it has been paid or an agreement has been made between the club and the Inland Revenue is unclear, however".
UNIBOND NEWS
Accrington Stanley were guests at a civic reception last weekend to mark their cup-winning treble. This was followed by a presentation evening held at the club at which Paul Mullin was named Supporter's Player of the Year. Colwyn Bay have confirmed that defender Colin Caton is staying at the club as player-manager. The Bay start pre-season training on 2 July and hope to add four or five new players to the squad. Admission prices will remain at £6.00 for adults, £3.00 for O.A.P's and children and £4.00 for students. Hyde have appointed former-player Gus Wilson as successor to Martin Filson as their Assistant Manager/Coach. Marine with the Freshfields Animal Rescue are staging a Jubilee Family Fun Day at their ground on Monday, 3 June from 11am to 4pm. Following it there will be World Cup football on the big screen at the club, followed by a disco and karaoke night. Marine are also holding a Youth team presentation evening on 7 June at which more than 100 youngsters will receive a memento for representing the club at various levels. This event is part of Marine's Youth Development programme.
---
28 May, 2002
ANDY MAY
According to the MEN "Andy May could become a casualty of Altrincham's dramatic boardroom walk out" as Alty are left "in limbo until they hold an extraordinary general meeting to appoint a new board. Taylor, whose own future at Moss Lane is by no means certain, also fears Altrincham's parlous financial state could lead to him losing ex-Bury star Kevin Hulme and...Mark Sertori to ...Accrington". The paper also reports that former Robins' striker Niell Hardy may join Macclesfield, whilst another ex-Robin, Sam Ayorinde has left Stalybridge Celtic.
COBURN LEAVES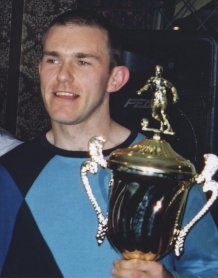 Alty goalkeeper Stuart Coburn has signed for Leigh RMI on a two-year contract. Stuart, who was out of contract at Moss Lane, was last season's player of the year for Altrincham (he is seen right with his trophy). Leigh's keeper Mark Westhead recently left them for Stevenage so Stuart is likely to be first choice at Hilton Park. Stuart's previous spell in the Conference, with Altrincham, was curtailed by injury which saw him miss most of the campaign in 1999-2000. Stuart made 173 appearances for Altrincham and scored one goal for the Robins. All at Moss Lane will wish him well. He is the second experienced player to leave this summer, following Steve Hawes's move to Worksop. According to RMI's Newsletter, manager Steve Waywell believes that "Stuart is the best keeper in the North West". The report also says that "Stuart has taken a drop in wages to play for Leigh but he is anxious to play Conference football again".
UNIBOND NEWS
Ten UniBond Premiership managers lost or resigned their jobs in 2001-02. These were Tony Greenwood and Jim Wills (both Bamber Bridge), Tony Lee (Bishop Auckland), John Davison (Burscough), Steve Richards and Gary Marrow (Frickley), Phil Tingay (Gainsborough), Paul Proudlock (Gateshead), John Ramshaw (Hucknall) and Mike McKenzie (Hyde United). Like Alty, Barrow will play a Manchester United XI in the pre-season and will charge £10 for adult stand tickets and £7 for the terraces. Marine have signed the former Southport and Bamber Bridge goalkeeper, Billy Stewart.
GOLDEN BOOT
Marc Lloyd Williams, briefly at Altrincham in the 1990s, has been deprived of the prestigious Golden Boot award for the leading scorer in European football in 2001-02. Despite hitting the most goals of any player -47 goals for Bangor City- the application of a formula which attempts to take account of the differing standards in different countries meant that Marc was only ranked fifth in the continent. The winner was Sporting Lisbon's Mário Jardel whose 42 goals were given a factor of 1.5 each, giving him a "total" of 63 for Golden Boot purposes.
SILVER LINING
The rejection of planning permission for housing on our Cheshire neighbours Northwich's Drill Field ground means that the Vics can continue to use the pitch for first team training and to host fixtures for their Reserve, Academy and Youth sides. The first team is still moving to Witton for next season, however.
NEW MAGAZINE
After an unexplained gap of a month the excellent Non-League Magazine has resumed publication with its June issue. It incorporates a new 52 page insert, The National Game Magazine, which covers all levels of football from "grassroots" to the World Cup.
---
27 May, 2002
ANOTHER "LEGEND"
Another profile, by Terry Rowley and Bill Coop, has been added to the "Alty Legends" pages of this site. This time it is Ricky "Bomber" Harris and it can be found here
UNIBOND NEWS
Like Altrincham, relegated Bishop Auckland are undergoing boardroom changes. A new chairman, Terry Jackson, has taken over from Tony Duffy, who remains as the Club Secretary. Also in the north, as uncertainty hangs over Carlisle United following an Inland Revenue winding-up petition, a number of their players are being linked with moves to UniBond sides. Amongst these are goalkeeper Peter Keen and striker Richie Foran who are rumoured to be joining Gateshead.
---
26 May, 2002
EX-ALTY YOUTH PLAYER LIFTS TROPHY
Which ex-Alty Youth player starred in Sky Sport's televised National Six-a-Side competition today, as his side won the trophy? Visit the Youth Page to find out.
HULME IN ACTION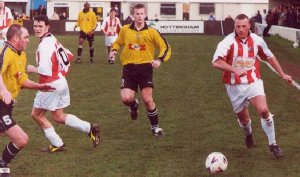 Kevin Hulme advances on Hucknall's defence as Rod Thornley looks on. Picture courtesy of Andy Boyers.
---
25 May, 2002
UNIBOND FIXTURES
According to the Hyde United site UniBond fixtures for 2002-03 will be computer-generated rather than manually produced as previously. Hyde also report that their assistant manager Martin Filson, the former Stalybridge stalwart, has resigned his position at Ewen Fields.
---
24 May, 2002
ALTY BOARD RESIGNS
The following is a statement issued today by the Board of Altrincham Football Club:

The Board of Directors can only operate effectively if it has the backing of the supporters and the full support of the shareholders, to take the necessary actions to improve the club's financial position.

It has become clear that we do not have that support. The Board has therefore decided to step down with immediate effect.

We all are and will remain committed supporters of Altrincham Football Club.

We would like to thank the management and players for their efforts, and to thank also the fans for their loyal support throughout.

Finally we would also like to express our appreciation to those behind the scenes, who freely give of their time to help the club.

Statement from :Bob Green, Bob Peters, David Tracey, Jeremy Pollitt, Kevan Guiney.

Outgoing Altrincham director Bob Peters has told The Sale and Altrincham Messenger more about the resignation of the Board. "The Board reached a point where we could not keep going", said Bob, "We met with the major shareholders and they later held their own meeting...Basically, the club needed the major shareholders to take decisive action and they didn't." Speaking on behalf of the majority shareholders, [former Chairman] Gerry Berman said, "We were only made aware of the club's financial problems at the AGM on May 13. We can assure all supporters that a board of directors will be put in place at the EGM in June". The EGM will be on 17 June. For further details see the SAM site.

The Evening News reports that outgoing Director Dave Tracey blames the Board's resignation on its "failure to gain the backing of the debt-ridden Moss Lane outfit's five biggest shareholders, headed by [former chairman] Gerry Berman". The article continues, "Berman, president Noel White, ex-manager John King, secretary Graham Heathcote and former director Len Rosenfield, have jointly responded by assuring fans that, in spite of Alty's crippling, six-figure debts, they'll work to ensure that the Robins aren't threatened with extinction".
VICS IN TROUBLE TOO
On the same day that Altrincham's Board resigned (see below) comes news that our old rivals Northwich Victoria have had their plans to sell the Drill Field for housing scuppered by a Council decision to reject plans to build over 100 houses on the site. £15,000 has already been spent on upgrading Witton's Wincham Park to receive the Vics next season.
OSSETT REJECTED
Ossett Town's appeal about being refused promotion to the Premier Division has been rejected today by the FA Appeal Panel.
ELLENDER'S CLUB RAIDED
FA Officials today descended on Boston United's ground and the homes of several players to investigate alleged illegal payments. If proven, the club could be denied promotion to the Nationwide League and deprive Alty's former centre-half, Paul Ellender, of his chance of league football.
UNIBOND NEWS
Ossett Town's appeal to the FA over being denied promotion to the Premier League is to be heard in Manchester on Friday. Ossett will claim that the ground was ready on 1st May and that the UniBond League allowed Leek Town until that date to get their ground up to standard. An advert has apparently appeared in the Barrow Evening Mail for the sale of Barrow's Holker Street ground. The ad states indicated that Asda Stores Limited have held an option to purchase the ground since 1996. Frickley have placed an advert for a new manager in this Sunday's Non-League Newspaper. Hyde United season tickets will confer free entry to Manchester City reserve league fixtures at Ewen Fields if purchased by the end of May. Conference side Leigh RMI are seeking a new goalkeeper after Mark Westhead joined Stevenage Borough recently but manager Steve Waywell has "two keepers in mind as a replacement. One is with a UniBond League side".
---
23 May, 2002
S.A.F.E. DONATION FOR PITCH UPGRADE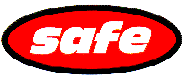 The Altrincham supporters' association, S.A.F.E., has donated £2,500 to Altrincham F.C. to allow important close season work to proceed on upgrading the playing surface at Moss Lane. S.A.F.E. has now donated £12,000 to the Club in the last year and some £55,000 since the association was formed six years ago.
S.A.F.E. PLAYER OF THE YEAR PICTURES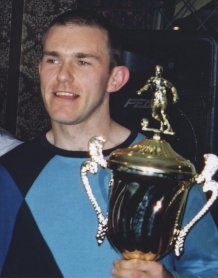 New pictures from the successful Player of the Year awards ceremony on 4 May can be found here. Pictured above is the Winner, Stuart Coburn, with his trophy.
ANOTHER OPPONENT?
Following the recent signings by our UniBond opponents Worksop and Stalybridge of Steve Hawes and Chris Timons, Altrincham could be facing another ex-Robin next season. Niell Hardy, released by Stockport, is being tracked by League club Bradford City and Conference side Chester City but, as he told a local paper, "If all else fails I will take up one of the offers received from a number of semi-professional sides, including Stalybridge Celtic". Meanwhile, Stalybridge Celtic have signed Dave Ridings from Leigh RMI.
---
---
---
FOR EARLIER NEWS, CLICK HERE
---
Copyright: ©


Compiled by John Laidlar