Altrincham Football Club News Archive
3 to 16 July 2002.
---
16 July, 2002
TRANMERE TO BRING STRONG SIDE
Tranmere Rovers
, whom we meet on Wednesday eveing at Moss Lane, have another friendly tonight against Morecambe and manager Dave Watson has announced that he will use half of his first-team squad for each game. "The idea is to give most players a 90-minute work-out in one game this week rather than giving them half games by using a lot of substitutes", said Watson. In the Morecambe game he will play Neil Gibson in midfield and Michael Blackwood, as well as trying out young trialist keeper Jamie Attwell. Regular goalkeeper John Achterberg is suspended for the first two games of the season.
McGOONA BAN REDUCED
Danny McGoona, the former Alty winger, who was recently banned for nine months after failing a drug test whilst playing for Caernarfon Town, has had his ban reduced to six months on appeal. Danny insists that a drink was spiked, causing him to fail the test. He has also been fined £100.
UNIBOND NEWS
As usual the Alty supporters' association, S.A.F.E. will run coaches to all of the Club's competitive away games. Blyth Spartans do the same but their method is not the "pay as you go" method that we use. Instead,
Blyth
have a Travel Club, which fans pay £140 a year to join at the start of the season. This gives them flat rate travel, with complimentary tea and coffee, at £10 per match to all Blyth's league and cup away games (except Gateshead). On the playing front, our first opponents of the season,
Harrogate Town
, have signed centre-half John Fielding from York City. He made 16 first team appearances for York last season. Harrogate also have a new home and away kit. The away outfit will make its league debut at Moss Lane on 17 August and is white with black sides whilst the home kit is no longer striped but remains yellow and black.
Alfreton Town
(UniBond First) have appointed ex-Alty player David Lloyd (season 1992-93 at Moss Lane) as their new manager. Lloyd also played for Clyde under Craig Brown as well as for Gainsborough Trinity and Frickley Athletic. As a manager he won the Northern Counties (East) League at Denaby United. Elsewhere, Lee Conner has moved from Farsley Celtic to Ashton United for a "four-figure sum".
---
15 July, 2002
TIDY-UP
Sunday was day two of the spruce-up weekend at Moss Lane. It saw further work on clearing the perimeter path around the pitch of weeds and more painting of the pitch-side fencing. The work yesterday was led by Board members Grahame Rowley and Geoff Goodwin. Marking of the pitch for the first friendly of the season was also undertaken, by Sid the groundsman.
LEE POLAND
It is believed that Alty striker Lee Poland has signed for St Helens Town, rather than Stalybridge Celtic as had been suggested was likely by the
Evening News
. St Helens are managed by John Davison, the former Alty player. Another player on the move is Morecambe's John Norman, who has joined Davison's former club Burscough.
S.A.F.E.
Please remember to renew your S.A.F.E. (supporters' association) subscription for 2002-03. If you have not got an application form, one can be found
here
. For supporters living away from the Altrincham area, there is also now an Alty in Exile application form,
here
. For more details of the Exiles, see the S.A.F.E.
page
. The S.A.F.E. annual general meeting is at 12 noon on 3rd August in the Noel White Suite.
OLD BOY TO SOUTHPORT
Marc Lloyd Williams, who was briefly at Altrincham in the 1990s, has signed for Conference side Southport. Marc was the leading scorer in European football in 2001-02 hitting 47 goals for Bangor City.
---
14 July, 2002
OUR FRIENDLY OPPONENTS
Leek Town, whom we meet in a friendly on 6 August have had to cancel their first pre-season game because their opponents Gelding Town of the N.E. East League lost two players with broken legs in their first warm-up game last Wednesday. Leek's new manager, John Ramshaw (ex-Hucknall) is currently away, coaching in Texas and will not return till after the season has started. Leek's Cameroon U-21 international striker, Franck-Michel M'Fomo is training with Conference club Nuneaton Borough.
FURLONG ON MARK ALREADY
An ex-Alty double-act saw striker Carl Furlong convert a penalty after Stuart Scheuber had been fouled in a pre-season 1-1 draw between Colwyn Bay and Shrewsbury Town yesterday. (Thanks to Andy Owens for this information). Furlong had been interesting both Torquay and Stockport but appears to be staying in Wales for the time being at least. Other UniBond friendly results this weekend include,
Ashton U. 3 Oldham A. 2
Burscough 0 Rochdale 3
Crook T. 1 Gateshead 3.
Furness Cavaliers 1 Barrow 3
JUST LIKE WATCHING MACC TOWN?
Gainsborough's new player-manager Phil Stant has appointed former Manchester City and Macclesfield coach Colin Benson as his assistant. The pair previously worked together at Lincoln City. According to an interview in the Lincolnshire Echo, Benson "believes Stant and his newly-reformed Trinity side will take the UniBond Premier Division by storm when the season gets underway... Benson readily admits Trinity could go on to become a league club like his former employers Macclesfield. The Northolme has already been passed as a Conference standard ground and was recently nominated as having the best pitch in the division". Benson went on, "When I first arrived at the ground I couldn't believe it. It reminded me of Macclesfield instantly. But we have a much better ground, which I think is already Conference standard and with a couple of alterations would reach league standard, no problem".
---
13 July, 2002
GETTING READY
Part one of the sprucing up of Moss Lane took place today when a number of supporters spent the day painting and gardening at the ground. Amongst those wielding a paintbrush were Graham Heathcote and Peter Warburton. During the morning, manager Bernard Taylor took his players away on a training session. Amongst last year's squad who were present for that were Danny Murphy, Ian Craney, Gary Scott and Mark Maddox as well as two ex-Alty players whose names will be confirmed here once they sign up, or otherwise. Another likely recruit is goalkeeper Chris Williams, from Bolton Wanderers whose first job today at Moss Lane was to pose for a photo taken by a SAM photographer with a garden implement in his hands! Reportedly leaving the club for NW Counties side St Helens Town are two of last season's youth players who broke through to the Alty first team in 2001 - Lee Thompson and Mario Daniel. Pictured above, today, the playing surface is looking in good condition, thanks to the efforts of Sid, the groundsman. Part two of the tidy-up of Moss Lane is tomorrow at 10am - all volunteers welcome! Please bring any spare garden tools, paintbrushes etc.
CITY AND MALAWI AT MOSS LANE
Although Manchester City will not be able to vist Moss Lane for the pre-season friendlies, as had been hoped, they will be sending a "strong side" for a friendly during the coming season. Instead of City, Altrincham will now be playing against the Malawi national side at Moss Lane on Saturday 27 July at 3pm.
UNIBOND NEWS
Barrow report that there is a "three-way battle for the [Holker Street] ground", which is for sale. The Liquidator has had three reasonable bids for the ground which is valued at £400,000 and one of these is from the current Barrow Board. For more, see the Barrow Evening Mail. Stalybridge Celtic's new kit as portrayed on their website seems to have dispensed with the traditional halved blue and white shirts, though the overall colours remain the same. The Huddersfield Examiner reports that Wakefield Emley will benefit from Leeds United's decision to switch their Reserves' games from York to the Wakefield Wildcats' Belle Vue ground, which Wakefield Emley FC also use. The football and rugby league clubs will share the rent to be paid by Leeds. As a result, Emley will now play their midweek games on Tuesdays rather than Mondays as formerly. At least three UniBond Premier sides now host Premier League reserve sides, (Manchester City Reserves play at Hyde and Manchester United Reserves at Altrincham). Accrington Stanley have signed 21-year-old striker David Gray from Rossendale United. He was previously in the Conference with Northwich Victoria. Off the field he once reached the last five of a national "Face for the Millennium" modelling competition!
---
12 July, 2002
HULME TO MOSSLEY, AND OTHER MOVES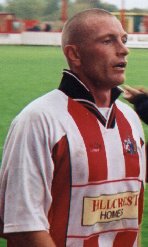 Kevin Hulme, (right), whose departure from Moss Lane was announced a few weeks ago, has joined Mossley in the NW Counties League. His new manager will be ex-Alty man Ally Pickering. Kevin hit 15 goals in 52 starts and played as a striker, midfielder and centre-back during his year at Moss Lane. Alty's "super-sub", Lee Poland is reported by the Evening News to be on the verge of joining our UniBond rivals, Stalybridge Celtic. Lee scored 15 goals in 22 starts and 35 sub appearances for Alty last season. Former Celtic defender Derek Ward is likewise reported to be "about to" sign for Altrincham. Ward a 30 year-old right-back/midfielder had spells at Bury and Northwich before joining Celtic, who released him last October after 7 appearances in the first team that season. Ward, born at Birkenhead on 17 May 1972, has been at Ken McKenna's TNS in the League of Wales since leaving Celtic.
UNIBOND NEWS
On the UniBond Forum, the new UniBond Fixtures Secretary states that " Where I want to get to ... is to take advantage of technology in first of all creating a Clubs' e-mail network... This hopefully will happen before the season starts but this will be up to the Clubs to give me an official e-mail address. Secondly I am working on an Official Web Site which I hope to have running by late August... The web site will have the latest news, results and league tables plus fixture revisions by Saturday evening". Whitby report that The Unibond League has clarified its ground grading criteria. To qualify or remain in the Premier Division a Grade A certificate is needed by 1 April, 2003. Whitby are concerned that they may be at risk under these rules. The Tameside Advertiser reports that Matty Taylor re-signed for Hyde United on Monday; he had been linked with various clubs including Mossley and Altrincham. Hyde captain Peter Band has been offered a testimonial to stay at Ewen Fields. Manager David Nolan said: "I know Peter wants to stay, but we need to sit down and talk about next season".
FIXTURE GRID
This site's UniBond Premier fixture grid for 2002-03 is now complete.
---
11 July, 2002
BERNARD'S TRIALS
In SAM, Alty manager Bernard Taylor says of the friendly game against Tranmere on 17 July, "It's a great game to have a look at people. We are going to have to look on the early friendlies as trial matches and it's a big game to try people out in. It's no secret that money is tight at the club and we are finding it hard to put together a quality side. Basically, we are trying to survive with what we have got".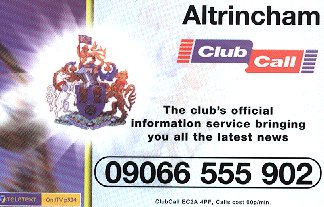 CLUBCALL SURVIVES
Contrary to reports in the national press which were repeated here, Clubcall, the telephone news service for Altrincham and other non-league clubs, is still active. The Alty content is provided by Brian Flynn and includes interviews with Alty personnel as well as news from the club.
PREDICTION FUNDRAISER FOR ALTY
Bob Peters, managing director of 20/20 Research, who have been major sponsors of Altrincham FC for a number of years, has launched a Premier League prediction competition. All of the entry fees will be donated to S.A.F.E., Alty's supporters' association so will help the Club. An application form and details of the competition are here.
FIXTURES
This site's UniBond fixture grid now includes all the games for Runcorn FC Halton and Stalybridge Celtic. More clubs' fixtures will be added as they become available and as time permits. Alty's full fixtures are available here.
---
10 July, 2002
FIXTURES
Altrincham's league fixtures for 2002-03 are here.
UNIBOND NEWS
Our first opponents of next season, Harrogate Town, have been active over the close season. Their new signings include Paul Burke (Hucknall Town), Paul Sykes (Ingfield), Michael Nelson (Bury), Ben Rhodes (York) and Scott Jackson (Ossett Town's striker). They have also persuaded captain and top-scorer Robbie Whellans to change his mind about leaving the club and he has agreed to sign a new contract. Scott Bonsall has also re-signed for the Yorkshire side. Elsewhere, after signing Hyde's Simon Yeo, Lincoln City manager Keith Alexander has signed midfielder Scott Willis from Droylsden on a one-year contract. Willis was at Bamber Bridge till this February. The Gateshead website reports that midfielder Richie Alderson is leaving the club after four years and is training with his former club Spennymoor United but may move to a Northern League club. Defender Rob Bowman has also left Gateshead according to the local press. Worksop expect to have an official web site launched during this month.
---
9 July, 2002
FIXTURES OUT
Alty start the season on 17 August with a home match against promoted Harrogate Town. We have a Christmas double against Droylsden but no match on Easter Monday. February/March sees us on the road with away trips to Gateshead, Whitby and Barrow in a 17 day period- and the Barrow trip is on a Tuesday night! All the Alty fixtures are listed here. Many thanks to Graham Heathcote and Derek Willshaw at the Club for passing on the details so quickly.
WARD BACK IN BUSINESS
The BBC reports that former Alty manager Mark Ward has been appointed as assistant manager at Leigh RMI, where he will also be registered as a player even though he will be 40 in October. "It's not the intention to play him week-in, week-out, but if we've got him it is worth it, especially as we haven't got the biggest squad", said manager Steve Waywell. Mark played previously for RMI before joining Altrincham in 2000. Waywell is quoted as saying "I wanted Mark when we got promoted to the Conference but he got offered the manager's job at Altrincham. He was my first-choice and he's come to us now and I'm sure he'll bring a lot of success to the club. He's enthusiastic and he's a winner. He had a taste of management at Altrincham but he went there at the wrong time when the club was in a bad way".
STEWARDS, PLEASE
Altrincham FC would like to appoint some more matchday stewards. If you would like to help in this way please ask for Doug Ashton (chief steward) at the main door at Moss Lane between 6pm and 7pm on the evening of our first friendly against Tranmere on the 17th July.
CHERRY RED ANNUAL
The Cherry Red Records Non-League Newsdesk Annual 2002 will be published on 15 July. This is the third edition of a very useful book that carries full 2001-02 statistical details (results grids, tables) and updated lists and addresses of clubs in 63 leagues including, for the first time, the major Welsh competitions. There are also league tables from many other leagues. In all it comprises 381 tables and 4,989 teams are covered! Full details about the book, a competition to win a free copy and a club discount scheme are now online at at here. The book should also become available at Sportspages bookshop in Manchester. It can also be had for £6.95 plus £2.00 postage from Non-League Newsdesk Annual, 13 Northfield Avenue, Taunton TA1 1XF. Cheques should be made payable to Non-League Newsdesk Annual.
WHITBY PLANS
Whitby Town's informative website has plan drawings of the proposed new stand at the Turnbull Ground. The old stand is to be demolished this season.
---
8 July, 2002
STILL NO FIXTURES
The UniBond League fixtures have still not been issued. It is now believed that it may be as late as Thursday before they are available, but watch this space.
WORKING WEEKEND
As previously announced Alty are getting ready for next season by having a Working Weekend at Moss Lane on the weekend of 13th-14th July, starting at 10am each day. Lunch will be provided. The work will include "gardening" and painting, so please bring any potentially useful garden tools or brushes.
HARDY COMES FULL CIRCLE
Former Robin, Niell Hardy has re-signed for Radcliffe Borough after being released by Stockport County who had bought him from Radcliffe for £15,000 a year ago. He joins Dickie Landon and Scott Wilson, two other ex-Robins, who are still with the Boro'. Another familar face who has joined Radcliffe is Dave Felgate, the former Leigh RMI goalkeeper.
---
7 July, 2002
KEEPING TRACK
In an attempt to keep track of the managerial and boardroom changes at Moss Lane since our first relegation from the Conference in 1997, here is a chart showing broadly what has happened.
| | | | |
| --- | --- | --- | --- |
| SEASON | MANAGER | ASSISTANT/COACH | CHAIRMAN/BOARD |
| 1997-98 | John King, to 5/3/98 | Graham Heathcote, to 5/3/98 | Gerry Berman |
| 1997-98 | Bernard Taylor, from 5/3/98 | | Gerry Berman |
| 1998-99 | Bernard Taylor | Nigel Gleghorn / Brian Kilcline, 8/98 to 11/9/98 | Gerry Berman |
| 1998-99 | Bernard Taylor | Graham Heathcote, from 11/9/98, resigned 12/99 | Gerry Berman |
| 1999-2000 | Bernard Taylor, resigned 11/5/00 | Stan Allan/ Owen Brown, to 5/00 | Gerry Berman |
| 2000-01 | Mark Ward, from 19/5/00 to 18/3/01 | Tony Murphy, from 19/5/00 to 18/3/01 | Gerry Berman, to 1/01; Mark Harris, from 1/01 |
| 2000-01 & 2001-02 | Bernard Taylor, caretaker from 3/01, officially from 1/5/01 | Graham Heathcote, caretaker from 3/01, officially from 1/5/01 | Mark Harris, to resignation 5/02 |
| 2001-02 | Bernard Taylor | Graham Heathcote, to 30/6/02 | Board resigned 24/5/02 |
| 2002-03 | Bernard Taylor | Andy May, from 6/02 | New Board, from 6/02 |
STADIUM GRANTS
The Non-League Paper reports that over the last two years the Football Stadia Improvement Fund has awarded £10 million to non-League clubs for improvements. In the UniBond, the biggest recipients have been Blyth Spartans who received £149,100 for "improvements to the stands, terraces and exits/ circulation" and Accrington Stanley who got £81,787 for the "main stand and upgrading of floodlights". Last season's champions, Burton Albion, received £77,732 for a "main stand extension and disabled toilets".
BAY SIGNING
Colwyn Bay have signed striker Ross Jeffries from League of Wales side Flexsys Cefn Druids.
---
6 July, 2002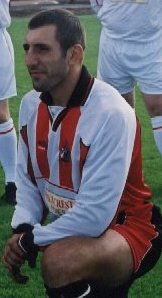 SERTORI TO STANLEY - AND SHUTTLEWORTH, TOO?
Accrington Stanley have confirmed that Mark Sertori, (right), whose departure from Altrincham was reported last week, has signed for the club. Mark played 62 games for Alty last season and scored two goals; he ended the season as team captain. Altrincham's financial position meant that he could not be retained at a level of wages which he could obtain elsewhere. Stanley are also in talks with Macclesfield's Barry Shuttleworth who played well in a loan spell at Altrincham last season.
NEW FRICKLEY BOSS AND OTHER UNIBOND NEWS
Phil Sharpe, the 34 year-old assistant manager of Guiseley, has been named as Frickley's new manager to succeed Gary Marrow who left for Belper Town some weeks ago. Since Marrow left there has been an exodus from Frickley, with defender Mark Place being the latest to follow the manager to Belper Town. Place joins Dean Jones and former Alty player Mark Ogley, who had already moved to Belper from Frickley. Yet another ex-Frickley player, Lee Stratford, (who also played for Stalybridge Celtic, Emley and Bradford PA) is also expected to join Belper, from Australia. Other recent arrivals at the Derbyshire club include ex-Gainsborough Trinity, Leek Town and Stalybridge Celtic goalkeeper Gary Ingham. Hucknall Town have lost strikers Paul Burke and Nick Kennerdale. Burke has joined promoted Harrogate Town. Kennerdale cost Hucknall £3,000 from Nuneaton Borough, last season but was sent off twice in his first five games before being farmed out to Ilkeston Town. Lancaster's ex-Scottish League striker Michael Yates has signed a two-year contract and Brian Welch has also re-signed at the Giant Axe. Dean Williams, who played for Colwyn Bay last season may be joining the Dolly Blues as may Chester City winger Stuart Whittaker, who is considering an offer from the Lancaster manager, Tony Hesketh. Barrow captain Mark Hume is believed to be considering offers from both Mansfield Town and Chesterfield.
---
5 July, 2002
BOARD

Seen above in a picture from Alan Johnson's web site are two of Altrincham's three new Directors. They are, left to right, Grahame Rowley and Geoff Goodwin as photographed by Alan at the recent meeting with supporters. Not present at the meeting was the third Director, Andrew Shaw.
LINNETS' LOSS
Runcorn FC Halton are reported to have made a loss of £90,000 on last season.
---
4 July, 2002
GARY GOES
Gary Thompson treats Steve Hawes at Colwyn Bay last season, whilst Mark Sertori and Kevin Hulme are seen in the background, left, with Mark Maddox and Chris Adams on the right.
As well as losing players Stuart Coburn, Steve Hawes, Mark Sertori and Kevin Hulme during the close season, Alty physio Gary Thompson has also left Moss Lane and reportedly joined Leigh RMI, where Alty fans will wish him well. It is believed that a replacement has already been appointed for Gary at Moss Lane. It is also reported that Mark Sertori and Kevin Hulme will be signing for separate UniBond Premier clubs in the North West. Last night saw a sizeable number of trialists at Moss Lane from whom manager Bernard Taylor will hopefully find some additions to the first-team squad.
S.A.F.E. A.G.M.
The S.A.F.E. (Altrincham's supporters' association) annual general meeting is to be held on Saturday, 3rd August at 12 noon in the Noel White Suite at Moss Lane. This is the day of the friendly against a Blackburn Rovers XI at Moss Lane (3pm). Formal notification of this will be sent to members in the next few days and further details of the agenda will appear here in the near future.
OLD BOY
North West Counties club Curzon Ashton have signed former Altrincham youth striker Carl Jackson. Ex-Alty boss Gerry Quinn, manager of fellow Tamesiders Ashton United, has renewed the contract of last season's 32-goal striker Phil Denney.
---
3 July, 2002
ANNOUNCER NEEDED
Altrincham FC are looking for a new tannoy announcer for matchdays at Moss Lane. If you are interested in this, please contact the Club as soon as possible (address, phone number are above). The post involves playing music and making team and other announcements before and during the games. Alternatively, please e-mail this web-site (link is next to counter, above) and I will pass on your details to the Club.
VISITORS' NEWS
Tranmere Rovers, our first opponents in the pre-season friendlies, (on 17 July), have signed 30 year-old defender Kevin Gray from Huddersfield and made him their new captain. Whether he will play in Tranmere's XI at Moss Lane remains to be seen but Alty fans will be hoping to see striker Alex Hay in the Rovers' side. Alex made a big impression at Moss Lane when he had a loan spell here under Mark Ward. His career has been blighted by injury since then but the 20 year-old made five first-team appearances last season as well as spending a month on loan at Morecambe, for whom he scored four goals in a 5-0 win over Gresley Rovers.
UNIBOND CUP
According to the UniBond Forum the First Round Draw for the UniBond Challenge Cup (for which Alty and the top 10 last season have a bye) is:
Belper T. v Matlock T.
Burscough v Colwyn Bay
Chorley v Bamber Bridge
Gateshead v Whitby T.
Hucknall T. v Gainsborough T.
Lincoln U. v North Ferriby U.
Stocksbridge P.S. v Frickley A.
Workington v Kendal T.
Blyth S. v Bishop Auckland
Guiseley v Farsley C.
Hyde U. v Trafford
Rossendale U. v Droylsden
Witton A. v Marine
---
FOR EARLIER NEWS, CLICK HERE
---