Altrincham Football Club News Archive
1 to 9 May 2003
---
9 May 2003
YOUTHS DRAW
Alty Youth drew 2-2 with Prestwich Heys last night at Wythenshawe Town FC, thanks to a late goal by James Carty. Match report in the Youth Section.
Alty Youth's home match tonight at Ashton Athletic did not take place as Ashton failed to raise a team. Altrincham were awarded the three points.
UNIBOND NEWS
Relegated
Hyde United
have released former Alty defender Dave Swanick, as well as Rob Woodhead, Padi Wilson, Simon Coleman and Tom Brookes. However, Mark Sertori and former Alty Reserves' striker Lee Evans have been retained at Ewen Fields. Evans was runner-up as supporters' player of the year whilst Sertori was the players' player of the year runner up.
Ashton United report that "the Board... has offered contract terms to the Team Manager, Gerry Quinn, and Gerry has accepted the offered terms and signed a contract with us. He thus becomes the first AUFC Team Manager in modern times to be placed on a contract". The Club's reasons for this move include the fact that they were "aware that Gerry was feeling unsettled by the sudden departure of former Chairman, Terry Styring". Gerry was Altrincham manager from May 1992 to October 1993.
At Gainsborough Trinity, work has started on upgrading the playing surface at The Northolme. "The pitch will be dug and levelled before the surface is re-seeded and additional drainage is installed", according to the club website.
Stalybridge's retained list for next season includes ex-Alty defender Terry Bowker, as well as Danny Caldecott, Chris Denham, Phil Eastwood, Dave German, Kevin Parr, Gregg Pearce and Colin Potts. However, keeper Craig Dootson has been on trial at Bradford City. Worksop are set to sign Telford's Kevin Davies as he is unable to play full-time for the Conference club.
---
8 May 2003
FAIR PLAY
The UniBond League Fair Play chart for 2002-03 has Altrincham in 20th place of the 23 teams in the Premier Division. Frickley, Blyth and Colwyn Bay were the only teams below us. (For our bookings record see the
Statistics
and the Appearances pages for
league
and
cup
). As previously reported, Vauxhall were top.
ANOTHER UNIBOND BOSS GOES
After the departures of Kenny Lowe (Barrow) and Colin Caton (Colwyn Bay), Tony Hesketh of Lancaster City has become the third of last season's UniBond Premier bosses to leave his club in the last ten days. The Lancashire Evening Post reports that "Southport have appointed Lancaster City manager Tony Hesketh as [manager] Mike Walsh's assistant". Hesketh told the paper, "I have thoroughly enjoyed my four years at Lancaster but I felt that now is the right time to move on. I...felt that I had taken them as far as I can. It is a very amicable split and the club understand my reasons for leaving... It has been made loud and clear to me that the goal is for Southport to win back their Conference status at the first attempt and that means winning the UniBond Premier Division". The local paper,
The Southport Visiter
, reports that Southport players Martin Clark, Chris Lane, Dean Howell, Andy Scott, Steve Whitehall, Neil Moore, Robert Pell and Ian Nolan have all been released.
NEW OPPOSITION
The
Links
page of this site has been updated to include the four new teams in the UniBond Premier for 2003-04. Whilst Southport, (relegated from the Conference), and Spennymoor United, (promoted from the UniBond First Division), have both been in Alty's Division at some time in the last four seasons, in the Conference and UniBond respectively, Alfreton Town and Radcliffe Borough are slightly less familiar to us. We met them both last in the league in 1998/99 when they were relegated together from the UniBond Premier to the First Division.
Alfreton Town's website is well worth a visit. The club was only formed in 1959 when Alfreton Miners' Welfare and Alfreton United merged. Between 1969/70 and 1976/77 they won the Midland League three times and were then Northern Counties East League champions in 1986/87. They became inaugural members of the Northern Premier League First Division in 1987/88. Despite finishing bottom in 1990/91, league reorganisation gave them a reprieve and in 1995/96 they were second to Lancaster City and gained promotion with the Dolly Blues to the Premier Division. They were relegated in 1998/99 and went back down to the Northern Counties East League for season 1999/2000. They regained UniBond First Division status for 2001/02 and, after a fine start to the season in 2002/03, they held on to win the title on goal difference.
Radcliffe Borough also has an excellent website. The club was founded in 1949 and after spells in the South East Lancashire and Manchester Leagues, they joined the Lancashire Football Combination in 1963. In 1965 they joined the Cheshire League, which evolved into the North West Counties Football League. After successive triumphs in the Second and First Division, they joined the Northern Premier League. In 1996-97 they gained promotion to the UniBond Premier Division but were immediately relegated. With Niell Hardy, Scott Wilson and Dickie Landon on their books, they have several familiar faces to Altrincham fans.
The clubs promoted to the UniBond First for 2003-04 were Prescot Cables and Bridlington Town, who replace Trafford and Eastwood Town.
ENGLAND SQUAD
Paul Fairclough, manager of the England non-league side has named 18 players for the Four Nations Tournament in Wales. There is no place for Alty's Ian Craney, who played against Belgium, as John Kennedy of Canvey Island is the only selected player whose club will not be in the Conference or Nationwide League next season. However, Michael Rose, brother of Alty's Stephen, is in the squad, which is: 1 - Wayne Brown (GK) - Chester C., 2 - John Kennedy - Canvey Island, 3 - Scott Guyett - Chester C., 4 - Terry Skiverton - Yeovil T., 5 - Danny Collins - Chester C., 6 - Wayne Hatswell - Chester C., 7 - Michael Rose - Hereford U., 8 - Nick Crittenden - Yeovil T. 9 - Lee Johnson - Yeovil T., 10 - Darren Way - Yeovil T., 11- Stewart Drummond - Morecambe, 12 - Paul Terry - Dagenham & Redbridge, 13 - Chris Weale - Yeovil T., 14 - Lee Elam - Morecambe, 15 - Kirk Jackson - Yeovil T., 16 - Roscoe d' Sane - Aldershot, 17 - Junior Agogo - Barnet, 18 - Scott Rickards - Tamworth.
---
7 May 2003
CENTENARY DINNER
Full details of the Altrincham FC Centenary Dinner on 21 September are
here
.
UNITED
Manchester Utd Reserves beat Sheffield Wednesday Reserves 3-0 at Moss Lane last night.
ELLENDER TO BE FREED?
This is Lincs
says that "Boston United utility man Paul Ellender (28) faces an anxious wait this week to discover if he will retain his place in the Pilgrims' squad. Striker David Town and goalkeeper Nick Conroy have already been axed as United manager Neil Thompson trims his squad during the close-season shake-up. But Ellender said he hoped to be offered a new deal when he meets his boss on Friday. "I don't know what to expect but ideally there will be an offer on the table. I want to stay here", he said. Paul, of course, was a star of the UniBond promotion side at Altrincham in 1998-99.
UNIBOND NEWS
The new UniBond season starts on 16 August - which is just 101 days away!
The NW Mail states that new Barrow boss "Lee Turnbull has made his first transfer swoop. 'It looks as though we have agreed a deal for Neil Campbell'", he said. Alty fans may remember Campbell as scoring against Altrincham and being instrumental in the sending off of Mark Maddox (seen right) when Doncaster won a vital late-season game at Moss Lane in the Conference in 2000. Campbell ended last season on loan from Scarborough at Leigh RMI. Turnbull's assistant at Barrow, Lee Warren, was also in the same Doncaster side at Moss Lane. Pre-season training at Barrow starts on 1 July.
Frickley have confirmed "their first pre-season friendly ready for the 2003/04 season. Nationwide League Second Division Champions Wigan Athletic will send a side to Westfield Lane on Saturday 26th July". As yet no friendlies have been confirmed at Moss Lane but several irons are in the fire. IC Cheshire reports that Vauxhall Motors' "captain Phil Brazier, has now left Rivacre Park after five years to join Northwich Victoria, following in the footsteps of striker Gregg Blundell, but he clearly goes with the manager's blessing. 'Phil has decided to join Northwich and I wish him all the luck. He's been a great servant to this club. He was a great signing for us'", said Motors' manager Alvin McDonald.
---
6 May 2003
ATTENDANCES
The completed chart of UniBond Premier Division attendances for 2002-03 has been added to the site,
here
, courtesy of Terry Rowley.
LEGENDS PAST & PRESENT
A profile of Brian Taylor has been added to the Alty Legends here. Meanwhile, pictured above by Andy Boyers is a modern-day "legend", Altrincham captain Rod Thornley chipping the Frickley keeper on 26 April 2003.
---
5 May 2003
CONFERENCE
Today's Conference play-offs both went to a penalty shoot-out. Despite Mark Quayle scoring from the spot, Chester lost to Doncaster and Morecambe went down to Dagenham and Redbridge. The Final is at Stoke next weekend.
ANNUAL REVIEW
Find out who played the most and least games for Alty in 2002-03; how many bookings we got, our attendances, the leading scorers, defensive achievements of 2002-03 and much more with this web site's statistical review of Altrincham's 2002-03 season -
here
!
YOUTHS' CUP FINAL DEFEAT
Alty Youth lost 3-1 to Leigh RMI Academy in the NWYA Open Cup Final at The Robin Park Arena, Wigan yesterday. Alty were reduced to 10 men after only 60 seconds when Michael Bailey was dismissed for a verbal offence, following the award of a penalty against Josh Collins, which was converted. Pictured (left) is Dave Pover awarding a runners-up medal to Mark Griffiths. The cup itself has now been renamed the Mark Pover Trophy as a tribute to Dave's son, who played for both the Altrincham and Leigh youth sides before his tragic death last year at the age of 17 whilst playing in a local match. Report and pictures here.
Alty Youth play Leigh again, away, in the league at Hilton Park on Tuesday (6.30pm) and on Thursday are at home to Prestwich Heys (6.30pm at Wythenshawe Town FC).
BARROW'S GOOD NEWS
The
NW Mail
reports that Barrow are "celebrating after creditors agreed a move which will enable the club to stay in the league. A majority 'yes' vote gave the go ahead for membership of the Northern Premier League and Lancs FA to be transferred from the old club to the new club led by Brian Keen and Alan Dunn. Barrow AFC needed approval from creditors accounting for 75 per cent of its £561,808 debts - it received the green light from 87 per cent. The club now has [only] to pay £13,250 it owes to other football clubs and players to stay in the Northern Premier League...Club president Alan Dunn insisted the money was there". In essence the creditors, other than the NPL, accepted that they had lost their money but generously agreed to the above transfer of membership to allow the club to survive.
---
4 May 2003
OLD BOYS
The
Pink
has a eulogy of ex-Alty keeper Stuart Coburn by his Leigh manager Mark Patterson. Comparing him with Dean Kiely (Charlton) and Simon Royce (Leicester), he says "There's no doubt in my mind that Stuart is good enough to follow them into the League". Stuart, Alty's Player of the Year in 2001-02, is 28 tomorrow.
MOSS LANE ACTION
Manchester United Reserves now have two games at Moss Lane this week. On Tuesday they play Sheffield Wednesday and on Thursday take on Middlesbrough; both are 7pm kick-offs, entry is £2.
UNIBOND NEWS
Radcliffe Borough, who join Alfreton (and Spennymoor) in promotion to the Premier Division were coincidentally both last relegated from the Premier Division in the same season, 1997/78. That year, the club which was third from bottom was Accrington Stanley, this year's champions!
The Evening Chronicle quotes Gateshead manager Derek Bell on his club's relgation; "I am ready to take my share of the blame. Some players have let me down - that happens at every level of football - and some of the lads I've brought in have not, after all, been ready for the rigours of the UBL's top flight".
Barrow's new boss Lee Turnbull "has appointed Lee Warren and Ian Arnold as Assistant Manager and player/coach respectively". Both are members of the playing squad at Holker Street. Earl Davis, who played for Stalybridge on loan from Burnley last season has been released from Turf Moor but will be sidelined by injury till 2004.
Whilst Bradford PA used 33 players this season, as many as 9 of these were goalkeepers, according to This is Bradford. Both Bradford and Hucknall finished in their highest ever places in the UniBond Premier League. Town manager Phil Starbuck told Hucknall Today, "We have a good budget but that does not guarantee success... What has pleased us most is that the players we have brought in have gelled". Runcorn Chairman Dave Robertson says next season will be "one of the most important years in the club's long history...because it is likely selection will be made of the clubs who will be part of a feeder league to the Football Conference in the North", according to IC Cheshire.
PROMOTION COSTS
Accrington Stanley's prices for their first season in The Conference will be £10 for adults. It says "The price increase is necesary to ensure that we can develop both on and off the field as we look to build on our recent acheivements and continue to move forward". Adult season tickets will be £170 and Life Membership £1,000 reports the club
website
.
The Conference are still pushing the FA for a 24-team league which could reprieve Southport and Nuneaton from relegation and are seeking an emergency meeting. They argue that next season would be meaningless otherwise as only one team would be relegated (which is what they want to happen retrospectively for 2002-03 season!).
---
3 May 2003
BORO SQUEEZE THROUGH
In an ultimately exciting play-off match this afternoon, Radcliffe Borough squeezed through 4-2 on penalties against Chorley to secure a place in the UniBond Premier. After Jody Banim had put Boro ahead against the run of play (23 mins), ex-Robin, Neill Hardy, scored to make it 2-0 just before the interval. Chorley netted twice in the last ten minutes to prompt extra time which was goalless. Hardy for Boro and Emmett for Chorley were ex-Robins to score in the shoot-out. Above, a Chorley free-kick from far left somehow finds its way into the net to make it 2-1 after 80 minutes. Ex-Alty man Scott Wilson is the blue-shirted Radcliffe no. 7 in the defensive wall.
STANLEY WIN SHIELD
Accrington Stanley beat Marine 2-0 today to win the UniBond Peter Swales Shield for the winners of the match between the UniBond League and the UniBond Challenge Cup.
SUCCESSFUL NIGHT
The John King/Graham Heathcote Roadshow event last night at Moss Lane filled the Sponsors' Lounge and it seems likely that at least £2,000 was raised for the club. The auction of two shirts signed by Paul Scholes and obtained by Manchester United masseur and Alty striker Rod Thornley alone raised £1,100. Two framed copies of the programme of the 1978 FA Trophy Final (Altrincham v Leatherhead), signed by the goalscorers and with accompanying photographs of the game raised more than £400. Those at the event included players Rod Thornley, Neil Ryan, Chris Adams and Jason Gallagher, as well as the Board, a good representation of supporters and a number of representatives from companies which have sponsored the Club. Manager Graham Heathcote acted as an entertaining Master of Ceremonies whilst John King recounted tales of his times with the Club as player and manager in his inimitable manner.
YOUTH REPORT
Alty Youth lost Thursday night's NWYA Premier Cup Final 0-3 to Kingsley United. Above, the nearest Alty came to a goal was when Steve Lunt (hidden by the Kingsley no.8) could only steer the ball wide from a left-wing corner after 7 minutes, when Alty already trailed 0-1.
Report here.
MOSS LANE GAMES
Alty Director Andrew Shaw arranged a Jones Lang LaSalle company football match at Moss Lane on Thursday afternoon which was refereed by Alty manager, Graham Heathcote, and won 7-1 by the Manchester team against their Birmingham office opponents. In fact, there were three matches on the pitch that day as a schools' match and the Youth team's cup final were also played on the same day. Alan Johnson's camera has captured both the company and schools games and his pictures are
here
.
SATURDAY PLAY-OFF
Today at 3pm Radcliffe Borough entertain Chorley in the play-off match for promotion to the UniBond Premier Division. Radcliffe may well include ex-Alty men Niell Hardy and Scott Wilson in their squad, whilst Dicky Landon was still at the club recently. For their part Chorley include Darren Emmett in their side, as well as many other faces familiar to anyone who watched our neighbours Trafford FC last season.
SOUTHPORT CHAMPIONS?
Southport
, now relegated to our Division, report that goalkeeper Steve Dickinson has signed a new two-year contract. The Southport Visiter quotes chairman Charlie Clapham as follows: "The way I see it is that we are going into the UniBond League as champions. We won it in 1992-93 and we are replacing this season's champions, Accrington Stanley. Our rallying call is to regain our Conference status at the first time of asking. The quality of the squad we assemble has to reflect that and work has already started to put together a powerful squad equipped to cope with the rigours of the UniBond, which, make no mistake about it, is a very tough league... Next season our side at Haig Avenue will run out to the The Farm's 'Altogether now'. It was our theme tune in 1992-93 and gives all the right messages for the year ahead".
UNIBOND NEWS
The UniBond Fair Play winners in the Premier Division for season 2002-03 were Vauxhall Motors (£1,000), second were Burscough (£750), third were Worksop Town (£500) and fourth were Hucknall Town (£250).
Burscough will use Aston Villa's Bodymoor Heath Training Ground for training in the lead-up to the FA Trophy Final on 18 May, thanks to manager Shaun Teale's connections with the Premier League club. They expect to have two or three thousand supporters at Villa Park.
---
2 May 2003
QUAYLE OFF
Ex-Alty striker Mark Quayle was dismissed in last night's Conference promotion play-off first leg match and his Chester side conceded a very late goal to draw 1-1 at Doncaster. Dagenham won the other tie 2-1 at home to Morecambe.
---
---
1 May 2003
YOUTH REPORT
A report on Alty Youth's win over St Helens on Tuesday night is now in the Youth section. Seen above is the first Alty goal by Josh Collins (no.4). Tonight (Thursday) sees the NWYA Premier Cup Final at Moss Lane between Altrincham Youth and Liverpool side, Kingsley United. Kick off is 7-30pm and admission is £3 including a programme. Under 14s and OAPs will pay £1.00, but if they require a programme that will be another £1.00. The Youth team also have the Open Cup Final on Sunday at the Robin Park Arena, Wigan (next to the JJB) at 2pm against Leigh RMI.
SAM SUPPORTS ALTY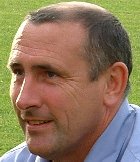 SAM
has an upbeat review of Alty's season by Mike Crockett which says: "The present Board may be weak in number, but there is no doubt it is strong in ideas. They have declared that the club must never overspend again, given that previous excessive generosity is at the root of the club's liabilities. In Geoff Goodwin (right), the club have a chairman who is a businessman first and a fledgling football fan second... Grahame Rowley - the only self-confessed Altrincham fan on the board - deserves special mention. He is a tireless worker for the club, who can be seen selling 'golden goal tickets' at every home match. Also, along with manager Graham Heathcote and former director Dave Tracey, he has written off money owed to him. Director Andrew Shaw lent invaluable legal advice to the board when they tried to put together a land-based financial package which at one point seemed to be the only hope of saving the club... In addition to this, supporters' are doing their bit in a way rarely seen since the setting up of SAFE, the pressure group which evolved into the club's supporters' association. Bucket collections, run by Gary Warrington and his merry men at SAFE, have raised more than £2,000 this season alone. It's as good as found money - a simple tool, yet so effective. The supporters trust - STAR - is only in its infancy, but the early signs are good... With so many positives to smile about, the future is definitely bright for one of non-league's most famous clubs". For more on this, click the above link to the SAM site.
SURVEY
The results of the survey carried out by STAR earlier in the year have been analyzed by 20/20 Research Limited and are on the
STAR web site
.
UNIBOND NEWS
UniBond Clubs of the Month for April were Accrington Stanley and Radcliffe Borough. Relegated Hyde and Radcliffe's play-off opponents, Chorley, won the Fair Play awards. Hucknall Town and Chorley were the top scorers in April, whilst Accrington and Bamber Bridge won the Best Defence prizes.
Barrow's new manager is Lee Turnbull, formerly assistant manager at Holker Street, even though there were "applications already received from interested parties", which the Club said "were of a high calibre". Recently Turnbull has been employed by Scunthorpe United.
After losing their play-off match at Chorley on Tuesday night, Gateshead's website reports that "Life in the UniBond First division is going to be harder than you might think. Gateshead totally underestimated Chorley in this crucial play-off game. After taking the lead the visitors fell asleep and The Magpies swooped in and stole the game". Chorley's equaliser to Gateshead's opener came from Darren Emmett, a former Altrincham player. "Gateshead now have to rebuild their team from scratch and change things dramatically because, with the squad they have at the minute, life in the First Division will be even more unbearable", says the website. IC Newcastle quotes Gateshead chairman Mike Coulson as saying "It is the most depressing result I can remember in football. We are devastated... but life goes on and I will be having talks with Derek Bell (manager) about what lies ahead. The obvious aim is to come straight back up."
Radcliffe survived 9 minutes of added time in their promotion play-off with North Ferriby on Tuesday night due to a bad injury to the visitors' Gavin Knight.
Hyde raised about £1,000 from their celebrity football match involving Coronation Street stars on 25 April. Marine have started work on the next phase of their stadium development which will allow them to retain Unibond Premier League status. It is funded by a grant of £41,000 from the Football Foundation. Whitby report that "The Easter bunny drinkathon on Easter Monday raised an incredible £1551 for the newstand appeal... 1st June sees this year's Treasure Hunt!..... 12th December sees a big Xmas banquet and ball at the Spa... The stand fund is now in excess of £27,000. Only £18,000 to go! The temporary ground improvements need to be finished by the end of May. These include extra seats in the stand and new turnstiles, donated by Darlington FC".
Runcorn FC Halton are offering season tickets for £100 for next season if bought before 15 June. Thereafter they cost £119.
Wakefield & Emley boss Ronnie Glavin told the Huddersfield Examiner, "It has been an extremely frustrating season... Our three main strikers have all been hit by injury and that's cost us dearly... Our defence has remained as good as any other in the League, we just lost that cutting edge up front... and we have a few young lads who have stepped up from the Reserves and Youths and have not disappointed".
END FOR DRILL FIELD
The last ever match was played at the Drill Field, Northwich, last week after 129 years of football on the site. The final game was between The Vics' Reserves and Barrow "in front of about 80 supporters... boosted by a sizeable contingent from Barrow, who took in this match before setting off for Merseyside to watch their first team in action at Marine", according to
IC Cheshire
. Vics won 4-1.
---
FOR EARLIER NEWS, CLICK
HERE
---