Match Report
---
Departures: Players Who Left Altrincham FC During Season 2000-01 and the 2001-02 pre-season
For departures during the season 2001-02, please click here
---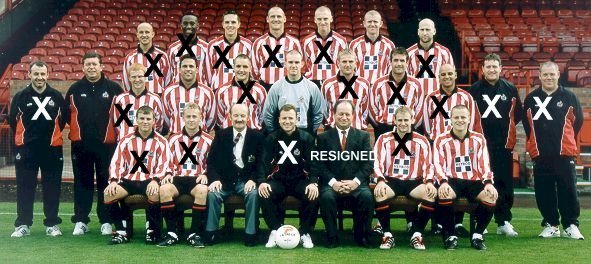 The 2000-01 squad; picture by Cliff Hase, supplied through the good offices of Alan Johnson.
Left to right, back row: Shaun Goodwin, Leroy Chambers, Stuart Scheuber, Gary Talbot, Kevin Ellison, Mark Maddox, Danny Adams. Centre row: Joey Dunn (Res. Manager), Vic Green (Kit Man) Scott Wilson, Jason Gallagher, Carl Furlong, Stuart Coburn, Eddie Turkington, Richard Landon, Phil Power, John Smith (Former Director), Tony Murphy (Coach).Front row: Barry Crowe, Steve Porter, George Heslop (Company Secretary), Mark Ward (player-manager), Gerry Berman (Former Chairman), Stuart Quinn, Steve Hawes. 'X' indicates player or official who has since left the Club. Mark Ward was dismissed as manager but, as of summer 2001, remains registered as a player at Altrincham.
Departures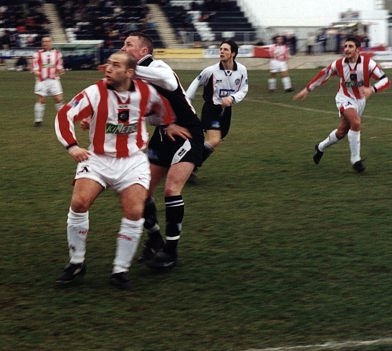 Danny ADAMS (d.o.b. 3 January 1976)
An Altrincham resident and one of the most consistent players in the team, Danny was a permanent fixture at left-back and was winner of many Man of the Match Awards. He joined Altrincham from Congleton Town in July, 1997 and was the longest serving member of the normal first team squad when he left the Club. His sequence of 97 consecutive games was broken by a one-match suspension last season and, in all, Danny started 161 games for Altrincham. A postman by profession, he turned down a lucrative move to Telford United in 1999/2000. He swept the board in the Player of the Year Awards for 1999-2000 but early in season 2000-01 asked for a transfer and was sold to Macclesfield Town for £25,000 where became established at left-back - and won their Player's Player award for 2000-1. Moved on to Stockport County and in March 2005 to Huddersfield Town.



---
Leroy CHAMBERS (d.o.b. 25 February 1974, height 5ft 11ins, weight 12 stone)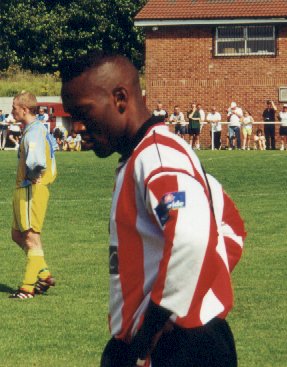 Born and still based in Sheffield, Leroy was signed from Macclesfield Town in time to make his debut against Frickley in the first match of the 1998/99 season, during which he became the club's leading scorer, though he endured a barren spell towards the end of that season. After starting a few games at the start of the 1999/2000 season, Leroy was injured and lost his form. He returned from loan to Kettering Town (January 2000), for whom he scored one Conference goal and then started more than a dozen matches for Altrincham, though he managed only one goal all season for his paymasters. He is a male-model by profession. His indifferent form was attributed by chairman, Gerry Berman, to injury and it was hoped that he would return for the new season fully-fit, once again. Two fine goals in the first three pre-season friendlies suggested an upturn in his fortunes but, unfortunately, he picked up an injury and did not play again until he scored at Runcorn. He returned to the side against Northwich in the Cheshire Senior Cup (19/9/2000). His other previous clubs include Boston United and Chester City, and in total he has made 21 League appearances. Leroy was transfer listed in early October, 2000 and had not played since then until he faced Hyde on 22 November, 2000 in the Unibond Challenge Cup and then Bamber Bridge in the League. Leroy signed for Frickley Athletic on loan, till the end of the 2000-01 season (and of his Alty contract). He made his debut for the Yorkshire side in a 1-1 draw with Hyde on 6 January 2001, scoring his first goal on 27 January against Runcorn. Leroy went on to score 7 times in his first 7 appearances for Frickley and got two against Altrincham! Moved to Hucknall in summer 2001, then briefly to Bradford PA (Dec. 2001) before he returned to Frickley (Dec. 2001). By 2004/05 was at Frickley Athletic.


---
Barry CROWE (d.o.b. 15 June 1980, height 5ft 4ins, weight 10st 5lbs) Injured for much of 1999-2000 season, during which he made just three substitute appearances for The Robins, this young and busy Liverpudlian, signed from Tranmere Rovers, subsequently went on loan to Winsford to gain experience, but came back with Altrincham. During the 2000-01 season Barry figured at right- and left-back rather then in midfield where he had appeared the previous season and he performed very well. However, he had to compete with Adam Farley and then Gary Scott for the number 2 shirt and left for Droylsden in January 2001.



---
Paul EDWARDS (d.o.b. 1981)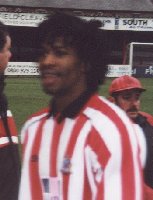 A skilful and very speedy left-flank player, who joined Altrincham from Knutsford in time to play against Droylsden on 17 March 2001. He had impressed in the previous Wednesday's Reserves' game against Ashton, for whom he played as a teenager. After playing as a youth for Manchester City he drifted into lower level football. A Manchester lad, Paul's registration was, however, with Doncaster Rovers at the time he came to Moss Lane. He played for the Rovers' first team when only 16 years old and made 5 appearances in their last season in Division Three (1997/8). Left Alty for trials at Leigh but in mid-August 2001 he joined Swindon Town for whom he has played in the first team. Then moved to Wrexham and Blackpool (2004-05)





---
Kevin ELLISON (d.o.b. 23 February 1979)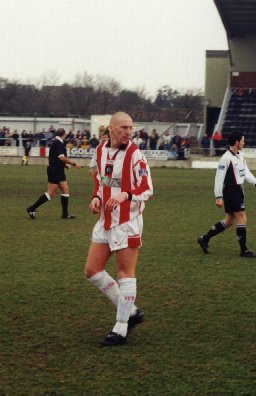 After brief periods playing for Chorley and Southport, Kevin was acquired by Altrincham for a small fee from Conwy United. A Liverpudlian, Kevin is a left-sided wingman who became the Club's leading scorer with 11 Conference goals in the first half of the 1999/2000 season and ended the season with 14 league goals. Indeed, despite injury, he started 48 games and came on as a sub in one, scoring 16 goals in all competitions. At times he headed the News North West strikers' performance chart ahead of such figures as Andy Cole and Dwight Yorke. He has attracted much interest from other clubs because of his pace and ferocious left-foot shot. During 1999/2000 an offer of £130,000 from Preston North End for his services was turned down by Altrincham. Affected by injuries during January and February 2000, he returned to the side in March, but was still less than fully fit. Despite this, he played for Manchester City Reserves on 28 March 2000 in their top-of-the-table Pontin's League clash with Port Vale. His form was only moderate in April and May 2000 due to not being fully fit but he soon established himself as leading scorer again in season 2000/01 with seven goals in his first ten matches. Kevin injured his knee at Droylsden (8 October 2000) but recovered to earn two trials at Leicester City, who signed him at the beginning of February, 2001 for a fee which could have risen to £100,000 depending on appearances for the Premier League side. He became a regular for Leicester City Reserves but made a Premier League debut as a sub at Old Trafford just 7 weeks after leaving Moss Lane. Sold to Stockport County in 2001, then at Chester City where he had a loan spell at Scunthorpe before moving for six figures to Hull City in 2005.


---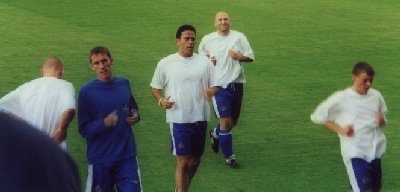 Adam FARLEY (d.o.b. 12 January 1980, height 6ft 1in)
Another of Mark Ward's Liverpudlian-born trialists, Adam is a tall, young defender who was acquired from Everton. After figuring in Everton's F.A. Youth Cup-winning side in 1998, he played in the Everton first-team in 1998/99. However, he suffered a facial injury soon afterwards and failed to regain his place at the top level. Adam is seen on the left of the adjacent picture, facing the camera, with Ellison (back to camera), Gallagher, Adams and Crowe. In his short career at Altrincham to date he has already played at left-back, right-back and centre-back, but lost his regular place following the arrival of Gary Scott and Steve Morgan but has played intermittently since for the first XI. In 2001 close season he was rumoured to be moving to Southport but ended up at Burscough after making 29 (+11) appearances and scoring once for Alty. Moved to Droylsden but moved to Welsh football in 2004-05.

---
Steve FINNEY (d.o.b. 31 October, 1973, height 5ft 10ins, weight 12st 8lbs)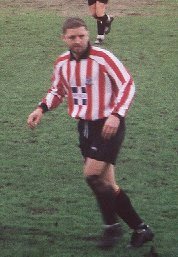 Born in Hexham, Steve's career began at Preston North End in May 1992, where he played one league game (+5 sub apps), scoring once. After a brief spell at Maine Road (no apps) he went on to play 47 times (plus 16 as sub) for Swindon, where he netted 18 times. After a loan spell at Cambridge (4+3 apps and 2 goals), he joined Carlisle in July 1998 and played 22 (+11) games for them, scoring 6 goals. He next joined Leyton Orient (May 1999 2+3 games, no goals) before having an unsuccessful trial at Exeter City, and then joining Barrow. He moved on to Chester, where he played 4+9 games in 1999-2000. After an initial month's loan, during which he scored a hat-trick against Whitby, he signed for Alty till the season's end in 2001 but is now believed to have returned to Chester. He scored 11 goals in 23(+1) games for Alty.


---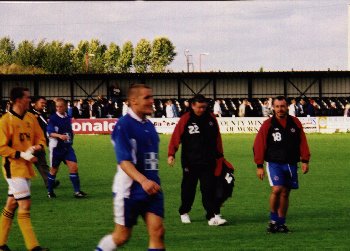 Carl FURLONG (d.o.b. 18 October 1976, height 5ft 10ins)
A young and rugged centre-forward, from Liverpool, who puts a lot of energy into his game. Carl signed a one-year contract for the 2000-01 season, having moved from Droylsden. Before that he was on the books of Netherfield Kendal and of Wigan Athletic, for whom he made a number of League appearances. He missed several games early this season through injury but is now back to full fitness and restored to the squad. Carl netted five times from his first six starts in the League but was been plagued by injuries and was released in mid-November, 2000 allegedly to his former club, Droylsden but he surfaced at TNS in the League of Wales, being sent off on his debut against Afan Lido on 27 January 2001. Carl returned to Alty in August 2001. After a spell at Colwyn Bay went to Runcorn briefly and then back to The Bay in 2004-05.



---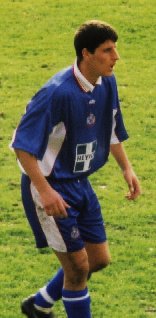 Michael GARRITY (d.o.b. 6 May 1980)
Michael was a Liverpudlian whose uncle, Larry, played for Altrincham in the 1970s. Signed in September, 2000, Michael made his debut on 12 September 2000 against Colwyn Bay and started two further league matches. In addition he was an unused substitute once. He was formerly at West Bromwich Albion and also, on loan, at Nuneaton Borough. Despite seeming to get better with each game, he was surprisingly released in early October, 2000. Surfaced at Kendal Town (November 2000). Later moved to Runcorn from where he was released to Vauxhall Motors (march 2005).



---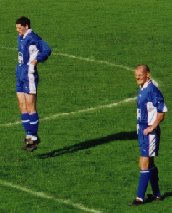 James GLENDENNING
A tall Reserve team centre-half who broke through into the first team as sub at Spennymoor (23 September 2000), where he played in a forward position; his second sub appearance was at right-back at Runcorn, three days later. Prior to joining Altrincham, he played at Kendal Town, (formerly known as Netherfield Kendal) and Ashton United. James is another of Alty's many Liverpudlians and he is pictured on the left of the adjacent picture, with Gary Talbot at Droylsden, on 8th October, 2000. He was sent off at Hyde in October but returned to the first team. Mark Ward released him to St Helen's Town in early March. Now at Droylsden (2001-02).
---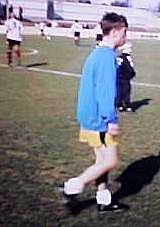 Paul HART (d.o.b. 19 August 1980) Paul was probably the smallest player on the Club's books and endeared himself to fans through his non-stop running. He did not figure in a first-team match, except twice as a substitute. A Liverpudlian, Paul memorably hit a hat-trick inside five minutes of coming on as substitute in the 1999/2000 pre-season match at Wilmslow Albion. His new club is Vauxhall Motors.



---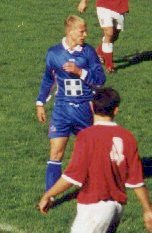 Alex HAY (d.o.b. 14 October, 1981, height 5ft 10ins, weight 11st 5lbs)

A Merseysider whom Altrincham signed on loan from Tranmere on a loan contract in early October 2000. He had joined Tranmere as a trainee on 1 August, 1999. Alex made his debut for Altrincham against Stalybridge on 3 October, 2000 and his first goal came against Spennymoor on 14 October, 2000. Alex scored seven league goals and one cup game in 18 appearances before returning to Prenton Park over the Christmas break. Went on loan to Morecambe in February 2002. Moved to Rushden and Diamonds.



---
Richard LANDON (d.o.b. 22 March 1970, height 6ft 3ins, weight 13st 5lbs)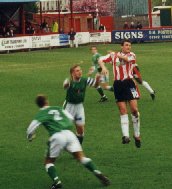 A tall centre-forward whose strength is in his powerful shot rather than his aerial skills. He has tended to start as substitute and scored many goals in that capacity. Born in Worthing, Sussex, Dickie's non-League career included spells at Atherstone United, Stratford Town and Bedworth United before, in 1994, he moved to Plymouth Argyle for £30,000, for whom he scored 12 times in 21 full games and 9 appearances as substitute. Stockport County signed him for the start of the 1995/96 season but he played only 7 full games and 6 substitute appearances for them, due to injury, scoring 4 times. He then moved on to Macclesfield Town where he netted 9 times in 16 starts and 15 substitute appearances. He made 49 appearances for Altrincham in 1999/2000, 29 of them as substitute and created a season's record by scoring in five consecutive Conference matches in Jan/Feb. 2000, all of his goals coming in the last ten minutes of matches. Richard finished the season as second top-scorer with 12 Conference goals and 4 more in other competitions and also established himself as a reliable penalty taker. Despite his goal record, he was transfer-listed (10/00) by Mark Ward and went on a month's loan to Droylsden, scoring immediately (16/12/00). Dickie returned to Alty as a sub against Hucknall (20 February 2001), only to go to Vauxhall Motors on a free transfer in early March. After Mark Ward's departure, he returned yet again to play as a sub on 25 March against Accrington. Ended season with 8 Alty goals in 15 (+17 sub) games. Moved to Radcliffe Borough in Summer 2001. Moved to be kitman at Stockport County and played on for Cheadle Town (2004-05).

---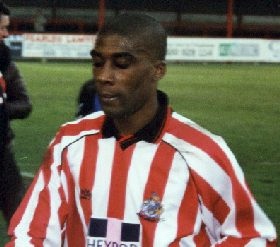 Gerard LEONARD
A 26 year-old French striker, who played for Le Havre and Montpellier and had trials at Bury and Macclesfield, before joining Altrincham. Made his debut at Frickley on 13 February 2001. Made one other sub appearance before disappearing but he re-appeared at Moss Lane as a Reserve in summer 2001 before moving on again.


---

Adam LILLIS (d.o.b. 15.12.1980, height 6ft 31ins, weight 13st 4lbs)
Born in Middleton, Adam is a strapping ex-Stockport County player who played in the Unibond Cup match at home to Ashton (9 January 2001). He has also been at Castleton Gabriels and Caernarfon Town. Adam was not signed by Mark Ward and is now (March 2001) plying his trade at Caernarfon Town once more - alongside ex-Alty legend Danny McGoona!



---
Steve MORGAN (d.o.b. 19 September 1968, height 5ft 11in, weight 12st)

Steve is a former Coventry City left-back. Born in Oldham, he started his career at Blackpool (144 app's, 10 goals) before moving to Plymouth Argyle (121/6), Coventry City (68/2) and Wigan (36/2) before having five loan games at Bury. He was a regular member of the Hull City side at the end of last season in Divison Three. He joined Alty in late November 2000 after having a trial in September. Made his League debut at Bamber Bridge after playing against Hyde in the Unibond Challenge Cup on 22 November 2000. The picture, right, is by kind permission of Alan Johnson of the Official Altrincham FC website. Steve was sent off in his third game, at home to Bishop Auckland in the Trophy (2/12/00) and was released c.12 January 2001 after eight starts (4 league, 4 cup). Steve signed for TNS in the League of Wales (February, 2001).

---
Mark O'CONNOR
A promising young goalkeeper, signed from Leigh RMI in the 2000 close season. Mark was the understudy to Dave Felgate at Leigh and looked likely to perform the same role to Stuart Coburn at Altrincham. He is pictured right, leaving the pitch behind Danny Adams, the left-back who left Alty for Macclesfield at the end of August, 2000. He never played for Altrincham in a competitive game before being released in September, 2000. After a brief spell at Chorley, he returned to Leigh in January 2001.




---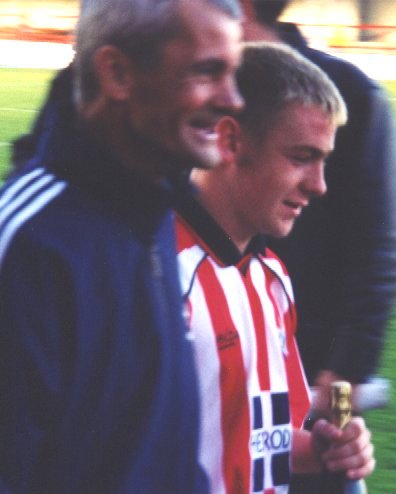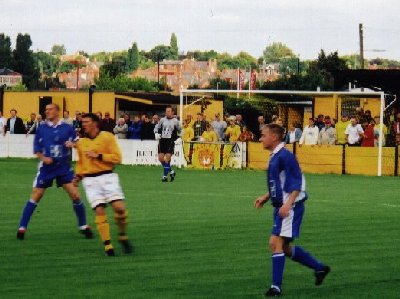 Steve PORTER
Steve is a young left-back, signed on a one-year contract from Liverpool during the 2000 close-season. He had limited first-team opportunities initially, but impressed in his early games at Marine and Worksop and seemed to be established at left-back until surprisingly dropped in mid-November, 2000. He is seen left after the Blyth home game and right, with Gary Talbot, at Worksop. In January 2001, he recovered from injury but was later restored to the first team and, in all, made 31 appearances. Steve was released in summer 2001 and moved to Burscough, then to Droylsden. Was at spell at Vauxhall Motors (2004-05).


---
Phil POWER (d.o.b. 25 July 1967)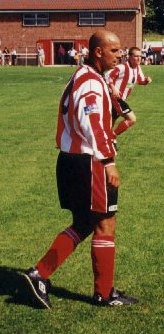 Malta-born Phil featured both in midfield and up-front for Altrincham. He was a tricky dribbler, good at holding the ball and with a strong shot. Phil was one of the most popular players with the fans when, in January 2000 he became player-coach following the resignation of Graham Heathcote. However, he then blotted his copybook with two sendings off for violent conduct in February and April, one of these arguably costing the team the Cheshire Senior Cup. He is a gardener by profession with the Greater Manchester Fire Service and formerly played for Northwich Victoria, Macclesfield Town, Crewe Alexandra, Stalybridge Celtic and Chorley. At Macclesfield he won two Conference titles and an F.A. Trophy winner's medal, as well as promotion to the Nationwide Division Two in 1997/98. However, he moved to Altrincham for the start of the 1998/99 season. With the arrival of new manager, Mark Ward, his coaching position lapsed. He figured only intermittently in 2000-01 season and ended his career sidelined by a lengthy Achilles injury (November 2000 to January 2001). Phil was released and joined Radcliffe Borough in February 2001 after playing 76 games (+20 as sub) and scoring 18 goals for Altrincham. He scored twice on his Boro' debut against Trafford (Feb. 2001). A car accident in March sidelined Phil for the rest of the 2000-01 season.


---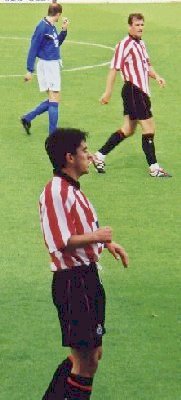 Mark QUAYLE (d.o.b. 2 October 1978)
Signed literally on the eve of the 2000-01 season on a one-month contract, Mark scored on his debut against Gateshead. He is a nimble ex-Everton, Grimsby and Notts County striker, who has also had trials for Swindon Town. Mark Ward lined him up last year to play for Leigh RMI but during summer 2000 he was on trial with Oldham Athletic. Despite scoring six goals in two matches for the Latics he was not signed by them and Mark Ward shrewdly signed him up, albeit only on a short contract. He made a great impression in his first games for Altrincham but picked up a serious head gash and then pulled his hamstring, injuries which limited his appearances to four games in which he scored twice. He is seen in the adjacent picture with Dickie Landon against Lancaster City. Morecambe manager Jim Harvey signed him for Morecambe in September 2000, on a two year contract as the replacement for Justin Jackson, who was sold to Rushden & Diamonds. He made a sub appearance for the Shrimps on 18 November 2000 before making the national headlines with the winner in the FA Cup against Cambridge. Mark then became a regular first teamer at Morecambe before moving to Telford United and later, Northwich.

---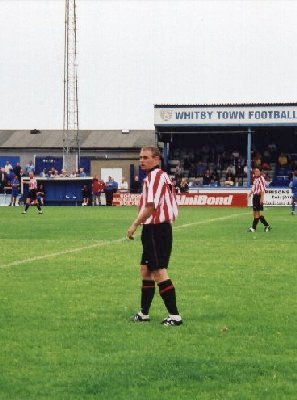 Stuart QUINN (d.o.b. 11 December 1977)
Stuart, seen in the adjacent picture at Whitby, is a fast, right-sided midfielder who figured on the fringes of the Altrincham Conference squad early last season before being allowed to go to Leigh R.M.I., where he played alongside other current Alty players, Mark Ward and Eddie Turkington. Prior to that he had been a youth player at Liverpool before moving to Southport and Droylsden. Stuart returned to Moss Lane for the 2000-01 pre-season and Mark Ward signed him on a one-year contract for 2000-01. He showed good form in the early matches of 2000/01 but apparently left after a difference of opinion with the management following the away game at Whitby, his third match for the Club. Moved into Sunday League football in Liverpool..


---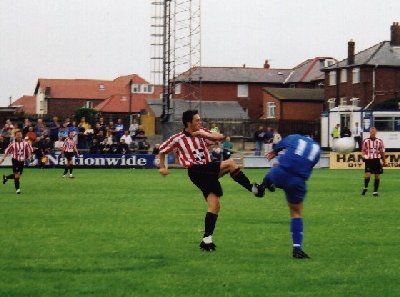 Stuart SCHEUBER (d.o.b. 3 April 1981)
A skilful and nimble 19-year-old midfielder, born at Rhuddlan in Wales, who was signed from Stoke City on a one-year contract during the 2000 pre-season. Stuart, pictured right at Whitby, spent three seasons with the Midlands side, before which he had been at Crewe Alexandra. He was the only player who appeared in all of Alty's first 45 League and Cup games this season but was dropped after Mark Ward was sacked and made only one more appearance. His first goal came at home to Spennymoor and was a well-taken volley from outside the penalty area. Stuart was released in summer 2001 and joined Colwyn Bay, who converted him into a right-back. Later at Stone Dominoes.




---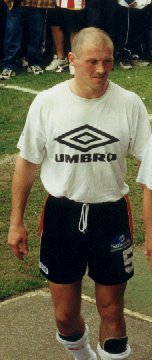 Gary TALBOT (d.o.b. 6 October 1970)
Gary Talbot, pictured right, signed for Altrincham towards the end of the 1998/99 season from Winsford. He is a most reliable centre-back and the best header of a ball at the club. He is also a threat to opponents' goals at corners and free-kicks, having scored ten times in 59 games for Altrincham prior to the 2000-01 season. Gary assumed the captaincy from Chris Timons in 1999, but then relinquished it once Chris Timons regained his place in the side. When Timons left the Club, Talbot resumed as captain for 2000-01 season. Gary's former clubs include Rhyl, Barnton, Wilmslow Albion and Witton Albion. Gary was sold to Northwich for a fee of £2,500 on 25 January, 2001 in the wake of the financial rescue package announcement earlier that week. Became Vics captain by the end of the season. In 92 appearances for Alty, Gary scored twelve goals. returned to Alty when released by Vics.




---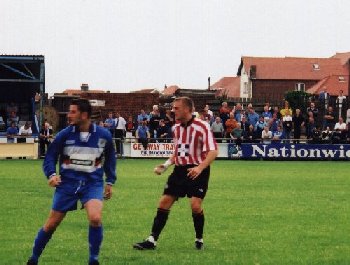 Eddie TURKINGTON (d.o.b. 15 May 1978, height 6ft 1in, weight 13 st.)
An improving young centre-back, who had been released by Alty but surprisingly returned to the Club for 2000/01 after helping Leigh RMI gain promotion to the Conference in 1999/2000, where he played in the same team as Mark Ward. Eddie is a Merseysider who had been briefly with Altrincham at the start of that season, having been signed from Stockport County who, in turn, had acquired him from Liverpool. After playing in the early games of season 2000/01, he was sidelined by a toe injury in early September 2000 but although returned to fitness, he never played again for Alty. He was released in mid-November reportedly to Droylsden but only made his debut- against Altrincham -in March 2001.



---
Scott WILSON
A 19 year-old midfielder, Scott was released by Altrincham in September to Radcliffe Borough. Scott, a former Rochdale youth player had an earlier brief spell at Moss Lane last season and rejoined in the 2000 close season. However, he was released without making any further first-team appearance and was playing for Radcliffe Borough by November, 2000.

---